Whether you are cooking for 2 people or 20, here is a collection of my favourite vegan Christmas recipes to help make this year your best ever!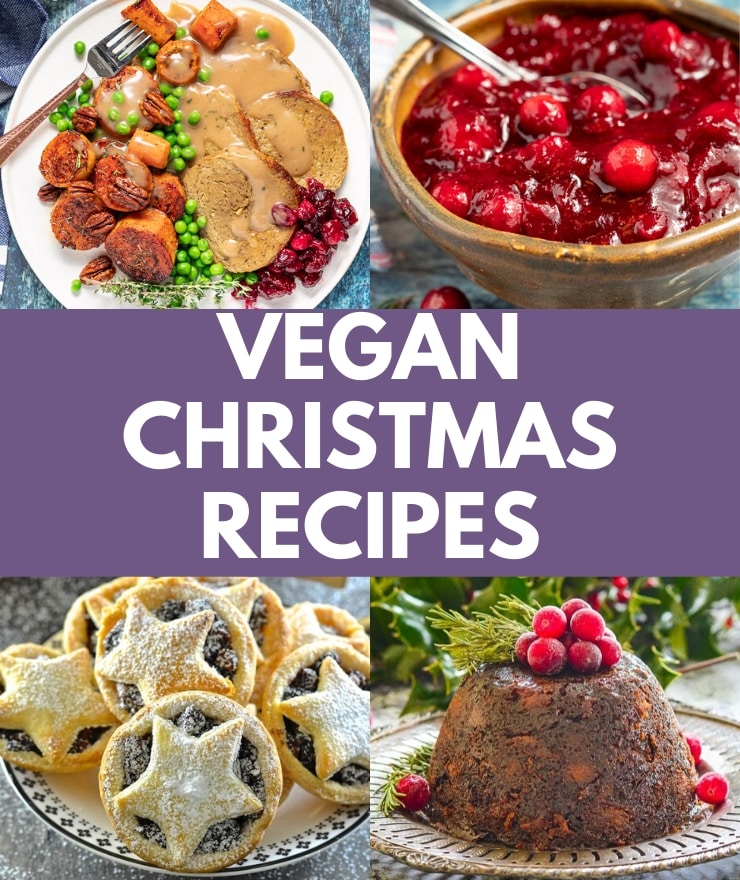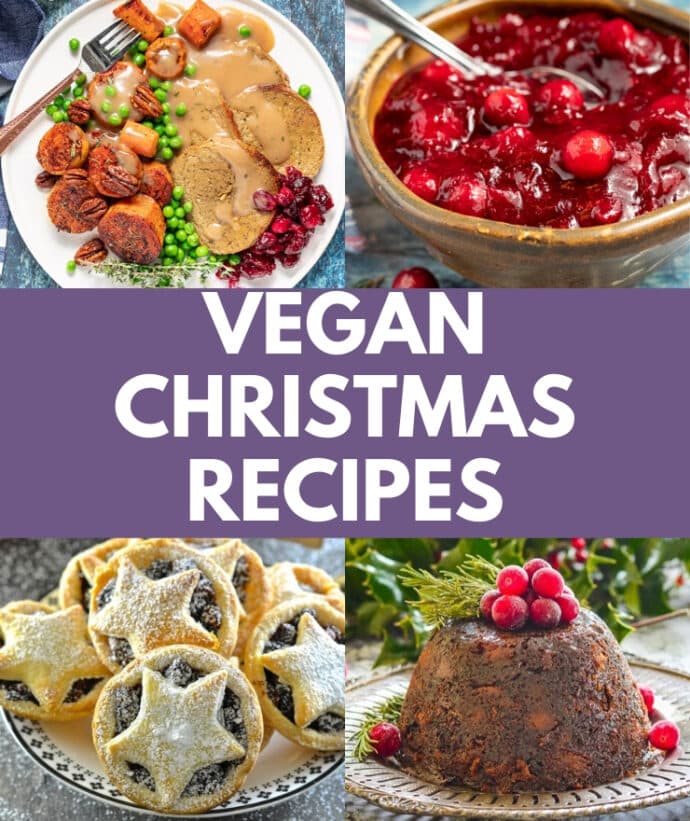 Vegan Christmas recipes coming in hot, because December is well under way and we'll soon be entering proper festive holiday territory. How does it always sneak up on me like this?
I'll take any excuse to cook and eat though, and Christmas gives me the perfect excuse to do even more of both ;O) It is the season for gathering around the table after-all, and I'm always in need of manageable, not too complicated recipes that feel Christmas-y and special and festive.
And with the special but manageable Christmas theme in mind, I have gathered up my best vegan Christmas recipes, all into one spot so you can scroll through and save the ones that take your fancy.
Before you start though, if you want your Christmas dinner all planned out in every minute detail by me, then go check out my Vegan Christmas Dinner Menu, Timeline and Shopping List. It's got you well and truly covered!
---
VEGAN CHRISTMAS BREAKFASTS
---
GINGERBREAD PANCAKES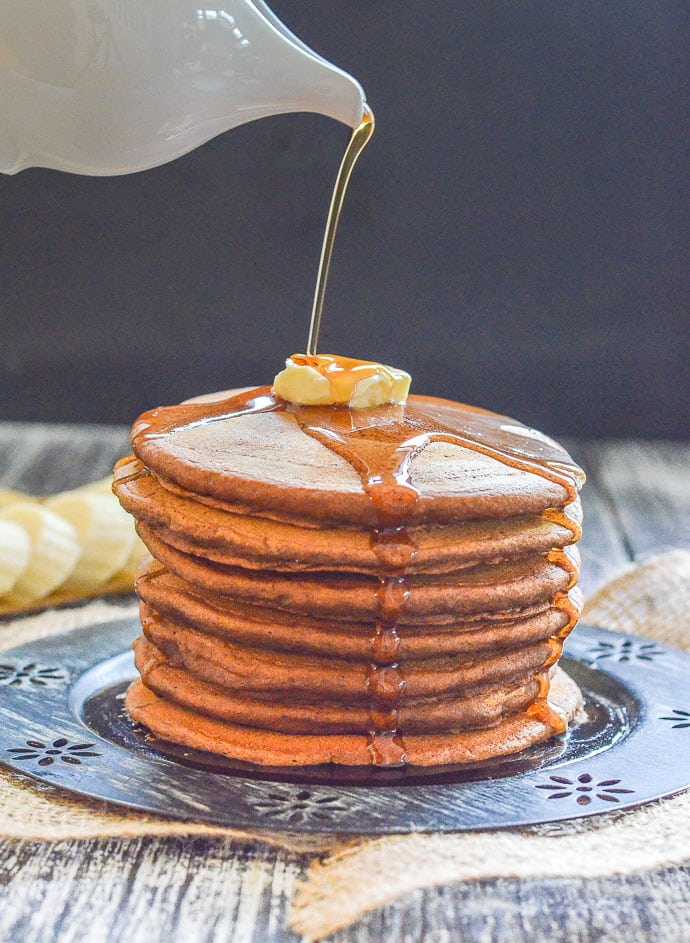 Soft, moist & fluffy Vegan Gingerbread Pancakes!
VEGAN FRENCH TOAST CASSEROLE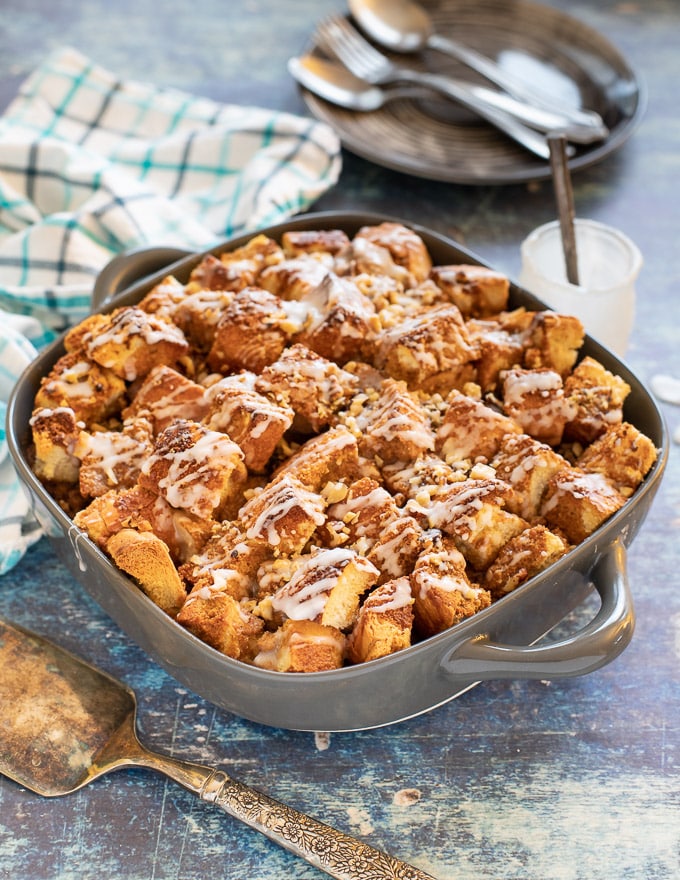 Cubes of crusty bread drowned in cinnamon infused custard then baked until crispy & toasty on top, & soft and custardy (but not soggy!) underneath. Then comes the drizzle of frosting which takes it over-the-top. It's perfect for feeding a crowd & can even be prepped the night before if you need to.
NO KNEAD CINNAMON PULL APART BREAD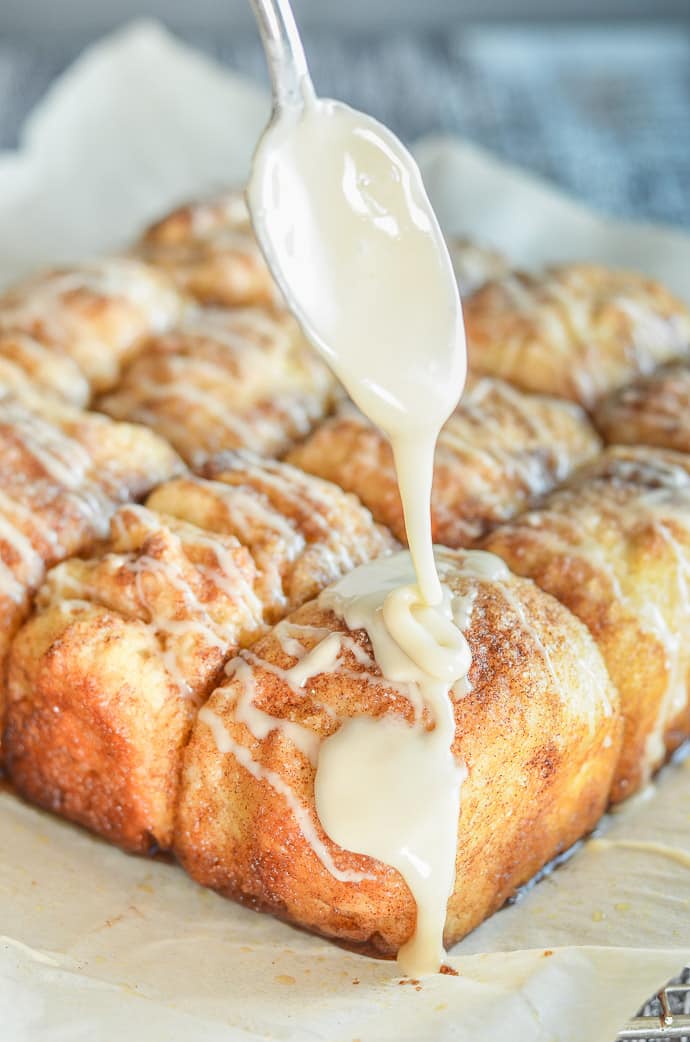 All the sticky deliciousness of cinnamon rolls but with none (and I really mean none) of the effort! It needs about 10 minutes of hands on time and will totally fit around your schedule. It can be ready in a couple of hours or you can leave it to rest in the fridge overnight & bake it up in the morning. It makes THE perfect brunch!
---
VEGAN CHRISTMAS SALADS
---
CRANBERRY PECAN BRUSSELS SPROUT SALAD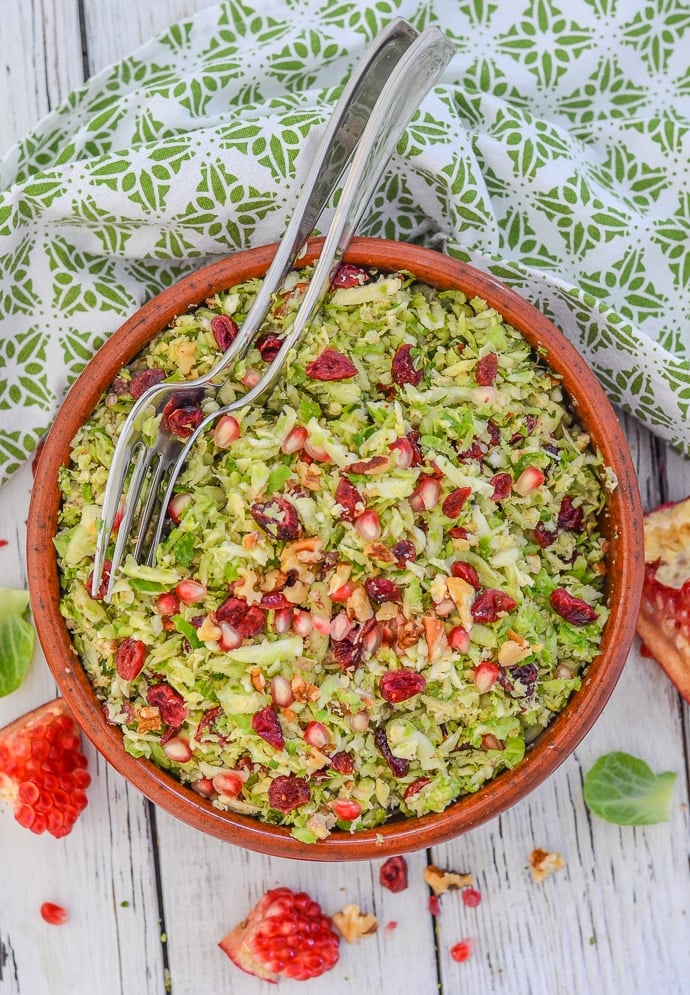 This Cranberry Pecan Brussels Sprout Salad is fresh & packed with flavour & interesting textures. It's also hearty & warming thanks to the orangey cinnamon dressing. Just perfect for your winter entertaining!
QUINOA CRANBERRY SALAD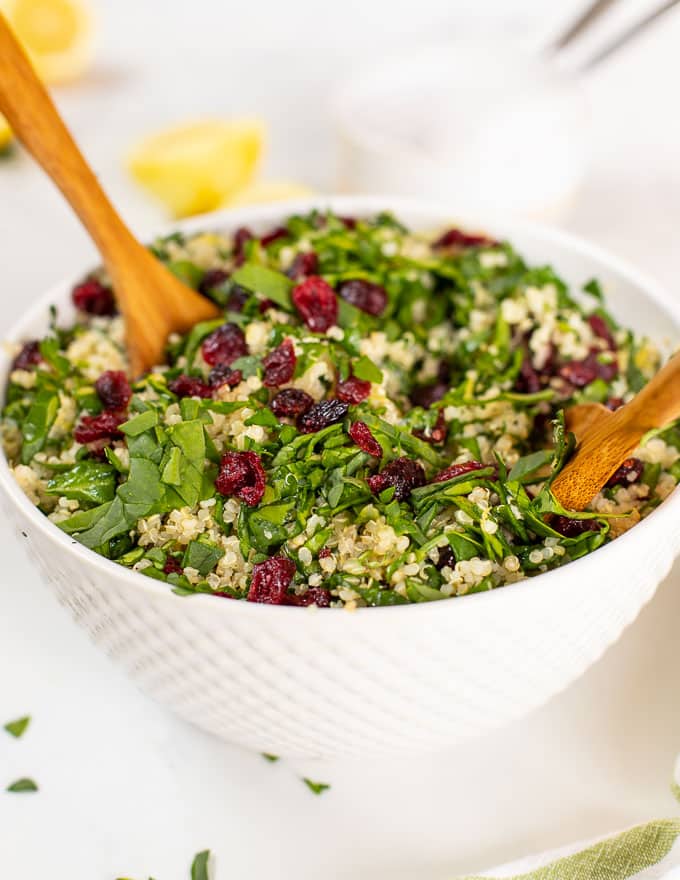 This Quinoa Cranberry Salad is full of fresh, feel good flavours that everyone will love! With spinach, sweet dried cranberries and a zippy lemon dressing it's perfect to take to pot lucks!
PEAR WALNUT SALAD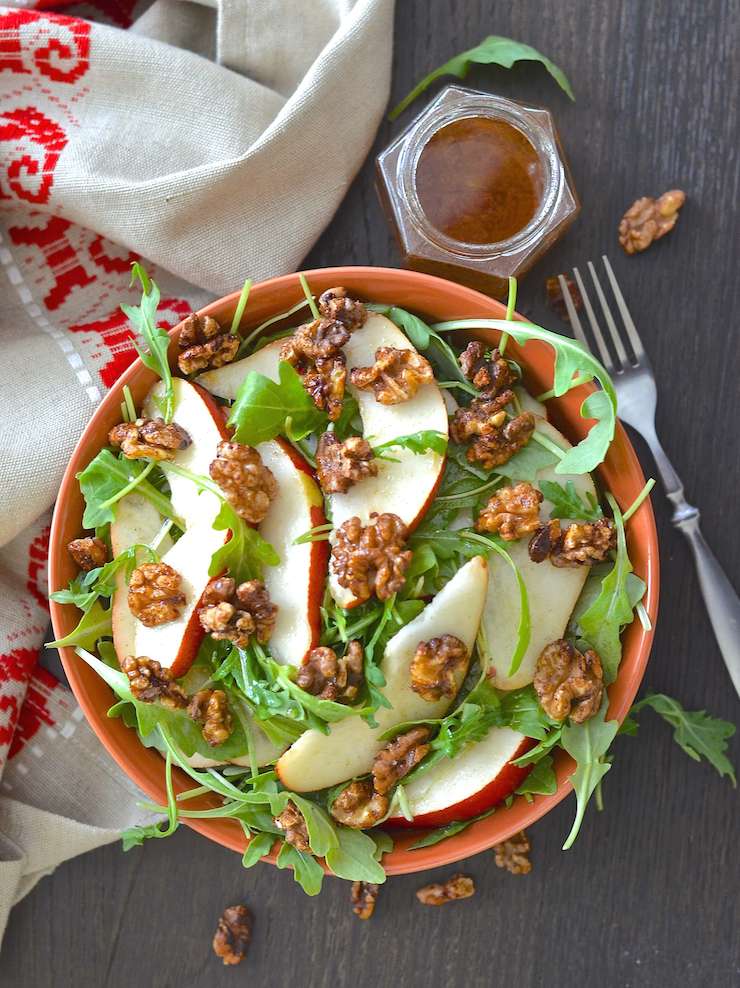 A fall inspired simple salad with arugula, juicy pears, toasty walnuts and a lovely maple cinnamon vinaigrette.
---
VEGAN CHRISTMAS APPETIZERS
---
VEGAN SPINACH ARTICHOKE DIP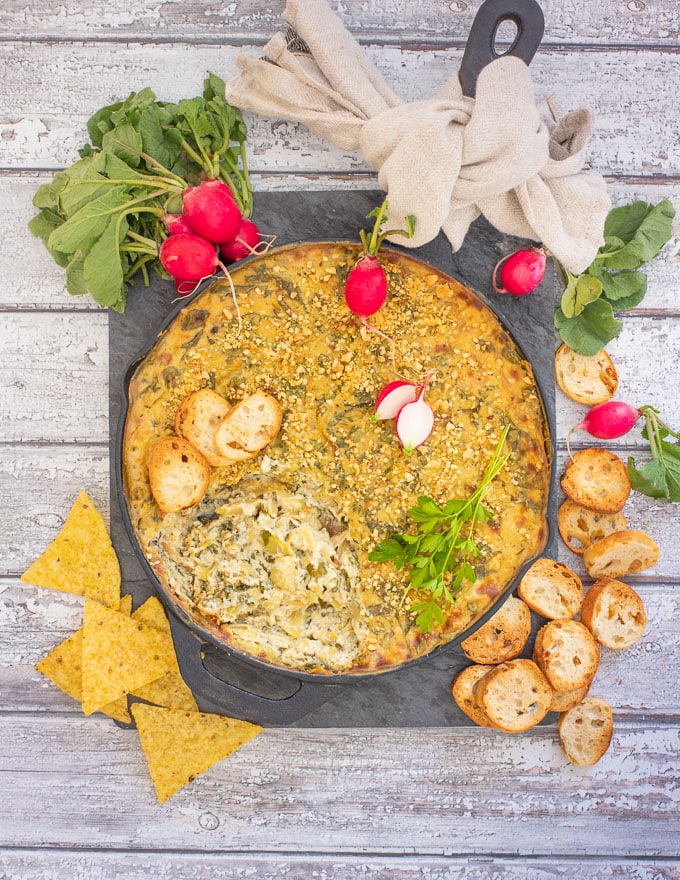 Warm, soft, rich and creamy Vegan Spinach Artichoke Dip. Chock full of spinach and briny, zesty artichokes. Servce it up with plenty of dippers and you will have very happy guests!
VEGAN CANDIED NUTS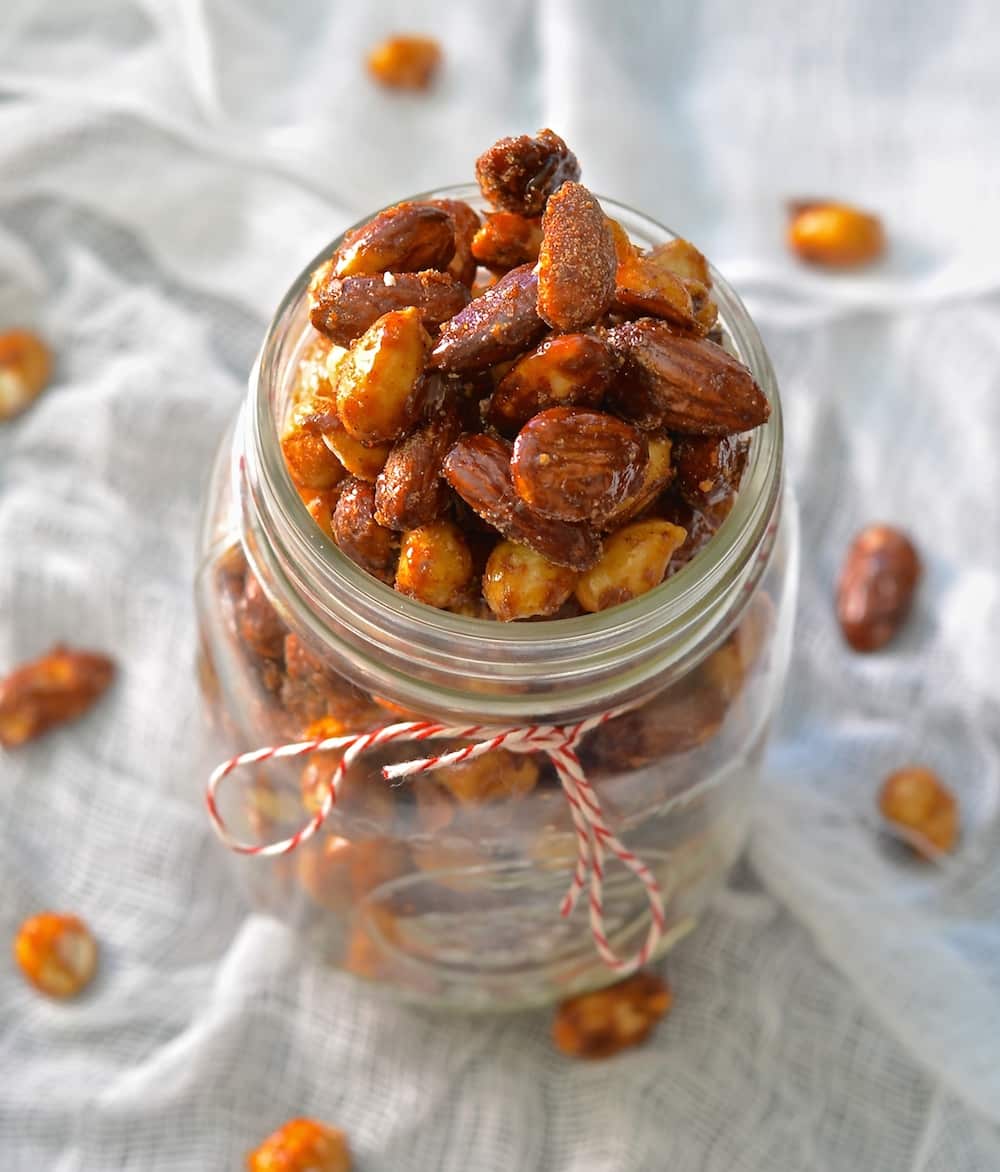 Perfectly sweet & spicy, chewy & crunchy vegan candied nuts. Perfect for festive snacking!
CHEESE & ONION CRISPY CHICKPEAS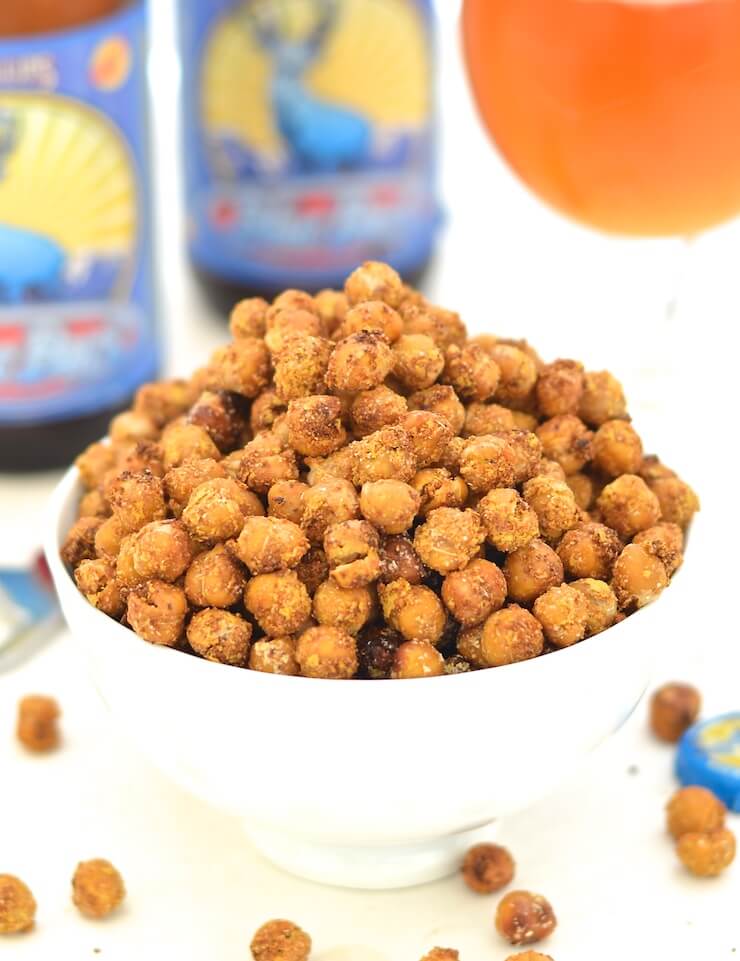 Ridiculously crunchy & addictive Cheese & Onion Crispy Roasted Chickpeas. Perfect finger food!
CREAMY VEGAN ONION GARLIC DIP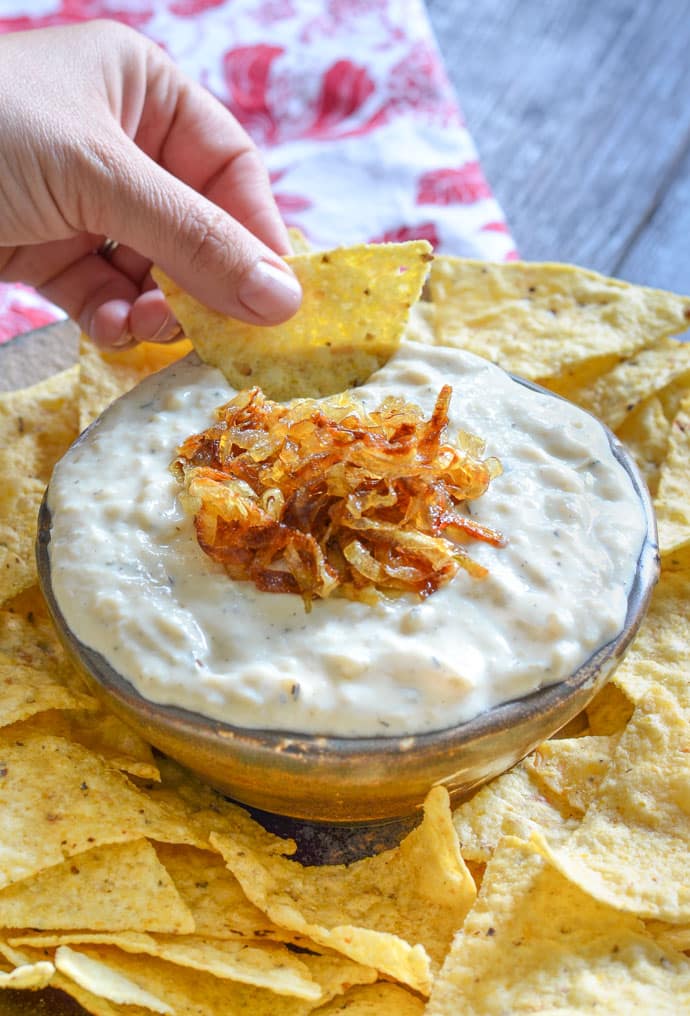 A deliciously cool, creamy & nut-free Vegan Onion Garlic Dip. Full of sweet roasted garlic & caramelized onion flavour & perfect for the holidays!
DILLY SMASHED POTATOES WITH CREAMY HORSERADISH DIPPING SAUCE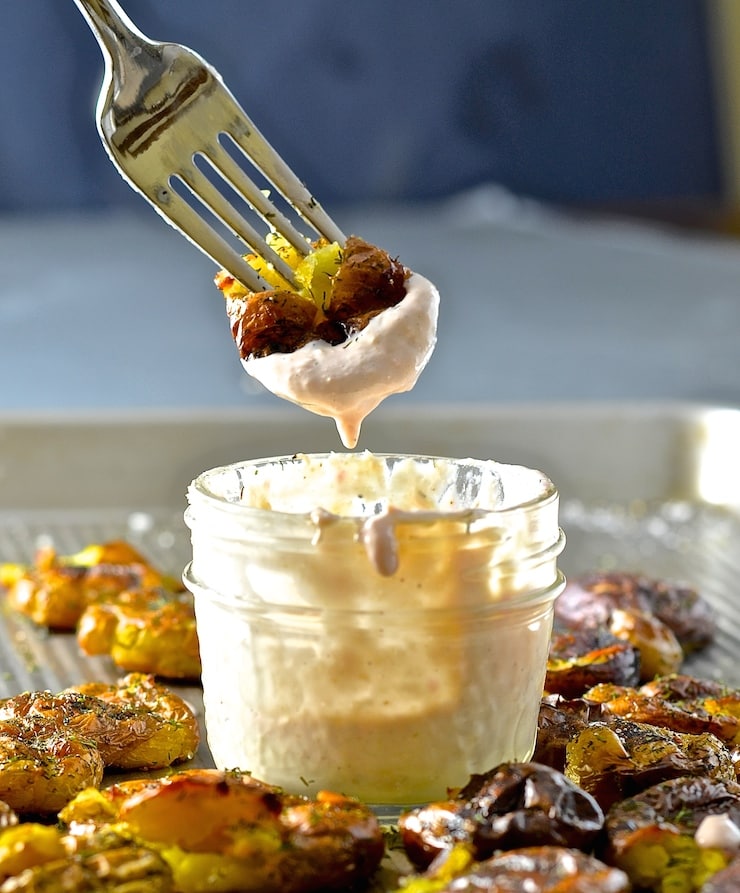 Crispy, smashed potatoes with a delicious, creamy horseradish dipping sauce. Keep the guests happy by passing these around while you put the finishing touches to dinner!
BLACK OLIVE TAPENADE WITH FIGS & ROSEMARY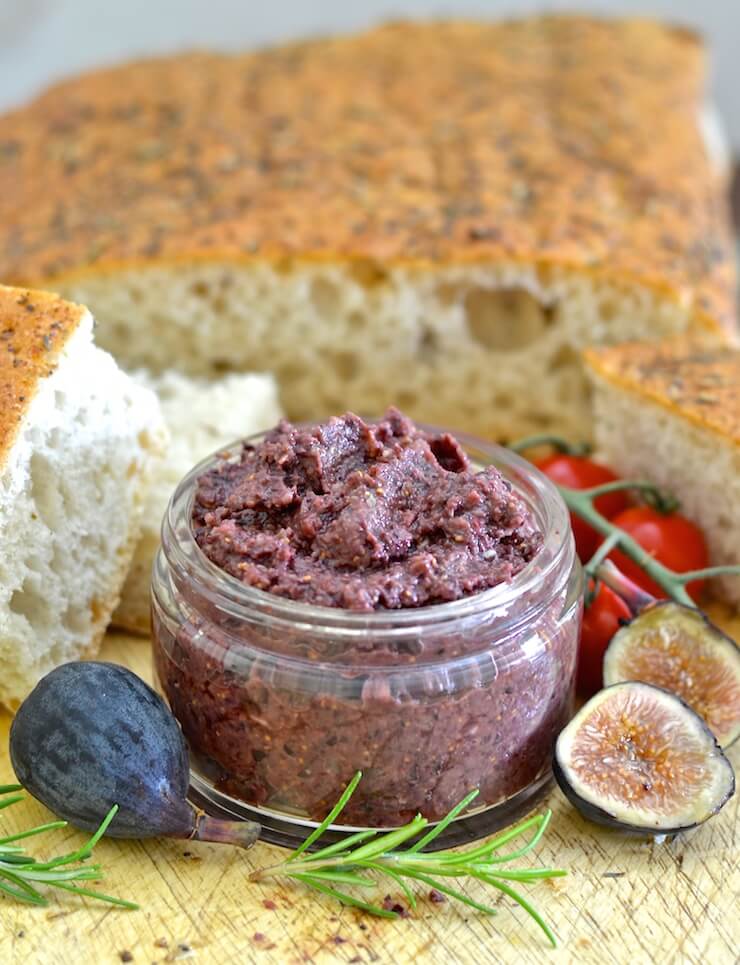 This rich, soft Fig and Black Olive Tapenade with Rosemary is my twist on traditional tapenade. Dark, deep & earthy olives are blended with ripe, plump & juicy figs (or dried figs) to make an irresistibly delicious spread with a striking balance of sweet & savoury flavours.
---
VEGAN CHRISTMAS SIDES
---
INSTANT POT CRANBERRY SAUCE
A super easy cranberry sauce recipe that can be made in an Instant Pot, saving you precious stovetop space. If you don't have an Instant Pot though, stovetop instructions are included in the recipe notes and you can make it up to 2 weeks ahead to save time on the day.
MELTING CINNAMON ROASTED SWEET POTATOES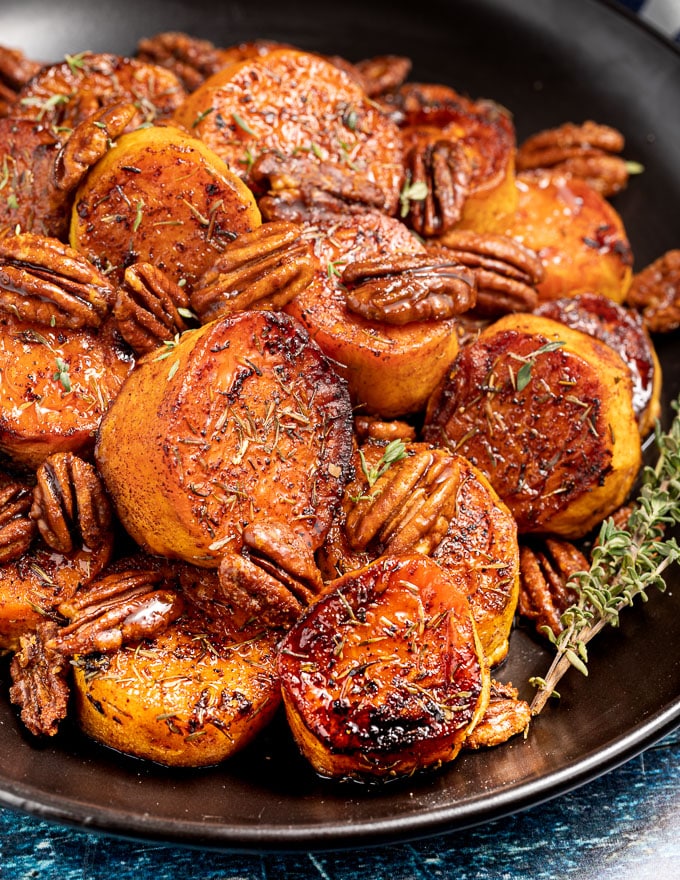 Golden, caramelized and sticky, these Melting Cinnamon Roasted Sweet Potatoes with hints of thyme are a fantastic side dish to serve with your holiday feast.
VEGAN GREEN BEAN CASSEROLE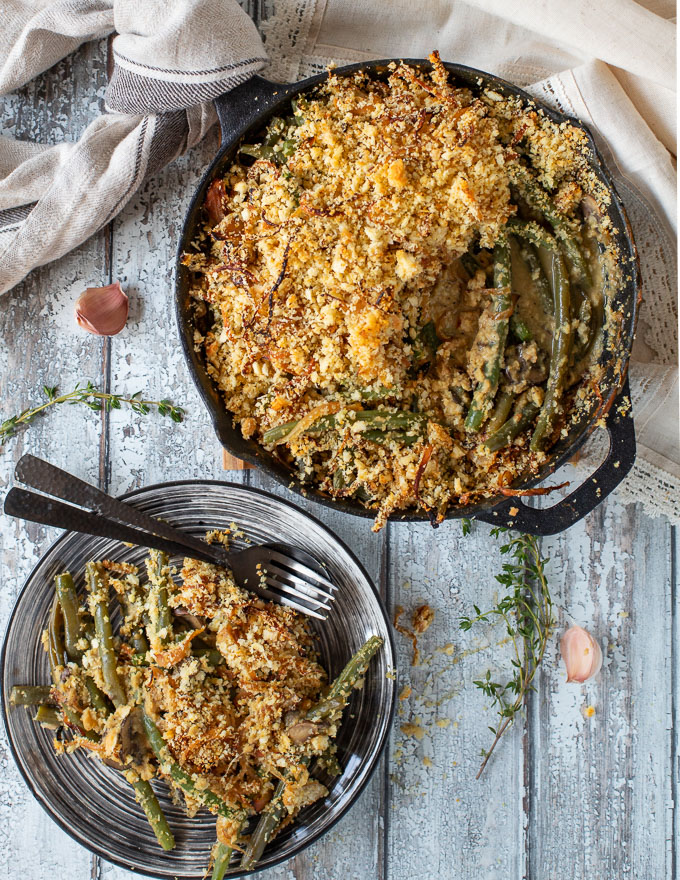 A made-from-scratch Vegan Green Bean Casserole with tender green beans baked up in a deliciously creamy mushroom sauce, and topped with crispy, golden, buttery breadcrumbs and tangles of caramelized onions.
PERFECT VEGAN YORKSHIRE PUDDINGS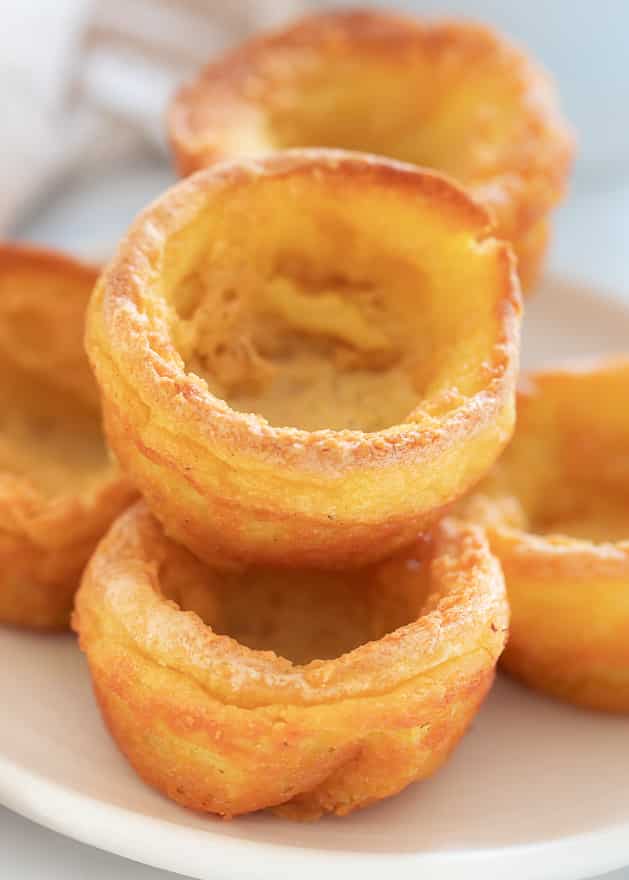 Tall, crispy, golden sides, soft and slightly gooey bottoms, and a deep hollow just waiting to be filled with tasty gravy!
AIR FRYER ROASTED POTATOES WITH LEMON & GARLIC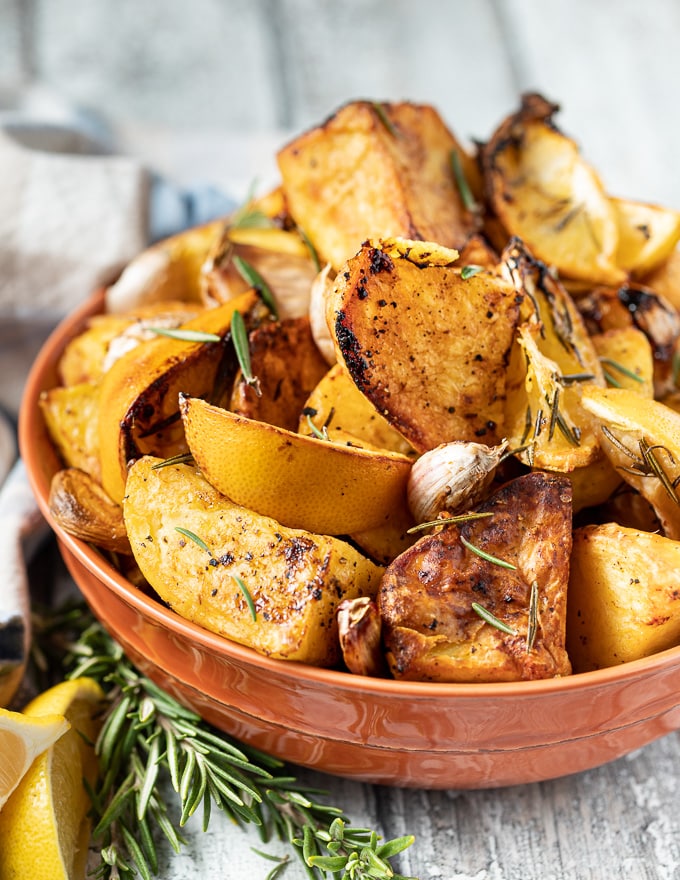 Crispy, herby, Lemon Garlic Air Fryer Roasted Potatoes! Flavourful, well seasoned, crispy on the outside, fluffy on the inside & super quick & low effort in your Air Fryer (oven instructions are included too!)
BUBBLE & SQUEAK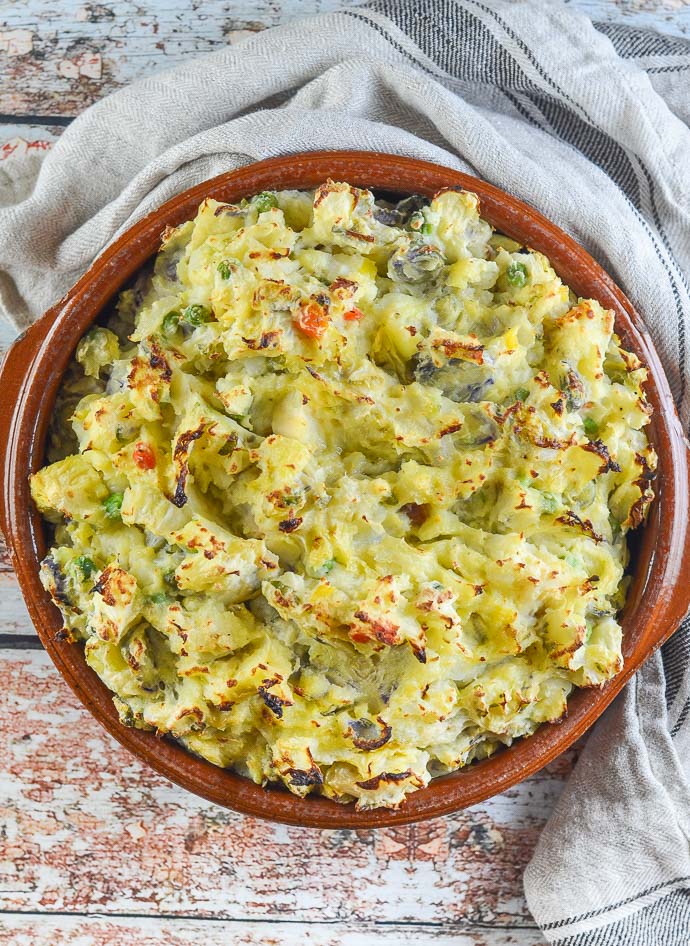 Oven baked Bubble & Squeak. Cook it from scratch as a side, or make it with leftover veggies the next day!
HEALTHY NO OIL CRISPY ROASTED POTATOES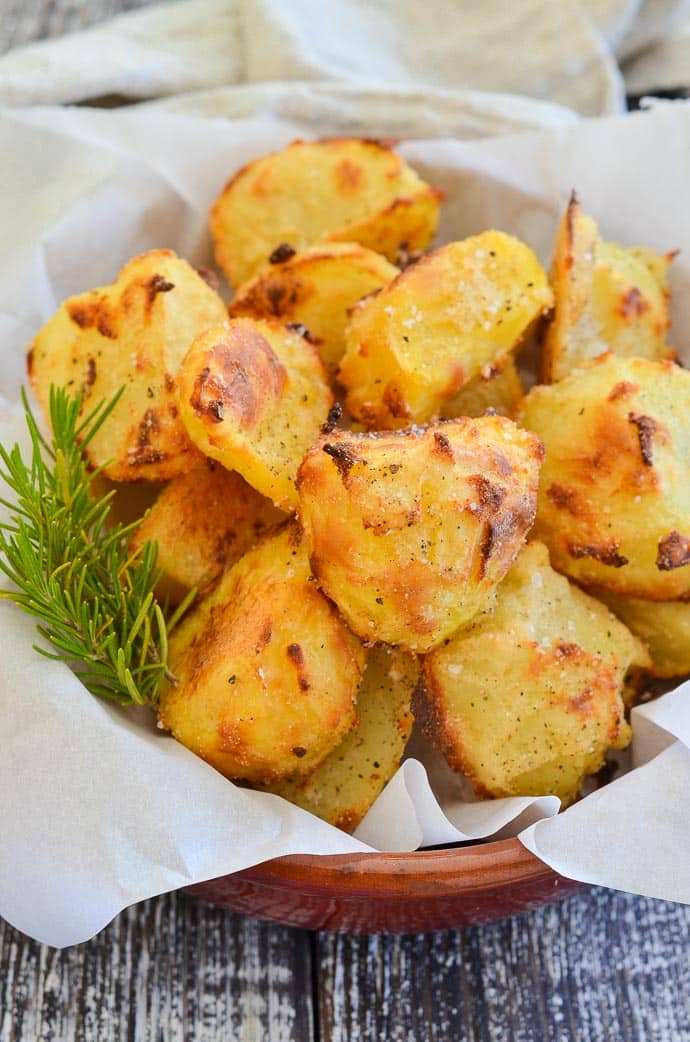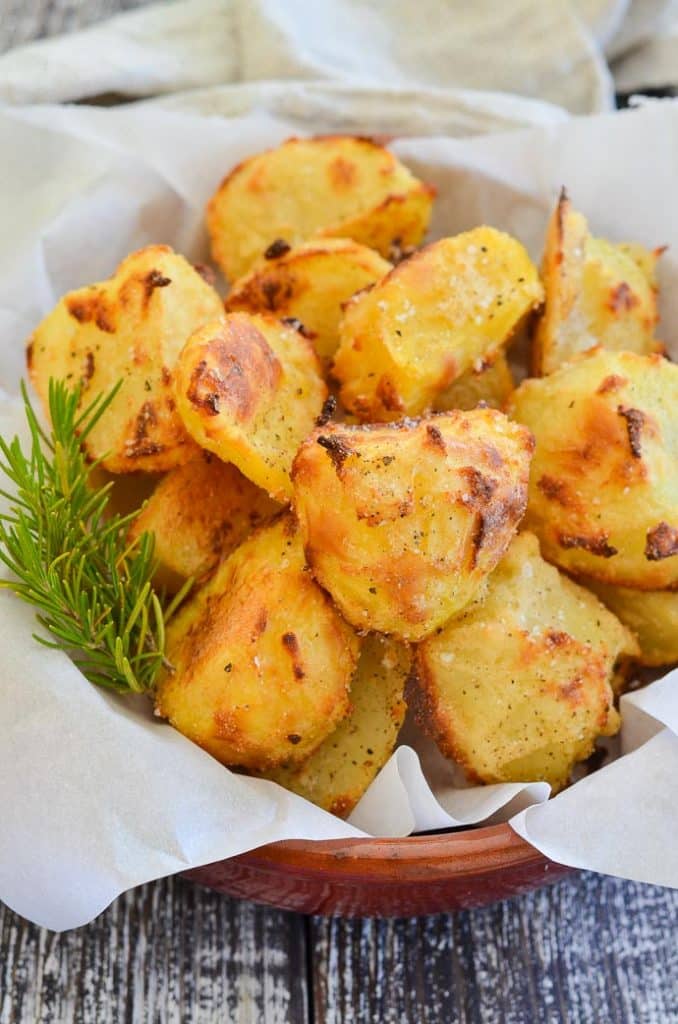 It's not Thanksgiving without Crispy Roasted Potatoes! This is an incredibly popular recipe on my blog because they contain no oil but taste just as good as the regular oily version!
BAKED VEGAN MAC AND CHEESE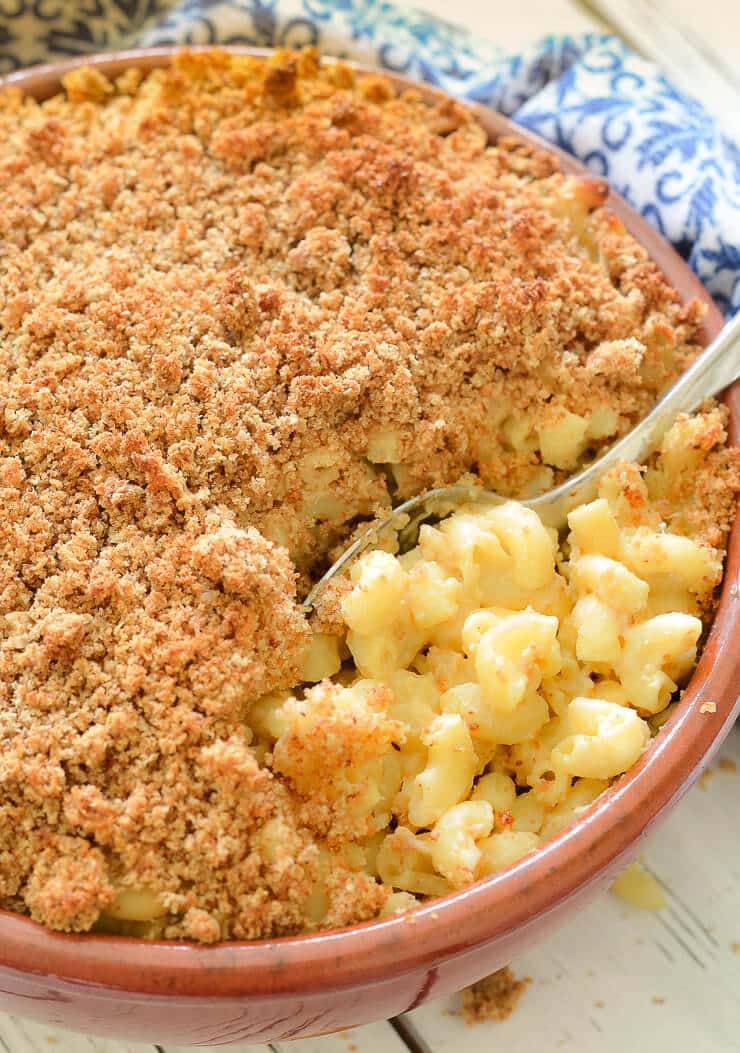 The perfect vegan Mac and Cheese. Everyone will love it as a side and it can be made ahead a few days in advance to save you time on the day.
EASY NO KNEAD FOCACCIA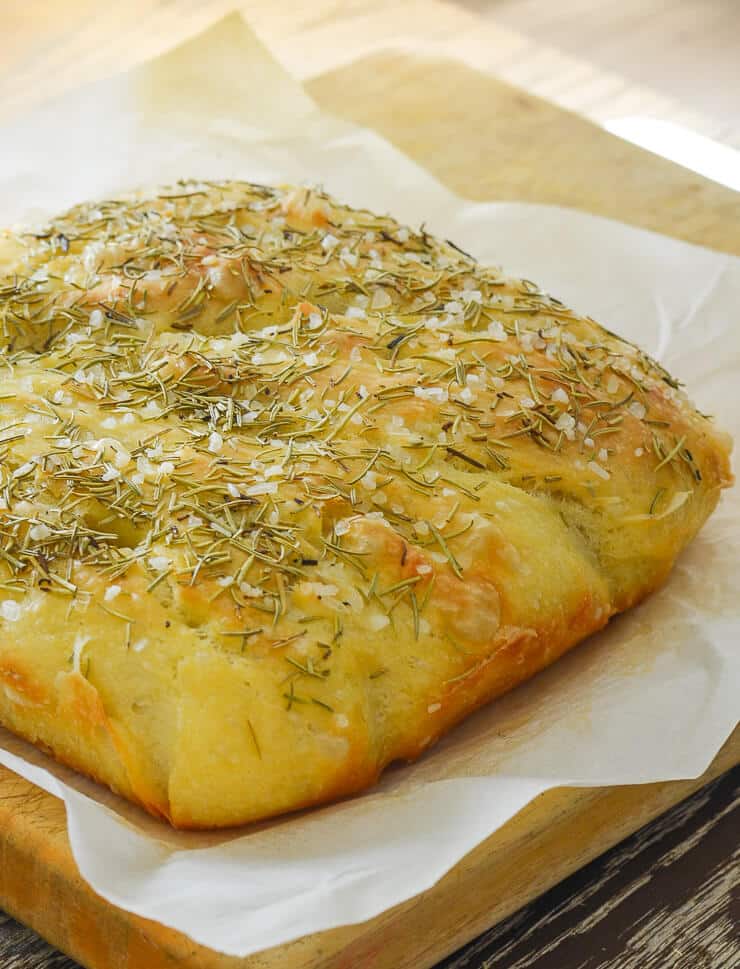 What's a dinner table without some good bread? This No Knead Focaccia takes minutes to make and can be prepped the night before. It will do all the work itself while you sleep!
RED WINE VEGAN GRAVY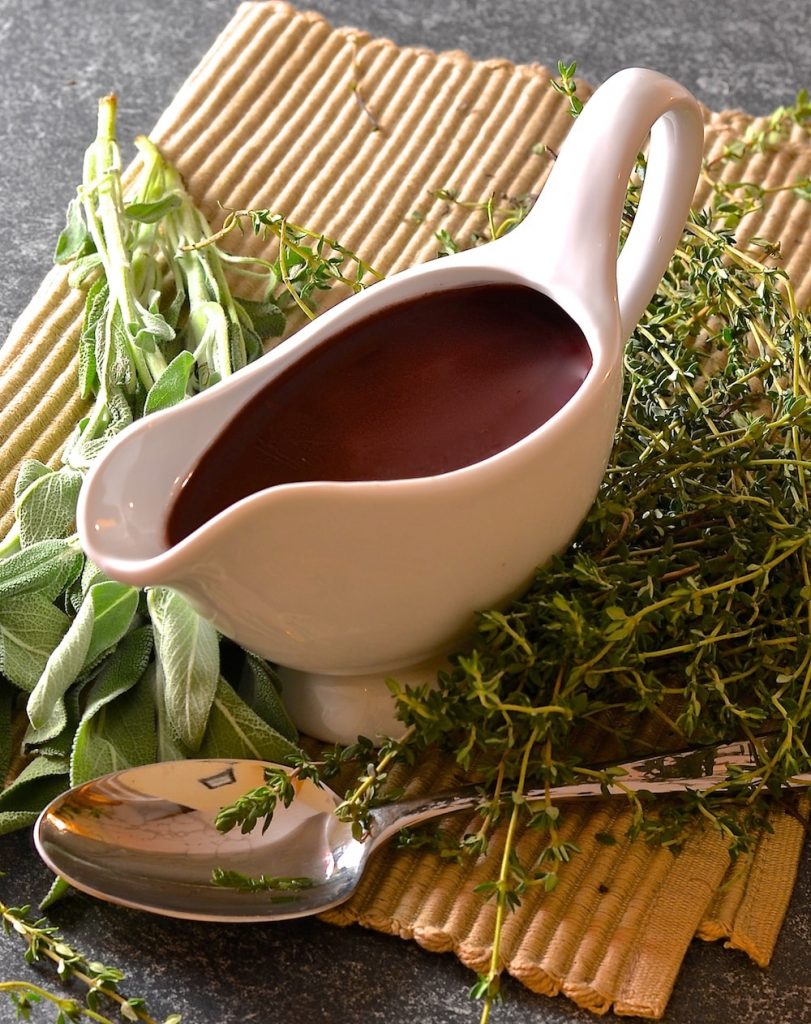 Extra tasty, rich & flavoursome Red Wine Vegan Gravy, infused with sweet vegetable & fresh herb flavour and perfect for serving with your holiday feast!
VEGAN CHRISTMAS MAINS
---
VEGAN ROAST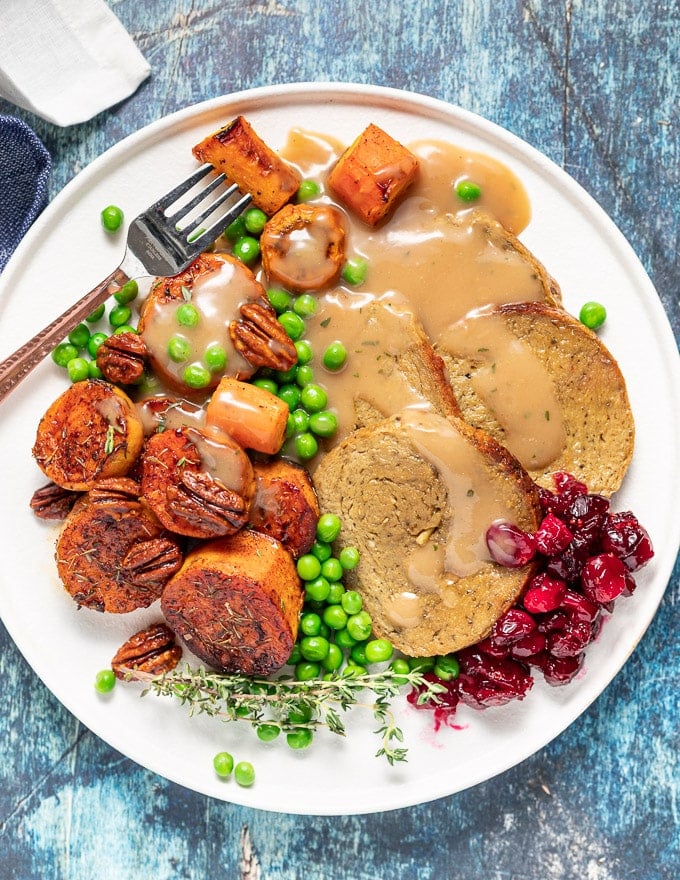 A simple, easy, rustic and hearty Vegan Roast that's sliceable, ultra tender and full of flavour. Just perfect for serving with copious amounts of gravy, roast potatoes and all the trimmings. Leftovers are great in sandwiches too!
MUSHROOM LENTIL LOAF WITH CRANBERRIES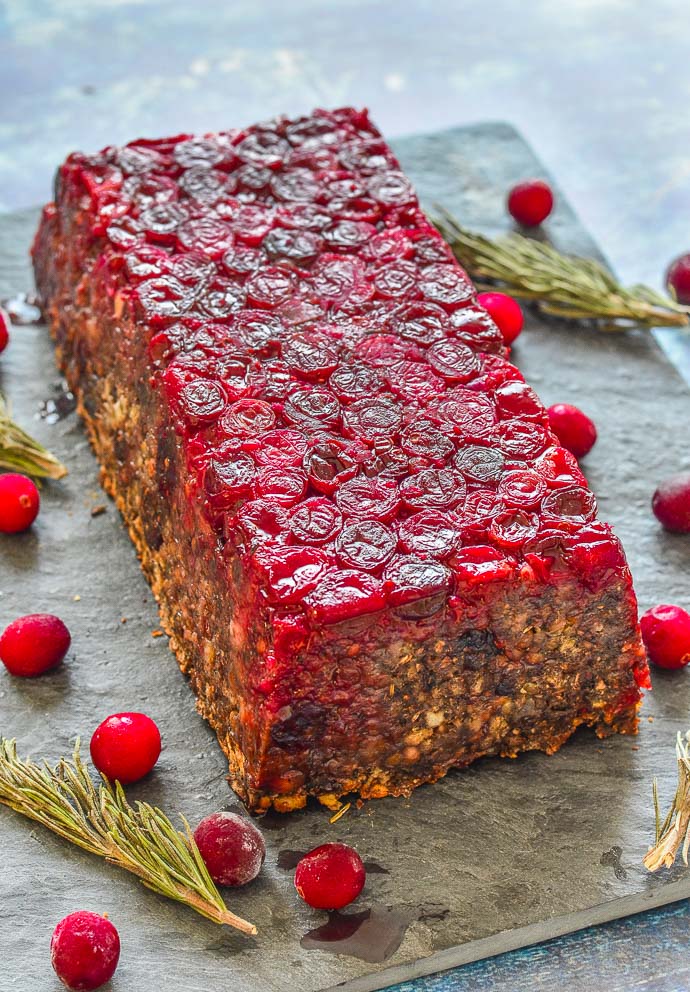 A really tasty loaf made with a blend of lentils, mushrooms and walnuts and topped with a beautifully festive cranberry topping. Those pops of juicy cranberry in every bite are so good, plus they make it look pretty impressive. It would make a great centrepiece on your holiday table!
VEGAN MEATLOAF WITH GRAVY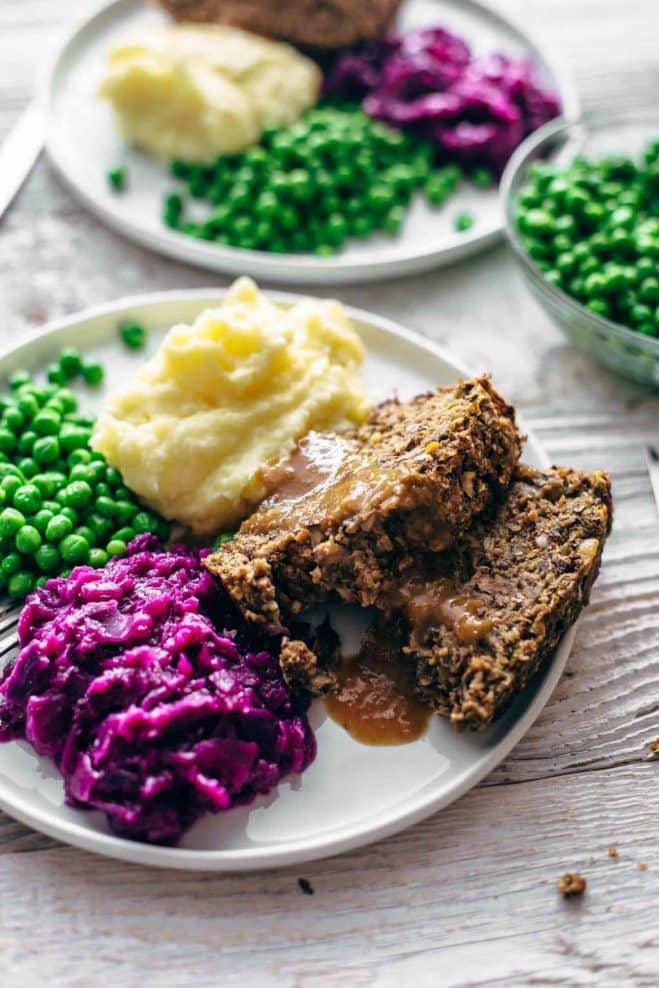 This meatloaf is really popular year after year. It's easy to make and so good when smothered in the thick, rich gravy!
VEGAN SPANAKOPITA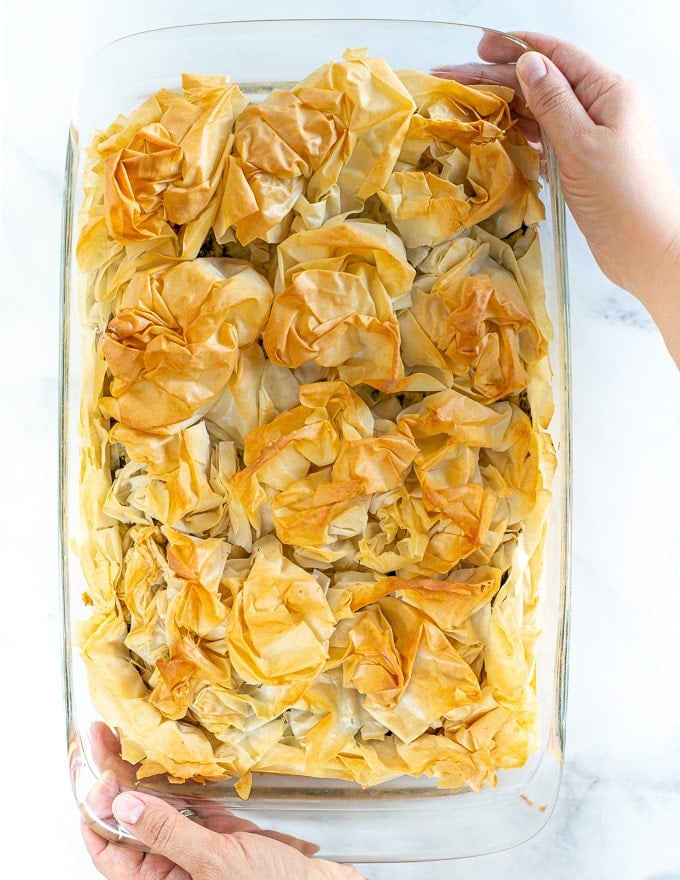 My take on the great Greek spinach and feta pie! Featuring shatteringly crisp phyllo pastry, and a soft, salty, feta-cheesy, spinachy filling, all baked up to golden perfection. Comfort food at it's finest.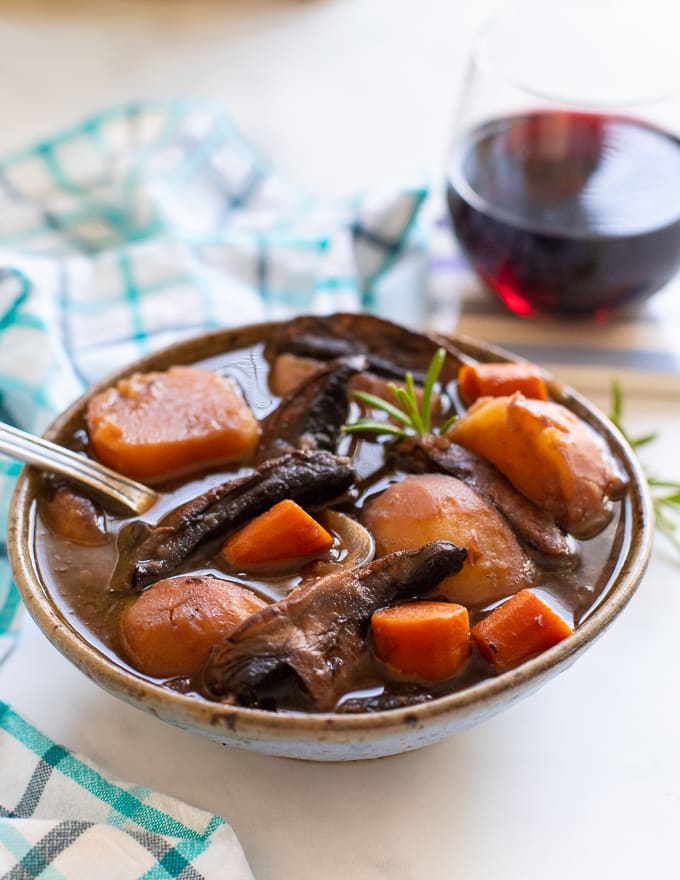 Who says vegans can't have a Pot Roast? This one's got all kinds of good things going on! It includes instructions for cooking in an Instant Pot or on the stove-top/oven.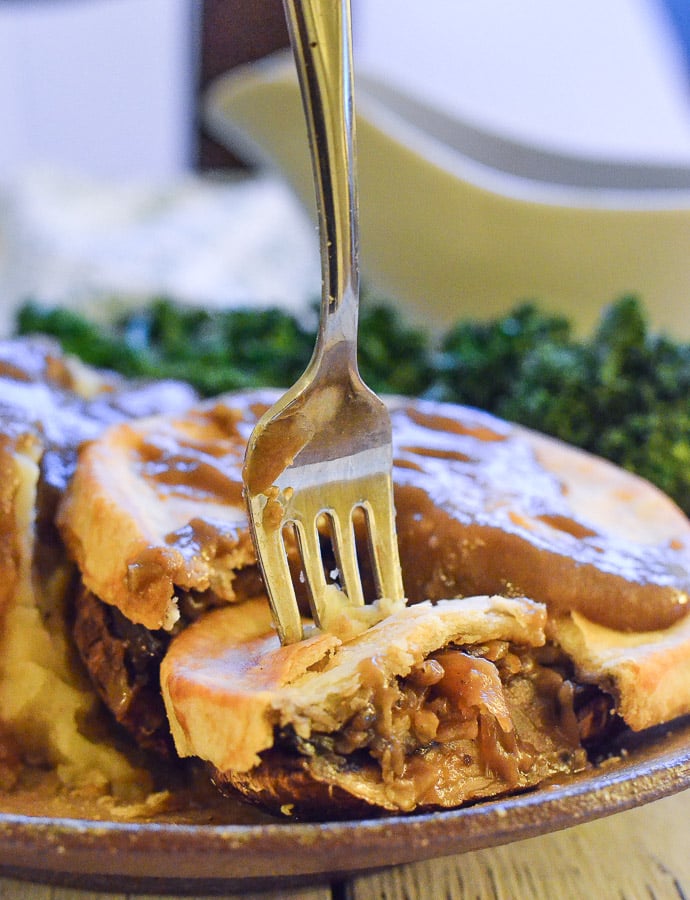 Tender, juicy, meaty portobello mushroom, stuffed with sweet caramelized onions, a sprinkling of thyme, all topped with buttery, crisp pastry. They are the easiest Vegan Mushroom Pies to make EVER and you can even make them in advance!
---
VEGAN CHRISTMAS DESSERTS
---
THE ULTIMATE VEGAN CHRISTMAS PUDDING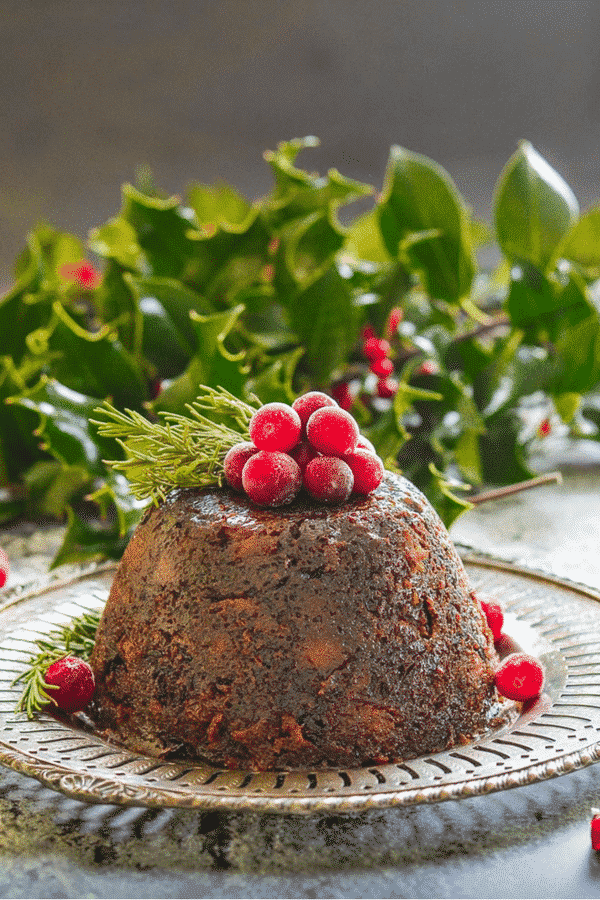 This Vegan Christmas Pudding is dark, rich, fruity, moist & boozy and can be made well ahead of the big day as it stores so well.
VEGAN GINGERBREAD CAKE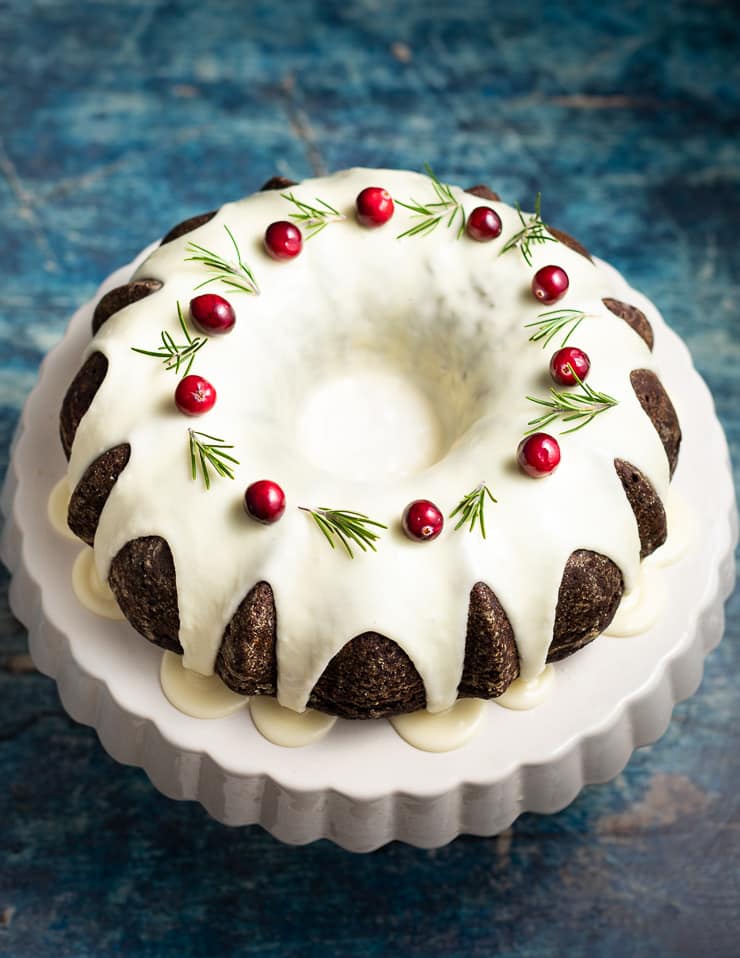 A gorgeously festive, heavily spiced, deeply dark, slightly sticky & delicious Vegan Gingerbread Cake, smothered in inappropriately huge rivers of orange glaze!
CRANBERRY APPLE PEAR CRUMBLE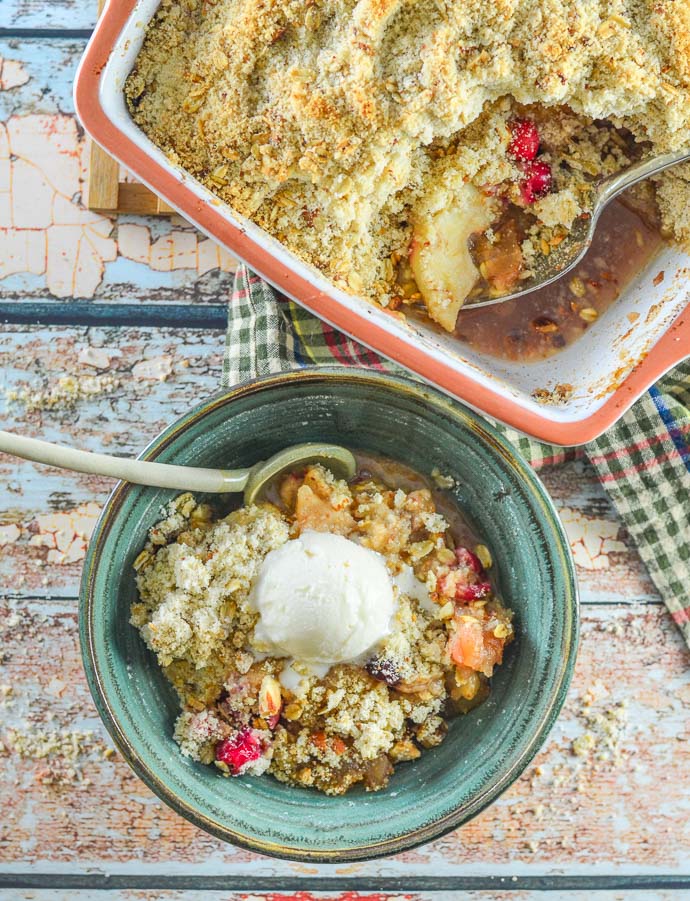 It's hard to beat a good crumble, and this Cranberry Apple Pear Vegan Crumble is really something special! We're talking tart cranberries & Granny Smith apples, sweet, soft pear & a crumbly, nutty, buttery topping, all baked to golden perfection. It's an absolute crowd pleaser & so easy to make!
VEGAN MINCE PIES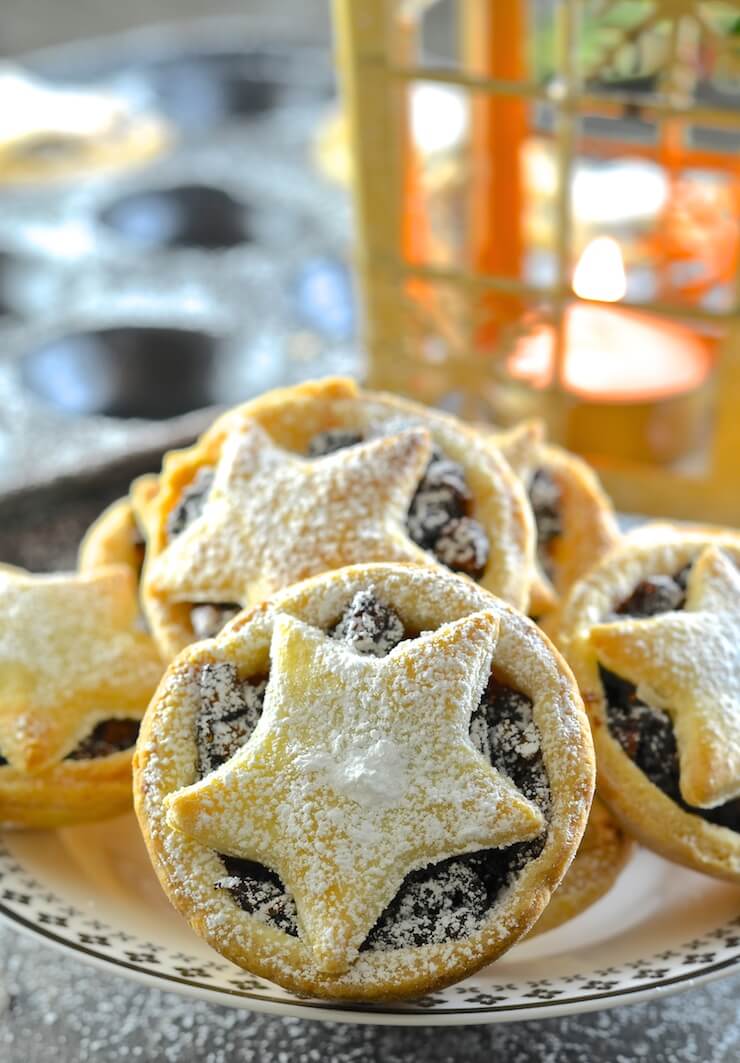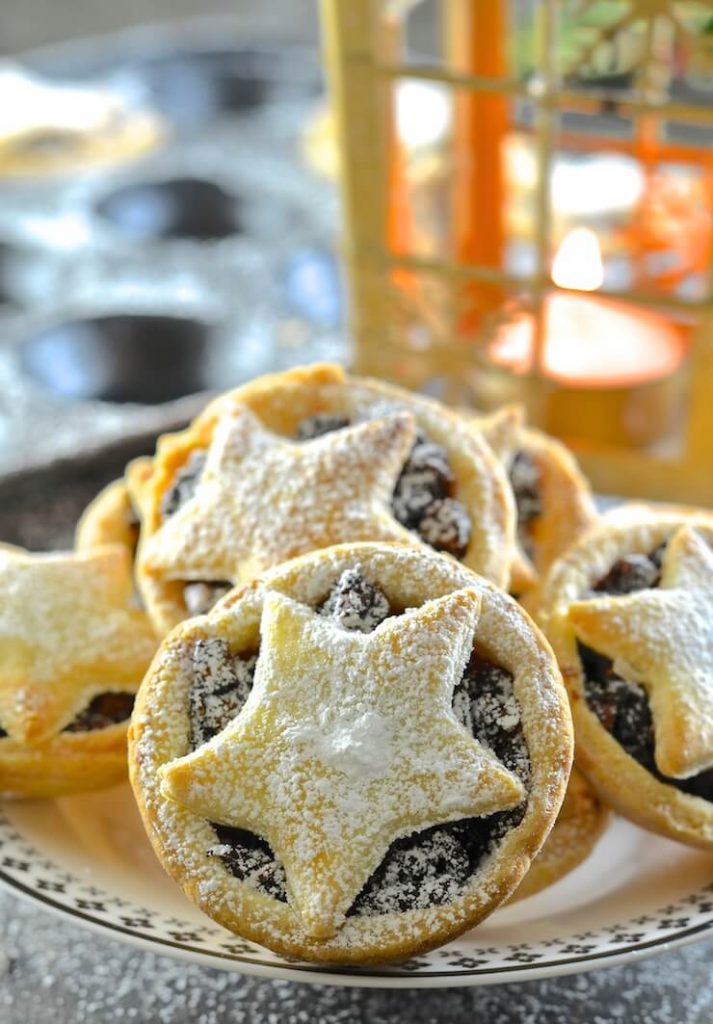 These homemade Vegan Mince Pies hold the very essence of Christmas in their delicious pastry crusts. Nothing can beat one warm from the oven with a dollop of brandy butter and a glass of mulled wine or port!
VEGAN BRANDY BUTTER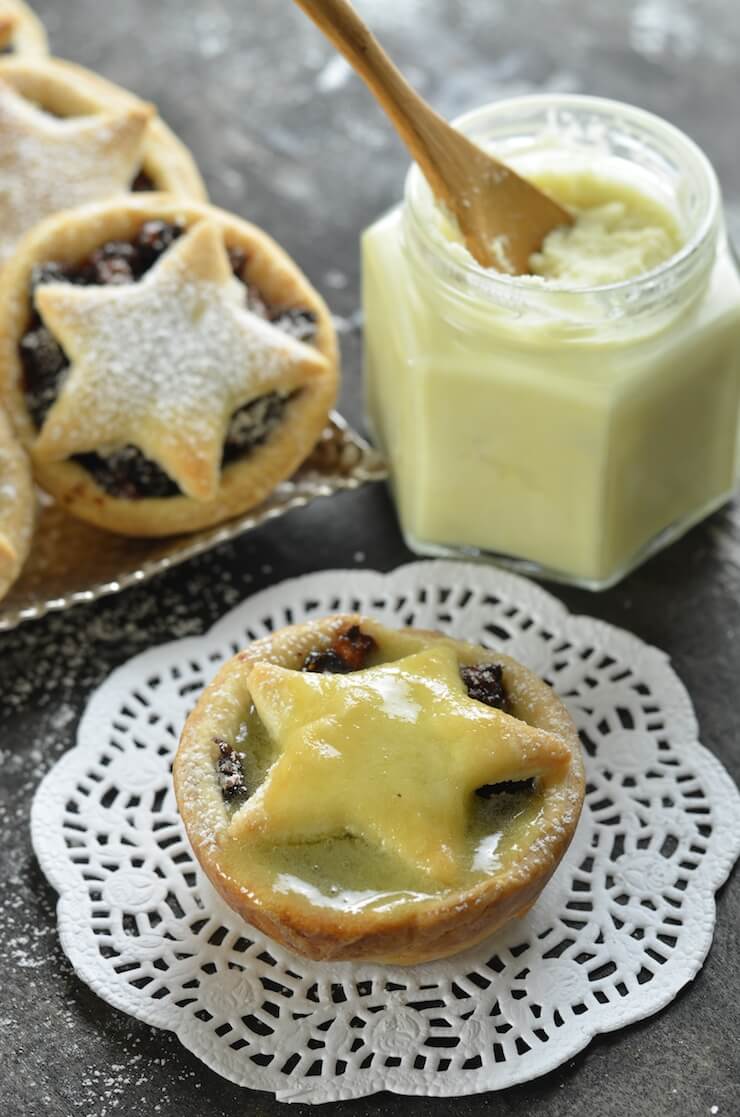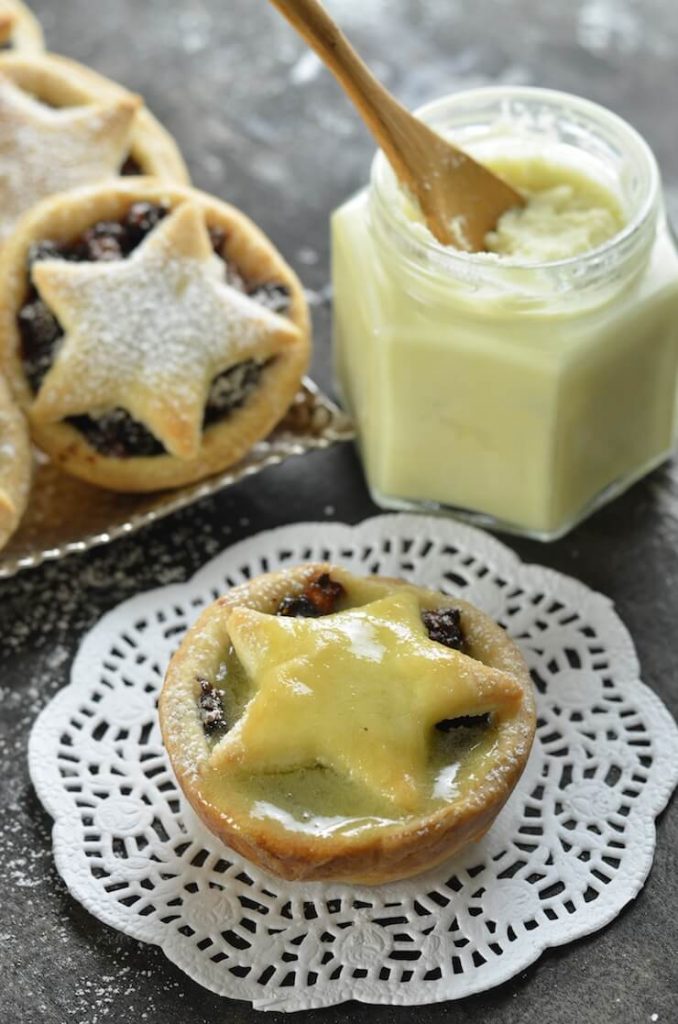 A hard sauce which, on contact with something warm, becomes drippy, rich & boozy. It is absolutely perfect when slathered over my hot mince pies or Christmas pudding!
RAW VEGAN FRUIT CAKE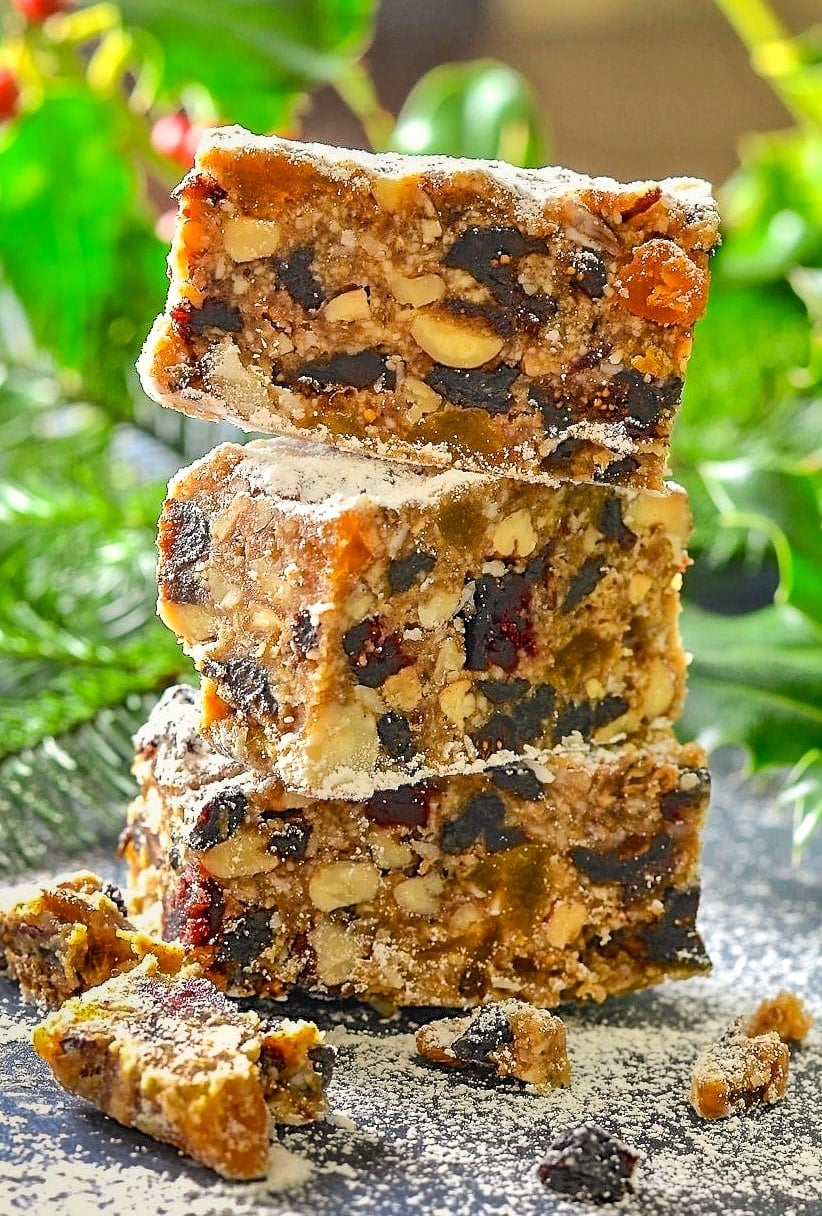 All the flavours of Christmas in a super simple to make, completely raw cake. This Raw Vegan Fruit Cake always goes down well, plus it will keep for months wrapped well in the fridge so is perfect for feeding unexpected guests.
CHRISTMAS SHORTBREAD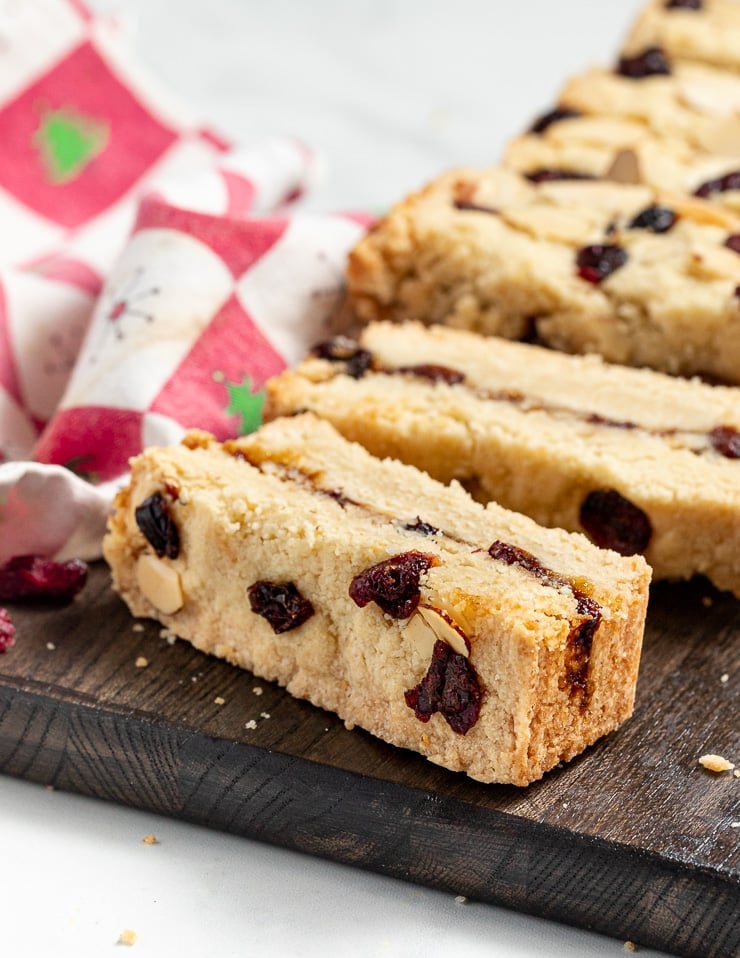 Perfectly short and crumbly, buttery, vegan Christmas Shortbread bars with a layer of festive mincemeat sandwiched effortlessly through the middle. Quick, no fuss, no cookie cutters required.
VEGAN NEW YORK CHEESECAKE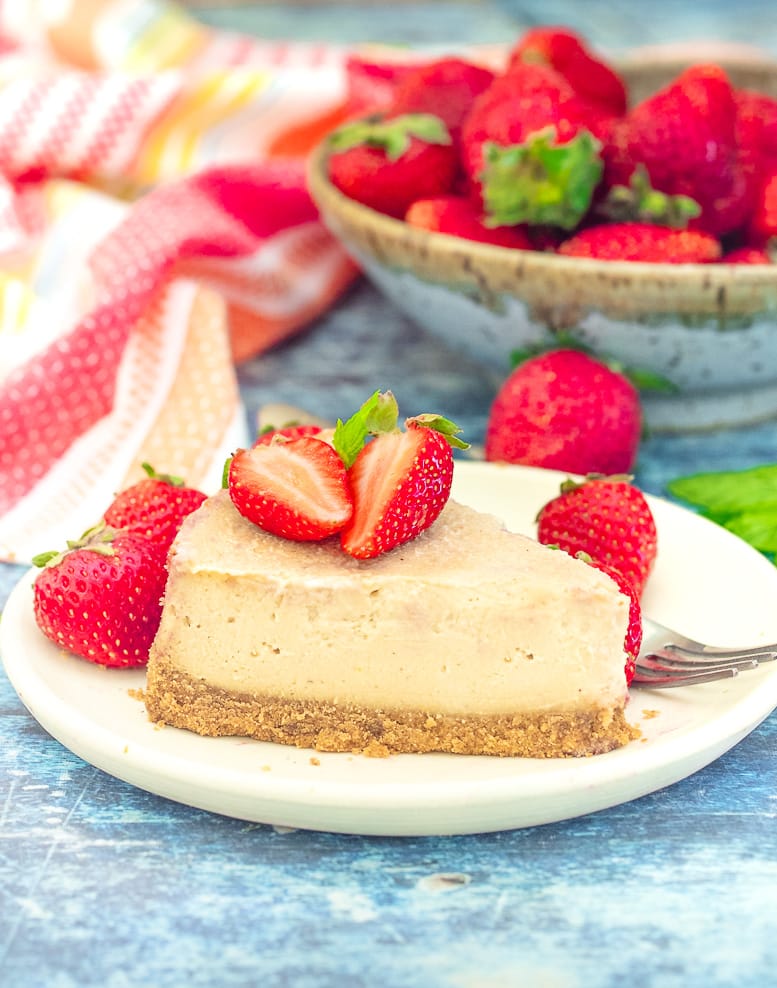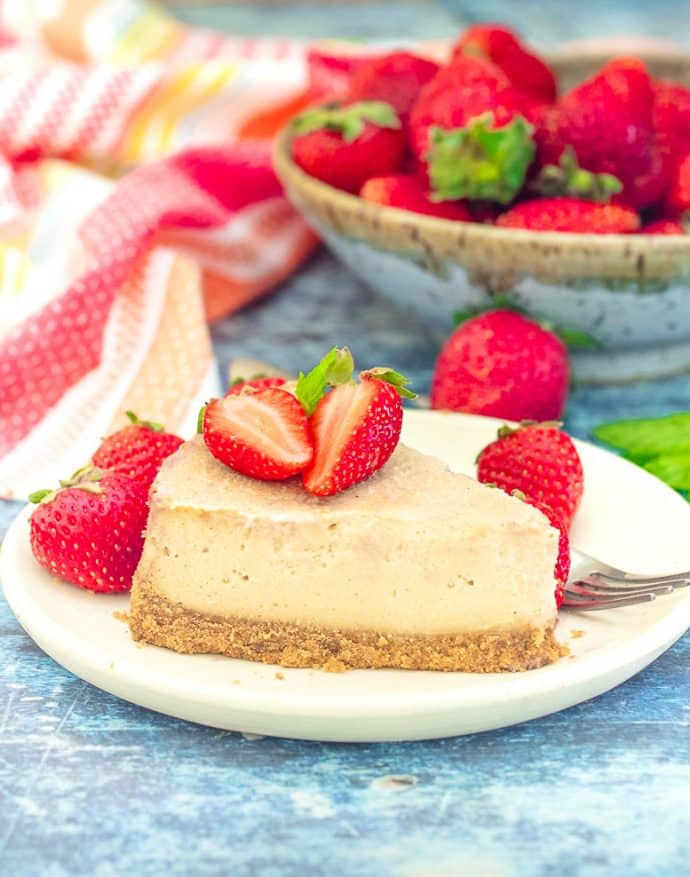 This ultra-rich, decadently creamy and smooth Vegan New York Cheesecake is surprisingly quick and easy to make. Enjoy as it is or get a little fancy with your choice of topping. It is dessert perfection and you absolutely need it in your life…..
STICKY BANANA DATE PUDDINGS WITH RUM CARAMEL
Moist & flavourful Sticky Banana Date Pudding with a spoon-licking, boozy, rum caramel sauce. They can be made in advance & freeze perfectly.
FESTIVE MINCEMEAT TART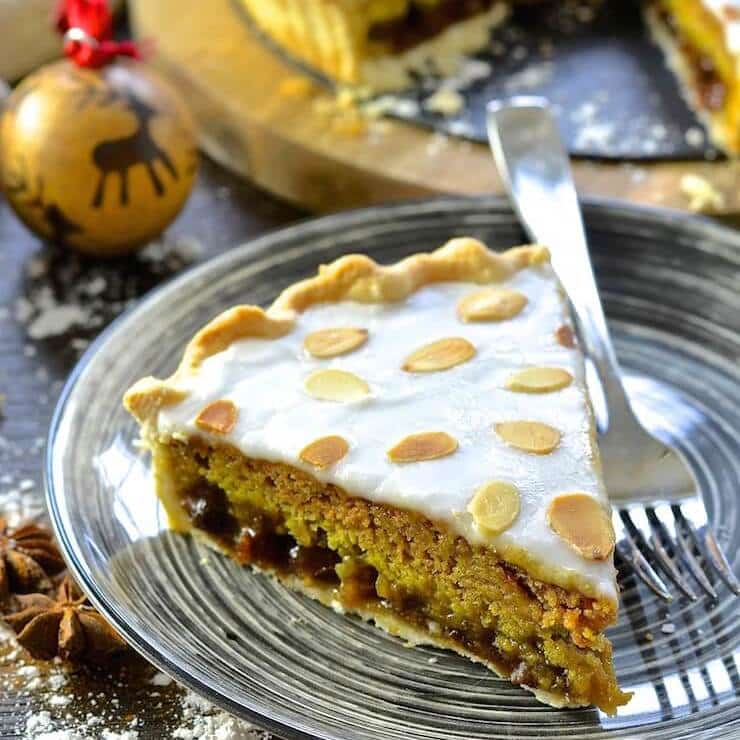 Crisp pastry, rich mincemeat, delicate spice infused sponge & brilliant white, sweet frosting come together to create a taste & texture explosion. This Festive Mincemeat Tart is indulgent, rich & just perfect for the holidays!
VEGAN PUMPKIN PIE WITH CARAMEL SAUCE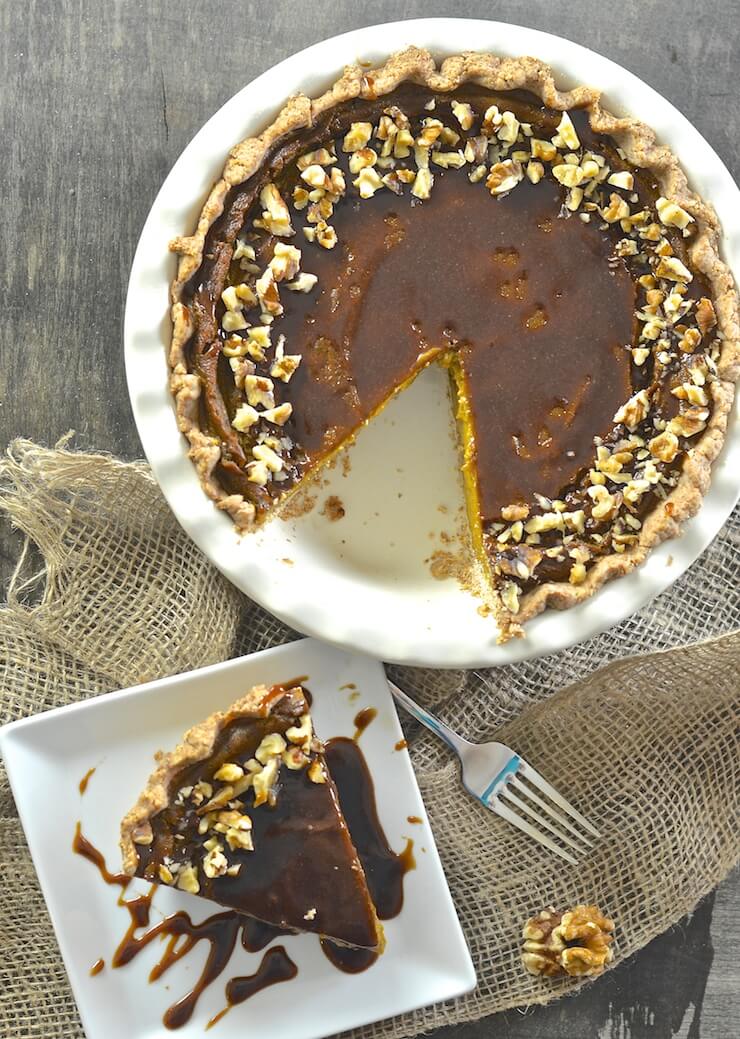 No Thanksgiving would be complete without Pumpkin Pie and this one is even more special because it is paired with the most delicious caramel sauce!
WHITE CHOCOLATE PEPPERMINT PUDDING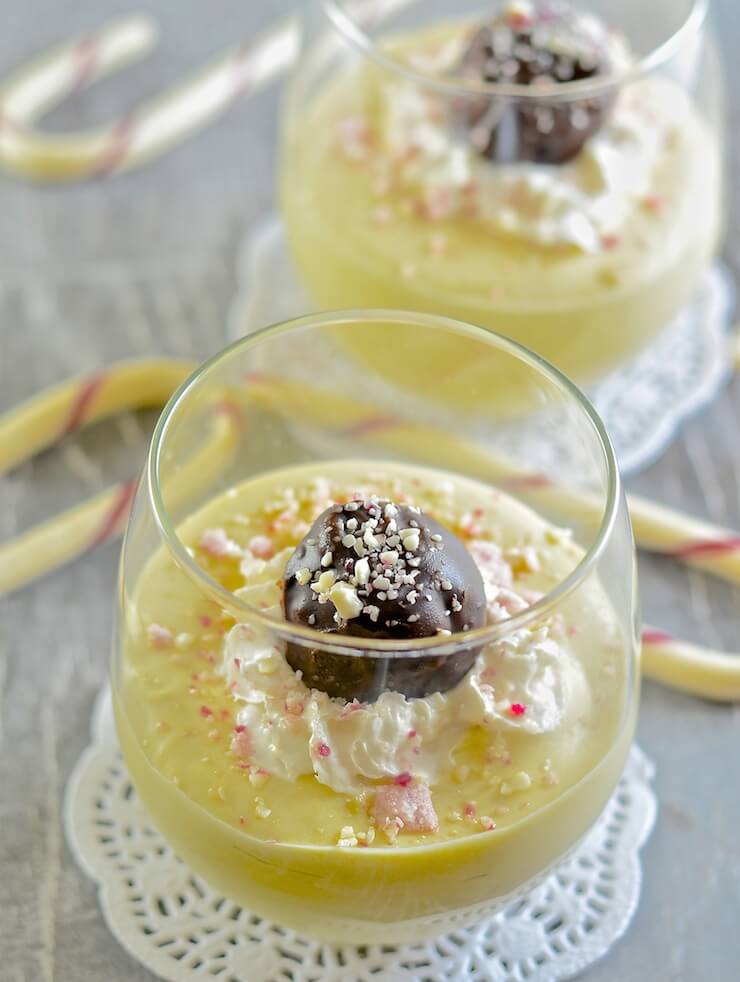 Creamy, sweet & indulgently rich White Chocolate Peppermint Vegan Pudding. Quick & easy to make but seriously impressive & easily made extra festive with the addition of some crushed candy canes!
VEGAN MINCEMEAT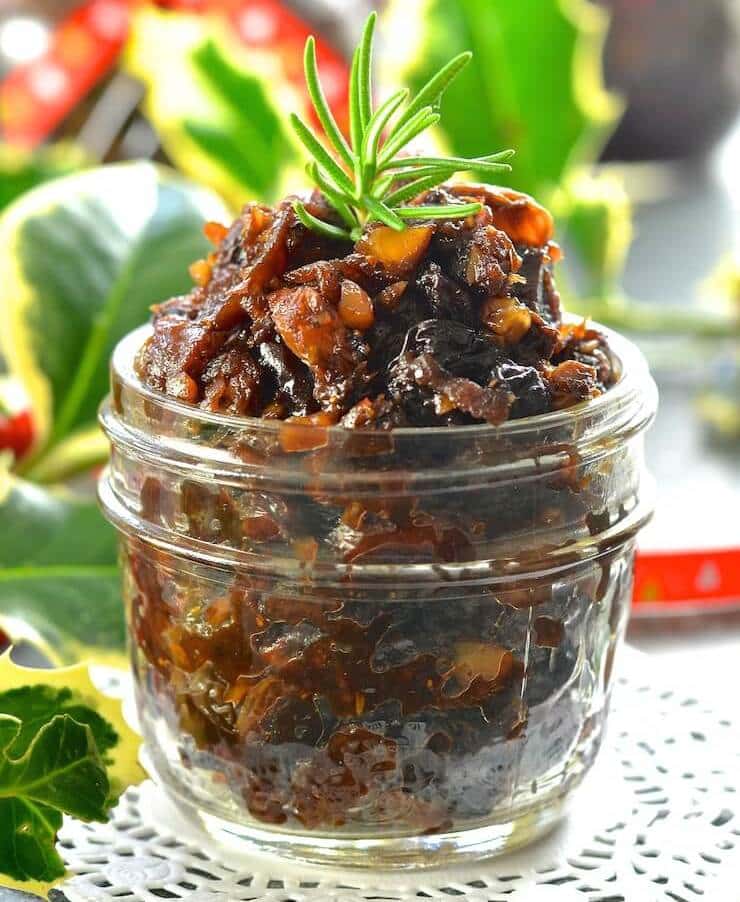 Festive, rich & fruity Vegan Christmas Mincemeat steeped in boozy deliciousness! A Christmas staple that is really easy to make & can be used in all sorts of ways. It's also perfect for gifting.
VEGAN CHOCOLATE COOKIES WITH CRANBERRIES & ROSEMARY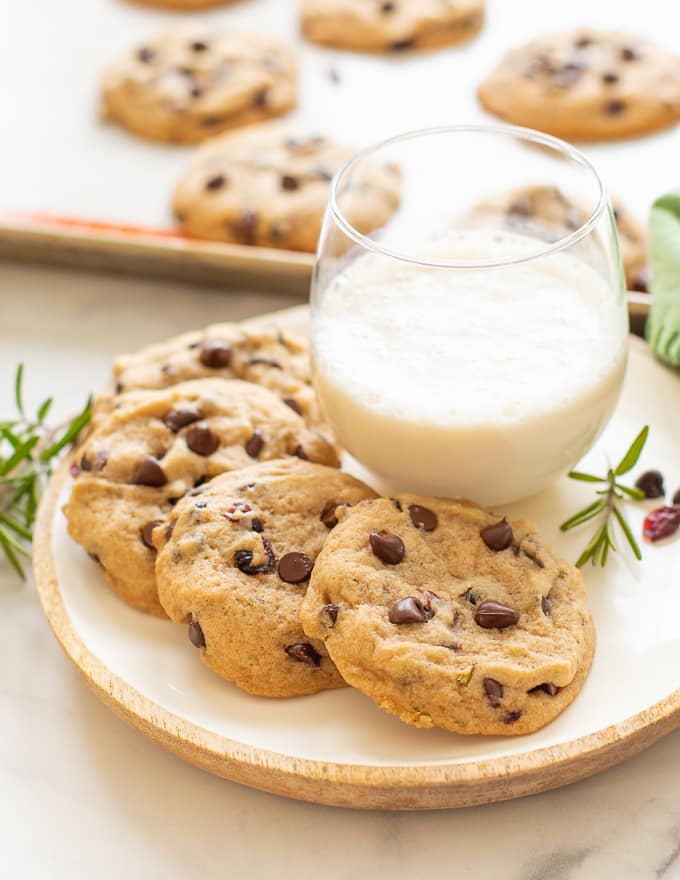 Vegan Chocolate Chip Cookies made festive with the addition of dried cranberries and rosemary!
---
AFTER THE HOLIDAYS
---
WALNUT CRANBERRY APPLE SMOOTHIE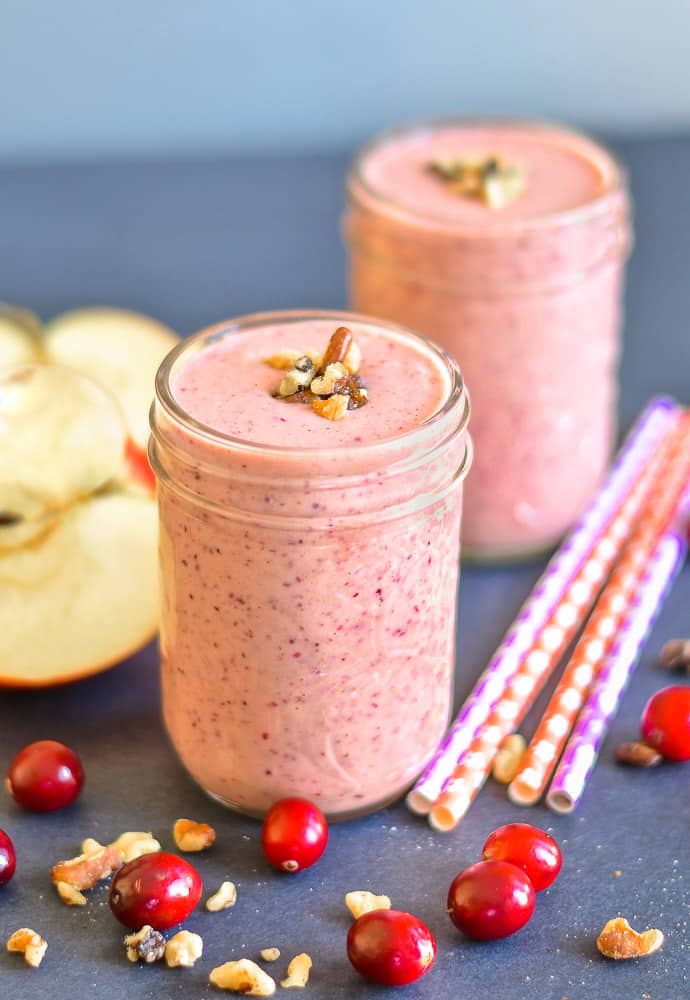 And this is what you drink when you suddenly realize that all you have eaten for days is vegan roast, roast potatoes, gravy, Christmas Pudding and Mince Pies! It's fresh, simple to make and super healthy. Plus it uses up the random cranberries you have left!
---
Merry Christmas!