Soft, sweet and buttery homemade Vegan Sweet Potato Biscuits. Quick and easy to make and perfectly tall, flaky and tender. Comfort food at it's best!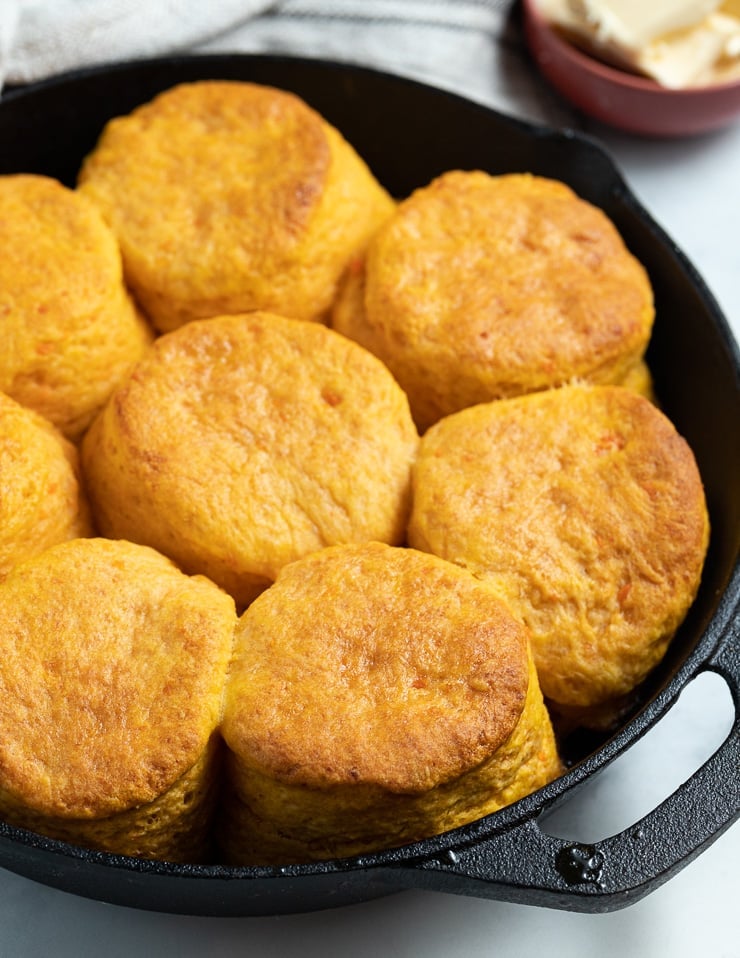 Vegan Sweet Potato Biscuits incoming. Yep. People have their opinions about biscuits, and I don't have Southern roots, or even American roots, but this Brit living in Canada, who feels really weird about sharing this recipe, knows what tastes good, and I think these taste pretty amazing.
I might not have grown up eating biscuits, or not this kind of biscuit anyway (I grew up eating this kind of Vegan Digestive Biscuits!), but so many of you have asked me to share a recipe and there was only so long I could resist, especially as I love to bake. And if you're feeling like these biscuits are something you want to eat right now, then I guess I have your understanding. ♡
Reasons these Vegan Sweet Potato Biscuits are everything:
they are perfectly tall, flaky and soft
the colour .... such a pretty, warm, festive orange
naturally sweet
a great alternative to dinner rolls
a side that works with all sorts of meals
great with savory or sweet toppings
good served warm or cold
they freeze perfectly
quick and easy to make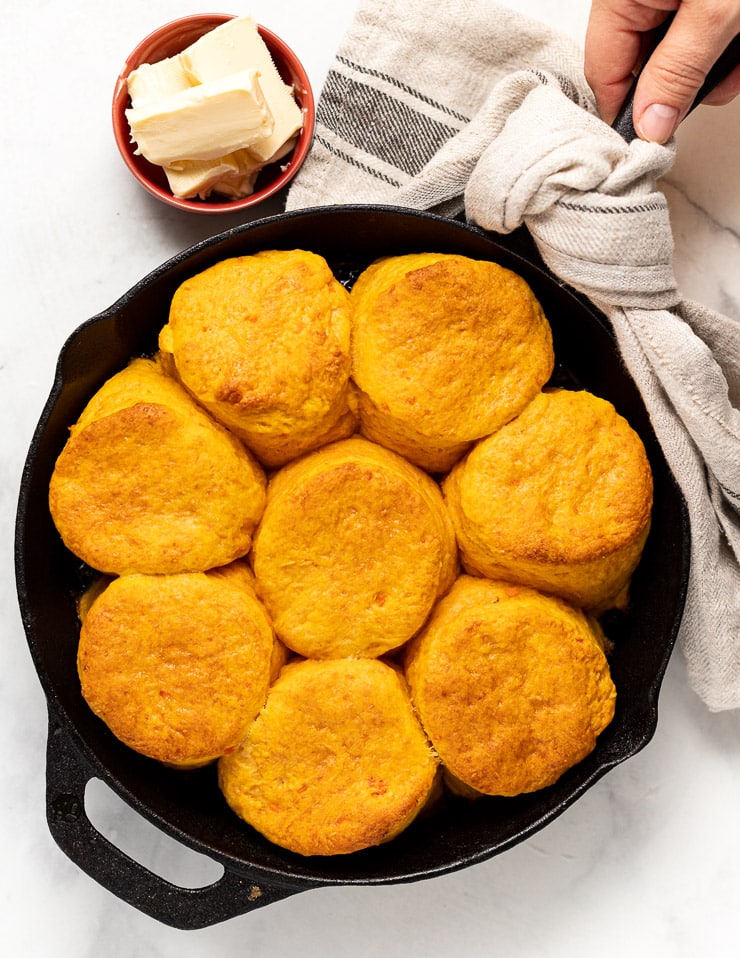 How to make Vegan Sweet Potato Biscuits
First of all here's what you need and why:
All purpose flour - Gives the perfect soft but not too soft, and light but not too light texture
Sweet Potato - Adds flavour, colour and sweetness
Baking Powder - There is a lot in this recipe. It's not a typo. Don't reduce it. Aluminum free is best, both for taste and health. 
Vegan Butter - Essential for the very best flavour. This cannot be reduced or subbed. If you are looking for a healthier recipe check out my Healthy Oil-Free Biscuits.
Salt - So important in any baked recipe, whether savoury or sweet. 
Plant-based milk - Any as long as it's unsweetened and not flavoured. I tend to use my homemade cashew milk because I always have some on hand.
Optional maple syrup - I love to brush the tops of the biscuits with this before they go in the oven. It adds a nice shine and a touch of maple flavour which works so well with the sweet potato. If you're generous, it also runs down the sides a little and creates extra golden, chewy bits which are really nice. You could just brush the tops with some extra milk or aquafaba (liquid from a can of chickpeas) if you prefer. 
And here's how it's done:
I like to make my biscuits in a food processor but you can easily do it by hand if you don't have one. You'll just need to cut the butter in with a pastry cutter, a fork or by rubbing it gently between your finger tips.
Mash the sweet potato well with a fork so it's smooth and puree-like then whisk it together with the milk.
Add the flour, baking powder and salt to a food processor and whisk or pulse until combined. Add the butter and pulse until evenly distributed and in very small pieces. You should still be able to see little lumps of it. Here's what it will look like: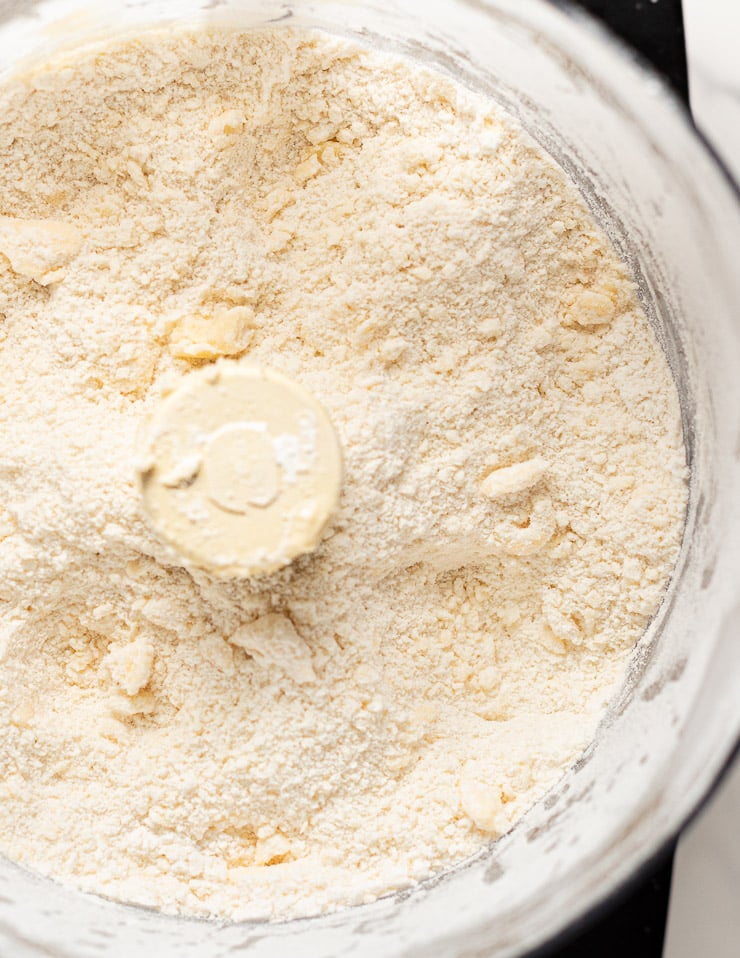 Pour in the milky sweet potato mixture and pulse again until a rough dough is formed. Gather it together gently, wrap in cling wrap or put in a lightly greased air tight container and pop it in the fridge for a few minutes. It will give you a chance to tidy up an dprepare your work surface for the next step.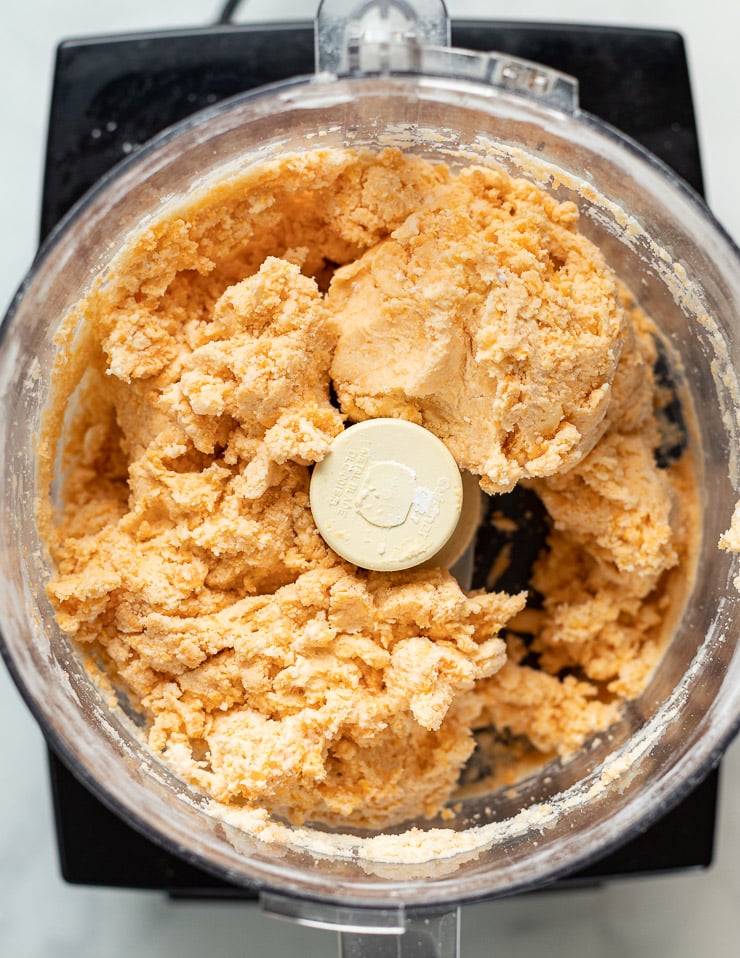 Place the dough on a well floured surface and roll out into a rough rectangle shape about 1/2 an inch thick. it doesn't have to be perfect. Do it quickly and don't handle it more than you have to.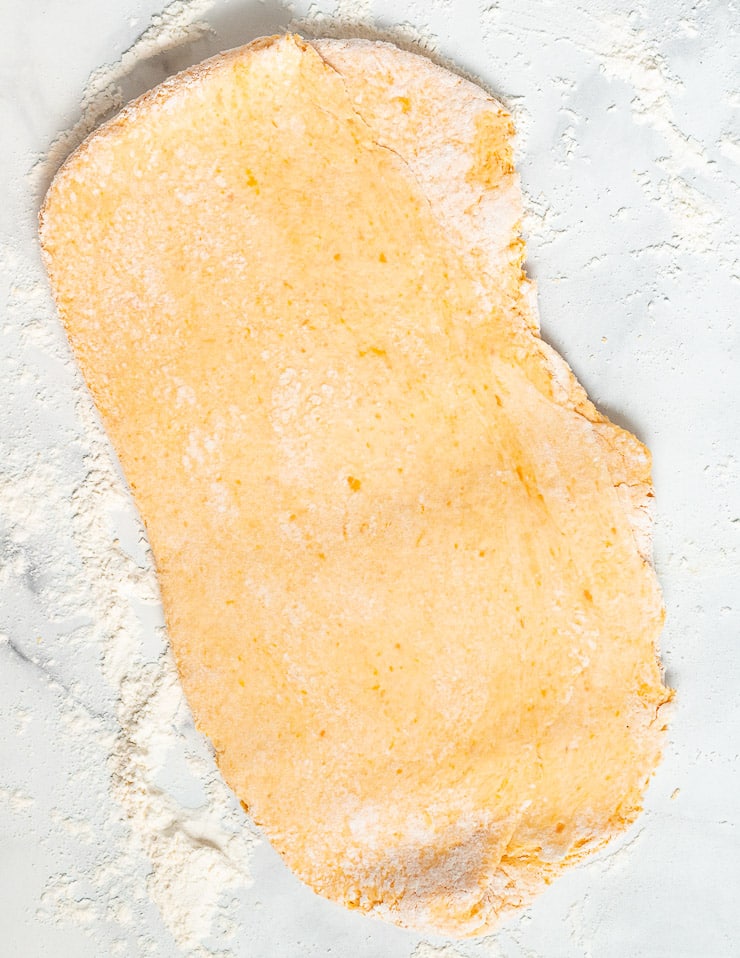 Gently fold one side of the rectangle into the centre.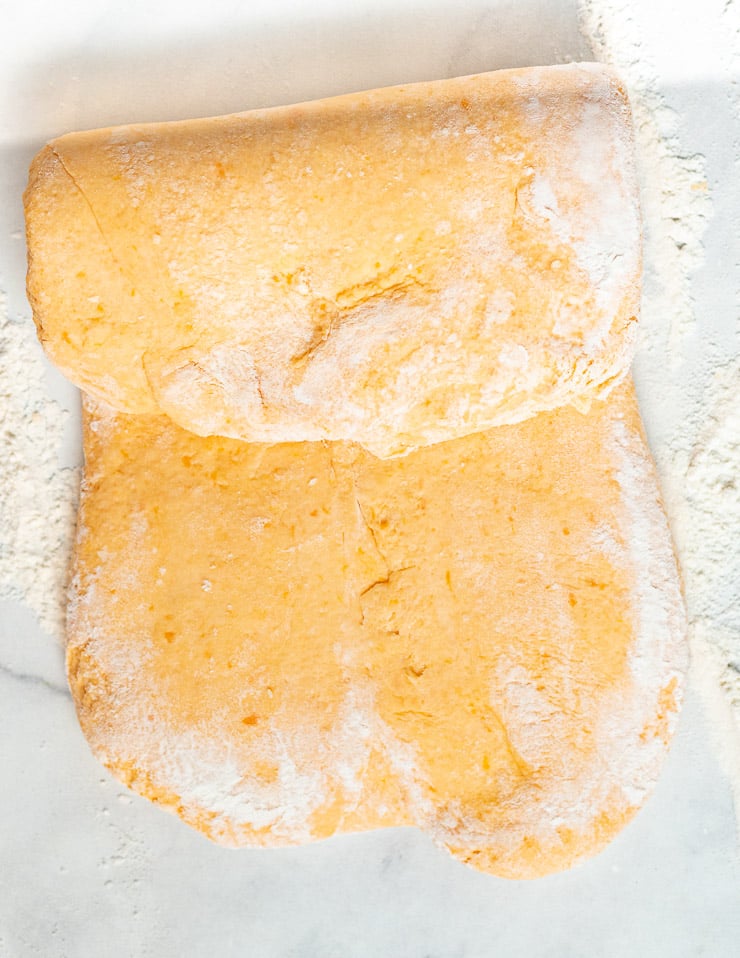 And then the other side, like an envelope, so it looks like this: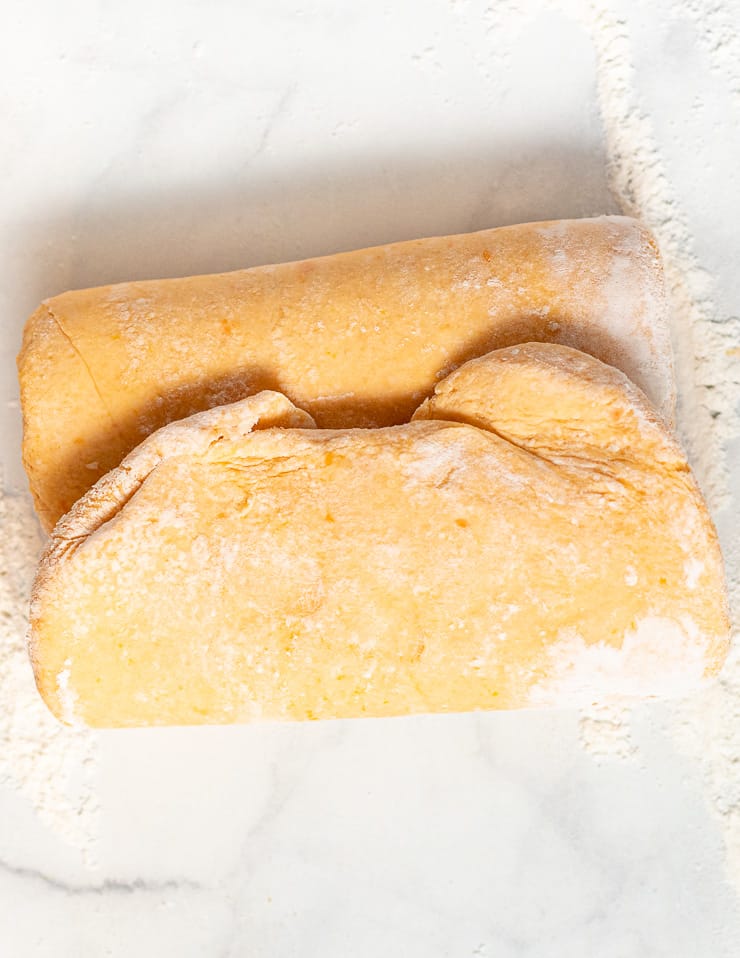 Then roll it back out into a large rectangle again. Repeat this process until you have rolled out and folded it like this 4 times. Don't skip this!!!
Then gently roll it out once more until it's about 1 inch thick all over. Cut into 3 inch circles.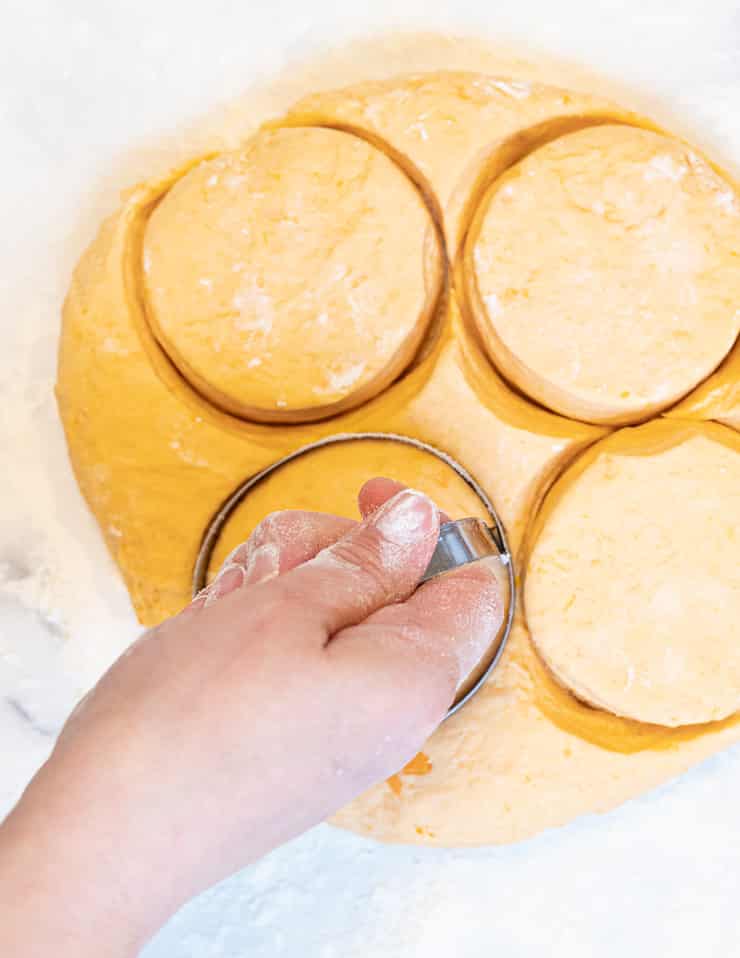 Place in a cast iron skillet or on a baking sheet so all of the biscuits are touching each other and then brush generously with maple syrup, then bake.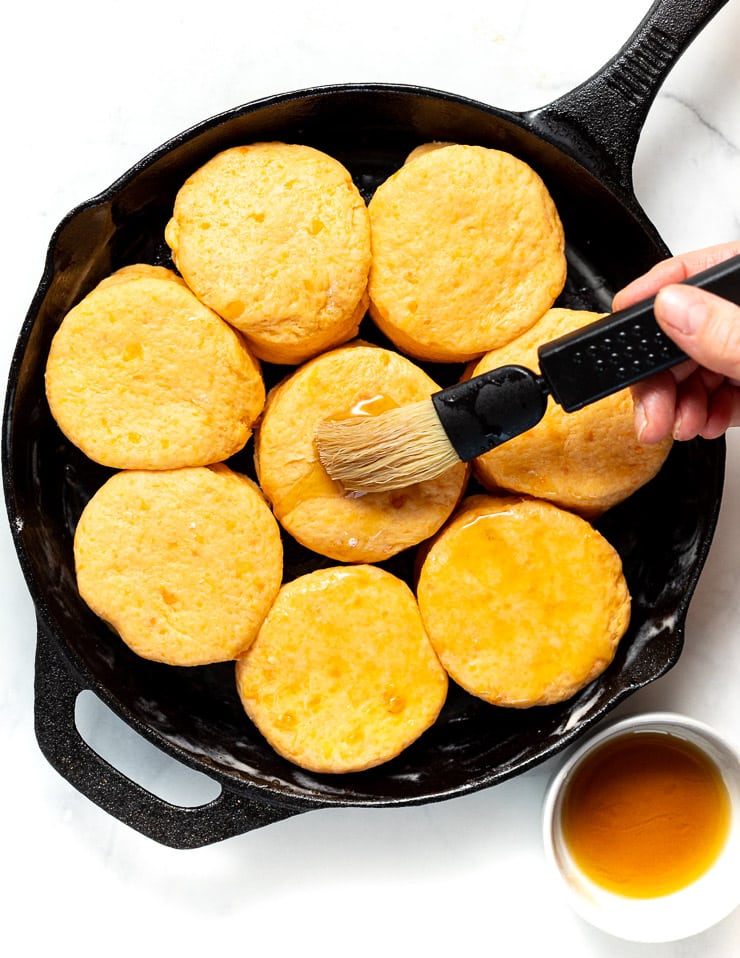 Success Tips
Make sure all of your ingredients are cold when you start. If you have time and space, it's well worth putting the flour in the freezer for 30 minutes first.
Once you've mixed the sweet potato and the milk, pop it in the fridge until you need it.
Keep little chunks of butter throughout the dough. It's the little cold bits of butter that melt and create steam which in turn create pockets, which gives us flaky biscuits.
Don't overwork the dough because you will develop the gluten too much and make the biscuits tough, and you will melt the butter before they even hit the oven.
Try not to touch the dough more than you have to because the heat from your hands will warm it up and melt the butter.
Don't skip the short refrigeration step.
Don't skip the folding. It doesn't take long and makes a real difference to the flaky layers and rise.
When cutting don't twist the cutter. You should be using a swift and straight up and down motion. Twisting seals the edges and affects how much the biscuits will rise.
A round, metal cookie or biscuit cutter is the best thing to use when cutting. You can use a glass, but the edges of the biscuits won't be so clean and well defined and so won't rise quite as well.
The first roll out of dough makes the best biscuits, so cut carefully and don't waste space between each one to limit the amount of dough that will need rolling out again.
Don't spread them out too far apart. These biscuits like to keep cozy and cuddle up to their neighbours. They should all be touching each other in the pan. This helps them rise up taller and keeps them nice and tall and stops them toppling over.
A cast iron skillet is the best thing to cook these biscuits in. They rise taller and they get lovely crusty bottoms.
How to serve biscuits
I could list so many ways to serve these Vegan Sweet Potato Biscuits. First of all they make the best addition to your vegan Thanksgiving feast, complimenting the sweet potato casserole very nicely. Here are a few other ideas:
So far, I've eaten these biscuits with my vegan potato soup and vegan scrambled eggs. I have enough in my freezer to feed a small army though, so they will be the side of choice with everything for a long while to come.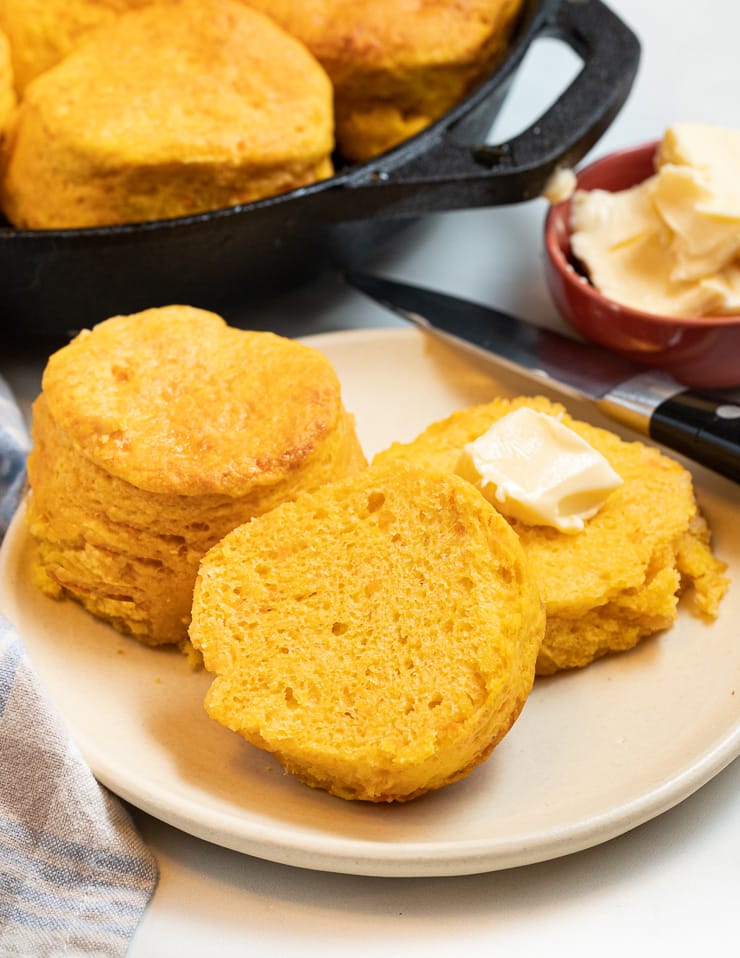 What to do with leftover biscuits
Should you have any biscuits leftover, you can freeze them for another time (jump to how by clicking here), or you can use them up by making:
Breadcrumbs Biscuit crumbs -  Let them stale for a few days then put them in a blender or food processor and pulse until they are crumbs. Either use right away or freeze them in a bag or container. Frozen bread biscuit crumbs stay pretty loose so can be used straight from the freezer for breading or the top of casseroles like my Baked Vegan Mac and Cheese or Tomato Pasta Bake.
Croutons - Let them stale for a few days, cut into cubes, toss with a little olive oil, then bake on a tray in a low oven (about 375°F) for 5 minutes. Toss then bake for another 5. Depending on the size, they might need a few minutes more. They are done when they are golden and crispy. 
Casserole topping - Cut them in half and sit on top of any creamy casserole 5 to 10 minutes before the end of cooking time. The bottoms will soak up the creamy sauce and the top will turn a little crusty.  
Breakfast Casseroles - Use in place of, or as well as bread, in a breakfast casserole like the one in my cookbook. 
French toast - Use the biscuits instead of bread in my Vegan French Toast recipe. Make sure they are stale first, and you'll likely need to scale down the custard part of the recipe. If you accidentally make too much though, the custard keeps in the fridge for a few days. 
Toast - Cut the biscuits in half, toast them in your toaster, spread with vegan butter and top with vegan scrambled eggs or sautéed mushrooms.
How to reheat biscuits
Biscuits are at their best when freshly cooked, but reheat really well and end up almost as good as new.
To reheat in the oven - Preheat oven to 350°F (175°C). Place biscuits on a baking tray and cook for 5 to 7 minutes.
To reheat in a microwave - Place biscuits on a paper tool on a microwave safe plate or tray and microwave on medium for 20 to 30 seconds. Check they are warmed to your liking. If not add on another 10 seconds or so.
To reheat in a toaster oven - Preheat toaster over to 350°F (175°C). Place biscuits on a baking tray and cook for 5 to 7 minutes.
Can you freeze biscuits?
Baked biscuits can be frozen for up to 3 months. Let them cool completely then gently separate them. Lay them out on a lined baking tray. Cover with plastic wrap or a lid and freeze until they are solid. Then remove them from the tray and place in freezer bags or a freezer safe container. They can remain in the freezer for up to 3 months.
How to reheat frozen biscuits
To heat biscuits from frozen - Place frozen biscuits on a baking tray and bake on 350 °F for 10 to 14 minutes or until heated all the way through.
To defrost then heat - Thaw biscuits overnight in the fridge then either eat as they are, or place on a baking tray and reheat for 5 to 7 minutes at 350°F (175°C).
Note that skipping the defrost and warming straight from the freezer gives the best results.
Can you freeze biscuit dough?
Biscuit dough freezes remarkably well and the biscuits don't suffer at all. In fact, they often turn out better when baked straight from the freezer.
FREEZING CUT BISCUIT DOUGH - Follow the recipe up to the cutting stage and lay the cut biscuits out on a parchment paper lined baking tray so they aren't touching each other. Cover with plastic wrap or a lid and place the entire tray in the freezer until the biscuits have frozen solid. Take them off the tray and place in a freezer bag or freezer safe container. They can stay like that in the freezer for up to 3 months. When you want to cook them take out as many as you need, place in a well greased cast iron skillet or a lined baking tray and bake for 5 to 7 minutes longer than the recipe calls for, at exactly the same temperature. For best results, and to ensure nice tall biscuits, make sure they are all touching each other on the tray/skillet.
FREEZING UNCUT BISCUIT DOUGH - Prepare the dough following my directions for folding etc, then form into a ball (handling it as little as necessary), wrap tightly in plastic wrap or a lightly oiled freezer bag, and freeze for up to 3 months. Thaw overnight in the fridge, then roll out, cut and bake as per the recipe.
Ways you can adapt this recipe
I don't recommend substituting any of the main components of this recipe because there are so few ingredients and because baking is a science. There are however a few variations you could make:
Add some chopped fresh sage to the biscuit dough. Sage and sweet potato work really well together.
Brush the tops with aquafaba (liquid from canned chickpeas) instead of maple syrup
Use pureed yam or pumpkin instead of sweet potato. Just be sure to add the milk gradually because the amount you need will vary slightly due to differing moisture levels.
Hungry for more?
Please check out my cookbook too and subscribe to my email list for a fabulous FREE eCookbook featuring my top 10 recipes. Being on the list means you will be first to see my new recipes and you'll be kept in the loop on all things new and exciting too!
If you try this recipe, let me know how you like it by leaving a comment and rating below! And be sure to join my mailing list for more deliciousness!
Recipe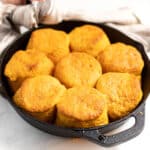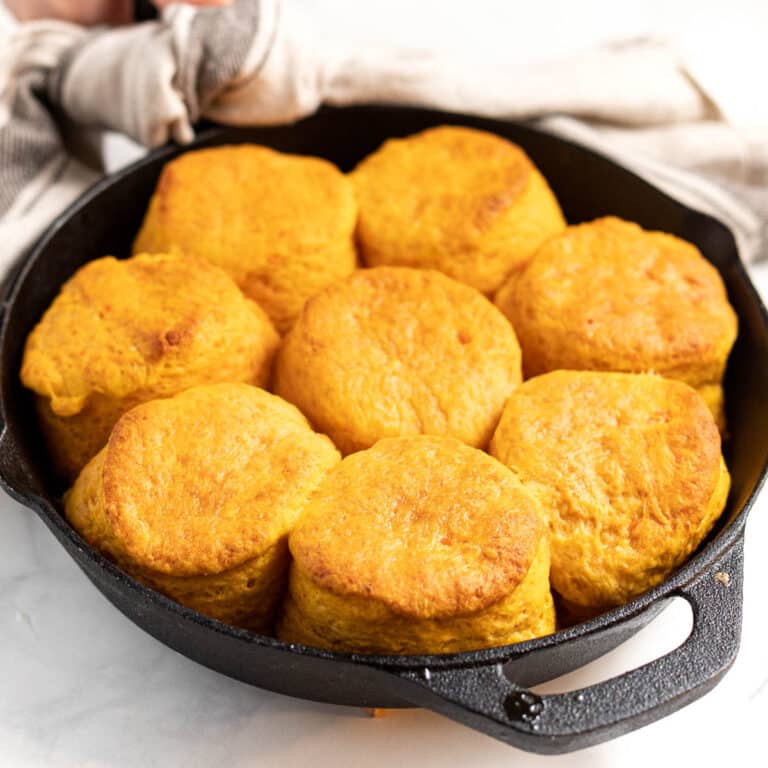 Vegan Sweet Potato Biscuits
Author:
Soft, sweet and buttery homemade Vegan Sweet Potato Biscuits. Quick and easy to make and perfectly tall, flaky and tender. Comfort food at it's best!
Ingredients
½ cup + 1 tablespoon + 1 teaspoon / 137

mls

unsweetened plant-based milk

, cold straight from the fridge

1 cup / 218

g

mashed sweet potato or yam

, use orange fleshed sweet potato not white (see notes for how to cook a sweet potato)

2½ cups / 312

g

all purpose flour

(plain flour in the UK) plus some extra for dusting your surface

2

tablespoons

baking powder

1

teaspoon

fine salt

½ a slightly heaping cup / 125

g

vegan butter

, straight from the fridge (plus some extra for greasing the skillet)

2 - 3

tablespoons

maple syrup

(real maple syrup, not pancake syrup), see notes for alternatives
INSTRUCTIONS
Make sure to keep everything as cold as possible when making this recipe. If you have space, it's good to put the flour in the freezer for 20-30 minutes before you start, but longer is fine. Flour doesn't freeze solid and will stay useable no matter how long you leave it there. Keep the butter, sweet potato and milk in the fridge until the last possible moment too.

Preheat oven to 425°F (218 °C) and have a shelf ready about ¾ way up the oven. Grease a 9-10 inch cast iron skillet really well with vegan butter, or line a baking tray with parchment paper if you don't have a cast iron skillet. Keep the skillet/tray away from the preheating oven so it doesn't get warm.

Whisk the mashed sweet potato with half a cup (120 mls) of the milk and put it in the fridge so it stays nice and cold. Set aside the remaining small amount of milk. you might need it later.

To a food processor or a large bowl, add the flour, baking powder and salt. Pulse or whisk a couple of times to combine.

Add the butter to the flour mixture. Pulse the food processor a few times, or cut the butter in with a pastry cutter or a fork, or by rubbing with the tips of your fingers. Keep going until it looks like breadcrumbs with tiny chunks of butter throughout. See my picture in the post above for a guide. In a food processor it will likely only need 3 or 4 pulses. Don't over process it. It's the little butter chunks that make the biscuits flaky.

Take the milky sweet potato mixture out of the fridge and pour it into the food processor/bowl. Pulse a few times to combine or mix gently. If it's a little too dry, add the remaining milk that you set aside earlier very gradually. Pulsing in between until when you touch the dough it feels like it will come together easily. Remove the blade, ball up the dough and wrap in cling wrap. Place in the fridge for 10 minutes while you clean up the mess you made so far and clean your work surface.

Dust the work surface with a generous sprinkle of flour. Remove the dough from the fridge. Unwrap it and roll it out gently into rough rectangle-like shape about 1/2 an inch thick. Dust the top with a little flour as needed to stop the rolling pin sticking and don't be too fussy about the shape. Gently fold one half of the rectangle into the centre, and then the other side too, a bit like an envelope. Check my pictures in the post for a visual guide. Then roll it back out and fold in the same way again. Do this a total of 4 times. It's important not to skip this as it is what creates the layers in the biscuits. Work as quickly as you can and touch the dough as minimally as you can with your hands to help keep it cool.

Once you're done with the folding, use your hands to pat it out to an even 1 inch thick and use a metal 3 inch cutter or a glass to cut the biscuit shapes. Do not twist the cutter. Use a straight up down motion and keep the cuts close to get as many as you can out of the dough. The first rolled batch is always the best so we want to limit how much dough is left.

Gently transfer the cut biscuits to the greased skillet/lined baking tray, then gather up the remaining dough into a ball and gently pat out to 1 inch thick again. Cut as many biscuits as you can out of it, probably only another 1 or 2, or until you have 8 biscuits.

I don't like to waste anything, so pat the remaining scrap of dough into a rough round shape and get it ready on a separate baking tray to put in the oven when the rest go in. That one's for you. Eat it as soon as it comes out of the oven. You earned it ;O)

Brush the top of each biscuit generously with maple syrup and put them in the oven. Cook for 18 to 20 minutes or until well risen and golden. Be sure not to open the door while they are baking as it will affect the rise.

Remove from the oven and enjoy warm. Store leftovers in an airtight container.
NOTES
I recommend reading my success tips in the post above for some really helpful tips about making this recipe successfully. 
For brushing the tops of the biscuits prior to baking, maple syrup gives the best results both looks and flavour-wise. If you don't have any though, you can use a little extra milk or aquafaba (liquid from a can of chickpeas). 
For tips on freezing and reheating see the post above. 
HOW TO COOK SWEET POTATO
I found that 1 large sweet potato made enough mashed potato for this recipe. Have a spare one on hand just in case though. Once it is cooked and cooled, peel off the skin and mash it really well with a fork. If you are in a hurry you can mash it while it's hot and spread the mashed sweet potato out on a cold plate to cool it quickly. 
To microwave
I find the easiest way to cook the sweet potato is in the microwave. Pierce all over then place on a piece of kitchen paper or a plate and cook on high until soft. It takes about 5-7 minutes.
In the oven
Pierce the potato a few times with a fork or knife, and place on a baking tray in an oven that has been preheated to 425°F (218 °C). It will take roughly 45 - 50 minutes although it will vary depending on size so check by piercing with a knife or fork. It will be tender when done.
In an Instant Pot 
Set the potato on the trivet in the bottom of the Instant Pot. Pour in 1 cup of water. Put the lid on and cook for around 22 minutes high pressure with a natural pressure release. 
NUTRITION
Calories:
280
kcal
Carbohydrates:
41
g
Protein:
5
g
Fat:
11
g
Saturated Fat:
3
g
Sodium:
412
mg
Potassium:
506
mg
Fiber:
2
g
Sugar:
5
g
Vitamin A:
5869
IU
Vitamin C:
5
mg
Calcium:
173
mg
Iron:
2
mg
Tried this recipe?
Rate it & leave your feedback in the comments section below!