As a long-time food blogger, recipe developer, and cookbook author, I've been through my fair share of cookware, appliances, and small tools and I thought it might be useful to share my favorite vegan kitchenware essentials with you.
For me, when it comes to essential vegan kitchenware or tools, it's not about what's trendy or what will look nice in my kitchen, although that can be an added bonus. It's more about what's practical, works well, gets the job done easily, and most importantly, will last. I'm a pretty frugal person, but I've learned from experience that spending a little more on a piece of equipment can often save you time and money in the long run.
Perhaps you're a new vegan with a newfound passion for cooking, suddenly realizing that to make a lot of recipes you need all sorts of vegan staples and equipment that you've never owned before, or maybe you're looking for vegan kitchen gift inspiration for the vegan cook in your life, or maybe you simply want to treat yourself.
Whatever your situation, I've compiled this comprehensive list of kitchenware for the vegan kitchen that I use all the time. You'll find everything a vegan needs for a well-equipped kitchen, including essential vegan cookware and vegan kitchen appliance essentials. All ones that I love and that have stood the test of time in my own vegan kitchen.
The links in this post are affiliate links. Most link to Amazon because it's a store that people all around the world have access to and my audience is very diverse. As an Amazon associate, I earn from qualifying purchases.
Jump to:
Knives
When it comes to knives, I've learned over the years that there is no need for a knife block/set because most of them end up never being used. All you really need are a good chef's knife, a paring knife, and a bread knife. The three that I own are: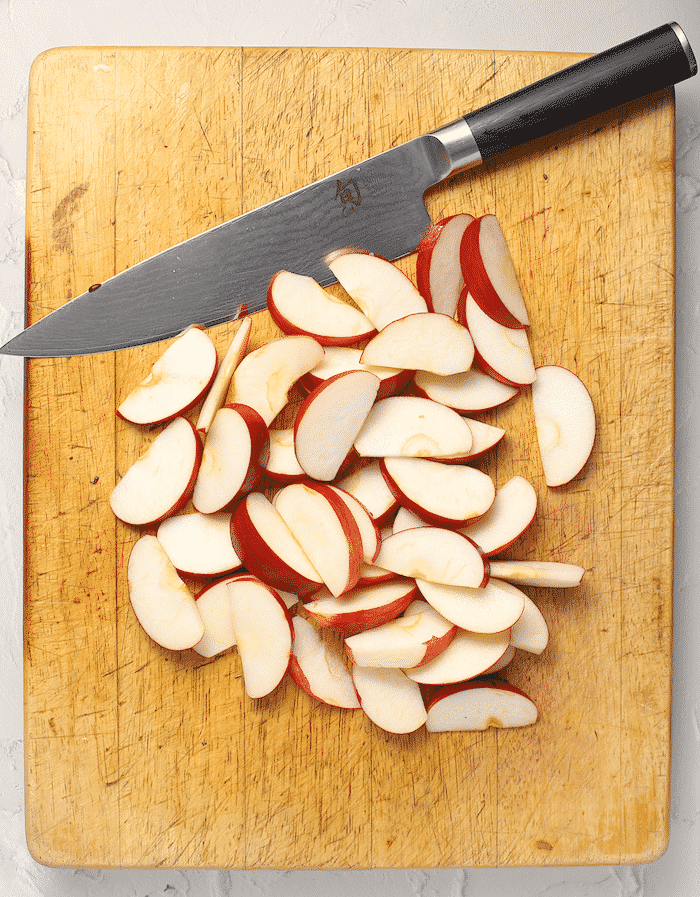 Shun 8" Chef's Knife - A good, sharp chef's knife is a real investment in speed, accuracy, and safety and it gets your prep done quickly and easily. This is the knife I use 99% of the time. It slices through hard vegetables like swede and squash with ease and softer ones things absolutely effortlessly. It looks pretty beautiful too!

Shun Paring Knife - For anything the chef's knife can't do well like coring, seeding, peeling, trimming, hulling, cutting, and other more precise cutting.

Victorinox Swiss Army Bread Knife - I really did my research before buying this bread knife because I love very, very crusty sourdough and most bread knives struggle to cut through the hard crust, particularly when you get to the bottom. This one makes it almost effortless and you get a clean slice every time. It also cuts really soft and squishy bread without squashing it down and it is great for cutting cake, tarts, pies, and tomatoes too. It's a really great price too!
---
Small appliances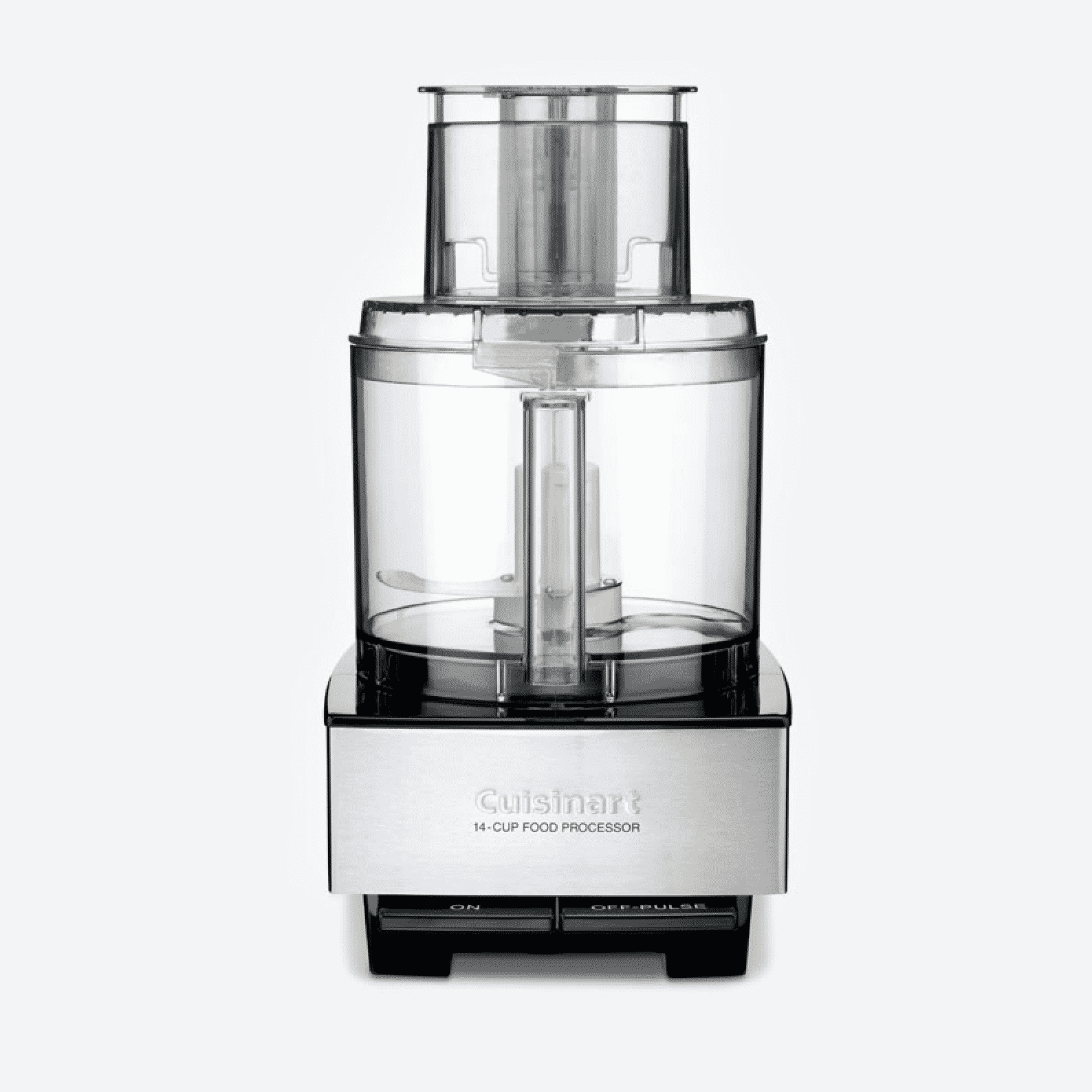 Cuisinart Food Processor - I have been through many food processors. They have never lasted longer than a year until this one. It's roomy, it's stylish and it's reliable. I use it all the time for chopping, and grating (it saves loads of time when you make something like a carrot cake), for recipes like my vegan feta cheese and vegetable pate, making nut butter, and even for cookies and pastry.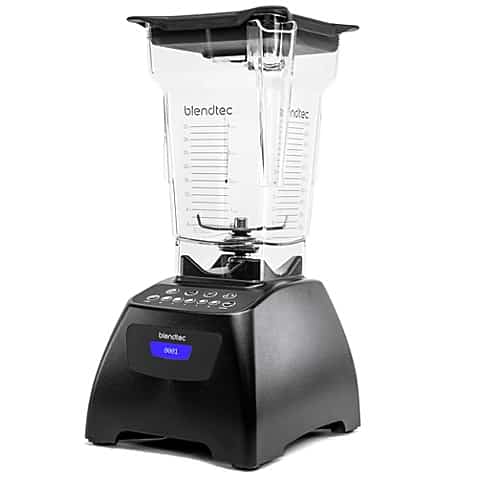 Blendtec Blender - I've had the classic model for years and it's the one you see pictured in any of my progress photos in recipes that are blended. For a very high powered blender it's reasonably priced and is built to last. I use it daily to make smoothies, for recipes like my vegan butter, and my vegan ricotta cheese, and for plant milks like cashew milk and oat milk. Blendtec customer service is fantastic too. Even after the 5-year warranty ended on mine last year they replaced my jar for me when it developed an issue. Vitamix is also a great brand of blender.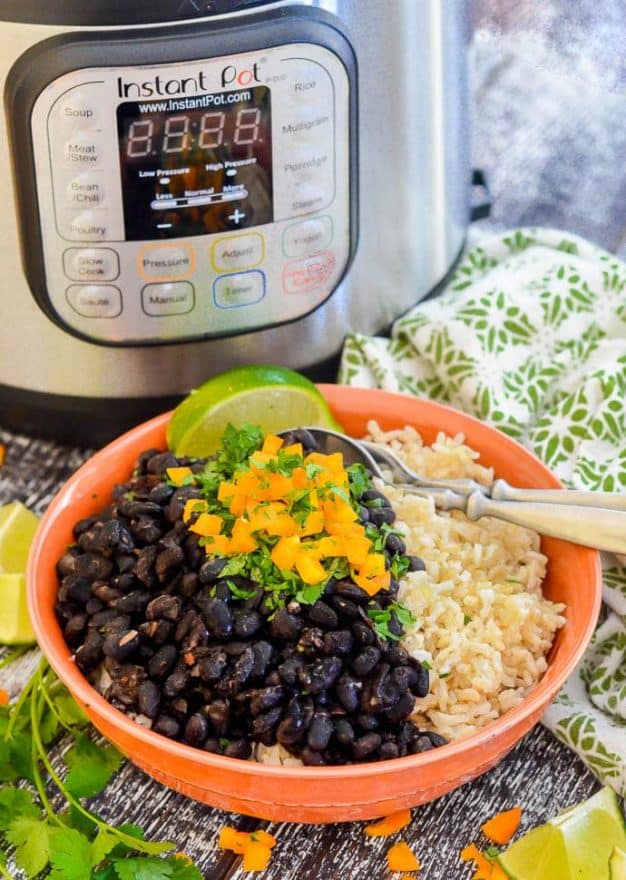 Instant Pot - I've had my Instant Pot since they first were introduced and I wouldn't hesitate to replace it if something was to happen to it. It's basically a pressure cooker, slow cooker, rice cooker, and yogurt maker in one. I use it daily for making vegan yogurt, cooking dried beans from scratch with no soaking in less than one hour, making my Vegan Christmas Pudding at Christmas, cooking grains perfectly, and for making many other vegan instant pot recipes.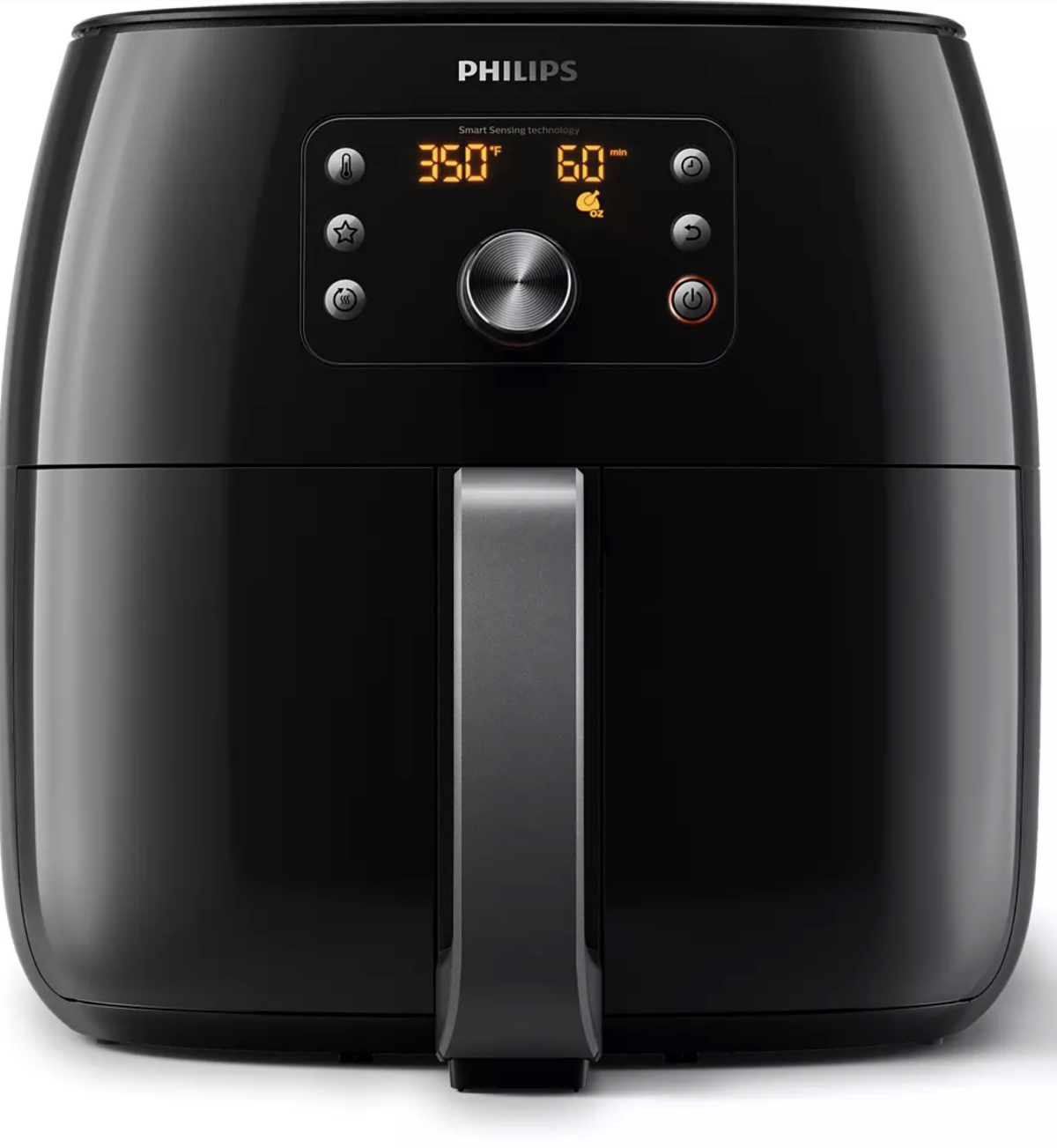 Air Fryer - If you've been around a while you'll know I always used to recommend the Cosori Air Fryers, then I had an unfortunate incident with the plug on mine getting super hot, which left me with a burned hand. Not long after they issued a massive recall of over 2 million machines due to fire risk. I replaced mine with a Philips XXL, which is pricier, but I'm happy with it. If I'm honest though I think I preferred the Cosori and you really can't beat their price!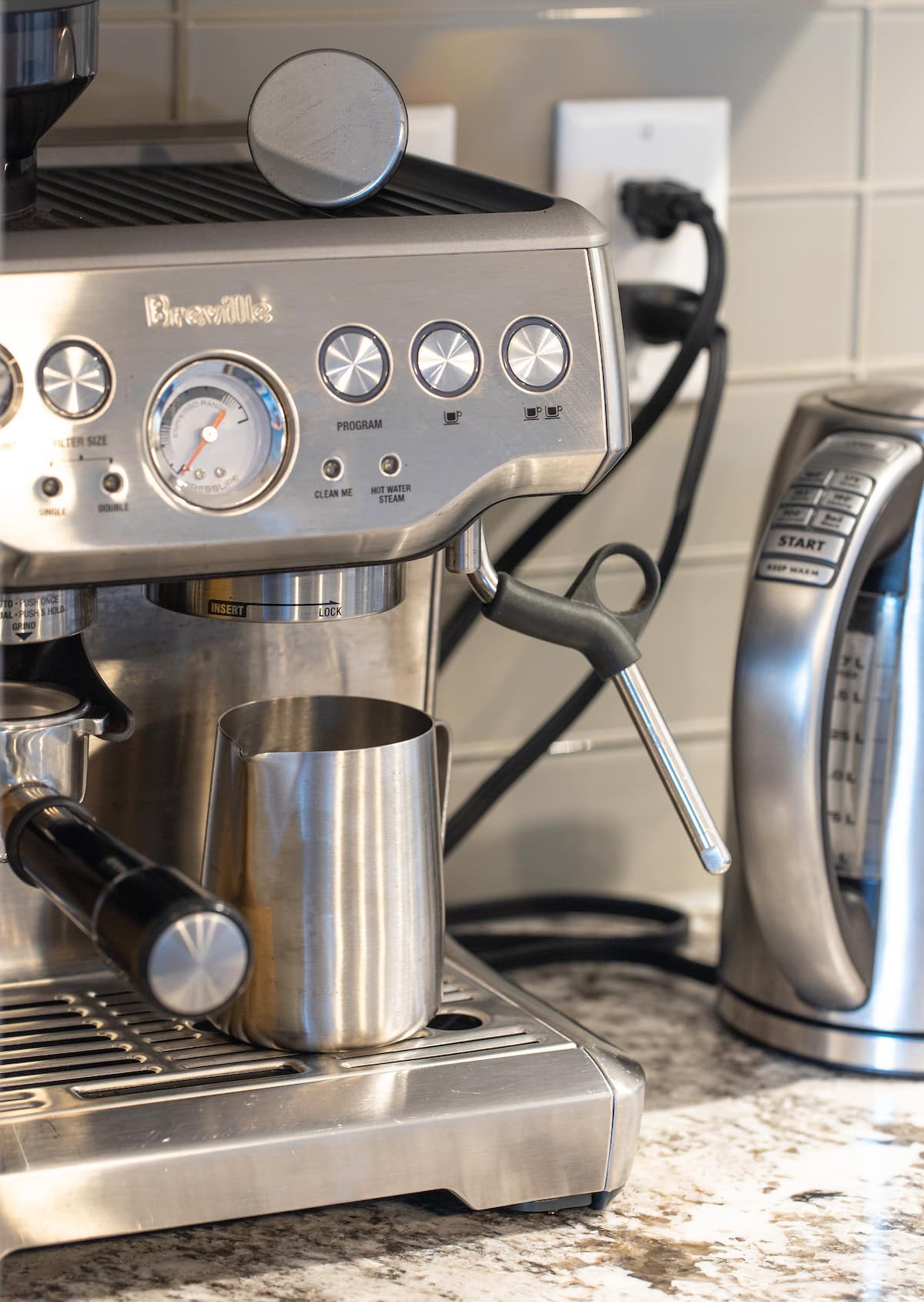 Breville Barista Express - Yes I'm a huge coffee lover! We treated ourselves to this machine about 6 years ago after doing lots of research, and have been loving it ever since. It's pricey (look out for sales because you can often grab a really good deal) but if you have a coffee shop habit it might well save you some dollars. It makes amazing espresso and grinds the beans too. We barely ever buy coffee out because we can make it just as good, if not better at home. It's really quite incredible for an at-home machine. Treat yourself to this and my absolute fave coffee beans from Kicking Horse (I never drink anything else), and you'll be in coffee heaven!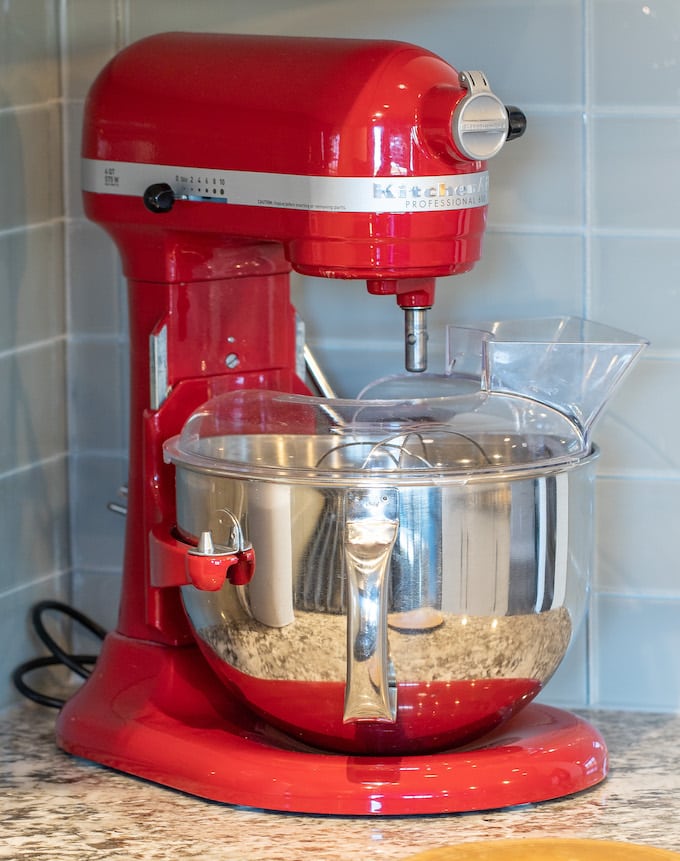 Kitchen Aid - Not essential at all but it's a beauty of a mixer, looks amazing in the kitchen with its pop of color, and makes light work of cake batter, bread dough, seitan, and the fluffiest vegan mashed potatoes.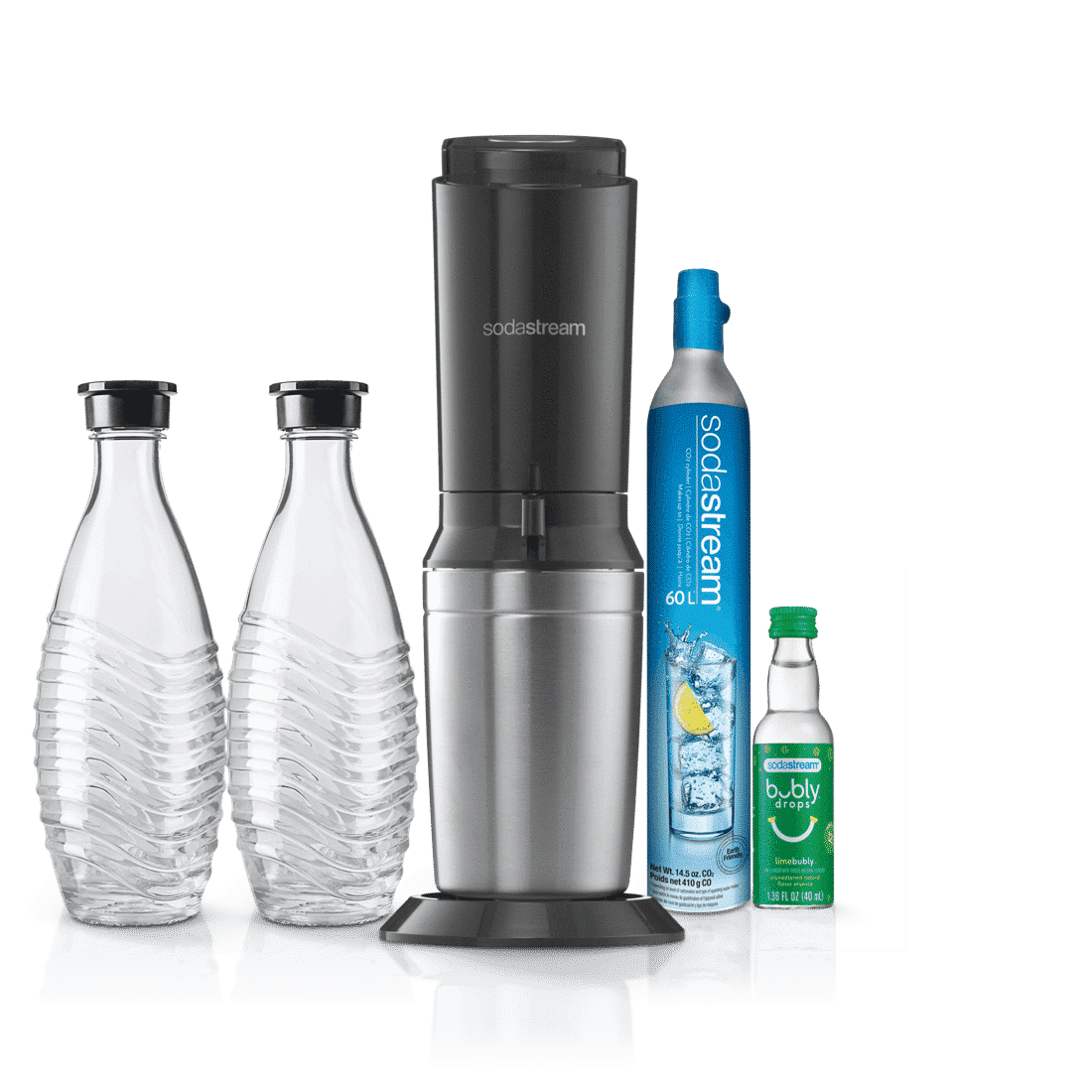 SodaStream Aqua Fizz - (known as the SodaStream Crystal Titan in Canada). I had wanted a SodaStream for years but didn't get one because I didn't want to have to use plastic bottles. Well, this one has glass bottles! It's the only SodaStream available that does. I love sparking water so use it all the time.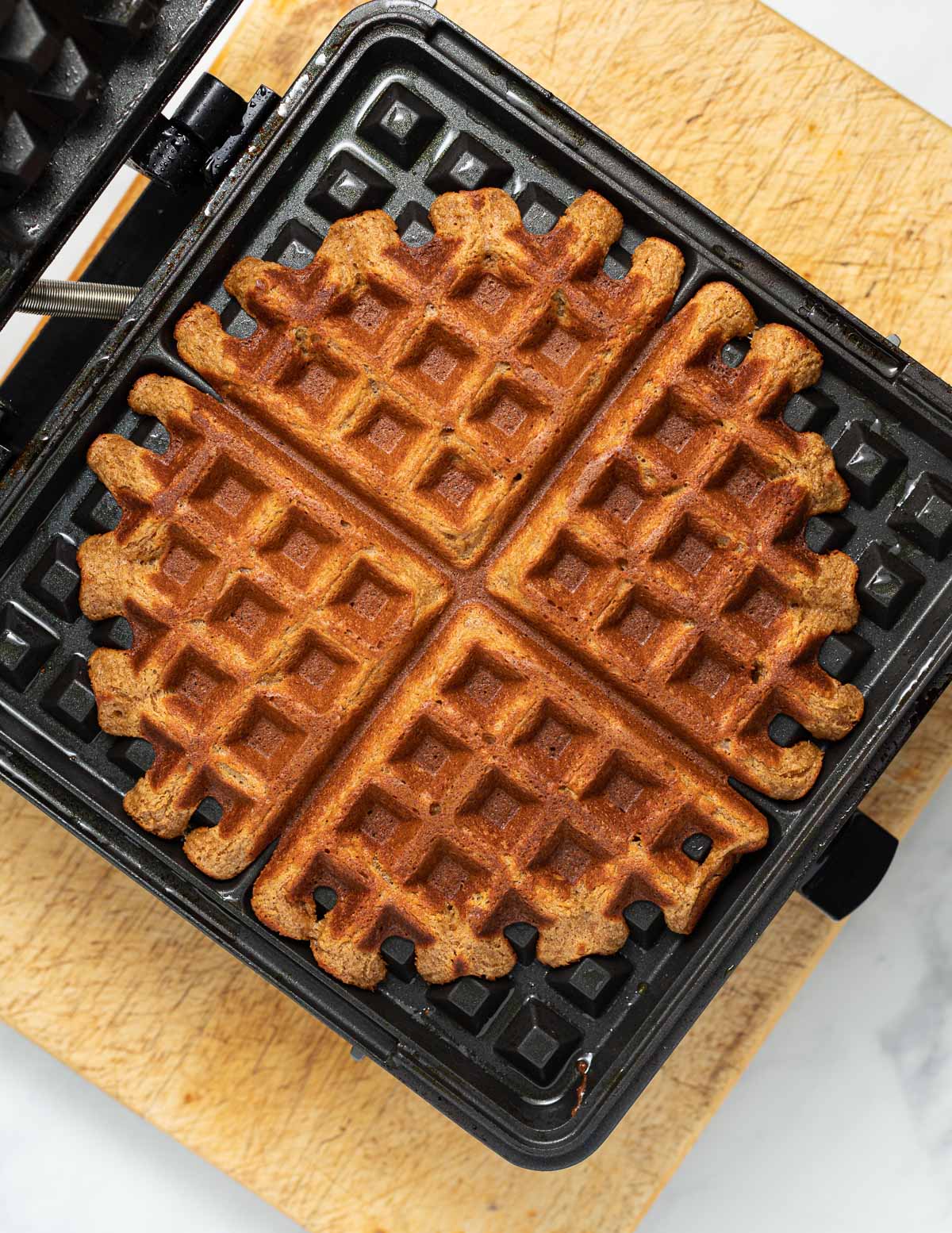 Cuisinart Waffle Maker - Hardly essential but I'm including it because I always get asked what waffle maker I use. I've had this one for well over 5 years and my waffles never stick. Cleanup is easy too because you can pop out the plates and put them right in the dishwasher. It's the only non-stick item I own these days but it's not like I eat waffles all the time so I'm ok with it.
Side note .. In case you don't know - NEVER grease your waffle iron (or anything else with a non-stick surface including skillets, bakeware, etc) with spray oils like Pam or Fry Light. They don't just contain oil. Other ingredients are included including lecithin (an emulsifier), dimethyl silicone (anti-foaming agent), and a propellant (pressurized gas) such as propane or butane. These cause an invisible build-up on the surface of your waffle iron or pan that is impossible to remove with washing. It quite quickly makes your non-stick surface totally ineffective. Instead, brush oil onto the surface with a silicone brush, or if you really can't live without spray oil, invest in an oil mister and fill it with any pure liquid oil.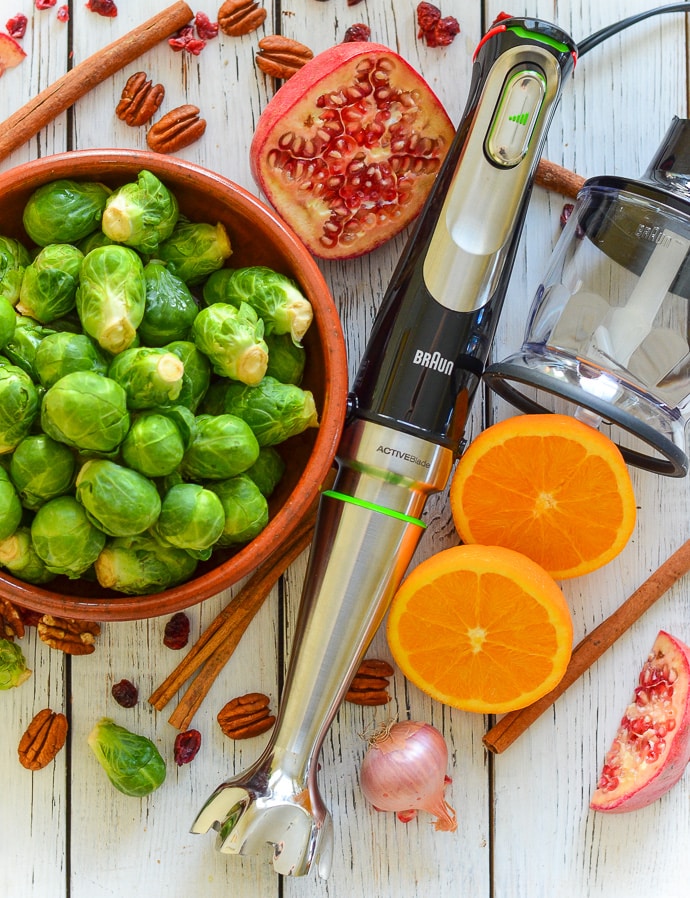 Immersion blender- I make a lot of soup and an immersion blender is so handy for using right in the pan to roughly blend or thicken it. Much easier than pouring it out into a blender and then back to the pan. Full disclosure, I use the one in the photo because it was sent to me as part of a brand partnership. You can get much cheaper ones and you really don't need to get fancy with these. They are so simple that not much can go wrong and for the most part, you use them to blend really easy things like soup so they don't need much power. A super cheap one will do!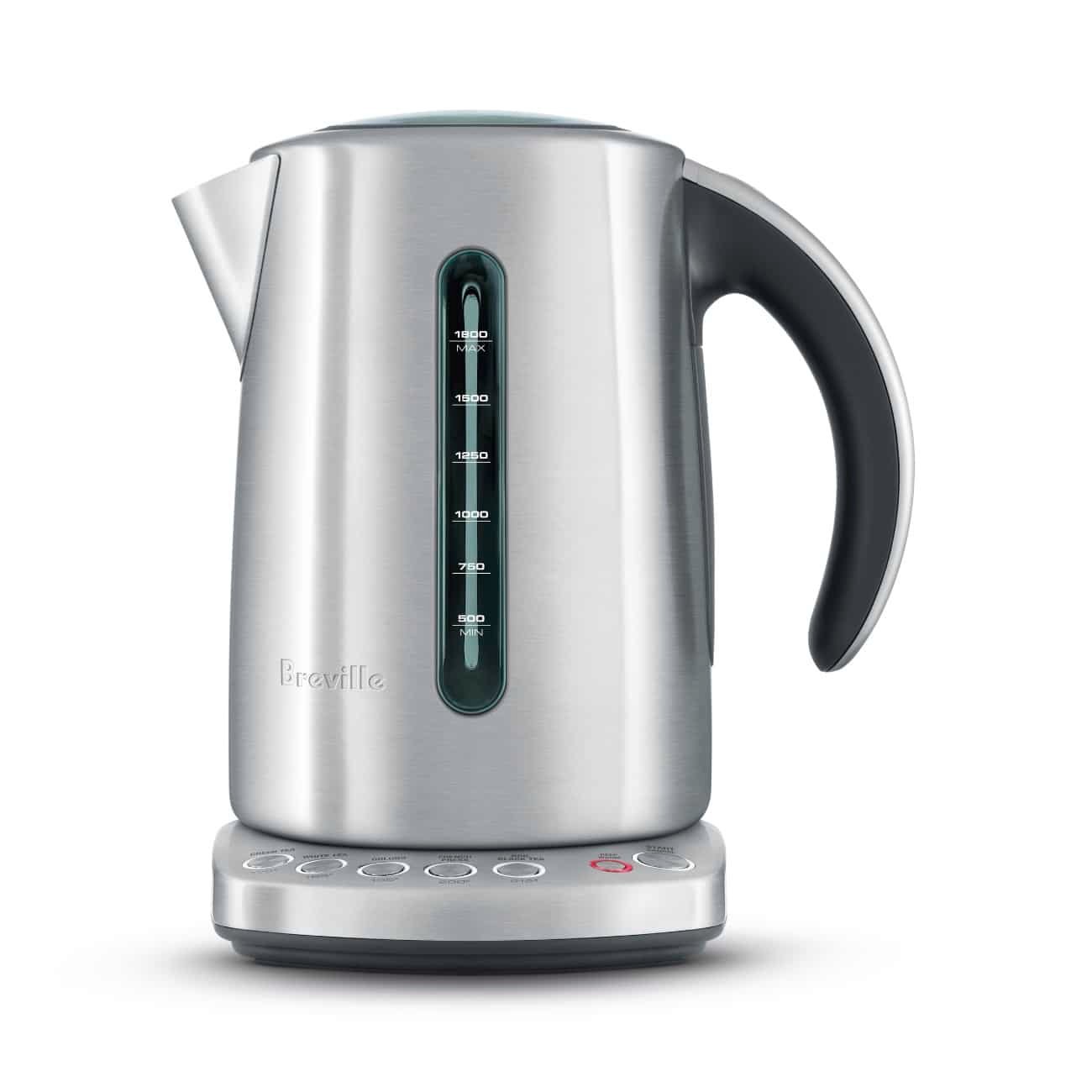 Breville IQ Electric Kettle - This kettle enables you to boil the water at the perfect temperature for the type of tea or coffee you are drinking. Did you know each variety has an optimum water brewing temperature? I had a similar Cuisinart one before which I didn't love. This one is much better, and quicker!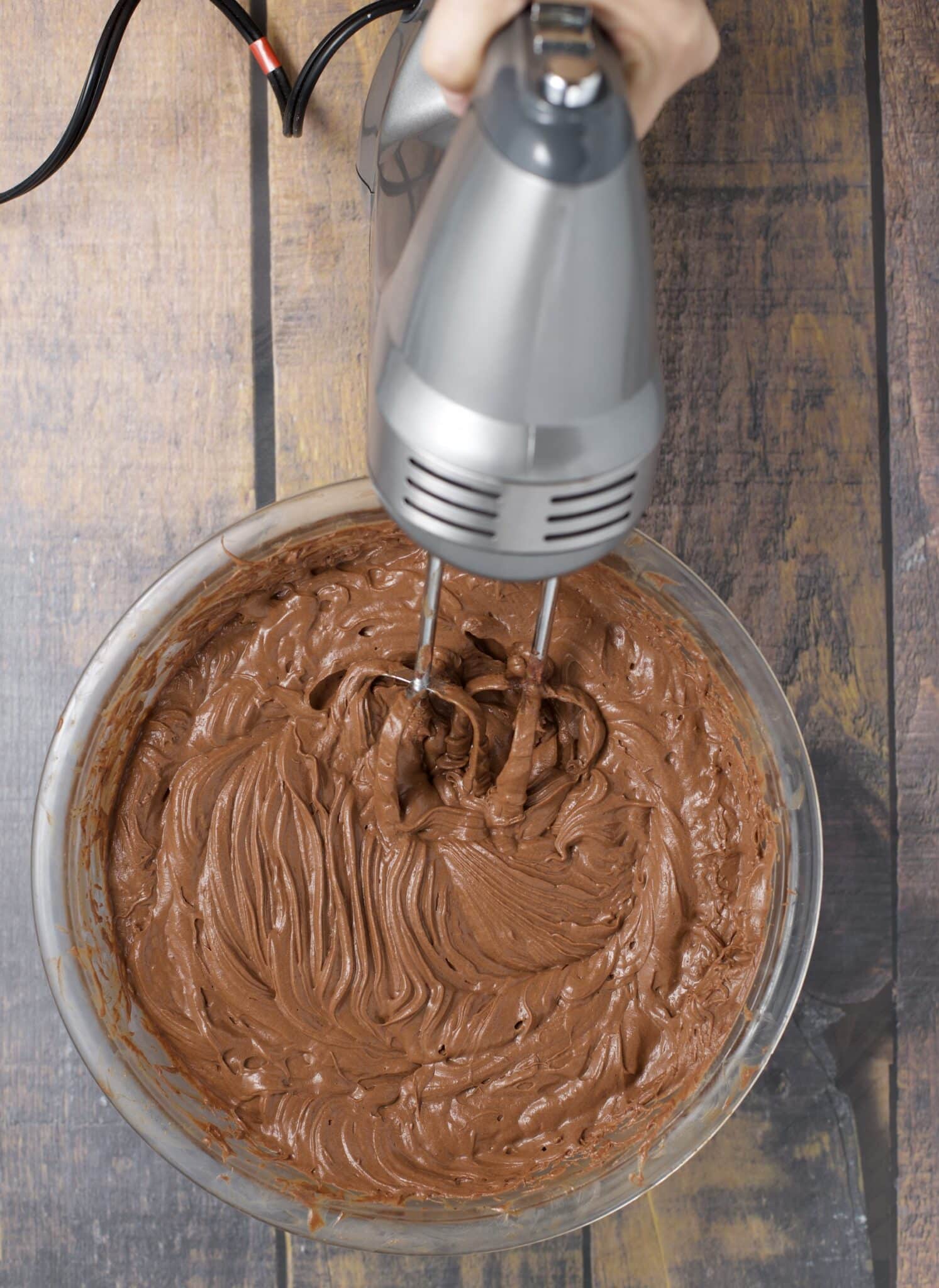 Electric hand mixer - I know I've got a stand mixer, but it's a big and bulky beast and sometimes a hand mixer is the easier option when it's something that doesn't need a huge amount of power to mix, like a small batch of frosting or a little aquafaba.
---
Indoor Garden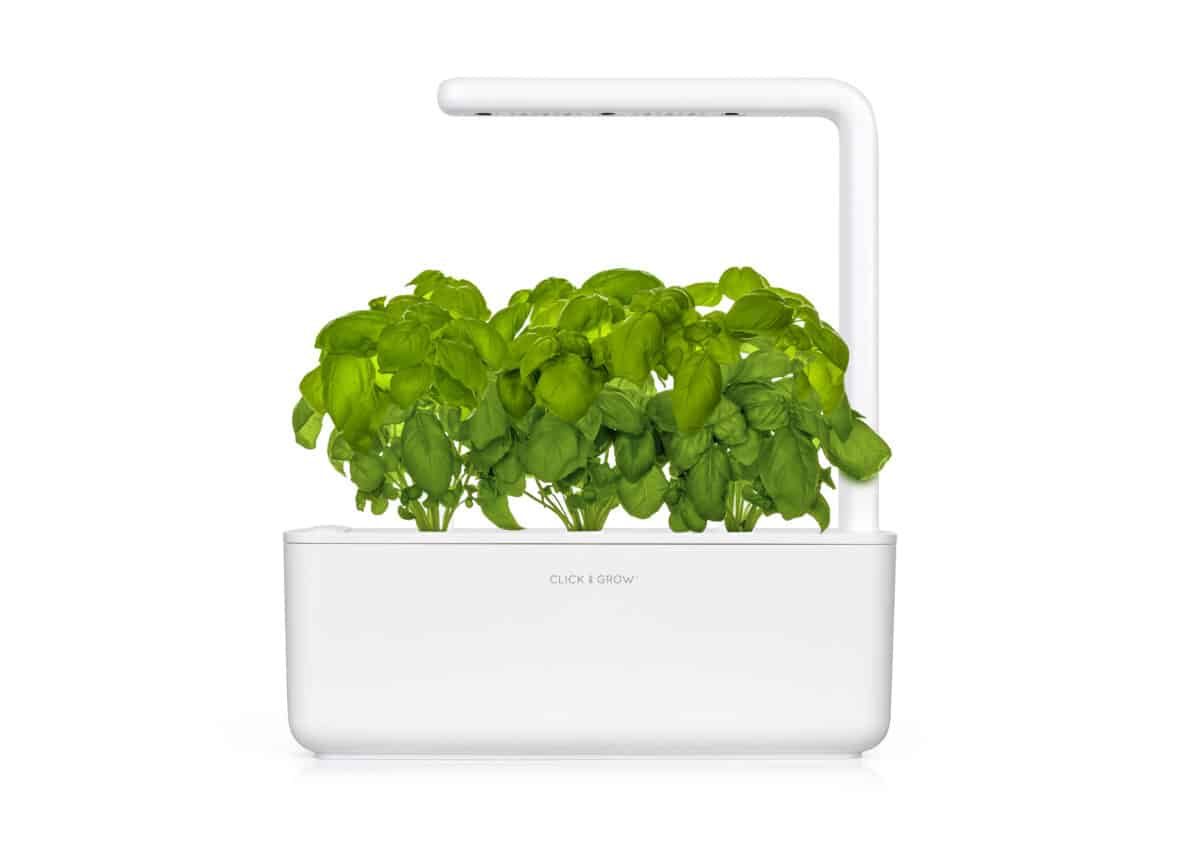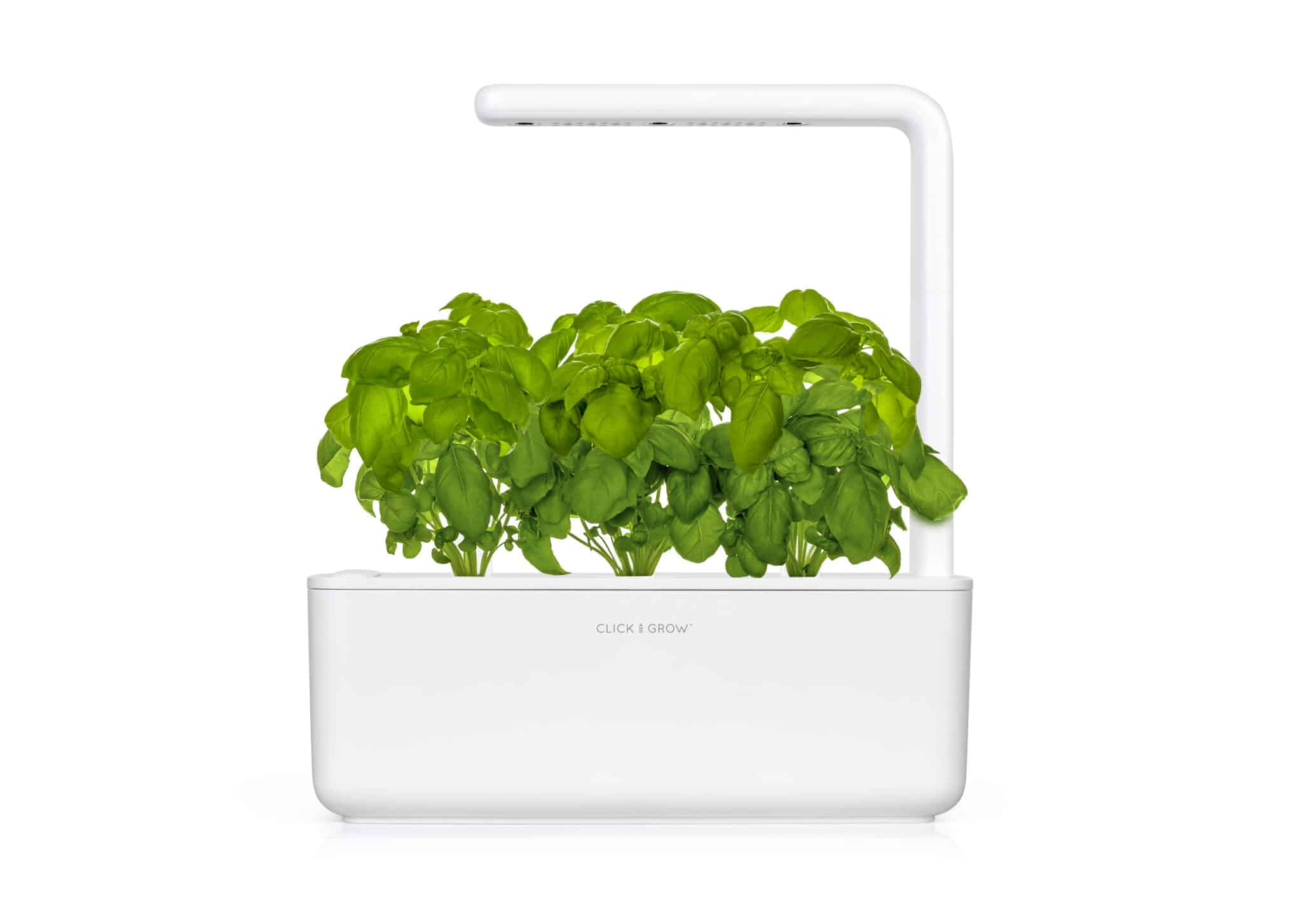 Indoor Herb/Veggie Garden - They come in 3 different colors and lots of different sizes and can be placed anywhere. No window is necessary. I love being able to pick lettuce for a salad or sandwich whenever I want and have herbs on hand all the time to flavor/garnish my food. Bunches from the grocery store often end up wasted because they don't get used up before they go limp and slimy, and soft herbs are pretty much impossible to grow year-round outside, at least here in Canada. It's a game-changer to have them on hand all the time! Click and Grow are offering my readers worldwide a 10% discount on purchases. Visit via my link and use the discount code AVIRTUALVEGAN.
I have the one in the pic below and love it so much for growing lettuce and herbs!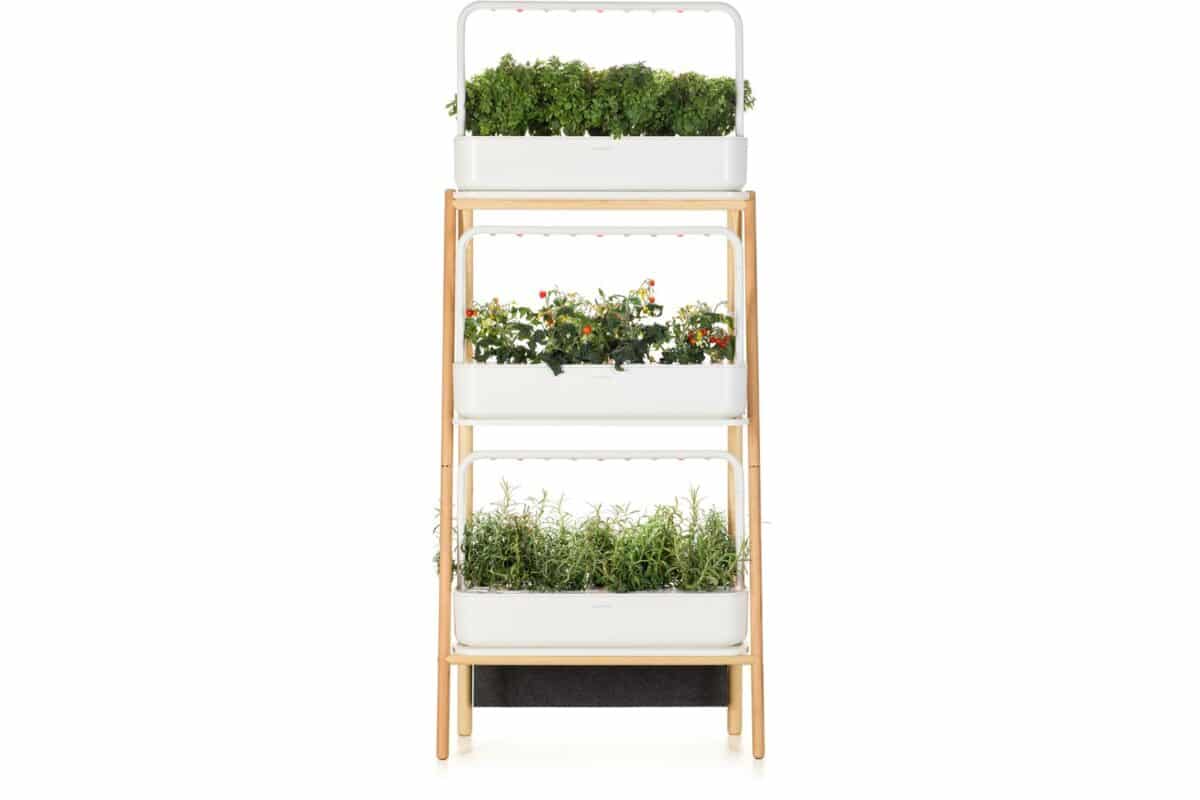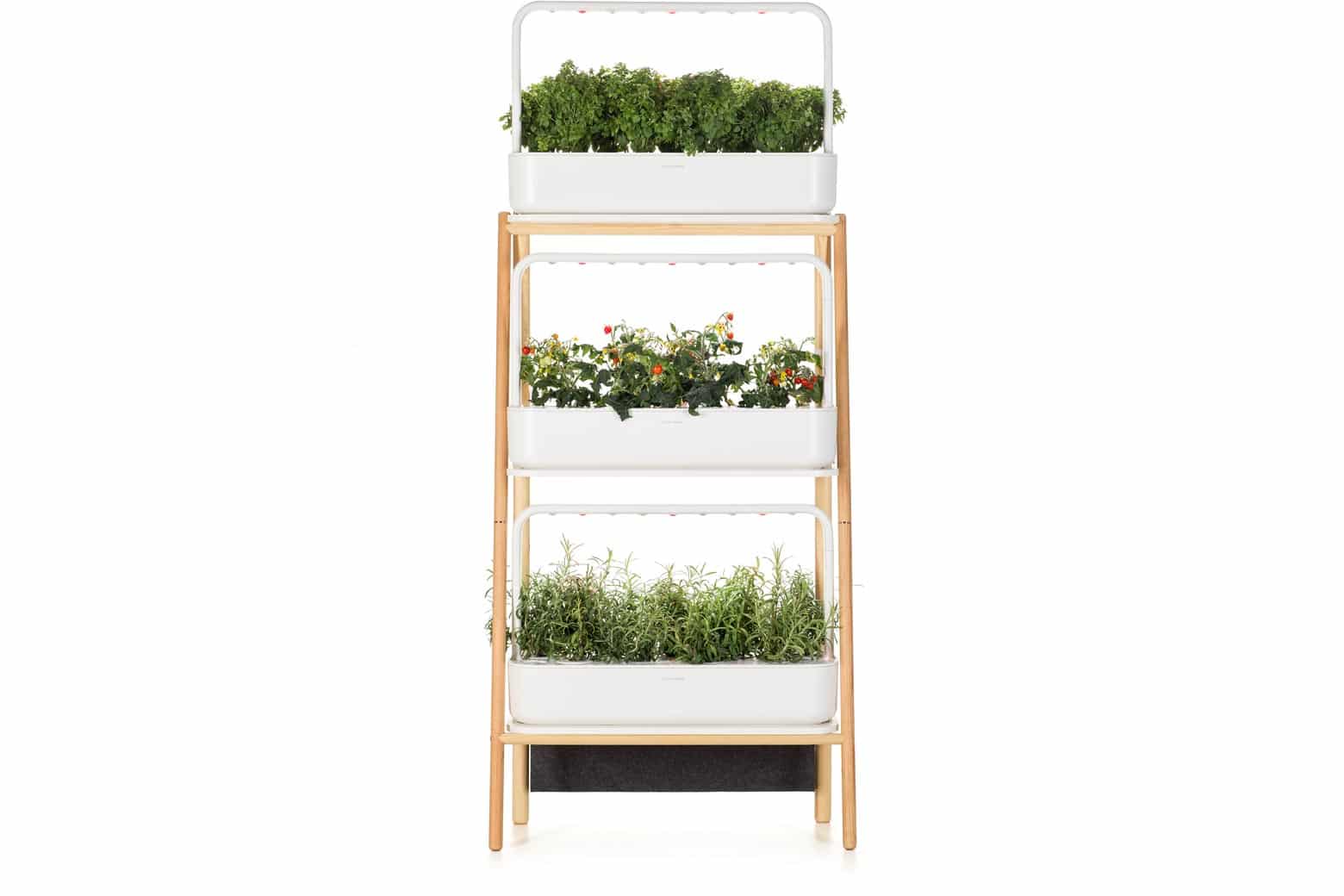 ---
Pots & pans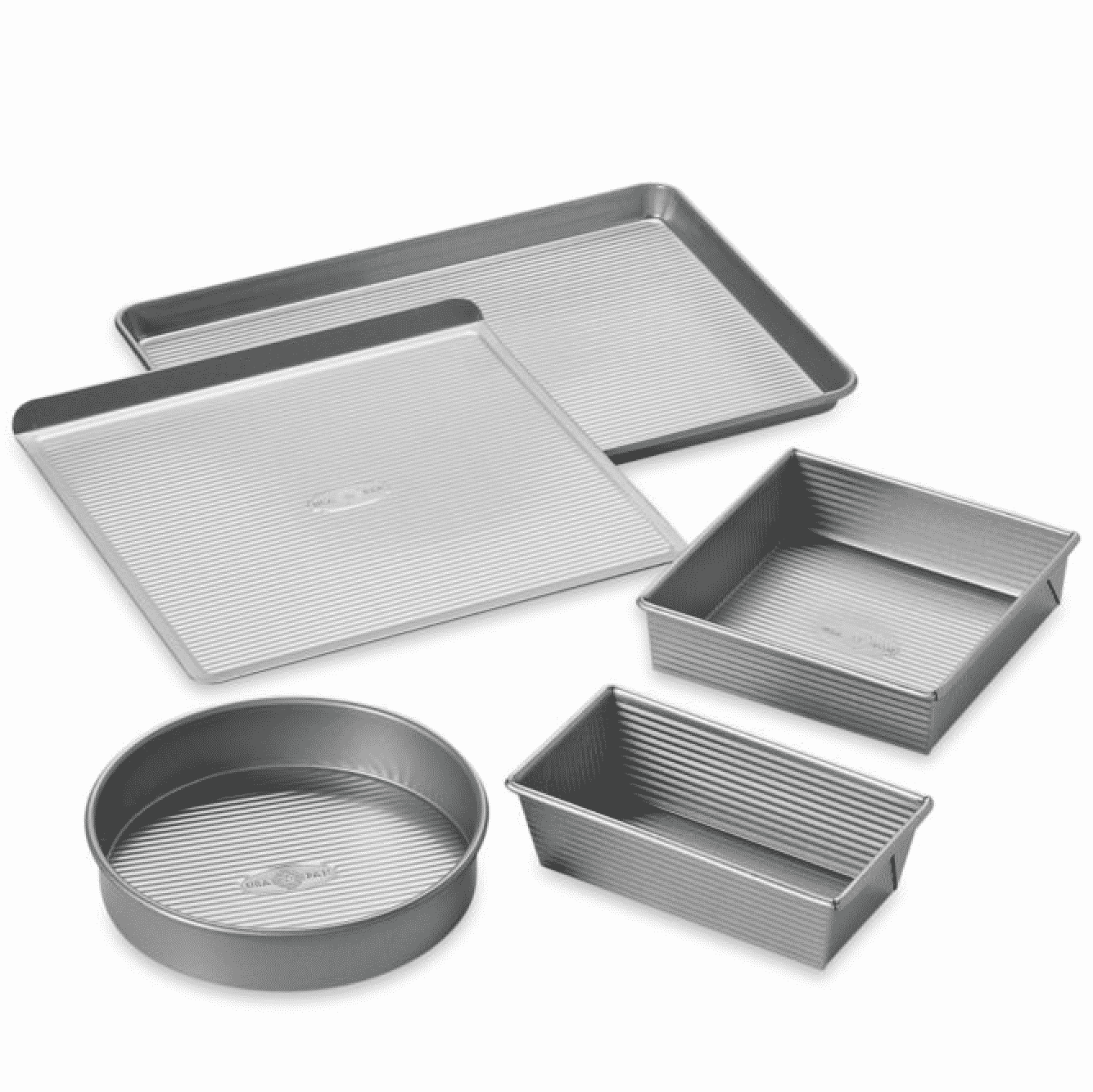 USA Pan Bakeware - The only bakeware I use. Nothing ever sticks, it radiates heat perfectly and it cleans up so easily. Over the years I've gradually been replacing all of my old bakeware with it and I'm pretty much kitted out now.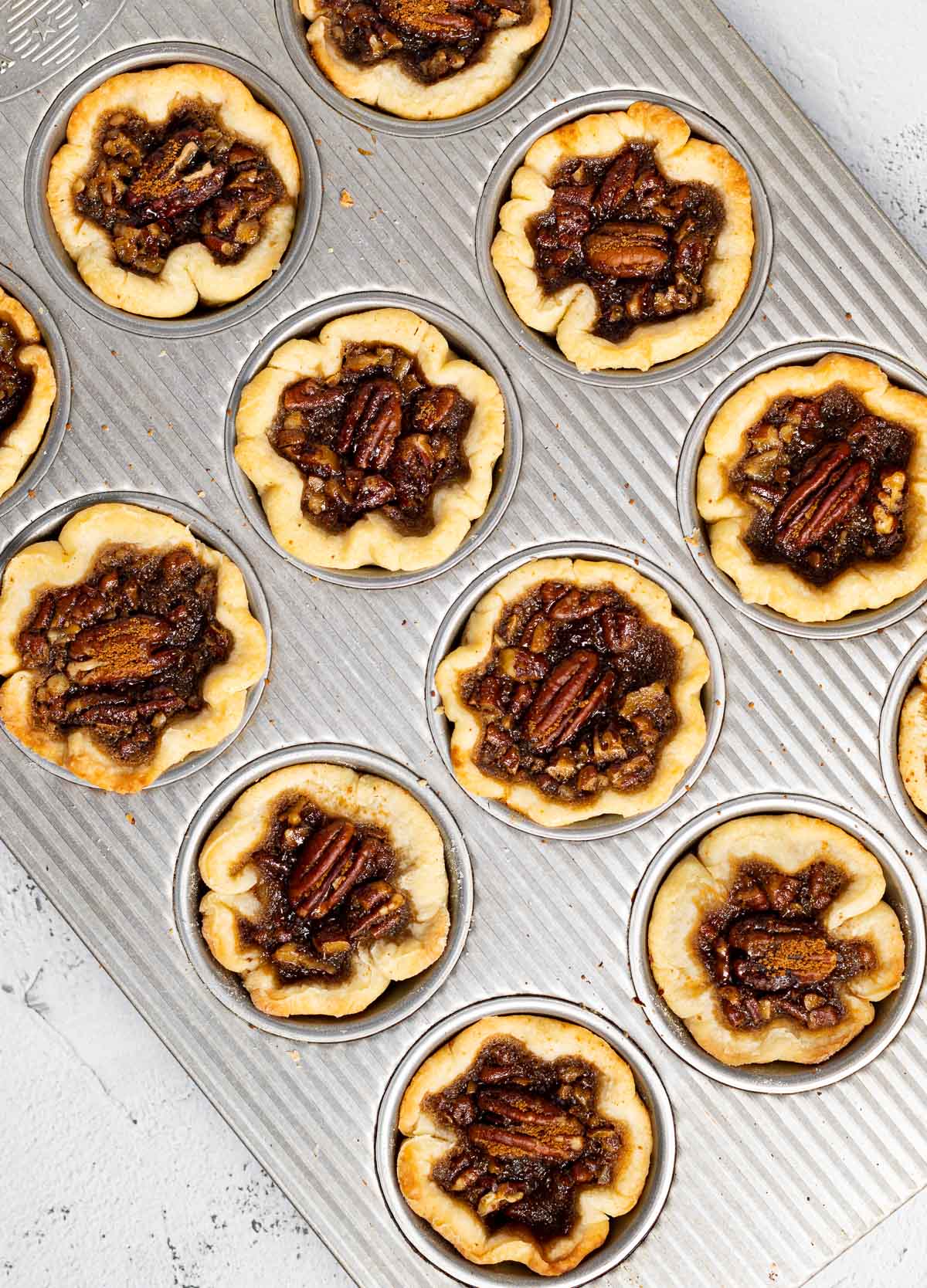 USA Pan Muffin Pan - Because it's not included in the set above. You don't need any muffin liners. You barely need any grease. They tip out cleanly and clean up is effortless. This is the only muffin pan I trust enough to make my very sticky vegan butter tarts in.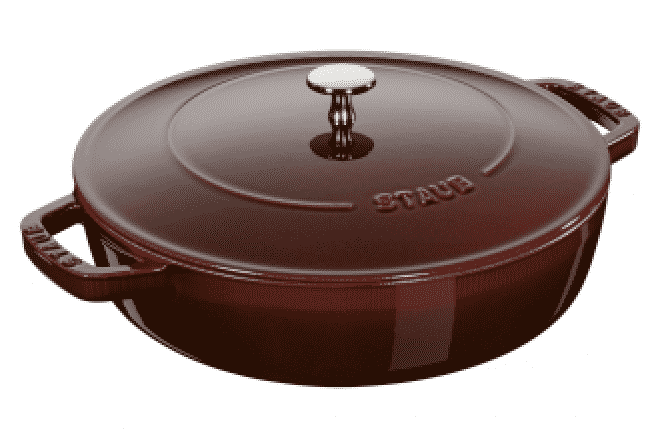 Staub Braiser - These are my all-time favourite pans. They are pricey (price varies dependent on the size) but they have a lifetime warranty and the quality speaks for itself. It's a really beautiful pan and cooks everything evenly and without drying it out thanks to the self-basting spikes on the underside of the lid that collect moisture and drip it back into the pan. You can use it with or without the lid and on the stovetop and in the oven. It's perfect for anything from bolognese and pot roast to lentil shepherd's pie, casseroles, baked oatmeal, skillet breads, pasta and curry.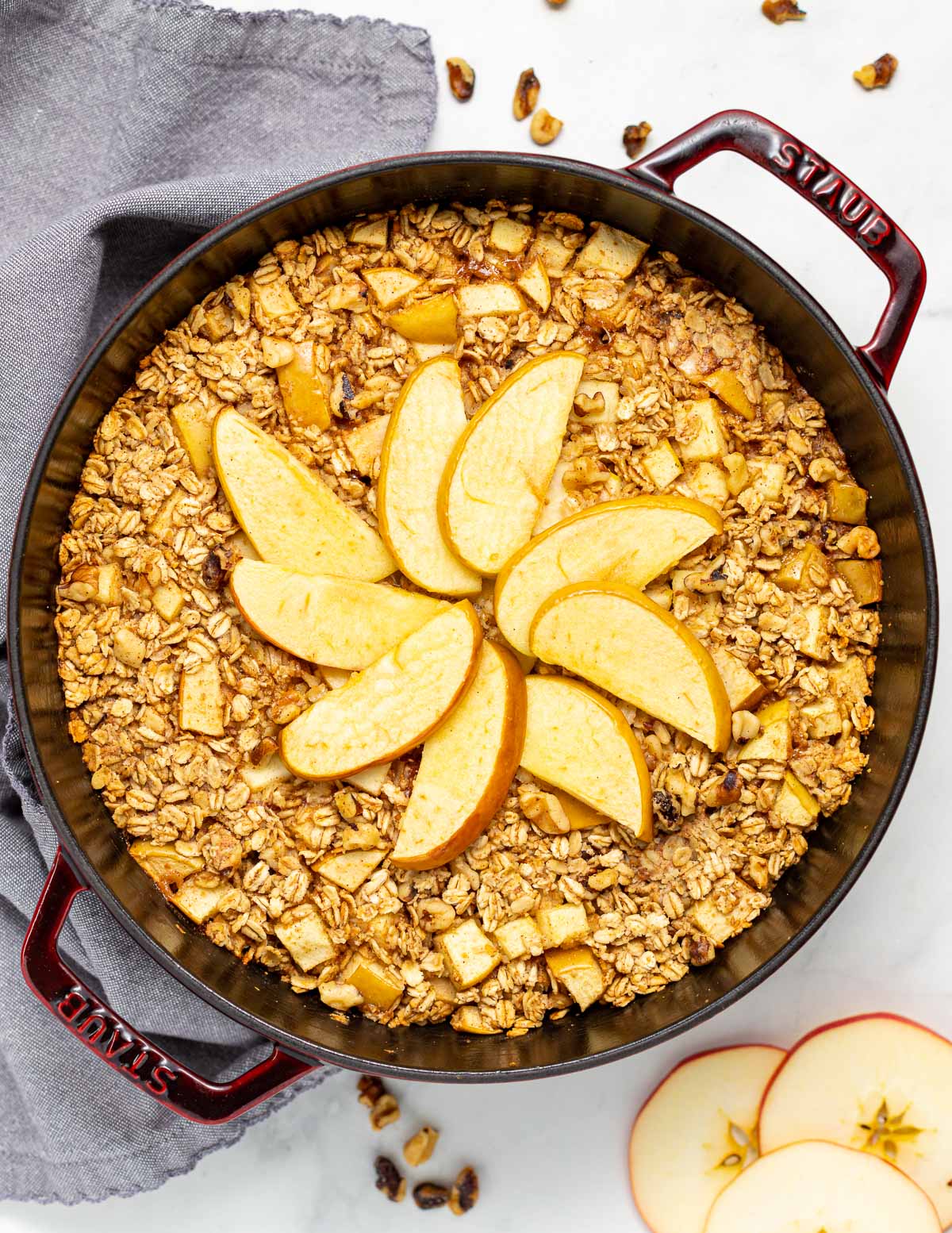 I started out with just one and now have another in a different size. Worth noting, if you go to their online store, they sell products with visual imperfections at really great discounts. I've purchased a few items now and the imperfections have been so slight that I wouldn't even have noticed if I didn't know.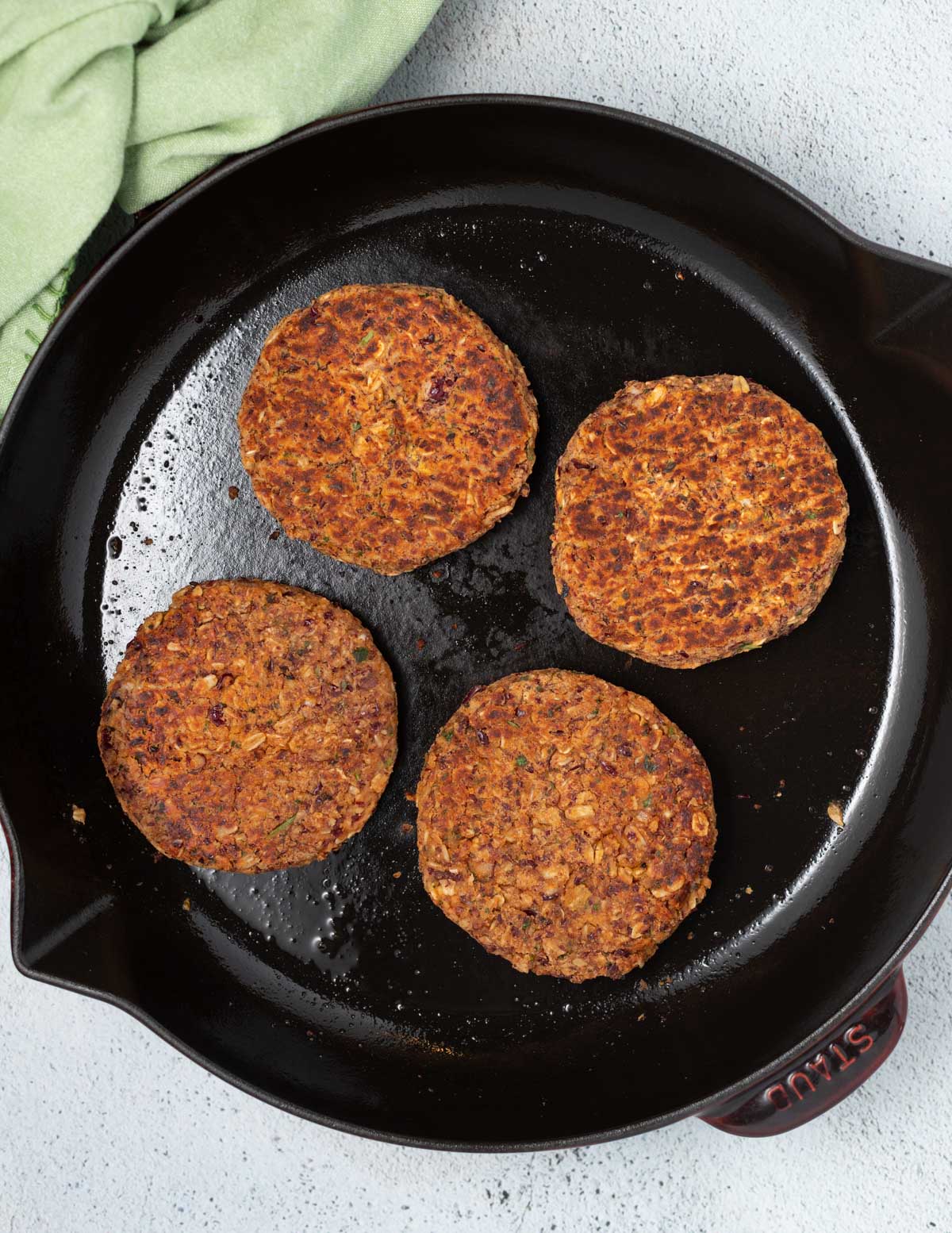 Frying pan / skillet - I try my best not to use anything with non-stick coating anymore. My go-to frying pan/skillet is again a Staub. An investment for sure but it will last a lifetime. I chose a Staub skillet in particular because of their quality, but also because the cast iron is black enamel coated so they stay looking great even when you're cooking things at really high temperatures. You can't see any stains like you can with lighter coated enamel-like is used on Le Creuset pans for instance.
Unlike most cast iron, you don't need to season Staub pans and you can wash them with soap and water.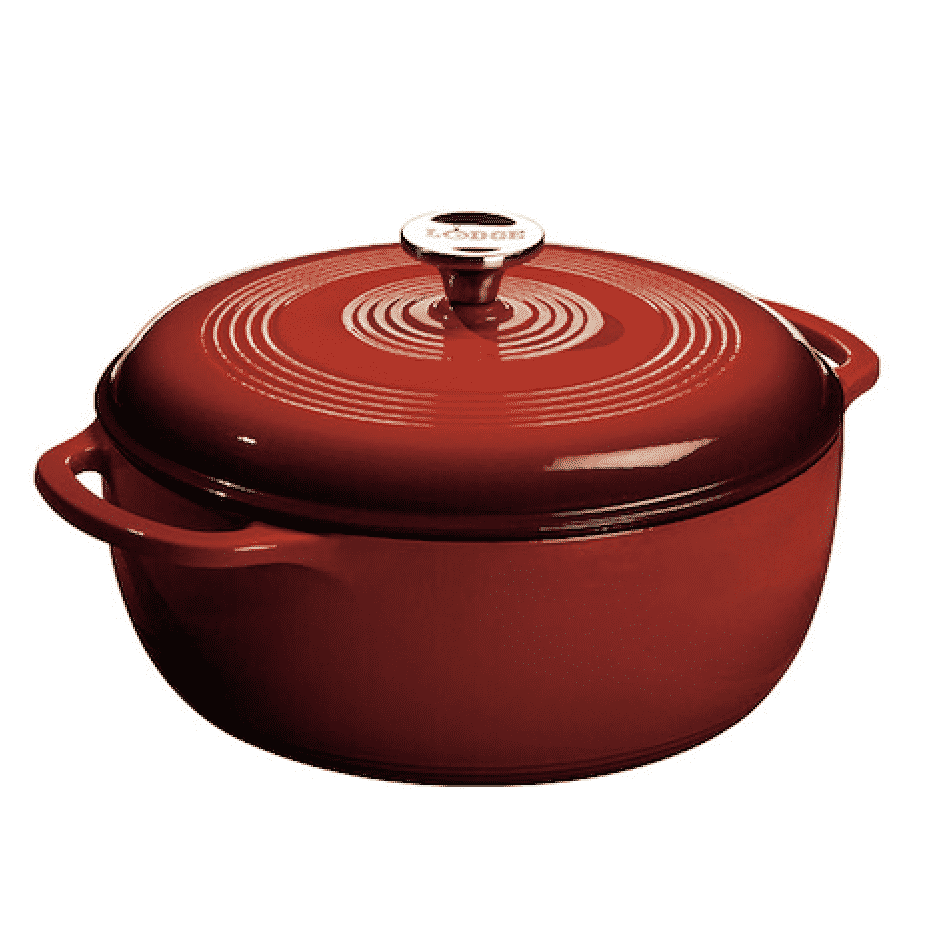 Lodge Enameled Dutch Oven - A really reasonably priced and good quality Dutch oven that looks great in situ on the stovetop between uses. I use mine all the time for making big batches of vegan soups, stews and stock and love that it can go from stovetop to oven and look good when serving at the dining table. It's not of the same quality as the Staub pans but is still really great for the price.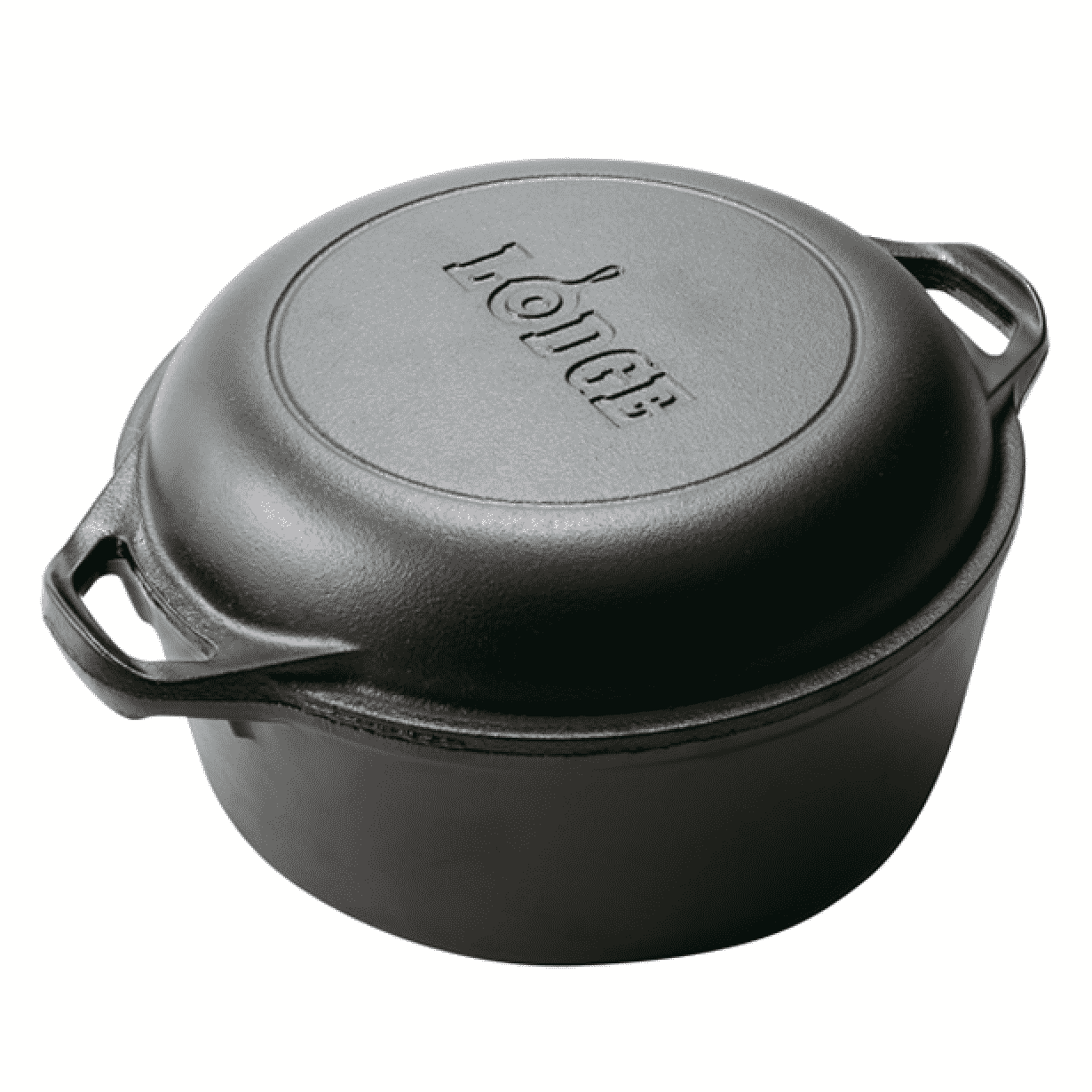 Lodge Pre-Seasoned Double Dutch Oven - You might wonder why I need this when I have the lovely red Dutch oven of the same brand. Well, this one is for the breadbakers in the house. First up, to make great bread it's necessary to preheat the Dutch oven and then drop the shaped dough into it when it's really hot so that you get a good oven spring. With a regular Dutch oven doing this can be a little awkward and it's easy to burn yourself or knock some of the air out of your loaf. The difference with this double Dutch oven is that you can use it upside down. This means you can preheat it and slide the shaped loaf onto the lid rather than having to drop it into a deep vessel. It's so much easier!
Secondly, when you bake artisan bread or sourdough in a Dutch oven, the oven temperature has to be really hot. I bake mine at 500 °F. With this Dutch Oven, you don't have to worry about it discoloring with the heat, or specks of flour creating burn marks because it's black and it isn't enameled.
Thirdly, the lid doubles as a cast iron skillet which is super handy. I use it to cook homemade pizza in. The heat from the cast iron makes for an amazing crust without a pizza stone! And it's also amazing for making my giant vegan blueberry pancake.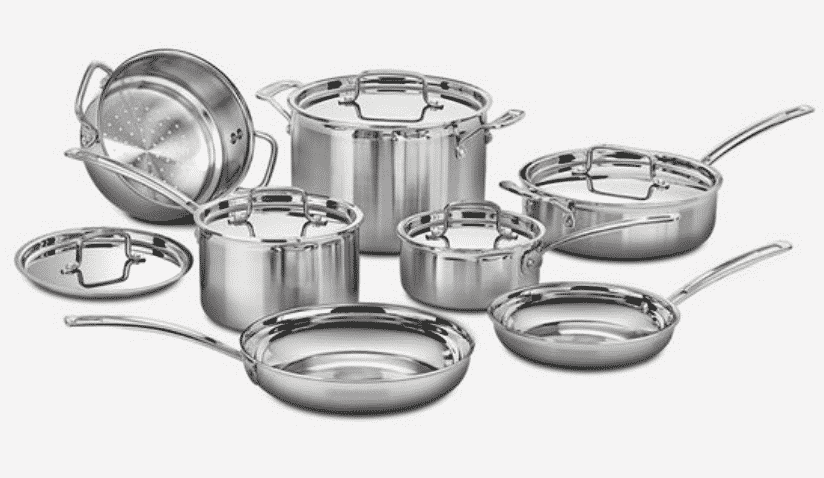 Stainless Steel Pan Set - Everyone needs a good pan set and they can be really expensive. This 12 piece set is really great quality with a lifetime warranty, heats evenly thanks to the triple-ply construction and it's also pretty reasonably priced.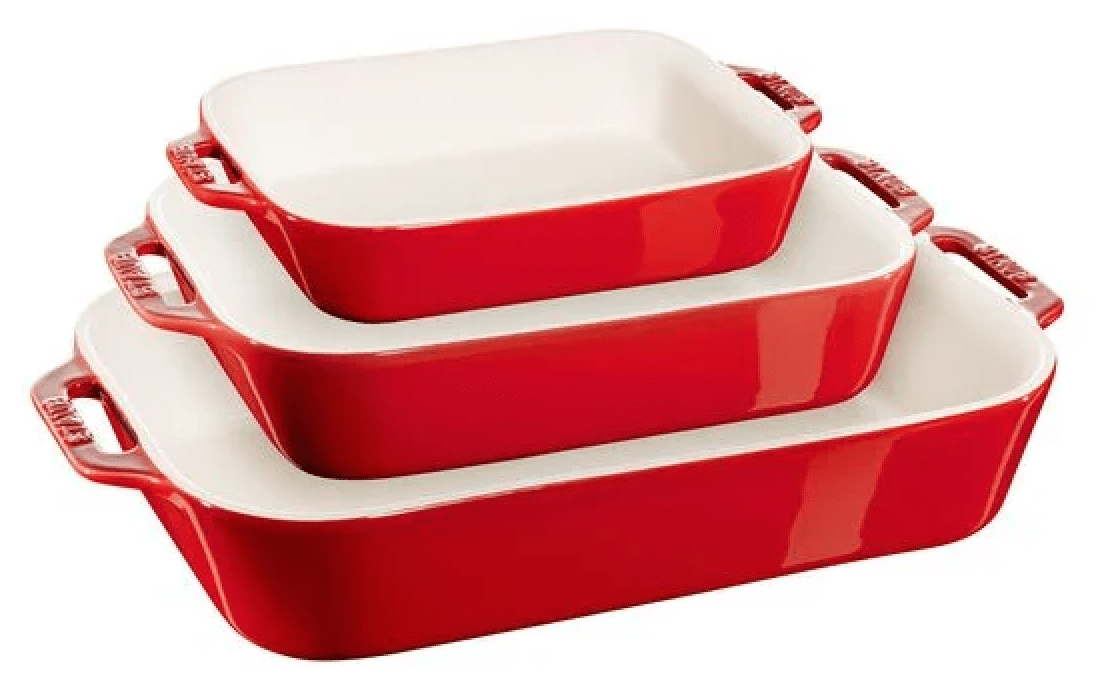 Staub Ceramic baking dish set - Essential in any kitchen for meals like shepherd's pie or lasagna, and casseroles like French toast casserole or broccoli rice bake. They are a little pricier than other ceramic sets but they are solid. I've had loads of cheaper ones chip and crack and these haven't. Look out for sales. They go down to a really great price at least a couple times a year!
---
Small tools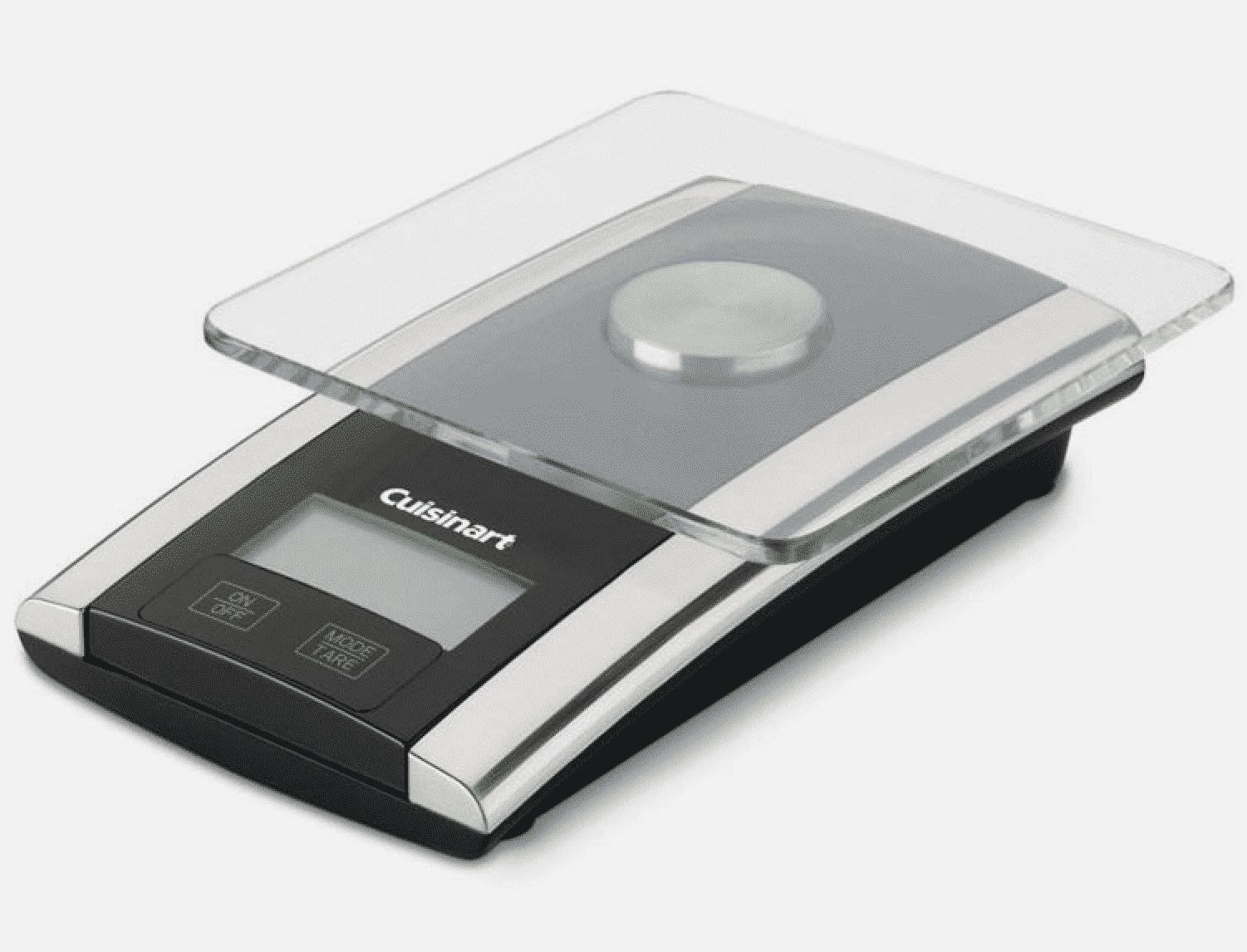 Digital Kitchen Scale - One of the most important additions to your vegan kitchenware collection. So absolutely essential if you want great and consistent results when cooking, baking in particular. By default, cups are not an accurate way to measure. Every single time you fill one you get a different amount of ingredient in it. With flour sometimes it can be up to a third more than the recipe intended. This can really affect how recipes turn out. Always look for a digital scale with a tare function then you can use one bowl to weigh multiple ingredients and zero it between each. I use a scale multiple times a days and have worked my way through many. This is the only one that has stood the test of time.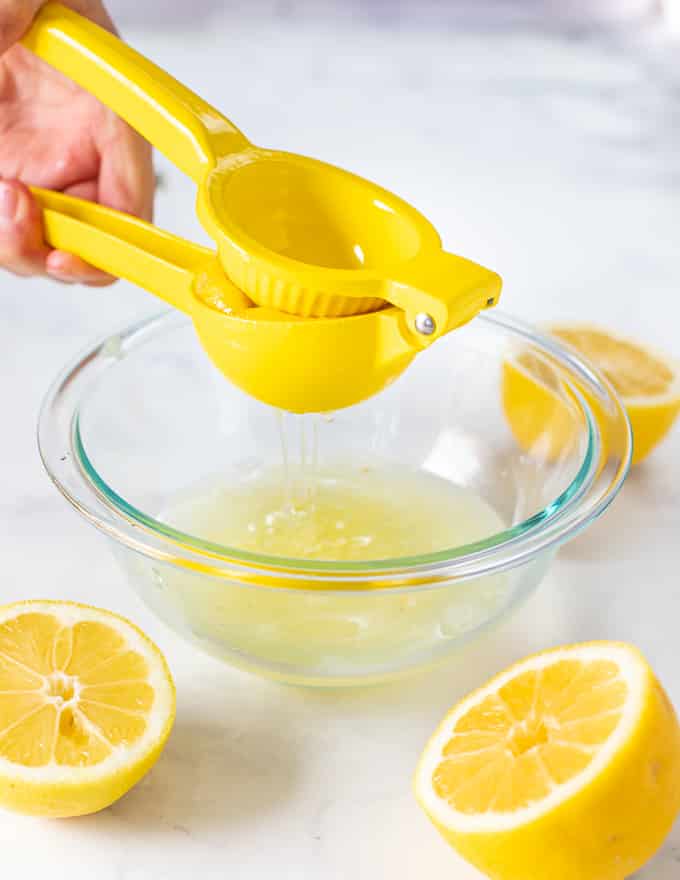 Lemon/Lime Squeezer - Simple, cheap and so worth having because a squeeze of citrus brightens just about anything! I used to juice mine by hand but with one of these you get so much more juice from each lemon/lime. Perfect for when you are making my vegan lemon curd or lemony red lentil soup.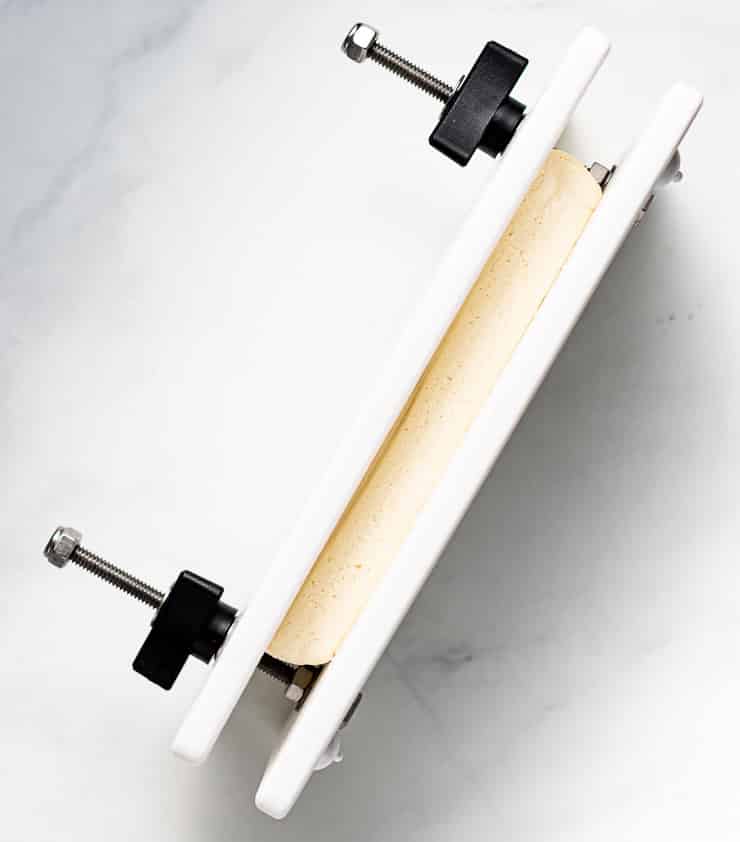 Tofu Press - A simple piece of kit that is essential for the tofu lover! Pressing tofu makes a huge difference to texture and flavour absorption. It's an essential tool when making my gluten-free seitan roast recipe and any other tofu recipe where you want a crispy end result. I really like this press because it's quite roomy so any size tofu block, even the long ones, will fit in it.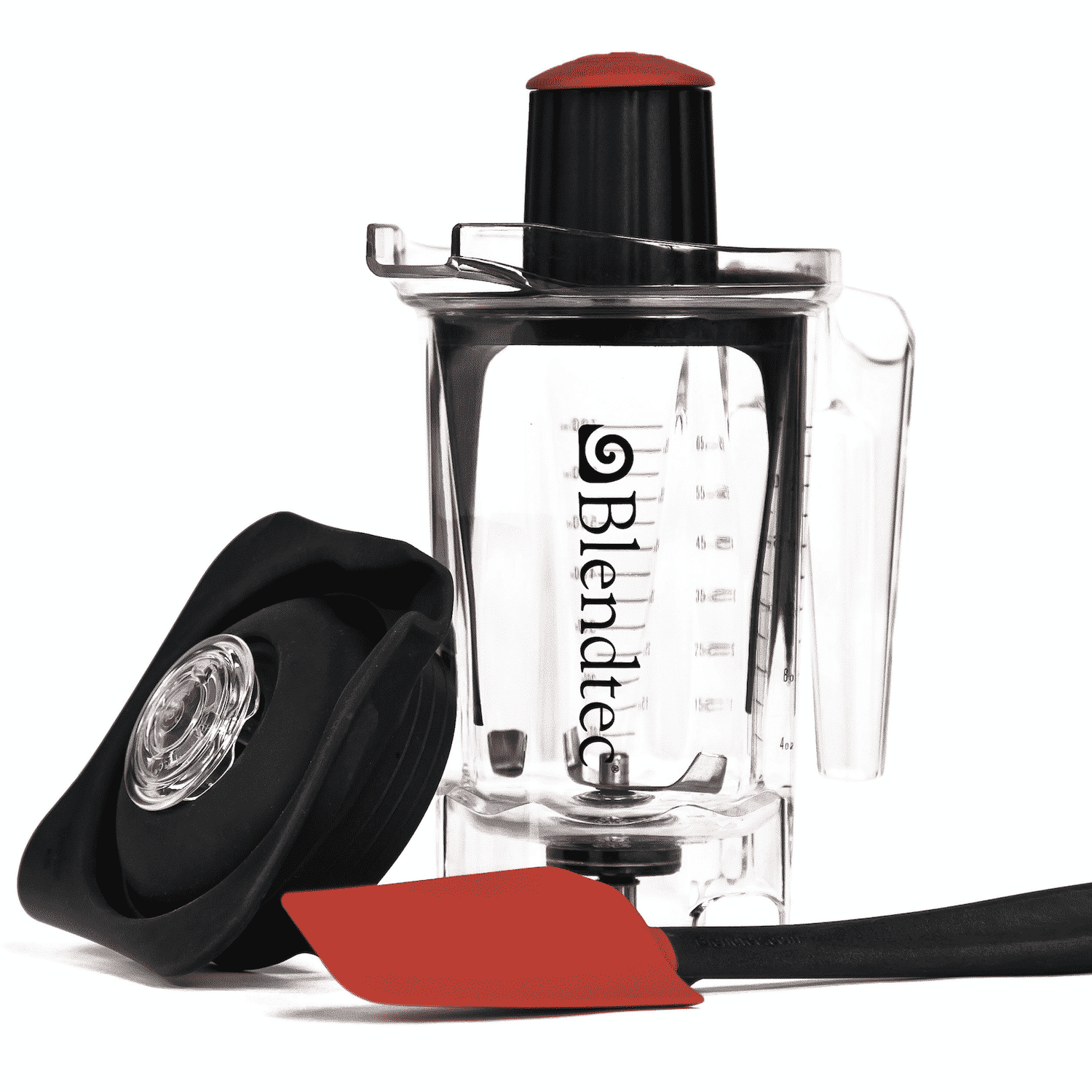 Blendtec Twister Jar - If you have a Blendtec Blender and you don't have one of these you don't know what you're missing! It's a smaller jar that fits on the top of your blender and enables you to blend the thickest recipes with no stirring, plunging or scraping down. Usually, even in a high powered blender, if you make nut butter you end up having to add some oil to get it going, and when making banana nice cream it's also usually necessary to add a drop of plant milk. With this jar, there's no need. It will blend nuts to a butter and frozen bananas to nice cream with ease.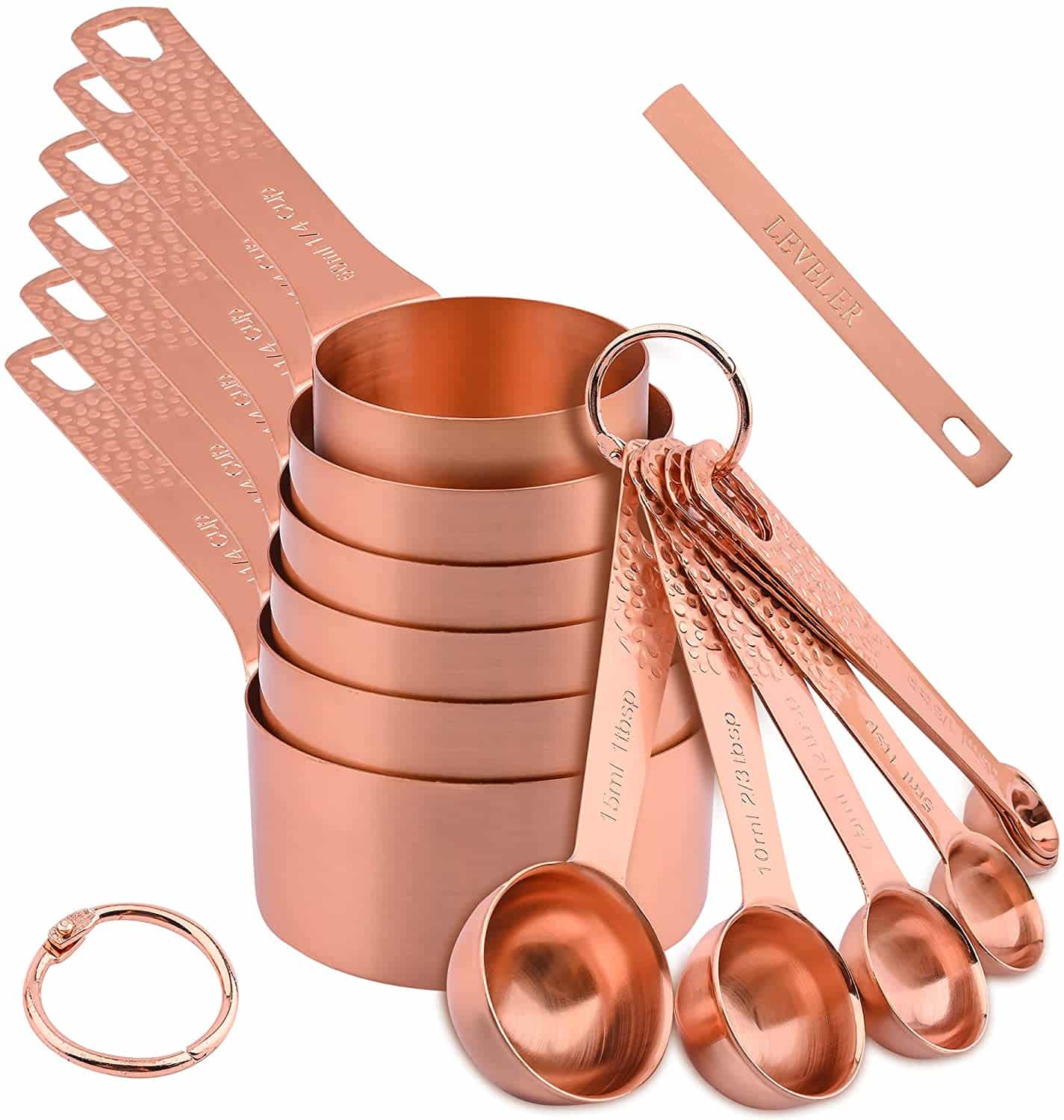 Measuring cups & spoons - I might bang on about using digital kitchen scales all the the time, but cups have their place too when accuracy isn't too important. (Please don't ever use them for baking). And measuring spoons are absolutely essential for accurately measuring tiny amounts like herbs, spices, vinegar, oil. baking powder, baking soda etc.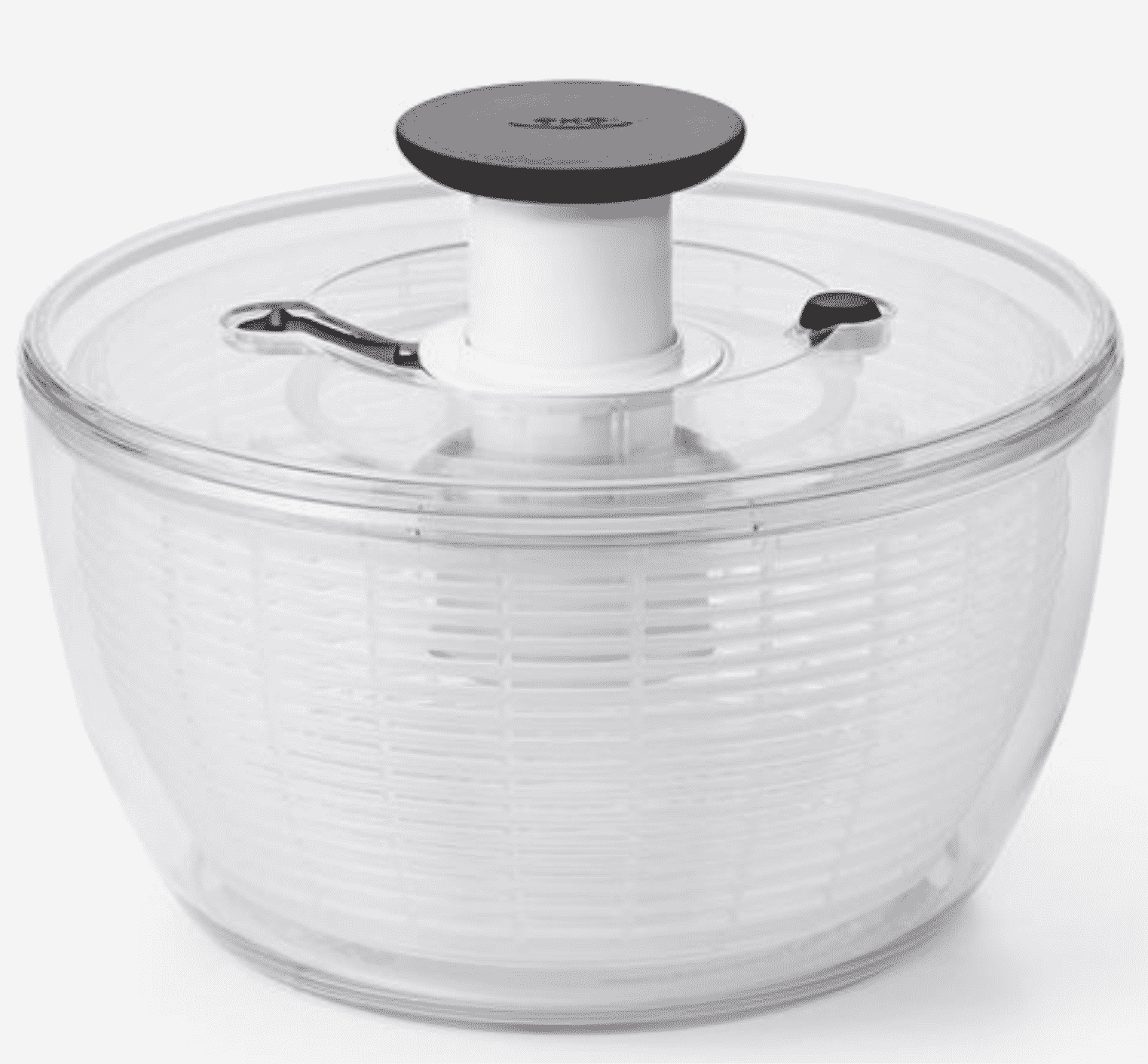 Salad Spinner - I went the longest time without a salad spinner. I used to just rinse my salad leaves in a colander then give it a shake. When I purchased one of these quite recently it was a bit of a game-changer. I couldn't believe how much water got spun off. This means your salad will stay fresh and wilt free longer if you are storing it, and if you are eating it right away your salad dressing is not getting diluted so your entire salad tastes better. I highly recommend anyone who eats salad invest in one. Tip: Use it for drying home-cut fries before cooking in the oven or air fryer too!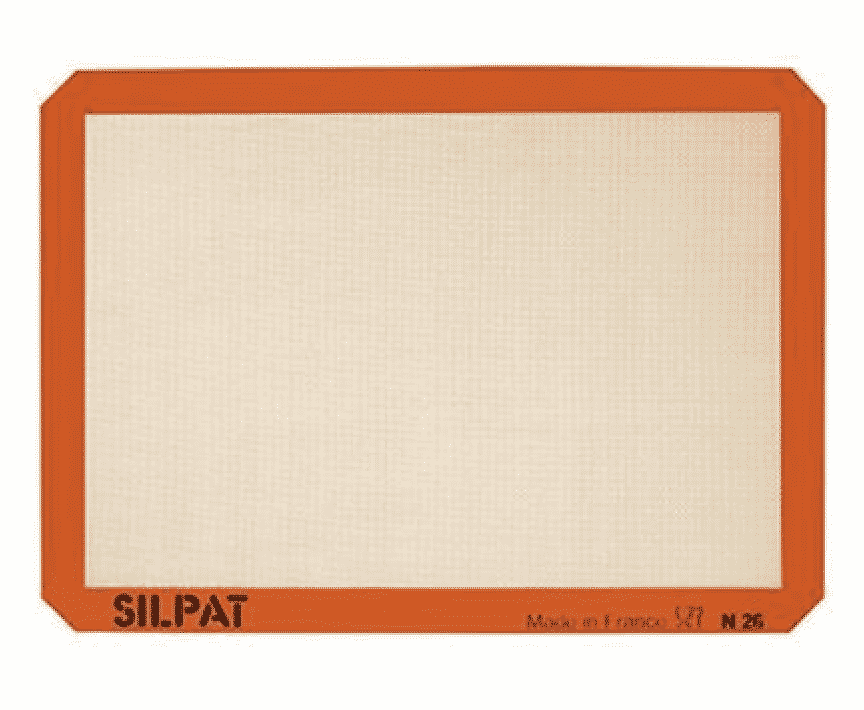 Silpat - You will see these silicone baking mats used a lot on my progress photos in recipes. They can be laid on your baking trays and will completely replace parchment paper. I've had the same ones for years. Nothing sticks to them so they are great for cookies, roasting vegetables etc. Anything that might usually stick really. I also use mine for rolling out pastry and cookie dough because it makes lifting it off really easy without having to use lots of flour. Once you're done, just pop them in the dishwasher and they are good as new. They come in many different shapes and sizes. I also have round ones for lining my 9-inch cake pans. I believe you can get muffin pan shaped ones too!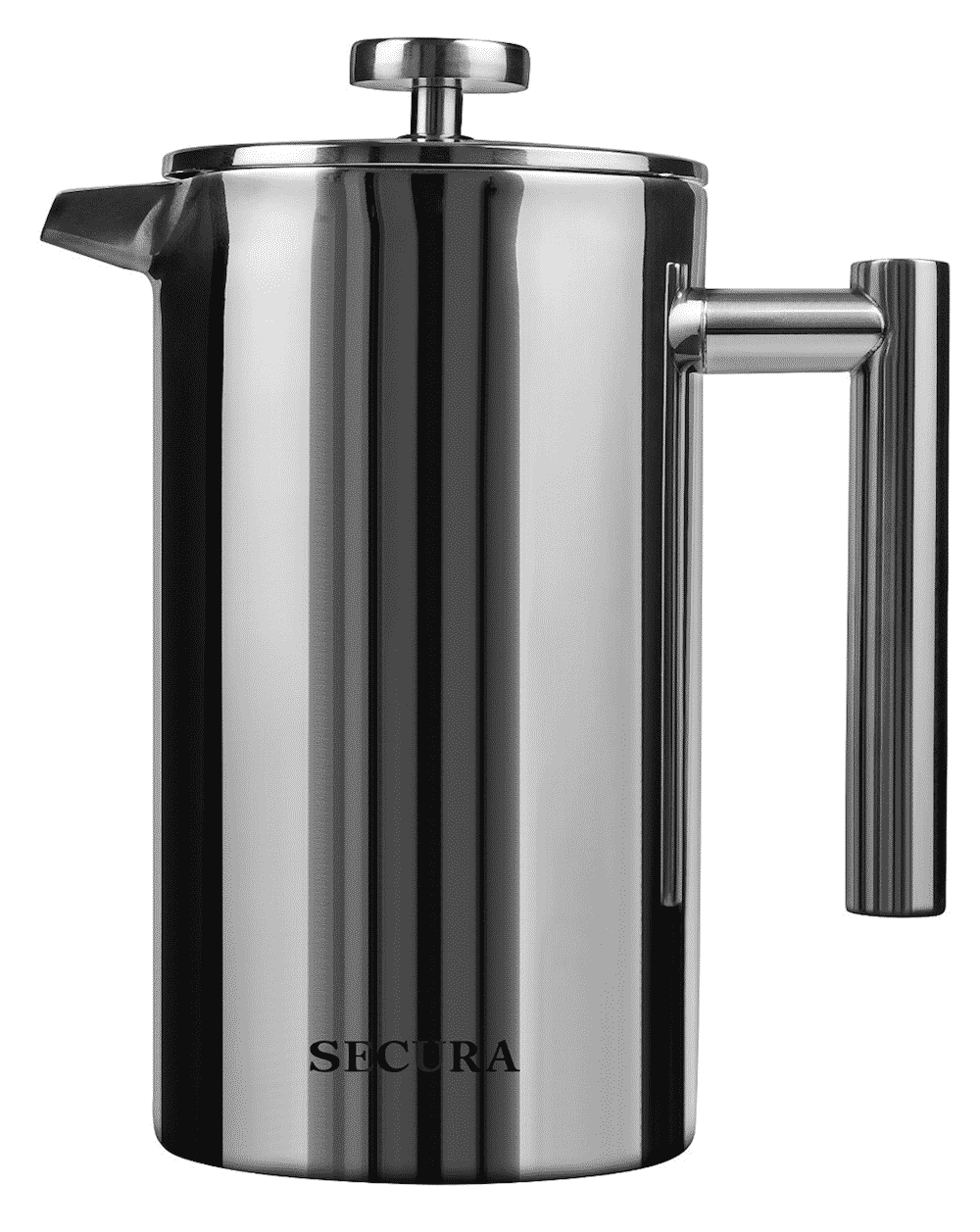 Insulated French Press - You have no idea how many glass French presses we have broken over the years. I have no idea why I didn't buy a stainless steel one sooner. This one is pretty much unbreakable and it's insulated so it keeps your coffee warm for ages. It's really budget-friendly too. I use mine every day.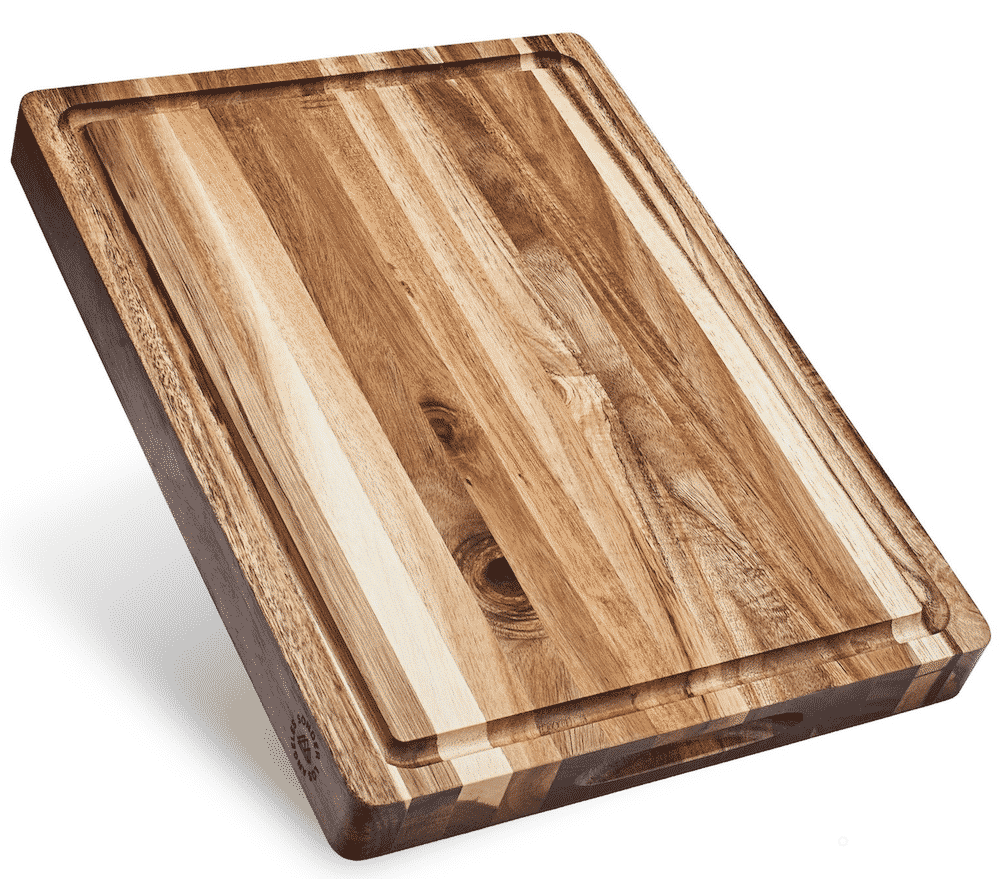 Cutting board - This isn't the exact one I have but mine is similar. I've had it for so long I can't remember where it came from. A quality cutting board will last pretty much forever, makes chopping easier and safer, helps keep your knife in good condition and it also looks great on the counter and for serving too.
I like to have at least two cutting boards. One for chopping veggies including onion and garlic and one for other things that I don't want to end up tasting or smelling like onions and garlic like bread and fruit etc.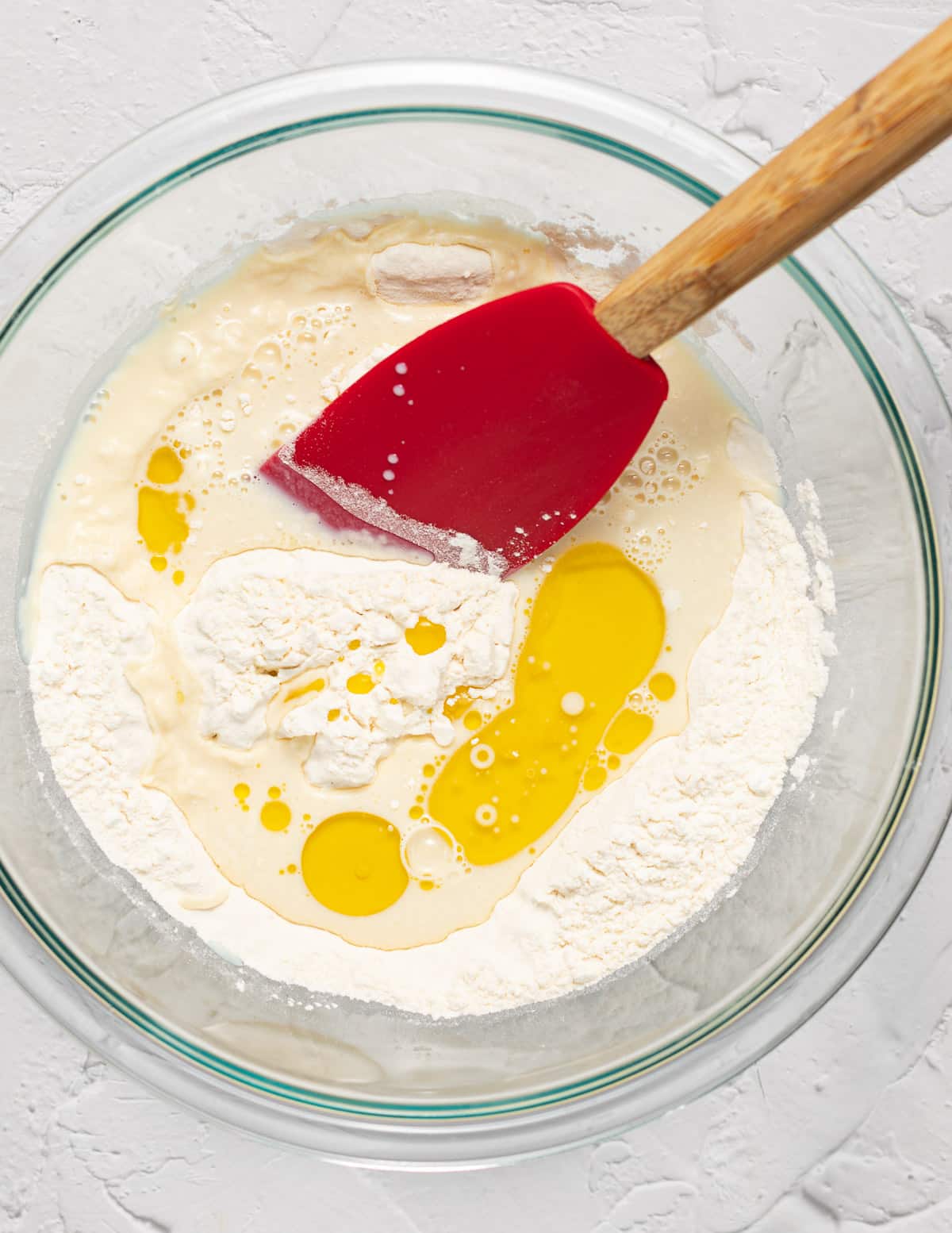 Mixing Bowls - A set of mixing bowls is pretty essential if you want to do any kind of baking. I have a set of 3 from Pyrex and you see them all the time in my photos. Simple, reasonably priced and the 3 different sizes are really handy.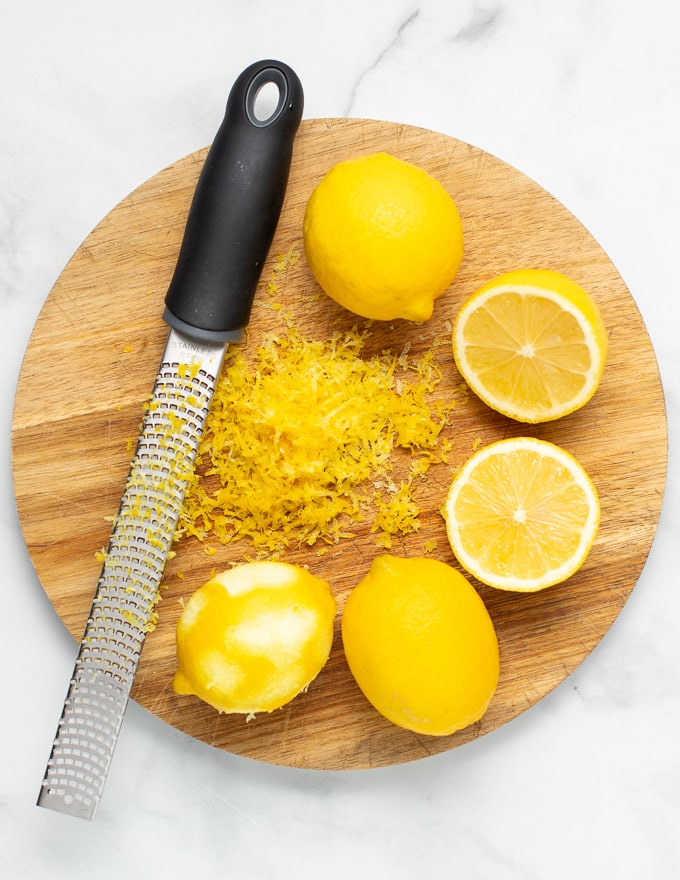 Microplane/Zester - These are so great for zesting citrus fruit, and for grating fresh ginger, chocolate or hard vegan cheeses. Unlike a regular grater, you get a super fine and fluffy result.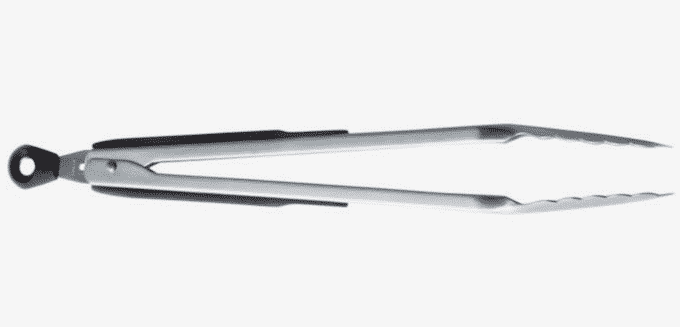 Tongs - So handy in the kitchen for turning and picking up hot foods easily and for tossing spaghetti with sauce!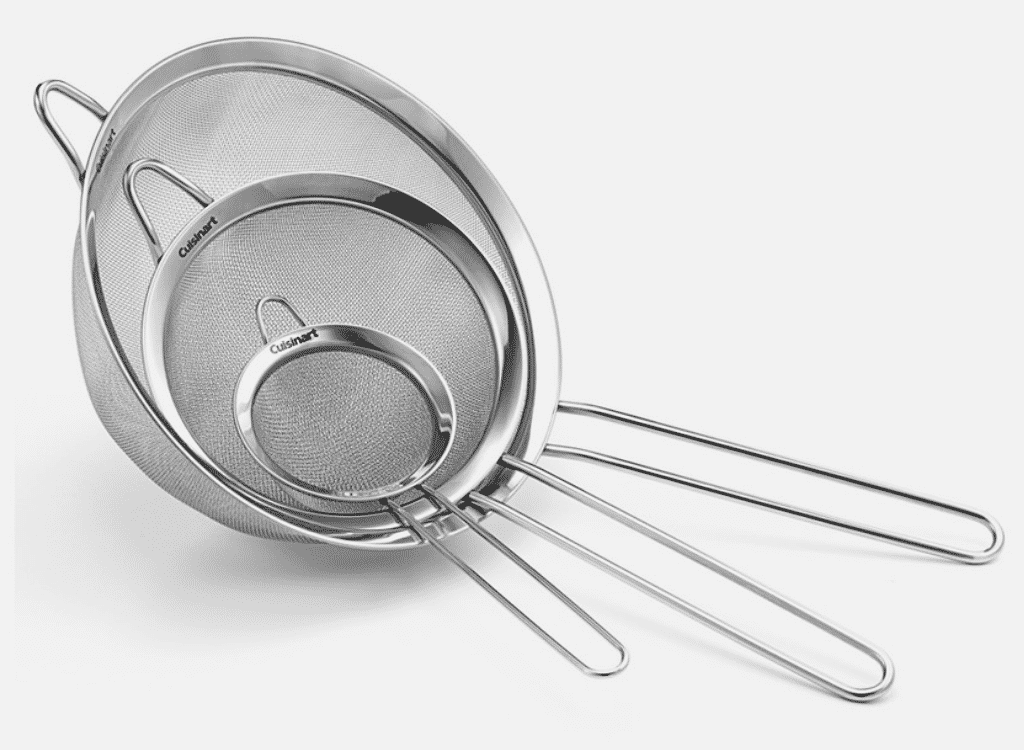 Sieve set - Handy for things like rinsing rice, straining cooked vegetables, sifting powdered sugar on cakes and making vegan ricotta.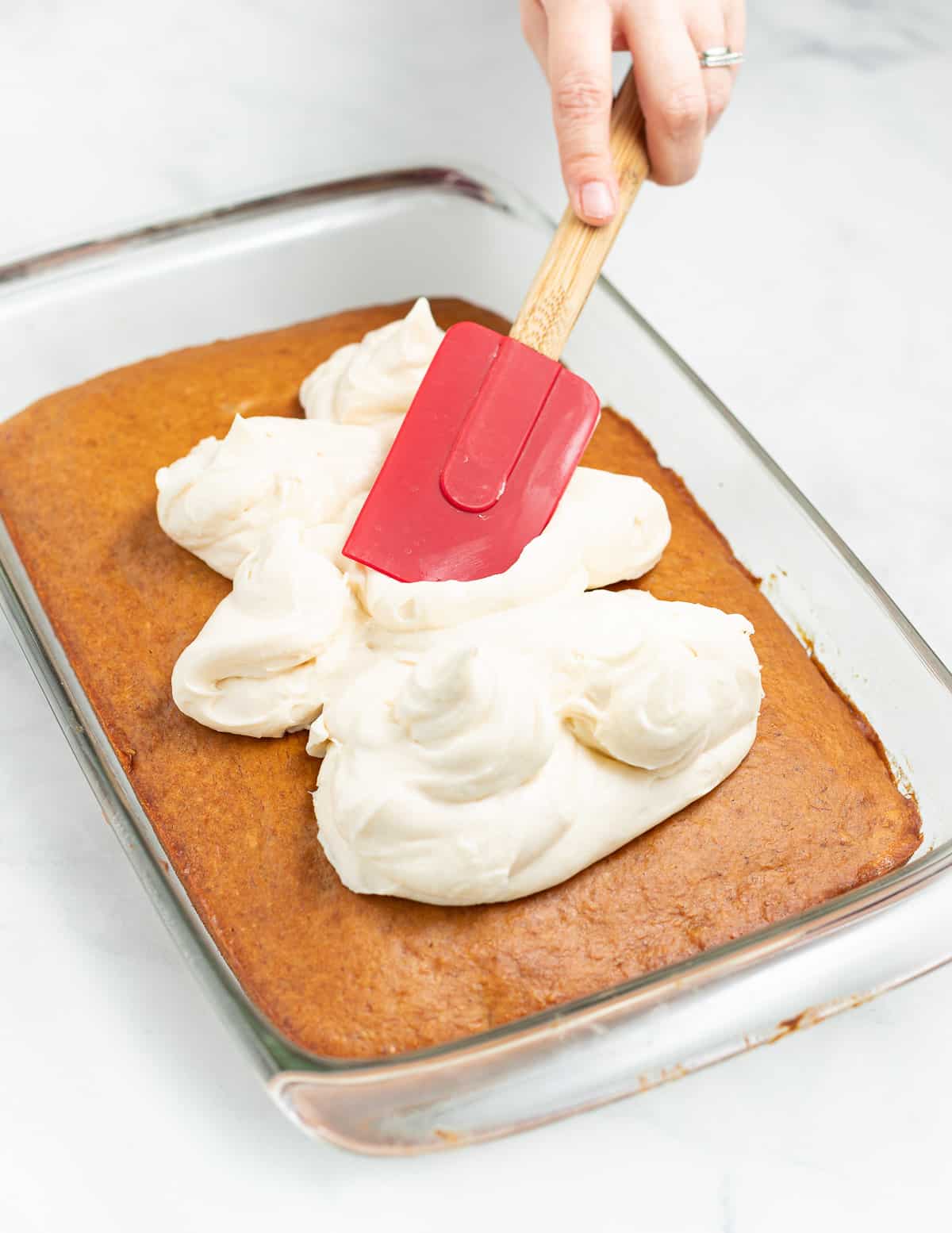 Spatulas - Basic but really useful. I've got so many different types but always find myself reaching for my KitchenAid ones. Use them for stirring, mixing and spreading. They also scrape bowls clean of cake batter or cookie dough so you don't waste a drop.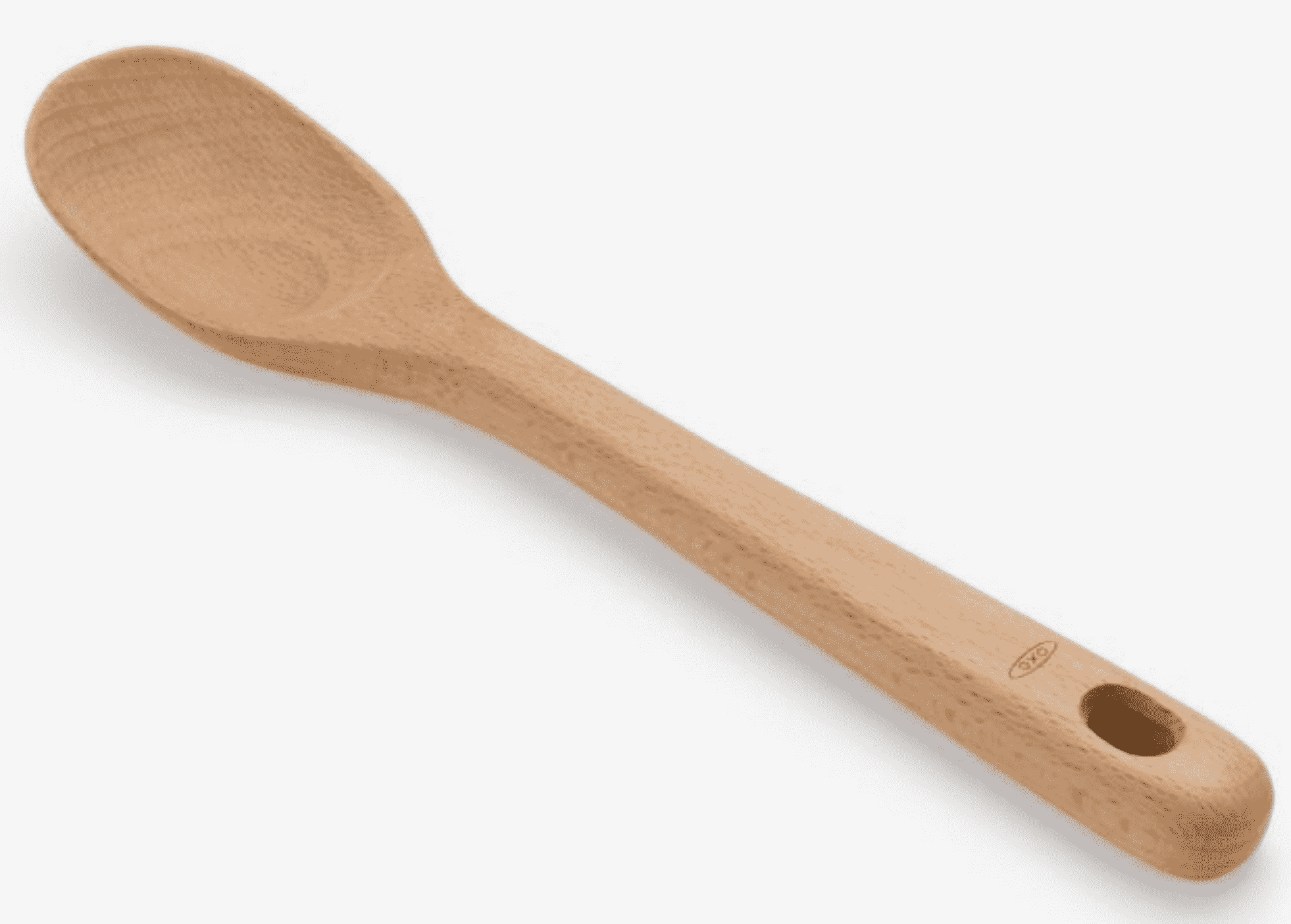 Wooden Spoon- Basic and not exciting, but essential for any kitchen. Won't scratch your pans and will last for years and years (as long as you don't put it in the dishwasher). Fun fact - I got married in 1998 and I've had my favourite wooden spoon since before that. I've bought new ones since but they just don't feel right so I never use them and always go back to my old one.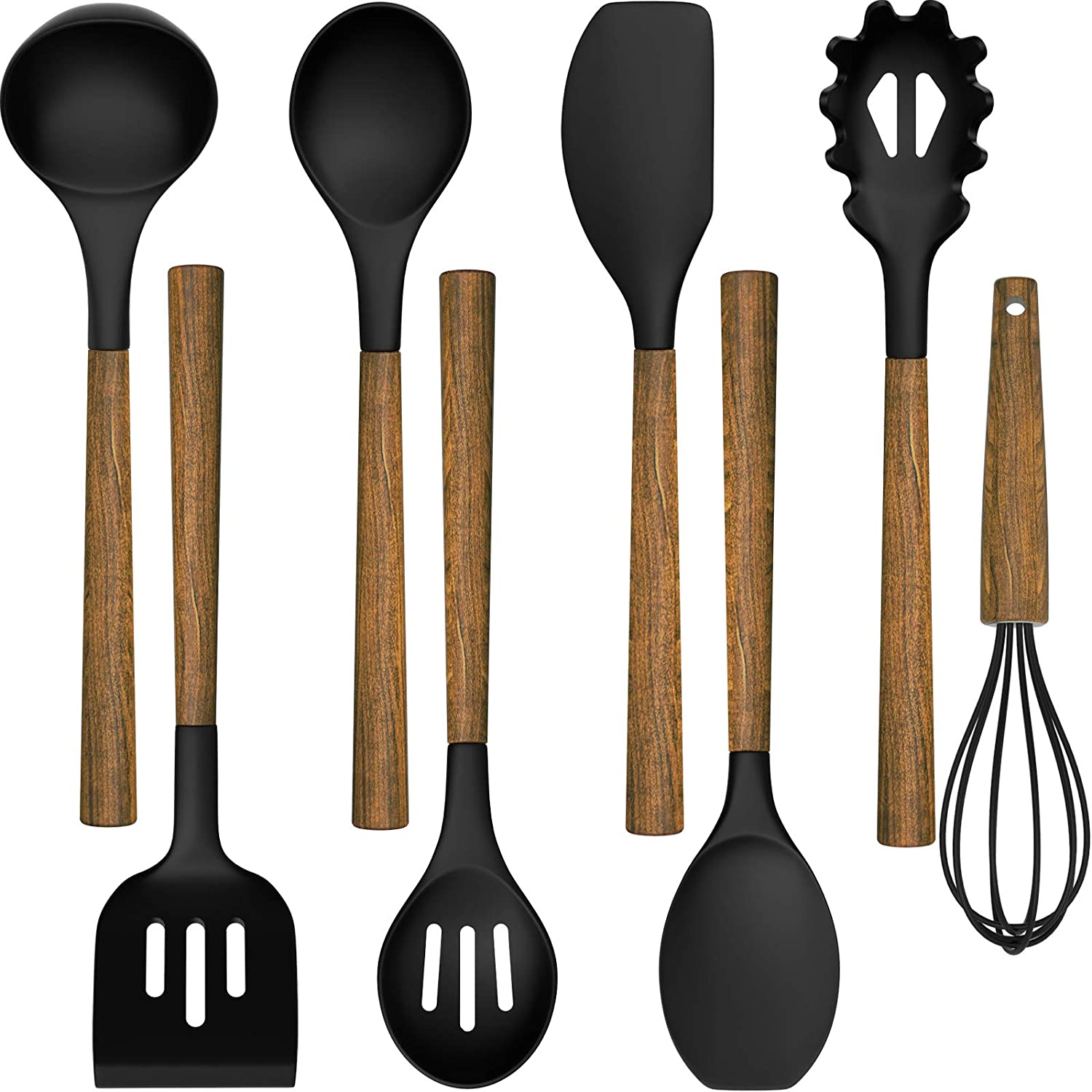 Utensil set - You'll be needing one or more of these most days. A ladle for your soups and stews, a slotted turner for flipping your French toast and pancakes, spoons for stirring and serving, a spatula for mixing and scraping, a spaghetti spoon and of course a whisk, essential for whisking up dry ingredients when baking so they are properly combined, and for making sauces, lemon curd and custards etc.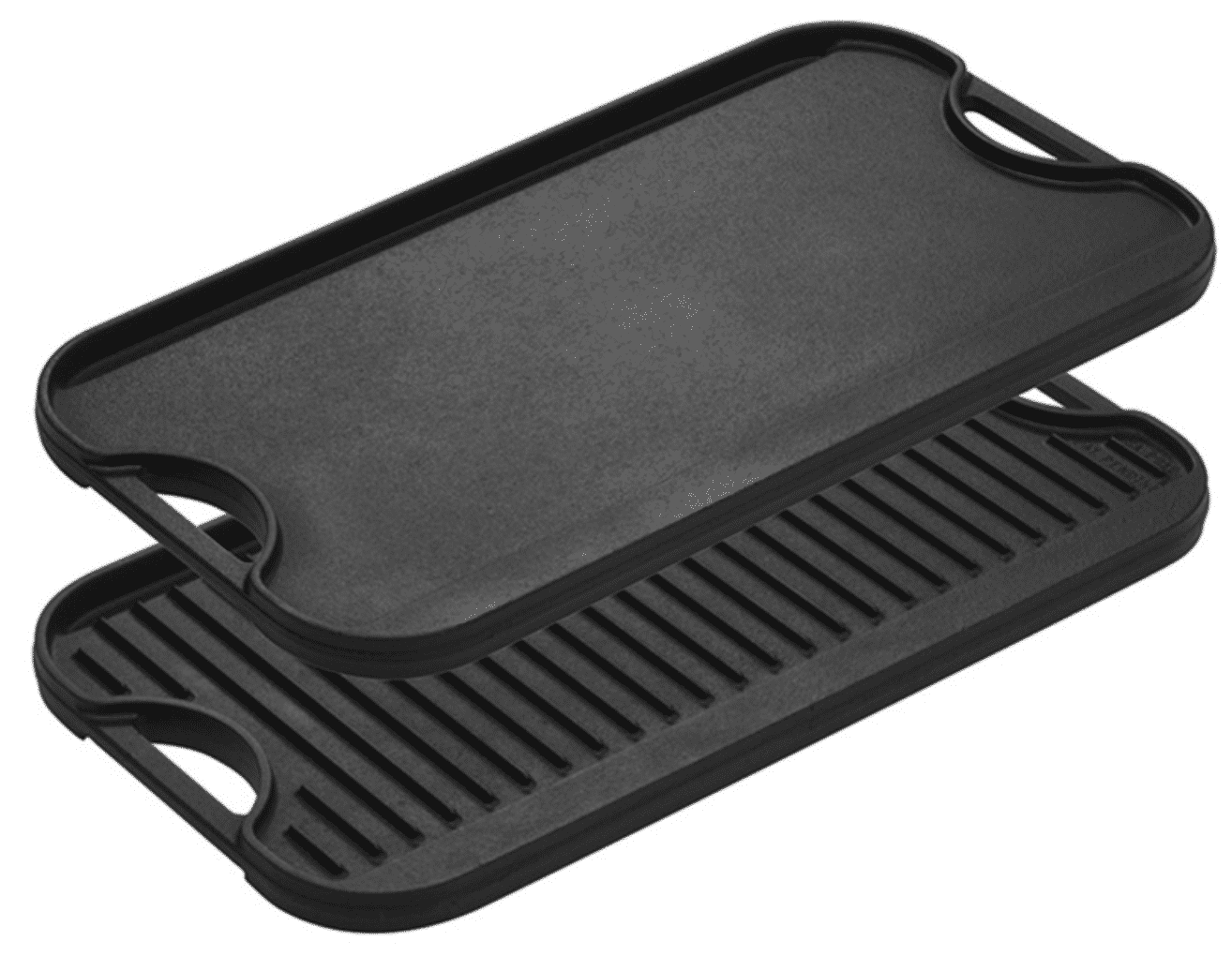 Reversible Cast Iron Griddle/Grill - This sits on top of the burners on your stove (gas or electric) or on the campfire or in the oven and is a grill on one side and a griddle on the other. They are so good for making vegan pancakes because you can make quite a few at the same time unlike when making them in a skillet. Also handy for making flatbreads, searing vegetables like zucchini strips, mushrooms, vegan steak (I am working on a recipe right now!), cooking English muffins etc.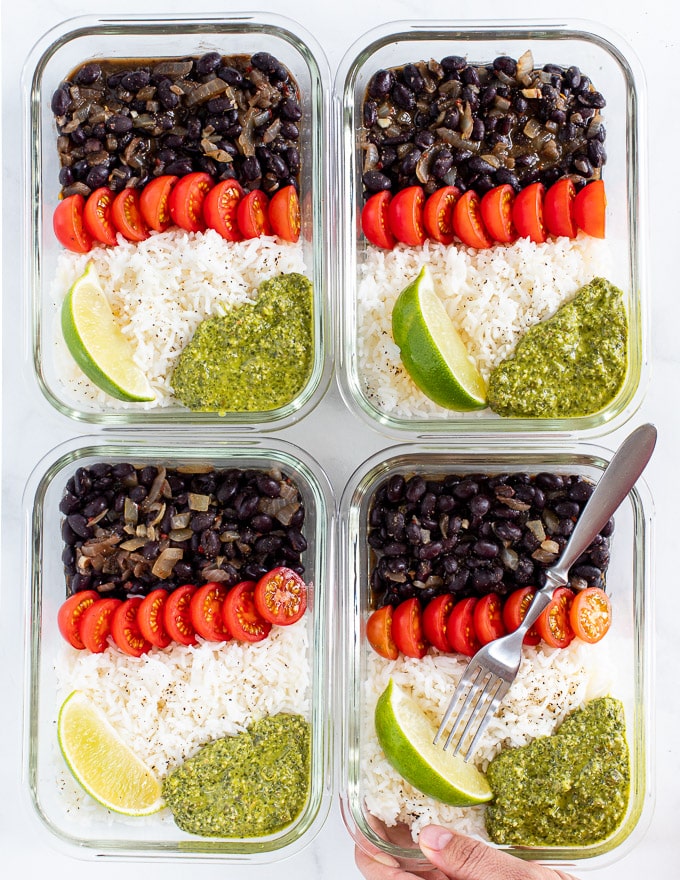 Glass Food Storage Containers - I love these for meal prep and for storing leftovers. My exact ones aren't available anymore but I've linked to something similar.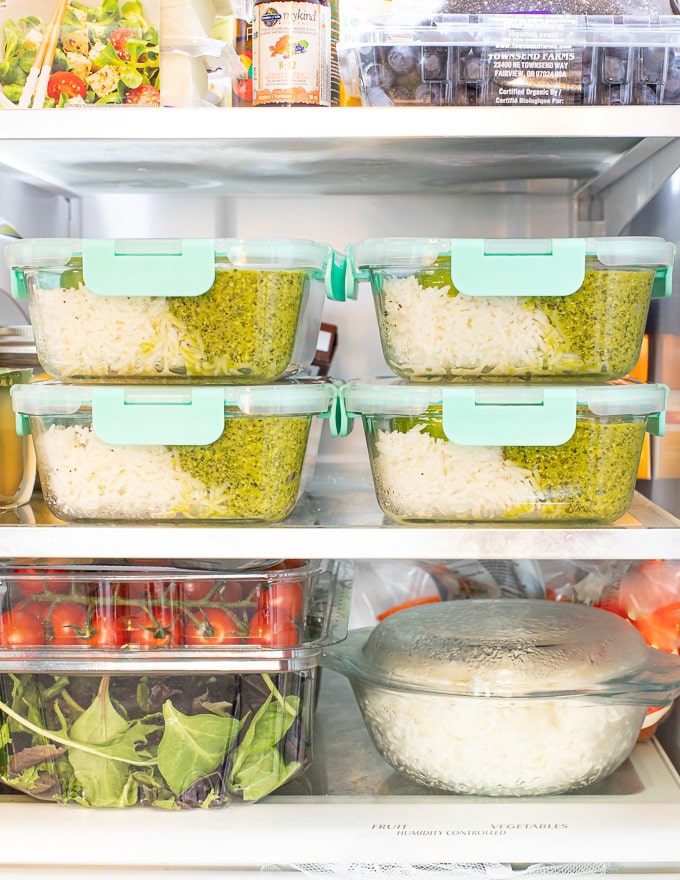 My cookbook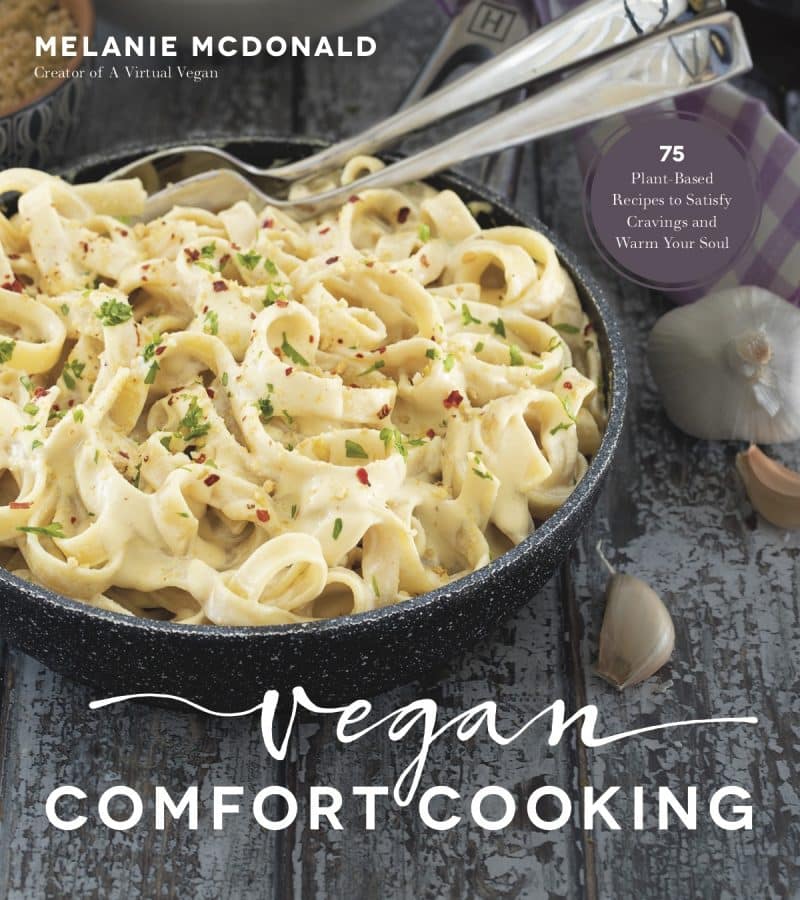 Vegan Comfort Cooking - And now for a shameless plug ... It's not what you could call vegan kitchenware, but of course my cookbook is an essential part of any vegan kitchen!
---
And that's a wrap! I'll add to this vegan kitchenware guide as I discover new favourites.
As always, reach out if you have any questions and let me know your favorite kitchenware and pantry staples in the comments!
---
This post was originally published on November 26th 2020. I've since updated it with even more products that I use and love. I hope you enjoy it. Thank you for following A Virtual Vegan!