Wait! What? Focaccia you don't need to knead? Yes! This super easy No Knead Focaccia is virtually foolproof. As long as you are able to stir some ingredients together in a bowl & turn on the oven you can do it. And nothing, and I mean nothing, can beat the smell & taste of fresh focaccia straight from the oven! ♡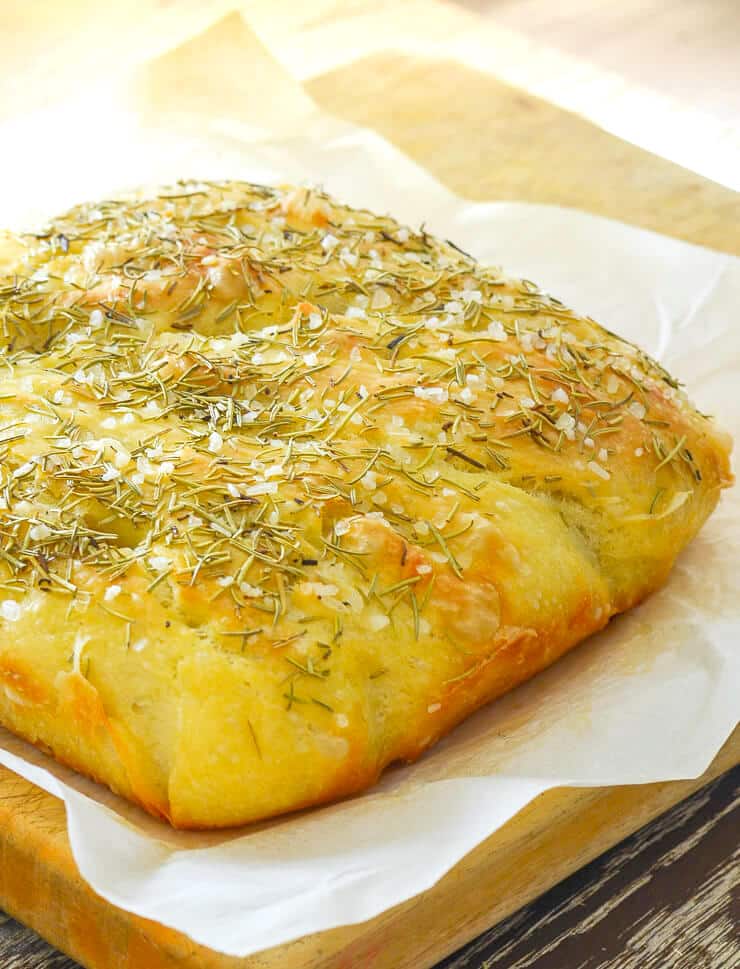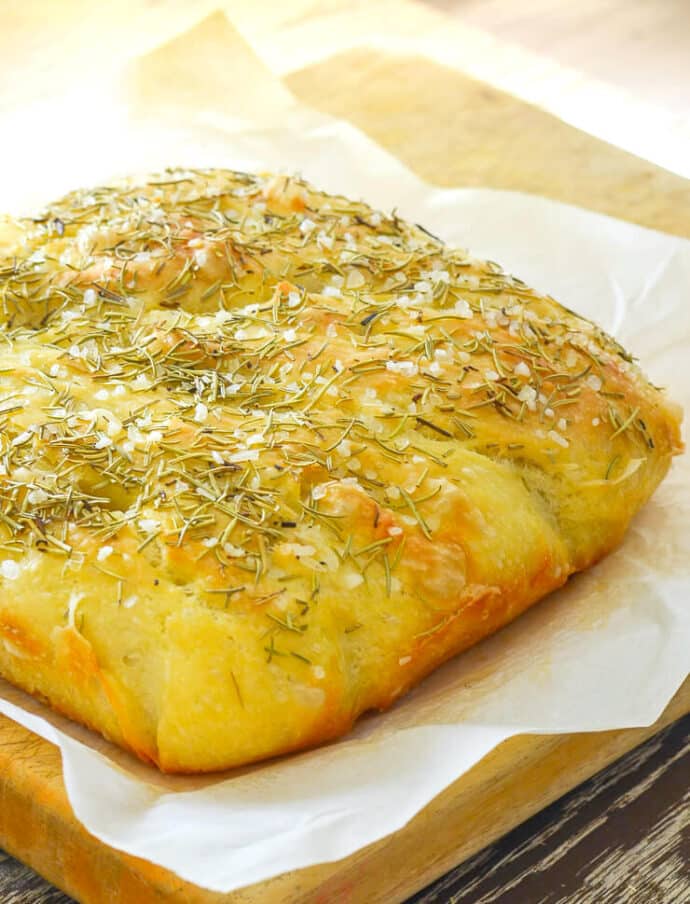 Shockingly easy No Knead Focaccia! If you're not a bread baker, hold tight because you are about to become one!
Jump to:
Good bread is one of my favourite foods, especially when it is fresh from the oven and slathered in my Easy Vegan Butter. And as much as I love it, I realize that when it comes to yeast and bread baking a lot of people have some kind of irrational fear.
I guess it stems from the fact that there is so much room for error. Everything is so variable with traditional bread making and no matter how good a recipe is, it takes practise to be able to get good results.
Reader feedback
This Easy No Knead Focaccia Bread is different though. It is virtually fool proof and gets fantastic feedback from readers.
Liz said - "We made this focaccia bread yesterday and it turned out amazing! We followed the recipe exactly, My teenage boys and I ate almost the entire loaf warm out of the oven. Sooo good! Glad I found your recipe!" ⭐️⭐️⭐️⭐️⭐️
Mary Ann said - "Could not believe how easy this recipe was. Even better than that…it was absolutely delicious. It made me look like a real star in the kitchen!" ⭐️⭐️⭐️⭐️⭐️
Rachel said - "WOW is this delish! I followed the recipe to the letter and it turned out perfect both times! Only problem I have is NOT eating the whole thing in on one sitting…!!" ⭐️⭐️⭐️⭐️⭐️
If you are able to put some ingredients in a bowl and stir them all together then you've got this. There is nothing more to it than that.
Fresh homemade focaccia, here we come!
How to make No Knead Focaccia
For detailed measurements and instructions, see the printable recipe card.
You can make this Easy No Knead Focaccia Bread in a few easy steps:
All you need is a large bowl, a spoon, a metal pan 9like an 8 x 8 inch square, or an 8 x 12 inch, or a round 8 or 9 inch cake pan) and some patience.
Step 1 - Put the dry ingredients and the oil into a bowl and mix them together. There's no need to be neat like me ... just throw it all in ...mine's just for photo purposes! ;O)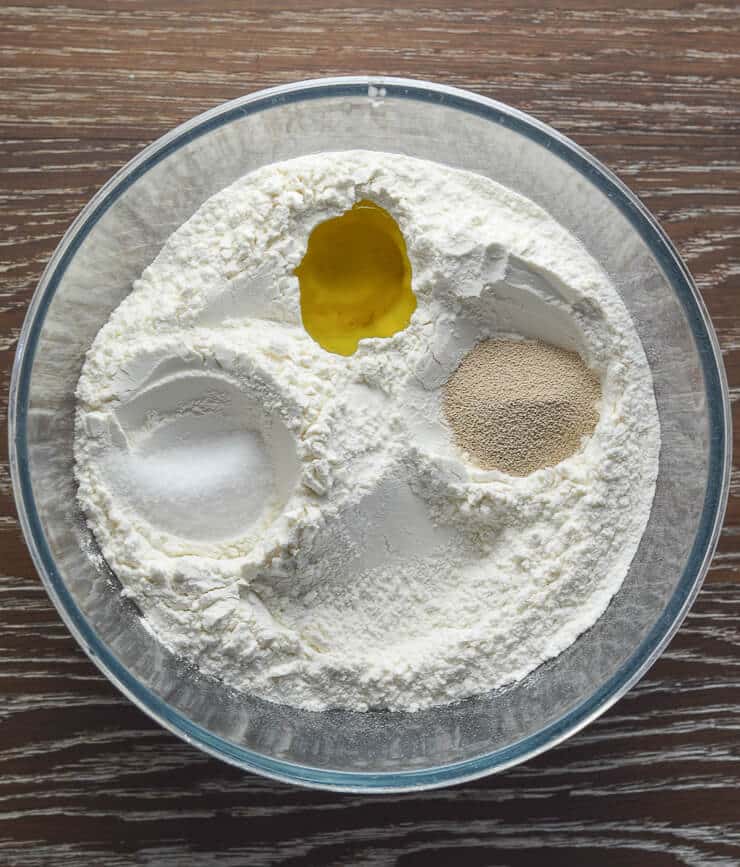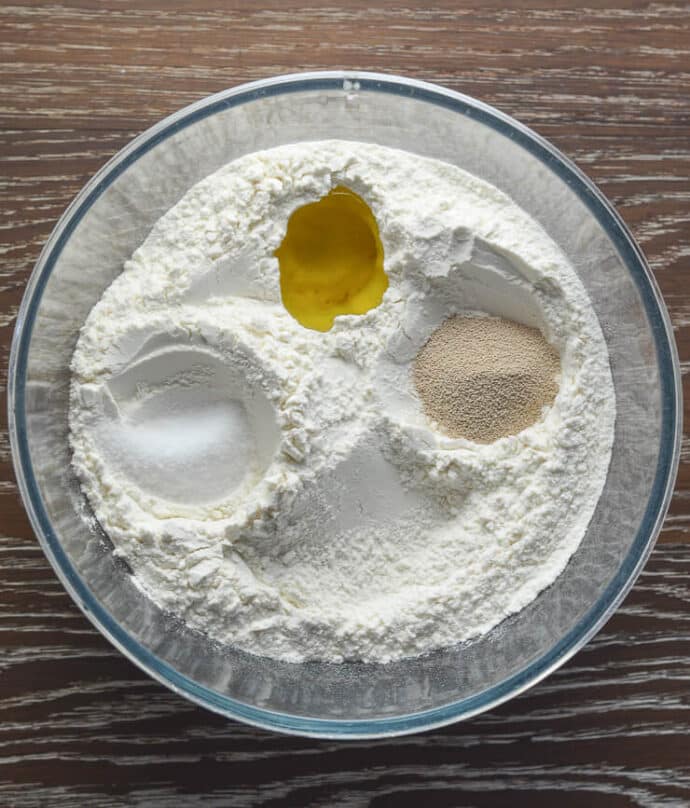 Step 2 - Add the water.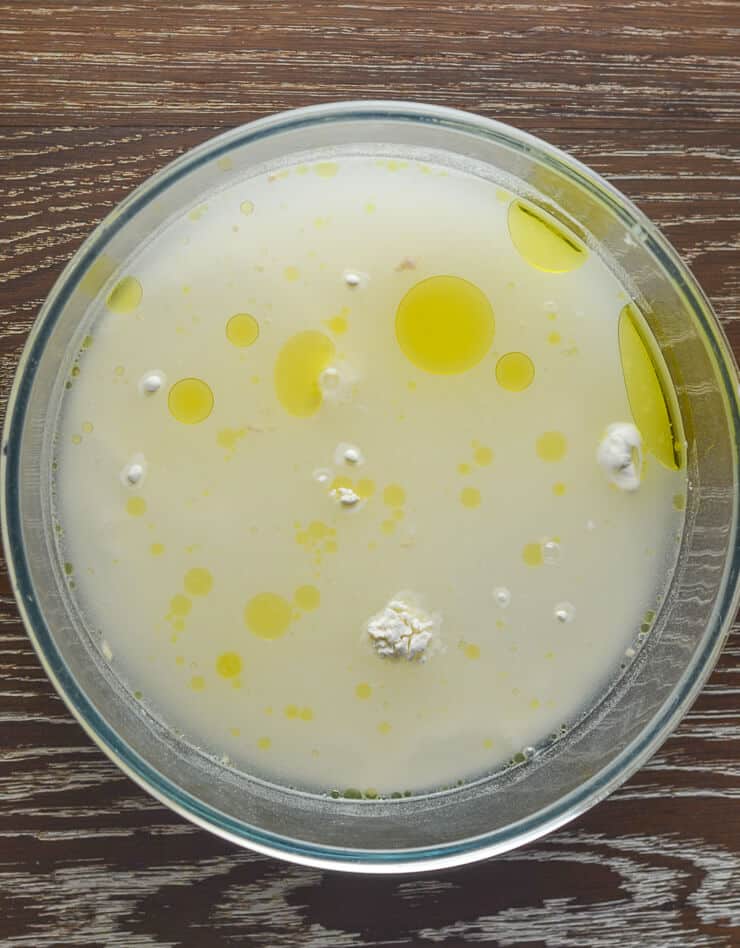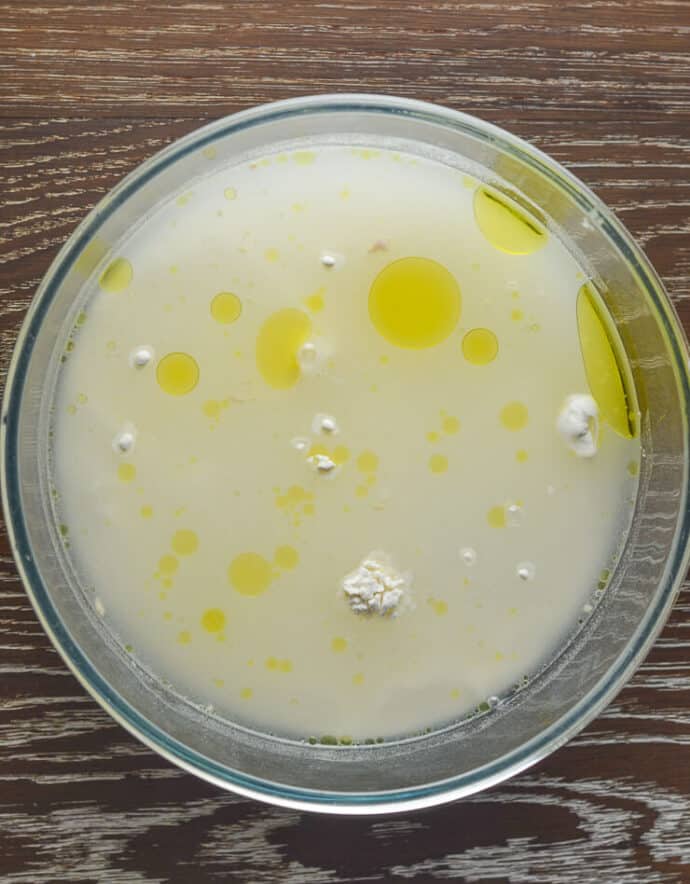 Step 3 - Mix it all up with a spoon to the point that you can't see any dry flour.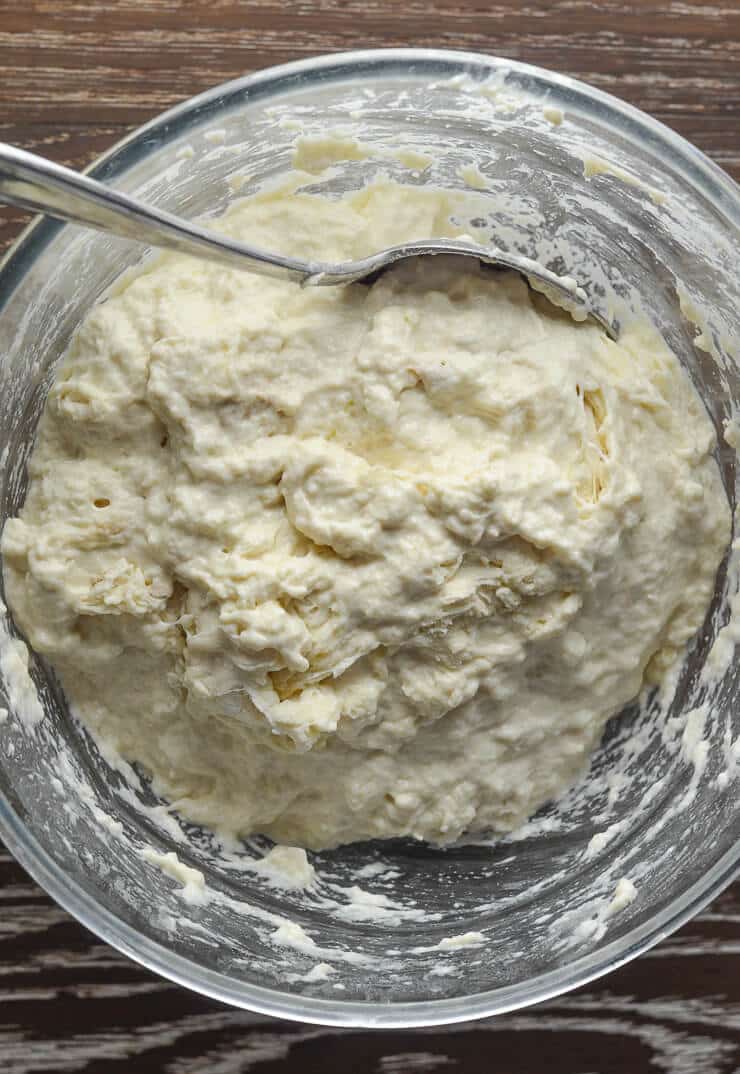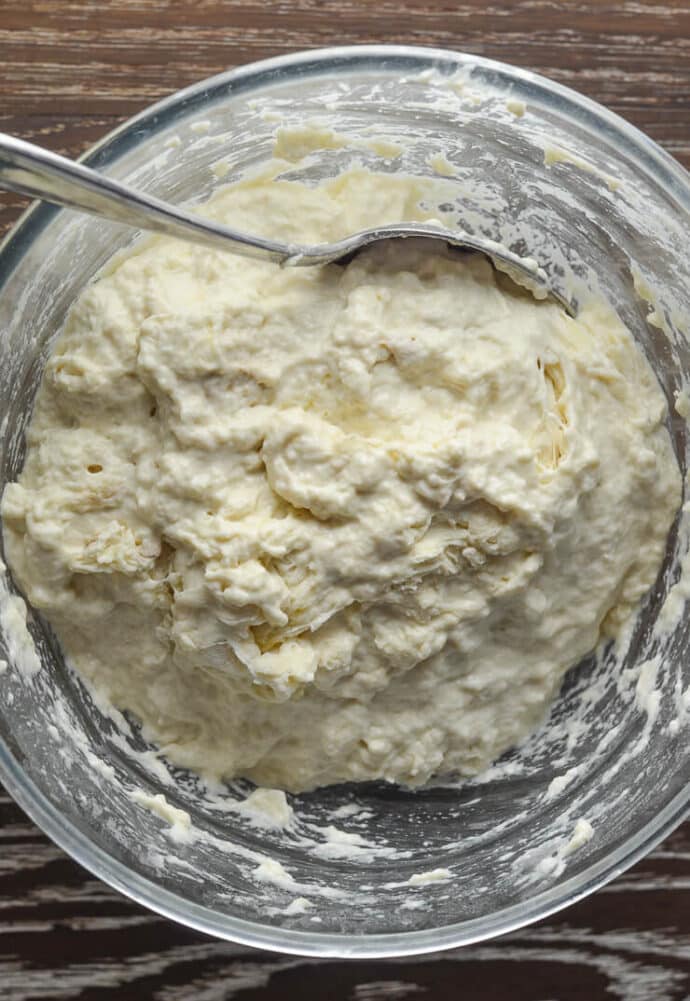 Step 4 - Cover & leave at room temperature for up to 8 hours until it looks puffy, bubbly and swollen.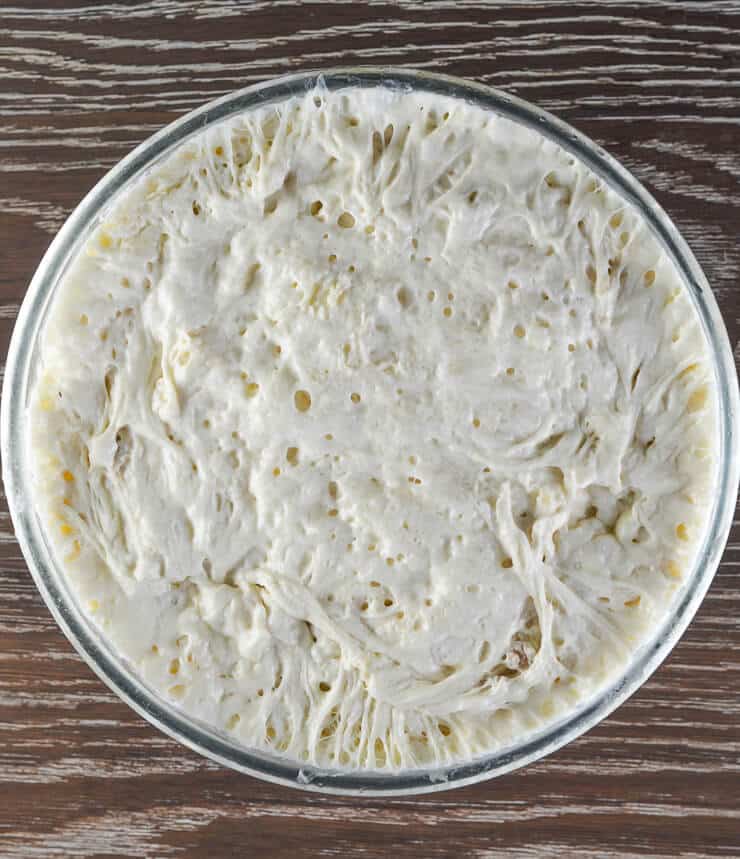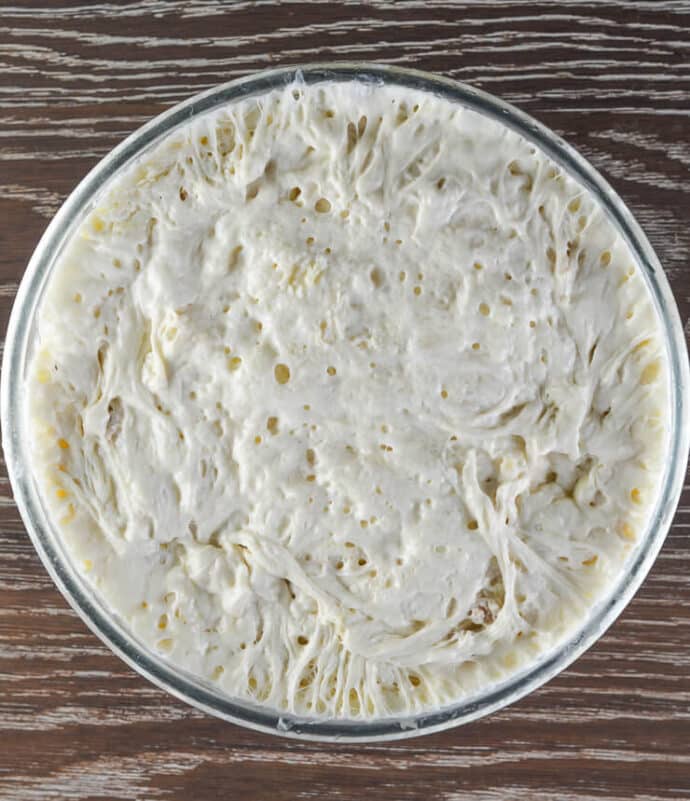 Step 5 - Scrape the dough out and into a lined pan, flattening it out as best you can.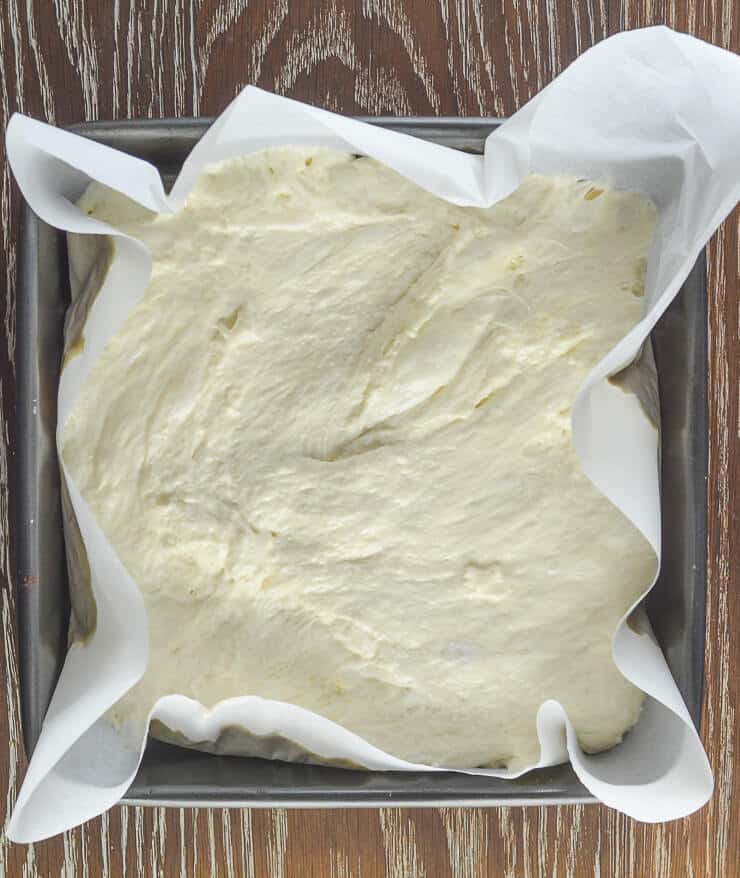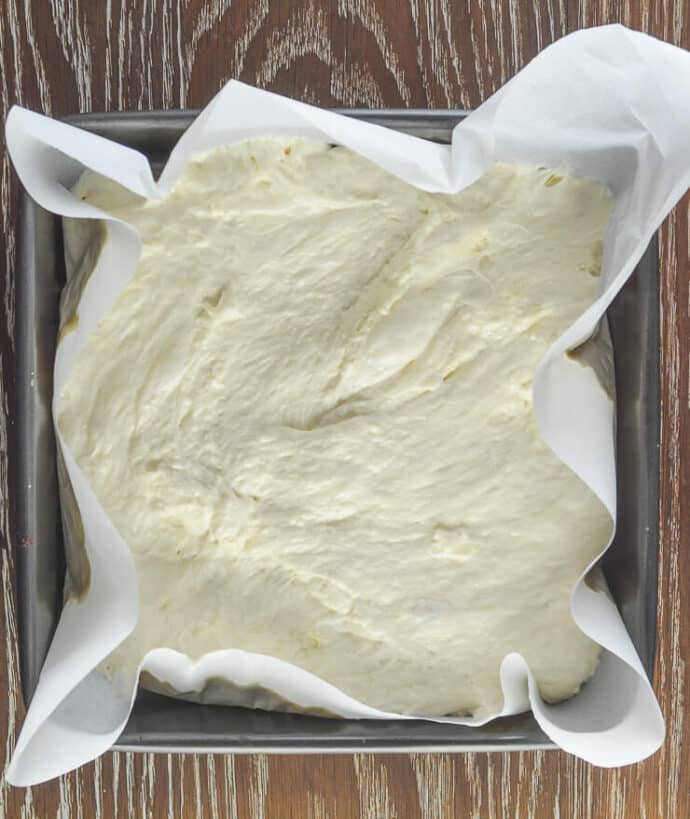 Step 6 - Dimple the dough and drizzle with olive oil, sprinkle with rosemary and sea salt then bake.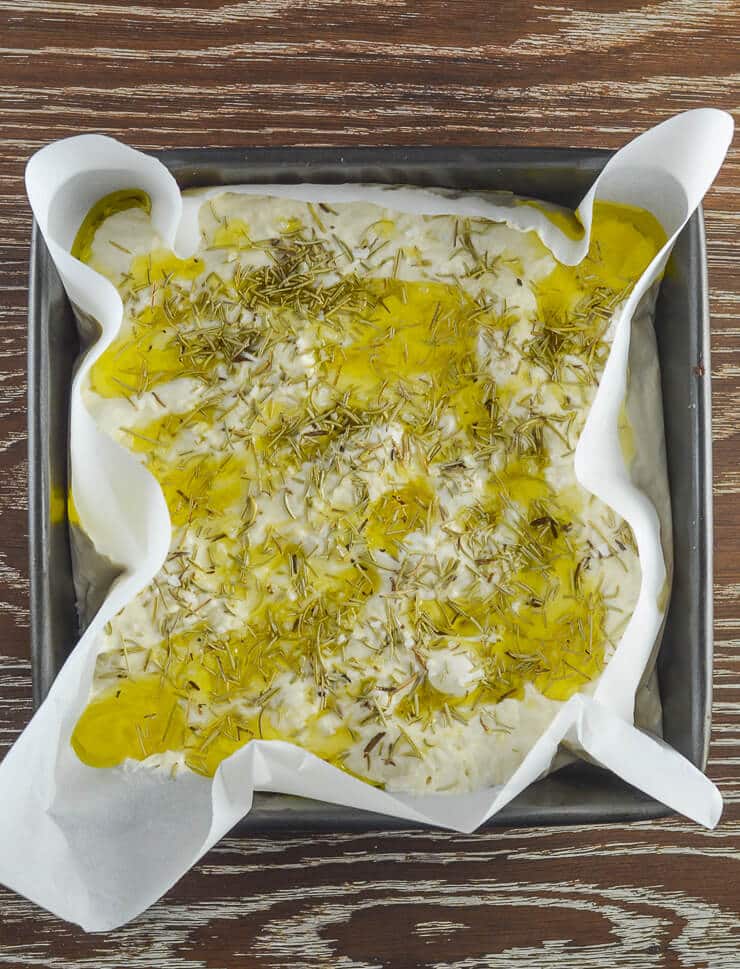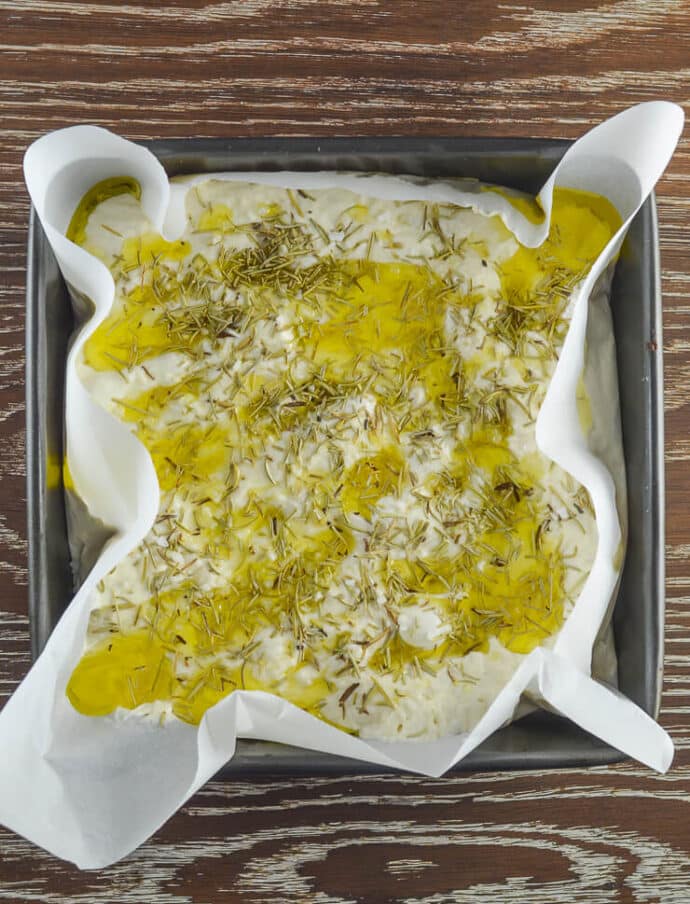 Step 7 - Allow to cool for at least 15 minutes before cutting.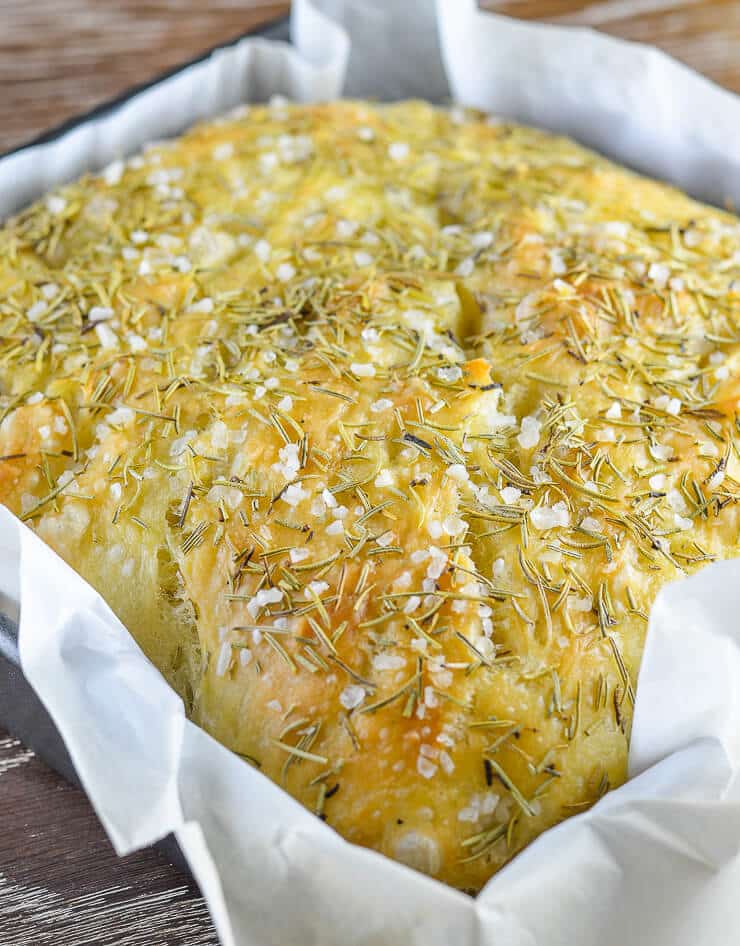 It really is that easy.
The only hands on time needed is a couple of minutes to mix the flour, yeast, salt and water together with a spoon, and later, a couple of minutes to scrape the dough into a pan and drizzle with olive oil then sprinkle with rosemary and salt.
No kneading. No shaping.
You have to leave the mixed up focaccia dough to rest for at least seven hours but up to nine will be ok and it's all completely hands off/mind off it time.
Patience is everything when you make bread. It is impossible to get immediate results but every minute spent waiting is so worth it. I promise!
You can mix it up before you go to bed at night then bake it in the morning, or you can mix it up in the morning, head off to work, then bake it when you get home. Either way, you are this close to fresh Rosemary and Sea Salt Crusted Focaccia perfection!
How long can you let no knead bread rise?
Because you aren't kneading the bread, time is needed to develop the gluten. The sweet spot is about 8 hours in an 20 °C (68 °F) kitchen but it's pretty flexible. You still get a good result if you bake it a little earlier or later.

If it's hotter where you are you can get away with less time. Use my progress pictures for a guide as to how it should look at each stage and judge accordingly when it's ready to bake.
You an extend the resting time if you need to by putting the bowl of dough in the fridge. You could probably get away with leaving it there for up to 24 to 48 hours dependent on your fridges temperature. The lower temperatures slow down the activity of the yeast which helps to delay things. If you try this though I advise keeping an eye on it the first time you do it, and baking it once it has just about doubled in size. Once you've done it once you'll have a good idea of how long you can get away with leaving it.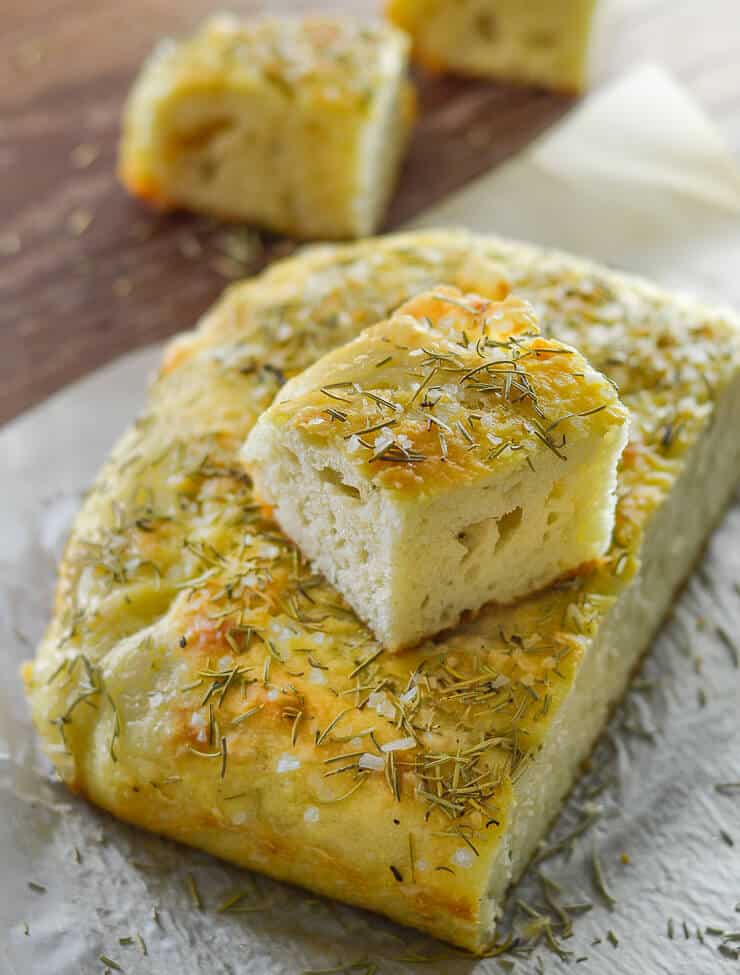 The rosemary infused focaccia bread smell that permeates your house while this little miracle bakes is the stuff of dreams. It smells amazing! When you break into that salt and rosemary scattered crust you will find a soft and fluffy interior that is just begging you to eat it. All of it. Now.
How to serve
This rosemary focaccia is wonderful served warm from the oven or completely cooled. It makes the perfect accompaniment to soups like my Vegan Potato Soup, my Easy Tomato Basil Soup, or my Red Lentil Soup with Lemon. Or stews, pasta dishes and casseroles. It is also great used to make sandwiches (try it with my White Bean & Artichoke Sandwich Filling) and makes the most wonderful paninis.
Storage, freezing and reheating tips
This No Knead Focaccia Bread is best on the day it's baked but leftovers can be wrapped and kept for a day or two. They are best warmed before eating though. I like to wrap them in foil then pop them in the oven for 10 to 15 minutes on about 350° F. Or if you are in a hurry you can microwave for 20 or 30 seconds.
The bread also freezes well. Wrap very well and store in the freezer for up to 3 months.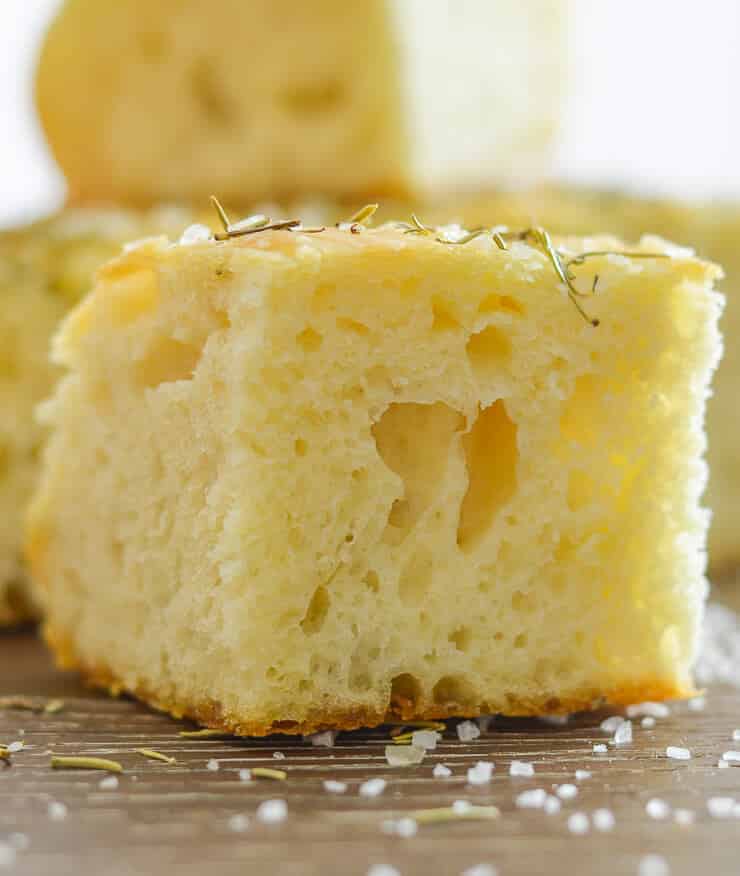 Want more easy bread recipes?
For more great bread recipes, check out these very popular reader favourites:
Did you make this recipe?
Be sure to rate it and leave a review below!
📖 Recipe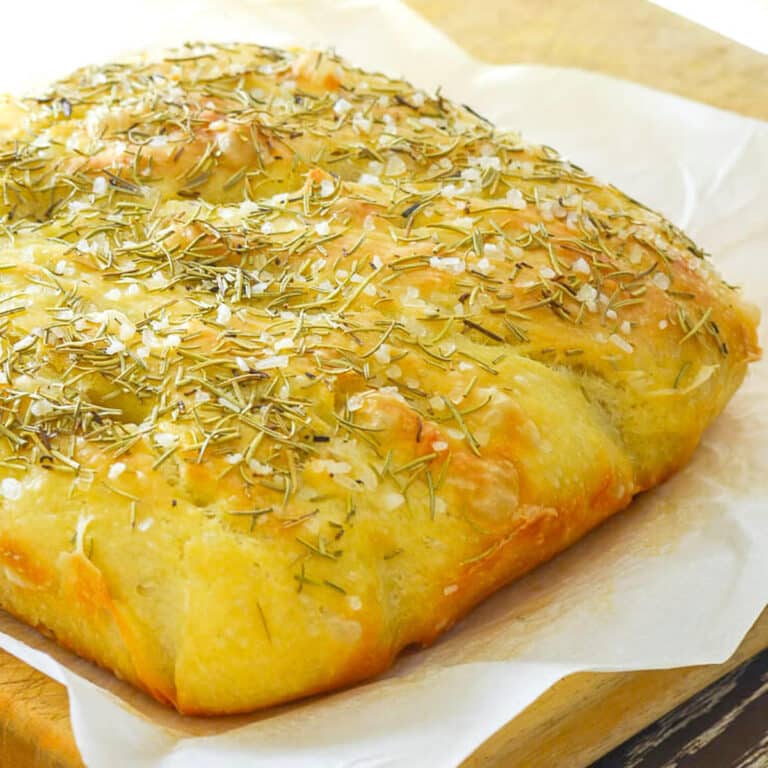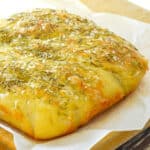 No Knead Focaccia
Author:
Wait! What? Focaccia you don't need to knead? Yes! This super easy No Knead Focaccia is virtually fool proof. As long as you are able to stir some ingredients together in a bowl & turn on the oven you can do it. And nothing, and I mean nothing, can beat the smell & taste of fresh focaccia straight from the oven! ♡
Ingredients
500

g / 3¾ cups plus 4 ½ teaspoons

all purpose flour or bread flour

cups measured by spooning the flour into the cups and levelling off with the back of a knife - do not scoop and do not compact the flour down by pressing on it as you fill the cup (in the UK use strong bread flour)

10

g / 1 very full tablespoon

instant yeast or quick rise yeast .

, (if you only have active yeast see recipe notes)

10

g / 2 teaspoons

salt

1

tablespoon

olive oil

(see the recipe notes if you limit your oil intake)

450

mls / 1¾ cup plus 2 tablespoons / 15.2 U.S oz

COLD water

not warm water

60

mls / 4 tablespoons

good olive oil for drizzling

Just drizzle as much as you feel comfortable with on top - I like a bit more ;O

2

tablespoons

fresh or dried rosemary

sea salt flakes or crystals

for scattering
INSTRUCTIONS
In a large mixing bowl combine the flour, yeast and salt then add 1 tablespoon of olive oil.

Add the water and mix well until you can see no more dry flour and you have a wet, slightly lumpy looking mess. Make sure to scrape right into the bottom of the bowl. (See my picture in the collage near the top of my post above for reference).

Cover with cling wrap or a clean shower cap and leave on the kitchen counter for a minimum of 7 hours and a maximum of 9 hours. Do not refrigerate and do not leave anywhere really warm. Just normal room temperature is fine.

About 20 minutes before the time is up preheat your oven to 400°F and line a cake pan or brownie pan with parchment paper. (any pan from 8 x 8 inch to 8 x 12 is fine or an 8 or 9 inch round cake pan - just ensure it's metal. Don't use silicone). You can even spread the dough out on a parchment paper lined regular baking tray if that's all you have.

When the oven is at temperature, scrape the dough out of the bowl and into the pan. I use a dough scraper but a silicone spatula or spoon will be fine. It will be clingy and sticky but that is normal.

Once it's all in the pan, flatten it out so it's as even as you can get it all over, then using fingers dipped in olive oil, make dimples all over the top.

Drizzle over the olive oil (be as generous as you feel comfortable with) and sprinkle on the rosemary and salt.

Place in the preheated oven and bake for about 37 - 40 minutes.

When done it will be starting to go golden brown in places on the top. If you want it a little crustier you can bake it for another 5 minutes but no longer as otherwise it will become dry.

Remove from the oven, lift out using the paper as handles and place on a cooling rack.

Leave to cool for at least 15 minutes before cutting.
NOTES
I have included amounts in cups as well as weights but I would highly recommend using the weight measurements for the very best results. Cup measurements are too variable & there is a chance they could affect your results. Digital kitchen scales can be purchased really cheaply for around $10-$15 & they really do make all the difference for baked goods where accuracy is key to good results).
If you only have active yeast use part of the water from the recipe and 1 tablespoon of sugar to activate it then add it to the flour, salt and olive oil then continue as per the recipe instructions. 
If you limit your oil intake and the amount in this recipe puts you off, you can safely omit the olive oil from the dough when you mix it up, and drizzle or spray the top sparingly with oil rather than using the suggested 4 tablespoons. 
NUTRITION
Serving:
1
serving
Calories:
280
kcal
Carbohydrates:
43
g
Protein:
6
g
Fat:
9
g
Saturated Fat:
1
g
Sodium:
435
mg
Potassium:
74
mg
Fiber:
2
g
Sugar:
1
g
Vitamin A:
14
IU
Vitamin C:
1
mg
Calcium:
16
mg
Iron:
3
mg
Nutritional information is provided for convenience & as a courtesy. The data is a computer generated estimate so should be used as a guide only.
Tried this recipe?
Rate it & leave your feedback in the comments section below, or tag @avirtualvegan on Instagram and hashtag it #avirtualvegan