Rich, flavourful, saucy lentils topped with fluffy, creamy mashed potatoes & baked until deliciously golden brown & crispy. The ultimate vegan lentil shepherd's pie!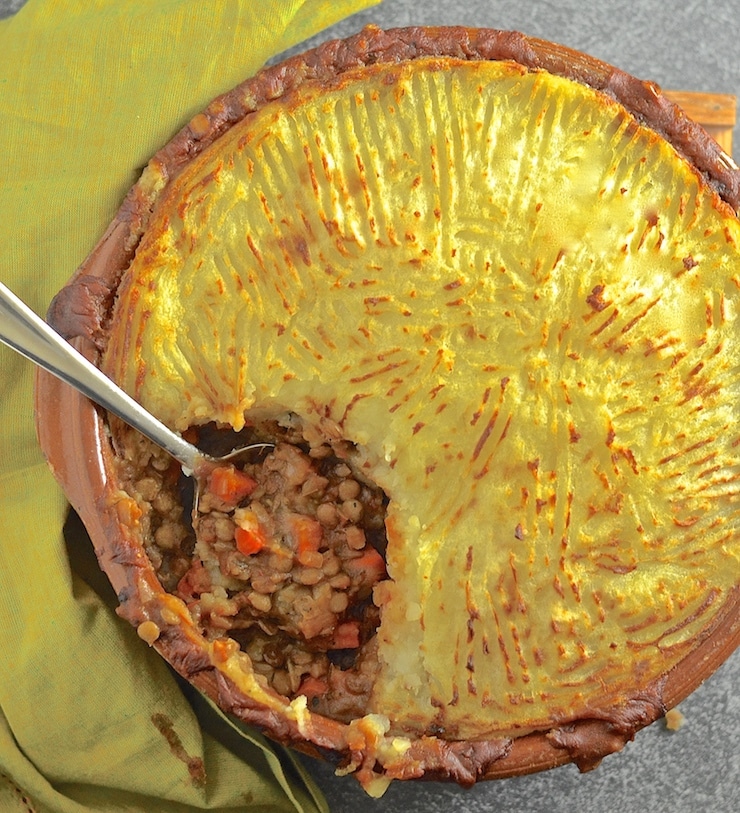 Cozy, soup, stew and pie season is nearly over. As the sunshine appears more and more regularly, and Summer approaches, we will be mostly changing these comforting meals up for lighter, fresher offerings. I have been taking advantage of the slight nip in the air and eating my fill of hearty, comfort food before it's too late. Once Summer arrives it becomes unbearable to have the oven on for too long so dishes like this will take a backseat here on the blog. I won't promise they will disappear totally though as I am one of those people who can quite happily eat soup all year round! I like to serve this Lentil Shepherd's Pie with lots of steamed vegetables. I love cruciferous type vegetables with it the best. We usually end up with a selection of kale, cabbage, Brussels sprouts or cauliflower. The combination of these veggies and the Shepherd's Pie is just delicious and so very good for you. It is a meal that is absolutely brimming with vitamins, minerals and protein (over 26g per portion!).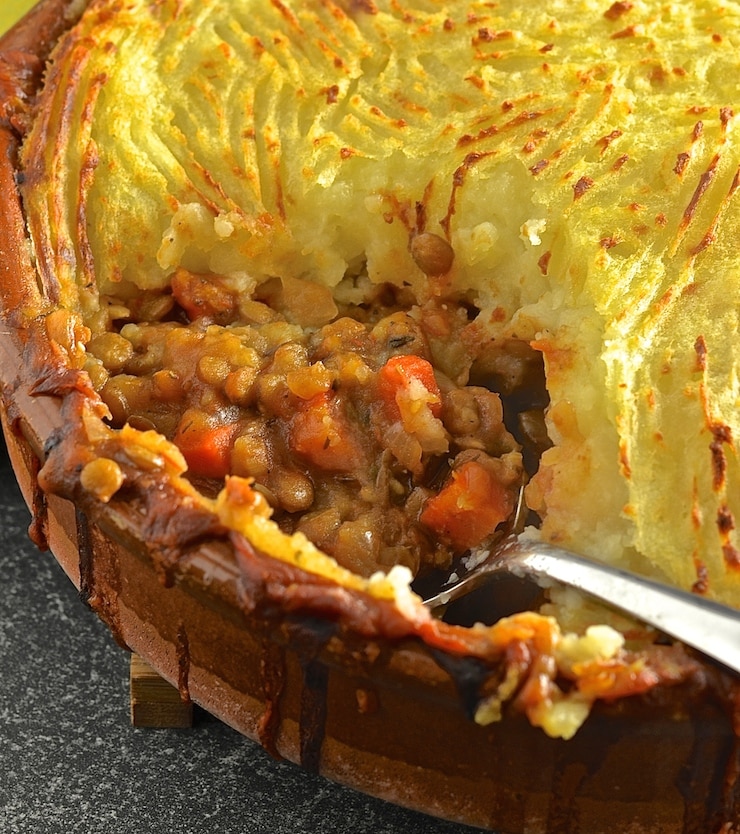 This Lentil Shepherd's Pie is something that I cook very regularly. It is easy, comforting, delicious and full of flavour. I am the only vegan in the house but when I serve this to my family it always goes down incredibly well.
What is there not to love about tender, saucy, flavourful  lentils topped with light and fluffy mashed potato?
Oh how I adore mashed potato. I could eat it by the bowlful and it is especially good with a glug of non-dairy milk and a large knob of my Easy Vegan Butter stirred through it. My Easy Vegan Butter recipe has taken on a life of it's own over the past week or so. It has been so incredibly popular. Your feedback has been amazing and I have been inundated with pictures of hot buttery toast! If you haven't tried it yet you can see how easy it is to make in this video:
Now I want to see your pictures of creamy mashed potatoes atop saucy lentils! You can email them to me, Instragram me or Tweet me. I am @avirtualvegan. Use the #avirtualvegan so I don't miss them.
Oh and if you somehow end up with leftovers (we haven't as yet!), you can keep them in the fridge for a few days. They reheat very well.
Enjoy your Shepherd's Pie!
Yields Serves 6
Lentil Shepherd's Pie
Rich, flavourful, saucy lentils topped with fluffy, creamy mashed potatoes & baked until deliciously golden brown & crispy. The ultimate vegan shepherd's pie!
25 minPrep Time
30 minCook Time
55 minTotal Time
Ingredients
1 medium onion chopped finely
3 cloves garlic chopped finely
1 large carrot diced
2.5 teaspoons dried herbs (thyme, rosemary or marjoram all work well, or a combination of them. Mixed Herbs or Italian Mixed Herbs are also fine)
2.5 cups of cooked lentils (green or brown)
2 tablespoons arrowroot or cornstarch
3 tablespoons Tamari ( you an sub this for soy sauce, coconut aminos or liquid aminos )
1 cup of canned crushed tomatoes or passata (if you only have whole or diced tomatoes just blend them up until smooth first)
1 cup of vegetable or mushroom broth
Salt & pepper to taste ( I used 1 teaspoon of pepper and 1.5 teaspoons of salt)
6 cups (around 1000g) of diced raw potato (I love Yukon Gold potatoes)
1/3 cup unsweetened, unflavoured non-dairy milk
A knob of my vegan butter (optional)
Instructions
Preheat oven to 400° fahrenheit
Put the diced potatoes in a large pan and cover with hot water from the kettle.
Add a generous pinch of salt, cover and bring to the boil.
Simmer for about 15 minutes until the potatoes are very tender (check with a fork or knife).
Drain then return to the pan, add the milk and butter (optional) and mash very well. Set aside.
While the potatoes are cooking warm another pan over a medium heat.
Saute the onions, garlic and carrot until the onions are starting to go golden brown. You can use oil if you like but I just used a drop of water instead.
Add the dried herbs, lentils and arrowroot or cornstarch.
Stir well to distribute the arrowroot through the lentil mixture.
Add the Tamari and tomatoes and stir very well.
Add the stock and stir well again.
As soon as hot and starting to bubble remove from the heat.
Season with salt and pepper to taste.
Pour the lentil mixture into an ovenproof dish that isn't too deep.
Top with the mashed potato.
Spread it around evenly then rough up the top with a fork.
Place on a baking sheet in case of any leaks and bake in the oven for 30 minutes.
If you want an extra crispy topping you can then put it under the broiler for a few minutes before serving.
Recipe Notes
Try to get a nice seal around the edge where the potato meets your dish but don't worry too much as it will inevitably spring a leak and bubble out somewhere. I think this adds to it's appeal!
6.8
https://avirtualvegan.com/lentil-shepherds-pie/
Melanie McDonald | A Virtual Vegan