Golden, crispy, herby, Air Fryer Lemon Garlic Roasted Potatoes. Ready in 30 minutes. No parboiling required!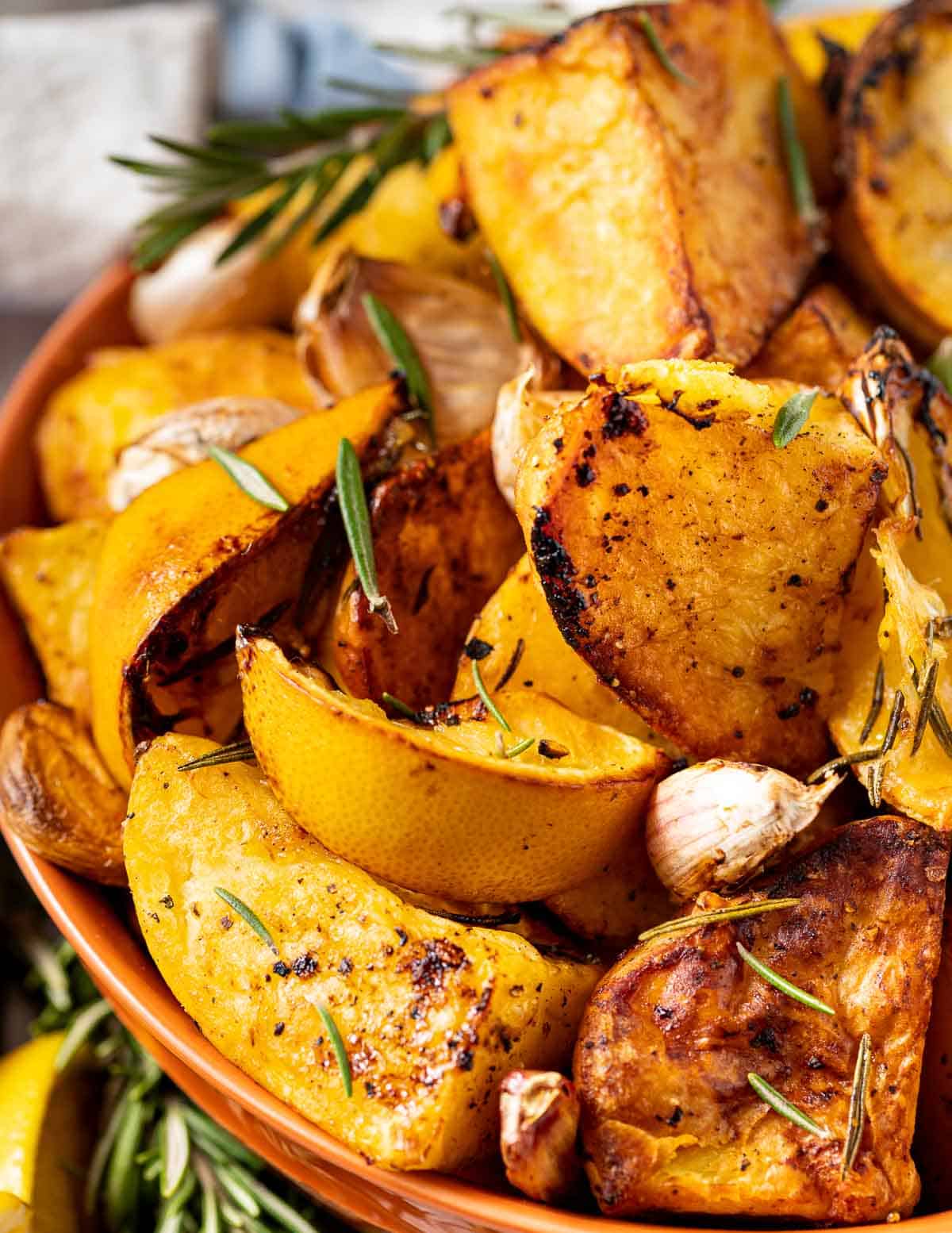 Hold tight. Your potato game is about to be changed forever! These air fryer roast potatoes are fluffy on the inside, crispy on the outside, and full of lemony, garlicky, herby flavour.
The best part though is that, unlike regular oven-baked roast potatoes, you don't need to parboil them and they only take 30 minutes to cook! Don't you just love air fryer recipes?!
In this post - Everything you need to make perfect roast potatoes in your air fryer:
Jump to:
Ingredients
You need just a handful of ingredients to make this side dish: Potatoes, lemons, garlic, rosemary, olive oil, salt, and pepper.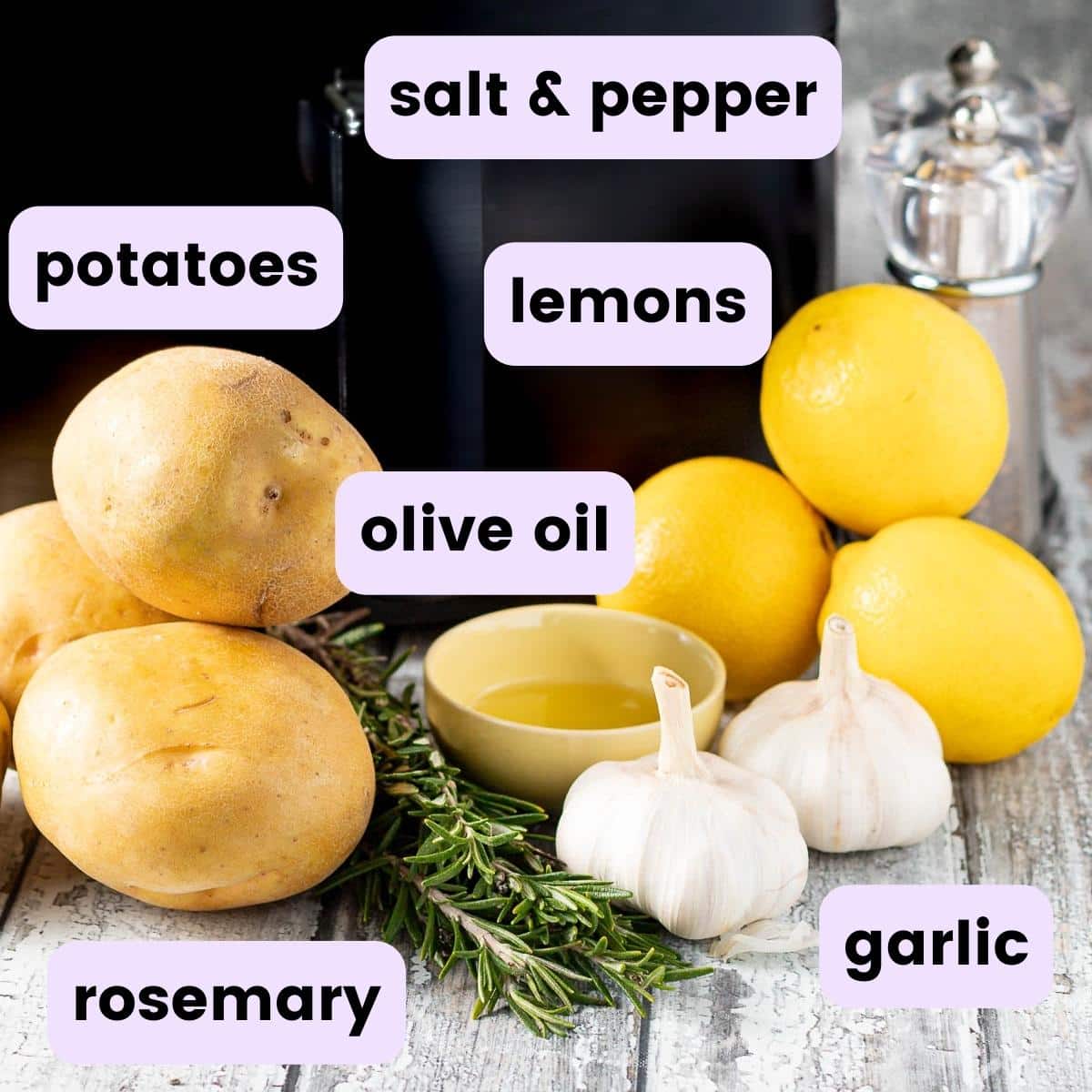 Success Tip - As with any roast potatoes, the quality and variety of potatoes you use will make a huge difference to the outcome. My favourite variety of potato for roast potatoes is Yukon Gold, but red and Russet potatoes are good ones to go for too. If you are in the use Desiree, Maris Piper, or King Edward potatoes.
How To Make Air Fryer Lemon Garlic Roast Potatoes
Making roasted potatoes is a breeze in an air fryer and frees your oven up for all sorts of other tasty things. Plus the cleanup is incredibly quick and easy in the dishwasher.
Here's how it's done: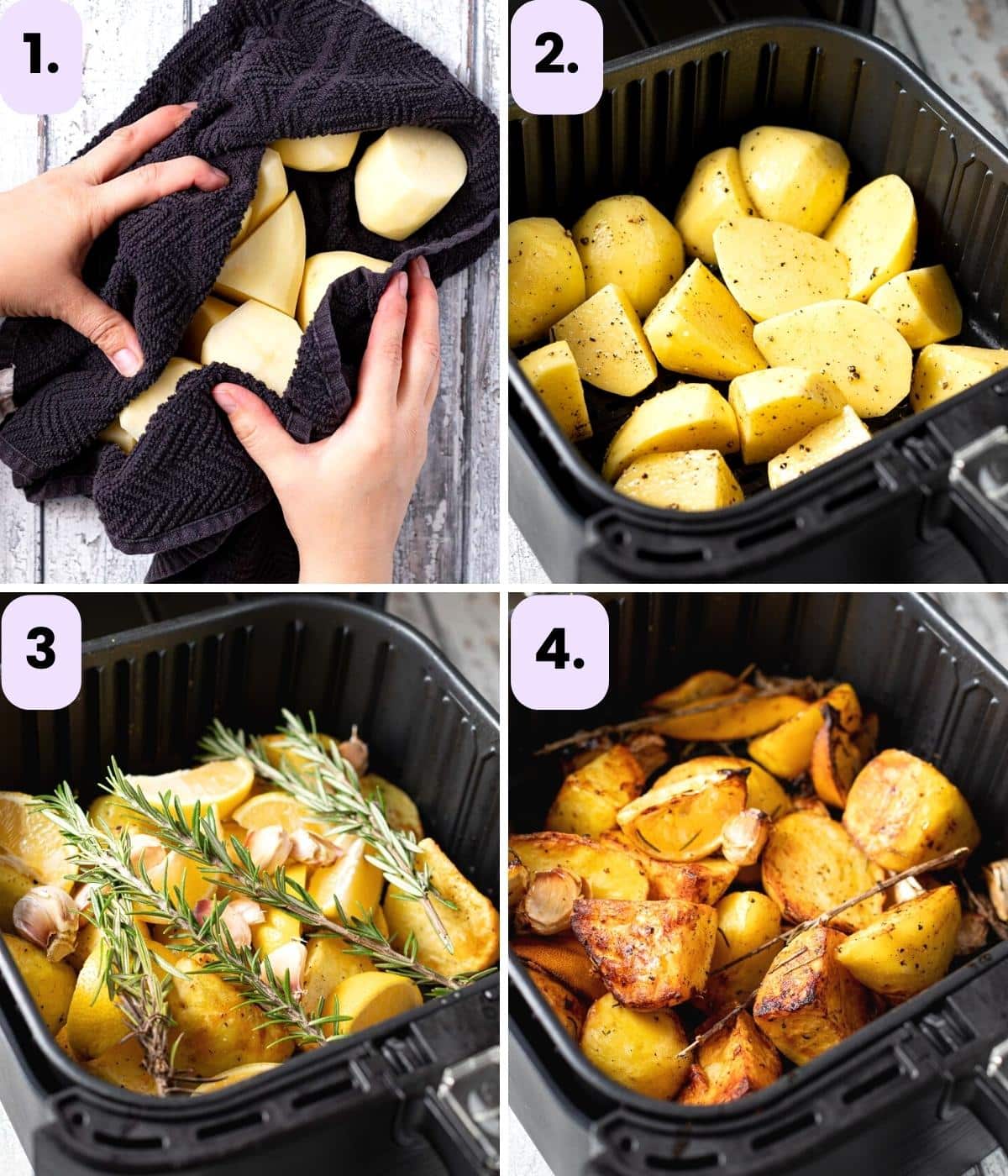 First, for ultimate texture, soak the potatoes in cold water then drain and dry them off. Not an essential step, but it removes some of their starchiness and helps with crispiness.
Toss in oil, salt, and pepper, tip into the air fryer basket then air fry until partially cooked.
Open the air fryer, squeeze over some fresh lemon juice, throw in the lemon wedges and garlic, give it all a good toss together, and tuck in the rosemary before cooking again.
That's it done and in only 30 minutes. Discard the rosemary stalks before serving.
Success Tip - Don't overcrowd the basket. We need that hot air to circulate well to get the best crispy finish. If your Air Fryer is particularly small you will need to adjust the recipe to suit. Mine is about 5.8 quarts.
Um ... your future eating plans (and mine) are summed up in one photo: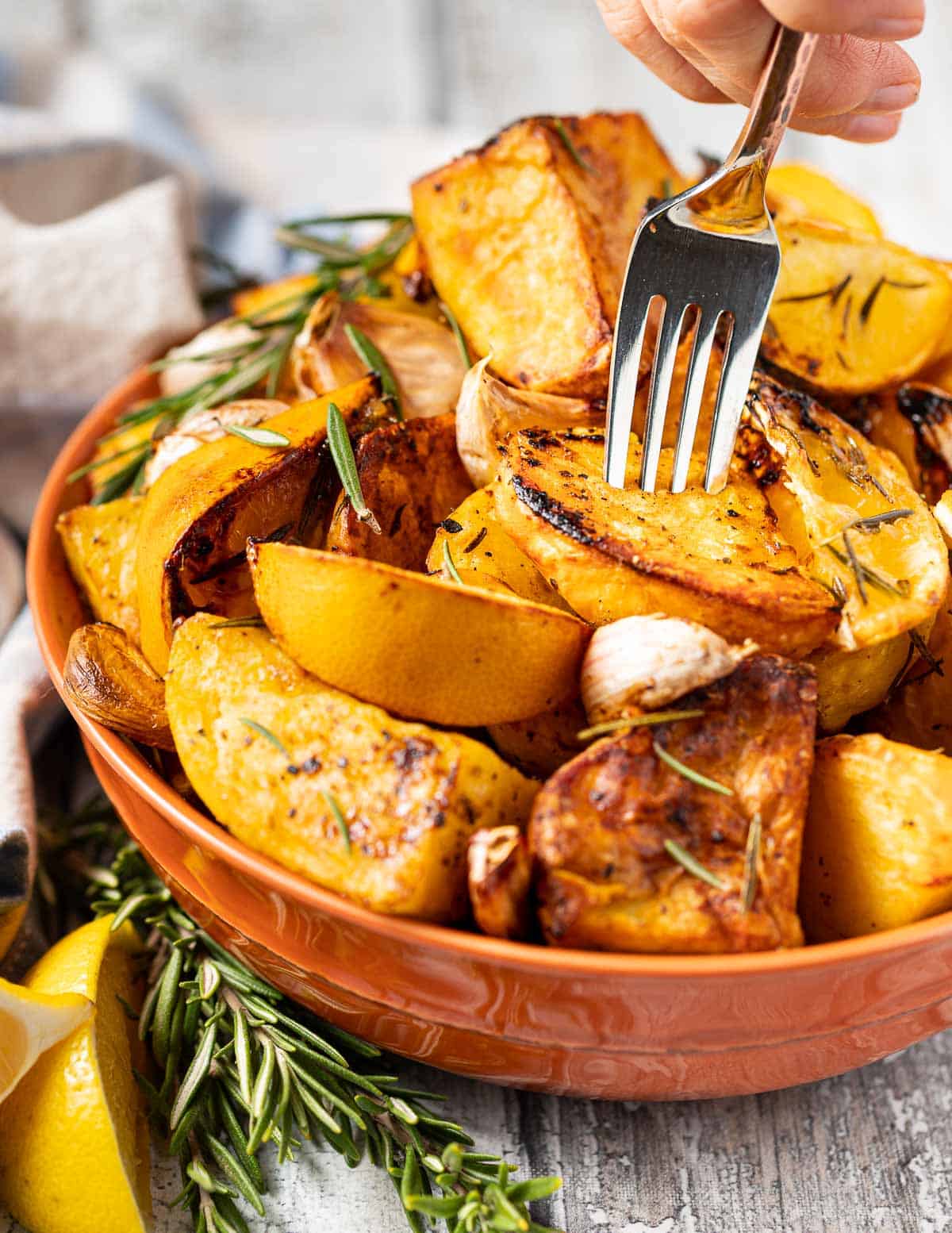 Serving Suggestions
When serving make sure each person gets a couple of the garlic cloves and lemon wedges on their plate so that they can squeeze the soft, sweet garlic from its papery skin, smush the caramelized lemon onto the potatoes, and devour it all together.
I typically serve these potatoes as a side and they will go with pretty much anything. Some tasty ideas:
However you plan to serve them though, they are ready, waiting, and have your name written all over them, so bust out your Air Fryer and get roasting!
Storing Leftovers
In the unlikely event that you have leftovers, these potatoes are still very delish as a snack cold. Store them in an airtight container in the fridge for up to 3 days. To reheat pop them in the air fryer for 5 to 6 minutes at 350°F to warm up, or on a tray in the oven at 350°F for about 10-12 minutes. 
Recipe FAQs
How can I make this recipe without an air fryer?
If you don't have an Air Fryer, I highly recommend you treat yourself to one, but in the meantime, you could roast these potatoes in a regular oven. You will need to parboil the potatoes (put them in a pan of salted cold water, bring to a rolling boil for about 6 minutes then drain and allow to steam dry), toss them with the oil, salt, and pepper, and they will likely take about 45 minutes on 420 °F in the oven after that. I would add the garlic, lemon, and rosemary halfway through.
Can I make these roast potatoes oil-free?
You can reduce the oil in this recipe by half if you want to but the potatoes won't turn out quite as crispy and golden. You could also use an oil spray. I also think aquafaba (liquid from a can of chickpeas) might work instead, like with my Healthy No Oil Crispy Roasted Potatoes recipe, but I have yet to try it myself.
If you try this recipe, let me know how you like it by leaving a comment and rating below! And be sure to join my mailing list for more deliciousness!
Recipe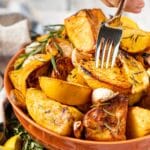 Air Fryer Lemon Garlic Roast Potatoes
Author:
Golden, crispy, herby, Air Fryer Lemon Garlic Roasted Potatoes. Ready in 30 minutes. No parboiling required!
INSTRUCTIONS
Peel the potatoes and cut into chunky pieces. With a large potato I generally get 5 pieces.

Put the cut potatoes in a bowl and cover with cold water. Leave to soak for 15 minutes, then drain and pour the potatoes onto a clean dish towel. Bundle it up around them and rub dry.

Dry the bowl you had them in and return them, then pour in the oil and sprinkle in the salt and pepper. Stir to coat evenly.

Add the potatoes to the air fryer basket and cook on the air fry setting at 350°F (175 °C) for 15 minutes.

While they are cooking, break up the head of garlic into individual cloves and remove any skin that is really loose and papery. Leave the rest of the skin intact.

Cut the 2 lemons in half lengthways. Save one half for juicing, then cut the other halves into 3 wedges each.

Once the 15 minutes is up, open the air fryer and squeeze the juice from the half of lemon over the potatoes. Throw in the garlic cloves and the lemon wedges and give it all a really good toss together. Tuck in the rosemary stalks amongst the potatoes.

Return the basket to the air fryer and cook for a further 15 minutes. Check. They should be done, but if they aren't quite done or you prefer them a little more golden, put them back on for a few minutes.

Discard the woody rosemary sticks and serve the potatoes with the garlic cloves and the lemon wedges. When eating, squeeze the soft, sweet cloves of garlic out of their skins and eat it with the potatoes and the caramelized lemon.
NUTRITION
Serving:
1
serving
|
Calories:
192
kcal
|
Carbohydrates:
32
g
|
Protein:
4
g
|
Fat:
6
g
|
Saturated Fat:
1
g
|
Polyunsaturated Fat:
1
g
|
Monounsaturated Fat:
4
g
|
Sodium:
476
mg
|
Potassium:
773
mg
|
Fiber:
4
g
|
Sugar:
2
g
|
Vitamin A:
30
IU
|
Vitamin C:
39
mg
|
Calcium:
30
mg
|
Iron:
2
mg
Did you make this recipe?
Rate it & leave feedback in the comments section below. I love seeing your remakes too. Tag @avirtualvegan on Instagram! 🌟