The best tasting vegan butter! It's dreamily smooth, rich & creamy & can be whipped up in minutes. It is also palm oil free & needs no emulsifiers & can be used in any way you would use real butter!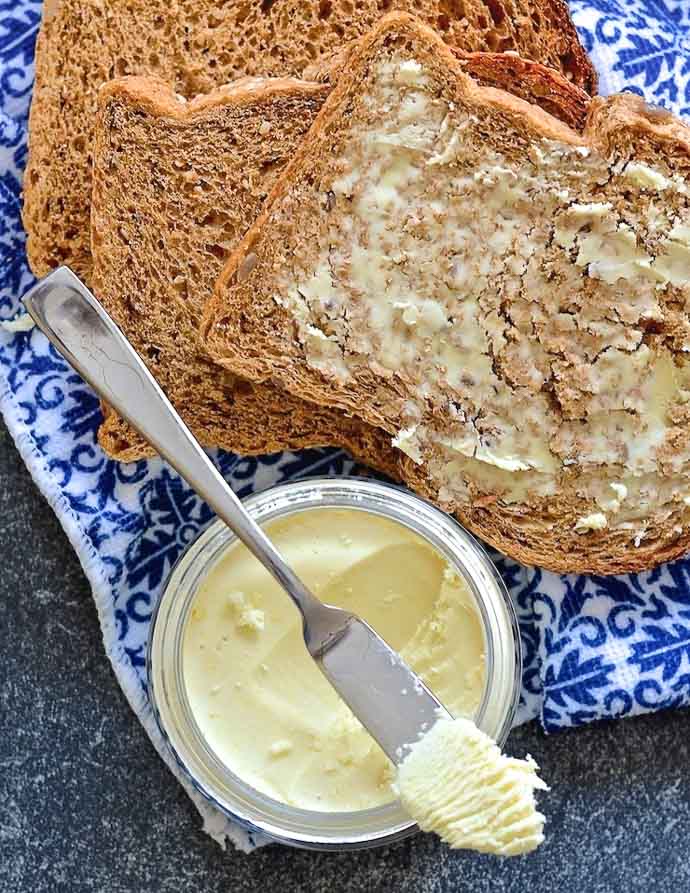 I am so very excited about sharing this Easy Vegan Butter recipe with you. Even more so that I was when I shared my Oat Milk recipe.
It is totally like a dream come true for me and judging by the reaction to my teaser posts on Facebook and Instagram it is the same for you guys. I didn't originally intend on publishing it so quickly after creation but the demand from you all was too great to ignore for long and the pressure was killing me. I just had to put you out of your misery!
I have wanted to make butter for a long while as it is something I have really missed since becoming vegan. Bread, like my Light Whole Wheat Bread, just aren't the same without a thick layer of butter!
I don't buy store bought vegan butter though due to the ingredients it contains. Palm oil is a big no-no for me due to the terrible destruction its production causes and the devastating effects on wildlife, particularly orang-utans and I have never seen a vegan butter that does not contain it.
I decided that I would try to come up with my own recipe, so that I could avoid, palm oil, emulsifiers, natural flavours and the other weird ingredients that are listed in store bought vegan butters.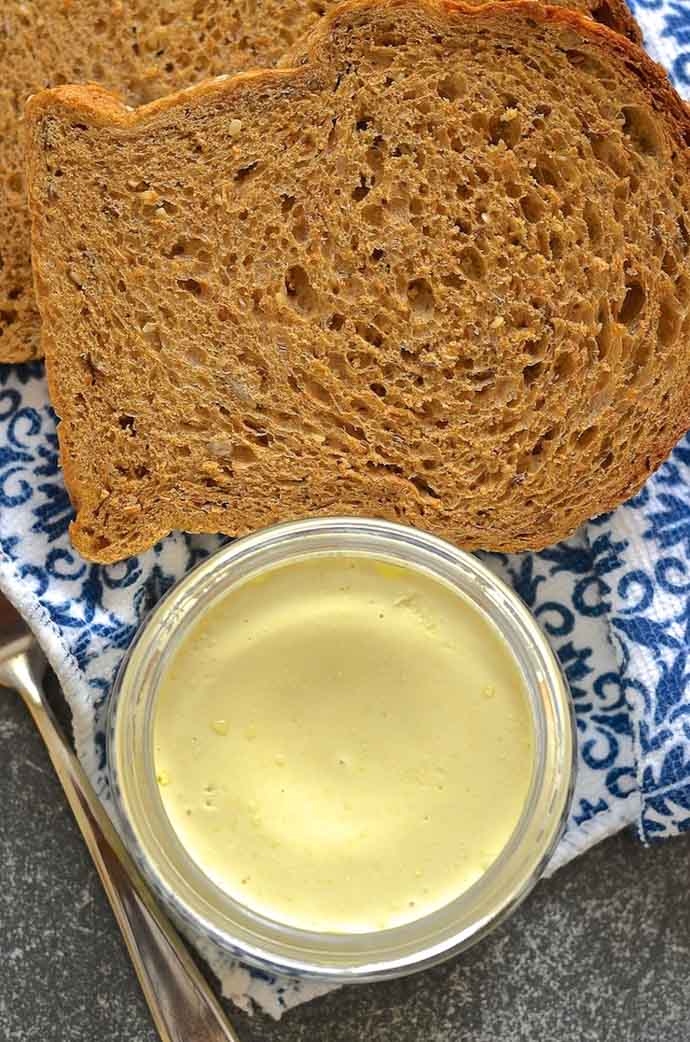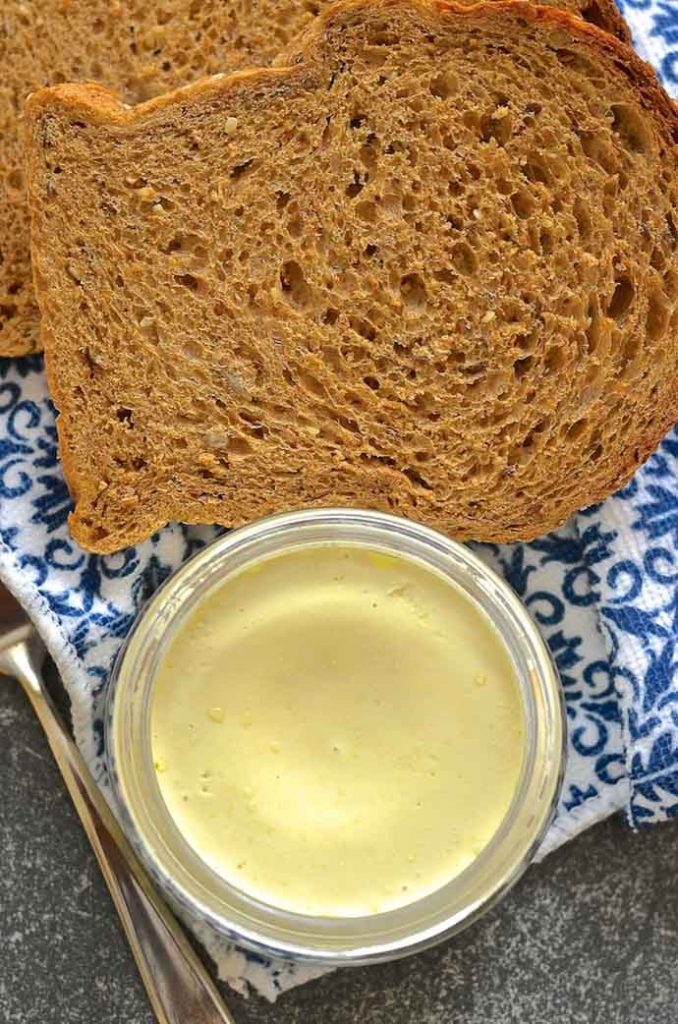 WHAT IS THE SECRET INGREDIENT IN MY VEGAN BUTTER SUBSTITUTE?
I set to work on what felt a bit like a science experiment and quite honestly, the results blew my mind.
The secret ingredient in this recipe, that really sets it apart, are the ground almonds.
I got the idea of using them from my Vegan Carbonara recipe. They give the carbonara such a rich, buttery flavour and I knew they would do the same in butter. I was worried about the texture but there was no need.
WHAT IS VEGAN BUTTER?
Vegan butter is a substitute for regular butter made with cow's milk and has the same texture, mouthfeel and a similar flavour.
This Easy Vegan Butter is so unbelievably smooth, rich and creamy. It spreads beautifully even straight from the fridge and melts perfectly. Think warm, crispy toast with drippy, melty butter……
It also tastes as good, if not better than store bought vegan butters.
This DIY Vegan Butter behaves exactly as regular butter does. It looks the same, it melts the same and it has a buttery flavour thanks to the mixture of ground almonds, nutritional yeast and apple cider vinegar.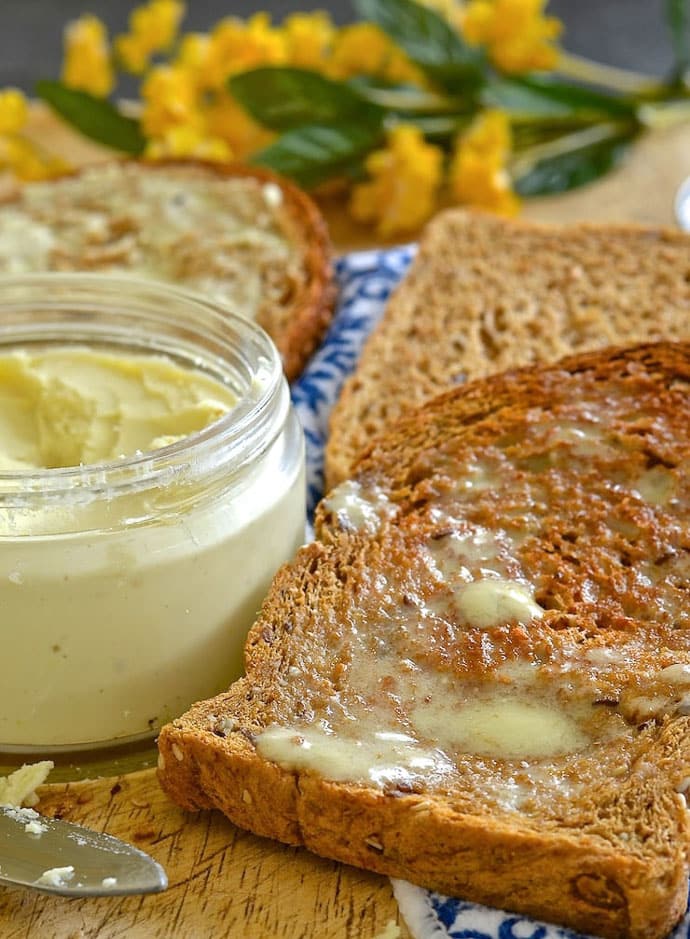 WHAT IS VEGAN BUTTER MADE FROM?
This homemade vegan butter has just 8 easy to find ingredients:
almond Meal
non-dairy milk
nutritional yeast
salt
apple cider vinegar
olive oil
refined coconut oil
turmeric
You won't find any hard to find ingredients like liquid soy lecithin, soy lecithin granules or liquid sunflower lecithin. This vegan butter works just fine without lecithin of any kind!
What's even better than the simple ingredients is how easy it is to make. Got a blender? Then you can make it.
This blender is fantastic for making Vegan Butter because it comes with a mini Wild Side Jar as standard:
It's do-able in a big blender but having a smaller jar makes it even easier.
It literally takes a couple of minutes to make, then just needs some setting time. That's the hardest part!
A VEGAN BUTTER SUBSTITUTE THAT IS GREAT FOR BAKING!
My Easy Vegan Butter is great for baking cakes, cookies, cupcakes etc. You can use it in any recipe that calls for butter or vegan butter. I used it to make this awesome Earl Grey Vegan Cake with Lemon Frosting ????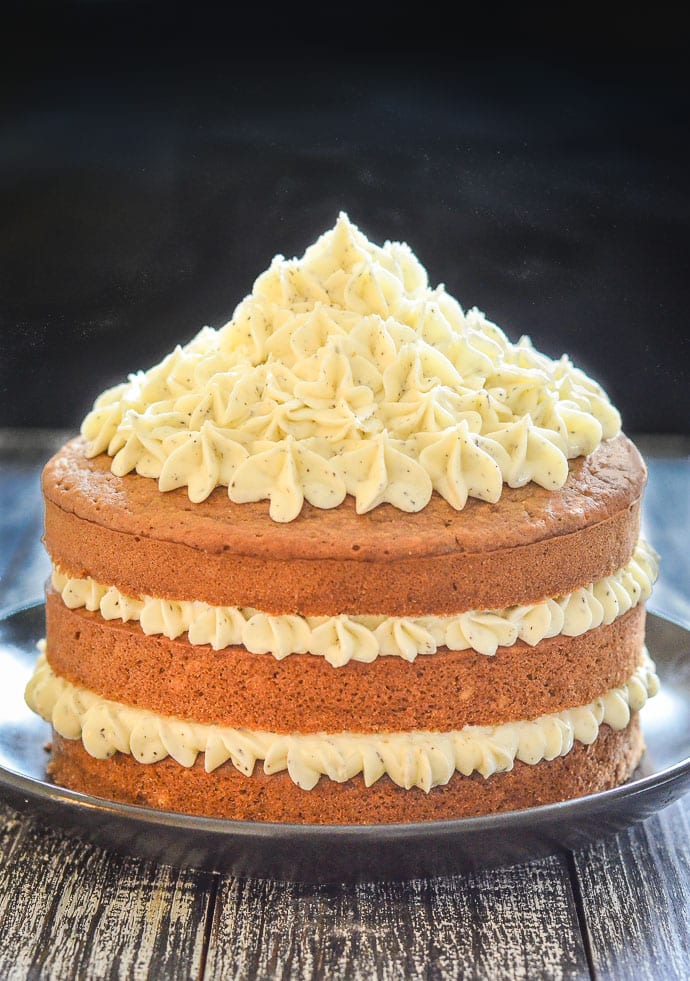 This vegan butter substitute is also amazing on bread, toast, new potatoes, in mashed potatoes, on popcorn, really in any way that you would use regular butter.
Try it on my Homemade English Muffins. Its so good!
It does have some limitations though. Don't try frying with it, or spreading it on something that needs broiling (grilling if you're in the UK) like garlic bread. It kind of goes a bit weird if you do. Other than that though it is so versatile.
I really can't wait to start experimenting with it in my recipes and can't wait to make Vegan Brandy Butter!
Although this butter is made from healthier ingredients than store bought alternatives, it is still very high in fat so I would advise eating it sparingly.
It will keep for a few weeks in the fridge and also freezes very well. Just be sure to wrap it well first. If you know you will only need a tiny bit at a time then invest in a silicone ice cube tray and set the butter in there. Then when it's hard you can pop it out and store in a freezer bag in the freezer. Just remove each little block an hour or so before you want to use it.
---
FREQUENTLY ASKED QUESTIONS
Why can't I use unrefined/virgin coconut oil?
If you use unrefined or virgin coconut oil, your butter will end up tasting and smelling of coconut. It will not taste of butter. Refined coconut oil has no coconut flavor or smell which is why it is essential for this recipe.
I am allergic to almonds. Is there something I can use instead?
I have a few readers who use ground up cashew nuts, sunflower seeds or pine nuts instead of almonds. Almonds give a more buttery flavour but the results are still ok when using these substitutes.
How long will the butter last?
The butter will keep well for as long as your milk is good for. Homemade milks don't last as long as store bought milks so as a result if you use them your butter will not last as long. With homemade milk the butter lasts approximately 4 days. With store bought it lasts 2 to 3 weeks. It does freeze well though too. See the recipe notes for instructions.
Can I freeze it?
Yes it freezes very well. I use silicone ice cube trays wrapped in a freezer bag. Then it makes it easy to pop out one or two small cubes when you need them with no waste.
Do I have to use the nutritional yeast?
The nutritional yeast helps with the buttery flavour and the butter is at it's best when it is included. However if you omit it the recipe will still technically work.
Can I use bread yeast instead of nutritional yeast?
No. Bread yeast is completely different to nutritional yeast and will not work in this recipe. Nor will brewer's yeast.
What can I use instead of coconut oil?
There is no substitute for coconut oil in this recipe. Nothing else will work.
PLEASE NOTE: After feedback about the quantity of butter made being too small for big blenders like the Vitamix to handle easily, I have doubled the recipe so it makes 1 cup in total rather than ½ a cup. That makes it easier for larger blenders to blend well. As always with my recipes, if you hover over the number of servings you are able to change the amount to whatever you like with a slider and the ingredient amounts will change automatically. That way if you want to make more you can do so easily without having to work out the increase/decrease yourself.
---
For more great vegan dairy alternatives, check out these very popular reader favourites:
And if you love this recipe, please do check out my cookbook, and subscribe to my email list for a fabulous FREE eCookbook featuring my top 10 recipes. Being on the list means you will be first to see my new recipes and you'll be kept in the loop on all things new and exciting.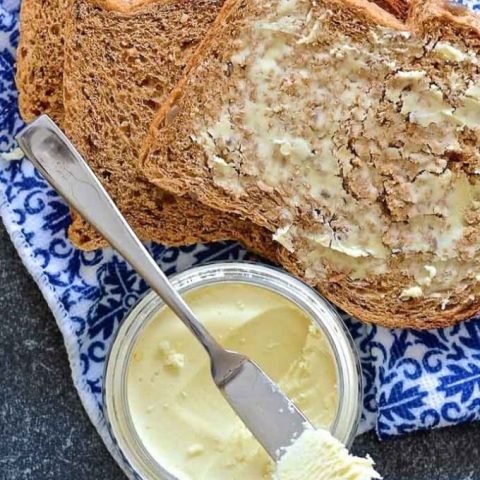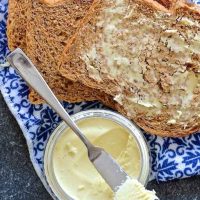 Easy Vegan Butter
If you love butter but hate the ingredients in store bought dairy free versions then this recipe is the answer to your prayers. It's dreamily smooth, rich & creamy & can be whipped up in minutes. It is also palm oil & emulsifier free & can be used in any way you would use real butter!
Rate this Recipe!
Print
Pin
Ingredients
½ cup / 8

tablespoons

almond flour/meal

if you make your own in a food processor make sure there is no skin on the almonds as otherwise you'll end up with little brown bits through your butter

½ cup + 2 tablespoons / 150

mls

any mildly flavoured unsweetened non-dairy milk but NOT soy, and not canned coconut milk

, see recipe notes for suggestions

2

teaspoons

nutritional yeast

1

teaspoon

salt

1

teaspoon

apple cider vinegar

1

pinch

ground turmeric

optional but helps make colour a little more yellow

¼ cup/ 60 ml / 4

tablespoons

olive oil

standard or extra virgin. Only use extra virgin if you don't mind a slight taste of olive oil in the finished butter

1 cup / 240

mls

melted & room temperature refined coconut oil

it must be refined NOT unrefined
Instructions
Place the almond flour, milk, salt, nutritional yeast, vinegar and turmeric into a blender and blend until smooth. 

Don't let the blender get too warm while it's blending or the butter can split a bit. If your blender does run a little warm then blend in short bursts and give it a break for a minute or two in between. I used the smoothie setting on mine. It needs to be completely smooth with no grainy bits.

Pour in the refined coconut oil and olive oil then blend on full speed until velvety smooth and light and airy. It took about 1 minute in my

Blendtec

. If you have a less powerful blender just keep going for longer.

Pour into a container, cover and refrigerate. A glass jar with a lid is perfect. The time it takes to set will depend on how deep your container is. You are looking at at least a couple of hours although you can hurry it up by placing it in the freezer for a little while.
Notes
I like to use cashew milk for making this butter. It is creamy and rich without having an overpowering flavour so works really well for optimum buttery flavour. Although I love soy milk, there is a chance it will curdle in this recipe which is why I recommend not using it. 
Estimated nutrition per serving:
Serving:
5
g / 1 teaspoon
|
Calories:
30
kcal
|
Carbohydrates:
0.2
g
|
Protein:
0.2
g
|
Fat:
3.2
g
|
Sodium:
26.3
mg
|
Fiber:
0.1
g
Tried this recipe?
Rate it & leave your feedback in the comments section below, or tag @avirtualvegan on Instagram and hashtag it #avirtualvegan