These homemade Vegan Mince Pies hold the very essence of Christmas in their delicious pastry crusts. Nothing can beat one warm from the oven with a glass of mulled wine!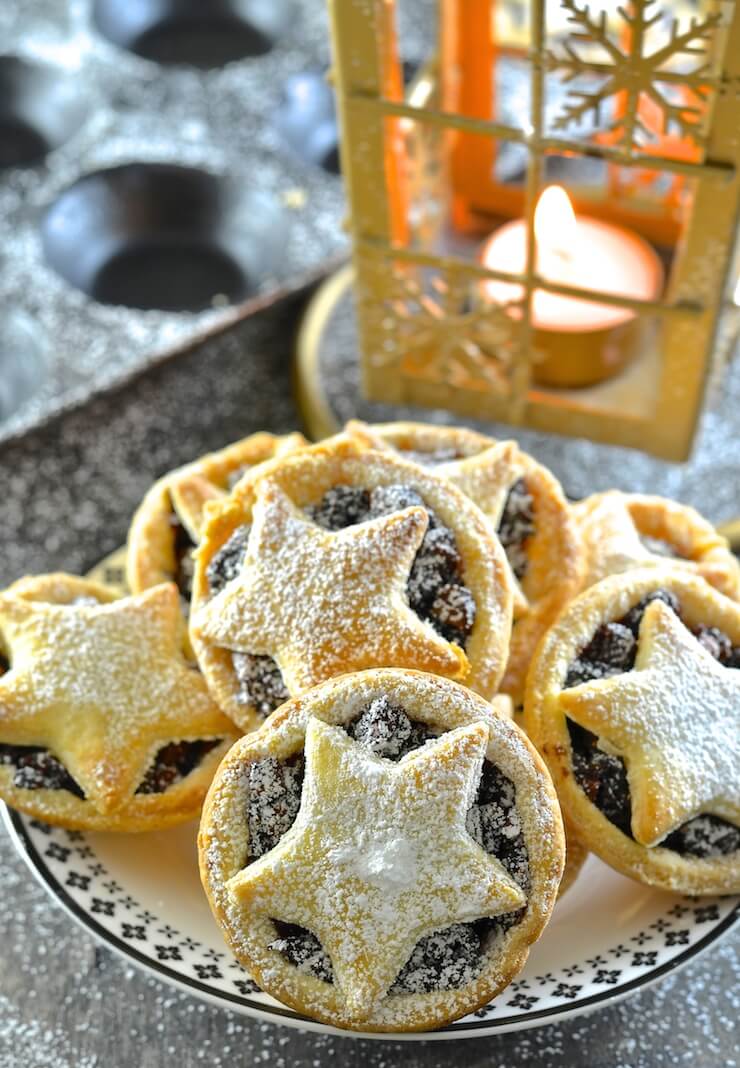 Christmas just wouldn't be Christmas without Vegan Mince Pies. At least to me. It's become clear since I published my Vegan Mincemeat recipe and my Festive Mincemeat Tart that mincemeat as an ingredient, is not very widespread in North America. I hadn't realized that it was such a British thing.
MAKE VEGAN MINCE PIES A TRADITION
I am sure me posting my mincemeat filled recipes here in the run up to Christmas won't make mincemeat a tradition here like it is back in England, but it would be lovely to think I may have introduced a few of you to something new that you might never have tried otherwise.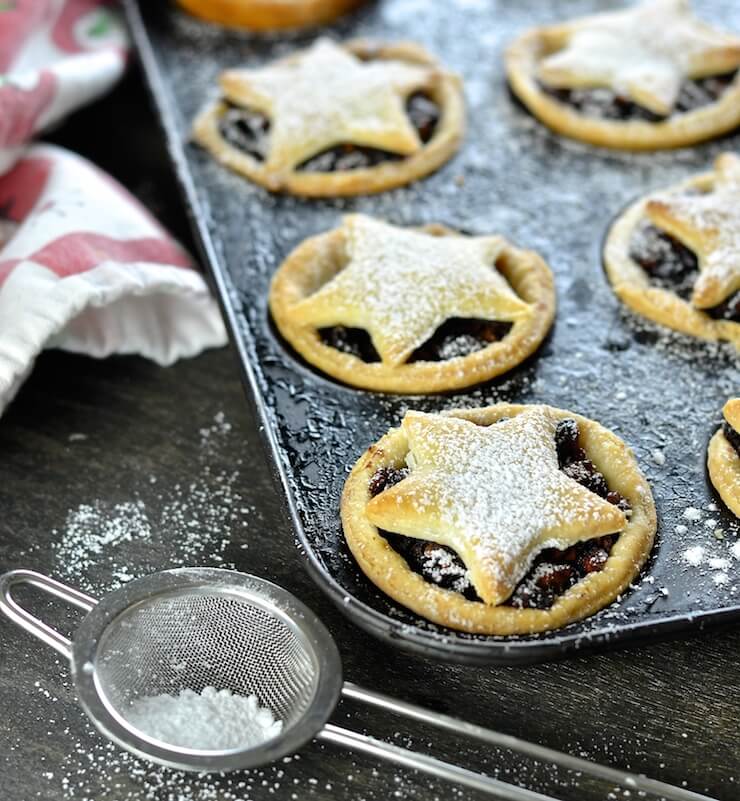 Making my Vegan Mince Pies is a breeze. The pastry comes together in a food processor in minutes. You can also make it by hand if you prefer. Cut rounds with a cookie cutter then fill with the festive, rich and fruity mincemeat, top with a lid (star shapes add some cute factor ♡), then bake until golden and bubbling.
SPICE IS NICE
While they bake, your house will fill with the warmly spiced, festive scent of Christmas. The only thing that can come close to beating the smell is a simmering pan of mulled wine on the stove. Do both at once and you will think all your Christmases have come at once!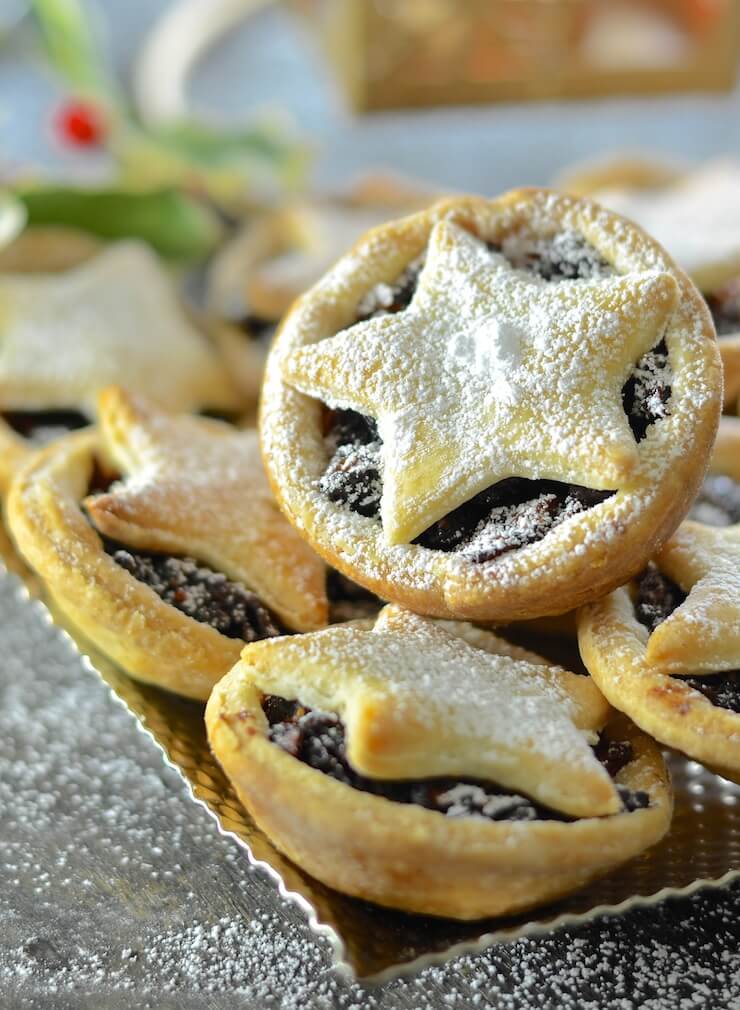 HOW TO SERVE VEGAN MINCE PIES
Vegan Mince Pies are great served warm straight from the oven. Eat them as they are or top with a generous dollop of melting brandy butter (you can find my recipe here).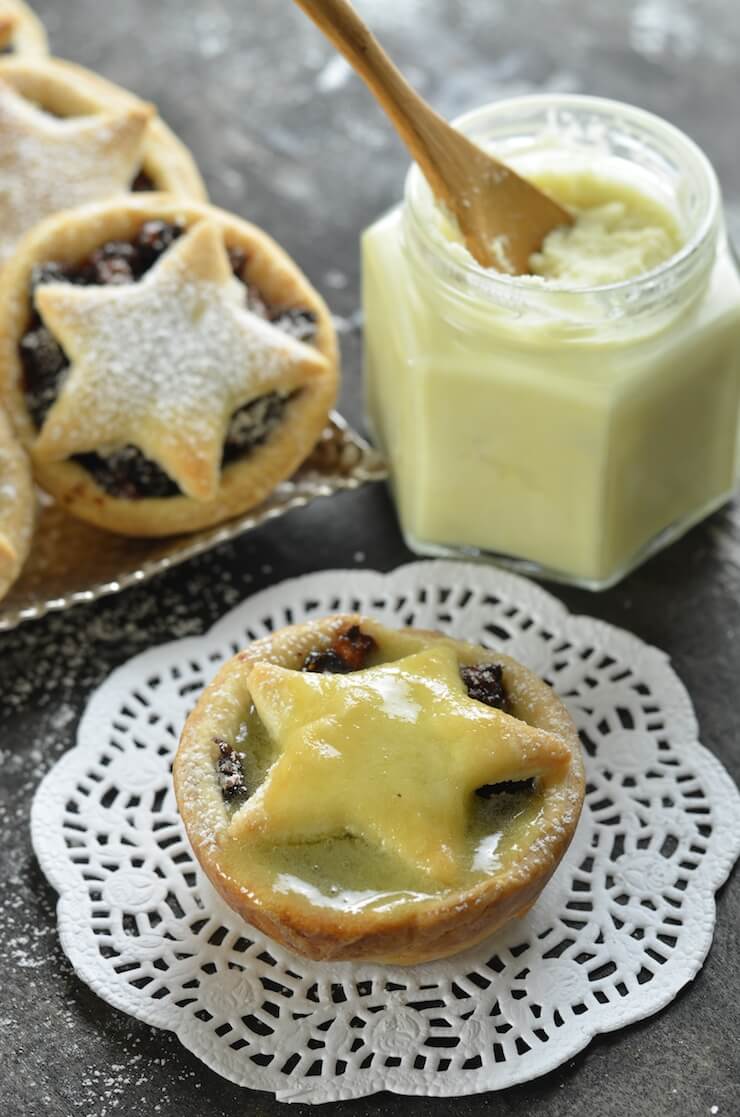 You can also top them with whipped coconut cream, custard (another pretty British thing), vanilla ice-cream or vegan spray cream if you can get it. Any or all of them are good!
STORING YOUR VEGAN MINCE PIES
My Vegan Mince Pies will keep in an air tight container for up to a week. They can easily be reheated in the oven to bring them back to their fresh out of the oven status. You can even make them up to the point of baking, then stop and freeze them in their trays. When you decide it's mince pie time, pull them out of the freezer and bake straight from frozen. They will take abut seven to ten minutes longer than the time stated.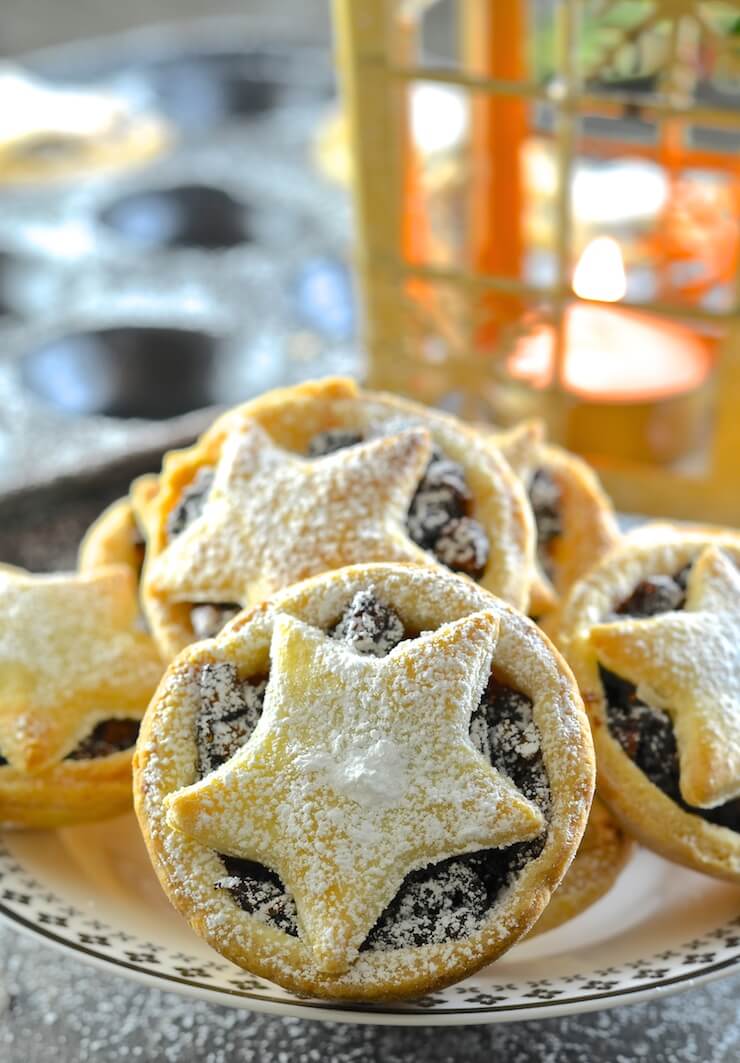 If you give my Vegan Mince Pies a try, be a ☆and let me know what you think in the comments below. You can also share your pics on Instagram. I am @avirtualvegan.com. Use the hashtag #avirtualvegan so I don't miss them. I get a lot of notification and if there is no hashtag there is a chance I will miss it.
Vegan Mince Pies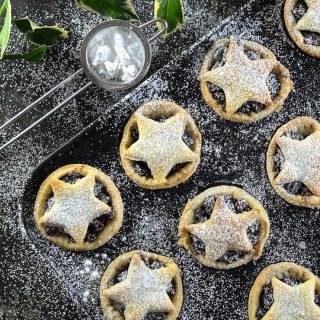 These homemade Vegan Mince Pies hold the very essence of Christmas in their delicious pastry crusts. Nothing can beat one warm from the oven with a glass of mulled wine!
Ingredients
250g | 1½

cups

all purpose flour

, (plain flour in the UK)

100g | ½

cup

coconut oil

, very cold and hard, (they taste better with refined coconut oil)

½

teaspoon

salt

80g ⅓

cup

sugar

7-10

tablespoons

ice cold water

280g | 1¼

cups

mincemeat

, (You can find my recipe by clicking the link

a few

drops

plant-based milk

, or aquafaba for brushing the pastry

natural powdered sugar

, for dusting, (see recipe notes for alternative)
INSTRUCTIONS
Put a shallow bun tin or

mince pie tin

in the fridge to chill. You need a total of 16 holes. (see recipe notes)

Add the flour, salt, coconut oil and sugar to a food processor and blend until it looks like breadcrumbs.

Add the water one tablespoon at a time until it just start to ball up as the blade goes round. As soon as it starts, stop the food processor. Over working it will make the pastry tough.

Test that you can squeeze it together into a pliable dough. Add a tiny bit more water and process again if it's too dry, or if it's ok then remove the blade, bring the dough together and turn out onto a floured surface.

Roll out to 2-3mm thick and even all over.

Use a cookie cutter, mason jar lid or the top of a mug or glass to cut 16 rounds big enough to go in each hole and come up the sides (if you are using a muffin tin then you can either make the pies extra deep or you can just use enough pastry in each one to go half way up the sides. If you make them extra deep you won't get 16).

Crimp the edges if you want to or just leave them.

Add a generous amount of mincemeat to each once. It should come right up level with the top.

Bring the pastry scraps back together and roll out again to 2 - 3 mm thick.

Cut out the lids. You can make them full round ones or cut them into shapes. If you make full lids brush around the top of each pie with a little plant-based milk or aquafaba before adding the lid then press down all around to seal. If you are using stars then place them on the top of each pie and press down gently to make them as flat and even as you can .

Brush the top of each pie with plant-based milk

Refrigerate the pies while the oven warms up to °425F

Once the oven is to temperature remove the pies from the fridge and place in the hot oven.

Cook for around 20 - 23 minutes. The pastry should be turning golden brown and the mincemeat filling bubbling.

Remove from the oven and prise out gently. I found using a little knife the easiest way to loosen up around the edge if necessary and pop them out.

Place on a cooling rack. Do not cool them in the tins or you will end up with soggy bottoms!
NOTES
If you don't have a shallow bun pan or a mince pie pan then you can use a standard muffin pan, or buy individual tin foil cases. If you don't have any powdered sugar or prefer not to use it then you can sprinkle the top of the mince pies with some granulated sugar BEFORE baking them. It makes them look pretty and adds little texture too.
When calculating the nutritional information I could only find mincemeat which had suet as an ingredient. If you use my mincemeat recipe it contains no suet so the calories and fat content will be a bit less. 
NUTRITION
Serving:
1
mince pie
Calories:
162
kcal
Carbohydrates:
23
g
Protein:
2.2
g
Sodium:
89
mg
Fiber:
0.5
g
Sugar:
11
g
Vitamin C:
0.8
mg
Iron:
0.7
mg
Nutritional information is provided for convenience & as a courtesy only. The data is a computer generated estimate so should be used as a guide only.
Tried this recipe?
Rate it & leave your feedback in the comments section below, or tag @avirtualvegan on Instagram and hashtag it #avirtualvegan