Vegan Chocolate Chip Cookies made festive with the addition of dried cranberries and rosemary! Soft, sweet, chewy, with a lovely subtle woodsy, herbal fragrance. Santa will thank you if you leave him a few of these with his glass of plant milk on Christmas Eve!
With the holidays coming up, I thought it might be nice to create a festive Vegan Chocolate Chip Cookie for the kiddos to leave out for Santa with his glass of Oat Milk on Christmas Eve. Or for the adults to hide from the kiddos then stuff their faces once bedtime comes around.
Truth be told, there's not much that can beat freshly baked cookies and it's been a long time since I posted cookies on the blog. Welcome back my cookie friends.
These vegan cookies took ages to get right and it feels like I tested them about a trillion times.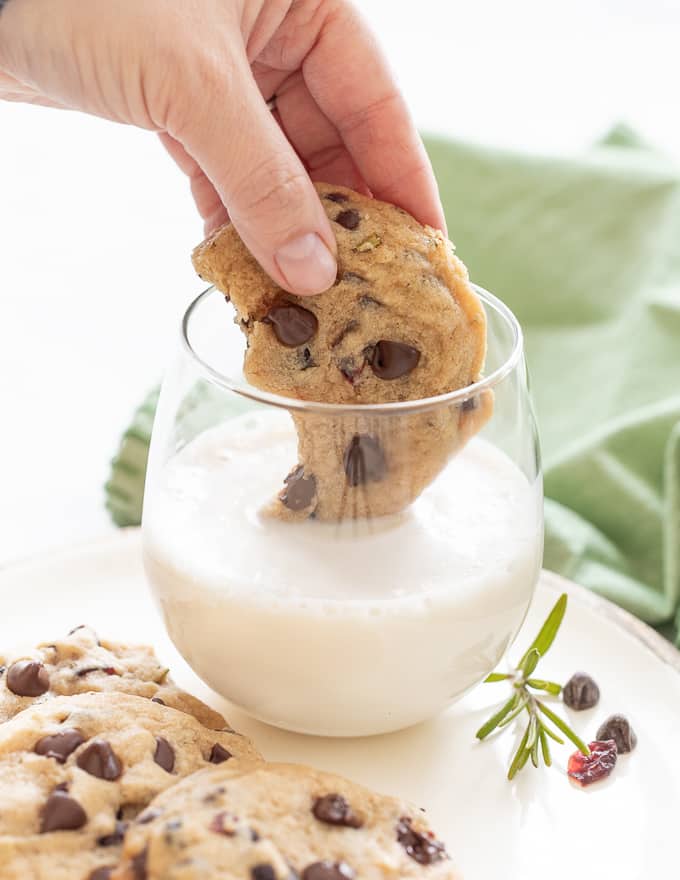 My life recently:
Breakfast - eat a cookie
Snack - eat a cookie
Lunch - eat a cookie
Recipe testing - eat cookies to sustain myself throughout
Cookbook edits - eat more cookies
Christmas shopping while creating my new Gifts for Vegans guide - eat cookies before, during and after
Packing (because I am crazy and am moving house on December 20th ????- who in their right mind does that???) - panic eat all the cookies
Keeping up with Chester who had a nasty allergic reaction to something and is taking lots of pills and is on an elimination diet - have more cookies but wash hands after so as not to contaminate him.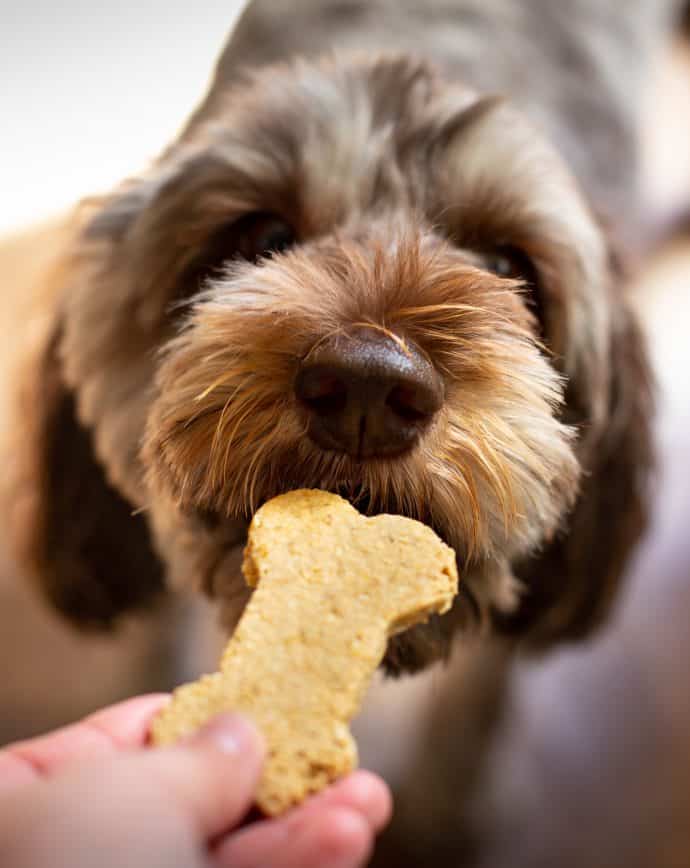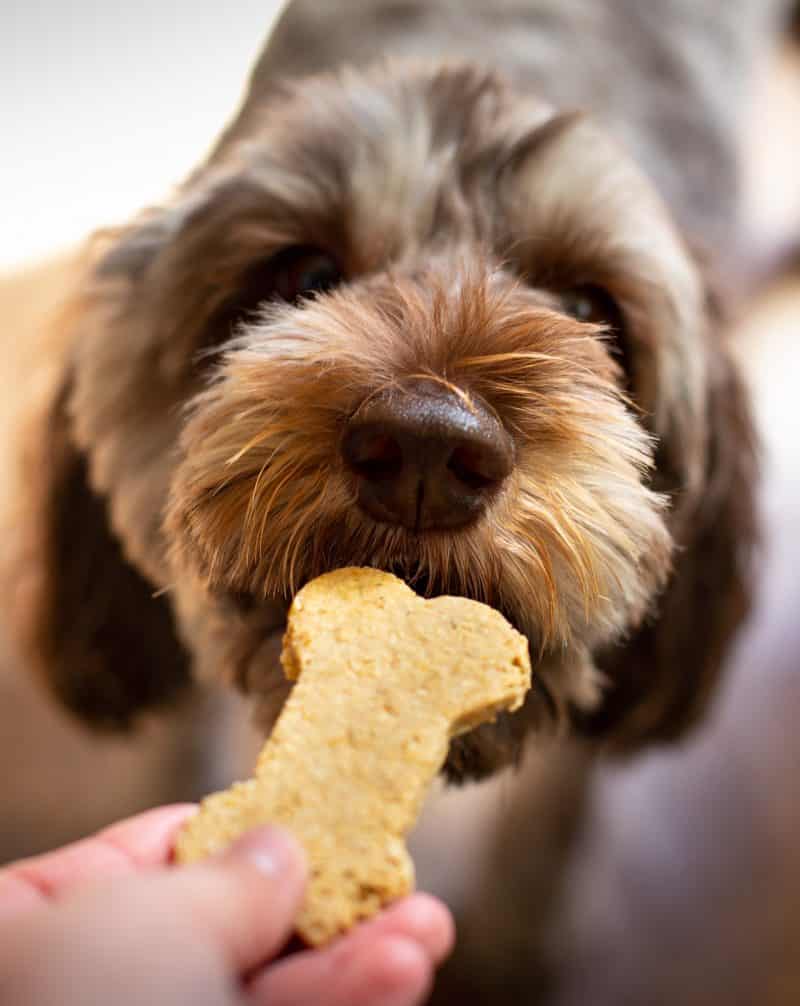 Poor guy. Little did he know this would be his last cookie for a long while. And poor me because I'm having to play bad cop and live with the constant puppy eyes.
So, basically, all I have done for a week is eat cookies. I am ashamed to say that on one day, all I ate was cookies.
But we are talking soft, thick, chewy, fruity, fragrant, cookie perfection and I was taking one many for the team. It's my job to get them perfect which means eating them all to make absolutely sure.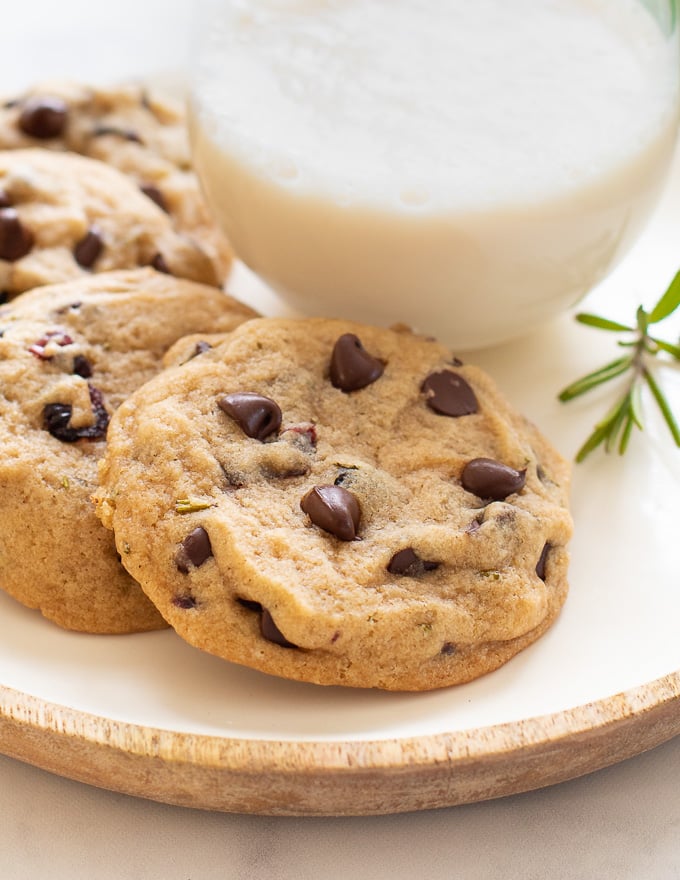 HOW TO MAKE VEGAN CHOCOLATE CHIP COOKIES WITH CRANBERRIES & ROSEMARY
---
SEE MY VIDEO FOR A VISUAL GUIDE. FOR INGREDIENTS & FULL INSTRUCTIONS PLEASE SEE THE RECIPE CARD AT THE END OF THIS POST
---
These Vegan Chocolate Chip Cookies with Cranberries and Rosemary are really easy to make and you need no special equipment. No mixers, food processors or blenders. Just a bowl, a whisk and a spoon or spatula.
I love to use spatulas when baking because they enable you to scrape the bowl completely clean really easily. I have this Kitchen Aid Spatula Set:
The longer one is great for scraping out my blender. I do also have another favourite spatula from Sur La Table with little dogs all over it which you might spot.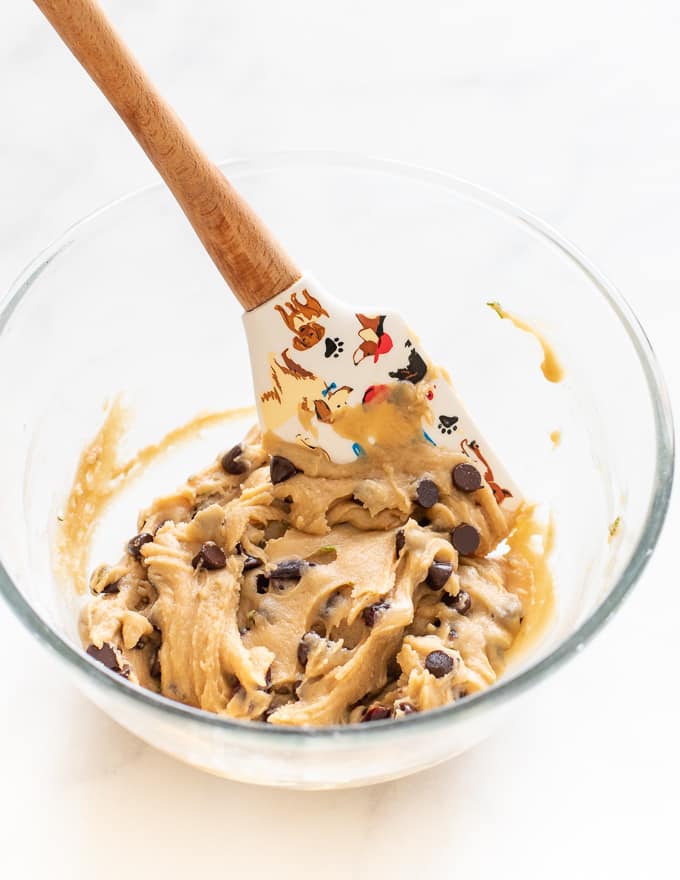 Ok, so let's make cookies. Here's how it's done:
STEP 1
Add the sugar, oil, vanilla, milk and salt to a bowl then whisk them together well.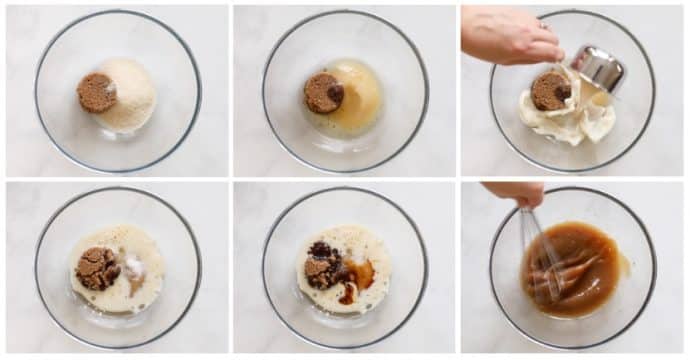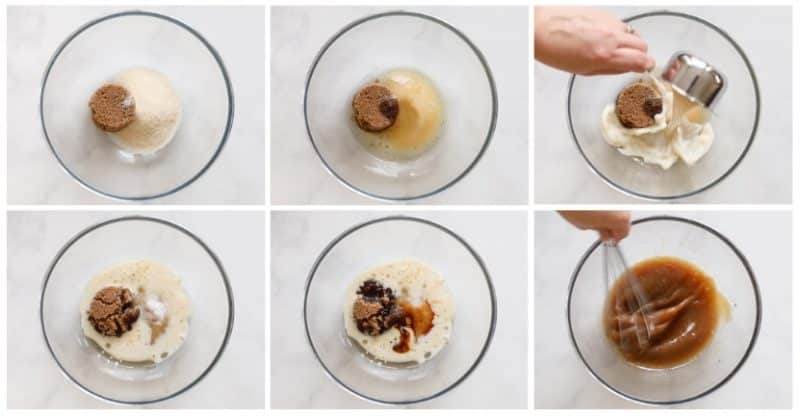 STEP 2
Add all of the other ingredients and mix to combine. Refrigerate in the bowl while the oven preheats, then scoop the cookie dough out onto a cookie sheet.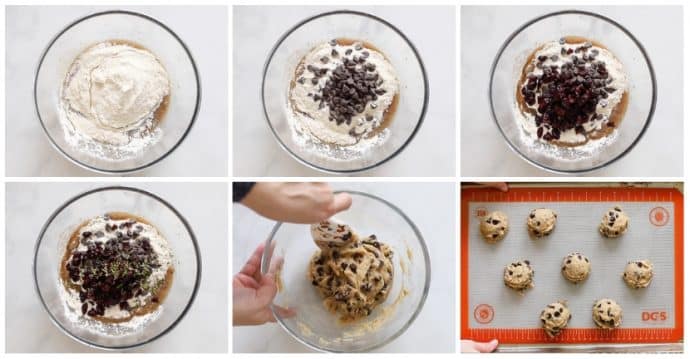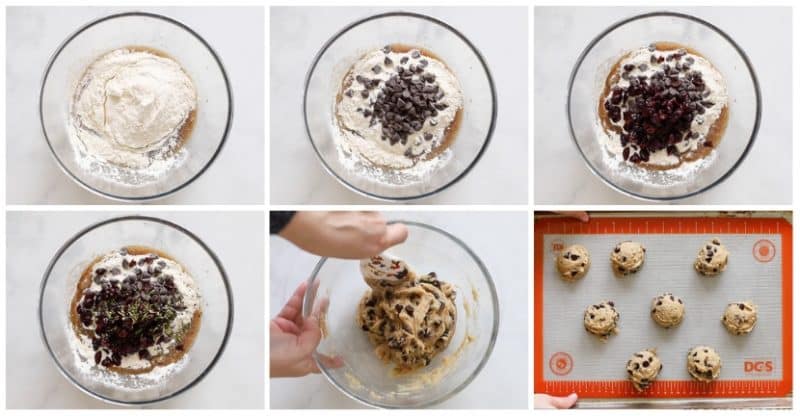 STEP 3
Bake then allow to cool on the tray for 10 minutes before transferring to a cooling rack.
STEP 4
Let your inner cookie monster loose!
CAN I FREEZE THE COOKIE DOUGH?
This cookie dough freezes really well. I suggest making it as directed, line a cookie sheet with parchment paper, and scoop out the cookie dough as if you were going to bake the cookies. Place the tray in the freezer for about 40 minute to an hour, until the lumps of dough are hard, then remove and place them in a freezer bag and store in the freezer until you need them. When you want to make cookies, simply remove from the freezer, place the cookie dough balls on a cookie sheet, and bake as directed, allowing an extra 2 minutes cook time.
The dough will keep in the freezer for up to 3 months.
---
These Vegan Chocolate Chip Cookies with Cranberries & Rosemary are:
Quick and easy to make
Perfectly sweet
Soft and chewy
Chocolatey in all the right places
Fragrant and festive
And undetectably vegan
Let them sustain you through the crazy holiday period!
Me, I think I'm all cookie-d out. For now at least. I'll probably change my mind by tomorrow though.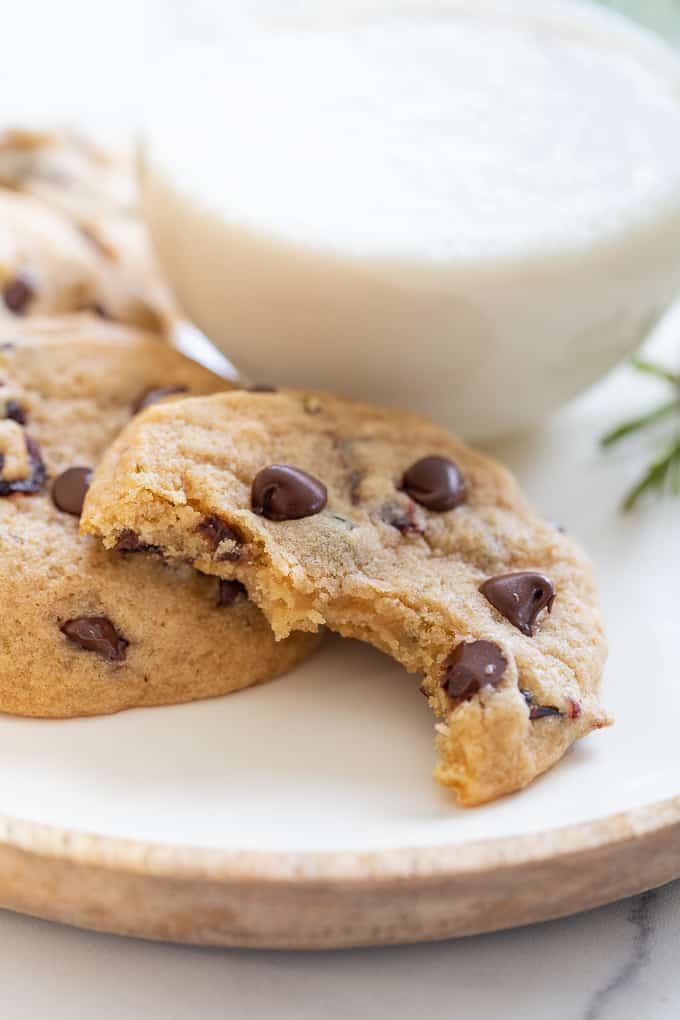 WANT HELP PLANNING YOUR VEGAN CHRISTMAS DINNER?
For more Christmas inspiration, check out Vegan Christmas Dinner Menu, Shopping List and Timeline. I have planned the entire meal for you down to the tiniest detail. All you have to do, is print out my document which includes all of the recipes, a shopping list and a timeline, then get cooking!
A NOTE ON DIFFERENT COLOR COOKIE SHEETS
Did you know that the color of your cookie sheet can have an impact on how your cookies turn out and how long they take to bake?
Darker cookie sheets absorb and radiate more heat than lighter ones, so if you bake your Vegan Chocolate Chip Cookies on a dark cookie sheet, your cookies will cook more quickly and have darker and crispier bottoms than cookies cooked on a lighter colored cookie sheet.
I typically use USA Pan bakeware, and this is my cookie sheet:
It is a light colored cookie sheet
so my cookies will cook slower than they would on a darker sheet and end up a little softer. If that's how you like your cookies then use a similar color one. If you prefer them crispier then use a darker cookie sheet. I give timings for each in the full recipe below so don't worry.
With regards other foods, a useful tip to remember is that if you are cooking something that you want to get golden and crispy, like potato wedges, pizza or pastries, use a darker pan or tray. If you are cooking something that you don't want to brown too much and that needs a slightly gentler touch of heat, like sponges, meringue, soft cookies, cupcakes or cake, use lighter coloured pans.
Recipe Video
Recipe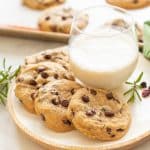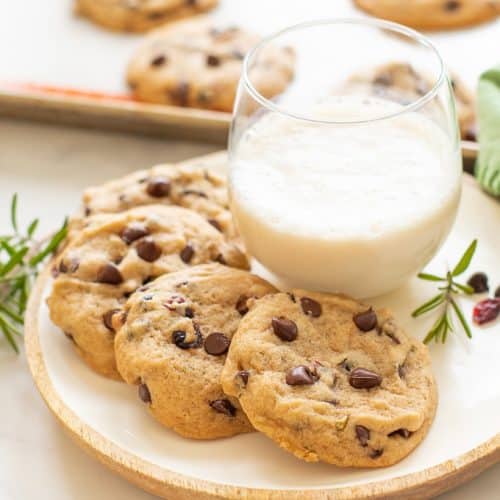 Vegan Chocolate Chip Cookies with Cranberries & Rosemary
Author:
Vegan Chocolate Chip Cookies made festive with the addition of dried cranberries and rosemary! Soft, sweet, chewy, with a lovely subtle woodsy, herbal fragrance. Santa will thank you if you leave him a few of these with his glass of plant milk on Christmas Eve!
Ingredients
¼ cup / 50

g

dark brown sugar

¼ cup / 50

g

white granulated or cane sugar

4

tablespoons

melted coconut oil

, preferably refined coconut oil so there is no coconut taste

½

teaspoon

vanilla extract

5

tablespoons

unsweetened non-dairy milk

2

teaspoons

fresh rosemary

, chopped finely

½

teaspoon

fine salt

1 cup / 125

g

all purpose flour

, or certified gluten free oat flour, (the equivalent of all purpose flour in the UK is plain flour) - see recipe notes re measuring the flour

½

teaspoon

baking powder

¼

teaspoon

baking soda

, (bicarbonate of soda in the UK)

⅓ cup / 70

g

dairy-free chocolate chips

⅓ cup / 50

g

dried cranberries
INSTRUCTIONS
In a medium bowl, put the brown sugar, white sugar, coconut oil, vanilla, milk, rosemary and salt. Whisk them together really well until the sugar granules have dissolved.

To the same bowl, add the flour. baking powder, baking soda, chocolate chips and dried cranberries.

Mix everything together well with a spatula or wooden spoon. It should be soft and easily mixable. Check the texture in my photo of the cookie dough above, or in my video. If it is dry or stiff to stir add another tablespoon or two of milk.

Place the bowl of cookie dough in the fridge for 10 minutes while you preheat the oven to 350°F (175 °C).

Using an ice cream scoop, scoop dollops of the cookie dough onto a cookie sheet, leaving at least 2 inches space around each one. Place on the middle shelf of the oven and bake for 11 - 12 minutes if using a dark colored cookie sheet, or 13 - 14 minutes if using a light colored cookie sheet. They will look a little underdone and be really soft when you take them out. Leave them to cool on the cookie sheet for 10 minutes, then place them carefully on a cooling rack.

Store cooled cookies in an airtight container.
NOTES
As per my note in the post above the recipe, using a digital kitchen scale is the only way to get truly accurate results when baking. If you must use cups though, please be sure to spoon the flour gently into the cup and level the top with a knife, without shaking it down or compacting it into the cup in anyway. If you scoop  your flour up or compact it you will end up using way more than is intended. 
NUTRITION
Serving:
1
cookie
Calories:
229
kcal
Carbohydrates:
35
g
Protein:
2
g
Fat:
9.6
g
Sodium:
225
mg
Fiber:
1.3
g
Sugar:
22
g
Calcium:
40
mg
Iron:
1.1
mg
Tried this recipe?
Rate it & leave your feedback in the comments section below!