Perfectly sweet & spicy, chewy & crunchy vegan candied nuts. Make a double batch because everybody will go nuts for these (sorry....couldn't resist)!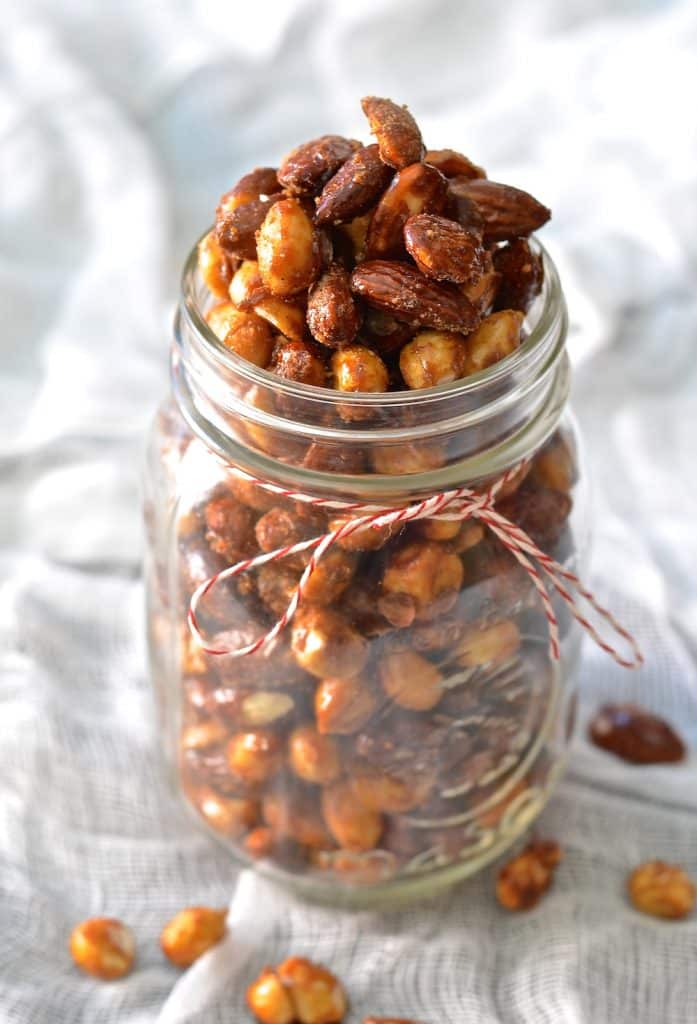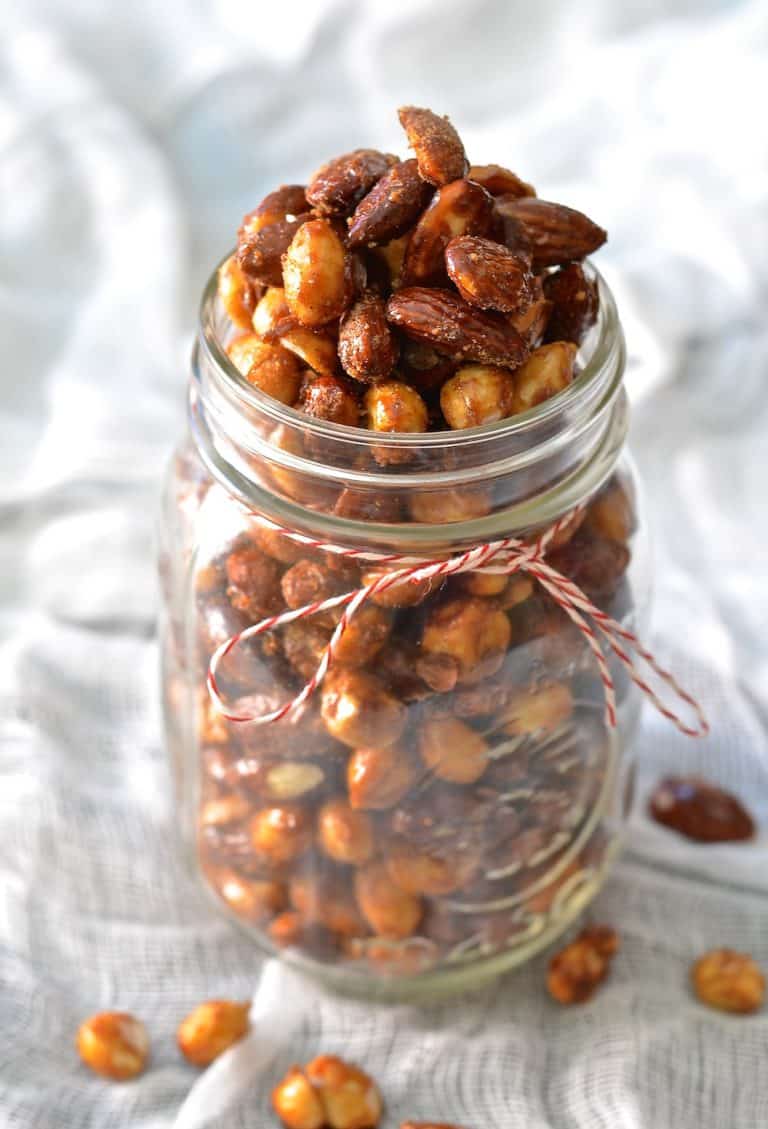 Well Christmas has been and gone and New Year is fast approaching. I really can't believe how time flies these days. They say that happens as you get older and now I am finding it to be true.
This was my first Christmas with my blog and I must admit that I wasn't nearly as organized as I should have been. I should have been working on my Christmas recipes months before but December kind of crept up on me and before I knew it I was up to my eyes in dried fruit, gingerbread and cranberries at every possible opportunity in order to get my recipes created and out to you guys in time for Christmas. What with that, my day job and Christmas shopping etc, by the time the big day arrived I was ready for a break. That is why you haven't heard from me for a week.
I have thoroughly enjoyed doing not much at all except eat, drink and be merry. I haven't even done a massive amount of cooking since Christmas Day, that is until yesterday when I decided to create something New Year's Eve worthy to publish today.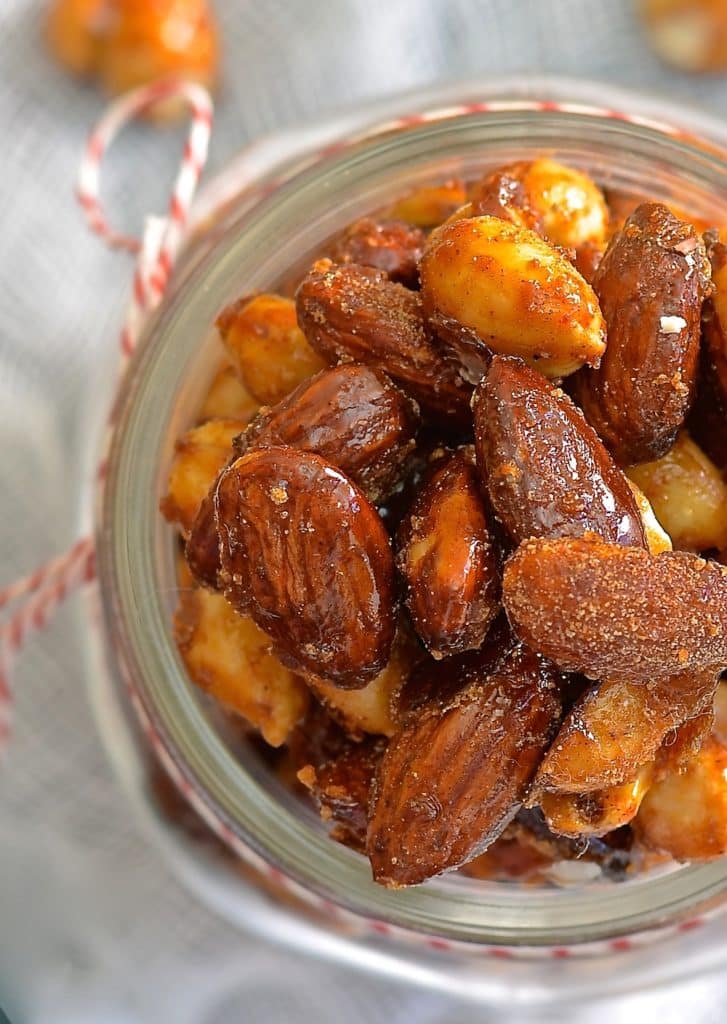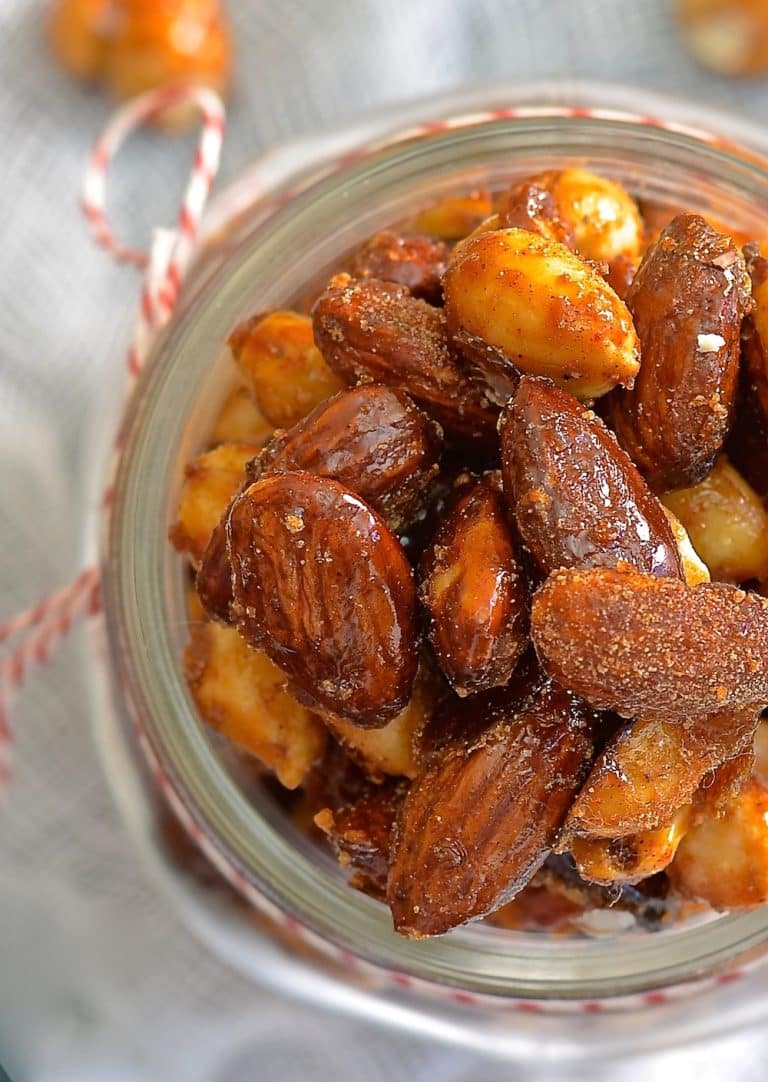 A vegan life without nuts would be a very boring one. At least for me it would. I eat them in some shape or form almost every day. They have got to be one of the most versatile ingredients out there.
From snacks, to butters to sauces, they are good for so many different purposes. They are also so nutritious, providing energy, protein, antioxidants, vitamins, minerals and omega-3 fatty acids. Nuts and seeds really do have it all.
In this recipe, nuts of your choice are combined with sugar, salt, cinnamon, smoked paprika and that new vegan miracle ingredient aquafaba. Yes, the brine from a can of chickpeas/garbanzo beans.
Who would have thought that weird looking liquid could make such delicious recipes? I have used it to great effect once before in my Vegan Omelette With Asparagus, Spinach & 'Cheese'. If you haven't yet tried that you really should!
Candied nuts are often not vegan because egg white is used to coat them and make the sugar and spices stick nicely. I actually got the idea for this recipe from a jar of candied nuts that my husband was given as a Christmas gift. They looked really delicious and I sneakily checked the ingredients to see if I could have some and found they contained egg white. It was only after that, when I was making some hummus, that it dawned on me that I could use the aquafaba from the chickpeas in place of the egg white in my own vegan candied nut recipe.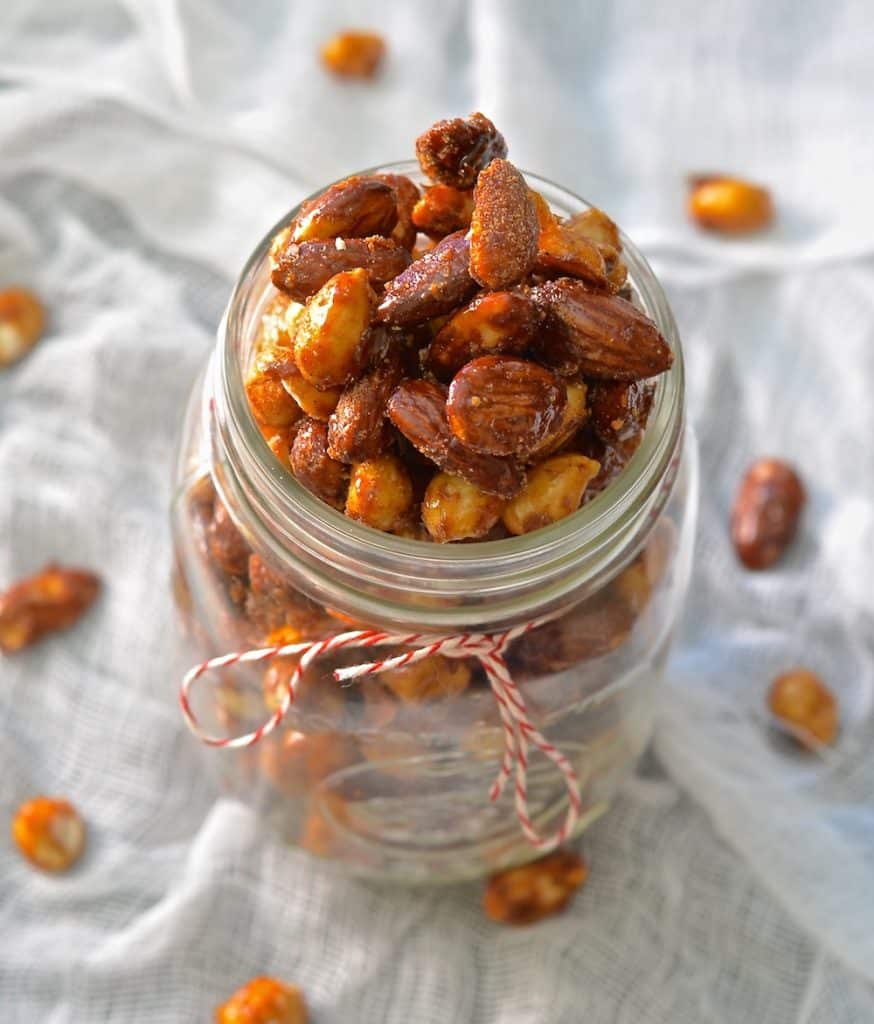 I hit the jackpot the first time with these Vegan Candied Nuts. They are so darn delicious! Sweet, sugary, cinnamony, salty with a bit of spicy pop from my very favourite spice smoked paprika.
If you have yet to try smoked paprika then this is the recipe to try it in first. It has the most amazing, smokey, savoury flavour and is great in chili, rice, bean and potato dishes, but even more so it is fabulous in these Vegan Candied Nuts.
This is my favourite brand of smoked paprika:
The smell in the house when these nuts are cooking..... They say you should bake bread and have coffee brewing when you are trying to sell your house and have people viewing it. I say forget that and just make some of these Vegan Candied Nuts. Those people will never want to leave! The smell is just intoxicating and they taste just as good. Once you start eating them you just can't stop.
They are just right for snacks, sprinkling on salads, oatmeal, ice-cream and dairy free yogurt and they make an amazing gift. Just fill a mason jar and tie some ribbon or twine around the top. Perfect! They also make amazing nibbles to serve alongside drinks or cocktails at parties.
Whip some up for your New Years Eve celebrations and I can guarantee you will have happy guests all night long!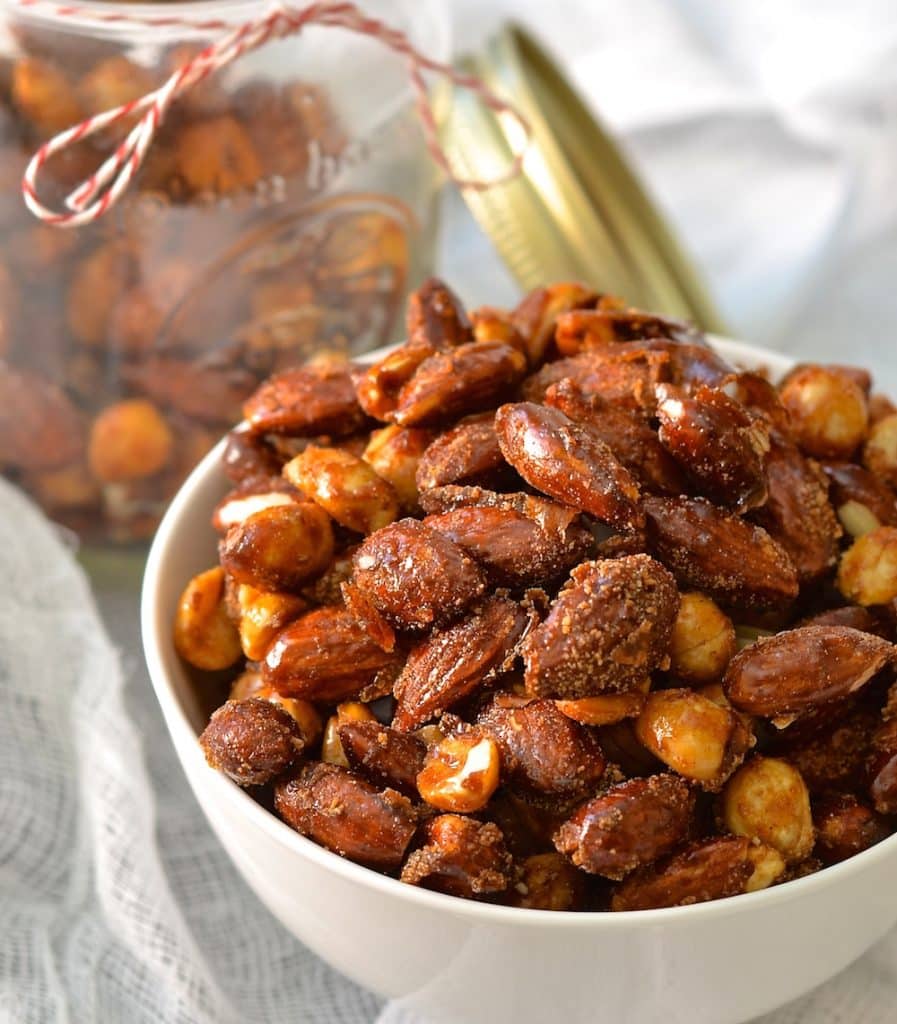 I have loved seeing what you have been making over the holidays. My Gingerbread Waffles were my most viewed recipe on Christmas morning followed closely by my Cranberry, Apple & Walnut Smoothie and the pictures and feedback you have sent me have been great. You guys rock!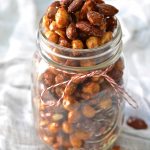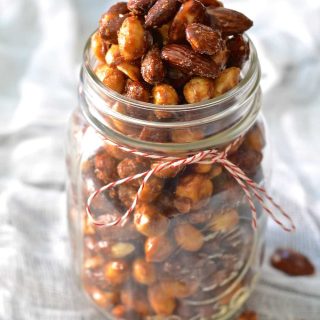 Vegan Candied Nuts
Author:
Perfectly sweet & spicy, chewy & crunchy vegan candied nuts. Make a double batch because everybody will go nuts for these!
Ingredients
200g | 1.5

cups

raw shelled nuts

(see recipe notes)

1/2

teaspoon

salt

1/4

teaspoon

smoked paprika

1

teaspoon

cinnamon

4

tablespoons

coconut sugar

(you can sub this for brown sugar)

4

tablespoons

light granulated sugar

(I used organic vegan cane sugar ).

4

tablespoons

aquafaba

(see recipe notes)

A little more sugar for sprinkling

(optional)
INSTRUCTIONS
Preheat your oven to 300°F

Line a baking tray with a

Silpat

or baking parchment.

Add all of the spices and sugar to a small bowl and stir to combine.

Put your aquafaba into a bowl and whisk until white and foamy. You don't need it to be stiff like meringue. I used my

electric hand whisk

and it took less than 1 minute.

Pour the nuts into the whisked aquafaba and stir gently to coat.

Pour in the spice & sugar mix and stir gently again to coat the nuts in the mix.

Pour everything out and onto your prepared baking tray.

Bake for 15 minutes then take them out, stir them about a bit and put them back for another 15 minutes.

Remove from the oven and push the nuts apart a bit with a fork so they don't dry hard in a big clump.

Sprinkle with a little sugar just to give some more texture (this step is optional)

Leave to cool and harden on the tray,

Once cool break them up a bit with your hands and store in jars or other air tight containers.
NOTES
I used almonds and peanuts because that was what I had on hand but pecans and walnuts would also be great. You can use just one kind of nut or mix them. Your choice. Just use 1.5 cups total.
Aquafaba is the liquid or brine from canned chickpeas/garbanzos.
If you cook your own chickpeas from scratch then you can use the liquid you cooked them in instead of the aquafaba from a can. You will need to reduce it down a bit first though until it is thick like canned aquafaba or raw egg white.
NUTRITION
Serving:
1
serving (¼ cup)
Calories:
235
kcal
Carbohydrates:
15
g
Protein:
6
g
Fat:
17
g
Sodium:
26
mg
Fiber:
3
g
Sugar:
9
g
Vitamin A:
50
IU
Calcium:
50
mg
Iron:
1.4
mg
Nutritional information is provided for convenience & as a courtesy. The data is a computer generated estimate so should be used as a guide only.
Tried this recipe?
Rate it & leave your feedback in the comments section below, or tag @avirtualvegan on Instagram and hashtag it #avirtualvegan