These festive VeganCandy Cane White Chocolate Truffles are meltingly rich, sweet, creamy & indulgent. Total and utter decadence with minimal effort. A chocoholics dream!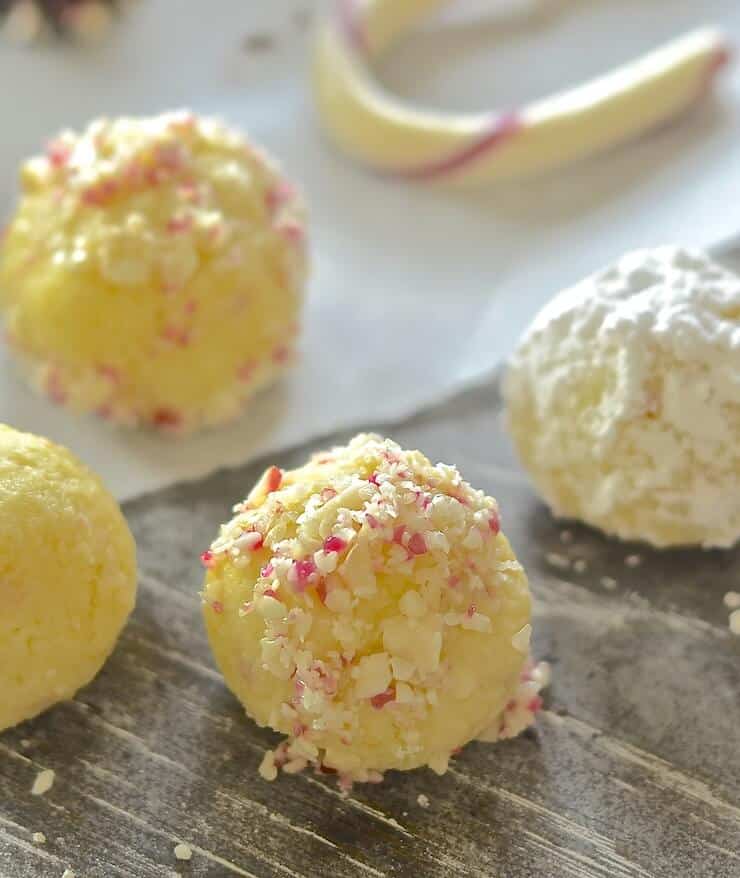 It's nearly Christmas and what says Christmas more than Candy Canes? I buy some every year to decorate my tree but this year I decided to create some Vegan Candy Cane White Chocolate Truffles. Because I love chocolate, especially white chocolate, and I love peppermint!
I'm not the biggest fan of candy canes as they are (except for when they look pretty on my tree), but when they are crumbled up and put in or on something yummy then I am all in.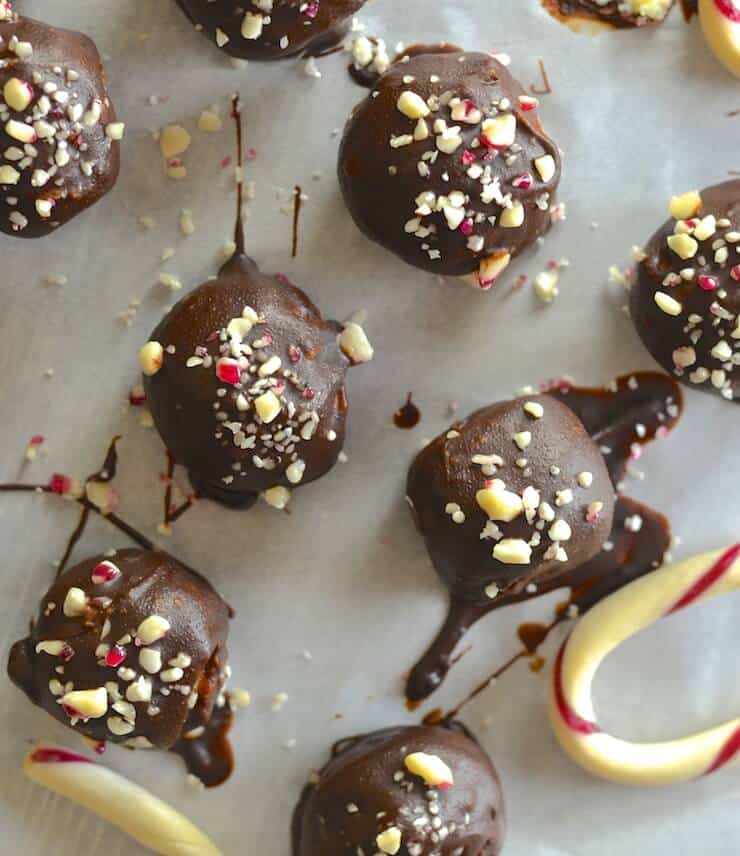 Most candy canes are absolutely full of junk, including high fructose corn syrup which is no good for anyone, but I happened to stumble upon some organic natural ones at Whole Foods.
Guys, we just got a Whole Foods here on the island. I have never, ever been to one before. It's pretty expensive for regular things but they have so many vegan products. I am totally in love with it ♡ and spend hours just wandering around browsing. My husband has actually talked about banning me from going because every-time I go there I come home with bags and bags of things that I didn't really need! If I go bankrupt it will be Whole Foods fault ????
The candy canes I picked up there are Tru Sweets Organic Candy Canes and they are made with organic ingredients and are corn syrup free. They have no artificial flavours or colours and they are gluten-free, vegan and kosher. And because of them, we now have these wonderful Vegan White Chocolate Truffle Candy Cane Truffles. There is a store locator on their website and it looks like they are pretty well distributed over the U.S and Canada so hopefully you can find some. If not there is always Amazon although they seem to be a lot more expensive there. (By the way, I have not been paid to mention Tru Sweets, I just really liked their candy canes!)
White chocolate is something I adored before I was vegan and I haven't been lucky enough to find any vegan versions yet. Because I miss it so much, I have been dying to make something that actually tastes like white chocolate. I love anything rich, creamy and sweet so white chocolate fits the bill perfectly. It also happens to work really well with peppermint.
Hello Vegan Candy Cane White Chocolate Truffles!!!!!
(Can you sense my excitement?)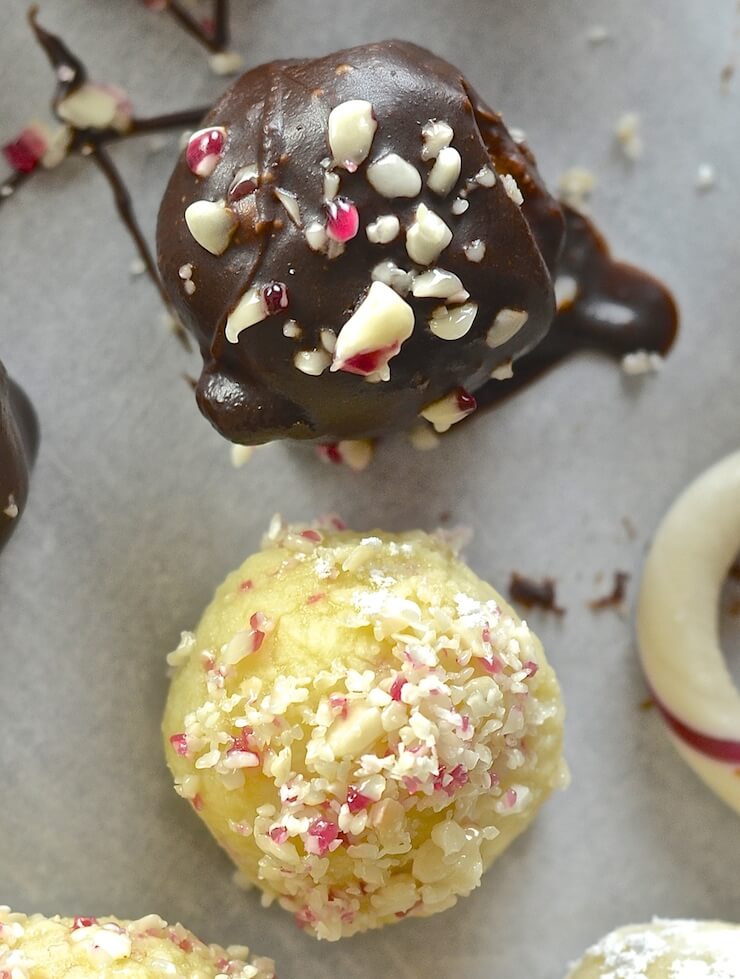 What makes this recipe even more exciting is the first time I made it it failed miserably. Why is that exciting you ask? Well, because the mixture totally failed to set, and as it's not good to waste food, I started to eat my white chocolate candy cane soup from the bowl. OMG it was good and it gave me the most awesome idea for a pudding type dessert. I recycled the soup, tested it again a few times and the resulting recipe is awesome (you can find it here).
At a time when I already have too many recipes tested and ready to go before Christmas, accidentally making another only adds to the pressure. I am going to try my absolute best to get it out to you before the weekend. It is seriously delicious and I really don't want to make it wait until next year. Fingers crossed.....
I ♡ TRUFFLES!
Now back to truffles. Because who doesn't ♡ truffles? Especially when there are white chocolate, peppermint and candy canes involved....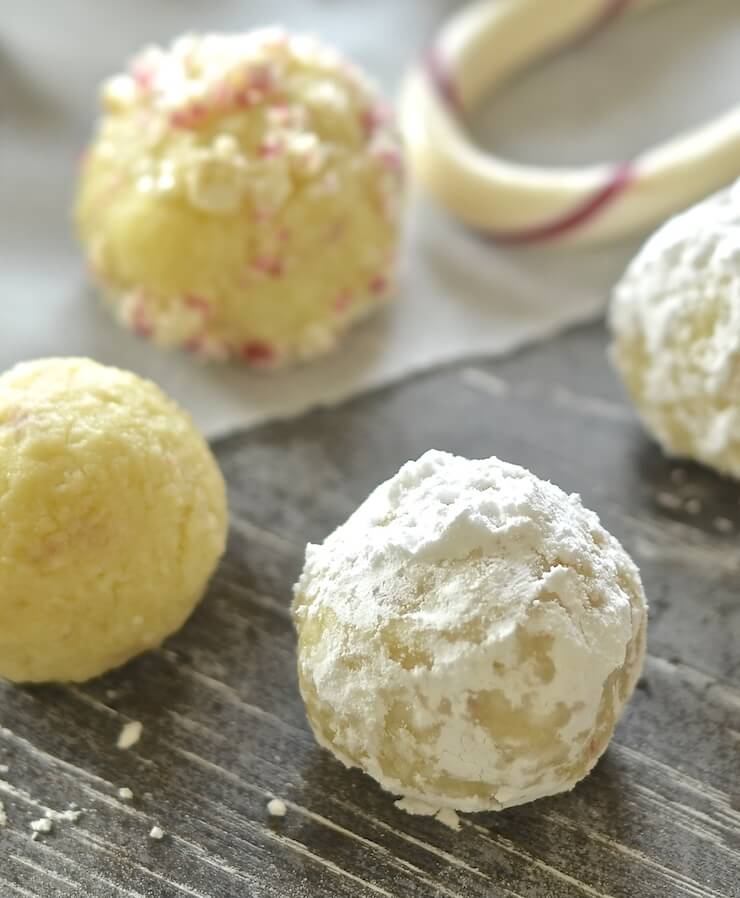 These Vegan Candy Cane White Chocolate Truffles are meltingly rich, creamy, sweet and indulgent. Just a couple are all you need to satisfy any sweet craving and they will totally cure any white chocolate urges you might have. There would have been an 'inside' shot but unfortunately the pics didn't come out too well so you will just have to use your imagination.....(think smooth, creamy & flecked with little pieces of crunchy, chewy candy cane jewels...)
CUSTOMIZE YOUR VEGAN candy cane WHITE CHOCOLATE TRUFFLES TEXTURE AND COATING
They come with a few variations. You can have really soft, almost cookie dough like texture truffles, or you can have them a bit firmer like traditional truffles. You can also freeze them and have a white chocolate peppermint truffle/ice-cream experience. Oh man, now I want to make more....
As for coatings you can choose which you would like best. I left some naked, I rolled some in crushed candy canes, I rolled some in powdered sugar and I dipped some in melted dark chocolate and sprinkled them with broken candy canes for the prettiness factor. If I am totally honest the chocolate dipped ones were my favourite!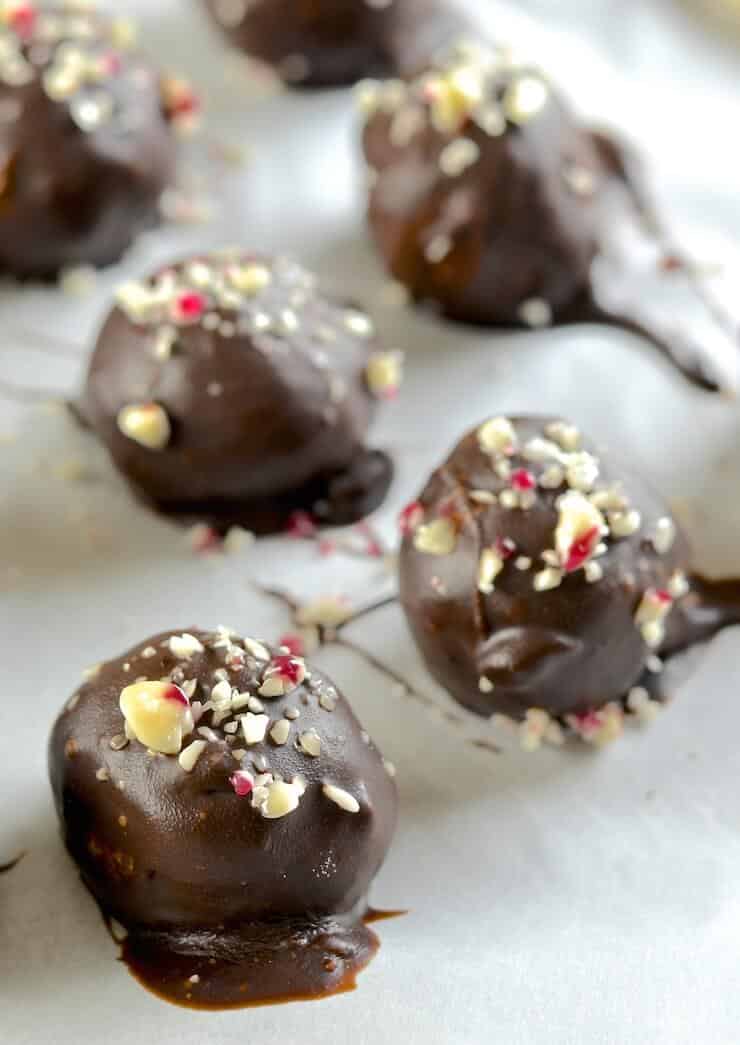 You can decorate yours exactly as you like though. Making these would be an awesome activity for children, just be sure to supervise them with the melting in a pan part then they will be good to be let loose on their own after that!
If you try these Vegan Candy Cane White Chocolate Truffles, be a ☆ and let me know what you think in the comments below. It would be awesome if you could share a pic on Instagram too. I have loved all the pictures of your New York Cheesecakes and Raw Christmas Fruit Cakes this week! Use the hashtag #avirtualvegan so I don't miss them.
Recipe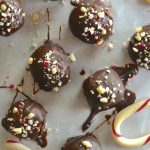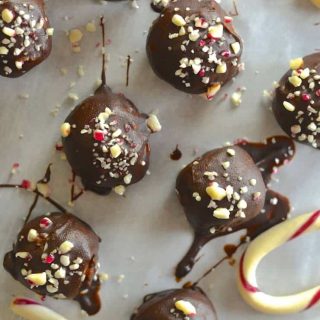 Vegan Candy Cane White Chocolate Truffles
Author:
These festive Vegan Candy Cane White Chocolate Truffles are meltingly rich, sweet, creamy & indulgent. Total and utter decadence with minimal effort. A chocoholics dream!
Ingredients
215g | 1 ¼

cup

coconut cream

, (the hard part from a refrigerated can of coconut milk)

140g | ½ cup + 1

tablespoon

cocoa butter

(NOT coconut butter) – see recipe notes re changing the amounts to make firmer truffles

70g | ½

packed cup

coconut butter

/manna (NOT coconut oil)

100g | ½

cup

sugar

(90g) – a lighter coloured variety is best. I used organic cane sugar

¾

teaspoon

salt

2

teaspoons

vanilla extract

peppermint extract to taste

(optional – see recipe notes)

4

candy canes

, optional - (crushed - a few pulses in a food processor works well or put them in a bag and bash them to bits with a rolling pin!)
For the chocolate coating (enough to coat them all – reduce if you want to vary your coatings)
200g | 1

heaping cup

dairy-free chocolate

1

tablespoon

plant-based milk
INSTRUCTIONS
Melt the coconut cream, cocoa butter, coconut butter, sugar and salt together in a pan over a very low, gentle heat.

When it is all melted together and you can no longer see any sugar granules, remove from the heat and stir in the vanilla and peppermint extract to taste (be careful when tasting as it may be hot).

Pour into a bowl and refrigerate until firm but still just stir-able (about 90 minutes ish). Pour in ⅔ of the crushed candy cane and stir well then refrigerate again until firm enough to roll into balls. Mine took about another 40 minutes.

Cover a plate or small baking sheet with parchment paper or waxed paper then roll the truffle mixture into balls and place on the paper.

Coat/roll in your chosen coating (chocolate, powdered sugar or crushed candy canes)
For the chocolate coating
Melt 200g of dark chocolate with 1 tablespoons of plant-based milk. Use a double boiler, or do it very, very gently in a pan on the hob or in the microwave.

Remove from the heat then drop each truffle quickly into the chocolate and move around with a spoon to coat. Transfer to the parchment/waxed paper then top with crushed candy canes immediately while the chocolate is still wet.
NOTES
If you want soft yielding truffles (like cookie dough texture) then use the quantity stated. If you would prefer them slightly firmer use a total of 200g cocoa butter.
The peppermint extract isn't essential. You can safely omit it and the truffles will  taste like white chocolate flavour rather than peppermint. 
NUTRITION
Serving:
1
truffle
Calories:
122
kcal
Carbohydrates:
8.5
g
Protein:
1
g
Fat:
10
g
Sodium:
11
mg
Fiber:
1
g
Sugar:
7
g
Iron:
0.4
mg
Tried this recipe?
Rate it & leave your feedback in the comments section below!