Perfectly short and crumbly, buttery, vegan Christmas Shortbread bars with a layer of festive mincemeat sandwiched effortlessly through the middle. Quick, no fuss, no cookie cutters required.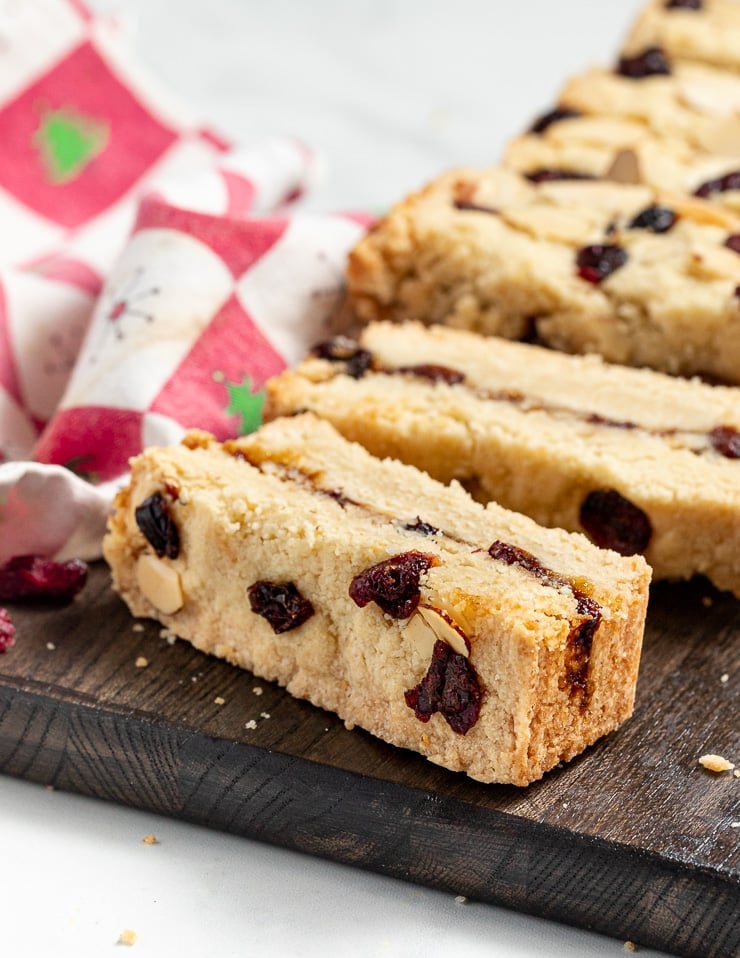 Ok, listen up folks, because we are making Vegan Christmas Shortbread and we are breaking all the rules! When rule breaking is this good though I am here for it and you should be too.
If you are looking for super delicious Christmas Shortbread bars that involve no fuss and take minutes to make with no fancy cookie cutters or chilling of the dough involved, then this recipe is your friend.
We're talking big shortbread bars rather than dainty little cookies. Back to my old motto again ... Go big or go home! If you are going to eat a cookie make it count. And these make it count. One is all you need to feel completely cookie-satisfied.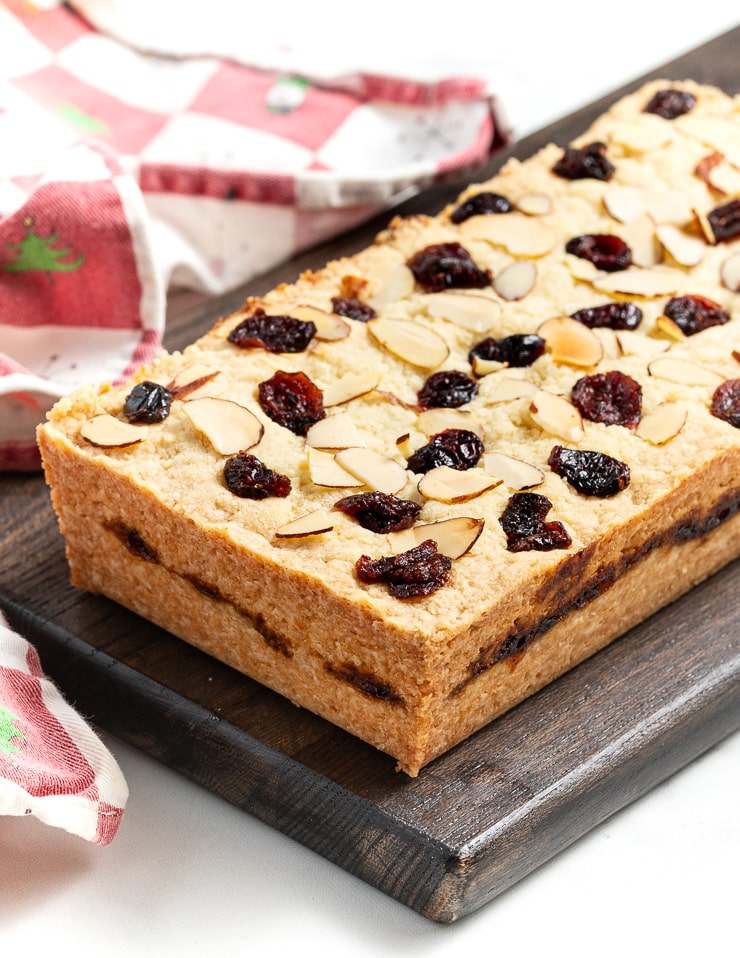 So what exactly is going on here?
Well, basically, we are taking vegan shortbread cookie dough, pressing it into a loaf pan with our fingers, spreading it with a layer of very festive vegan mincemeat, then pressing another layer of shortbread dough on top of that to make a very fun mincemeat sandwich that gets sliced up into hefty sized bars.
Sound good? Then gather round and let's see what we need ..
How to make Vegan Christmas Shortbread Bars
This festive vegan Christmas Shortbread is ridiculously easy to make.
This is what you will be needing and why:
All purpose flour - Essential for shortbread's colour, texture and flavour. Don't sub it for anything else.
Cornstarch - Essential for the best texture. Don't switch it for arrowroot or any other flour.
Cane sugar or white granulated sugar - Also essential for colour, texture, sweetness and flavour. Other sugars will not work well.
Vegan butter - Fat is essential in shortbread for that short, crumbly, texture and also for good flavour. Store bought vegan butter is fine or use my vegan butter recipe. Just make sure you make my butter recipe at least the day before you are planning to make the shortbread so it has time to set.
Salt - A bit of salt makes literally everything better!
Mincemeat - The sweet, fruity kind. I have a vegan mincemeat recipe or you can use a jar of store bought. If you go the store bought route, check that it's vegan before you buy it. Most contain suet. Some suet is vegetable-based and some is animal-based. It will say in the ingredients list.
Flaked almonds - These are mainly for garnish but the little nutty hits in each bite are nice too! If you have a nut allergy feel free to omit them.
Dried Cranberries - They add a nice chew and also work as a garnish. Their red colour looks nice and festive! You can safely omit them if you don't happen to have any.
And this is how it's done ....
Line a loaf pan. One strip up the middle and one the other way like so: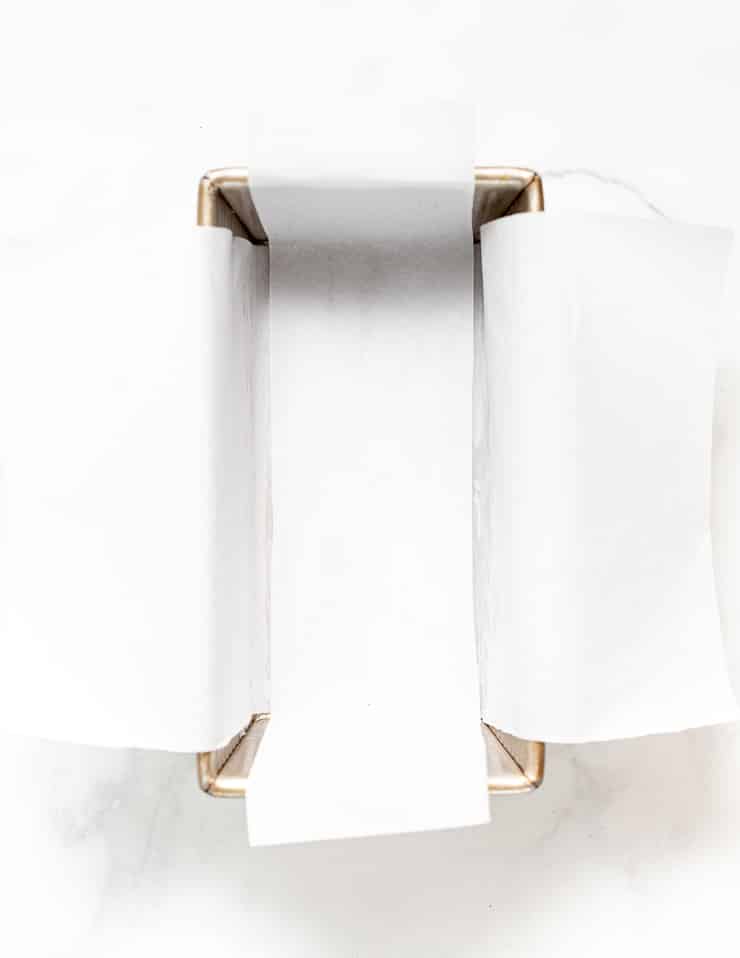 Add the flours, sugar, butter and salt to a food processor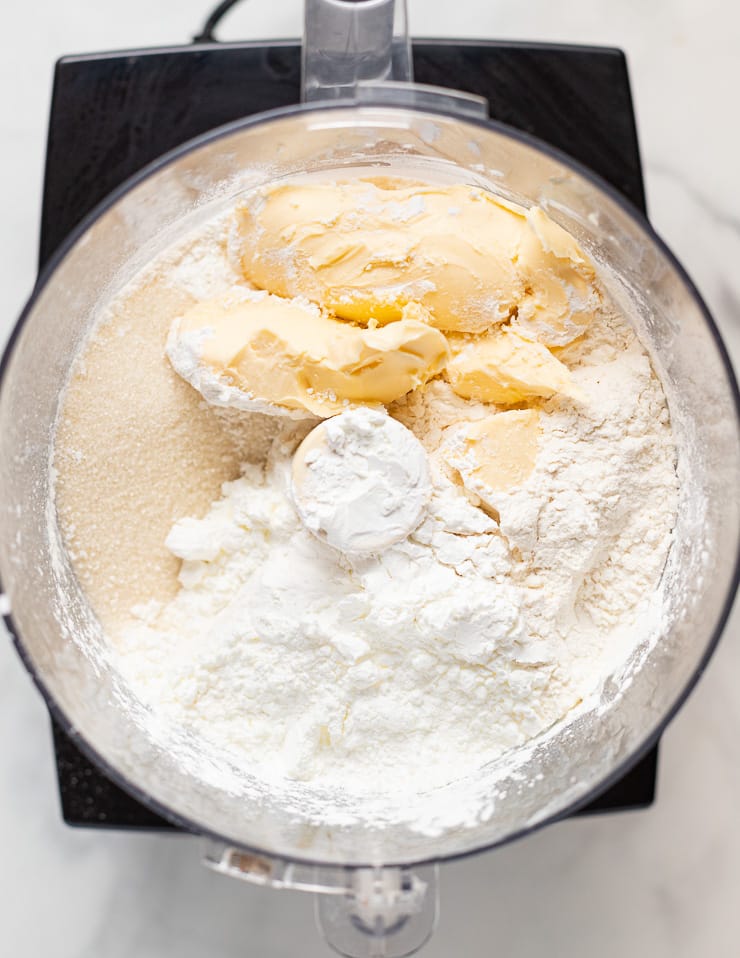 Pulse a number of times, until it looks like breadcrumbs and any lumps of butter are no longer visible.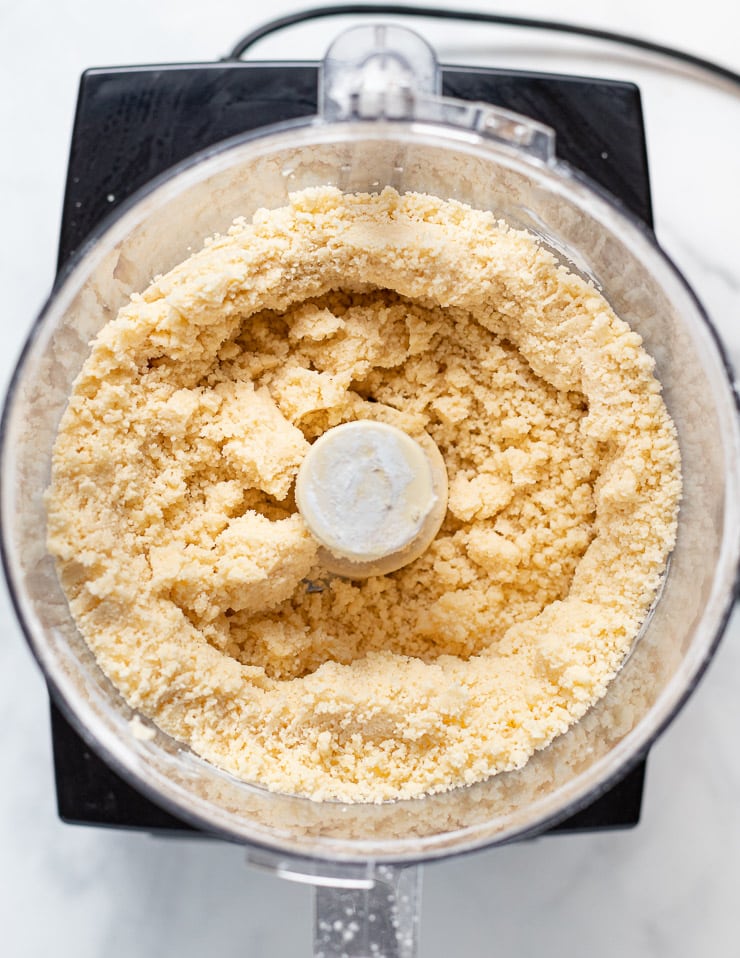 Take the top off the food processor and being careful of the blade, take a little handful and squeeze it together in your hand.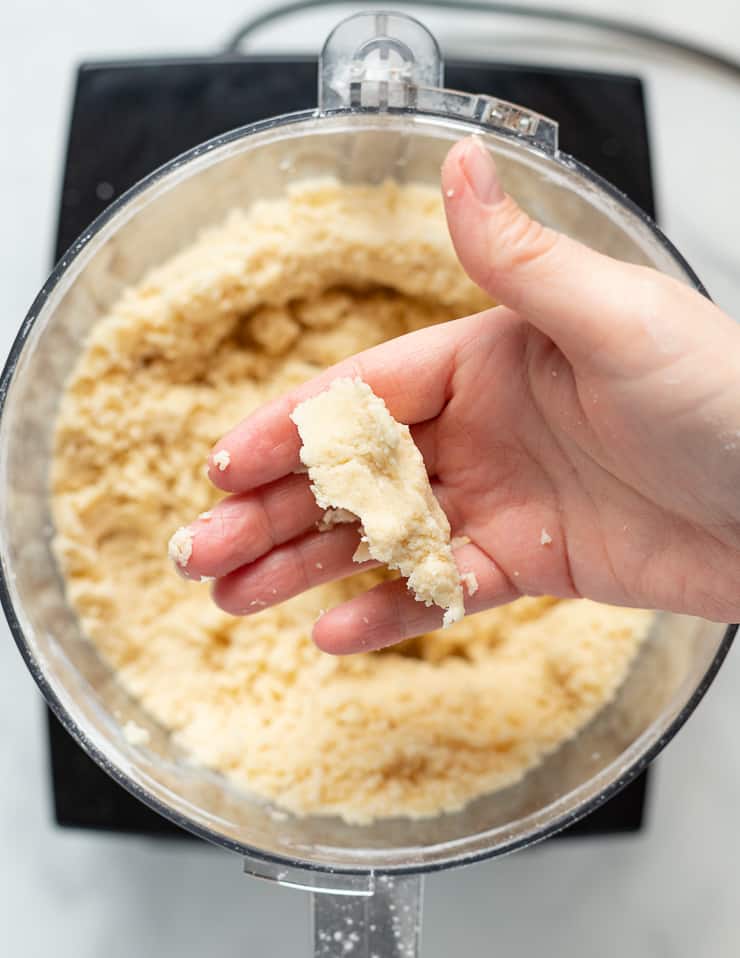 If it sticks together it's done. If not, put it back in and keep pulsing until it will come together in your hand.
Put approximately half of the mixture into a lined loaf pan.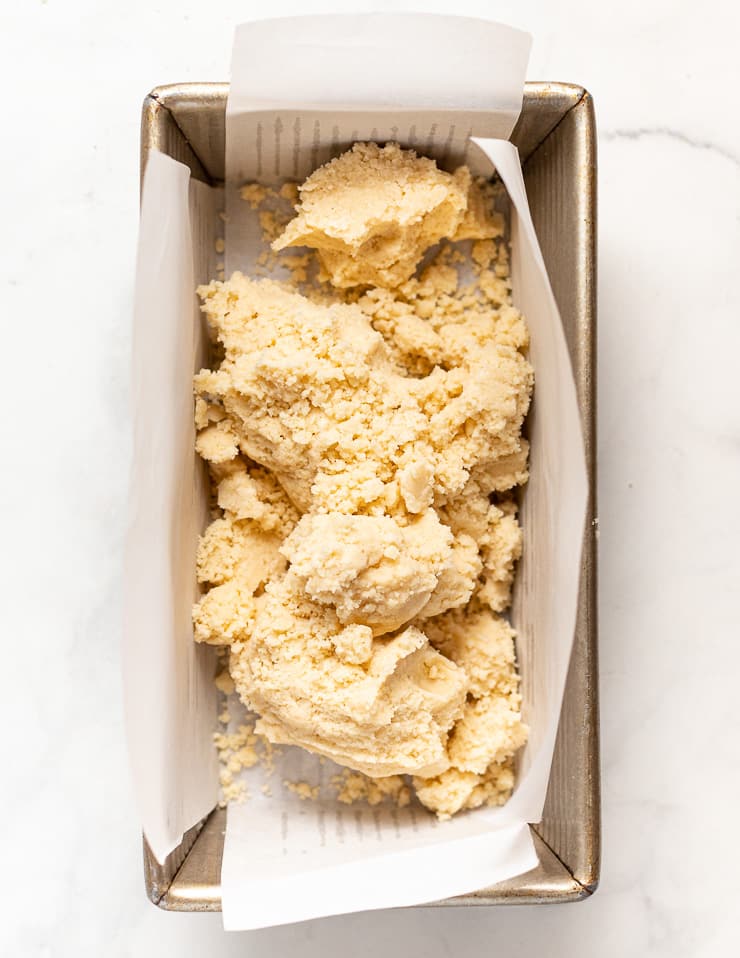 Press it down firmly all over with your hand.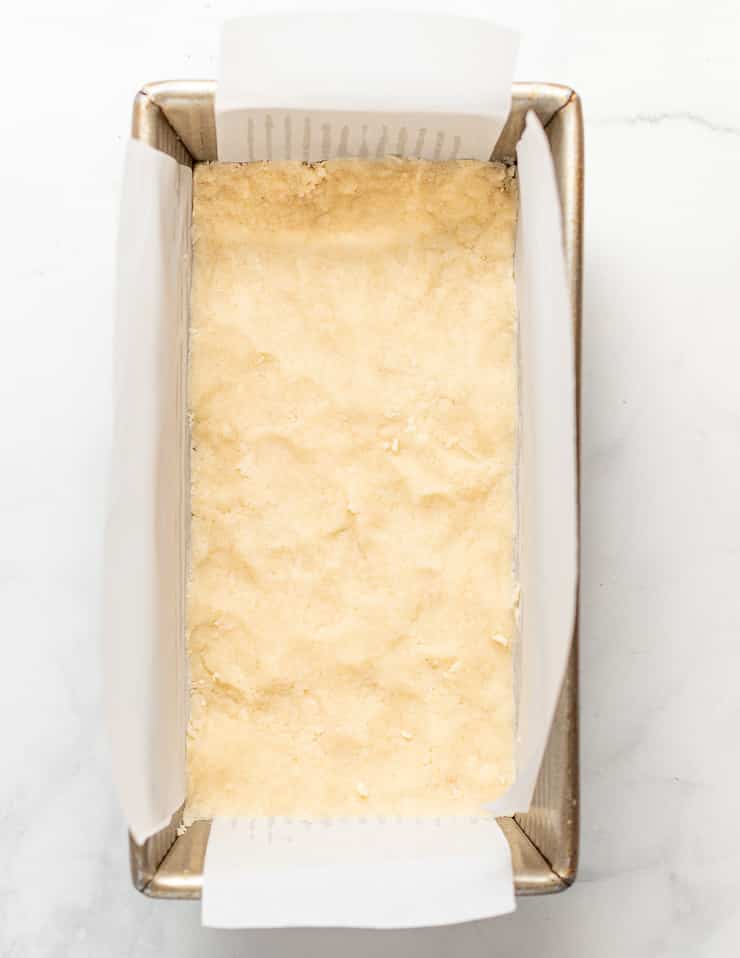 Top with a layer of mincemeat.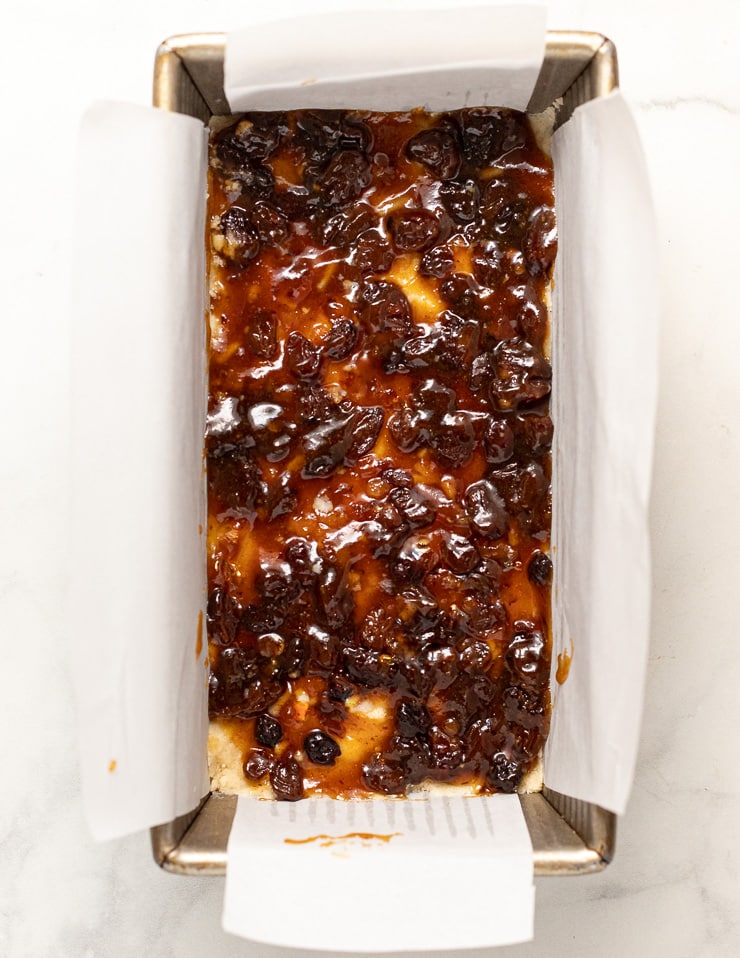 Top that with the remaining shortbread mixture.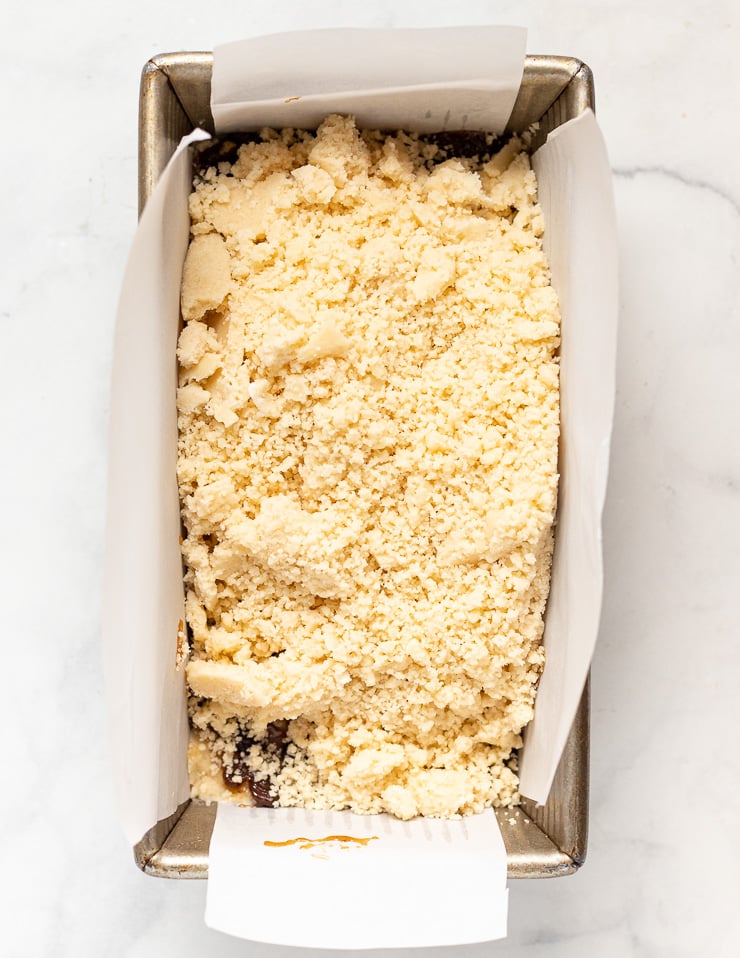 Press it down really well all over, then push in the cranberries and flaked almonds over the top.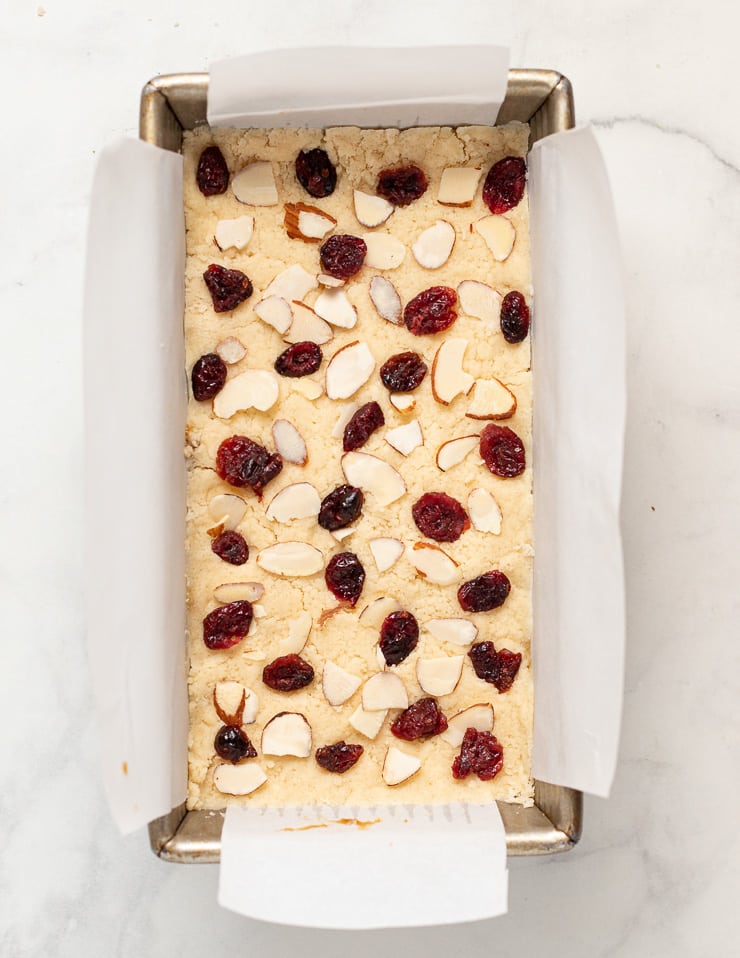 Bake, then leave in the tin for 15 to 20 minutes.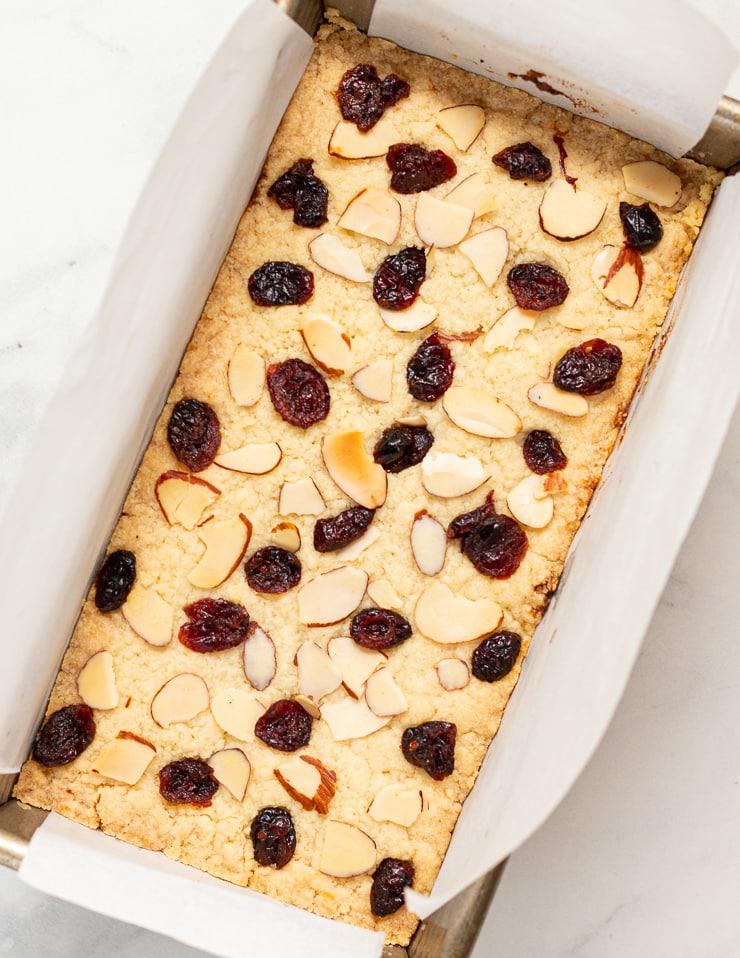 Cut carefully into bars with a sharp knife about 15 - 20 mins after it comes out of the oven and leave to cool completely.
Success Tips
There aren't many tips here because this Christmas Shortbread is very easy to make and practically foolproof.
Only pulse the food processor when mixing the cookie dough. Over processing it will make it tough and less short and crumbly.
Don't add any liquid to the dough. It will ruin the shortbread texture. It might feel like it is too dry and won't come together but I promise it will.
Line the loaf pan as instructed or you will never get it out in one piece.
Cut carefully into portions with a large sharp knife 15-20 minutes after it comes out of the oven. Set a timer so you don't forget. Don't leave it any longer because it will firm up too much and just crumble into pieces.
Very hard I know, but wait until it's completely cool before eating. This is one cookie that's better cool.
As always with recipes involving flour, I highly recommend that you use a kitchen scale. Cup measurements are not accurate enough to get the best and consistent results. Digital kitchen scales are available at most big superstores now and you can pick one up for around $10. They are a great investment and are so worth having! If you do need to use cups, spoon the flour into the cup then level off the top with a knife without compacting it or shaking it down. By doing it like this you will get roughly the correct amount and make your chances of success better. Do not scoop the flour up into the cup as you will end up with much more than intended and it will affect the outcome of the recipe.
Ways you can adapt this Christmas Shortbread recipe
I don't recommend changing the way these Christmas shortbread bars are made, but the filling and the garnish can be adapted. Here are some ideas:
Use pistachios instead of almonds on the top of the vegan shortbread. It will add a lovely festive green twist!
Dried sour cherries will work well instead of the cranberries
Try using a good fruity jam instead of the mincemeat.
Maybe a drizzle of melted dark chocolate over the top?


---
How to Freeze Shortbread
This recipe can be frozen in its uncooked state and also once it has cooked and cooled.
To freeze it raw - Prepare the recipe as instructed and pack it into the pan and decorate it with the nuts and cranberries. Then wrap the pan extremely well and place in the freezer. Cook straight from the freezer for an extra 10 minutes.
To freeze once cooked - Cook the shortbread, lift it out of the pan and cut into portions after 15 to 20 minutes as instructed. Then lift it by the paper and put it back in the pan. Leave to cool completely, then wrap very well and freeze. To defrost, unwrap, remove from the loaf pan using the parchment paper as handles, and place uncovered on a cooling rack so the air can circulate around it and to stop condensation making it soggy. Leave to defrost completely then store in an airtight container.
Things I am loving about this Vegan Christmas Shortbread:
BASIC SHORTBREAD INGREDIENTS Flour, cornstarch, vegan butter, sugar, salt.
EASY The cookie dough is made in a food processor in minutes.
NO FUSS There is no cookie cutting involved and you don't need to chill the dough.
FESTIVE The mincemeat adds a real Christmas-y twist!
USE UP MINCEMEAT LEFTOVERS It's a great way to use up that small amount of mincemeat left in the bottom of the jar after making Vegan Mince Pies
TEXTURE It's traditionally shortbread like throughout, until you get the little area around the mincemeat which becomes a little cookie dough like. So good!
PARTIES & POTLUCKS It's perfect for taking with you to potlucks and parties. Transport it in the loaf pan you baked it in.
MAKE IN ADVANCE It keeps well for about a week so can be made in advance
FREEZER FRIENDLY It freezes well (see my tips under "how to freeze")
I have made this Christmas Shortbread every week for the past 4 weeks and I have zero plans to stop. It is so delicious. And when Christmas has been and gone, and mincemeat supplies get low, I might switch it out for some fruity jam maybe? Then I can keep on going ;O)
Recipe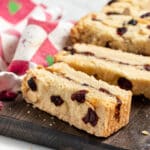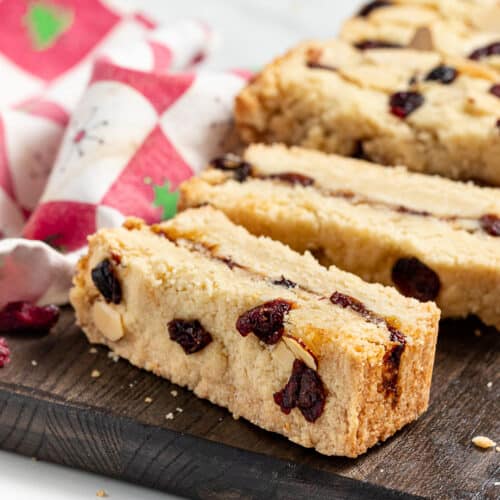 Christmas Shortbread
Author:
Christmas Shortbread made simple! Quick, no fuss, no cookie cutters required. Just perfectly short and crumbly, buttery, vegan shortbread bars with a layer of festive mincemeat sandwiched effortlessly through the middle. 
Ingredients
2½ cups / 312

g

all purpose flour

, plain flour in the UK

packed ⅓ cup / 48

g

cornstarch

, cornflour in the UK

½ cup + 2 tablespoons / 125

g

white granulated or cane sugar

⅛

teaspoon

fine salt

1 packed cup / 240

g

vegan butter

⅓ cup / 100

g

vegan mincemeat

2

tablespoons

flaked almonds

or chopped pistachios

2

tablespoons

dried cranberries
INSTRUCTIONS
Preheat oven to 320° F (160 °C) and place an oven shelf about ⅓ up from the bottom of the oven.

Grease a 9 x 5 inch (or similar) loaf pan. Place a long thin strip of parchment paper down the middle of the pan, with some overhang over the ends. Once that's in place rub a little grease on it to "stick" the next strip. The second strip needs to be wider and go across the pan the other way with some overhang again. The overhang acts as handles for lifting the shortbread out and the grease helps to keep everything in place. To see exactly how to put the paper in see my picture in the post above.

To the bowl of a food processor, add the flour, cornstarch, sugar, salt and butter. Pulse until the mixture looks like coarse breadcrumbs and is just starting to clump. Test to see if it's ready by grabbing a walnut sized piece and squeezing it together in your hand. If it sticks together in a ball it is ready. If it doesn't put the lid on the food processor again and pulse until it is ready.

Take the blade out of the machine, and put roughly half (eyeballing it is fine) of the dough into the loaf pan. Using your hands, compact it down evenly and tightly.

Spread the mincemeat over the top of the shortbread layer with a spoon so it's even, then top with the remaining shortbread and press it down really hard all over so it's even and smooth.

Press the flaked almonds and cranberries into the top, then bake in the oven for about 65 minutes until it is just starting to turn a little golden around the edges.

Remove from the oven and leave in the pan for 15 to 20 minutes, then lift out using the parchment paper handles. Leave on the paper, and place on a cutting board. Slice very carefully into portions, then lift it onto a cooling rack using the paper aagin, and allow to cool completely before storing in an airtight container.
NOTES
Freezes well. See details in the post above.
As always with recipes involving flour, I recommend using a digital scale to measure and not to use cups. They are not accurate enough. 
Calories assume the recipe is cut into 8 servings, but those are very generous. You could get 16 smaller servings. 
NUTRITION
Calories:
464
kcal
Carbohydrates:
64
g
Protein:
5
g
Fat:
21
g
Saturated Fat:
5
g
Sodium:
302
mg
Potassium:
68
mg
Fiber:
2
g
Sugar:
27
g
Vitamin A:
1146
IU
Calcium:
12
mg
Iron:
2
mg
Tried this recipe?
Rate it & leave your feedback in the comments section below!