Making your own non-dairy oat milk is super easy and super cheap with none of the nasty additives that come in store bought milks.
Milk is something that I never consumed (other than when I was a baby ;o)) until I was vegan. I find that odd. I have never liked the taste of cow's milk and remember my Mum encouraging me to drink it throughout my childhood without much luck. Now that I am vegan I have thrown myself into the many non-dairy milks that are available….not literally…..
I love the variety of flavours available and the fact that they don't taste like cow's milk. I mean cow's milk is all well and good but it's made for baby cows not humans. I'll milk an almond (or an oat in this case) over a cow any day.
I started off buying commercially made non-dairy milks but as soon as I became aware of the ingredients I decided enough was enough and that I needed to make my own.
Cashew milk has got to be my all time favourite non dairy milk. It is so thick, rich and creamy and involves no straining which I love. You can find my recipe here. Almond milk is second in line but you need a nut milk bag or fine cheese cloth to make it and although I have done this in the past I prefer not to have to do it every couple of days.
The trouble with cashews and almonds is that they aren't cheap. If you are using a cup every few days that is going to amount to a good few dollars over the course of a year. So what I do is make my favourite cashew milk when I am going to be drinking the milk or making something that will benefit from the richness of it, such as french toast, rice pudding or chia pudding for example. If however I am just going to be using my milk for things like baking, pancakes or waffles then I use oat milk.
Oat milk is probably the cheapest non-dairy milk you can make and is also very quick to make. No overnight soaking here. Just soak your oats for fifteen minutes then you are good to go. If you are about to make some pancakes and suddenly realize that you are out of milk, oat milk is your saviour as you only delay your progress by fifteen minutes (the same time it would take to walk/drive to the local store to buy some ready made milk).
Oat milk is also great for people who have nut allergies.
To make your own non-dairy oat milk all you need to do is
soak your oats
strain and rinse well
place in a blender with some water
blitz
strain with a sieve twice
Done.
As with all homemade non-dairy milks, they do require a good shake before using. As they have no emulsifiers (like their store bought counterparts) they do separate so this is essential.
I use a sieve to strain my oat milk as I only ever use it in something rather than drinking it as it is. The result is very slightly powdery and you will get a bit of sediment in the bottom of your bottle or container when it's been sitting in the fridge. I don't mind this. If you don't think you would like this then use some fine cheese cloth or a nut milk bag to strain it instead of a sieve.
If you are going to be drinking your oat milk then it might be nice to add one medjool date, or a little bit of vanilla extract or vanilla bean powder to the blender when you are blitzing it all for a bit of added flavour or sweetness.
You will be left with some oat pulp when you have finished your straining. Don't throw this away as I have been busy perfecting a chocolate chip cookie recipe which utilizes this pulp and I will post that recipe next. The pulp stores nicely in the fridge for a few days so you don't need to use it immediately. You can also add the pulp to your smoothies.
Make sure to store your oat milk in the fridge and it should keep for about 3 – 4 days.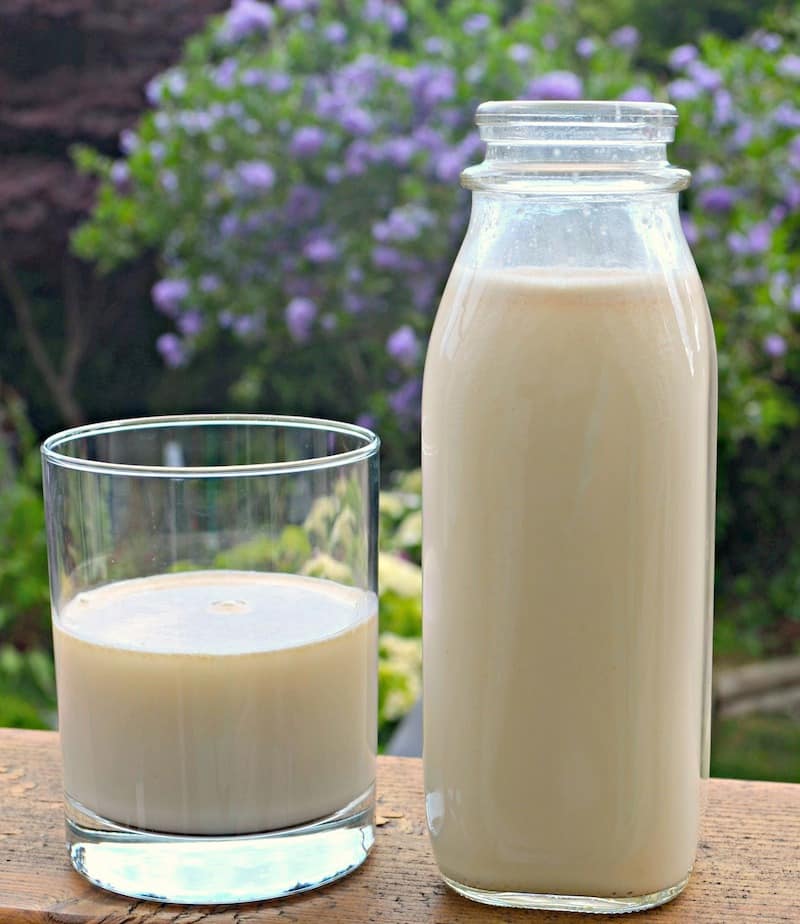 Oat Milk
Make your own non-dairy oat milk in less than 20 minutes.
Ingredients
90g | 1

cup

rolled oats

1440mls | 6

cups

water for soaking

960mls | 4

cups

water for making the milk

1 - 2

medjool dates

(optional)

1

teaspoon

vanilla extract

, or 0.5 teaspoons vanilla beans powder vanilla bean powder (optional)
Instructions
Add oats to a large bowl or jug and cover with 6 cups of water.

Leave to soak for 15 minutes.

Pour everything through a sieve discarding the liquid.

Rinse the oats very well under a cold running tap.

Put the rinsed oats, vanilla (and the dates if you are using them) into a blender.

Cover with 4 cups of water.

Blend on low for 30 seconds then gradually move up to high over a minute or so.

Strain twice through a sieve, or once through a nut milk bag or fine cheese cloth.

Pour into a lidded container and store in the fridge.A mason jar is great for this.
Nutrition Facts
Oat Milk
Amount Per Serving (1 cup)
Calories 60
Calories from Fat 9
% Daily Value*
Total Fat 1g 2%
Sodium 7mg 0%
Total Carbohydrates 14g 5%
Protein 2.6g 5%
* Percent Daily Values are based on a 2000 calorie diet.