Make your own homemade Oat Milk in less than 20 minutes from start to finish. It's so quick, easy and budget friendly!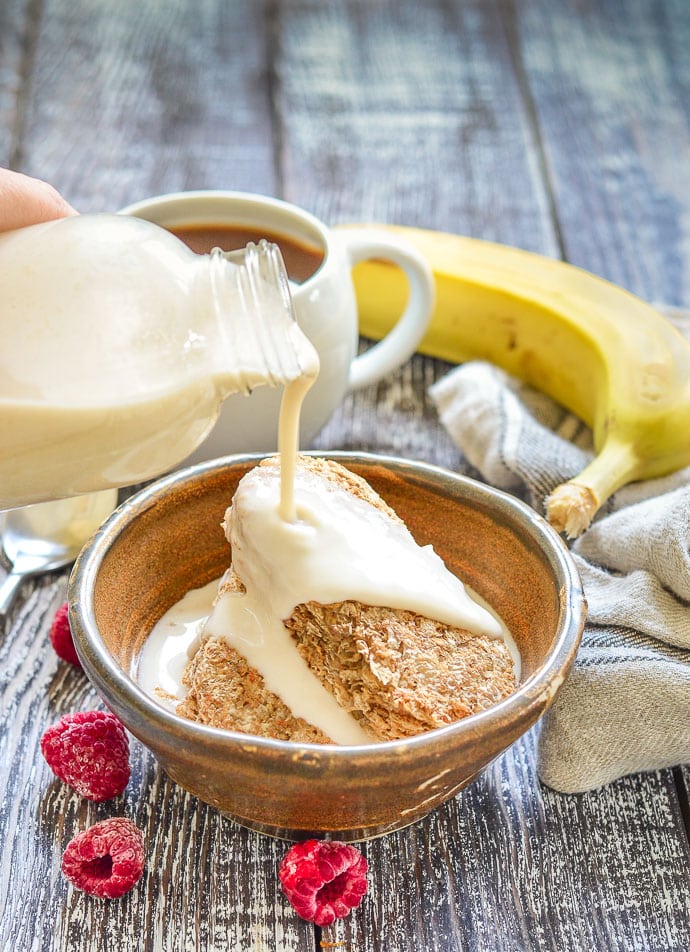 Two words : Oat Milk
This homemade vegan milk is a game changer.
You've all heard of, and no doubt use all kinds of non-dairy milk, like cashew milk and almond milk, but did you know that you can make your own milk from oats?
This Oat Milk is so quick and easy to do. You need no special equipment. You don't even need a nut milk bag.
All you need are 4 things:
oats
water
optional add-ins such as a date, a pinch of salt and some vanilla
a sieve
a blender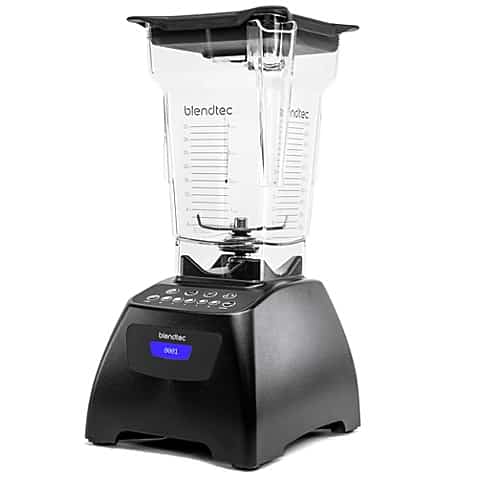 I wouldn't be without my Blendtec but because the oats are pretty soft, you don't need a super-duper blender.
I used to make this Oat Milk in a really cheap $40 blender before I upgraded to my Blendtec and the results were fine. The milk will end up slightly creamier if you use a better blender though.
SUPER SPEEDY HOMEMADE VEGAN MILK
Most common vegan milks are nut-based and they take a little while to make because you have to soak the nuts for at least a few hours or overnight before you start. Oat Milk is different. You have to soak the oats, but only for 15 minutes. Then you can jump right in and make it. You're talking 20 minutes tops.
The number of times this Oat Milk has saved me when I have been about to make a recipe and realized I have no milk in the fridge is unbelievable. We all do it, right? But as long as you have some rolled oats in the pantry, you are never more than 20 minutes away from having some homemade milk.
About to make some Gingerbread Pancakes and realize you're out of milk?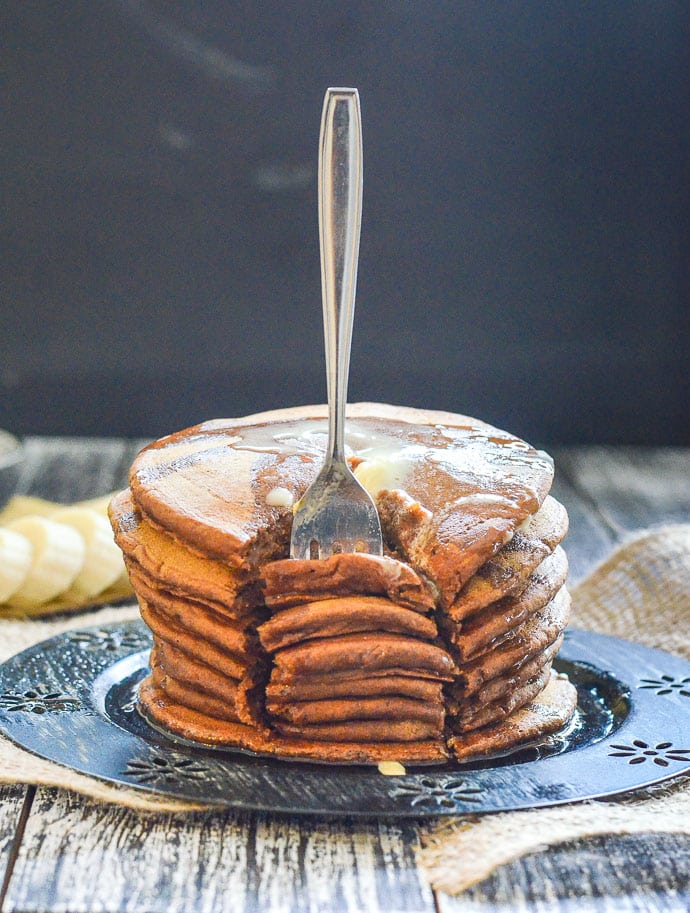 No worries! Make some homemade Oat milk!
THE CHEAPEST VEGAN MILK
If you use a lot of nut-based milks, things can get pretty expensive, but this is ridiculously cheap to make, which is why I use it in most recipes that call for milk. Cakes, muffins, pancakes, sauces etc.
THE BEST PLANT-BASED MILK FOR COFFEE
This Oat Milk is excellent in tea and coffee and does not curdle.
It's particularly good in coffee when it has the vanilla and date added.
I drink my coffee black and have never added milk or creamer to it, but tried this in a cup of strong coffee at the weekend. Just as an experiment really, to see if it curdled. It was so good I ended up having another right after. And no curdling.
It doesn't work so well if you heat it independently before adding to hot drinks though so please do not do this. This includes using a steam wand. If you do heat it independently or use a steam wand you will end up with an oaty custard type concoction ????
Just remember that if you are using it for savoury things, it's best to omit the date and vanilla.
Rolled oats are incredibly cheap to buy, and using this Oat Milk rather than more expensive nut-based milks will save you a small fortune.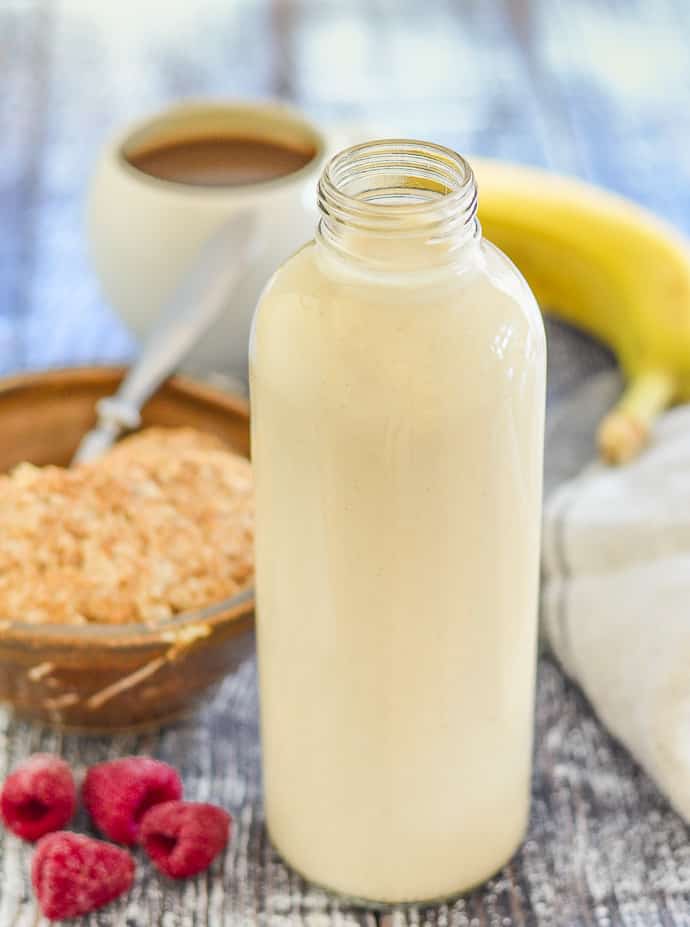 PERFECT FOR CHILDREN OR ADULTS WITH NUT ALLERGIES
Oat Milk is a great option for people who avoid dairy but are also allergic to nuts. It is also a great gluten-free option as long as you are sure to buy certified gluten-free rolled oats.
Children tend to really enjoy the taste of Oat Milk because it's so neutral.
BENEFITS OF OAT MILK
Very low in calories and virtually fat free
Totally cholesterol Free
Really quick and easy to make
Vegan, dairy-free, soy-free, nut-free and gluten-free if you use certified gluten-free oats
Naturally thick and creamy
WHAT TO DO WITH LEFTOVER OAT MILK PULP
You will be left with some oat pulp when you have finished straining your milk and there are a few ways you can use it:
Make my chocolate chip oatmeal cookies
Add to smoothies
Add to oatmeal
Use a dehydrator or spread out thinly on a baking tray and bake in a low oven until completely dry then use in granola recipes or blend up into flour
HOW TO MAKE OAT MILK
There are just a few simple steps when making your own Oat Milk.
---
FOR INGREDIENTS, FULL INSTRUCTIONS & AN INSTRUCTIONAL VIDEO, PLEASE SEE THE RECIPE CARD AT THE END OF THIS POST
---
Step 1
Soak the oats but not for long (nothing about this process is long!)
Step 2
Rinse the oats well
Step 3
Add the soaked oats to a blender with the other ingredients and blend until smooth
Step 4
Strain through a sieve, nut milk bag or cheese cloth. I just use a sieve, and not a special one. It was from a cheap set and is very similar to these:

OAT MILK FAQ
WHY DO YOU HAVE TO DISCARD THE SOAKING WATER AND RINSE THE OATS?
Oats become slimy when they get wet. By discarding the soaking water and rinsing them well before making the milk, you wash off the slime. If you do not discard the water and rinse the oats well then your milk will be slimy.
HOW LONG WILL OAT MILK LAST ONCE MADE?
Oat milk will last for 3 – 4 days in the fridge.
WANT MORE GREAT VEGAN DAIRY ALTERNATIVES?
For more great vegan dairy alternatives, check out these very popular reader favourites:
And if you love this recipe, please do check out my cookbook, and subscribe to my email list for a fabulous FREE eCookbook featuring my top 10 recipes. Being on the list means you will be first to see my new recipes and you'll be kept in the loop on all things new and exciting too!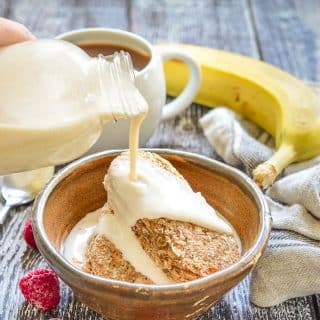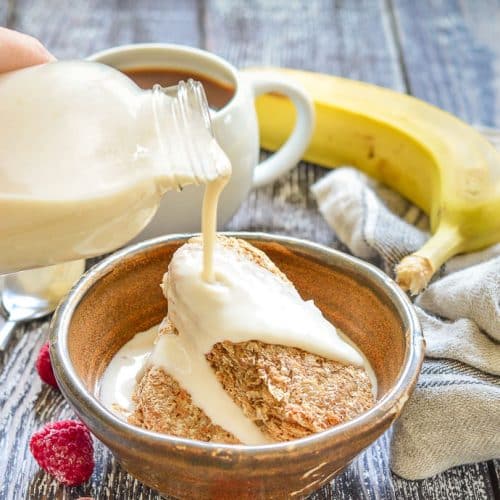 Oat Milk
Make your own homemade Oat Milk in less than 20 minutes from start to finish. It's so quick, easy and budget friendly!
Rate this Recipe!
Print
Pin
Ingredients
90g / 1

cup

rolled oats

960mls | 4

cups

water for making the milk

, plus extra for soaking

1 - 2

medjool dates

, (optional)

1

teaspoon

vanilla extract

, (optional)

small pinch

salt

, (optional)
Instructions
Add oats to a large bowl or jug and cover with water. Leave to soak for 15 minutes.

Pour through a sieve discarding the liquid then rinse the oats very well a number of times under running water. This step is really important so don't skip it. (see my FAQ below if you want to know why).

Put the rinsed oats, optional vanilla, optional salt and optional dates into a blender.

Cover with around

3

cups /

720

mls water then blend until it smooth. The time it takes will vary depending on your blender. In a Blendtec or a Vitamix it will take around 1 minute. Don't blend it for too long as if it gets hot it will start thickening up and going weird. It's better to do it in short bursts if you have a super high powered blender.

Check the thickness. It will likely be quite thick like cream now. Add enough extra water to get it to the thickness that you like and give it a quick pulse to mix.

If you are using it as a coffee creamer then it's nice left pretty thick. For other things it's better thinner.

Strain 2 or 3 times through a sieve. You can use a nut milk bag if you have one but it isn't necessary. If you use a nut milk bag straining once will be sufficient.

Pour into a lidded container and store in the fridge.
Notes
I recommend straining this Oat Milk at least twice. Three times is best if you have time. 
Some separation will occur during storage as with all homemade milks so shake well before using. 
It will last for 3-4 days in the fridge. 
This milk works really well when added to hot drinks, but please do not try heating it independently with a steam wand or any other method, for instance when making lattes, hot chocolate etc. When heated it becomes very thick, very quickly and ends up unsuitable for use in drinks.    
This recipe can easily be adjusted to make smaller or larger amounts to suit your usage. Hover over the number of servings in the recipe card and slide the slider to show how much you would like to make. Ingredient quantities will change accordingly. 
Nutritional information is calculated as a rough guide only, without the optional ingredients, and before straining (because after straining it would be impossible for me to do without laboratory analysis). 
Estimated nutrition per serving:
Serving:
1
cup
|
Calories:
76
kcal
|
Carbohydrates:
14
g
|
Protein:
2.6
g
|
Fat:
1
g
|
Sodium:
7
mg
|
Fiber:
2
g
|
Sugar:
3
g
|
Calcium:
20
mg
|
Iron:
0.7
mg
Tried this recipe?
Rate it & leave your feedback in the comments section below, or tag @avirtualvegan on Instagram and hashtag it #avirtualvegan