Festive fruit & nut flavours combine in this deliciously rich & moist Raw Christmas Fruit Cake. A fabulous alternative to traditional baked Christmas cake & so easy to make!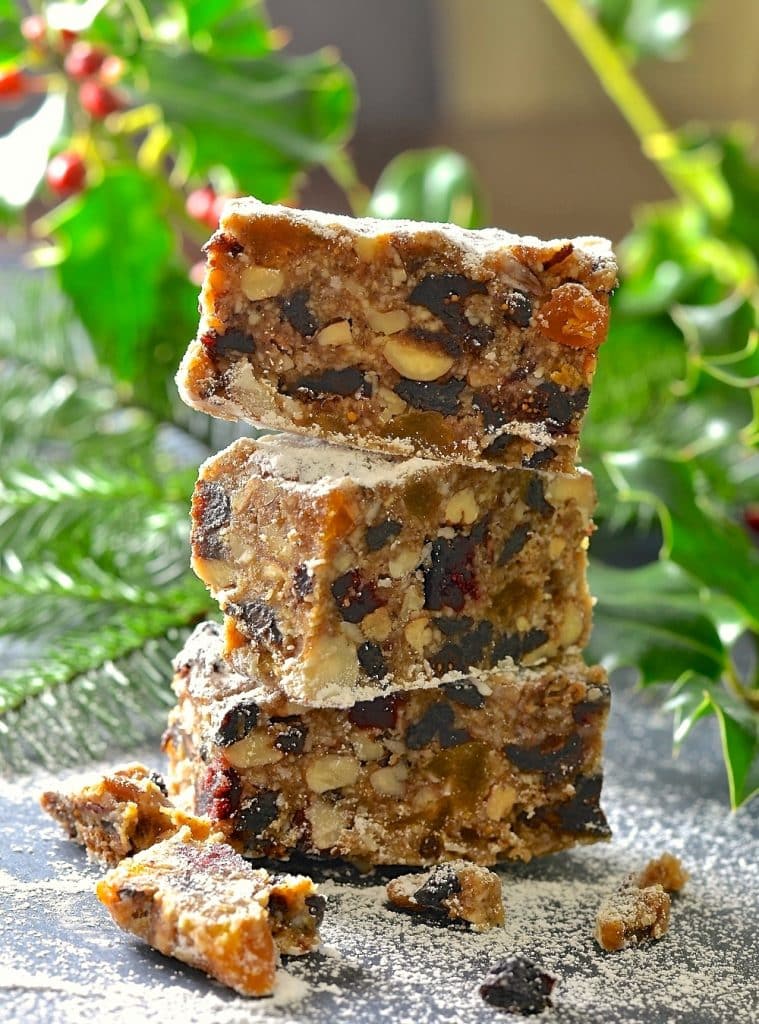 I love Christmas and I love Christmas cake and I had been planning to make a traditional baked Christmas cake to share with you before the big day. Then a couple of months ago I was experimenting with a kind of festive Larabar type treat. Ingredients were combined and left to set in the fridge and when I tried the finished bars I discovered that they tasted like Christmas cake. That was when I had the idea of attempting a Raw Christmas Fruit Cake based on the Larabar recipe I had been developing. So this cake came about accidentally but let me assure you that it is a very good, very worth-making accident.
This Raw Christmas Fruit Cake is a delicious alternative to traditional baked Christmas cake. It is dense with dried fruit and nuts, rich, moist and has the most amazing soft, chewy and crunchy texture. It is also really easy to make and completely fool proof. And of course as it is raw there is absolutely no baking involved!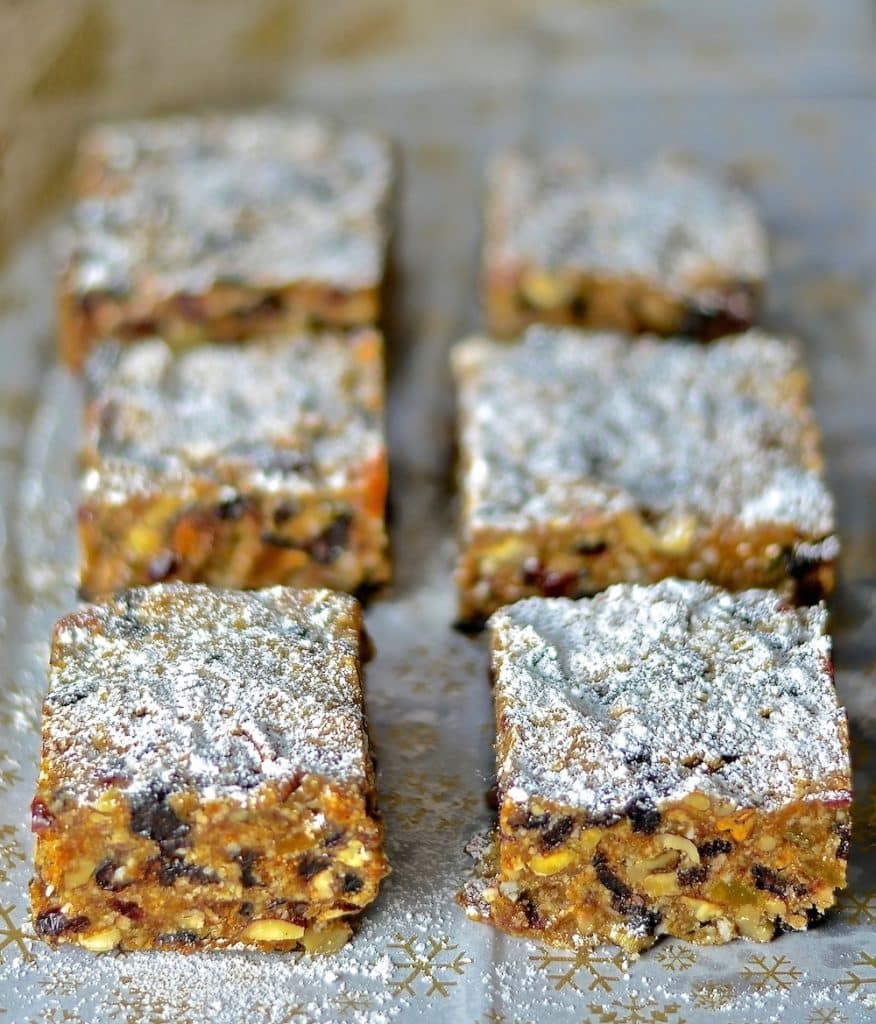 This cake contains absolutely no flour, no eggs and no dairy which makes it vegan and safe for those who are dairy and gluten intolerant. It also keeps for weeks if wrapped well and stored in the fridge.
Everyone who tried this Raw Christmas Fruit Cake raved about how good it is. Please don't be put off by it being raw. None of my ready and willing testers even noticed and all of them went back for seconds…or thirds.
The list of ingredients is somewhat long but it is so easy to throw together and please feel free to sub any of the dried fruit for whatever you like or have on hand. You do however need to include the dates and I would strongly advise using the dried figs as they are a key ingredient. Without them the taste, texture and structure would suffer. The other dried fruits are very flexible as long as you end up using the same overall quantity.
I think that this is one of my favourite recipe creations so far and I am so excited to share it with you! Please let me know what you think in the comments below and tweet or Instagram me your pictures. I am @avirtualvegan on both. Use the hashtag #avirtualvegan on Instagram.
If you are looking for more festive recipes then be sure to try my Gingerbread Waffles. They would make a great breakfast on Christmas Day!
Mel } A Virtual Vegan
Yields 18 slices
Raw Christmas Fruit Cake
Festive fruit & nut flavours combine in this deliciously rich & moist Raw Christmas Fruit Cake. A fabulous alternative to traditional baked Christmas cake & so easy to make!
25 minPrep Time
25 minTotal Time
Ingredients
2 packed cups medjool dates (See recipe notes)
1 cup coconut oil (unrefined or refined coconut oil is fine)
2 cups ground almonds
1/2 cup maple syrup
1/4 teaspoon salt
3/4 teaspoon nutmeg
2 teaspoons cinnamon
1 teaspoon ground ginger
1/2 teaspoon vanilla bean powder (It may seem expensive to buy but a package lasts for a very long time as you do not need much. If however you would rather not use it or you can't find it, use 1 teaspoon of vanilla extract instead).
zest of 1 orange
zest of 1 lemon
1/2 cup shredded unsweetened coconut
1 cup chopped pecans
3/4 cup chopped hazelnuts or almonds
1/4 cup walnut pieces
1 cup raisins
1 cup dried cranberries
3/4 cup dried apricots chopped
1 heaping cup dried chopped figs
Instructions
Add the maple syrup, coconut oil, dates, spices, vanilla bean powder, salt & almonds to a food processor . or blender . Process until smooth.
Spoon out into a large bowl.
Pour all of the other ingredient into the bowl and mix well. This is quite hard work but it will come together.
Line a tin with baking parchment. One that you would cook something like brownies in. I used my square USA Pan which is 8'x8'.
Scrape the mixture into the tin and press down all over well.Use a spatula or the palm of your hand.
Cover and put in the fridge for at least 12 hours.
Remove from the pan and slice.
Dust with powdered sugar or cocoa powder before serving.
Recipe Notes
Store leftovers well wrapped in the fridge. They will keep well for a few weeks.
Medjool dates are so delicious and are much softer than regular dried dates.You can usually find them in the produce department of grocery stores. If however you can't find them you may use regular dried date but soak them in warm water for 15 minutes first to soften them up a bit. Make sure to drain them very well after their soak.
6.8
https://avirtualvegan.com/raw-christmas-fruit-cake/
Melanie McDonald | A Virtual Vegan