Juicy, plump tomatoes & aromatic fresh basil come together beautifully in this fresh & vibrant Easy Tomato Basil Soup which takes only ten minutes to make.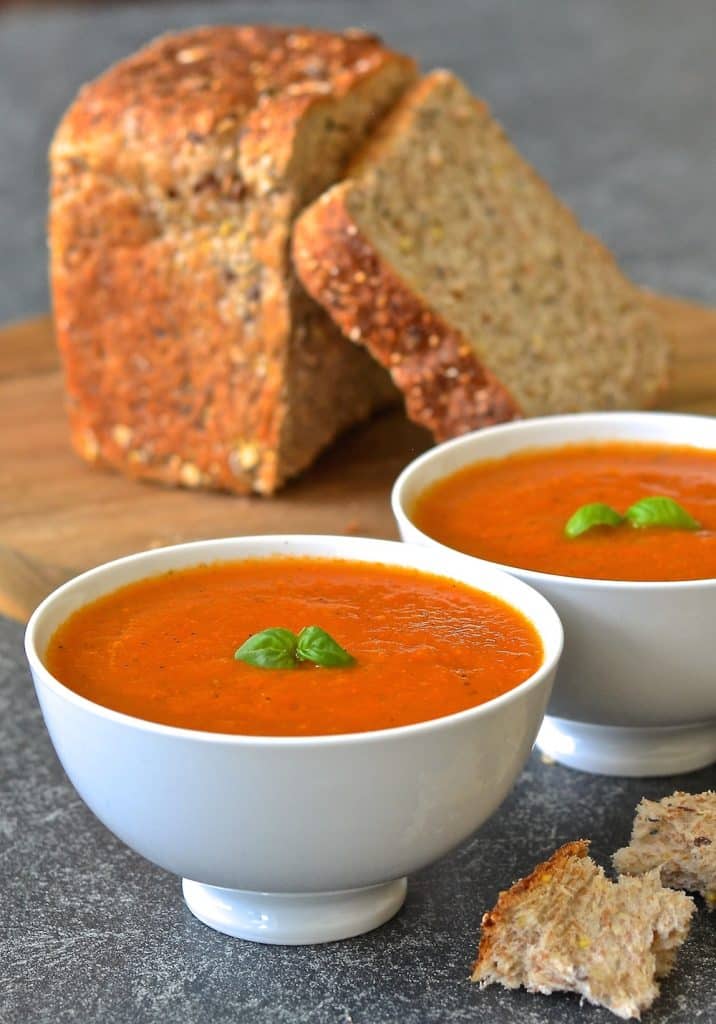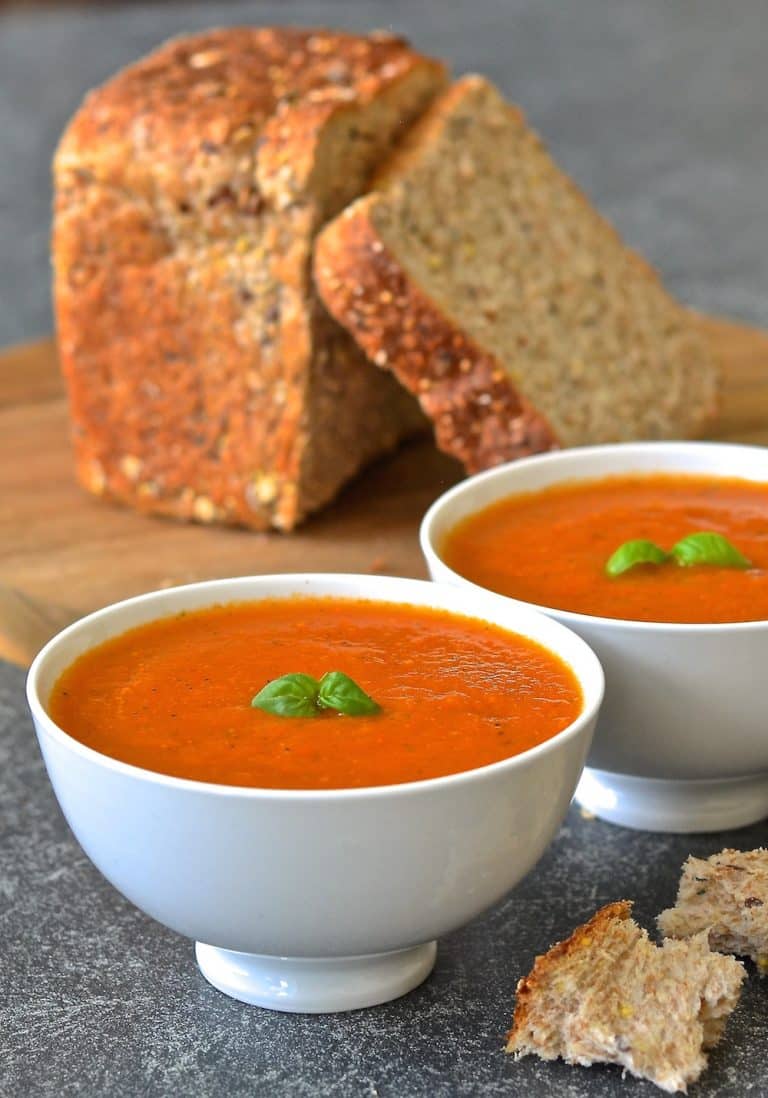 I try to concentrate more on the quality of the food I am putting into my body than worrying about how many calories it contains, but occasionally, especially after a weekend of trialling a new AMAZING Lemon Lavender Shortbread cookie recipe, I make an effort to cook a few lower calorie meals.
This job is a serious hazard for the waistline!
A QUICK AND EASY SOUP READY IN ONLY 10 MINUTES!
This Easy Tomato Basil Soup is for those times when I am feeling virtuous. It is so incredibly easy to make and takes only ten minutes to make from start to finish.
The flavours are fresh and untainted. The only ingredients are tomatoes, onion, garlic and basil (plus a little oil and seasoning). It's so simple!
Because it is cooked so quickly the amazing fresh flavour of the tomato is retained and the wonderful pungent flavour of the basil is conserved by adding it at the very last moment before serving.
Once the tomatoes, onion and garlic are cooked up together in a pan, they are all blended up with the fresh basil then served immediately.
The higher powered your blender is, the smoother the result. When I took the photos for this recipe I was using a pretty low quality one so it wasn't perfectly smooth. Now I have a Blendtec it emerges like velvet.
A good blender is such a great investment if you like soups and smoothies! I use mine all the time.
There is no need to cook the soup any longer once the basil is added. It keeps the flavours really fresh and delicious if you just blend and serve.
The resulting soup is fresh, aromatic and incredibly healthy.The taste of the fresh basil is amazing! No stock, plant-milk or cashew cream is added to this soup. The liquid comes only from the tomatoes which makes the flavour so much better. Because of this, it isn't a rich, creamy tomato soup. It's a really vibrant and healthy one.
If you want a creamy more indulgent recipe try my Instant Pot Tomato Soup and don't worry if you don't have an Instant Pot you can make it on a stove top too.
SLIMMING WORLD FRIENDLY TOMATO SOUP!
There are only about 280 calories in the entire pan of this soup and it is very low in fat. It can even be made totally fat free by omitting the olive oil and dry frying the onions and tomatoes.
If you follow the Slimming World plan you will also be pleased to know that this soup is syn free (if you omit the oil).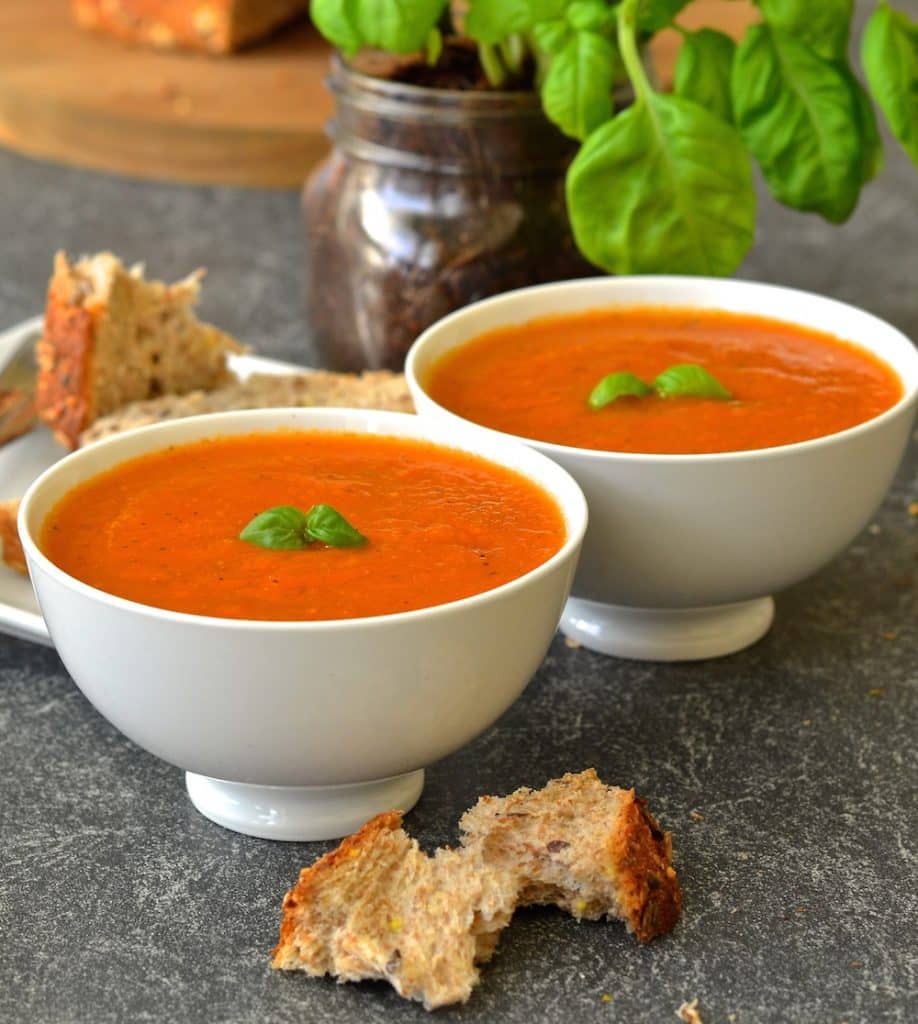 ARE TOMATOES GOOD FOR YOU?
Tomatoes are a great source of lycopene which protects us from destructive free radicals which can harm cells and damage DNA. Cooking your tomatoes in a little healthy fat such as olive oil helps carry the lycopene into the bloodstream so that our bodies can benefit from it so I do recommend using a little oil as stated in the recipe if you can.
As well as being a good source of lycopene, tomatoes are full of many other vitamins and minerals. They are known to protect against heart disease, prostate cancer and asthma and they also help to ensure our bones, teeth, skin and hair stay healthy.
So you get all of those benefits and it's so incredibly quick and easy to make. There really is no excuse not to eat a healthy meal when you can whip up something like this in such a short space of time.
HOW TO MAKE TOMATO SOUP
---
FOR INGREDIENTS & FULL INSTRUCTIONS PLEASE SEE THE RECIPE CARD AT THE END OF THIS POST
---
In just 10 minutes and a few easy steps you could be tucking into a bowl of this fresh and delicious Tomato Basil Soup. It's so quick and easy and can be super cheap to make too when tomatoes are in season, or if you have a greengrocer like mine who always has big packs of them on quick sale.
Step 1
Sauté the garlic and onion
Step 2
Add the tomatoes and cook until they start breaking down
Step 3
Transfer to a blender, add the basil and some seasoning and blend until smooth.
WHAT TO SERVE TOMATO SOUP WITH
Serve this wonderful Easy Tomato Basil Soup with a drizzle of good olive oil and a sprinkle of cracked black pepper and make sure there is plenty of fresh bread available for dipping.
It is wonderful with my Miracle No Knead Focaccia!
Don't be put off by the thought of making your own bread. This Focaccia is SO easy. It is a truly no-fail recipe.
And just look at what you get for no more effort than stirring a few things up in a bowl for a minute or two. No sweat at all and it is the most perfect accompaniment to your soup!! 😍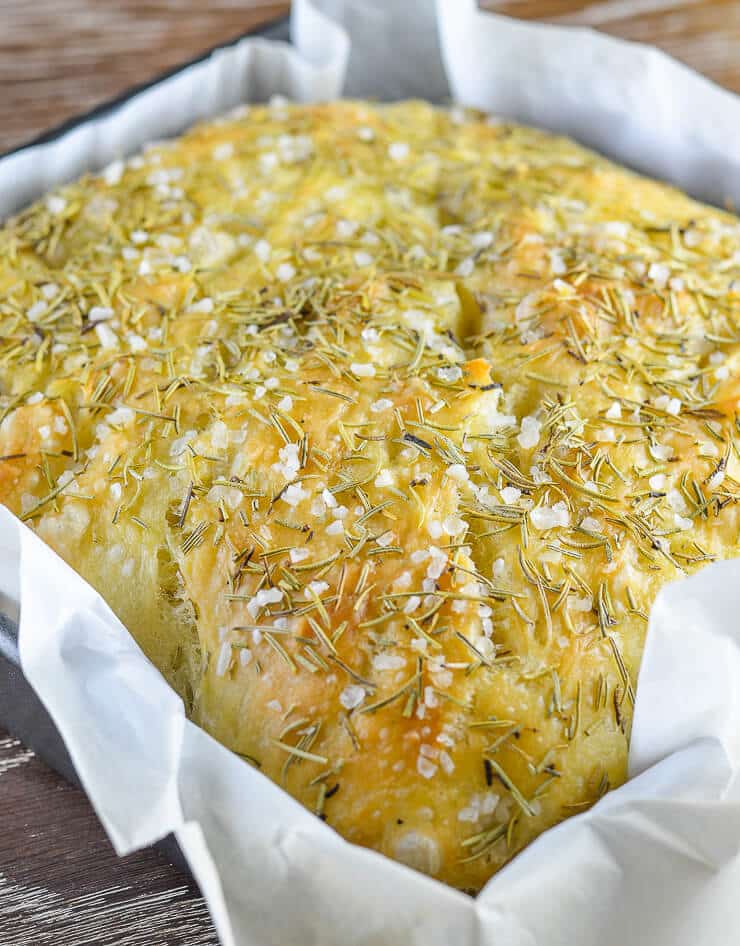 If you prefer a more traditional bread recipe there is always my Light Whole Wheat Bread, which is the one you can see in the photographs of the soup (except that one has some seeds added as an extra).
Tomato Basil Soup is also fab with grilled cheese sandwiches. Comfort food at it's finest! It's great in a Thermos for winter packed lunches too!
MORE VEGAN SOUP RECIPES
If soups are your thing now that the weather is cooling off then make sure you try these recipes too:
Share your pictures with me on Instagram and Twitter. I love to see them!  I am @avirtualvegan. Use the #avirtualvegan on Instagram so I don't miss them. Also please leave comments below to let me know what you think.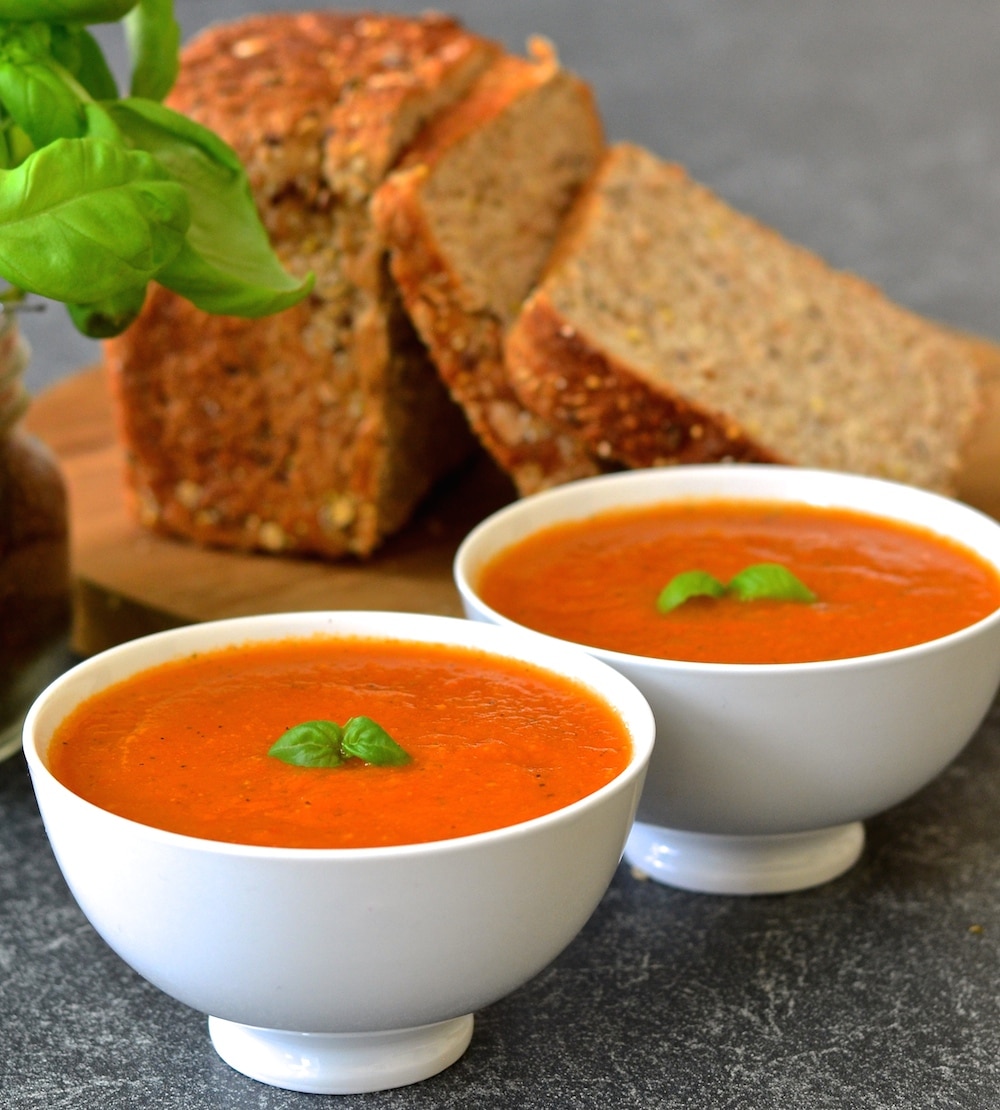 Easy Tomato Basil Soup
Juicy, plump tomatoes & aromatic fresh basil come together beautifully in this simple, fresh and vibrant soup which takes only ten minutes to make.
Ingredients
1

teaspoon

olive oil

optional

1

medium onion chopped

3

large cloves of garlic chopped very finely

I like lots of garlic so used 4 but adjust to suit your tastes

7

cups

of chopped fresh tomatoes

see recipe notes

1

handful of basil

leaves and stalks are fine

2

teaspoons

salt

adjust to taste

1

teaspoon

pepper

adjust to taste
Instructions
Heat a pan over a medium heat and add the oil.

When hot add the onions and garlic and cook for about 1 minute.

Add the chopped tomatoes.

Continue to cook over a medium heat, stirring every few minutes until the tomatoes have broken down and are soft.

Remove from the heat and add basil and salt and pepper.

Serve immediately.
Recipe Notes
I have tried this recipe with large tomatoes and grape/cherry tomatoes and it works well with both, or even a mixture of the two.
Nutrition Facts
Easy Tomato Basil Soup
Amount Per Serving (1 serving)
Calories 78.9
Calories from Fat 9
% Daily Value*
Total Fat 1g 2%
Sodium 643mg 27%
Total Carbohydrates 28g 9%
Protein 4g 8%
* Percent Daily Values are based on a 2000 calorie diet.