Festive, rich & fruity Vegan Mincemeat steeped in boozy deliciousness! A Christmas staple that is really easy to make & can be used in all sorts of ways. It's also perfect for gifting.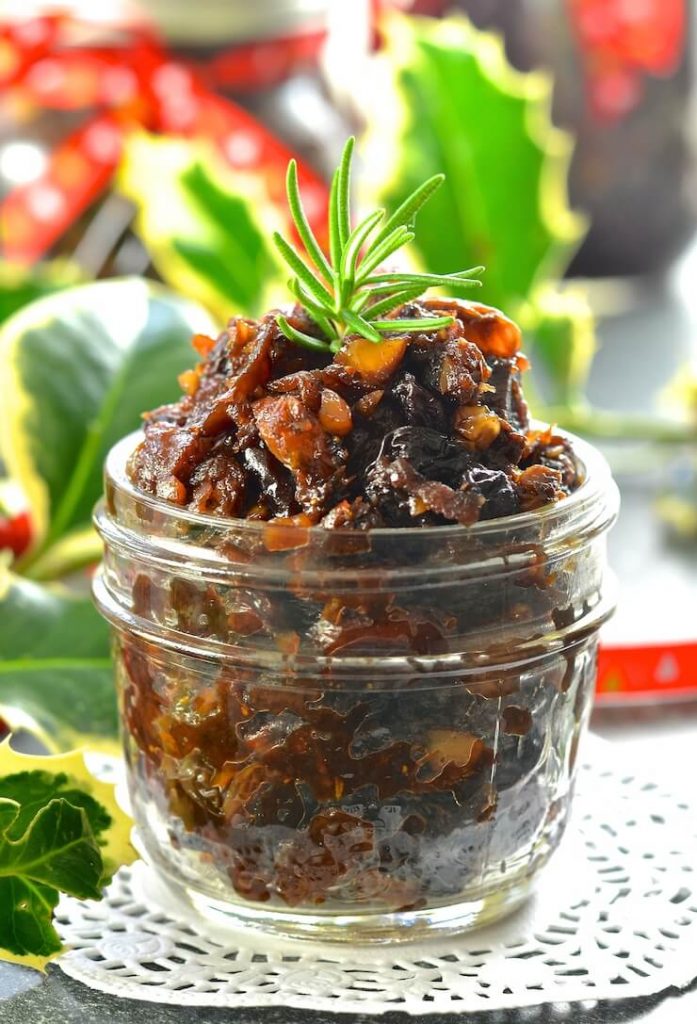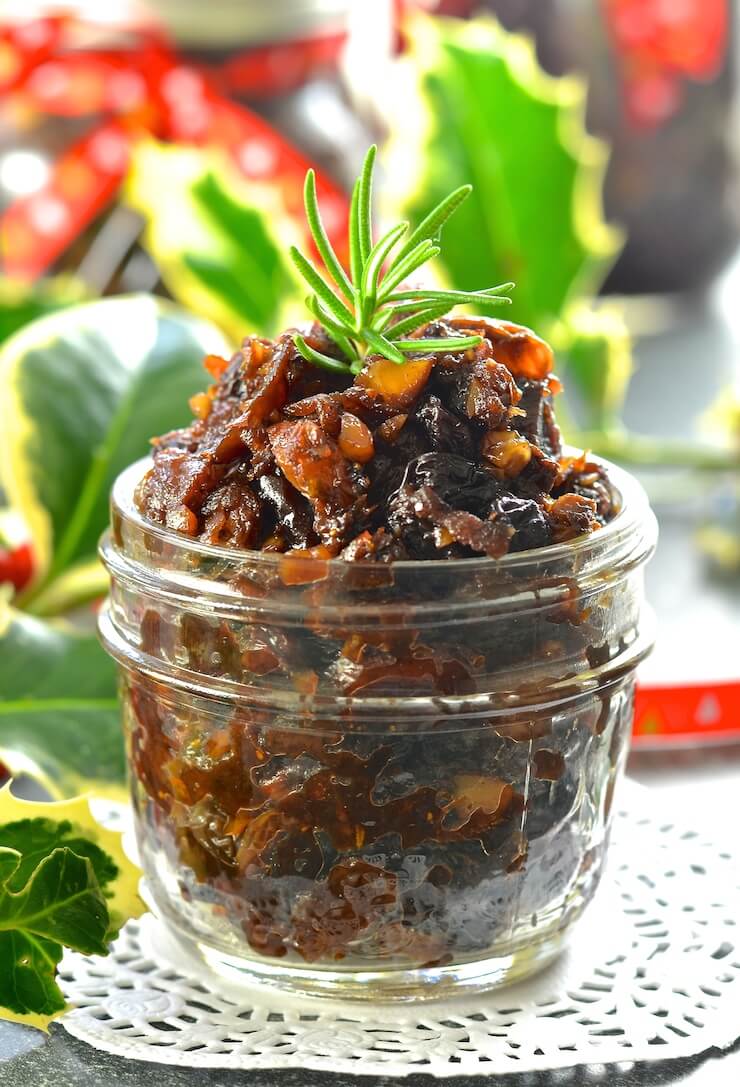 I wasn't actually planning on making my own Vegan Mincemeat recipe, but when I published my Festive Mincemeat Tart a few weeks ago it became apparent that a lot of people aren't really sure what mincemeat is or how to use it. As a Brit, I've grown up eating mincemeat in Mince Pies and other baked goods every Christmas and I didn't realize that it wasn't as widespread here in Canada or the U.S.
I actually used store bought mincemeat for my tart recipe and I found it pretty easy to find a suet free variety here. Some of you have let me know that you are struggling to get hold of it though, and that is what gave me the idea of making my own.
Like most things, store bought is nice but nothing can beat homemade. I can really testify to that now I have tasted my own!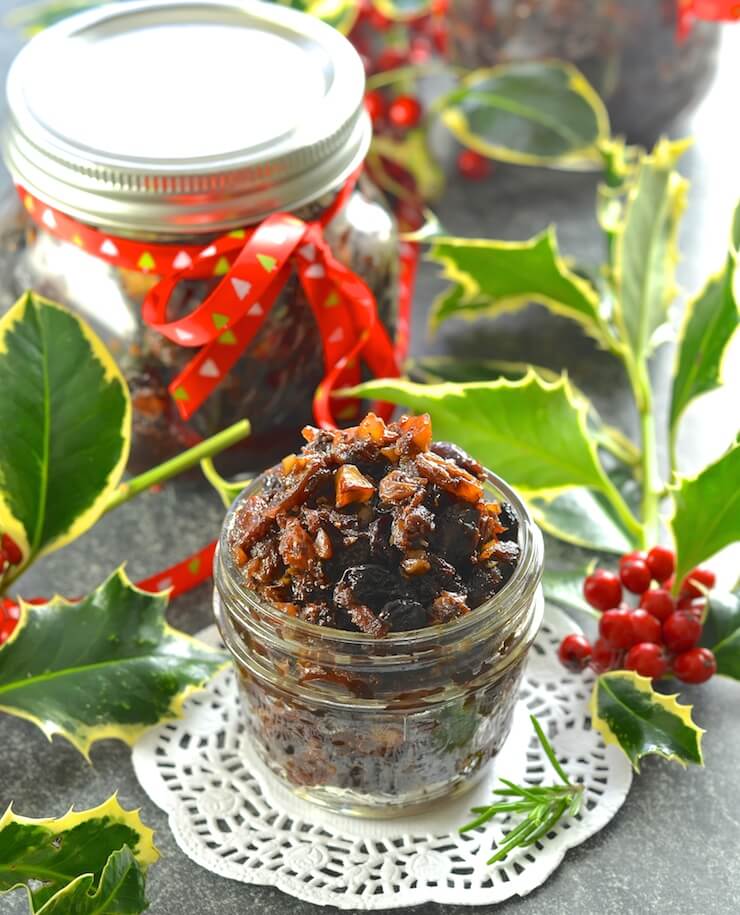 WHAT IS MINCEMEAT?
Mincemeat is a combination of dried fruits, citrus fruits, nuts, spices and alcohol. Historically it also contained meat, and although modern day versions don't contain it anymore, they do often have suet in them.
My Vegan Mincemeat is totally suet and oil-free, and uses a combination of dried fruit, nuts, spices, grated apple, oranges, lemons and then as a little twist, some fresh rosemary.
Click To Tweet
The rosemary flavour isn't too obvious but it adds a lovely little something.
Then as if all that fruity, spicy deliciousness isn't enough, along comes a very generous glug of port.
If it didn't say "Christmas" before it certainly does once that's added!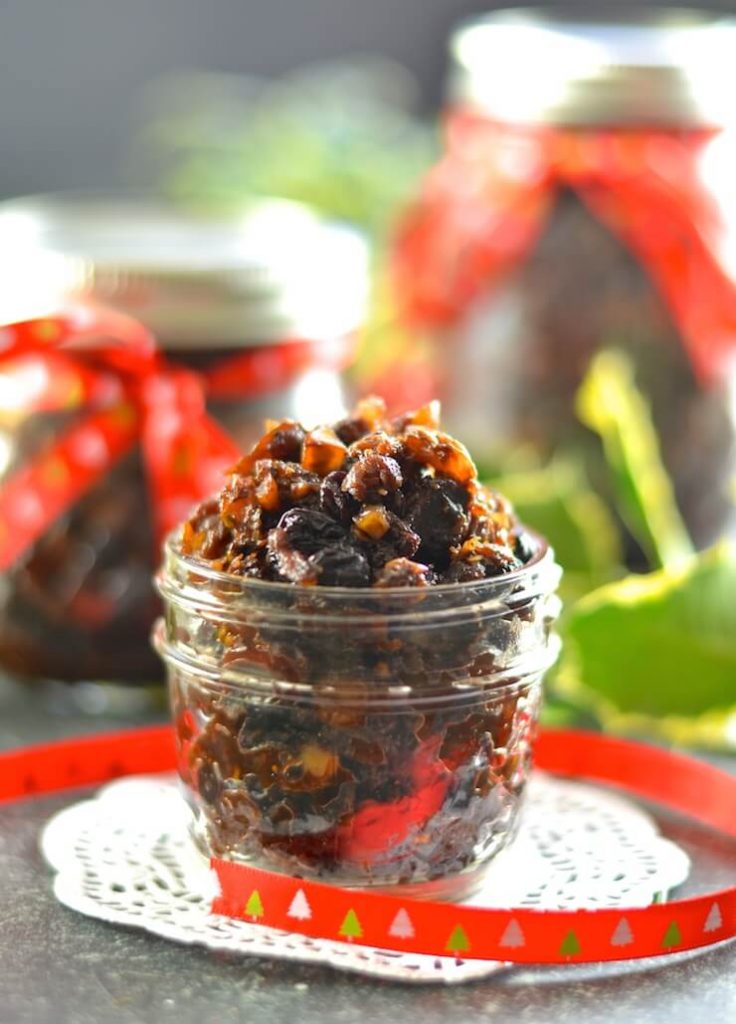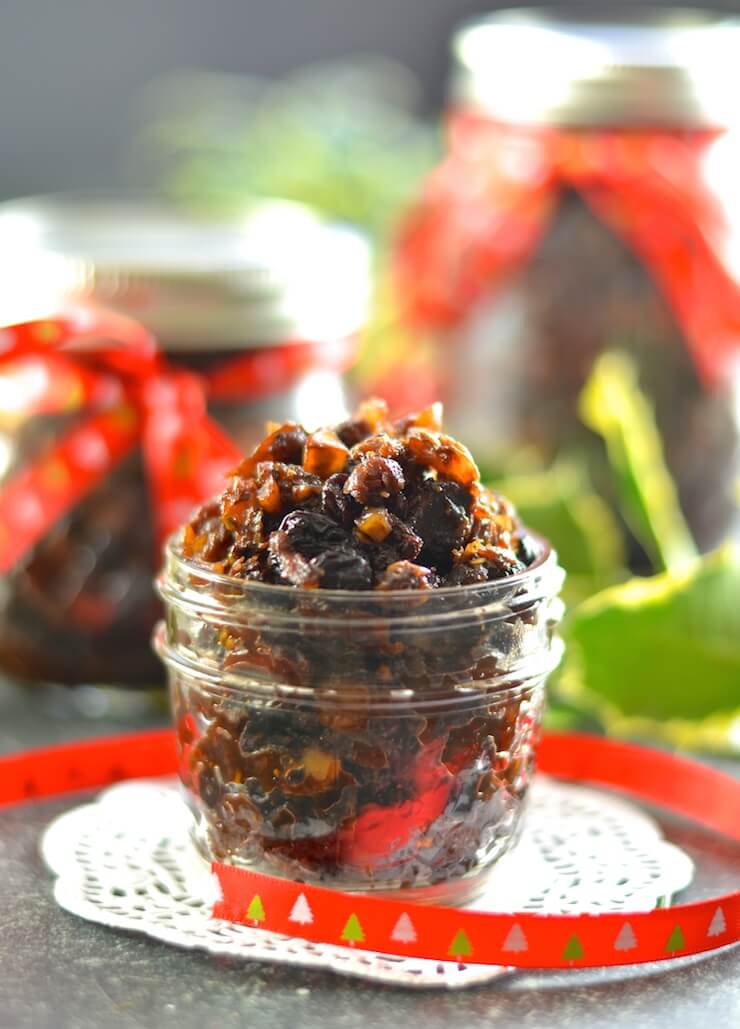 The alcohol used in traditional mincemeat is usually brandy. I tried it with port and with brandy and preferred the port version. It tasted richer and more festive to me. You can however swap the port out for brandy or use a combination of the two. I didn't actually try a combination of the two myself but I just know it would be great!
Traditionally mincemeat is not cooked. The ingredients are combined as they are, then left to steep in jars. I decided to hurry this process along a bit by warming my mincemeat in the oven on a very low temperature for a little while. This step intensifies the flavours beautifully and is well worth the extra time. Once it has been warmed through then cooled, the alcohol is added. Doing it this way means it has a really great boozy kick. It is Christmas after all!
WAYS TO USE VEGAN MINCEMEAT
The obvious way to use my Vegan Mincemeat is in Vegan Mince Pies.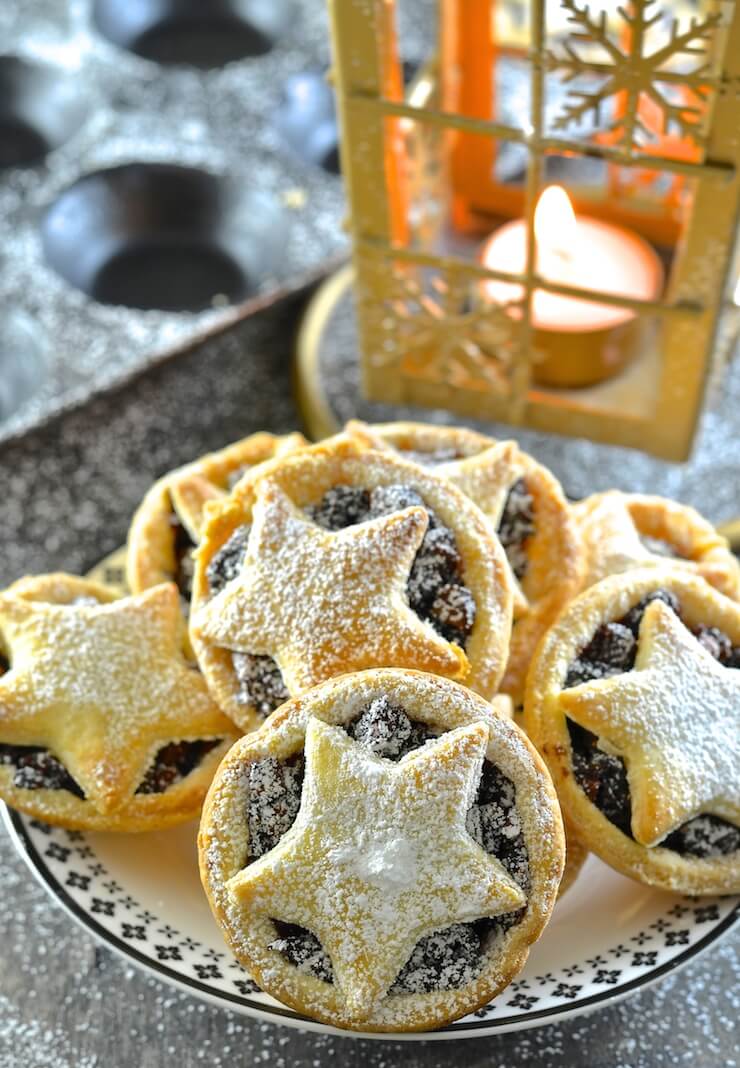 You can also use it in my Festive Mincemeat Tart. It makes a lovely addition to muffins and other baked goods too. Use it as an alternative to jam in thumbprint cookies, or as an alternative to dates in date squares. Add a layer to my Baked New York Cheesecake for a festive dessert. You can also use it to make a speedy Christmas cake or pudding, stuff baked apples, in apple pies or strudels, warmed and used to top pancakes, waffles or vanilla ice-cream and as a beautiful festive gift.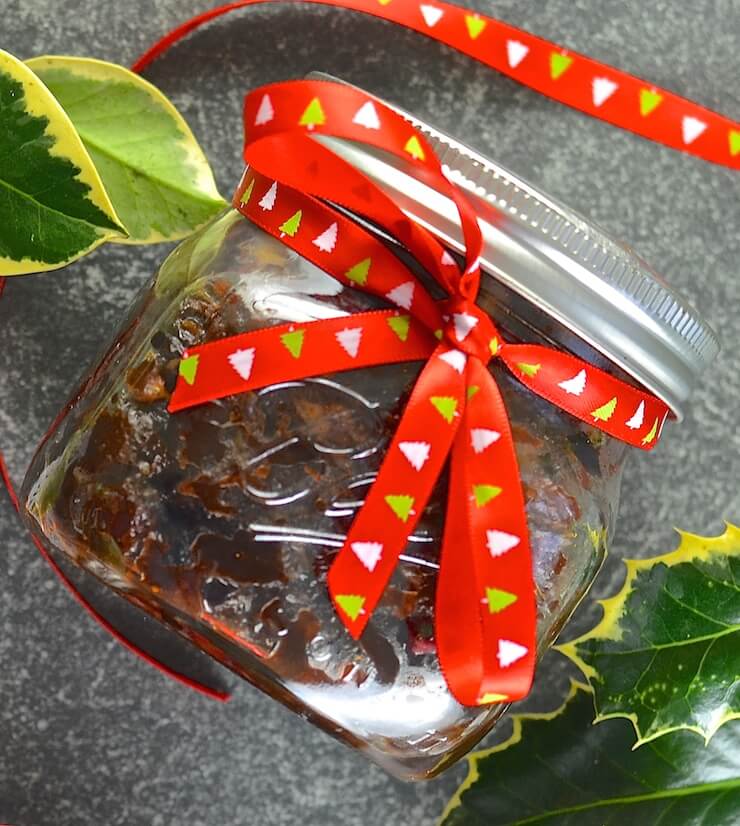 If you give this recipe a try be a ☆ and let me know what you think in the comments below. You can also share your pics with me on Instagram. I love to see them! I am @avirtualvegan. Use the hashtag #avirtualvegan to be sure I don't miss them.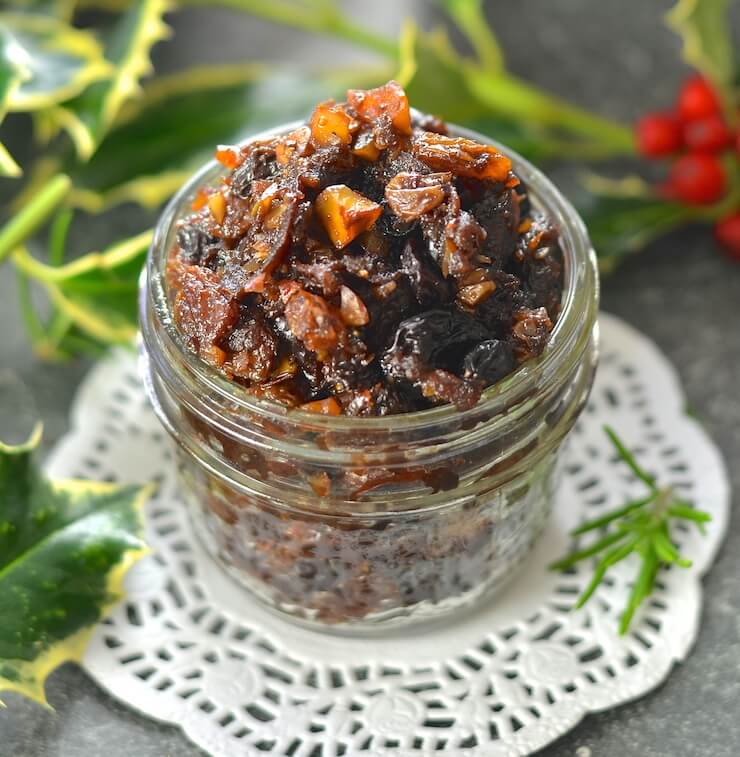 Vegan Mincemeat
Festive, rich & fruity Vegan Mincemeat steeped in boozy deliciousness! A Christmas staple that is really easy to make & can be used in all sorts of ways. It's also perfect for gifting.
Cook Time
1
hour
30
minutes
Total Time
1
hour
45
minutes
Ingredients
300g | 2

slightly heaped cups

raisins

, (see recipe notes regarding substitutions for the dried fruits listed)

160g | 1

slightly rounded cup

currants

140g | 1

slightly rounded cup

dried cranberries

100g | ½

cup

dried blueberries

80g | ½

cup

dried cherries

80g | ½

cup

dried figs

, chopped

140g | 1

cup

slivered almonds

, (you can omit to make the recipe nut free)

2

lemons

zest and juice

2

oranges

zest and juice

1

large

apple

grated

225g | 1½

cup

coconut sugar

, (any granulated sugar can be subbed)

3

teaspoons

ground all spice

1

teaspoon

ground cinnamon

1

teaspoon

ground ginger

2

teaspoons

rosemary chopped finely

375mls | 1.5

cups

port

, (for an alcohol free version sub the port for unsweetened apple juice)
Instructions
Preheat the oven to 200°F

Mix all ingredients except the port in a large oven proof bowl or casserole. Cover tightly with tin foil or a lid and place in the oven.

Leave to warm in the oven for 90 minutes.

Remove from the oven and allow to cool.

Add the port and stir really well.

Transfer into clean jars (see recipe notes below)
Recipe Notes
Feel free to sub any of the dried fruit listed for whatever dried fruits you have on hand, just be sure to keep the quantities the same - my suggestions do give a great combination of flavour and texture though.
Store jars in the fridge for up to 3 weeks. If you wish to keep for any longer then sterilize the jars by washing in hot soapy water, rinsing then placing on a baking tray in a 350°F oven for 10 minutes. Fill the jars with the mincemeat and cover with a waxed disc then seal tightly with a lid. Store in a cool dark place for up to 1 year. Can be used right away but the flavours will develop more as it sits.
WARNING: Bear in mind that this recipe contains a substantial amount of alcohol. As such it is not suitable for children. Although the alcohol content in a single portion of it probably isn't too much, please take it into consideration if you are going to be driving, operating heavy machinery, carrying out any other important tasks or eating a lot if it all in one go!
Nutrition Facts
Vegan Mincemeat
Amount Per Serving (4 tablespoons)
Calories 163
Calories from Fat 27
% Daily Value*
Total Fat 3g 5%
Sodium 8mg 0%
Potassium 84mg 2%
Total Carbohydrates 31g 10%
Protein 1g 2%
* Percent Daily Values are based on a 2000 calorie diet.