Extra tasty, rich & flavoursome Red Wine Vegan Gravy, infused with sweet vegetable & fresh herb flavour and perfect for serving with your holiday feast!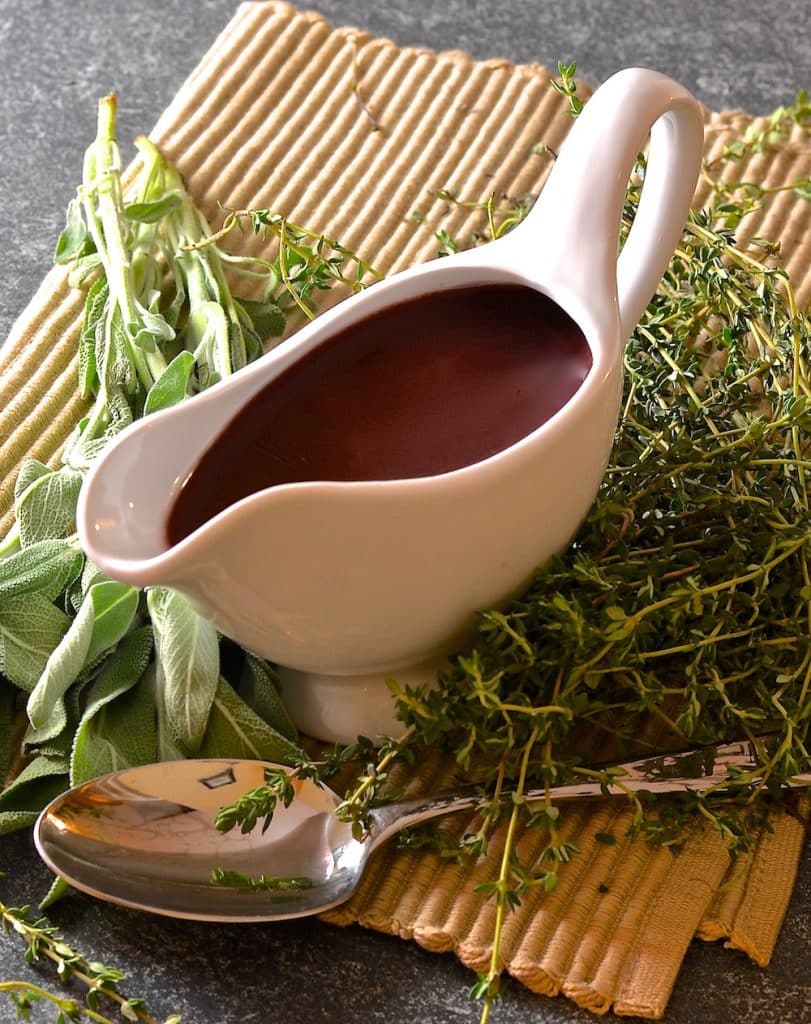 I can't believe that Christmas is almost upon us. I am really not prepared this year and have so much left to do and only Christmas Eve to do it in. Thank goodness I managed to get the day off work. (Bribing your boss with Festive Vegan Cupcakes works wonders!)
I planned to post this Red Wine Vegan Gravy recipe a little earlier than I am but life has been so busy and gravy is very unphotogenic.
The plus side of me posting this recipe today is that my gravy for Christmas day is now made. It keeps very well for up to five days in the fridge and also freezes really well so you can make it well in advance and take some pressure off yourself on the day of your special meal. I am all for anything that makes life easier.
Gravy can make or break a dish. There is nothing worse than bad gravy and nothing better than good gravy. This Red Wine Vegan Gravy is extra tasty, rich and flavoursome.
Slow cooked onions, carrots and celery add sweet vegetable flavour, red wine adds depth and fresh herbs add an extra layer of deliciousness. It is a regular feature on the menu here and I always end up drowning my meals in it. It is fantastic served with vegan roast, Wellingtons, Mushroom Lentil Loaf with Cranberries, veggie sausages, piles of creamy mashed potatoes and pies. In fact I am having it with a pie on Christmas day.
Portobello Pot Roast is being made as a pie filling and will be served with roast potatoes,Crispy Yorkshire Puddings, a variety of different sides and lashings of this fabulous Red Wine Vegan Gravy!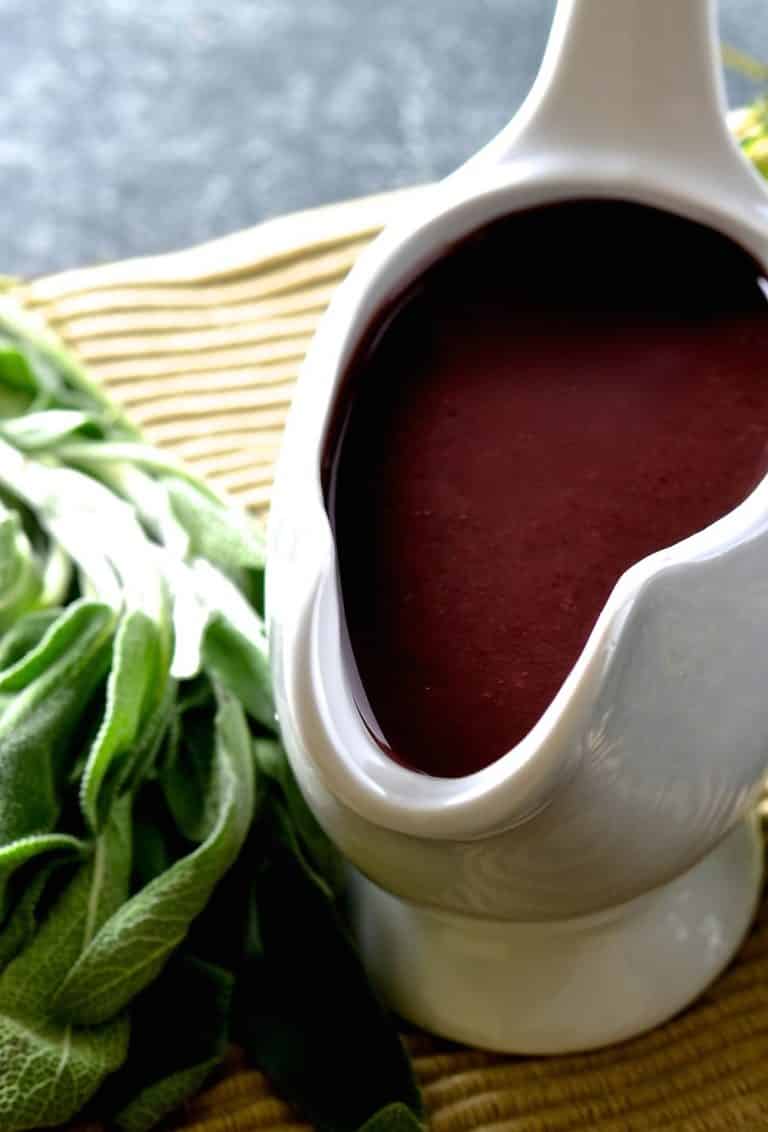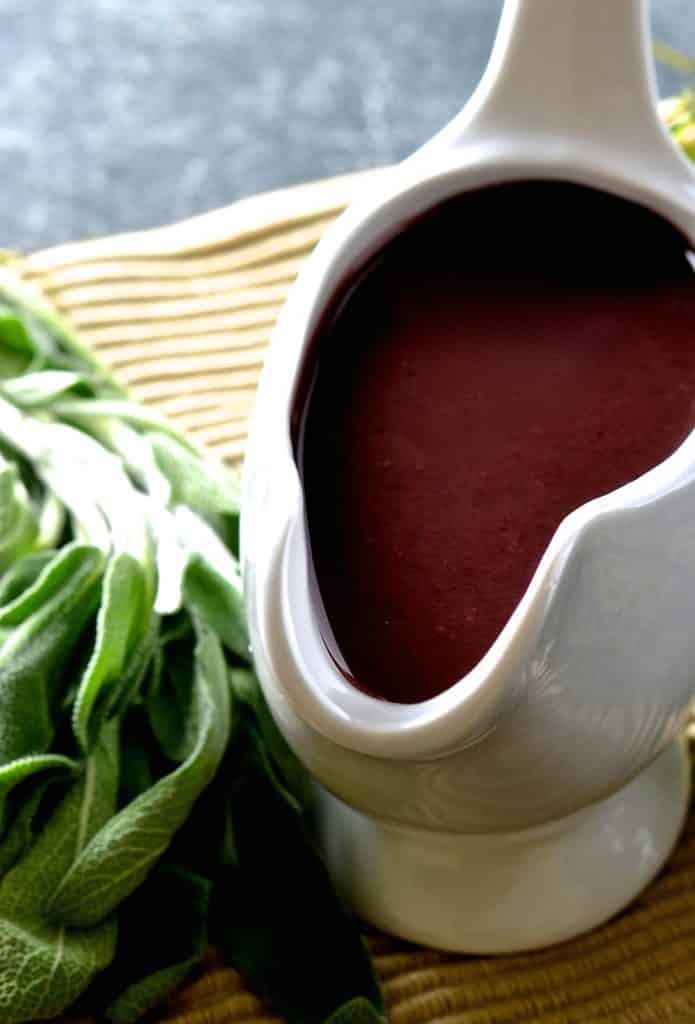 This will be my last post before Christmas. I am looking forward to spending some quality time with my family and taking a few days break. Life has been so hectic lately and I have been feeling a little frazzled. I will be back with more great recipes in the new year (you might possibly get one before that but no promises).
If you make any of my recipes over the holidays feel free to share them with me on Instagram or Twitter. I am @avirtualvegan. Use the hashtag #avirtualvegan on Instagram. You can also share them on my Facebook page. I enjoy seeing what you are cooking. I love it when you leave feedback here on my website too. It's great to hear what you think and it also helps newcomers to A Virtual Vegan see that my recipes are reliable.
I have had a fantastic first eight months of blogging and have loved every minute. Here's to more of the same in 2016. Have a wonderful Christmas and New Year and eat well!
Red Wine Vegan Gravy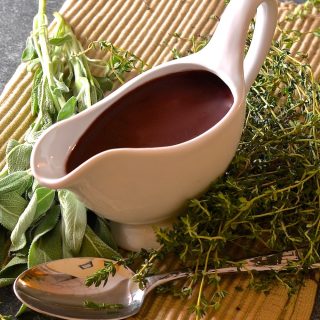 Extra tasty, rich & flavoursome red wine vegan gravy, infused with onion & fresh herb flavour and perfect for serving with your holiday feast!
Ingredients
1

teaspoon

olive oil

2

medium

onions

, chopped

1

medium

carrot

, chopped

1

stick

celery

, chopped

1

clove

garlic chopped

, chopped

1/2

teaspoon

salt

1/4

teaspoon

pepper

2

tablespoons

all purpose flour

, or cornstarch or arrowroot for a gluten-free option

240mls | 1

cup

red wine

480mls | 2

cups

broth / stock

(I used Pacific Organic Mushroom Broth but veggie broth/stock is fine too)

2

teaspoons

sugar

2

tablespoons

Tamari

(you can sub soy sauce) (see recipe note)

Optional - A few sprigs of fresh herbs

(stalks are fine - thyme and sage are good, and a bay leaf if you have one)

Optional - 2 tablespoons cranberry sauce

(see recipe note)
INSTRUCTIONS
Warm the olive oil in a pan over a medium heat.

Add the onion. carrot, celery and herbs and sauté slowly, stirring often, for about 10 minutes until golden brown and caramelized.

Add the garlic and cook for another 5 minutes.

Turn down the heat to low, add the flour and stir very well. It will be clumpy and weird looking but thats fine. Cook the flour for about one minute.

Remove from the heat and very gradually add the red wine a few tablespoons at a time, stirring very well in between to work out any lumps (don't worry too about them as you will be straining it later anyway).

Once all the red wine has been added, pour in the broth/stock, salt, pepper,sugar and Tamari and cranberry sauce if you are using them.

Turn the heat back up to medium and bring to a gentle simmer.

Stir constantly until thickened (about 10 minutes).

Strain through a sieve, mashing all the veggies and herbs down with a spoon to get maximum flavour from them.

Serve right away or cool and warm just before serving. It can also be stored in a sealed container in the fridge or freezer until needed.
NOTES
Tamari adds a little more depth to the gravy but isn't essential. It still tastes good without it so don't buy it especially for this. If you have it use it, if you don't then don't worry about it.
The gravy is great without the herbs & cranberry sauce but if it is Christmas or Thanksgiving and you have some lying around then add them for an extra pop of flavour and to make it even more special.
NUTRITION
Serving:
1
serving
Calories:
48
kcal
Carbohydrates:
6.5
g
Protein:
0.7
g
Fat:
0.1
g
Fiber:
0.7
g
Sugar:
2.4
g
Vitamin A:
1150
IU
Vitamin C:
3.3
mg
Calcium:
10
mg
Iron:
0.4
mg
Tried this recipe?
Rate it & leave your feedback in the comments section below, or tag @avirtualvegan on Instagram and hashtag it #avirtualvegan
LOOKING FOR MORE RECIPES?
Be sure to check out my recipe index where you can browse and filter recipes by meal type, category and dietary preference.