The Ultimate Vegan Christmas Pudding. It's dark, rich, fruity, moist & boozy & so much lighter than the dense, heavy puddings you might have tried in the past!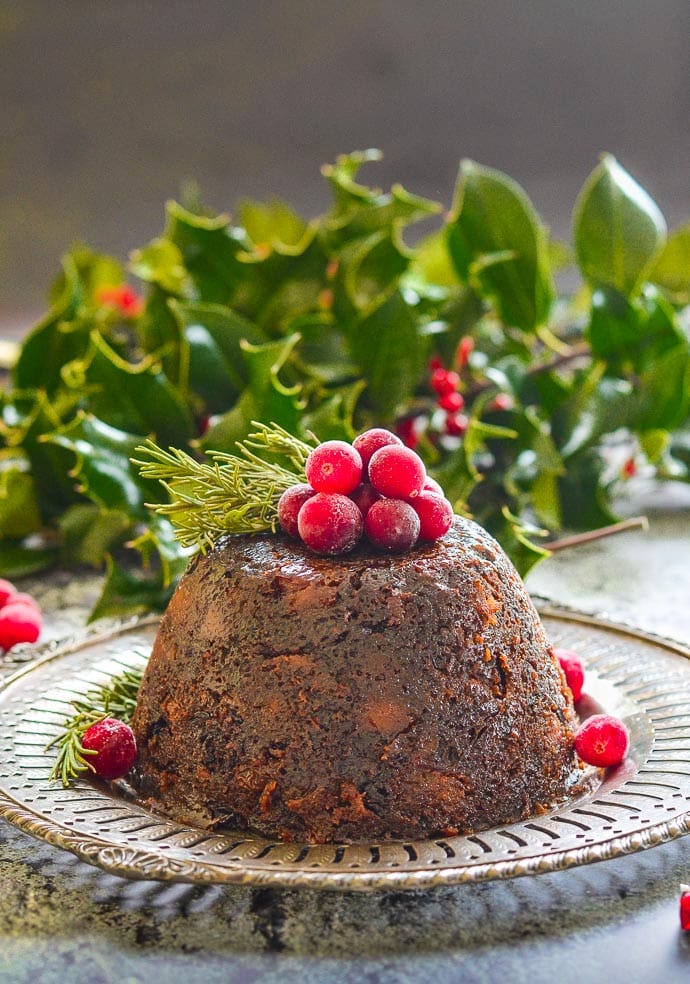 If you want more than dessert though, go check out my Vegan Christmas Dinner Menu, Shopping List and Timeline. I have planned the whole meal for you, down to the tiniest detail!
If it's just dessert you're after though, then this Vegan Christmas pudding is for you!
Christmas Pudding is such a popular dessert at Christmas. I think that most families have one and I certainly grew up with it being served every year. The funny thing is, I absolutely hated it. In fact, I think most children do. I guess it's a dessert that's suited to more mature palates.
Now though, I can't get enough. It's so good!
I wonder if part of the reason I didn't like it was because it was always so heavy and dense. I also have a terrible memory of a time when it was served up with ice cream and all of the animal fat in the pudding turned white and solidified. It was the most awful, congealed thing ever.
At the time I wasn't vegan, and had no interest in reading labels and so had no idea that Christmas Puddings were made with suet.
For those of you who don't know what suet is, it's a type of animal fat that comes from around the kidneys of sheep and cows. That's why it hardened and went white when it came into contact with my ice-cream. Pretty disgusting, eh?
How to replace suet in a Christmas Pudding
These days, a lot of Christmas Pudding are actually made with vegetarian suet but despite that, they still use eggs so aren't typically vegan.
You might be wondering why I didn't use vegetarian suet in this recipe?
Firstly it's not widely available in Canada.
Secondly, whilst it's vegetarian and doesn't contain any animal products, it does contain palm oil which I try my best to avoid for ethical reasons.
Thirdly it's pretty highly processed.
Suet is traditionally used in Christmas Pudding because it has a high melting point and the pudding has a chance to set before the suet melts properly. Apparently, if you were to use a fat source with a lower melting point like butter, the pudding will become heavier and greasier.
After testing many variations of my Suet-free Christmas Pudding recipe, I settled on using coconut oil to replace the suet, which is ironic as it has a really low melting point. It does a fantastic job in this recipe though.
I tried many alternatives including my Vegan Butter, a light olive oil, and oil-free versions with coconut butter or nut butter, but coconut oil came out tops every time.
I try to make a lot of my recipes oil-free whenever I can, but there was no getting away from the fact that this recipe needs a bit of oil to be good. And it is Christmas after-all!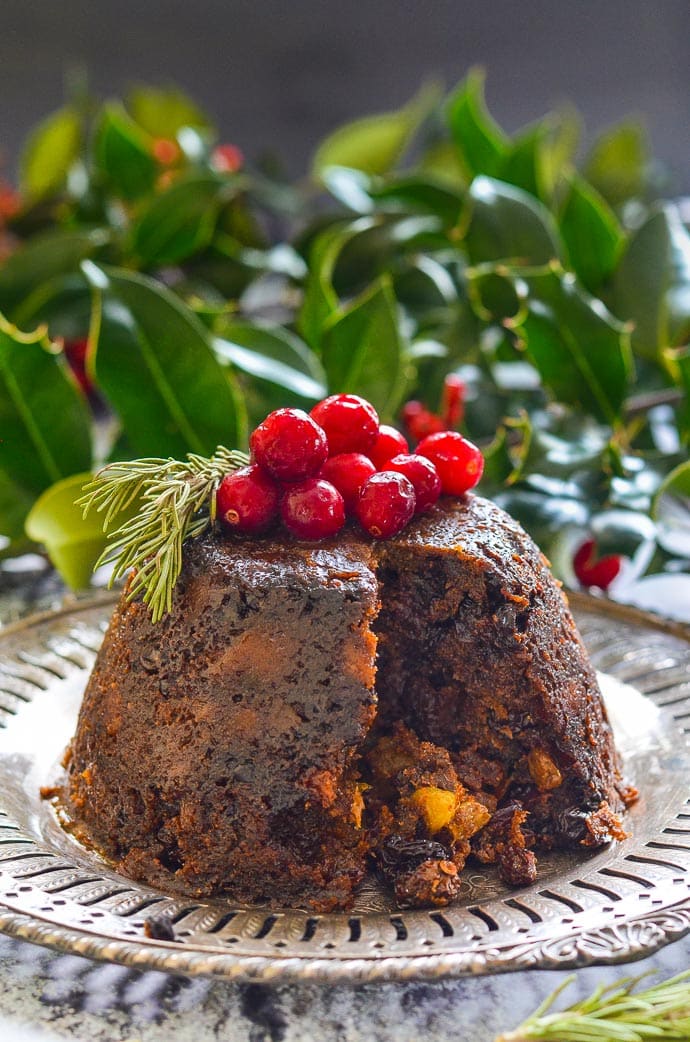 The coconut oil gives the pudding a beautiful moistness and despite what the suet supporters would have you believe, it isn't greasy in the slightest. It even stands the cold ice-cream test!
As well as being perfectly moist, this Vegan Christmas Pudding is rich, dark, absolutely packed with flavour and for a pudding that is literally stuffed with dried fruit, it is surprisingly light. Not at all like the heavy, dense puddings of my childhood.
I hesitated to call it 'The Ultimate Vegan Christmas Pudding' because it feels a little conceited, but it really is that good. In fact, I think it's The Ultimate Christmas Pudding period. Vegan or not.
It is better than any non-vegan Christmas Pudding I have eaten (and I've eaten quite a few).
Why is Christmas Pudding also known as Plum pudding?
Christmas Pudding dates back to the 15th century where it was made with a combination of meat, root vegetables and dried fruit and known as "plum potage". The term "plum" was (and still is when describing this pudding), a generic term to describe any dried fruits.
Confusingly a Christmas or Plum Pudding doesn't have to contain plums. Most commonly used then and now are raisins, currants and prunes along with any other dried, preserved or candied fruit that came to hand.
As dried fruit became easier to acquire, the pudding gradually transitioned to become a sweet one. Suet (animal fat) however, was and still is commonly used, until I got my hands on it that is!
How to make Vegan Christmas Pudding
(For detailed measurements and instructions, see the printable recipe card).
A lot of people feel a little daunted at the thought of making their own Christmas Pudding but it really isn't difficult at all and the hands on time is pretty minimal. See my step by step video just above the recipe!
Step 1 - You start by steeping the dried fruit in plenty of booze! You only need to leave it for as long as it takes the fruit to soak it all up. It doesn't take long and looks so glisteningly pretty!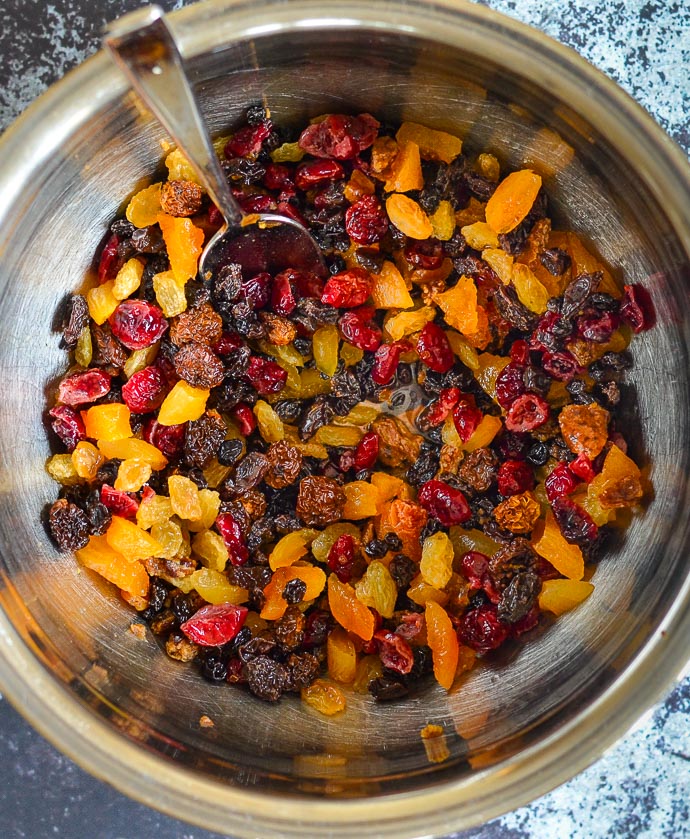 Step 2 - Then it's just a case of stirring in all of the other ingredients and pouring the batter into a pudding basin that holds about 0.75 - 1 litre (1 quart). If it's a little bigger it won't hurt too much, it just won't completely fill the basin. I use an earthenware Mason Cash pudding basin like the one in the picture below. You can pick up one like it from Amazon or any good kitchen supply store. It's the same one I have and will probably last forever (unless I drop it!) but you can also buy plastic ones with lids if you want a cheaper option but please note that not all plastic pudding basins are pressure cooker/Instant Pot safe so be sure to check before using.
Either follow my directions for cooking in an Instant Pot (or any other electric pressure cooker) or use a steamer or you can simply steam/boil the pudding in a pan of water.
If you go the old fashioned route, the pudding will take 3 hours to cook, but this is all hands off time, except for checking that the water isn't drying up occasionally. If you have an Instant Pot though it will take about half that time (that includes the natural pressure release and coming to pressure etc).
I give full directions for how to cook a Christmas Pudding in an Instant Pot in my instructions below.
Step 3 - Once the Vegan Christmas Pudding is cooked, remove the wrapping and allow to cool, then wrap again in fresh parchment paper and foil to store.
Flaming the pudding
Traditionally a Christmas Pudding is flamed immediately prior to serving. The hot pudding is doused in steaming hot alcohol and the vapours from the alcohol are set alight so that the whole pudding goes up in flames. If you decide to set yours alight, please do so carefully!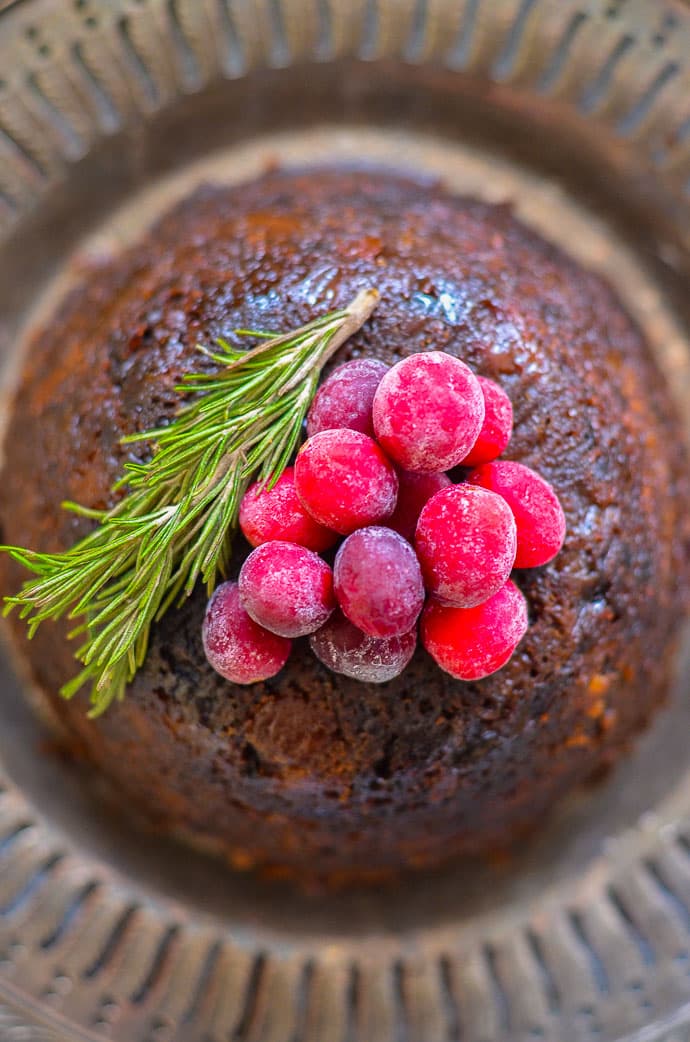 Do I need to make Christmas Pudding in advance?
This Vegan Christmas Pudding is excellent eaten right away. There is no need to make it weeks or months in advance.
However, it will get even better with age and you can make it up to 6 months in advance, as long as you include the alcohol. The alcohol is what preserves it.
How to make in advance
To make in advance, once it's cooked, open up the packaging to allow any condensation to evaporate, then replace the baking parchment circle with a fresh one, and re-wrap in new parchment paper and foil. I then wrap mine in some clean dish towels too, then store it like that in a cool, dark place like a closet or an unheated basement. To make it EVEN better, whilst in storage, open it up, peel back the parchment paper circle, and feed it a tablespoon of alcohol every week, wrapping it up carefully again after. It will guzzle it up like a thirsty beasty and become even moister and boozier!
This Vegan Christmas Pudding freezes well and will keep, if wrapped properly, for up to one year. Just thaw overnight then follow the recipe where you left off, on Christmas Day.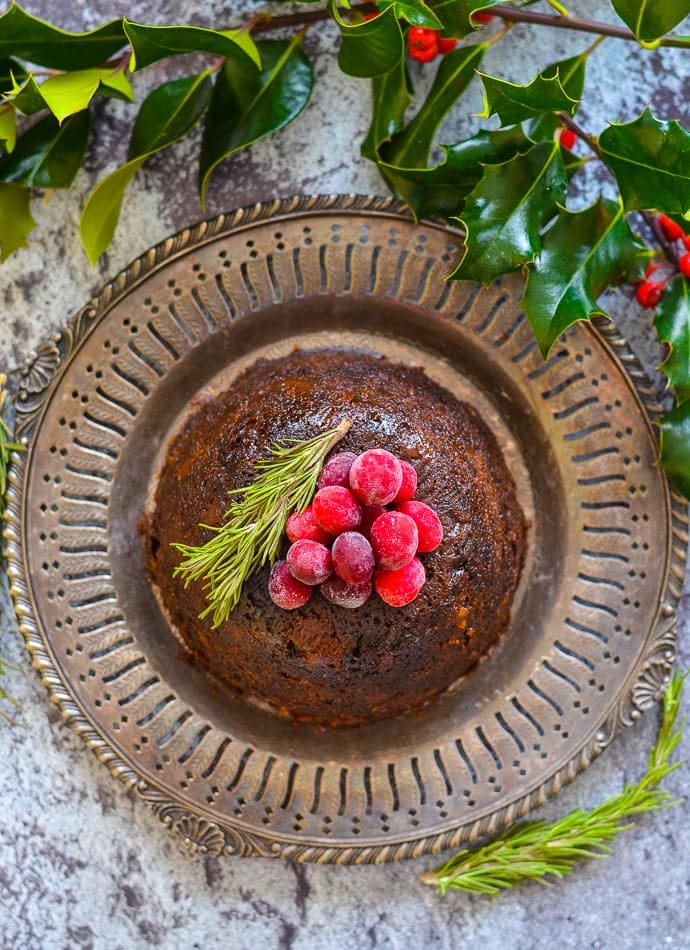 How to serve Christmas Pudding
If you aren't familiar with traditional British Christmas Puddings, you might be wondering what you serve with them.
You can serve my Vegan Christmas Pudding with:
vanilla ice-cream
whipped coconut cream
squirty vegan whipped cream
eggnog cream (try whipping coconut cream until fluffy then folding through some eggnog to flavour it)
brandy sauce
My favourites are either brandy butter or vanilla ice cream!
I know steamed puddings aren't too popular here in North America, but I really hope you will make an exception and give this Vegan Christmas Pudding a try this Christmas!
---
Success Tip - As with all of my baking recipes where precision is key to excellent results, I highly recommend using a kitchen scale to measure your ingredients, rather than using cup measurements. I love this one because it is very reasonably priced and it has a tare function which is really handy. It means you can place any bowl on the scale and reset to zero so it doesn't include the weight in it's calculation, plus you can reset to zero when adding multiple ingredients to the same bowl which saves on washing up!
If you try this recipe, let me know how you like it by leaving a comment and rating below! And be sure to join my mailing list for more deliciousness!
Recipe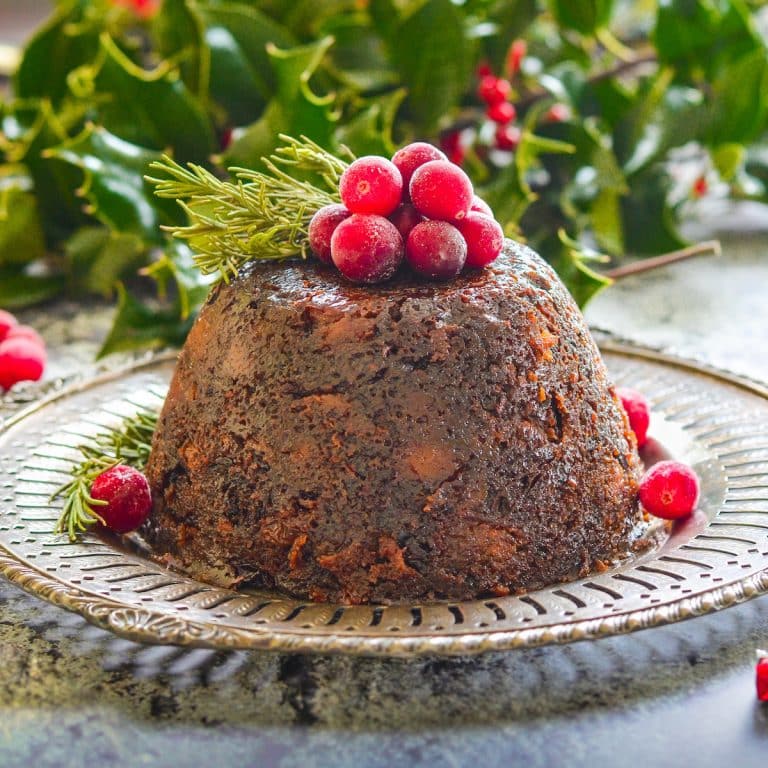 The Ultimate Vegan Christmas Pudding
Author:
The Ultimate Vegan Christmas Pudding. It's dark, rich, fruity, moist & boozy & so much lighter than the dense, heavy puddings you might have tried in the past!
Ingredients
10

dried

dates

, I used Deglet Noor but Medjool or any other kind will be fine. You could even use dried figs if you wanted to.

10

dried

apricots

, optional but they look really pretty in there and provide a nice texture

260g / about 2

very full cups

dried fruit

, I used a combination of currants, raisins, sultanas, cherries, cranberries & blueberries - Try to get a nice variation of colour if you can

80mls / ⅓

cup

brandy

, or port, dark rum, a good sherry or a nice dark stout. See recipe notes for an alcohol free option

50g / ⅓

very packed cup

all-purpose flour

, (plain flour in the UK), to make gluten-free use certified gluten-free oat flour

65g / ¾

very packed cup

bread crumbs

, any type of bread will do but slightly stale, dry bread is best. Use gluten-free bread to make gluten-free (I weigh my bread then throw it into a blender to make breadcrumbs)

2

teaspoons

baking powder

1

teaspoon

allspice

80g / ½

heaping cup

coconut sugar

, or any other dark brown sugar

1

medium

apple

, grated or cored and thrown into a high speed blender and blitzed into a puree (skin can be left on)

1

large

orange

, zest only

3

tablespoons

aquafaba

, the liquid from a can of chickpeas (i do not recommend substituting anything else. It gives the best results by far)

2

tablespoons

blackstrap molasses

, unsulphured molasses will also work (black treacle in the UK)

75g / ¼ cup plus 2

tablespoons

coconut oil

, measured while liquid if you are using cups. Weight will be the same solid or liquid
INSTRUCTIONS
Chop the dates and apricots. Then put them and all of the other dried fruit, into a large mixing bowl and pour over the brandy (or alternative alcohol/juice). Leave until the liquid has been absorbed by the fruit. How long it takes varies depending on the fruit you use but it will be somewhere between about 15 and 30 minutes. 

While that is happening, place the pudding basin on some parchment paper and draw a circle around the bottom of the basin onto the paper. Cut it out and set aside. Then turn the basin over and draw another circle around the top of the basin. Cut that one out but cut a few millimeters inside the line this time so the circle will fit on top of the pudding batter when you put it in the basin. Set that circle aside too. 

Make sure your Instant Pot is ready with the trivet insert inside. If you are using a steamer have the water simmering ready under the steamer, and if you are using a large saucepan, have a heatproof upturned saucer or something similar in the bottom of a pan so the pudding doesn't come into direct contact with the heat when it goes in, and a full kettle boiled and ready.

Grease the pudding basin with some coconut oil and place the small circle in the bottom of the basin.

Once the liquid has been absorbed by the fruit, add the flour, breadcrumbs, baking powder, allspice and sugar to the bowl and stir really well to combine.

Then add the orange zest, apple, aquafaba, blackstrap molasses and coconut oil and stir well until combined.

Spoon the mixture into the pudding basin, smooth it out and top with the large circle of parchment paper, pressing it down all over and into the sides gently.

Cut a large rectangle of silver foil and a slightly smaller rectangle of parchment paper. Enough to go over the top of the pudding basin with plenty to spare. Then lay the foil flat on your surface and the parchment paper flat on top of the foil. Make a pleat in them both as shown in my video above.

If you need to see the technique more clearly have a look at this video (don't worry about buttering the parchment paper like he says. though).

Cover the top of the pudding basin with the foil and paper making sure the pleat is in the middle, then press it down all around the basin as tightly as you can, then tie twice around the basin with string as tightly as you can. This is shown clearly in the video link too.

If you are using a plastic pudding bowl with a lid, I still recommend covering the pudding with a circle of parchment paper, putting on the lid, then wrapping the whole thing in foil as I have had situations in the past where the lid blows off and the pudding is ruined by the moisture.
IF USING AN INSTANT POT: (you will need to use a 6 quart IP or larger for this recipe)
NOT ALL PLASTIC PUDDING BASINS ARE SAFE IN A PRESSURE COOKER OR INSTANT POT. PLEASE CHECK BEFORE USING OR USE A CERAMIC OR TEMPERED GLASS ONE (LIKE PYREX).

Place the wrapped pudding inside the Instant Pot, resting on the metal trivet. Boil a kettle and pour hot water down the side until it is just under half way up the side of the bowl. It should not go above the foil level. 

Put the lid on the Instant Pot and make sure the vent is open. Set the Instant Pot to steam for 15 minutes. You will need to watch the clock for this part as the Instant Pot's timer won't count down for you. 

After 15 minutes, cover your hand with a dish cloth and seal the vent. Press cancel, then set the Instant Pot to Manual (or pressure cook in newer models), High Pressure for 60 minutes. Allow the pressure to release naturally.
IF USING A STEAMER:
Make sure the water is simmering away well under the steamer insert . Place the pudding in the insert and cover with the lid. Cook for 3 hours.
IF USING A LARGE SAUCEPAN:
Place the pudding gently on an upturned saucer inside the pan and pour boiling water carefully down the sides so it reaches about halfway up the side of the pudding basin. It must not reach the foil. 

Cover and bring to a simmer but don't let it rolling boil as you don't want the water to get up under the foil. Cook for 3 hours. 
WHEN COOKED:
When the time is up, carefully remove the pudding, then take off the foil and parchment paper. It should look cooked and a toothpick should come out clean when inserted. You can also just poke the middle with a finger and it should be firmish with a bit of bounce, like a cake is when cooked. 

In the unlikely event that it isn't cooked through you can return it to the Instant Pot/pan/steamer and cook it for a few minutes longer. Be sure to secure the paper and foil around it first though. 

Either serve immediately or leave to cool completely, with the paper and foil removed but still in the bowl. Once cool, wrap the bowl again in fresh paper and foil before storing somewhere dark and cool. (See my directions in the post and recipe notes for storing it for up to 6 months). 
TO REHEAT THE PUDDING:
On the day you want to eat the pudding you can either steam it again or you can microwave the whole thing or just individual slices of it. If you use the microwave make sure you remove all traces of foil.

A slice takes about 40-50 seconds on full power, and the whole pudding about 4-5 minutes depending on how powerful your microwave is. Be careful not to overcook it so check it frequently.

To reheat in an Instant Pot or other electric pressure cooker, put it covered as before (make sure it's all sealed well) into the pot on the trivet and pour in boiling water half way up the pudding bowl. Put the lid on, seal the vent, press steam and set the timer for 30 minutes. once it's done it will be ok on 'keep warm' for an hour or so if you aren't quite ready for it.

If steaming it in a sauce pan or a steamer give it an hour to heat through.



NOTES
MAKING THE PUDDING ALCOHOL -FREE
If you would prefer to make this pudding alcohol free you can replace the alcohol with apple juice or orange juice. Bear in mind though that the alcohol acts to preserve the pudding, so if you omit it, the pudding won't store well, unless you freeze it. You will need to keep it in the fridge and eat it within a week of making it.
LEFTOVERS
Leftover cut pudding will keep in the fridge for up to a week and can be reheated as mentioned in the directions.
STORING
This Vegan Christmas Pudding is excellent eaten right away. There is no need to make it weeks or months in advance. However, it will get even better with age and you can make it up to 6 months in advance, as long as you make it with alcohol in it. The alcohol is what preserves it. If you want to store a non-alcoholic pudding, please see my freezing instructions. 
To store the pudding, once it's cooked, open up the packaging to allow any condensation to evaporate, then replace the baking parchment circle on the top of the pudding with a fresh one, and re-wrap in new parchment paper and foil. Then wrap in a couple of clean dish towels too, and store it like that in a cool, dark place like the basement or a cool, dark cupboard, or a wardrobe/closet in an unheated room.
I have actually kept one stashed away for over a year and it was still incredibly good when we reheated it.
If you want to make it even boozier and moister, while storing, open the wrapping carefully, peel off the parchment circle and feed it one tablespoon of brandy 4 or 5 times over the period of storing. Just spoon it on, let it absorb, put the parchment circle back, then wrap really well again and return to the cool, dark place.
When you are ready to enjoy it, follow my reheating instructions in the recipe above. 
FREEZING
Leftover or whole puddings, whether alcohol is used or not, if wrapped well, will keep in the freezer for up to 1 year. Just defrost overnight and reheat as per my instructions above. 
NUTRITION
Serving:
161
g (roughly 1/6th of the pudding
|
Calories:
438
kcal
|
Carbohydrates:
74
g
|
Protein:
4
g
|
Fat:
13
g
|
Sodium:
243
mg
|
Fiber:
5
g
|
Sugar:
50
g
|
Vitamin A:
500
IU
|
Vitamin C:
2.5
mg
|
Calcium:
200
mg
|
Iron:
2.2
mg
Did you make this recipe?
Rate it & leave feedback in the comments section below. I love seeing your remakes too. Tag @avirtualvegan on Instagram! 🌟