A protein packed quinoa salad with nutrient rich spinach, fresh zingy lemon and sweet dried cranberries. Delicious and healthy!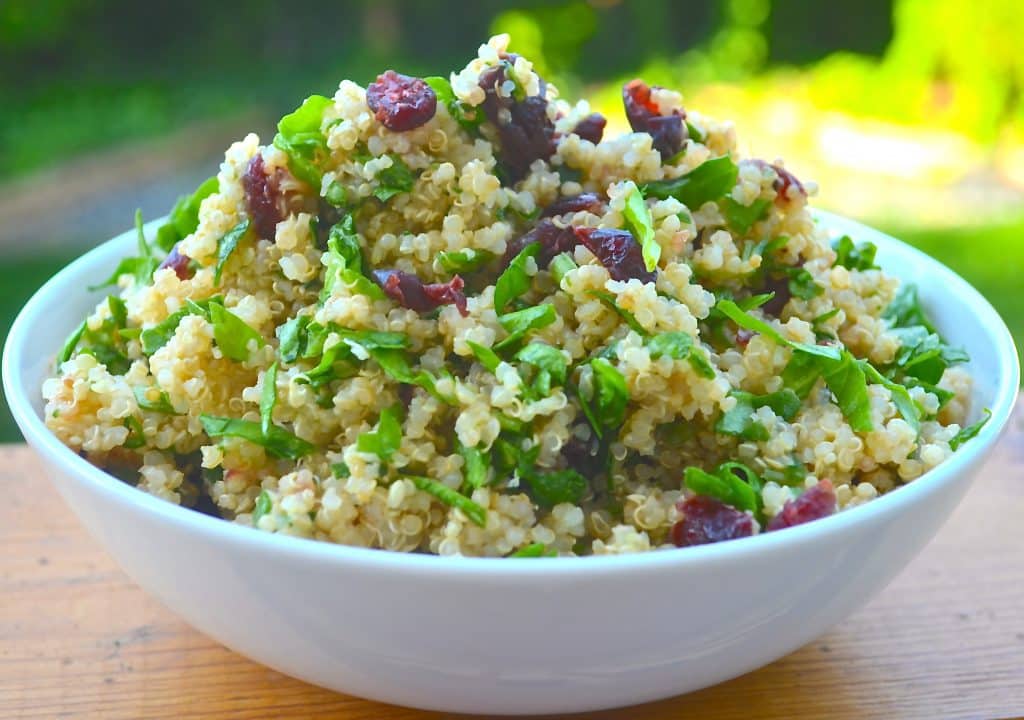 The weather here has been hotting up of late and BBQ season is well and truly under way.
I love them but BBQs can be tricky for us vegans especially if you are not the one hosting them.
This Lemon, Spinach and Cranberry Quinoa Salad makes a lovely quick meal or side and is also great to take with you if you are invited out for a BBQ. It will give you something tasty to munch on (along with your lone corn on the cob!) whilst making a great side for the meat eaters to also enjoy.
It is simple and quick to put together and keeps well in the fridge for a couple of days.
Make sure to buy unwaxed lemons for this recipe as you will be using the zest and use the best extra virgin olive oil you can afford as although you are only using a little bit it can make such a difference to the overall flavour. I was lucky to be gifted some amazing extra virgin olive oil recently by my friend Roxanne over at vivitherapy.com. It's great stuff and makes the best salad dressings. I love using it in recipes like this one.
If you love lemons then be sure to check out my Lemon & Blueberry Cornmeal Muffins.
Yields 4-6 as a side, 2-3 as an entree
Lemon, Spinach & Cranberry Quinoa Salad
A protein packed quinoa salad with nutrient rich spinach, zingy lemon and sweet dried cranberries.
10 minPrep Time
10 minCook Time
Ingredients
1.5 cups uncooked quinoa
3 cups water
zest of 1 lemon (grated)
juice of 2 lemons
1 tablespoon extra virgin olive oil
salt and pepper
2-3 large handfuls spinach shredded
1/2 cup of dried cranberries
Instructions
Rinse your quinoa well.
Add to a saucepan and cover with the water.
Bring to the boil then cover with a lid and turn to the lowest possible setting.
Leave to cook for about 10 minutes or until all the water is absorbed.
Remove from heat.
Add the lemon zest to the hot quinoa, stir and leave to cool.
Once quinoa is completely cool add the lemon juice, olive oil, salt and pepper (to taste).
Stir well.
Add the spinach and cranberries to the quinoa and stir until well incorporated.
6.8
https://avirtualvegan.com/spinach-lemon-cranberry-quinoa-salad/
Melanie McDonald | A Virtual Vegan