A rich smooth vegetable pate with a delicious nutty crunch. Great for spreading on crackers, celery, fresh bread or toast.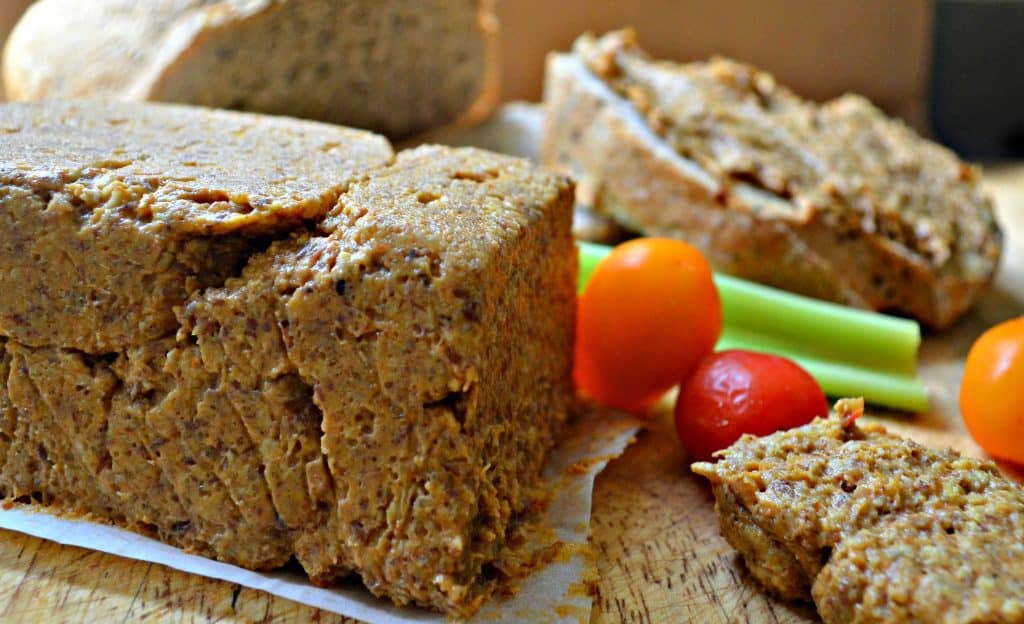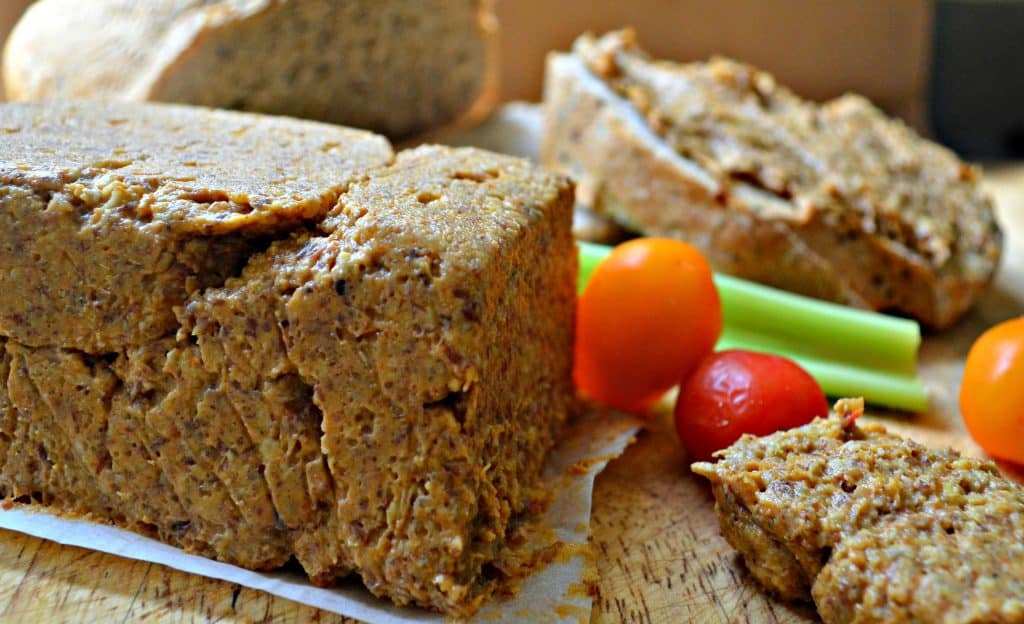 I have been stuck in a bit of a lunch rut for a while now. If there are leftovers from dinner the night before then I am ok but if not then my go to lunches are avocado toast or a salad of some kind. I love sandwiches too but fillings can be a little limited and I get bored easily.
I had the idea of making a pate of some kind after my son started eating a box of crackers that we bought at Christmas and only just got round to opening. They are not vegan so I can't have them, but I suddenly had the urge to eat some salty, crunchy crackers. The thing is what does a vegan have atop their crackers?
What would a non-vegan have? Cheese or pate perhaps?
You already know that I don't like commercially made vegan cheese so that ruled that idea out and left me with pate.
I had never eaten a vegetarian or vegan pate before but set out to create one that would hold it's own against it's meat counterparts. The first few attempts didn't hold their own and ended up a gloopy mess but with the addition of some ground flax seeds I managed to create a pate that tastes great and holds its shape well enough to slice.
This vegetable pate is
rich
smooth
with a bit of nutty crunch
and is great spread on freshly baked bread, toast, crackers and celery sticks and also makes a mean sandwich filling with loads of fresh salad and some chutney.
It keeps for a week in the fridge and also freezes if wrapped well. I have taken to freezing mine in ice cube trays which I then seal inside a freezer bag. That way if I just want a little snack I can just pop out one cube, let it defrost for half and hour and then spread it on a couple of crackers or a bit of celery. If I want a more substantial snack or lunch then I can defrost a few more cubes. Super convenient and saves on any waste.
For more tips on how to keep a well stocked vegan kitchen whilst limiting food waste see this blog post by Natalie over at The Tofu Diaries. She features some great tips from some of my fellow food bloggers, including a great one from me! Hop on over and check it out!
If you like this recipe and enjoy spreads and dips then check out my wonderful Curry Hummus!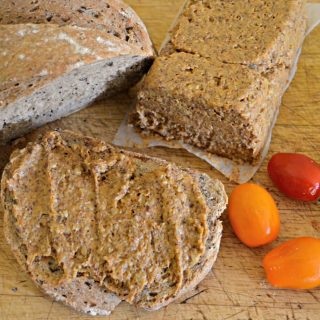 Vegetable Pate
Rich smooth pate with a delicious nutty crunch.
Ingredients
2

medium

potatoes

, cut into chunks

3

medium

carrots

, cut into chunks

1

small

onion

, cut into chunks

1

teaspoon

dried oregano

(or any other dried herbs that you like)

2

teaspoon

olive oil

70g / ½

cup

raw sunflower seeds

(hulled)

1

teaspoon

salt

4

tablespoons

nutritional yeast

8

tablespoons

ground flax

¼

teaspoon

smoked paprika

1

teaspoon

garlic powder

30g / ¼

cup

chopped walnuts
INSTRUCTIONS
Put the potatoes, carrots and onion into an oven proof dish and coat in olive oil.

Sprinkle over the dried herbs.

Cover with a lid or foil and bake until tender but not coloured. Mine took about 30 minutes but this will vary depending on your oven.

Remove from oven and allow to cool.

Once cool put all the vegetables in a

food processor

along with all the other ingredients except the walnuts.

Process until almost smooth.

Add the walnuts and pulse so they are broken into little bits. Do not process for too long as you want a bit of crunch left there.

If you have

mini loaf pans

then line one with cling wrap and spoon your pate in, pressing it down well. If you don't have a mini loaf pan then you can use any container you like. Bear in mind though that if you want to turn it out to slice you will need to line it with cling wrap. If you are happy just to spoon it out then don't worry.

Cover tightly with cling wrap and refrigerate for at least 2 hours although overnight is best if you want it to firm up enough to turn out and be sliceable.
NUTRITION
Serving:
44
g
Calories:
74
kcal
Carbohydrates:
7.5
g
Protein:
3
g
Fat:
4
g
Sodium:
127
mg
Fiber:
2.4
g
Sugar:
0.9
g
Vitamin A:
1550
IU
Vitamin C:
6.6
mg
Calcium:
20
mg
Iron:
0.7
mg
Tried this recipe?
Rate it & leave your feedback in the comments section below, or tag @avirtualvegan on Instagram and hashtag it #avirtualvegan
LOOKING FOR MORE RECIPES?
Be sure to check out my recipe index where you can browse and filter recipes by meal type, category and dietary preference.