This creamy Cranberry, Walnut & Apple Smoothie is perfect for the holidays and will really hit the spot with its warm & spicy fall flavours.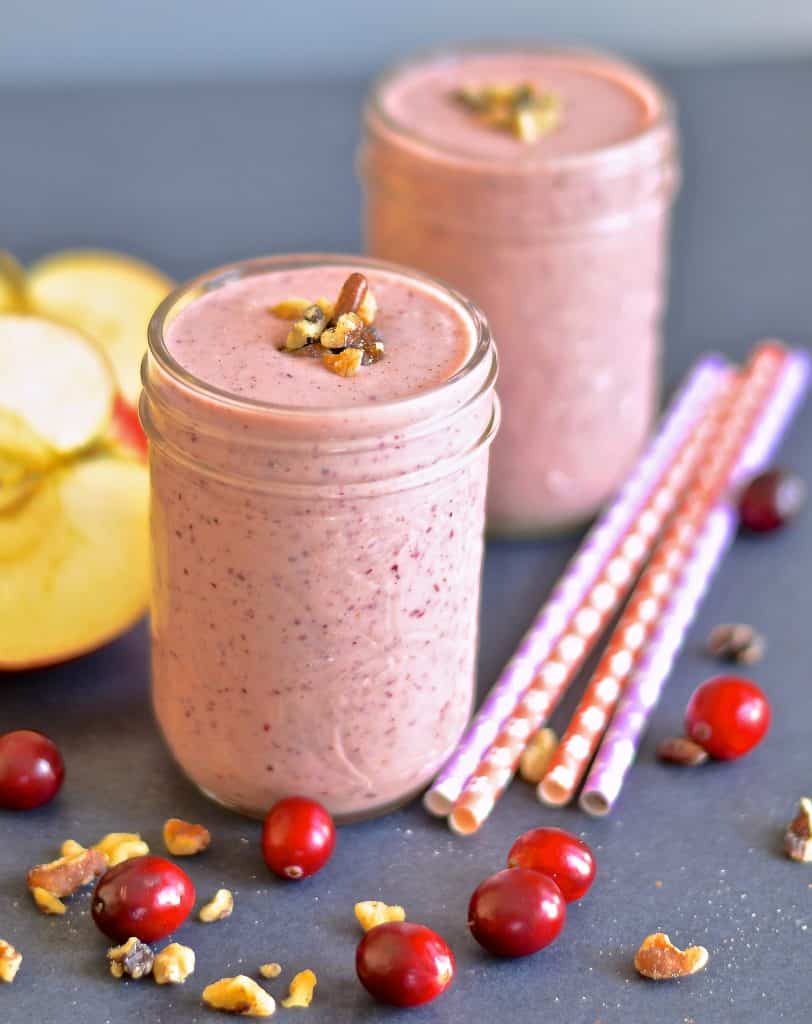 I have had a bit of a smoothie hiatus over the past few weeks after the seal on my blender decided to break mid way through blending a full jug of homemade cashew milk. You wouldn't believe the mess that made. My new seal arrived last week and the first thing I made was this Cranberry, Walnut & Apple Smoothie.
Smoothies aren't just for the Summer. Fall fruits and veggies can make a fantastic and healthy addition to your breakfast blend at this time of year.
Cranberries are a fruit that tend to be very under-utilized and are often only eaten in cranberry sauce a couple of times a year at most which is a shame when they are so full of flavour and nutrients. They can help prevent urinary tract infections, reduce the risks of cardiovascular disease, slow the progression of tumours and aid dental health by preventing the binding of bacteria to the teeth.
They are great in both savoury and sweet dishes and as you will find when you try this recipe, are just perfect in a smoothie! If you have any cranberries leftover after Thanksgiving this is a great way to use them up. If you don't have some, next time you are at the grocery store look out for them in the produce section. They keep easily for a couple of weeks in the fridge.
This smoothie brings together the tartness of fresh, plump cranberries, the juicy sweetness of apple, the rich nuttiness of walnuts and a hint of cinnamon warmth. The combination is delicious and makes a wonderfully nutritious breakfast or snack.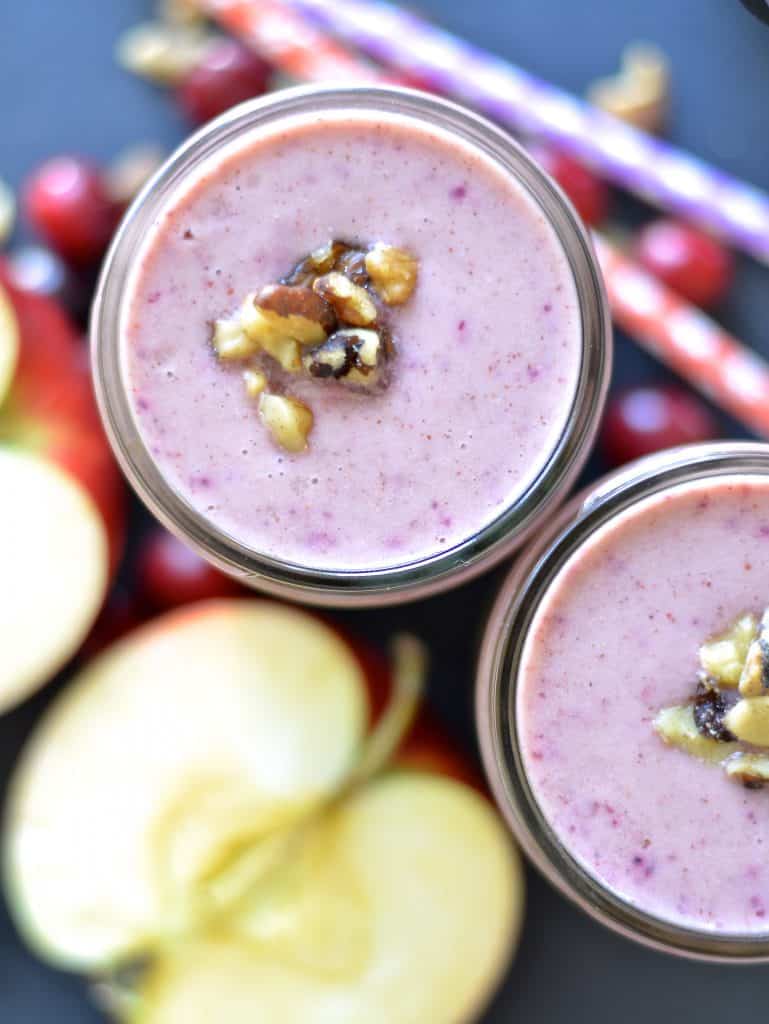 I really struggle with the cold and couldn't bear to drink a smoothie with ice in it for breakfast at this time of year, hence the reason that this recipe contains no ice at all. If you like your smoothies a bit frosty then by all means throw some ice cubes into the blender with the other ingredients.
If you love smoothies then be sure to check out this Sweet Potato Protein Smoothie and read all about Green Blender who will deliver you enough pre-measured, fresh ingredients to make ten smoothies. Get a discount of 20% when you follow the directions in the post.
Tweet me and Instagram me your pictures! I am @avirtualvegan.
Yields 1 serving
Cranberry, Walnut & Apple Smoothie
This creamy Cranberry, Walnut & Apple Smoothie is perfect for the holidays and will really hit the spot with it's warm & spicy fall flavours.
5 minPrep Time
5 minTotal Time
Ingredients
3/4 cup fresh cranberries (or you may use frozen - see recipe note)
1 large apple cored and chopped into chunks ( left the peel on)
1/4 cup raw walnuts
2 tablespoons maple syrup
1 cup non-dairy milk (I used my homemade cashew milk )
1/4 teaspoon ground cinnamon
Instructions
Add all the ingredients to a blender .
Blend for a minute or two until completely smooth.
Serve immediately.
Recipe Notes
You can usually find frozen cranberries when fresh aren't available. However, if you use frozen cranberries you might find the smoothie is a little too thick so just add a little extra milk until you get it to the consistency you want.
6.8
https://avirtualvegan.com/cranberry-walnut-apple-smoothie/
Melanie McDonald | A Virtual Vegan