This Cranberry Pecan Brussels Sprout Salad is fresh & absolutely packed with flavour & interesting textures. It's also hearty & warming thanks to the orangey cinnamon dressing. Just perfect for all of your fall & winter entertaining!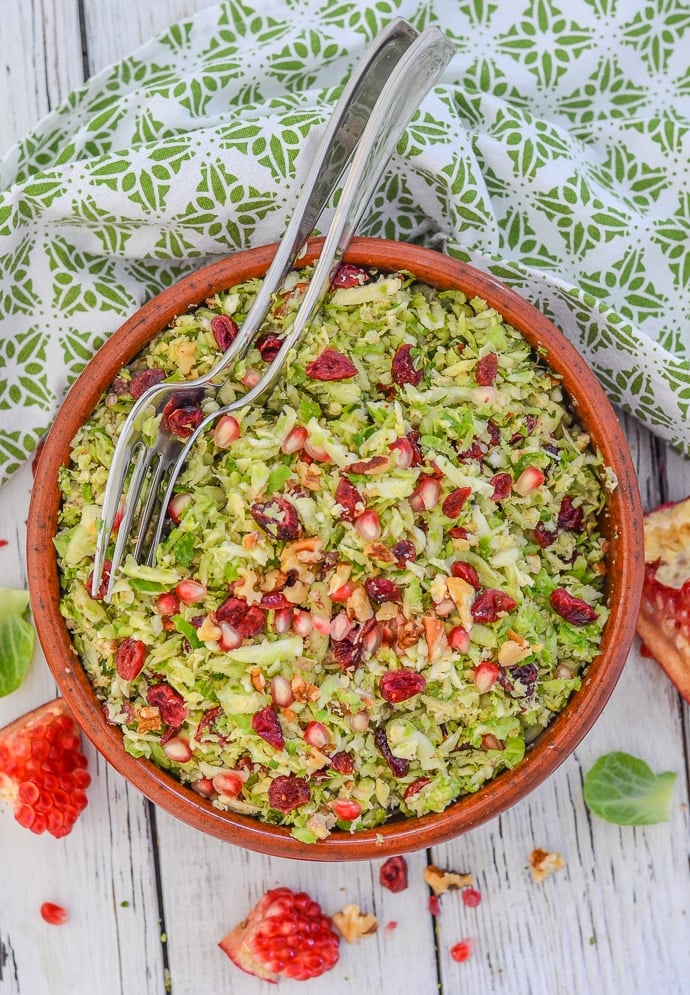 THIS RECIPE IS SPONSORED BY BRAUN
Salads aren't just for summer. I like to eat them all year round but switch them up a bit to fit with the season. My Pear Walnut Salad is one of my fall favourites and since local pears have been in season it has been made a lot. But, it has kind of fallen by the wayside since the first of the local Brussels Sprouts arrived at my greengrocer. This Cranberry Pecan Brussels Sprout Salad with Creamy Orange Cinnamon Dressing is what it's all about now.
It is so good! Remember the soggy, smelly, overcooked Brussels sprouts of your childhood? Well this could not be more different.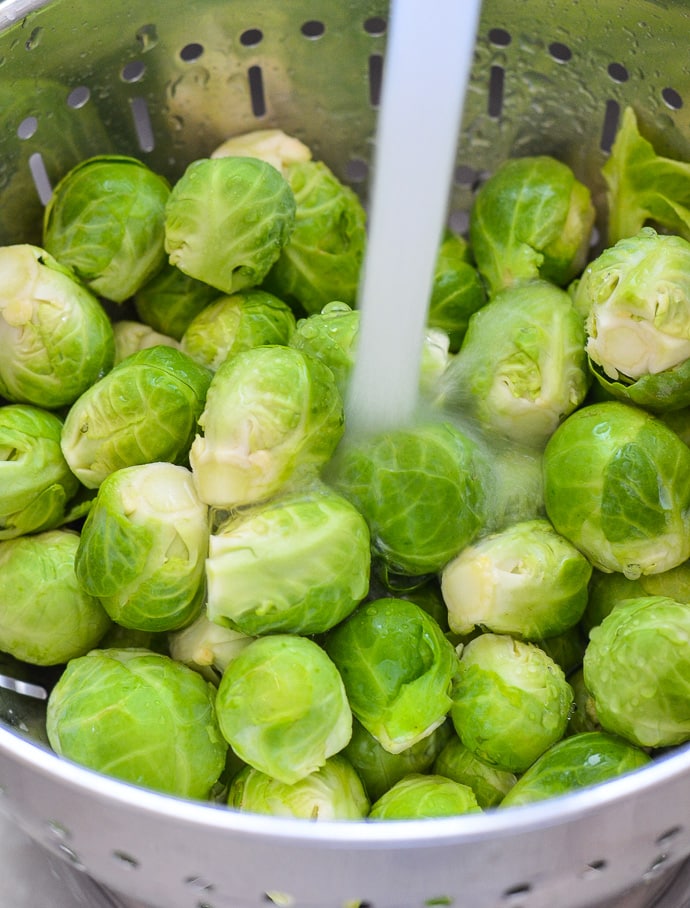 No stinky soggy sprouts are allowed here!
Instead we have beautiful, paper thin, shredded Brussels sprouts. Something about the shredding makes them fresher and milder and their texture is kind of crunchy, slightly chewy. These little green ribbons work unbelievably well with the Orange Cinnamon Dressing, the chewy dried cranberries and the crunchy nuts.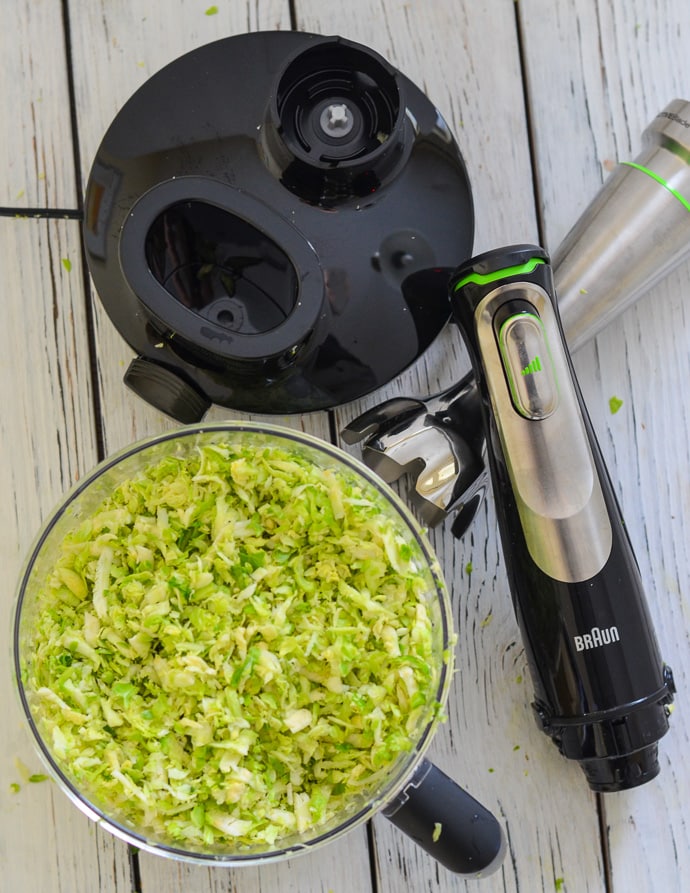 So fresh and super yummy! I have been eating this for lunch like everyday for a week. I might just turn into a sprout at this rate! ????
Now we could go all old fashioned and use a mandolin to shave our brussels sprouts. Maybe lose a finger tip or two along the way? I have never ever used one because I just know that would happen to me if I did ???? They kind of scare me quite a lot.
Or you could take the easy way out and use a Braun MultiQuick 9. Easy peasy prep and no lost digits. I think that's a good plan. It's certainly the route I took and it seems the public agree because in a recent survey, 82% of Americans and 83% of Canadians said that one versatile kitchen tool, with multiple attachments, simplifies the cooking experience. In the same survey, 68% of Americans and 72% of Canadians said they would be more likely to explore their culinary creativity if they had tools that made cooking and meal prep easier.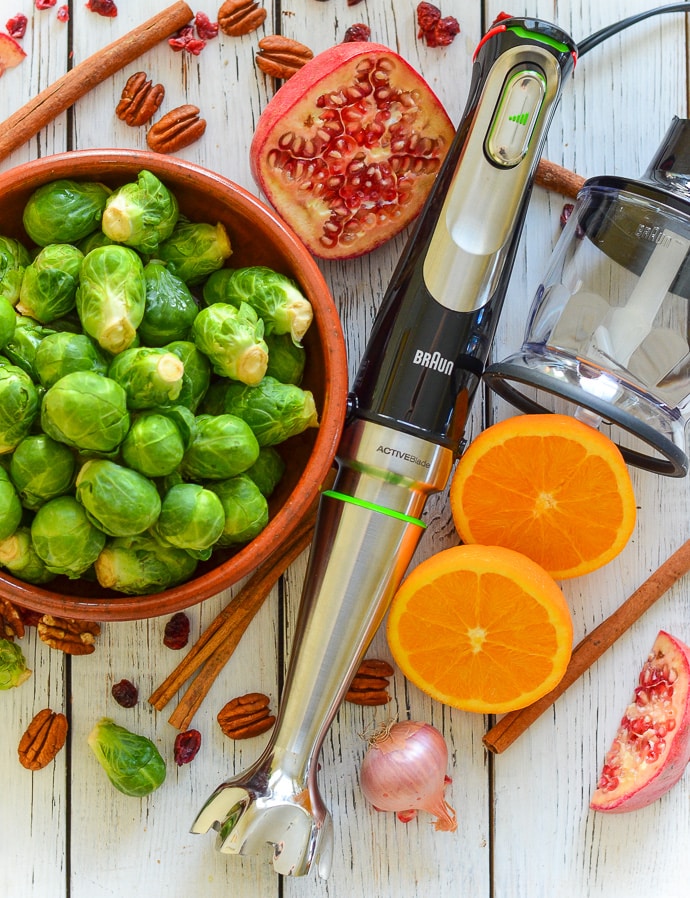 This bit of kit is seriously impressive and certainly does that. It's an immersion blender, a food processor, a blender, a chopper, a masher, an ice crusher and a whisk. It literally does everything and all of the attachments are incredibly quick and easy to change and BPA free.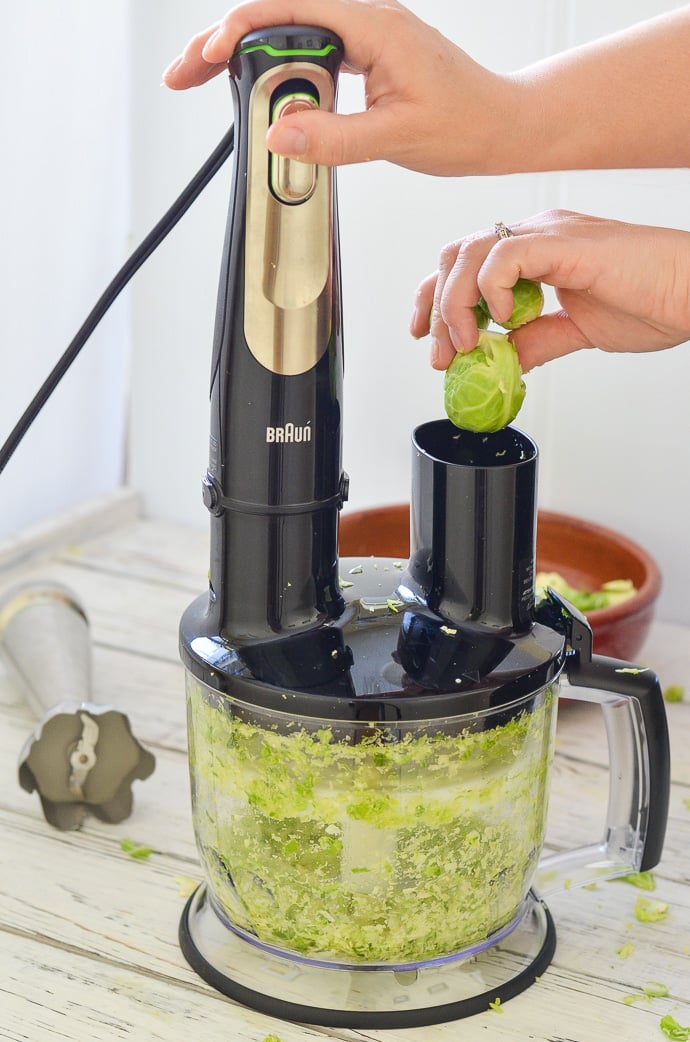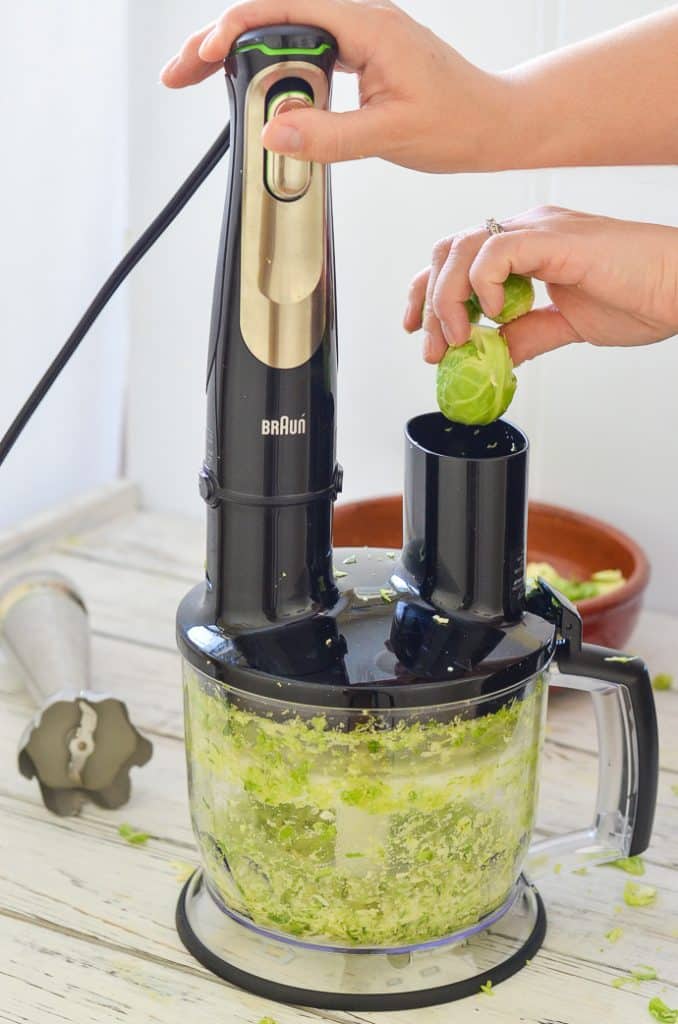 It combines power with versatility. Unlike other hand blenders it has ACTIVEBlade technology which moves the blade up and down as well as around and around. It also has an extra milling blade.  This means there is more active cutting surface which provides super effective blending.
It has no predetermined speed settings. You have absolute and full control with a Smart Speed button. It's a bit like the accelerator in a car. If you want it to go faster you squeeze a little harder and to slow down you squeeze a little less. You don't need to stop and start to change speeds.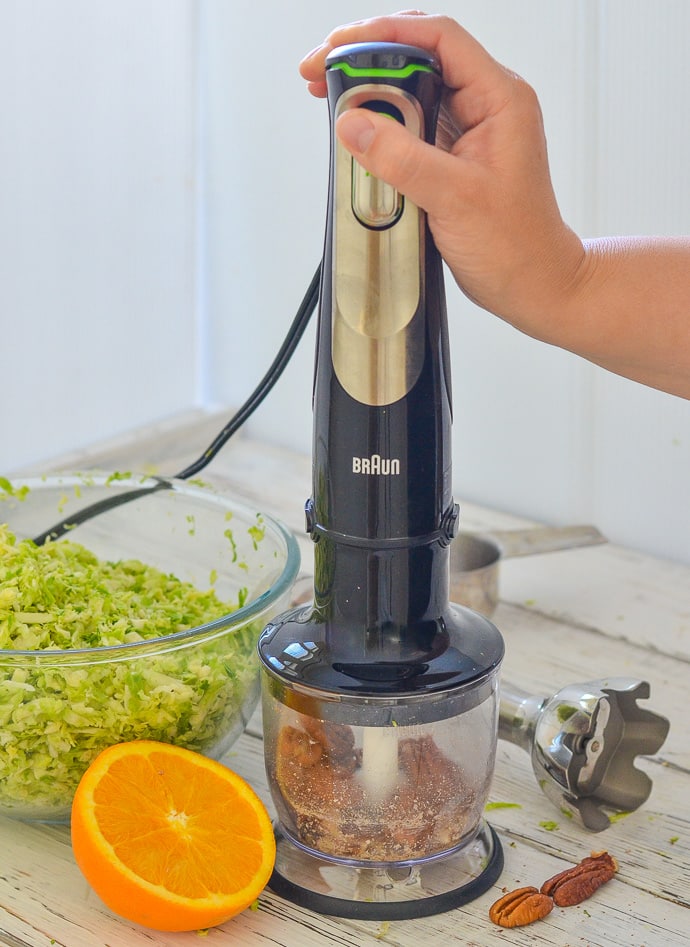 I have used immersion blenders in the past and they have been a little messy and splashy. This one has SPLASHControl technology and a SmoothStart feature so when you turn it on it doesn't suddenly shoot whatever you are blending all over you and your kitchen. When I made the dressing for this salad in the beaker there was absolutely zero splashing. It was totally mess free.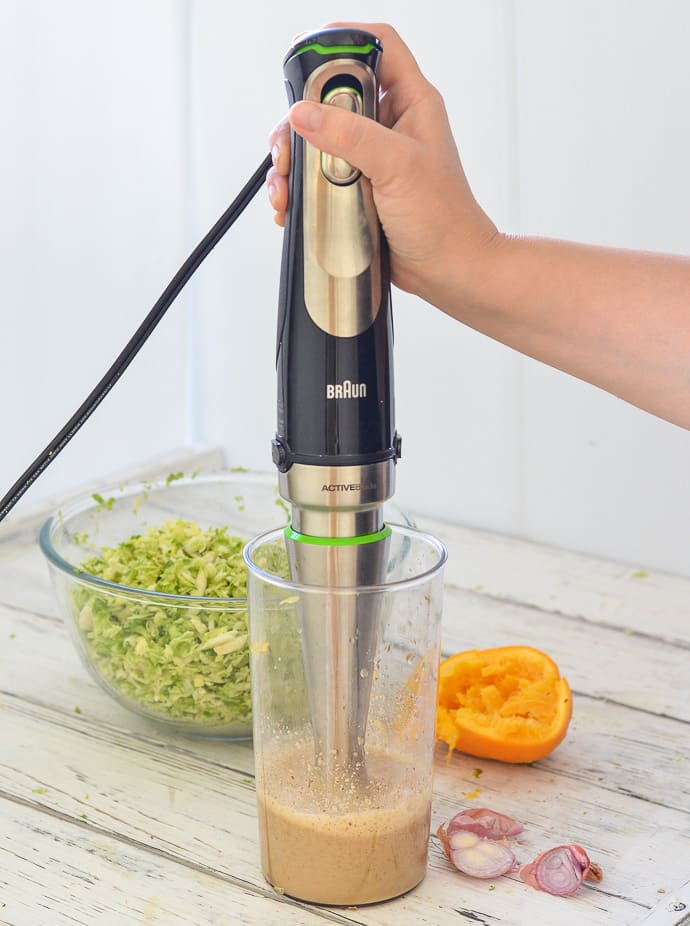 The whisk attachment is even powerful enough to whip aquafaba into meringue, and as a blender it makes short work of blending nuts into a smooth cream which is the ultimate test for a vegan cook. I was really surprised at how powerful it is.
The Braun MultiQuick9 really makes putting this salad together a breeze. Just fifteen minutes is all you need and there is no cooking involved at all! ????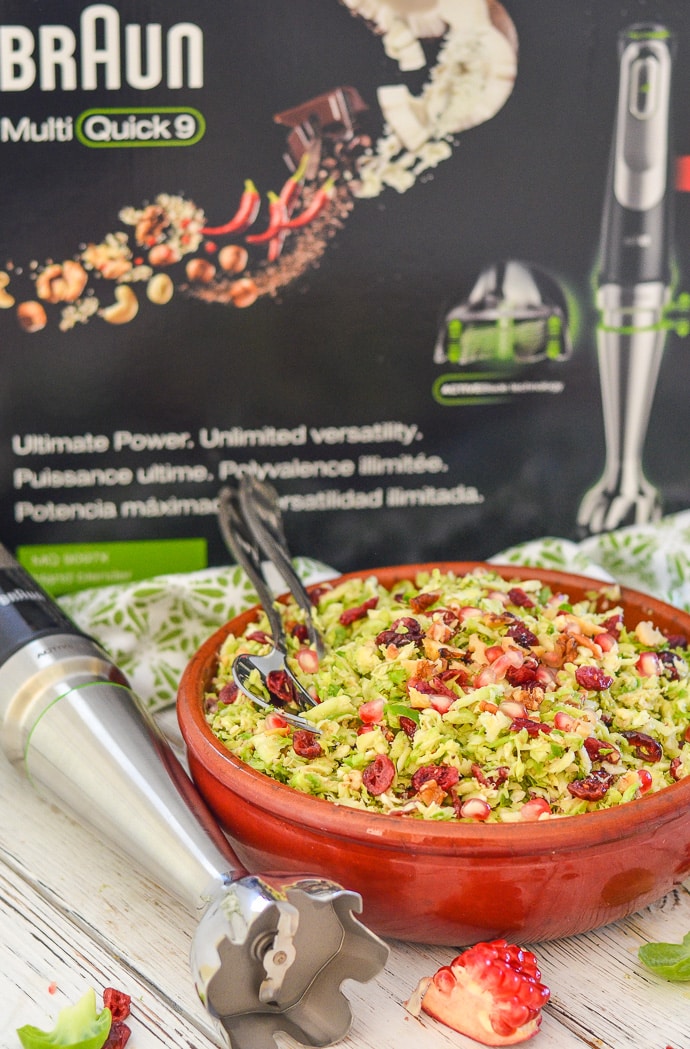 TO MAKE MY CRANBERRY PECAN BRUSSELS SPROUT SALAD
Shred the Brussels sprouts
Transfer to a bowl and mix in the cranberries
Chop the nuts with the MultiQuick 9 Chopper
Pour them in with the shredded sprouts and cranberries
Blend the dressing ingredients
Pour over and toss
Sprinkle with more nuts, more cranberries and optional pomegranate arils to pretty it up!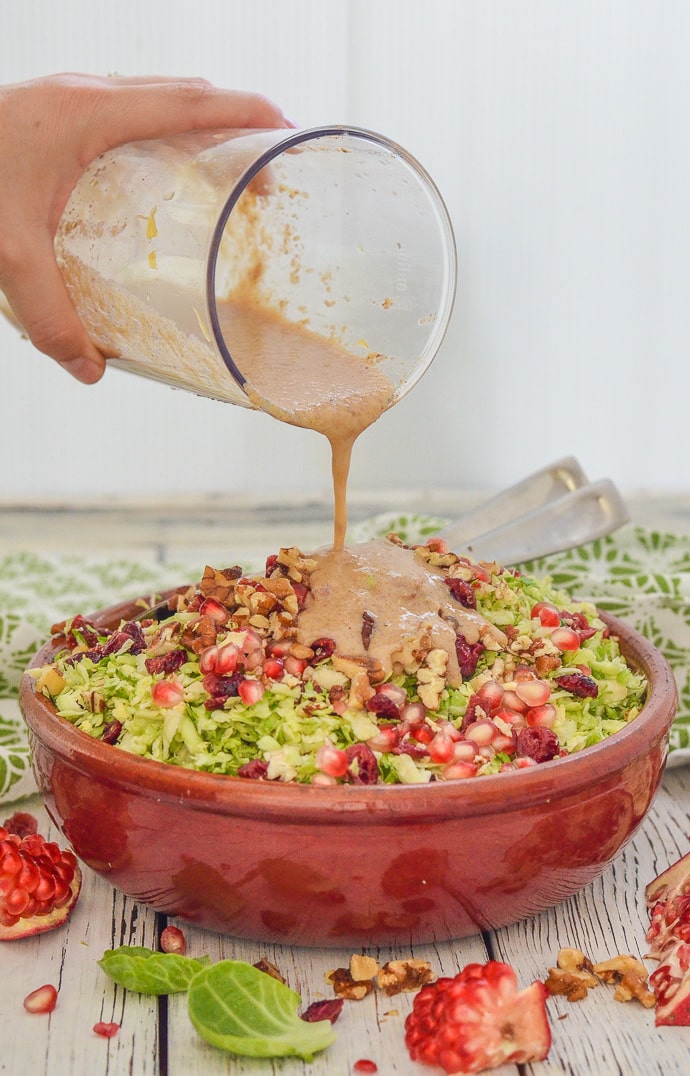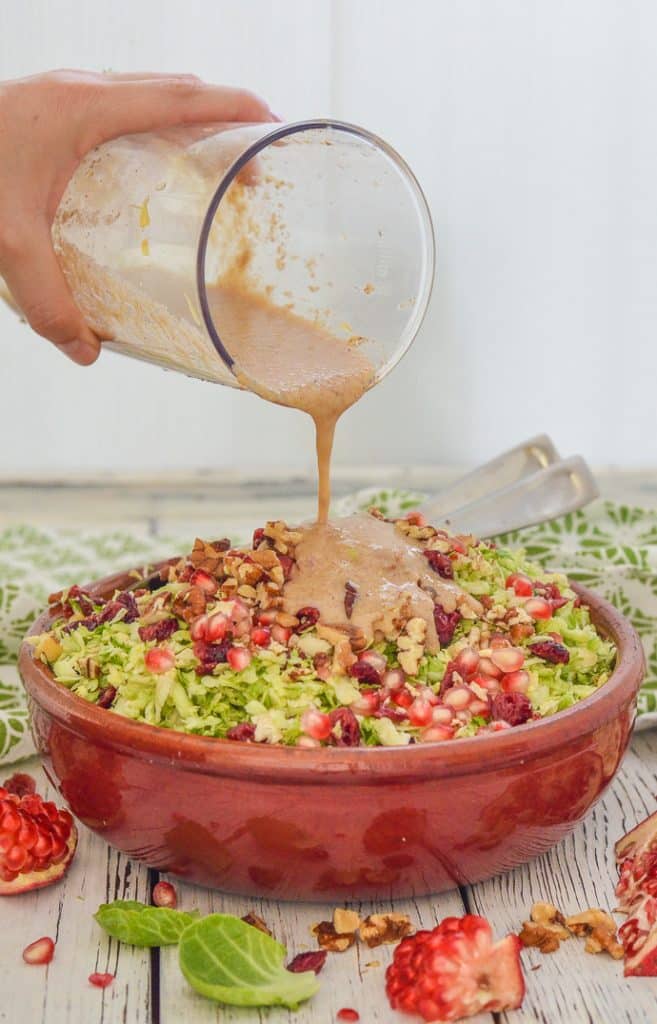 So easy, fresh and flavourful and unlike salads made with lettuce, this Cranberry Pecan Brussels Sprout Salad won't get really soggy if you don't eat it right away or if you have leftovers.
The sweet orange and cinnamon balance with the sprout flavour perfectly and the cranberries and nuts provide chewy, crunchy texture and contrasting fruity nutty flavours. Optional pomegranate arils add more colour, texture and bursts of fresh juicy flavour.
It's all there, together in a bowl ready to make your fall salad dreams come true and with it's festive colours and flavours it will make a great addition to your holiday table!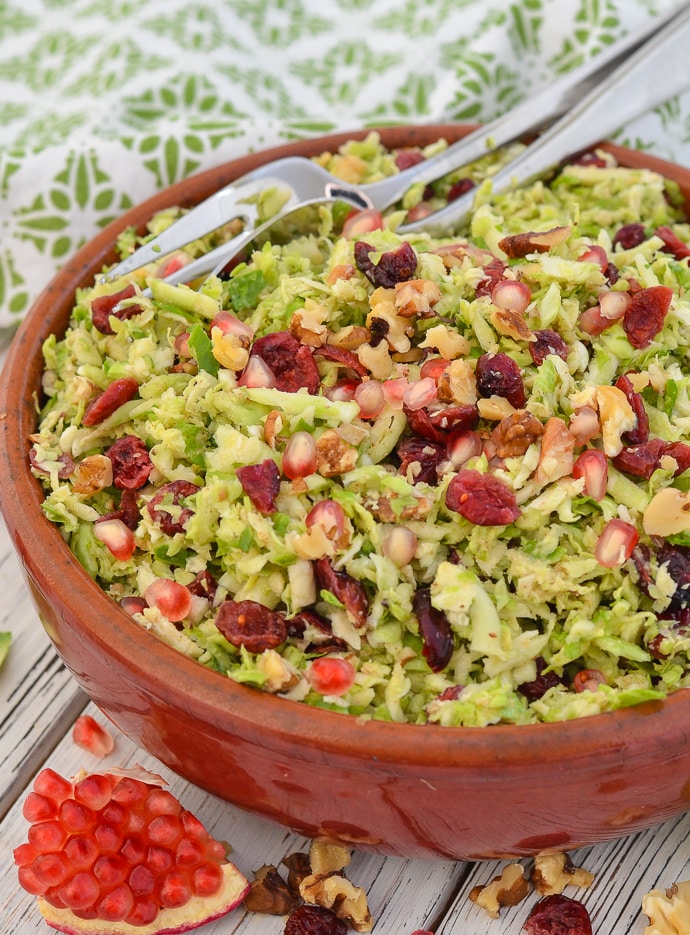 Your gonna love it and if you do decide to bust out the Brussels, be a ☆ and let me know what you think in the comments below. Share a pic on Instagram too using #avirtualvegan. I would love to see!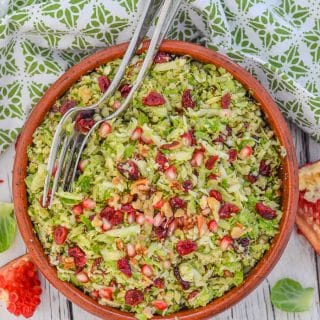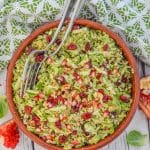 Cranberry Pecan Brussels Sprout Salad
Author:
This Cranberry Pecan Brussels Sprout Salad is fresh & absolutely packed with flavour & interesting textures. It's also hearty & warming thanks to the orangey cinnamon dressing. Just perfect for all of your fall & winter entertaining!
Ingredients
Salad
600g / 5

heaping cups

Brussels sprouts

90g / ¾

slightly heaping cup

pecan nuts

, walnuts make a good sub.

120g / 1

cup

dried cranberries

1

pomegranate

, optional
Dressing
1

large

orange

, zest and juice

1

shallot

, or a small chunk of sweet onion

2

tablespoons

maple syrup

2

tablespoons

apple cider vinegar

, or white wine vinegar

5

pecan nuts

, walnuts make a good sub. For a nut-free option see recipe notes.

¼

teaspoon

ground cinnamon

salt

, to taste

black pepper

, to taste
INSTRUCTIONS
Wash the Brussels sprouts, removing any old leaves and the stubby bit of stalk.

Shred the Brussels sprouts as finely as you can and put them into a large bowl. I use a food processor to do this as it makes it so quick and easy. Chop the nuts into small pieces and add them too along with the dried cranberries.

Blend the dressing ingredients together until completely smooth. If you prefer a slightly thinner dressing just add a few drops of water until you get to the consistency you like.

Pour the dressing over the salad and toss to distribute evenly. Sprinkle with a few extra cranberries and pecans if you wish and also some optional pomegranate arils too if you have them.
NOTES
I don't recommend you buy pre-sliced Brussel's sprouts for this salad. They are generally cut quite thickly and having thin slices really makes a difference to flavour and eatability. Pre-chopped veggies also are often a bit dry and withered around the edges. Fresh is best and will pay dividends in flavour, texture and appearance.
This salad will keep well for a couple of days in the fridge once dressed. The sliced sprouts don't go slimy like lettuce does. If you are storing it though I would advise leaving the chopped nuts out until just before you serve to keep them nice and crunchy. 
This salad can easily be made nut-free. Just omit the nuts from the dressing. It is still really good without them. And in the salad you can either omit the nuts completely or use some pumpkin seeds or sunflower seeds instead.  
NUTRITION
Serving:
1
serving
Calories:
285
kcal
Carbohydrates:
47
g
Protein:
7
g
Fat:
10
g
Sodium:
39
mg
Fiber:
9
g
Sugar:
29
g
Vitamin A:
1200
IU
Vitamin C:
190.6
mg
Calcium:
90
mg
Iron:
2.5
mg
Nutritional information is provided for convenience & as a courtesy. The data is a computer generated estimate so should be used as a guide only.
Tried this recipe?
Rate it & leave your feedback in the comments section below, or tag @avirtualvegan on Instagram and hashtag it #avirtualvegan
This is a sponsored conversation written by me on behalf of Braun. The opinions and text are all mine. Thank you for continuing to support the brands who help make this site possible.
Comments submitted below may be displayed on other websites owned by the sponsoring brand.