Warm, soft, rich and creamy Vegan Spinach Artichoke Dip. Chock full of spinach and briny, zesty artichokes and full of flavour. Just perfect for serving on game day or at parties, or for indulging in on a treat yo'self kind of night! Amazing served warm but also good at room temperature.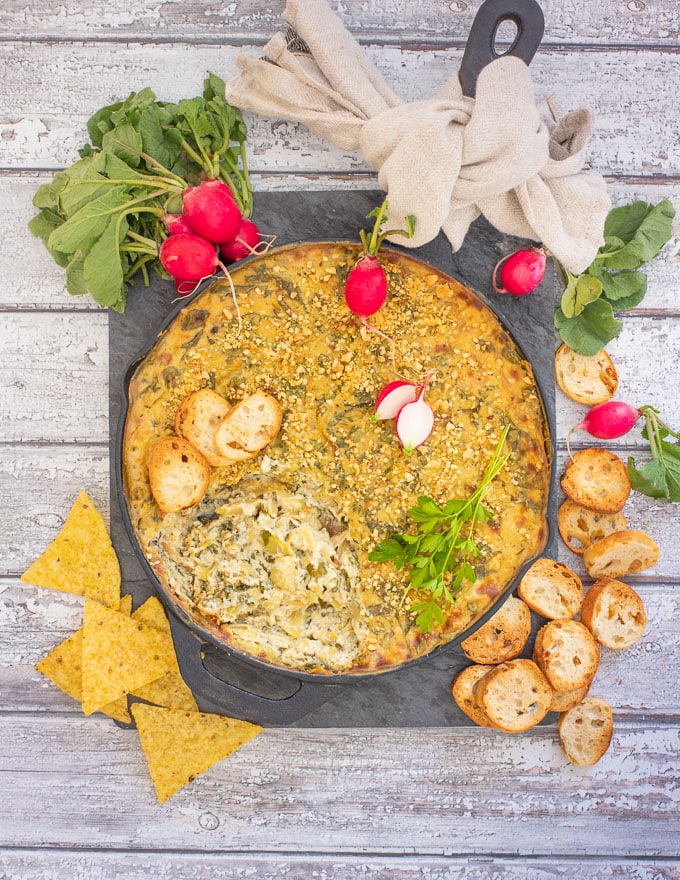 This Vegan Spinach Artichoke Dip is my entire life right now.
Just like many of the other recipes from my cookbook, Vegan Comfort Cooking, which was released just a few days ago.
I'm a published author.
breathe breathe breathe breathe !!!!
I'm still struggling to get my head around that.
Out of all the recipes in the book though, this dip is probably my most made. I really don't understand how anyone who has purchased my book is managing to eat anything else but. It's like, forget life ... I'll be up to my neck in Spinach Artichoke Dip instead!
And that is why I am sharing it here with you today as a little teaser of what you can expect to find in my book.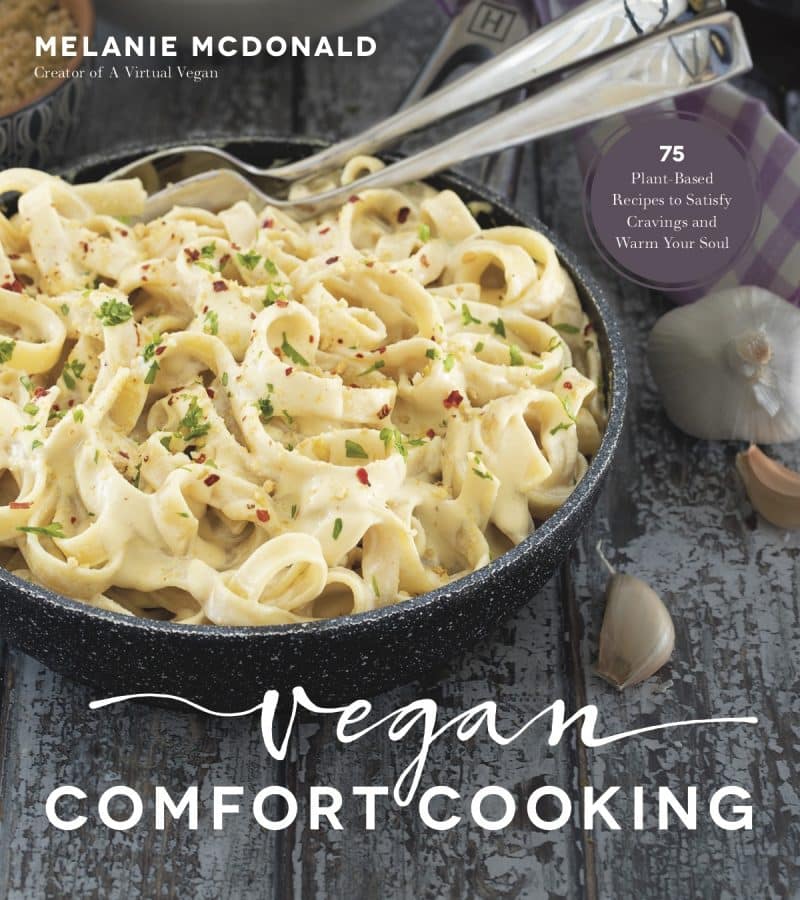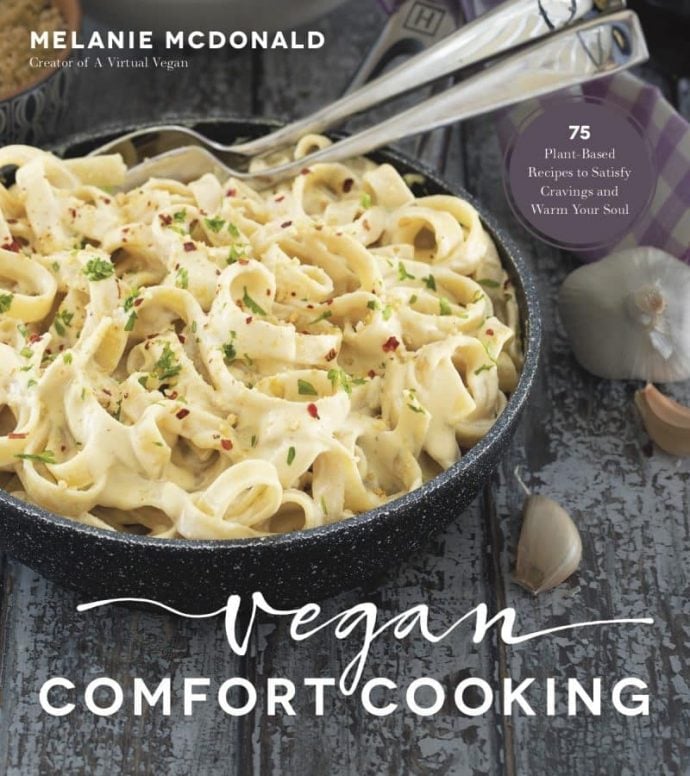 I'll be honest and say that I am hoping that you will make this recipe, then immediately (after eating it of course), RUN straight to the closest bookstore, or hit Amazon or your favourite online retailer up, and buy my book ;O) Then kindly leave me a review after too. That would make me very happy and I thank you in advance very much. ♡
Back to this dip because it's like whoa. YOU NEED TO MAKE IT.
Best things about this Vegan Spinach Artichoke Dip:
it's chock full of fresh spinach and briny, zesty artichokes
it's irresistibly rich, indulgent and packed with flavour
it's thick, super creamy and luscious
it's seasoned with a lovely kick of fresh garlic
it's the perfect appetizer for gatherings or dinner for yourself when you're feeling greedy .... (I know from personal experience)
The flavour. the texture. It's like a warm hug in spinachy, artichoke-y dip form.
The creaminess in this dip comes from a combination of vegan cream cheese, silken tofu and tapioca starch. You can use cornstarch or arrowroot powder if you like but the better texture comes with tapioca starch. This combination yields a lovely, soft, scoop-able, but not sloppy texture.
How to make Vegan Spinach Artichoke Dip
---
FOR INGREDIENTS & FULL INSTRUCTIONS PLEASE SEE THE RECIPE CARD AT THE END OF THIS POST
---
This super yum dip is ready in just a few easy steps.
STEP 1 - Sauté the onions and garlic
STEP 2 - Blend the dip ingredients
STEP 3 - Roughly chop the veggies
STEP 4 - Combine everything really well, top with a sprinkle of Cheesy Brazil Nut "Parm" on page 191 of mu book, or grated vegan cheese and bake.
Success Tips
I recommend using canned artichokes in brine over the ones you can buy in oil, for the tang they give. It helps cut through the creaminess and adds more depth to the flavour.
Just make it ;O)
What to serve with Spinach Artichoke Dip
This dip is amazing served with chips, crackers, baguette slices, flatbread, vegetable sticks, raw radishes (weird I know but it really works!), toast or even garlic bread (there's a recipe for that in my book too!).
Whatever it's served with though, I don't stand a chance against serious dip gluttony right now ... Vegan Spinach and Artichoke Dip foreverrrrr!
---
For more vegan dip recipes, check out these great options:
And if you love this recipe, then you will no doubt LOVE  my cookbook.
Subscribe to my email list too for a fabulous FREE eCookbook featuring my top 10 recipes. Being on the list means you will be first to see my new recipes and you'll be kept in the loop on all things new and exciting too!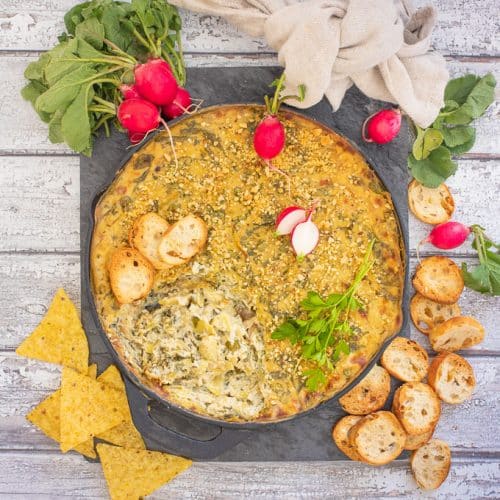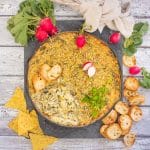 Vegan Spinach and Artichoke Dip
Author:
Nothing says the party's here like a big dish of warm Spinach Artichoke Dip! It's the perfect crave-worthy appetizer. It's soft and creamy with loads of flavor and is great eaten warm or at room temperature. Serve it with chips, crackers, baguette slices, vegetable sticks, raw radishes, toast or even garlic bread. I recommend using canned artichokes in brine over the ones you can buy in oil, for the tang they give. It helps cut through the creaminess and adds more depth to the flavor.
Ingredients
1 tablespoon / 15

ml

olive oil or water

1

medium

onion

chopped finely

4

cloves

of garlic

chopped finely

12 oz / 350

g

silken tofu

½ cup / 120

ml

unsweetened non-dairy milk

(I think soy milk gives the best flavor)

3 tablespoons / 24

g

tapioca starch/flour

(arrowroot or cornstarch can be used instead but tapioca starch gives best results)

1

tsp

salt

¼

tsp

black pepper

⅓ cup / 37

g

nutritional yeast

1 tablespoon / 15

ml

white wine vinegar

8 oz / 227

g

vegan cream cheese

2 packed cups / 60

g

fresh spinach leaves

1 14 oz / 400 g

can

artichokes in brine

½ - 1

cup

Cheesy Brazil Nut "Parm"

page 191 or vegan mozzarella style cheese shreds (optional)
INSTRUCTIONS
In a small skillet, heat the olive oil or water over medium heat. Add the onion and sauté for about 10 to 15 minutes, or until caramelized and golden. If you use water you will need to add a little more gradually throughout, to prevent the onion sticking. Add the chopped garlic in the last 2 minutes of cooking; then remove the pan from the heat and set aside. Preheat the oven to 400 ° F (200 °C).

In a blender, combine the silken tofu, nondairy milk, tapioca starch, salt, pepper, nutritional yeast, vinegar and vegan cream cheese and blend until smooth.

Shred the spinach leaves. Drain the artichokes and chop roughly into small, chunky pieces. Combine the spinach and artichoke in a large bowl, add the onion mixture, and pour the tofu mixture over them. Stir really well and pour into a baking dish or ovenproof skillet. Top with a sprinkle of the Parm / vegan cheese (if using) and bake for 30 minutes, or until starting to turn golden on top and bubbly around the edges.

Leftovers can be reheated gently in the oven or microwave or can be enjoyed cold.
NOTES
Prep up to a day ahead, then cover and store in the fridge overnight. Just add 5 minutes to the cooking time.
NUTRITION
Serving:
135
g (1 of 10 servings)
Calories:
142
kcal
Carbohydrates:
13
g
Protein:
8
g
Fat:
8
g
Sodium:
490
mg
Fiber:
5
g
Sugar:
2
g
Vitamin A:
600
IU
Vitamin C:
8.3
mg
Calcium:
60
mg
Iron:
1.3
mg
Nutritional information is provided for convenience & as a courtesy. The data is a computer generated estimate so should be used as a guide only.
Tried this recipe?
Rate it & leave your feedback in the comments section below, or tag @avirtualvegan on Instagram and hashtag it #avirtualvegan