Add some sugar & spice to your life with these deliciously dark, rich & fluffy Gingerbread Waffles. Full of warm & comforting gingerbread flavour & surprisingly healthy!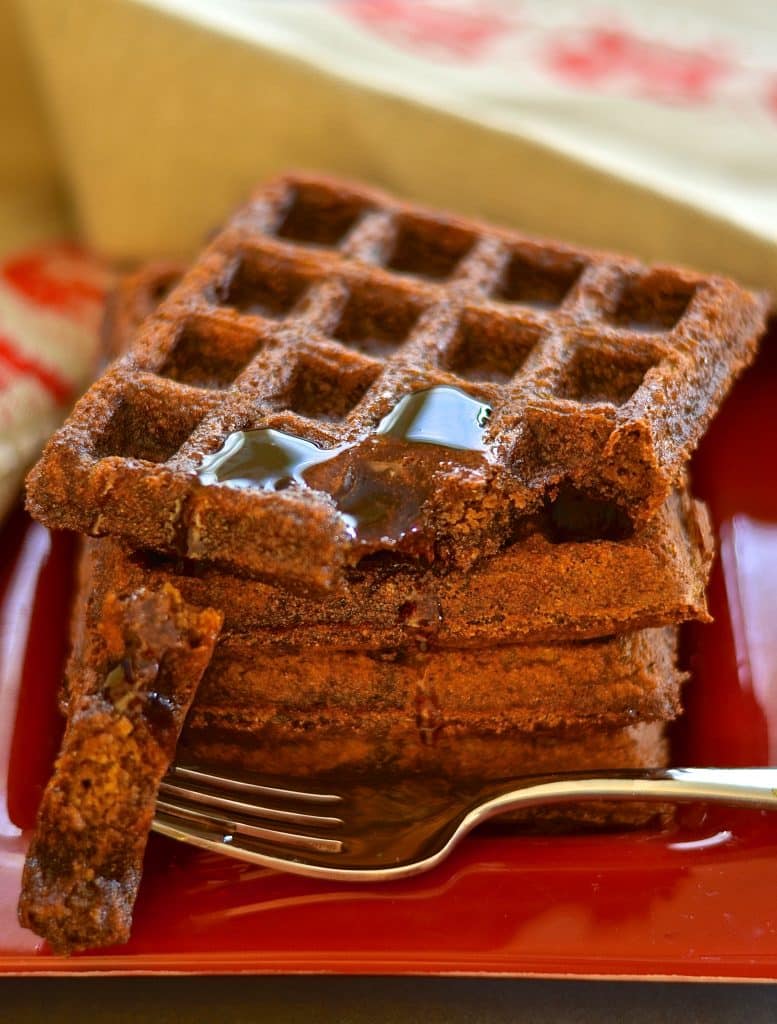 Can anything beat waffles for breakfast? I am obsessed with these Gingerbread Waffles and also with my Banana Waffles. They are both super yum and a great way to get your day started.
As for eating gingerbread for breakfast ... How good is that?
These Gingerbread Waffles are full of healthy ingredients with only one and a half tablespoons of oil in the entire batch. I did try to make them oil free, but for ultimate fluffiness it really helps.
I used spelt flour as it gives a lovely nutty flavour as well as great texture. It's one of my favourite flours to cook with. It also has some great health benefits which you do not get with regular white or wholewheat flour.
Spelt is an ancient grain which is packed with vitamins, minerals and nutrients which are not found in wheat. It is also high in fibre and protein (up to 15% depending on the source) and this protein is complete, meaning that it contains the nine essential amino acids needed by our bodies. Spelt aids digestive health, helps lower cholesterol and helps regulate insulin and glucose levels due to its high fibre content. It also boosts circulation, aids bone health, helps regulate hormones and helps boost your immune system.
You can almost call these Gingerbread Waffles a superfood! ;o)
And they taste just like gingerbread. It's like eating cake for breakfast! Honestly, I'm not kidding. Cake for breakfast is the stuff only dreams are made of.....Until now!
These Gingerbread Waffles are deliciously dark and tender and are full of warm, comforting gingerbread flavour. They are crunchy on the outside, fluffy on the inside and will make the perfect breakfast or brunch over the holiday season.
We enjoyed these Gingerbread Waffles so much when I finally perfected the recipe last week. You might well have seen the picture I posted on Instagram as a teaser. I took it with my cell phone while I was tucking into a couple of them and it sure got a lot of attention!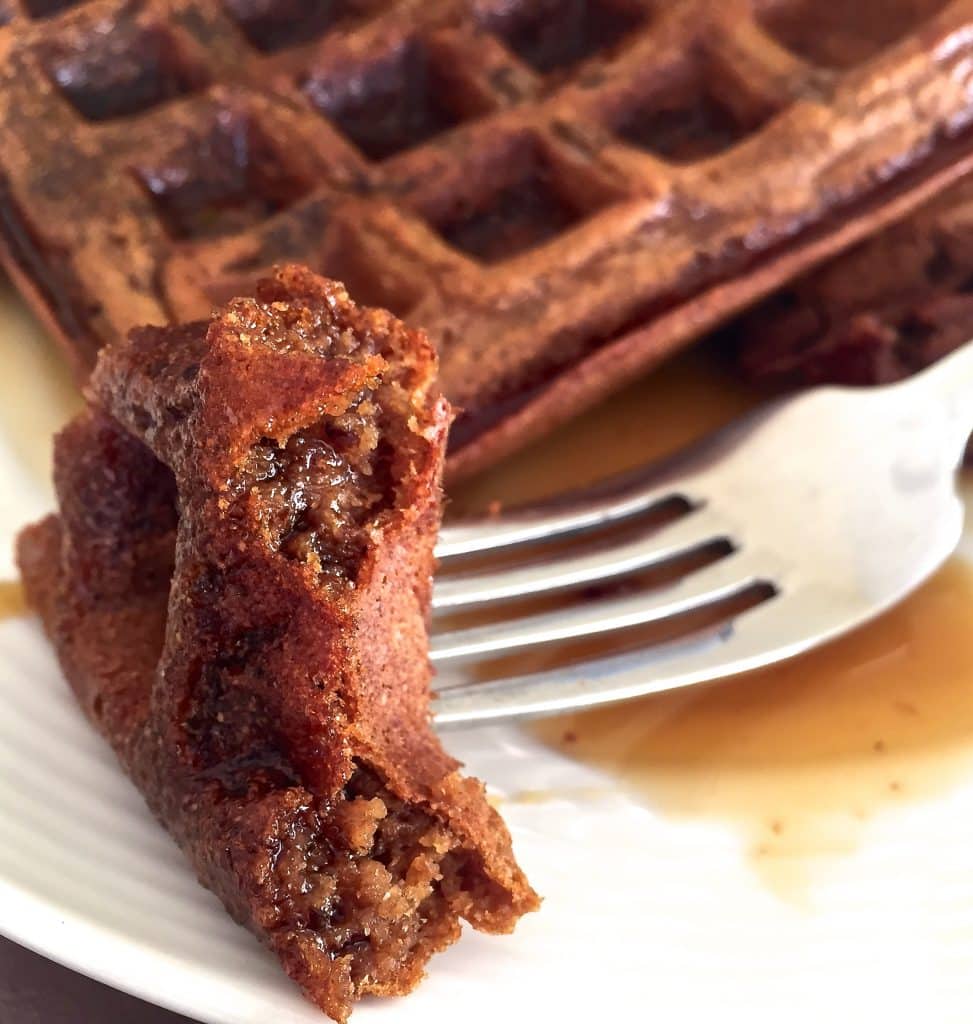 These Gingerbread Waffles are amazing just served simply with some maple syrup. They are also fantastic served with poached or gently pan fried pears. Banana goes well with them to.
Please note that I have only made these waffles with spelt flour. You might not get the same results if you use another kind of flour. Spelt can easily be found in most grocery stores and is well worth purchasing. It is great for making pancakes and waffles but also for making other baked goods such as cakes and cookies. If you have never cooked with it before it is well worth experimenting with as it gives great results. (Note that I have since heard from a reader that wholewheat flour works well too although I haven't tested this myself).
HOW TO COOK PERFECT WAFFLES
My trick for the most perfect waffles, is to not open the waffle maker. Do not be tempted. Even if has a beep or a light to tell you they are ready. Do not listen to it.
When they first start to cook, lots of steam will start coming out the sides of the waffle iron. It will continue to come out the whole time they cook. Only open the waffle iron when all the steam has disappeared. Not before. And when you do, do it slowly to give them time to release.
If you don't have a waffle maker then just make pancakes with the batter instead. It works great!
I would love it if you could share your waffle pictures with me on Instagram or Twitter. I am @avirtualvegan on both. On Instagram use the hashtag #avirtualvegan too so that I don't miss them. Your Cranberry, Walnut & Apple Smoothie pictures have been awesome this week. I am glad that you are all enjoying it so much!
If you love waffles then try my Apple Pie Waffles next!
---
A NOTE ON MEASURING FLOUR FOR BEST RESULTS
As always with any of my recipes involving flour, I highly recommend that you weigh it. Cup measurements are not accurate enough to get the best results.
If you do need to use cups, spoon the flour into the cup then level off the top with a knife without compacting it or shaking it down. By doing it like this you will get roughly the correct amount. If you scoop the flour up into the cup, you will end up with much more than is needed and it will affect the outcome of the recipe. Digital scales are available at most big superstores now and you can pick one up for around $10. They are a great investment and are so worth having!
I have this one:
---
DID YOU MAKE THIS RECIPE?
If you did, be a ☆ and let me know what you think by rating it and commenting below. Tag me on Instagram too. I am @avirtualvegan and my hashtag is #avirtualvegan 
Recipe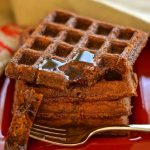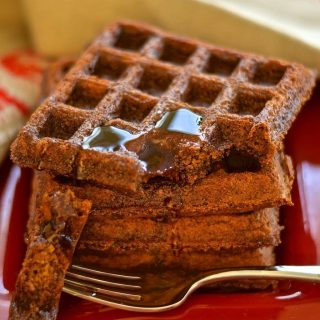 Gingerbread Waffles
Author:
Add some sugar & spice to your life with these deliciously dark, rich & fluffy waffles. Full of warm & comforting gingerbread flavour & surprisingly healthy!
Ingredients
Wet ingredients
240 mls / 1

cup

non dairy milk

1

tablespoon

apple cider vinegar

2

tablespoons

black strap molasses

1½

tablespoons

liquid oil

( I used a light olive oil but coconut oil would also be good as would any other liquid cooking oil)
INSTRUCTIONS
Grease and preheat your waffle iron. I used setting 4 on my Cusinart Waffle Maker.

If you don't have a waffle iron then use a non stick fry pan and make them into pancakes.

Put all of the dry ingredients into a bowl and stir well.

Put all of the wet ingredients into a jug or bowl (one with a lip is easier to pour). Stir until well combined.

Pour the mixed wet ingredients into the dry ingredients and mix using a spoon, until just combined. Do not over mix. A few small lumps are fine. You just want it to get to the stage that you can't see any dry bits of flour through it. The batter should be a thick dropping consistency, kind of like thick cake batter. If it feels too thick, add an extra tablespoon or two of milk at this stage but don't make it too thin.

When your waffle iron is ready pour in your mixture until it's just full (they all vary in size so you might make more or less waffles) and cook on a medium temperature until steam stops coming out of the side. As soon as it does remove them. Ignore any signals from your machine if it tells you they are done earlier.

When ready open your waffle iron carefully and remove.

If making as pancakes pour the batter into the pan and cook over a medium heat until bubbles start forming on the surface. Once you see bubble flip and cook for a minute or two more.

Serve immediately (see recipe notes for storage instructions)
NOTES
These waffles are best served immediately but they also keep well in the fridge for a few days or in the freezer for a few weeks. Just warm them through in a toaster straight from the fridge or freezer before serving.
NUTRITION
Serving:
1
waffle
Calories:
173
kcal
Carbohydrates:
29
g
Protein:
3.5
g
Fat:
4.6
g
Sodium:
272
mg
Fiber:
3.4
g
Sugar:
11
g
Vitamin A:
50
IU
Calcium:
220
mg
Iron:
1.6
mg
Tried this recipe?
Rate it & leave your feedback in the comments section below!