Crisp pastry, rich mincemeat, delicate spice-infused sponge & brilliant white, sweet frosting come together to create a taste & texture explosion. This Festive Mincemeat Tart is indulgent, rich & just perfect for the holidays!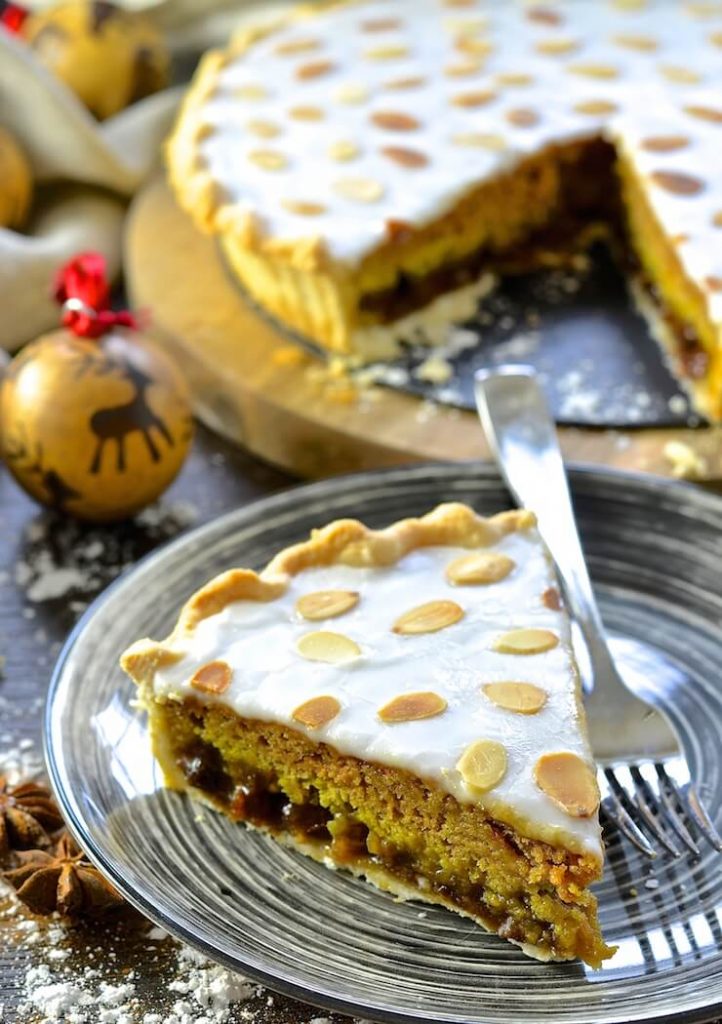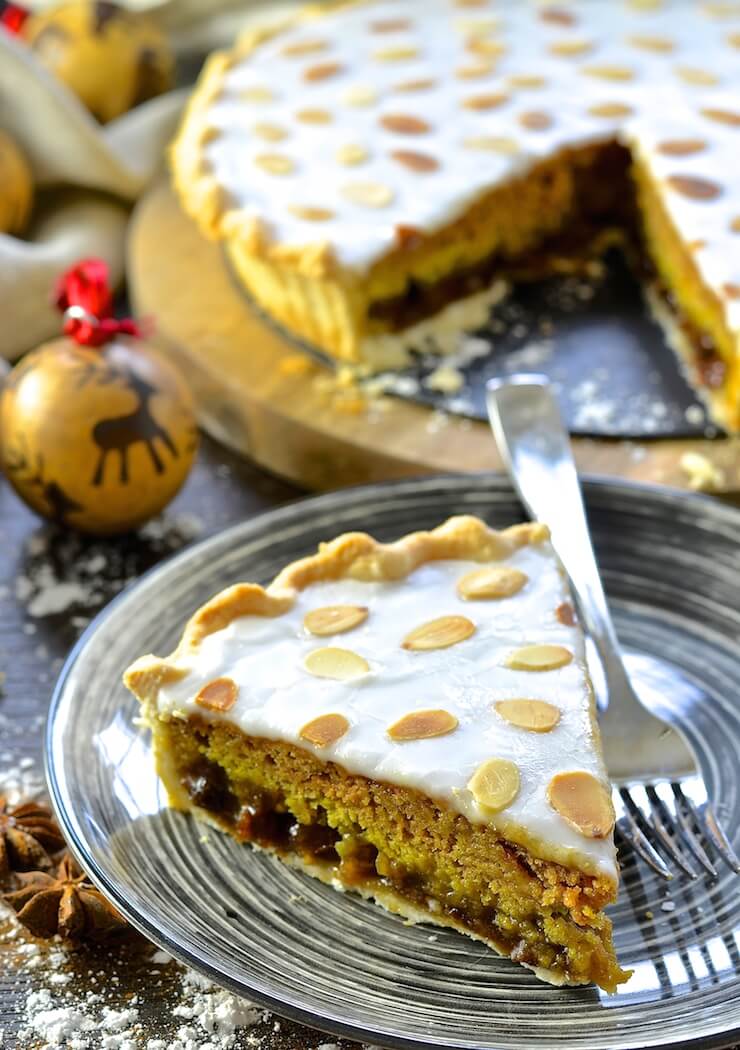 I love this time of year. The holiday anticipation and excitement, the menu planning, festive cheer, seasonal recipes like my Raw Christmas Fruit Cake, Gingerbread Waffles and now this new Festive Mincemeat Tart..... We will conveniently forget the crowded grocery stores, exhaustion, the mountains of washing up and the pitiful bank balance at the end of it all ;O)
When I think 'festive food', luxury, richness & indulgence come to mind, but the essence of the holidays is truly captured in spices. They are an essential part of making sure that your holidays taste and smell wonderful, so when I was given the opportunity to work with Frontier Co-op and their wonderful range of organic and sustainable spices, my holiday head went into overdrive!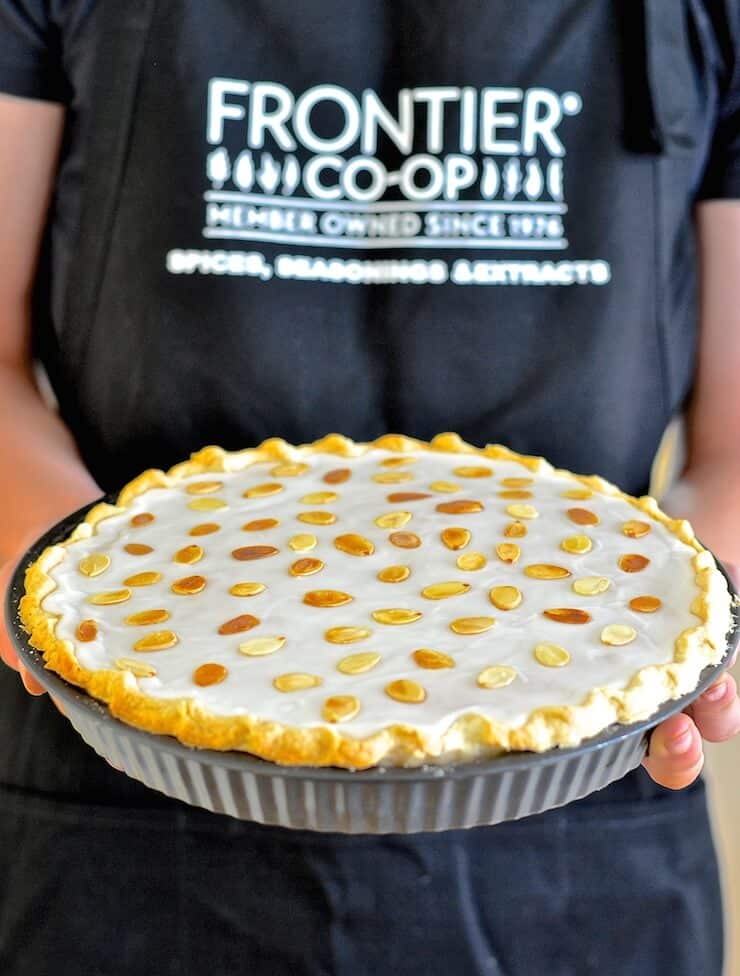 So many ideas, so little time. I mean the possibilities are endless when you have the most delicious, aromatic spices at your fingertips.
SPICE UP YOUR LIFE & GET FESTIVE WITH FRONTIER CO-OP
I am sure we have all fallen into the trap of buying the lowest priced spices available at the grocery store to save some pennies. Bulk size bags of budget brands are often very cheap and we think by buying them we are saving. Truth is though, that what they make up for in price, they lack in flavour and you end up having to use much more to get anywhere near the taste you expect in your food and often it ends up lacking character and pizazz anyway.
Spending a little more on a quality brand like Frontier Co-op makes all the difference. When I opened the containers of the spices they sent me I was blown away by the vibrant aroma of the spices inside. They smell A-mazing. The Jamaican All-Spice. It is seriously the bomb.
Frontier Co-op's spices are organic, non-gmo, sustainably produced and non-ethylene oxide treated. Another big reason to love them.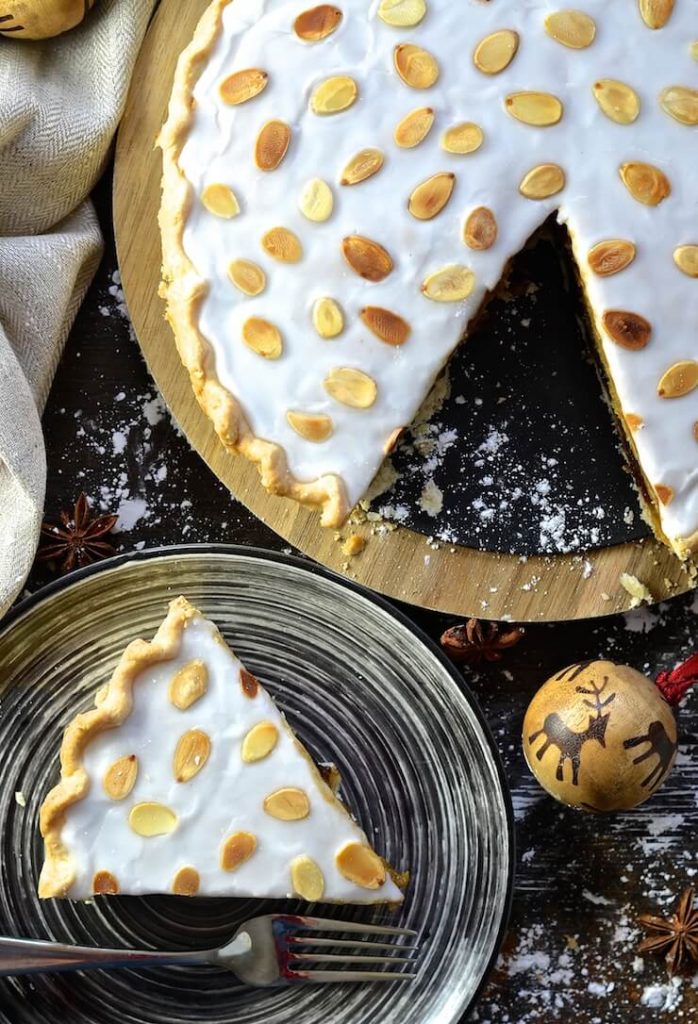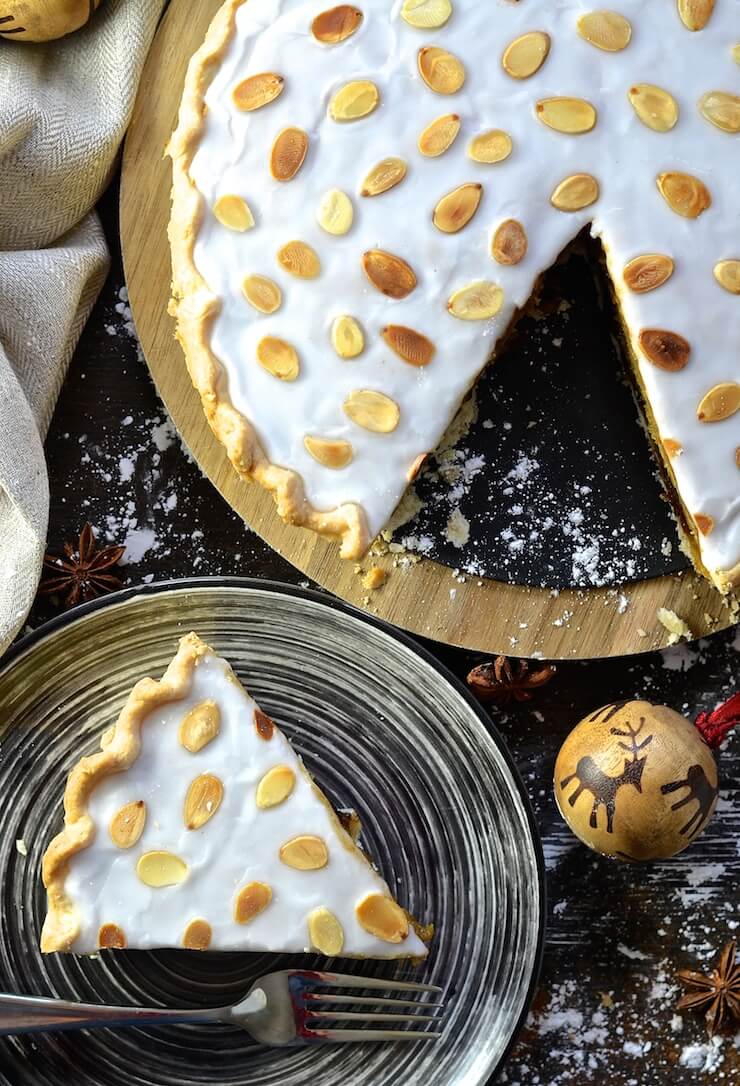 I am a bit weird and have a habit of tasting a little bit of my spices as they are, just on the tip of my finger before I use them. It gives me a good idea of their flavour and how strong they are and how much I will need. I do the same with fresh chili peppers too (I told you I was weird). I cut a little piece off the end and taste it before I cook with them. There have been many amusing mad dashes to grab a glass and glug water until my tongue is no longer on fire. The worst one was prior to me creating my Fiery Habanero Hot Sauce. You can only imagine how hot that one was.
There was no blistering heat this time though, only fresh, vibrant, delicious flavour. I was sent Jamaican All Spice, Turmeric, Cinnamon, Black Pepper and Vanilla and it didn't take long for this Festive Mincemeat Tart to materialize.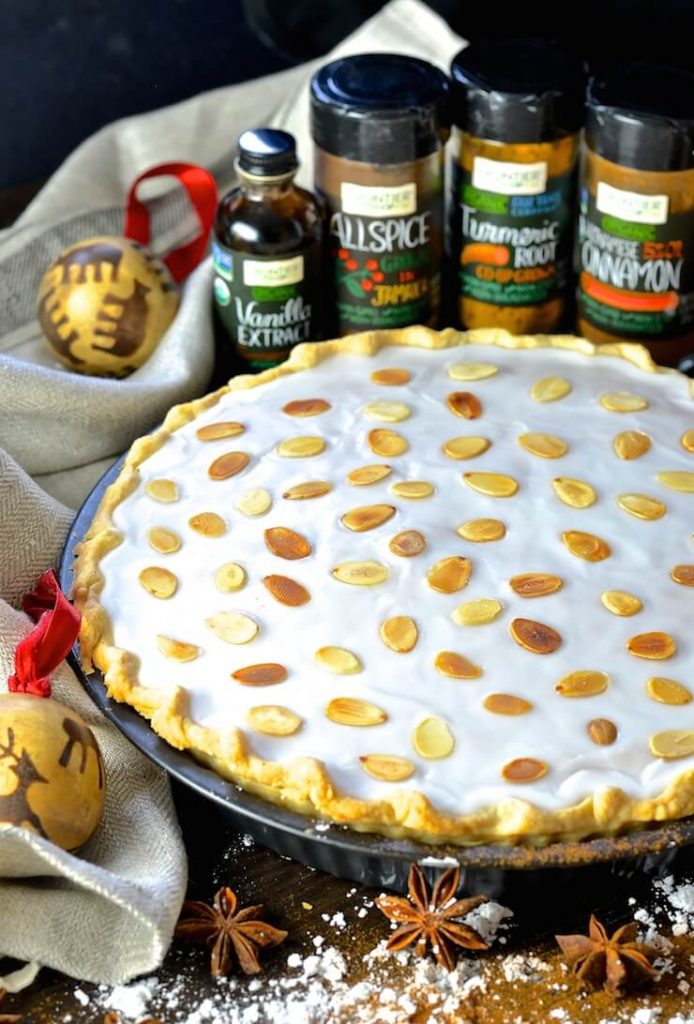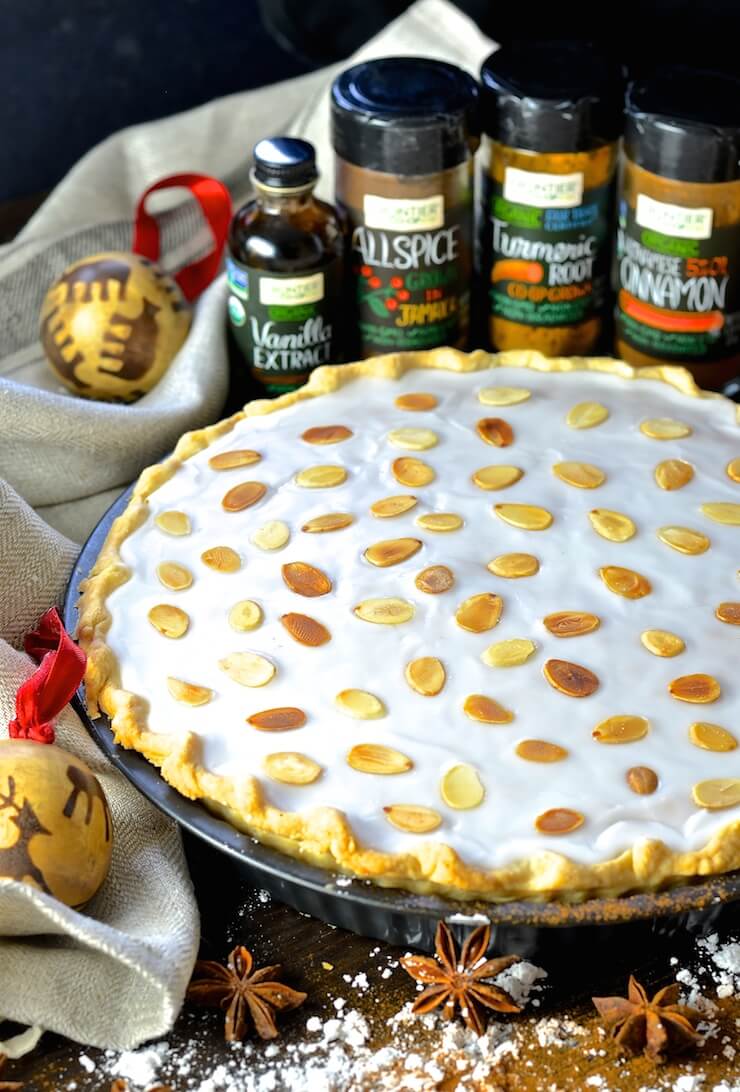 As you probably know by now, I live in Canada with my husband and son and the rest of my family are all in England. It's at this time of year with all of the festivities and family gatherings happening all around, that the distance between us becomes even more apparent. I happened to be thinking about my Mum and Dad and remembered the Bakewell Tarts my Mum makes.
WHAT IS A BAKEWELL TART?
A Bakewell Tarts is a traditional English tart with a pie crust, a layer of jam (usually raspberry), a layer of frangipan (a sweet almondy sponge) and then a topping of toasted flaked almonds. Less traditional versions sometimes have a layer of white frosting on the top and glacé cherries for decoration.
A FESTIVE SPIN ON THE TRADITIONAL BAKEWELL TART
I decided to take my Mum's traditional Bakewell Tart and and turn it on it's head, making it a festive treat perfect for the holidays. I switched out the jam for suet free sweet mincemeat, the frangipan for a vanilla, Jamaican all-spice, cinnamon and turmeric infused sponge, added a layer of sweet, soft white frosting and kept the traditional sprinkle of toasted flaked almonds on the top for extra texture and nuttiness.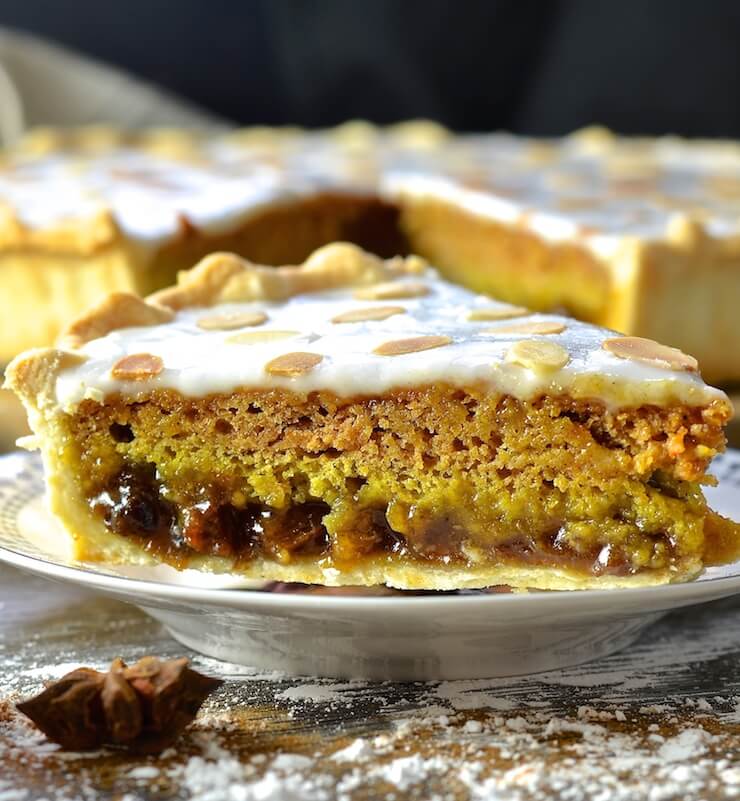 I had never used turmeric in baked goods before now, so it was a bit of an experiment but I was so pleased with the result. The lovely flavour of the Frontier Co-op Spices comes through beautifully and the colour of the sponge is a lovely warm yellow colour thanks to the turmeric. It is a joy to eat with the crisp pastry (no soggy bottoms around here), the indulgently rich mincemeat, the fluffy spiced sponge, the sweet soft frosting and the crunchy toasted almonds flakes.
SPEED THINGS UP WITH THIS HANDY SHORTCUT
If you are concerned that this whole thing looks complicated, please don't be. If you aren't confident working with pastry, or just don't have the time, buy a ready made case. Most of the frozen varieties in the grocery store are accidentally vegan. They are usually 9" in diameter and that will be fine. An 8" one would work too but you might end up with a tiny bit more cake batter than will fit comfortably. The leftovers can be the cook's treat. The good thing about vegan baking is that you don't need to worry about raw eggs in the batter. You can eat as much of it as you like! Besides the pastry everything else is as easy as pie tart!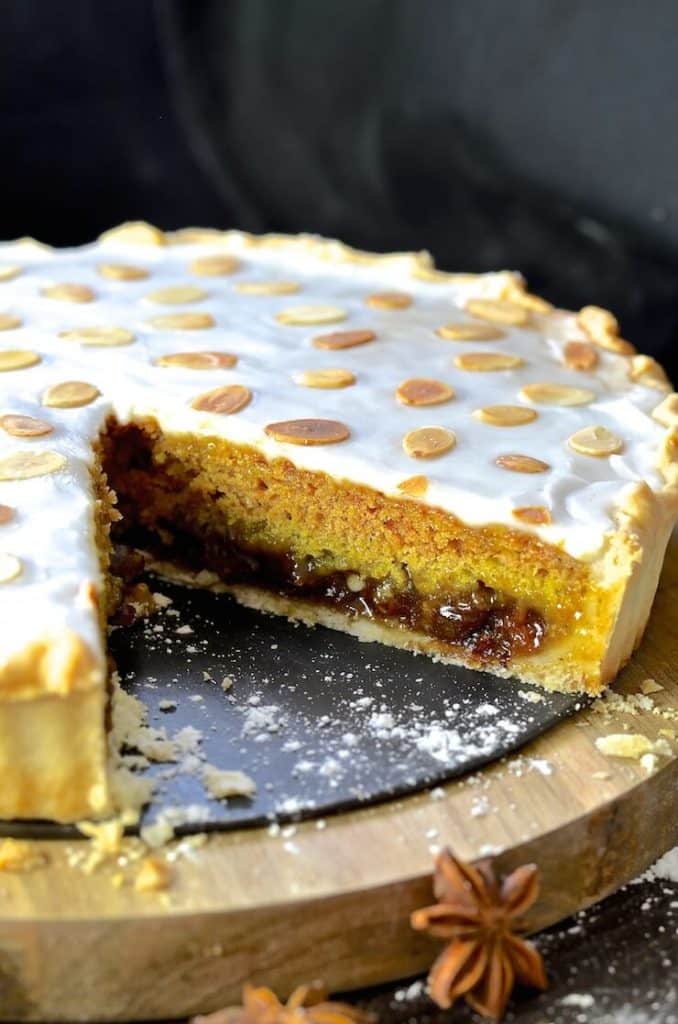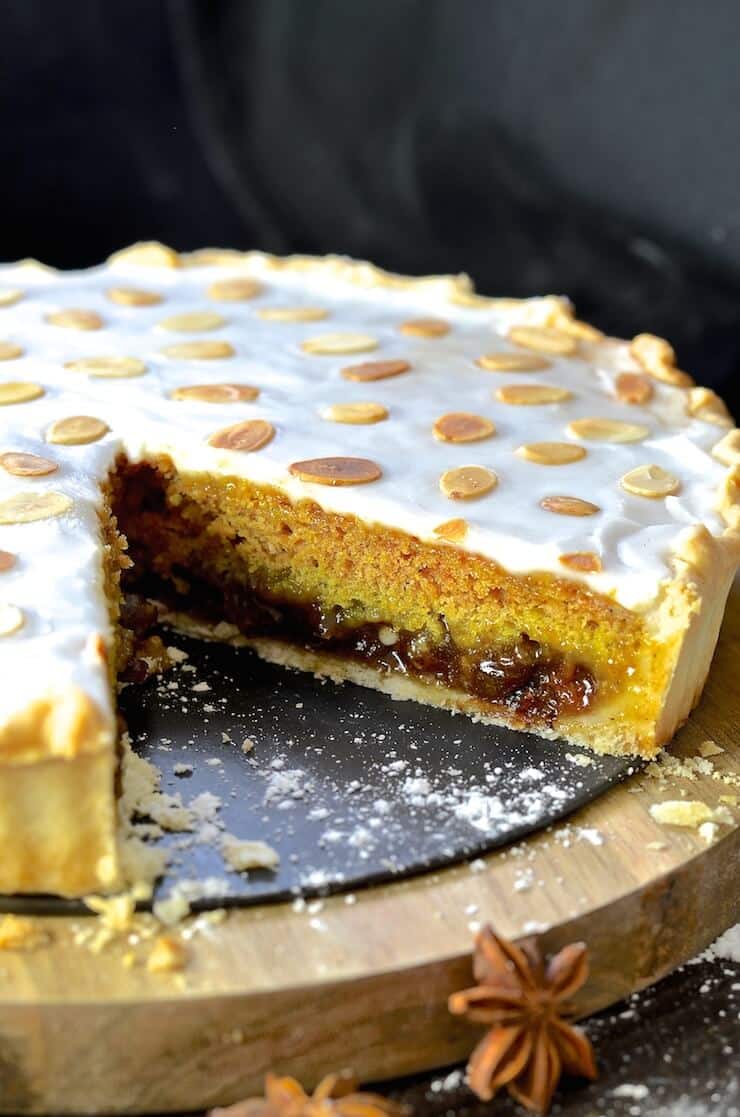 Hungry for more pies?
Recipe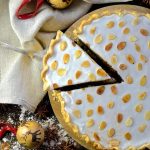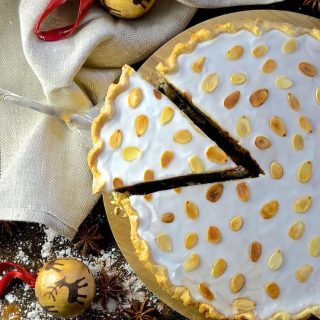 Festive Mincemeat Tart
Author:
Crisp pastry, rich mincemeat, delicate spice infused sponge & brilliant white, sweet frosting come together to create a taste & texture explosion. This Festive Mincemeat Tart is indulgent, rich & just perfect for the holidays!
Ingredients
For the pastry (see recipe note)
250g / 2

cups

all purpose flour

(plain flour in the UK)

100g / ½

cup

vegan butter or refined coconut oil

, must be cold & hard

½

teaspoon

salt

About 10

tablespoons

ice cold water
For decoration
2

tablespoons

gently toasted flaked almonds
INSTRUCTIONS
For the pastry
Add the flour, cold coconut oil and salt to a food processor and blend until like fine breadcrumbs.

Slowly add enough water to bring it together into a smooth dough. I used 10 tablespoons but it will vary depending on your flour brand and the humidity. It should feel soft and pliable but not sticky.

Once it comes together line a

9 inch tart pan

with the pastry (you can probably get away with an 8 inch if you need to, you just might have a tiny bit too much cake batter). You can roll it out or if you are lazy like me, just plop the ball of pastry in the tin and flatten it out with your hands.

Crimp or trim around the edges to tidy it up then refrigerate for 30 minutes (do not skip the refrigeration).

Preheat oven to 400°F

After 30 minutes remove the pastry case from the fridge. Cut a piece of baking parchment to fit and lay it carefully over the pie crust. A trick to make this easier is to cut it to about the right size then literally screw it up into a ball in your hands. Then gently pull it back out flat before laying over the pastry. It will then lay in there much easier. Cover the baking parchment with baking beans, regular dried beans, or dried rice to weigh down the paper.

Bake for 15 minutes then gently lift out the beans/rice and paper, and return it to the oven for a further 5 minutes. Remove and lower the heat to 350°F

Leave the pastry case to cool then cover the bottom with the mincemeat. Spread it out evenly.
For the sponge
In a bowl add the flour, sugar, baking powder, baking soda, salt and dry spices. Stir to combine.

In a jug or small bowl combine the milk, vanilla extract, vinegar, and liquid coconut oil.

Add the wet ingredients to the dry and stir until just combined. Don't over mix. Just keep going until you can no longer see any dried flour and it looks smooth (a few tiny lumps are ok).

Pour the cake batter over the mincemeat layer and spread out evenly making sire the mincemeat is sealed in well and there are no spaces for it to bubble through.

Bake for around 35 minutes or until a toothpick inserted into the cake comes out clean.

Remove from the oven and allow to cool.
For the frosting
Put the powdered sugar into a small bowl.

Gradually add the water a tiny bit at a time until you have a smooth, easily spreadable frosting.

Pour the frosting over the sponge and spread out evenly with a pallet knife, or the back of a spoon. To stop this motion breaking up the top layer of the cake, fill a mug or glass with cold water and dip the pallet knife or spoon in it every so often. It really helps it spread more easily.

Sprinkle the almonds on as soon as you have finished spreading the frosting.
NOTES
Even though this pastry is a really easy one to make, I realize some of you won't want to go to this much trouble. It is absolutely fine to use a pre-made pastry case fro the grocery store. Any 8 - 9 inch one will work. If it is uncooked follow my directions above for how to blind bake it.
Mincemeat is a mixture of dried fruits, spices, orange & lemon juice & zest, nuts and usually brandy or port. You can find my recipe for it here - If you buy it pre-made it is usually found in the baking aisle of the grocery store in jars and is kind of like thick, fruity, dark jam. It is traditionally made with suet which isn't vegan but it is pretty easy to find suet free versions these days.
The frosting stays soft and easily sliceable if you keep the tart out of the fridge. When kept in the fridge it becomes brittle and hard. Just leave it at room temperature for a little while before you slice it as it will soften up as it warms slightly.
When calculating the nutritional information, I could only find mincemeat with suet in it to use in the calculator. If you use vegan mincemeat with no suet then the calories and fat content will be slightly less than it says here. 
NUTRITION
Serving:
1
slice
|
Calories:
618
kcal
|
Carbohydrates:
96
g
|
Protein:
6
g
|
Fat:
24
g
|
Sodium:
360
mg
|
Fiber:
3
g
|
Sugar:
59
g
Did you make this recipe?
Rate it & leave feedback in the comments section below. I love seeing your remakes too. Tag @avirtualvegan on Instagram! 🌟
This is a sponsored conversation written by me on behalf of Frontier Co-op. I only ever recommend products that I truly enjoy & use myself & the featured recipe, opinions & text are all my own.