Transform your last of the season strawberries! With just 3 ingredients and a couple of minutes hands on time you could have yourself a bowl full of these intensely sweet, sticky & syrupy Vanilla Roasted Strawberries.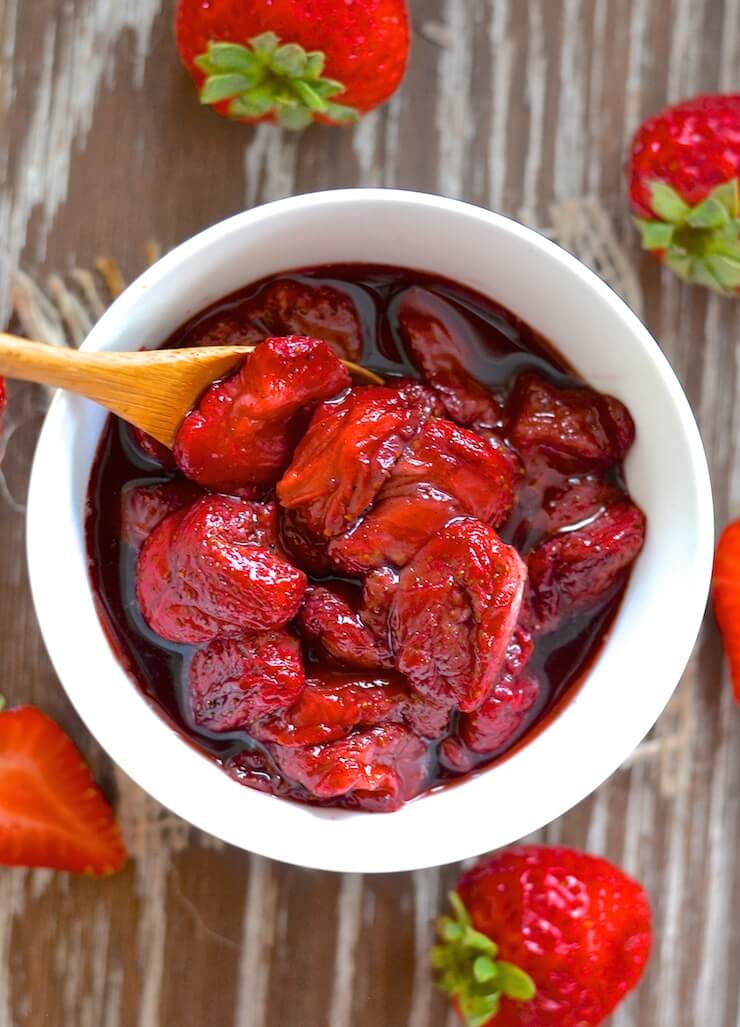 I am very late to the party with these amazing Vanilla Roasted Strawberries. Summer has gone by so fast and in the blink of an eye fall is now officially here. I published my Strawberry Baked Oatmeal recipe back in May and I have been meaning to post this recipe ever since then but for some reason never got around to it. Now as strawberry season is drawing to a close, here I am with this wonderful recipe.

Hopefully strawberries are still plentiful enough wherever you are so that you can make this. There are certainly still lots available here and they are super cheap too so take full advantage while you can!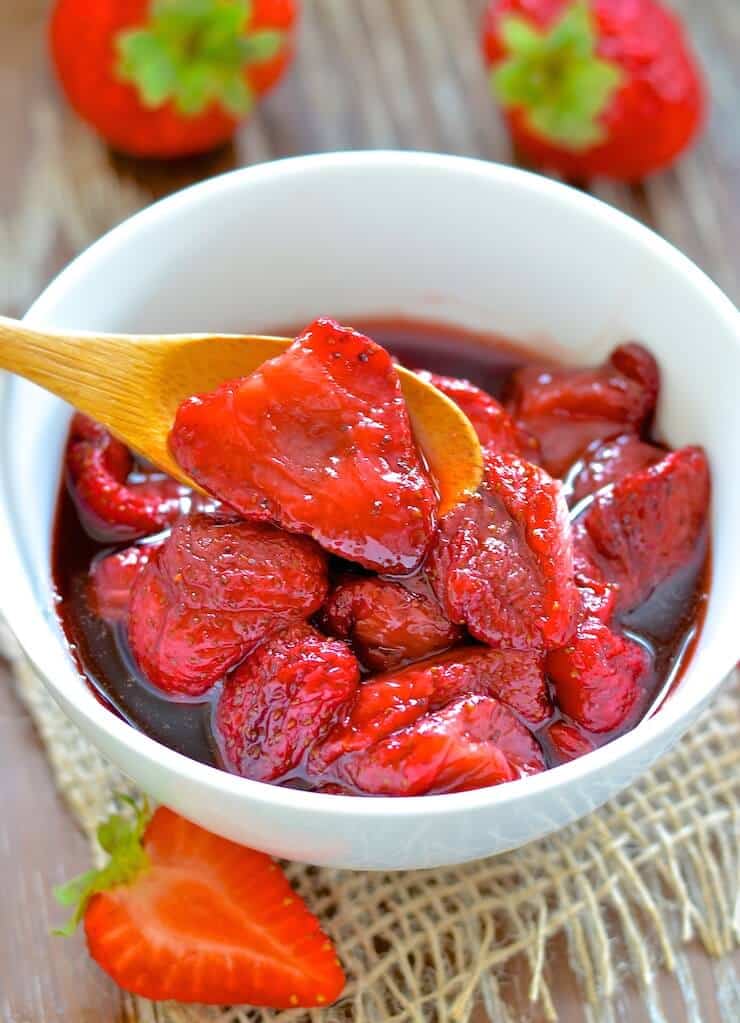 SO EASY TO MAKE!
These Vanilla Roasted Strawberries are incredibly easy to make. Simply mix with some maple syrup and vanilla, spread out on a lined tray and bake until sticky, syrupy and delicious. Only just enough maple syrup to coat the strawberries is used but magically, while they are cooking a thick, very deep red, sticky sauce develops.
THE MAGIC OF ROASTING FRUIT
Roasting is great for intensifying flavour. You probably roast vegetables regularly, and when you do, their natural water content evaporates which intensifies the flavour. The natural sugars also caramelize enhancing the flavour even further. The exact same thing happens when you roast strawberries. Their amazing natural sweetness intensifies so much that they become jaw tinglingly delicious. I really can't put into words how lovely the flavour is. You really must try them!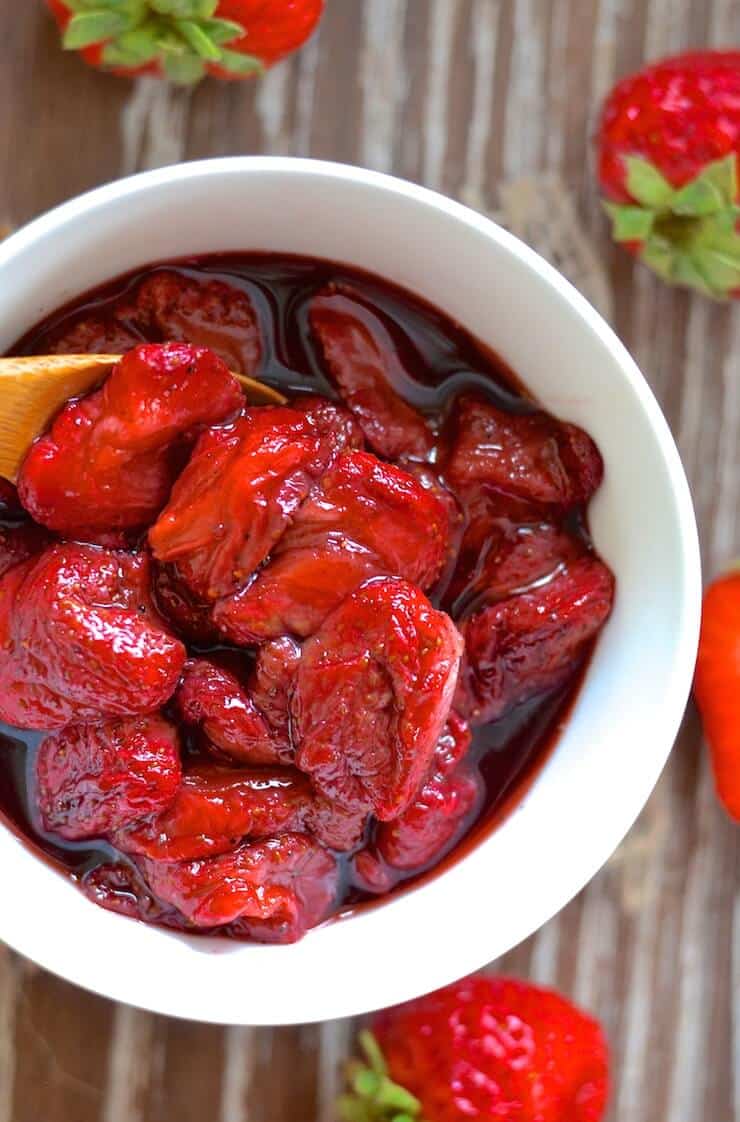 If you manage to not eat these Vanilla Roasted Strawberries straight from the baking tray then they are incredibly versatile.
WAYS TO USE MY VANILLA ROASTED STRAWBERRIES: 
On pancakes or waffles - Try them with my Healthy Oil-Free Pancakes for One 
With your oatmeal - Try them with my Almond Coconut Oatmeal
On smoothie bowls - They are awesome with my Healthy Chocolate Smoothie
With vegan yogurt
With my Vanilla Bean Cream
With ice-cream or nice-cream and in sundaes
As a cake or shortcake filling
Blended until smooth and combined with non-dairy milk to make a healthier milkshake
or drizzled generously over a big slice of Baked New York Cheesecake........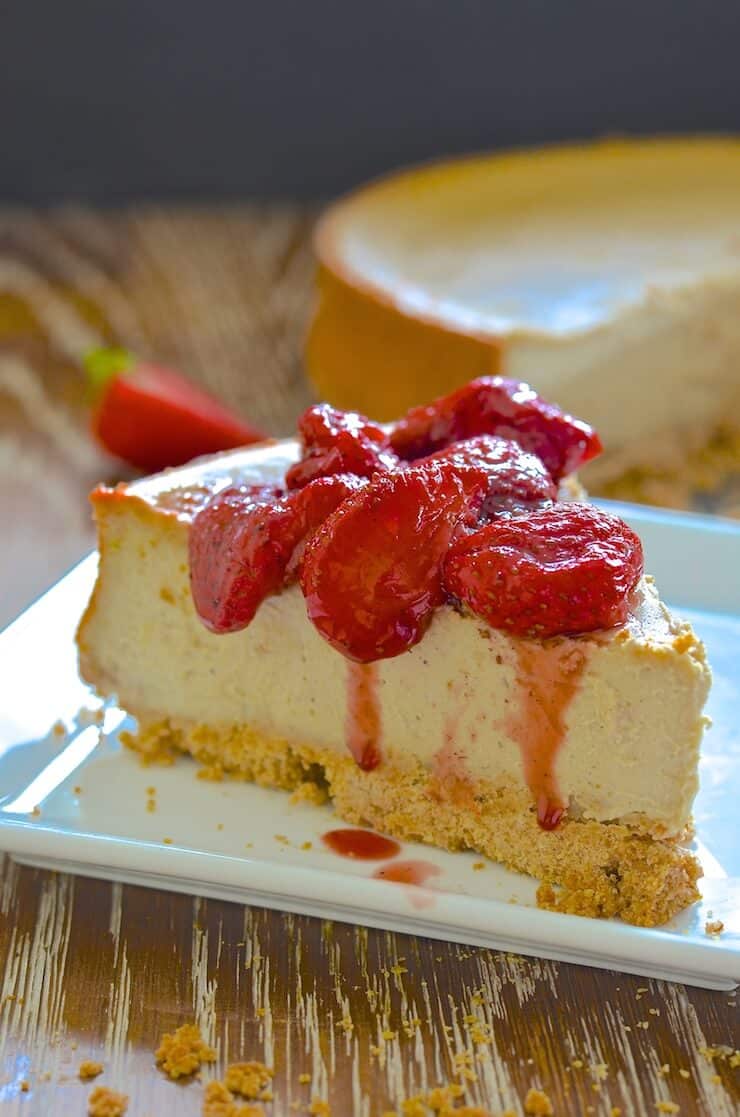 BAKED CHEESECAKE?!
That my friends is a taster of a cheesecake recipe that will be coming to the blog soon. (Note that the recipe has now been published and you can find it here) It is a-mazing and I can't wait to share it with you! It makes such a wonderful accompaniment to these Vanilla Roasted Strawberries!
Now what are you waiting for? Go out and buy some strawberries quick before they disappear! Be sure to come back and let me know what you think though. I love to get your feedback. Be a star and share a pic on Instagram too! User the hashtag #avirtualvegan .
Step By Step Photos Above
Most of my recipes come with helpful step by step photos, success tips & a video so you can make them perfectly first time!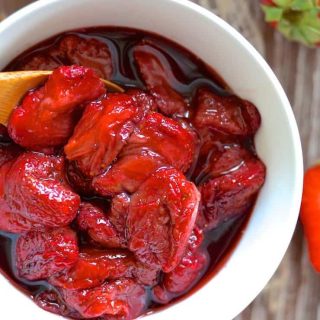 Vanilla Roasted Strawberries
Transform your last of the season strawberries! With just 3 ingredients and a couple of minutes hands on time you could have yourself a bowl full of these intensely sweet, sticky & syrupy Vanilla Roasted Strawberries.
Ingredients
454

g / 1lb

fresh strawberries

¼

cup / 4 tablespoons

maple syrup

¼

teaspoon

vanilla bean powder or vanilla extract
INSTRUCTIONS
Preheat oven to 350°F

Wash and allow the strawberries to dry.

Hull the strawberries and cut in half. if you have any extra big ones cut into quarters.

In a bowl mix the maple syrup and vanilla.

Add the strawberries to the bowl and stir well until coated throughly in the maple vanilla mixture.

Pour onto the prepared tray and bake for 30 minutes.

Remove from the oven and turn them all over.

Bake again for 15 minutes

Immediately scrape them from the tray and into a bowl or jar of some kind.Make sure you scrape all the jammy saucy bits in too.
NOTES
The strawberries don't look saucy immediately but once you scrape them into a bowl, they get saucier as they cool.
Store these Vanilla Roasted Strawberries in a sealed container in the fridge. They will keep for around 5 days
NUTRITION
Serving:
1
serving
Calories:
89
kcal
Carbohydrates:
22
g
Protein:
1
g
Sodium:
2
mg
Potassium:
214
mg
Fiber:
2
g
Sugar:
18
g
Tried this recipe?
Rate it & leave your feedback in the comments section below, or tag @avirtualvegan on Instagram and hashtag it #avirtualvegan
LOOKING FOR MORE RECIPES?
Be sure to check out my recipe index where you can browse and filter recipes by meal type, category and dietary preference.