These deliciously sweet grilled baby potatoes are slightly charred & crispy on the outside & soft & creamy on the inside. They will become your most requested side this summer!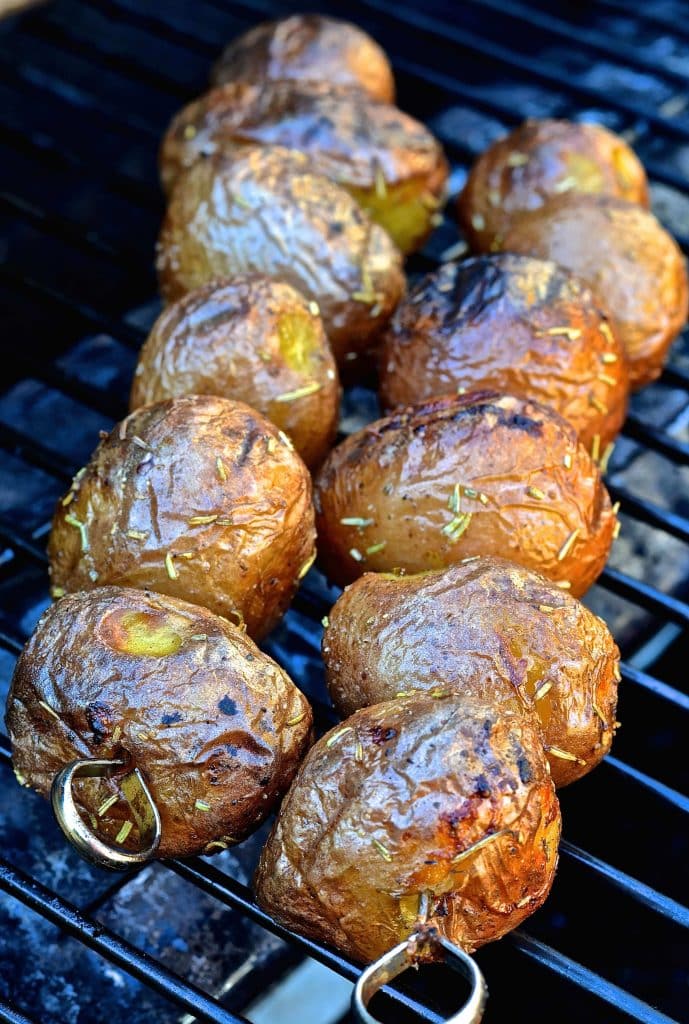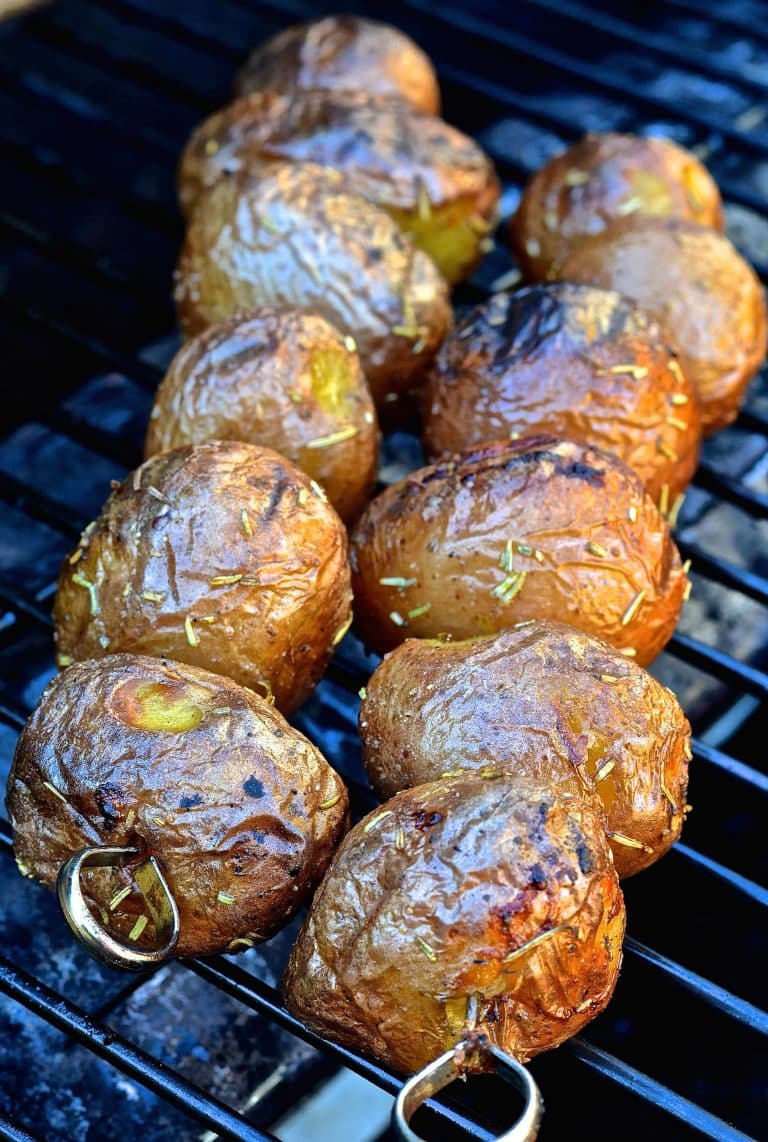 I love summer and the plentiful excuses it gives for grilling frequently. I don't know what it is, but food always seems to taste better when outdoors and it is perfectly possible to have a delicious, satisfying and cruelty free grilling session.
There are so many delicious vegan grilling options. I almost always cook some ears of corn. I simply throw them on the grill in their husks and let them steam themselves to perfection. To serve we just peel back the husks and dig in. Some of my Easy Vegan Butter melted all over them is so good! A few more things that I frequently grill are veggie kabobs, zucchini halved lengthways and cooked face down, marinated portobello mushrooms and of course veggie burgers (look out for a new grillable recipe coming soon).  My Grilled Nectarines are also a must for dessert.
No matter what we are having, my Grilled Baby Potatoes with Rosemary are always on the menu. They are such a favourite with everyone and are incredibly easy to make. They can even be prepared ahead of time, leaving you more time to mingle with your friends and family on the day. We always make more than we need as they are great cold the next day. I often grab them from the fridge for snacks or toss them through a salad for lunch.
These Grilled Baby Potatoes are so incredibly delicious. There is just something about the crispy charred outsides and the soft, fluffy insides that makes them irresistible. They become really sweet as they cook and I could quite easily eat an entire plate of them if I didn't begrudgingly have to share with everyone else. These little potatoes really will become your most requested side this summer!Be sure to buy good quality baby potatoes. I find that the smaller they are the sweeter they tend to be and because of this I absolutely love The Little Potato Company. Their potatoes are like tiny little pebbles and they cook up beautifully on the grill.
I can't wait to hear what you think about these Grilled Baby Potatoes with Rosemary. Be sure to leave your feedback below and share your pictures on Instagram or Twitter tagging @avirtualvegan. I get a lot of notifications, so if you can use the hashtag #avirtualvegan it will mean I won't miss them.
Yields 6 servings
Grilled Baby Potatoes with Rosemary
These deliciously sweet grilled baby new potatoes are slightly charred & crispy on the outside & soft & creamy on the inside. They will become your most requested side this summer!
5 minPrep Time
30 minCook Time
35 minTotal Time
Ingredients
Around 1.5lb / 680g baby potatoes (I love to use The Little Potato Company potatoes )
2 tablespoons olive oil
1 tablespoon chopped fresh or dried rosemary
1 teaspoon salt
1 freezer bag
Instructions
Parboil the potatoes in a large pan with plenty of water and 1 teaspoon of salt.
Cook them for just long enough that you can just stick a fork or knife in but with some resistance (about 10 minutes but this varies depending on the size)
Remove from the heat and drain.
Leave to cool (or until just warm but not hot).
Put the potatoes carefully in the freezer bag.
Pour in the oil and the rosemary.
Seal the bag and give it a good shake around to distribute the oil and herbs all over the potatoes.
Leave to marinade in the fridge for as long as you can but at least 30 minutes. They can be prepared like this up to 24 hours in advance.
When you are ready to cook the potatoes, remove from the fridge and thread onto skewers. I have metal skewers that I use but if you use wooden ones make sure you soak them in cold water for a while first so they don't go up in flames.
Place on the grill and cook for around 20 - 30 minutes, turning frequently.
Once golden brown, very soft and slightly charred, remove from the grill and serve.
Be very careful as they will be exceptionally hot inside.
6.8
https://avirtualvegan.com/grilled-baby-potatoes-rosemary/
Melanie McDonald | A Virtual Vegan
A Virtual Vegan is a participant in the Amazon Services LLC Associates Program, an affiliate advertising program designed to provide a means for sites to earn advertising fees by linking to amazon.com. I make a very small commission when you order from Amazon through one of my links. These is no extra charge to you at all. This very small income goes towards the costs of running this site (things such as web hosting fees, domain name fees, technical assistance,  ingredients, equipment & necessary software/hardware). This post contains affiliate links.
Never Miss A Recipe – Join my mailing list.
Simply add your email and name in the boxes below and click the 'sign me up!' button.