The ultimate one-pot family meal - Rich and hearty Vegan Portobello Pot Roast with red wine, herbs & vegetables. They all combine to make a delicious plant-based feast!
Recipe from The Plant-Based Journey by Lani Muelrath. Shared with permission from both Lani and Ben Bella Books. Image rights belong to Melanie McDonald of A Virtual Vegan.
---
This Portobello Pot Roast recipe is the ultimate one-pot family meal. With meaty portobello mushrooms, chunky vegetables, red wine and herbs, it's rich, flavourful and hearty.
How to make Portobello Pot Roast
A traditional Pot Roast is made by searing the meat, then placing it in a pot with the vegetables, broth, sometimes some wine and herbs. It's then all roasted together really slowly in the oven.
This Vegan Pot Roast is made in much the same way, by searing the portobello mushrooms then cooking them with the vegetables and broth in the oven.
Remember when you put it all together, that not much evaporation happens in the oven because it has a lid on it, so don't add too much broth at first. Check it as it's cooking and add a little more if you think it needs it. You can always add more but you can't take it away.
I like to use the broth sparingly when I make this recipe so that the gravy is really thick, dark, rich and flavourful like in the photos, but you can add more broth (like in my video), so it is much thinner if you prefer. It's almost like a stew then.
Serving Suggestions
This Portobello Pot Roast smells amazing and is so rich and delicious.
Serve it with some extra oil-free crispy roasted potatoes or my vegan mashed potatoes and some crusty bread to mop up that tasty gravy.
Also on the side, some steamed vegetables, roasted red cabbage, a little horseradish sauce and a big glass of red wine. The horseradish complements it perfectly.... as does the wine - hic ...
Got an Instant Pot?
If you have an Instant Pot, I have created a Vegan Portobello Instant Pot Pot Roast which you will love! Here it is: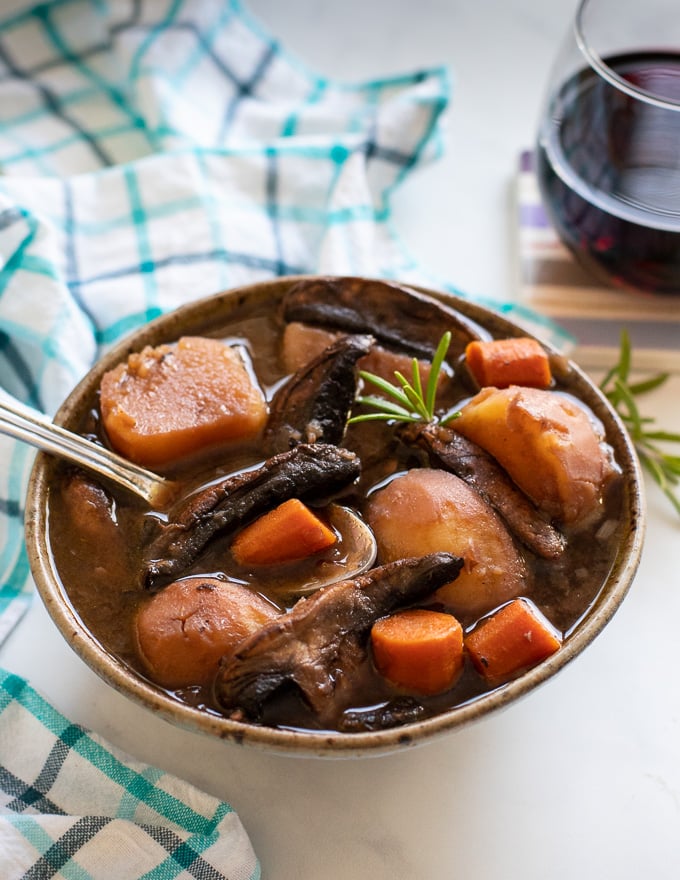 Variations
This recipe has become a staple for us. I do however add a little more red wine to the sauce and a bit less stock. A few dried and rehydrated porcini mushrooms to intensify the flavour a little are amazing too. Some other ideas:
Cook it, let it cool and use it as a pie filling. Make it as directed so the gravy is pretty thick. Then make a pastry crust and fill it with the pot roast to make a pie. Divine is the word!
Cook in a slow cooker - Directions are in the recipe
If you try this recipe, let me know how you like it by leaving a comment and rating below! And be sure to join my mailing list for more deliciousness!
Recipe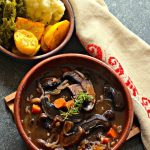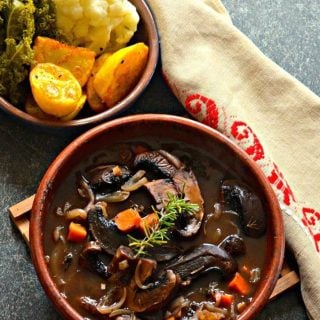 Portobello Pot Roast
Author:
The ultimate one-pot family meal - Rich and hearty Vegan Portobello Pot Roast with red wine, herbs & vegetables. They all combine to make a delicious plant-based feast!
Ingredients
1/2

cup | 120mls

red or white wine

, I think red works best

4

large portobello mushrooms

sliced into 3/4-inch pieces

1

large onion

sliced

2

cloves

garlic

pressed

3

tablespoons

flour

if sensitive to gluten use gluten-free flour

1

teaspoon

rubbed sage

1

teaspoon

dried basil

3

cups | 720mls

vegetable broth

divided. If you use all the broth it will end up with thin gravy like in my video. I personally prefer to use less and have a thicker gravy. Usually about 500 mls total.

4

large potatoes

quartered

4

large carrots

cut into 3-inch pieces

Salt and freshly ground black pepper or lemon pepper

to taste

2

teaspoons

vegan Worcestershire sauce

, or 1 tablespoon of soy sauce or tamari

1

sprig fresh rosemary
INSTRUCTIONS
Preheat the oven to 350 degrees F (for slow cooker instructions see recipe notes)

In a large saucepan (or a large stovetop to oven like a Dutch Oven , heat 1/4 cup of the wine and add the portobello mushroom slices. Allow them to cook through and brown a bit—you'll need to keep moving them around and turning them—and then remove from the pan and set aside.

Add the remaining 1/4 cup wine to the pan and add the onion and garlic. Caramelize the onions by stirring them until they wilt and begin to brown. Remove the onions from the pan and set aside.

Mix the flour, sage, and basil together in a small bowl. Stir in 1/4 cup of the broth to create a paste, and pour the mixture into the same pan you used for the mushrooms and onions. While stirring constantly over medium heat, very slowly add the rest of the broth so that you create a gravy or sauce.

When the mixture just starts to boil, turn the heat off and add any additional seasonings you prefer, such dried herbs and black pepper.

Add the potatoes, carrots, salt and pepper, and Worcestershire sauce to the gravy mixture. If more liquid is needed add more broth or some water.

Add the mushrooms and onions to the mixture and ladle into a large ceramic or glass pot or casserole dish with a lid, layering in the sprigs of rosemary and thyme. Place the lid on and put into the oven and bake for 1 hour. Remove from the oven and serve hot.
NOTES
For more flavour, replace some of the broth with extra wine and throw in a handful of dried porcini mushrooms before it goes in the oven.
If you would like to cook this Portobello Pot Roast in a slow cooker then prepare as directed until the gravy is made, then tip it into the slow cooker and add the rest of the vegetables and the seasonings. Sit well and  cook on low for around 4 hours or until the potatoes are tender. Add a little more liquid if it looks like it might dry out towards the end. You could use broth or some red wine.
NUTRITION
Serving:
1
serving
|
Calories:
199
kcal
|
Carbohydrates:
39.4
g
|
Protein:
6.1
g
|
Fat:
0.8
g
|
Sodium:
578
mg
|
Fiber:
5.7
g
|
Sugar:
8.7
g
|
Vitamin A:
10650
IU
|
Vitamin C:
42.1
mg
|
Calcium:
70
mg
|
Iron:
2.3
mg
Did you make this recipe?
Rate it & leave feedback in the comments section below. I love seeing your remakes too. Tag @avirtualvegan on Instagram! 🌟
This is a popular recipe that was previously published on A Virtual Vegan in 2015. I have updated the post and added a video to make it even better!