Rich and hearty Vegan Portobello Pot Roast with red wine, herbs & vegetables. They all combine to make a delicious plant-based feast!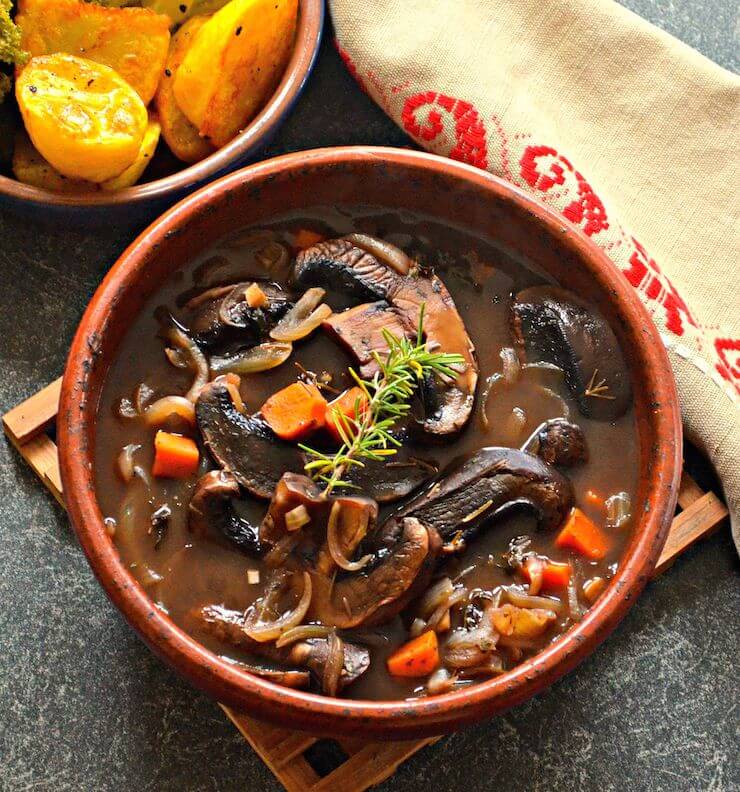 Today I am sharing with you a recipe from the The Plant-Based Journey by Lani Muelrath as part of a blog tour organized to promote the book.
There were a few recipes in the book that I considered featuring, but anyone who knows me well knows how indecisive I am! Because I couldn't choose I put forward a vote on my Facebook page. The Portobello Pot Roast was a clear winner.
I made and photographed the Portobello Pot Roast last night.
I am the only vegan in our household and my husband and son were having roast beef for dinner. I cooked this alongside it and because they were having roast potatoes I did not add the potatoes to the recipe. I used red wine as a substitute for the white as that was what we were planning on drinking with our dinner, and I used fresh sage instead of rubbed sage as I have some growing in a pot outside. Other than this everything was as suggested in the recipe.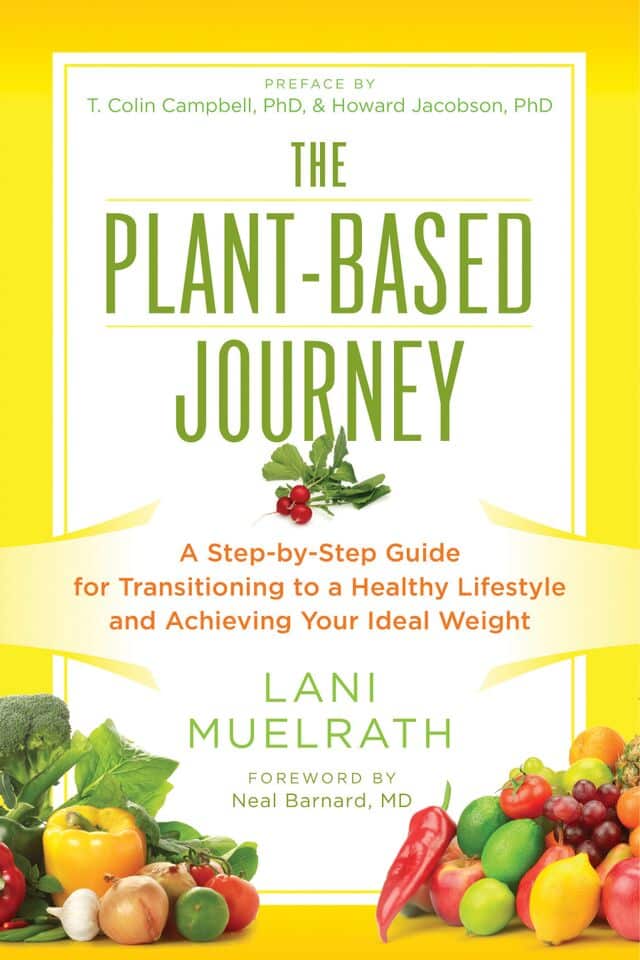 This recipe was easy to make and the instructions clear. The first step involved sautéing the portobellos in some of the wine. I found that they absorbed the wine very quickly and began to stick to the pan a bit. I would suggest using a non stick pan rather than a stainless steel one as I did. This however was the only problem that I ran into when making it.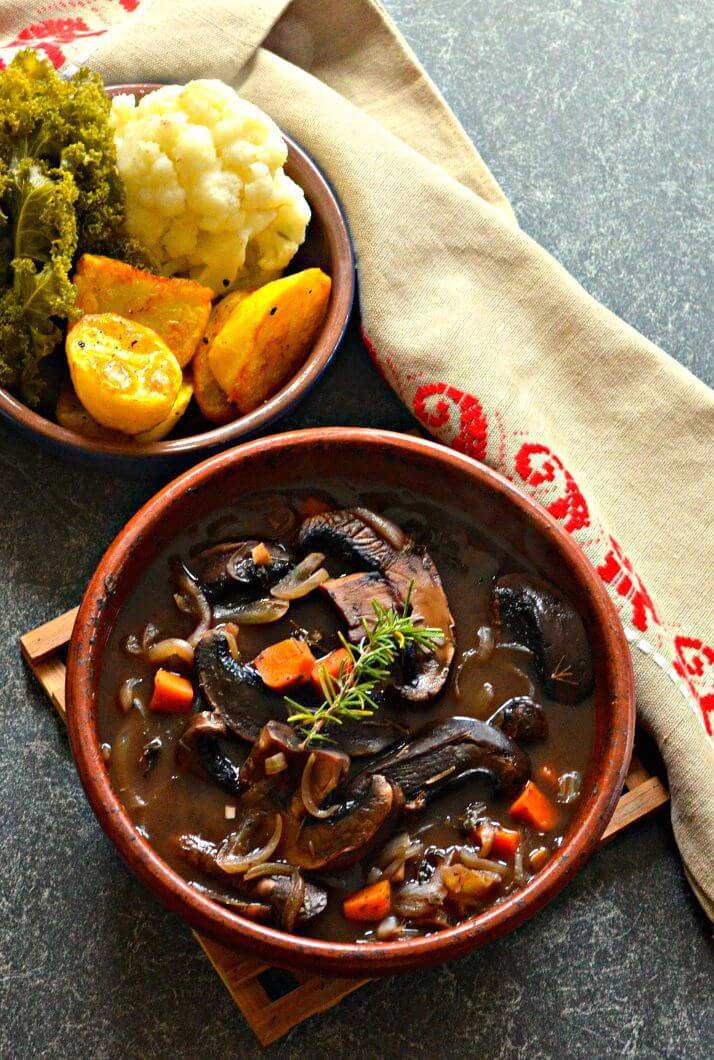 WHAT TO SERVE WITH PORTOBELLO POT ROAST
This Portobello Pot Roast smells amazing and is so rich and delicious. I like to serve it with my oil-free crispy roasted potatoes. If you haven't tried them yet give them a try.
Just look…They are made with no oil at all 😍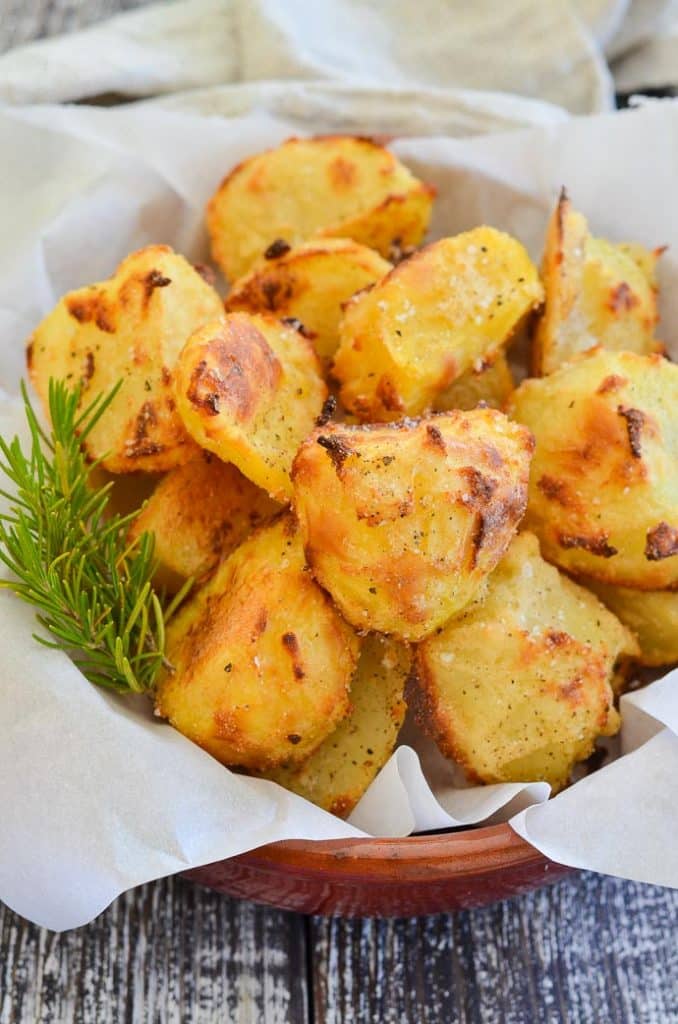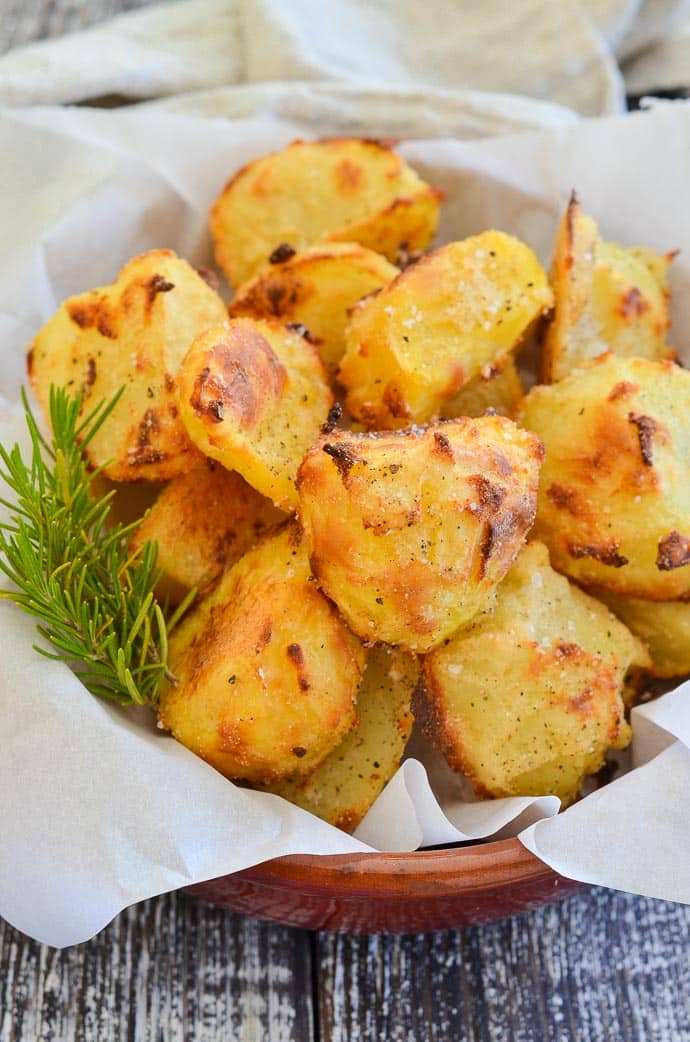 Also on the side, some steamed vegetables, a little horseradish sauce and a big glass of red wine. The horseradish complements it perfectly!
I thoroughly enjoyed this Portobello Pot Roast and it has become a staple for us.  I do however add a little more red wine to the sauce and a bit less stock, plus a few dried and rehydrated porcini mushrooms to intensify the flavour a little. When you do this it is out of this world!
TRY IT AS A PIE FILLING!
On occasion, and as a treat, I like to make a pastry crust and fill it with the Portobello Pot roast to make a pie. It is divine and I highly recommend it!
TRY IT IN A SLOW COOKER
This recipe works really well in a slow cooker too. Instructions are in the recipe card.
THE MINDFUL VEGAN
If you love this Portobello Pot Roast and oil-free, healthy recipes in general, then you might also be interested in my review of Lani's latest book, The Mindful Vegan. I featured her recipe for Healthy Oil-Free Vegan Biscuits and they have been so popular.
Here they are 😍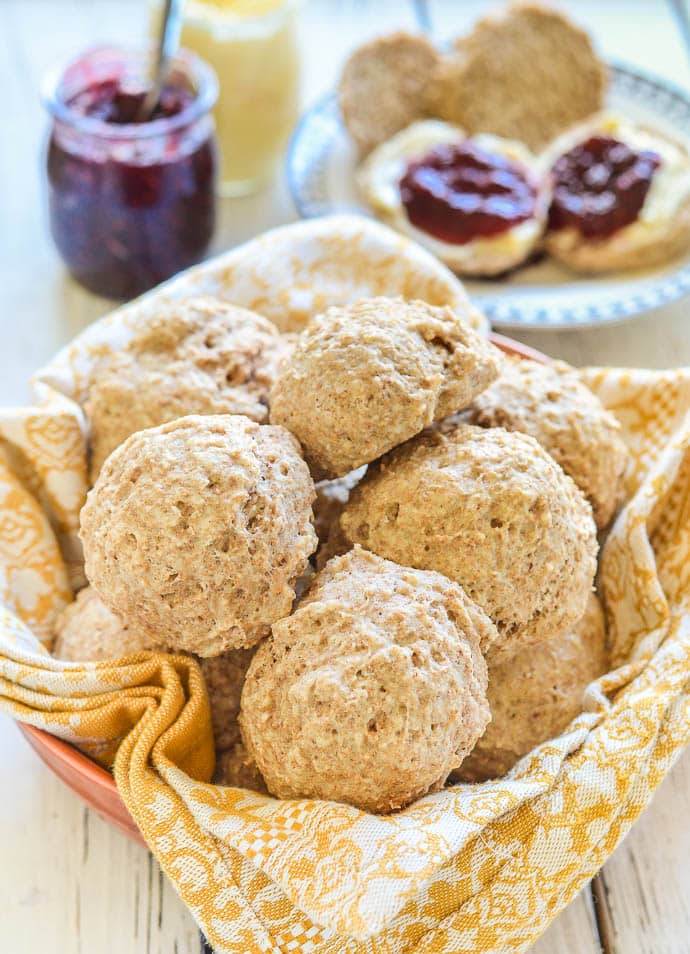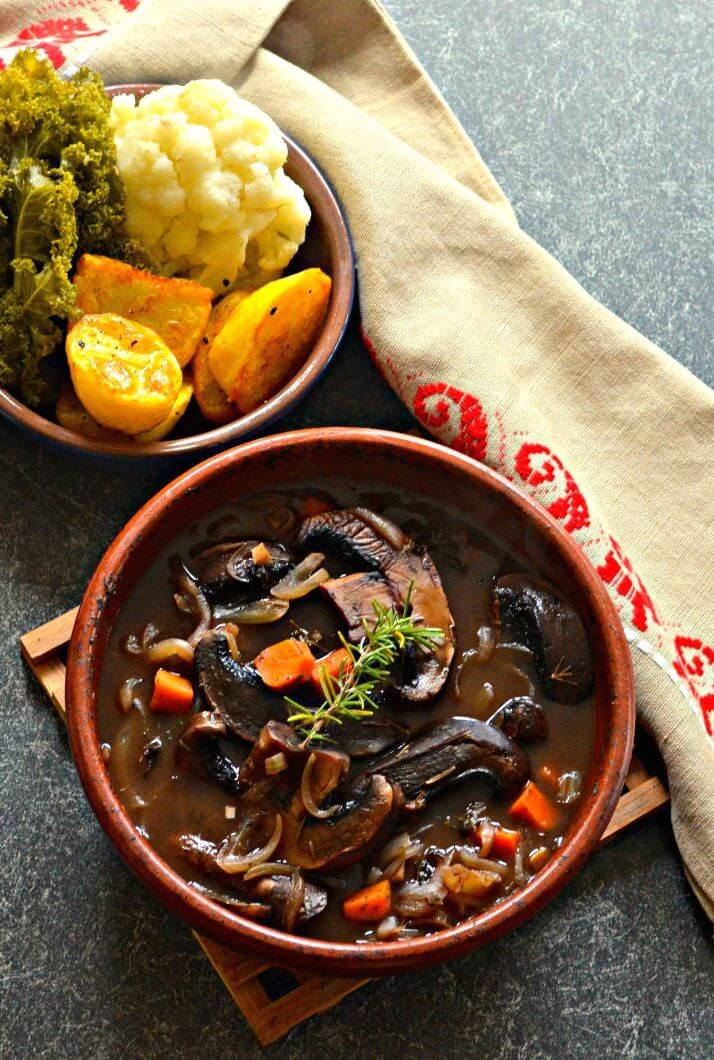 Portobello Pot Roast
Lani Muelrath says: "This recipe came to me as a happy surprise from my friend Jim Presentati. I first met Jim on our favorite mountain biking trail. Soon after he told me his phenomenal plant-based success story (see page TK), Jim raved about the "absolutely delicious portobello mushroom pot roast" that his wife Kathy makes. The next time I saw him, he mentioned it again. Time to investigate! When Kathy graciously sent me her recipe, I couldn't help but think it was a perfect match for this section of the book. Who doesn't know and love pot roast? The portobellos make the perfect savory swap-out and create a whole new gustatory experience. Here is my version, adapted from Kathy's recipe, with just a tweak or two."
Total Time
1
hour
30
minutes
Ingredients
1/2

cup | 120mls

white wine

you can also try red—I've even made this with sake, divided

4

large portobello mushrooms

sliced into 3/4-inch pieces

1

large onion

sliced

2

cloves

garlic

pressed

3

tablespoons

flour

if sensitive to gluten use gluten-free flour

1

teaspoon

rubbed sage

1

teaspoon

dried basil

3

cups | 720mls

vegetable broth

divided

4

large potatoes

quartered

4

large carrots

cut into 3-inch pieces

Salt and freshly ground black pepper or lemon pepper

to taste

2

teaspoons

vegan Worcestershire sauce

4

sprigs fresh thyme

1

sprig fresh rosemary
Instructions
Preheat the oven to 350 degrees F (for slow cooker instructions see recipe notes)

In a large saucepan, heat 1/4 cup of the wine and add the portobello mushroom slices. Allow them to cook through and brown a bit—you'll need to keep moving them around and turning them—and then remove from the pan and set aside.

Add the remaining 1/4 cup wine to the pan and add the onion and garlic. Caramelize the onions by stirring them until they wilt and begin to brown. Remove the onions from the pan and set aside.

Mix the flour, sage, and basil together in a small bowl. Stir in 1/4 cup of the broth to create a paste, and pour the mixture into the same pan you used for the mushrooms and onions. While stirring constantly over medium heat, very slowly add the rest of the broth so that you create a gravy or sauce.

When the mixture just starts to boil, turn the heat off and add any additional seasonings you prefer. (Kathy suggests parsley and pepper.)

Add the potatoes, carrots, salt and pepper, and Worcestershire sauce to the gravy mixture. If more liquid is needed to keep the vegetables from drying out, add more broth.

Add the mushrooms and onions to the mixture and ladle into a large ceramic or glass pot or casserole dish with a lid, layering in the sprigs of rosemary and thyme. Place the lid on and put into the oven and bake for 1 hour. Remove from the oven and serve hot.
Recipe Notes
Alternate Cooking Options: • If you have a large, heavy pot such as a dutch oven that can go from cooktop to oven, you can prepare the entire dish in that fashion, as Kathy does. • Assemble everything in a big pot on the stove or pressure cooker and cook until the vegetables are done. The flavor pizzazz provided by searing the mushrooms, onions, garlic, and gravy is compromised somewhat. Yet if you're pressed for time, each variation is delicious.
If you would like to cook this Portobello Pot Roast in a slow cooker then prepare as directed until the gravy is made, then tip it into the slow cooker and add the rest of the vegetables and the seasonings. Sit well and  cook on low for around 4 hours or until the potatoes are tender. Add a little more liquid if it looks like it might dry out towards the end. You could use broth or some red wine.
Nutrition Facts
Portobello Pot Roast
Amount Per Serving (1 serving)
Calories 199
Calories from Fat 7
% Daily Value*
Total Fat 0.8g 1%
Sodium 578mg 24%
Total Carbohydrates 39.4g 13%
Protein 6.1g 12%
* Percent Daily Values are based on a 2000 calorie diet.