A made-from-scratch Vegan Green Bean Casserole with tender green beans baked up in a deliciously creamy mushroom sauce, and topped with crispy, golden, buttery breadcrumbs and tangles of caramelized onions. This really is the ultimate way to eat green beans!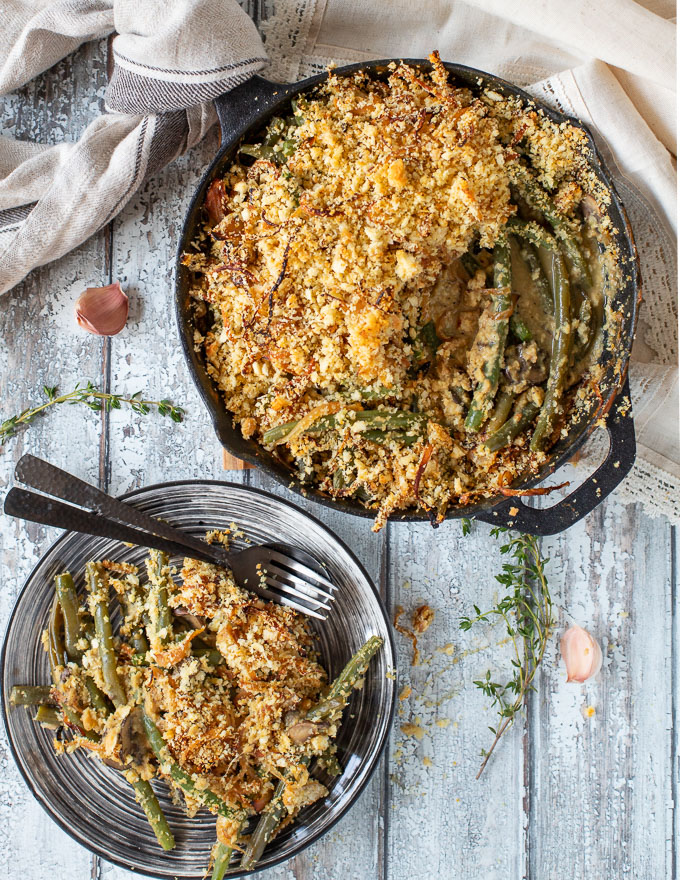 Oh boy, I have had so many requests for a Vegan Green Bean Casserole recipe over the last few weeks, and as someone who doesn't like to disappoint, here we are.
Your wish is my command.
Thanksgiving kind of crept up on me, so these past few weekends have been Thanksgiving recipe creation madness. I brought you my Vegan Portobello Instant Pot Pot Roast last week, and now with only days to spare we have this Vegan Green Bean Casserole.
It's coming at you late, but to be perfectly honest with you, I could eat this literally every. single. day. Thanksgiving, Christmas or not. Something this good should not be reserved for once per year. Make it for Thanksgiving. Make it for Christmas (in fact it's included in my Vegan Christmas Dinner Menu, Shopping List and Timeline). Then you will be well and truly addicted and wanting to make it everyday in between too.
Naked green beans are all well and good, but how awesome is it to eat them in creamy, casserole form, especially when topped with crispy, buttery, oniony breadcrumbs?!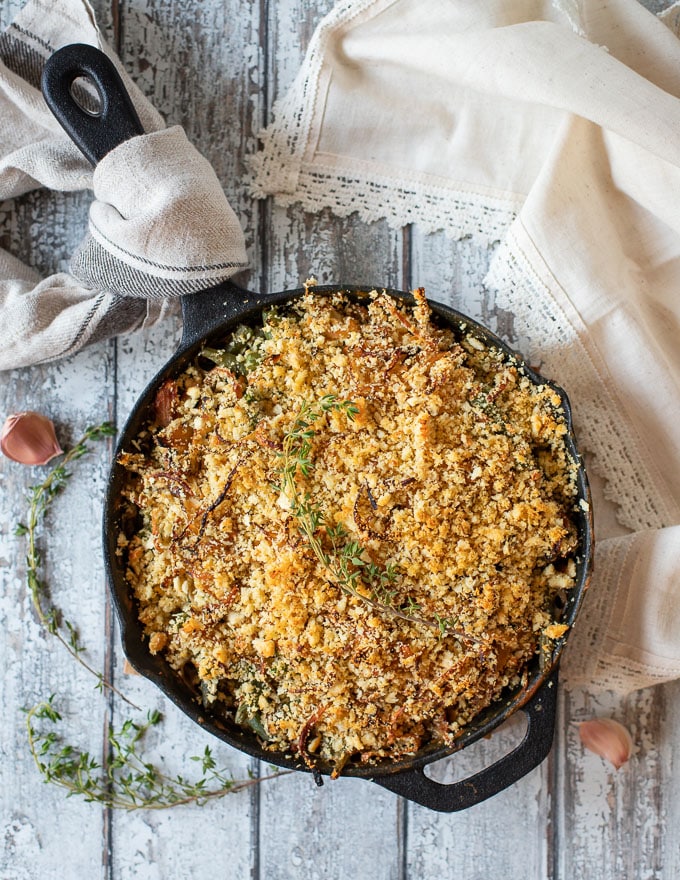 It's comforting, cozy, delicious bliss.
You won't find any cans of mushroom soup hidden here. We are making our casserole from scratch, which means it involves a little more work and a few steps, but it's all easy and comes together quickly. And your tastebuds will thank you. Promise.
So, let's talk toppings.
My Vegan Green Bean Casserole doesn't have the traditional topping of dried up onion bits from a container. I can't bring myself to buy those. In fact I have never ever eaten them. REAL onions are the deal here. And why use anything but?
Sautéed onions are so good. Not much can beat their flavour, or the smell when they are cooking, and as you know by now, flavour is always where it's at when it comes to my recipes. There are no compromises.
So, we whizz up a super yum blend of breadcrumbs, garlic, nutritional yeast and (optional) vegan butter or olive oil, and we mix those crumbs with sweet, caramelized onion strands and sprinkle it all over those saucy, creamy green beans. Once baked up, you end up with a delicious tangle of golden, buttery, crispy crumbs and sweet, sweet, fragrant onion. It works so well! And if you really can't live without the dried up onion bits, you can sprinkle some on top for good measure.
So we've got the topping. What about what's underneath?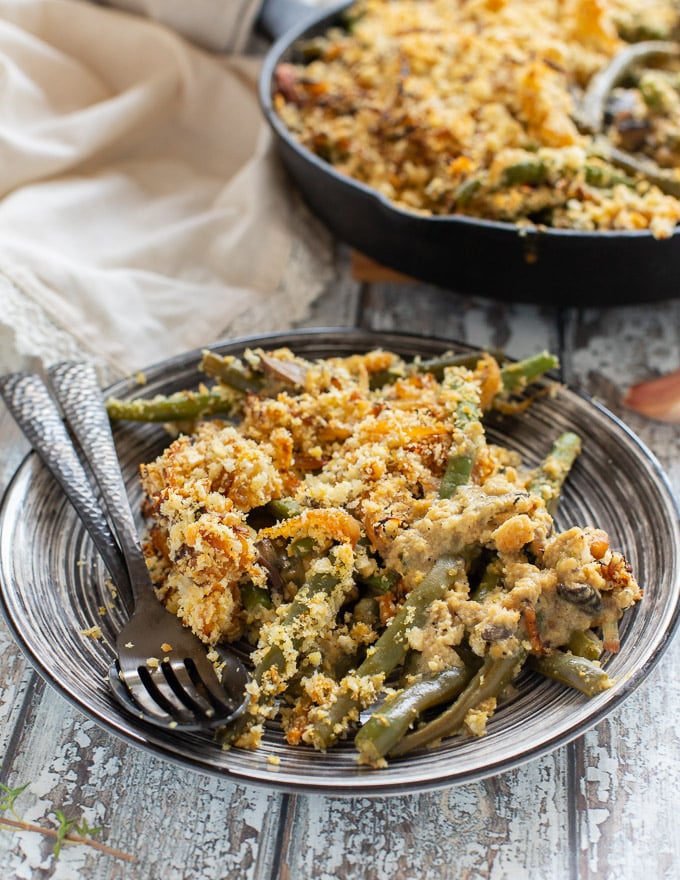 We're talking perfectly cooked and still green, green beans which still retain a bit of bite for delicious texture, all doused in just the right amount of creamy, mushroomy, perfectly seasoned sauce.
Just perfect for serving with your vegan roast. That creamy green bean goodness, and that buttery, golden, oniony topping are absolute magic together, and will become the best loved side on your Thanksgiving table. Apart from maybe the crispy roasted potatoes, because crispy roasted potatoes are life.
WHAT DO I NEED TO MAKE THIS VEGAN GREEN BEAN CASSEROLE
---
This post contains affiliate links. Read my disclosure policy here.
---
This Vegan Green Bean Casserole doesn't require anything fancy. The only piece of equipment really necessary is a food processor.
This is the one I use:
You could use a blender
if you don't have a food processor but if it's not a high powered one, you might need to make the topping in 2 batches.
The only ingredient that you may not be familiar with is Nutritional Yeast. It adds a lovely depth of flavour to this recipe. My favourite brand is this one:
I buy it from Amazon and it's much cheaper than any you can find at the grocery store.
All nutritional yeasts are not created equally. Some have a much better flavour than others and this one, is the best tasting one I have tried.
HOW DO I MAKE VEGAN GREEN BEAN CASSEROLE
---
SEE MY VIDEO FOR A VISUAL GUIDE. FOR INGREDIENTS & FULL INSTRUCTIONS PLEASE SEE THE RECIPE CARD AT THE END OF THIS POST
---
Here is what you need to make this showstopper of a green bean casserole: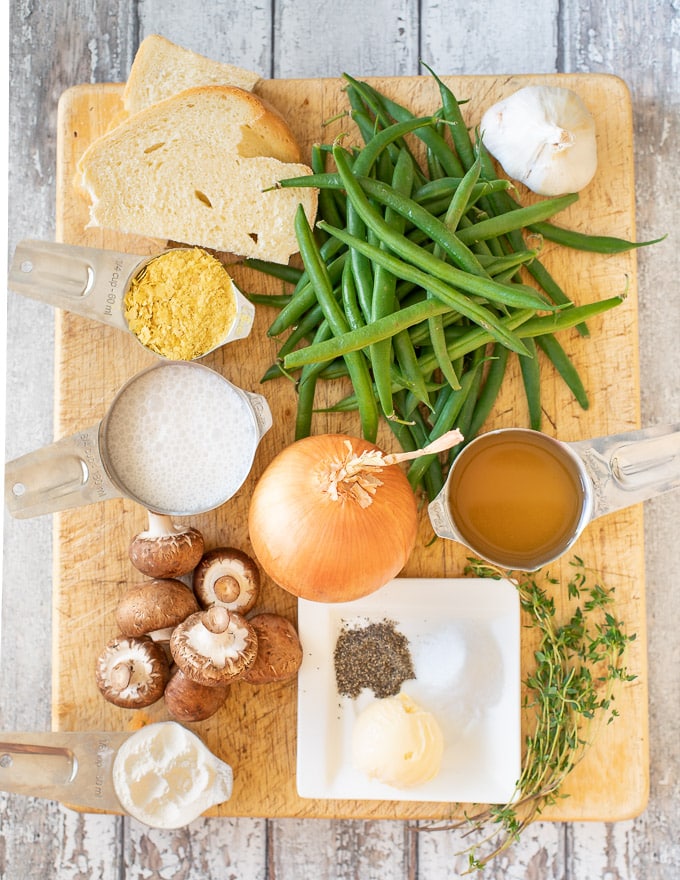 And here's how it's done:
STEP 1
Trim the ends off the green beans and blanche them then rinse in cold water.


STEP 2
Sauté those onions in a skillet until perfectly sweet and golden.


STEP 3
Process the bread up in a food processor or a blender, with the other topping ingredients, then stir in the sautéed onions.


STEP 4
Sauté the mushrooms in the skillet with some seasoning and fresh thyme.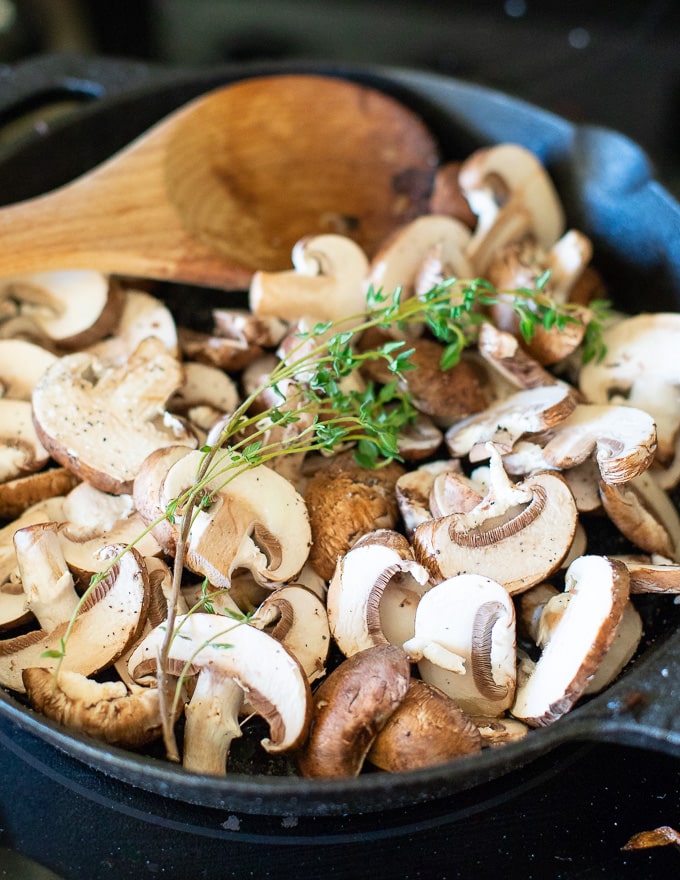 STEP 5
Make the creamy sauce right there in the pan with the mushrooms.


STEP 6
Mix the green beans into the sauce, top with the oniony bread crumb mix and bake.


STEP 7
Eat while hot and bubbling!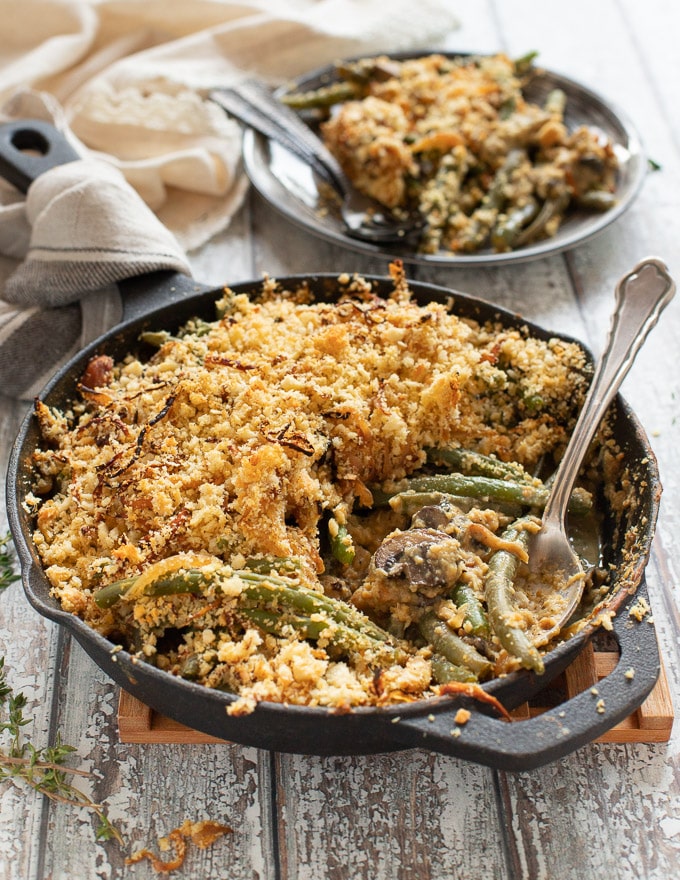 CAN I MAKE THIS GREEN BEAN CASSEROLE IN ADVANCE?
You can prepare the individual components of this recipe in advance, and you can mix the green beans into the mushroomy sauce and have them ready and waiting, covered, in the skillet or any other oven proof dish. Just leave the filling separate from the oniony breadcrumb topping until you are about to bake it so that it doesn't get soggy. Store the topping in any airtight container, and keep both that and the filling in the fridge until needed. Green beans do tend to spoil pretty quickly, so I wouldn't make it up any more than the day before you are going to bake it just to be safe.
---
This Vegan Green Bean Casserole is:
Super creamy
Rich and delicious
Full of texture
Festive
Savoury
Comfort food at it's best!
This is my spin on a Thanksgiving recipe classic, and I can't wait for you to try it!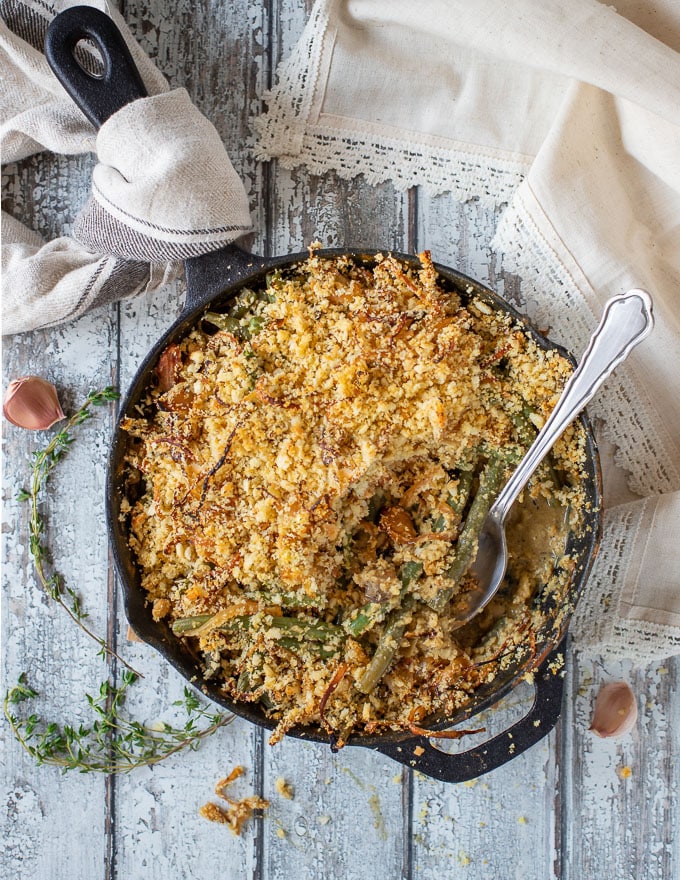 And if you love this recipe, please do check out my cookbook, and subscribe to my email list for a fabulous FREE eCookbook featuring my top 10 recipes. Being on the list means you will be first to see my new recipes and you'll be kept in the loop on all things new and exciting too!
Vegan Green Bean Casserole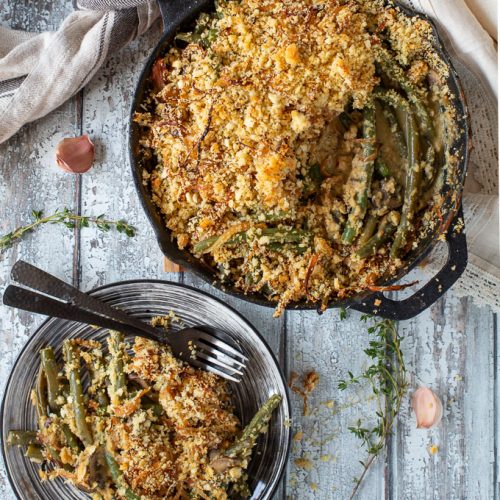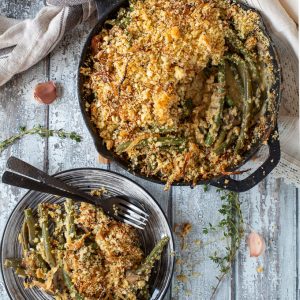 A made-from-scratch Vegan Green Bean Casserole with tender green beans baked up in a deliciously creamy mushroom sauce, and topped with crispy, golden, buttery breadcrumbs and tangles of caramelized onions. This really is the ultimate way to eat green beans!
Ingredients
1lb / 16

oz

fresh green beans

, not frozen, with ends trimmed

3

tablespoon

vegan butter

, or olive oil (optional - you can omit the butter to make the recipe oil free)

1

large

onion

, peeled and cut into half moon thin slices

5 oz / 140 g/ 2

thick

slices of stale bread

3

cloves

garlic

, divided - 1 clove left whole, the other 2 chopped finely

6

tablespoon

nutritional yeast

, divided

6 oz / 170 g / about 2

heaping cups sliced

cremini (brown) mushrooms

4

large sprigs

fresh thyme

2

tablespoons

all purpose flour

, or cornstarch (corn flour in the UK)

¾ cup / 180

ml

vegetable or mushroom broth

½

cup

unsweetened non-dairy milk

, soy milk works best

½

teaspoon

salt

, divided - plus more to taste

¼

teaspoon

freshly ground black pepper

, divided - plus more to taste
INSTRUCTIONS
Fill a kettle and boil it. Put the trimmed green beans into a large saucepan and pour over the boiling water. Turn the heat to high and wait for them to come to a rolling boil then turn off the heat, drain them in a colander, and immediately rinse them with cold water. Leave in the sink to drain.

In a medium skillet over a MEDIUM heat, add 1 tablespoon of the butter (use a few tablespoons of water to sauté with to keep the recipe oil-free). Once melted and the pan hot, add the onion and cook, stirring frequently for about 15 minutes, until the onion is really golden brown. Set aside while you prepare the breadcrumbs.

Break the slices of bread into smaller pieces with your hands and add to the bowl of a food processor along with 1 tablespoon of butter (omit for oil-free), 1 whole clove of garlic and 2 tablespoons of nutritional yeast. Process until fine crumbs. Remove the blade and stir through the sautéed onions. Set aside.

Preheat the oven to 400 °F (200 °C). 

Warm the same skillet you cooked the onions in over a medium heat and add the last tablespoon of butter or oil (or water for oil free). Add the sliced mushrooms, the sprigs of thyme and a pinch of salt and pepper, then sauté until the mushrooms are golden on both sides.

Add the garlic, cook for a minute more, then turn the heat down to low, remove the thyme sprigs and discard, then add the flour. Stir to coat the mushrooms and continue to cook for 1 minute to remove the raw flour taste.

Pour in about half a cup of the vegetable broth, stirring well as you go to work out any lumps, then add the remaining ¼ cup,  stir again then add the non-dairy milk, the remaining 4 tablespoons of nutritional yeast and the remaining salt and pepper. Keep stirring until it is starting to thicken. Turn off the heat, taste and add more seasoning if necessary, then add the green beans to the sauce and stir to coat them. Flatten them down as best you can, then spoon over the oniony breadcrumb mixture. Don't compact it. Just leave it loose and rough looking. Alternatively, you can transfer the saucy green beans to an ovenproof dish, then add the breadcrumb topping.

Bake for 25 minutes or until the bread crumbs are golden and the sauce is bubbling around the edges. 
NOTES
This recipe is also great with broccoli or cauliflower instead of green beans.
If you want to make this recipe in advance see my section in the post above for tips.
NUTRITION
Serving:
1
serving (330 g)
Calories:
288
kcal
Carbohydrates:
38
g
Protein:
13
g
Fat:
10.4
g
Saturated Fat:
2.6
g
Sodium:
668
mg
Fiber:
7
g
Sugar:
8
g
Vitamin A:
850
IU
Vitamin C:
24.8
mg
Calcium:
120
mg
Iron:
3.8
mg
Nutritional information is provided for convenience & as a courtesy only. The data is a computer generated estimate so should be used as a guide only.
Tried this recipe?
Rate it & leave your feedback in the comments section below, or tag @avirtualvegan on Instagram and hashtag it #avirtualvegan