A deliciously cool, creamy & nut-free Vegan Onion Garlic Dip. Full of sweet roasted garlic & caramelized onion flavour & perfect for your next party!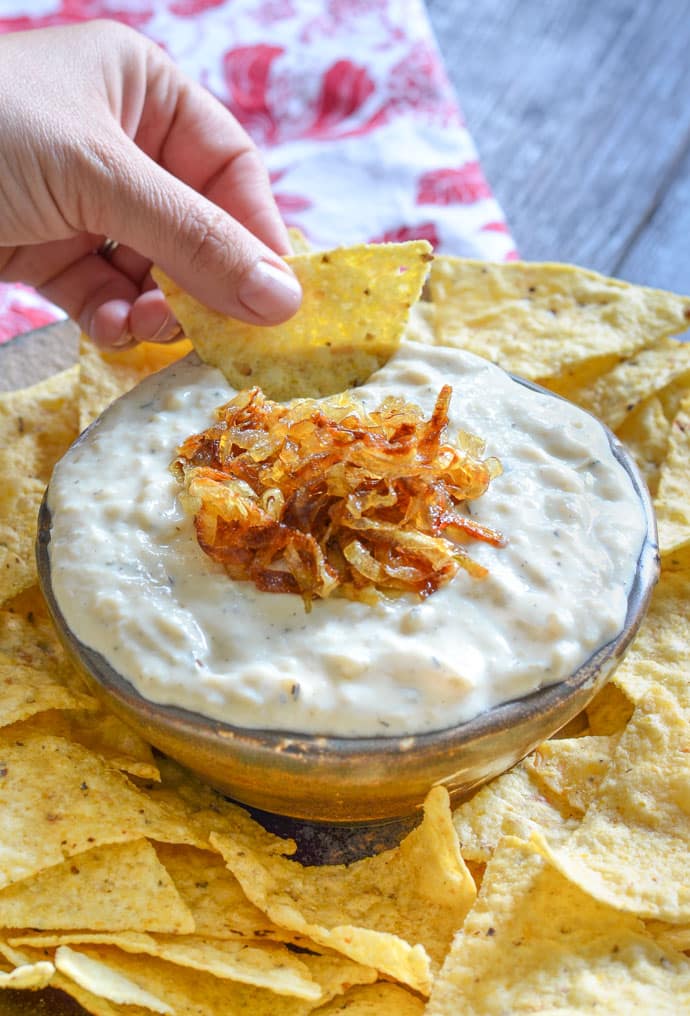 You guys, I've made you a dip just in time for your summer parties! In Canada we have our 150th birthday to celebrate this weekend, then, a few days later, our U.S friends celebrate the Fourth of July.  Partying a-plenty, drinks a-flowing, and you know what happens then? The munchies. Without fail. So keep your guests (and yourself) happy by making a big bowl of deliciously Creamy Onion Garlic Dip and surround it with your favourite dippers. Some curry hummus would be pretty awesome too!
I am thinking tortilla chips, breadsticks, raw veggie sticks and warm homemade pita bread.????
NUT-FREE CREAMY ONION GARLIC DIP
Unlike a lot of vegan dips, this Creamy Onion Garlic Dip is nut-free. Rather than use cashew nuts to make a creamy sauce, I have used silken tofu instead.
I have many vegan tofu recipes, and have used tofu to make smooth, creamy sauces many times, like my Easy Vegan Cheese Sauce, but I had never used it to make a dip until now.
It's a basically flavourless base, but because we want the garlic and onion flavours to shine with no distractions it is just perfect.
And those flavours really do shine.☀️ We're talking garlic roasted in the oven until it's super soft and sweet. Slowly, and I mean really slowly, caramelizing the onions, then blending them all up with the silky soft tofu, a touch of thyme (plus a few other things) until we have garlicky oniony dip heaven. A pile of crispy caramelized onions finishes it all off rather nicely.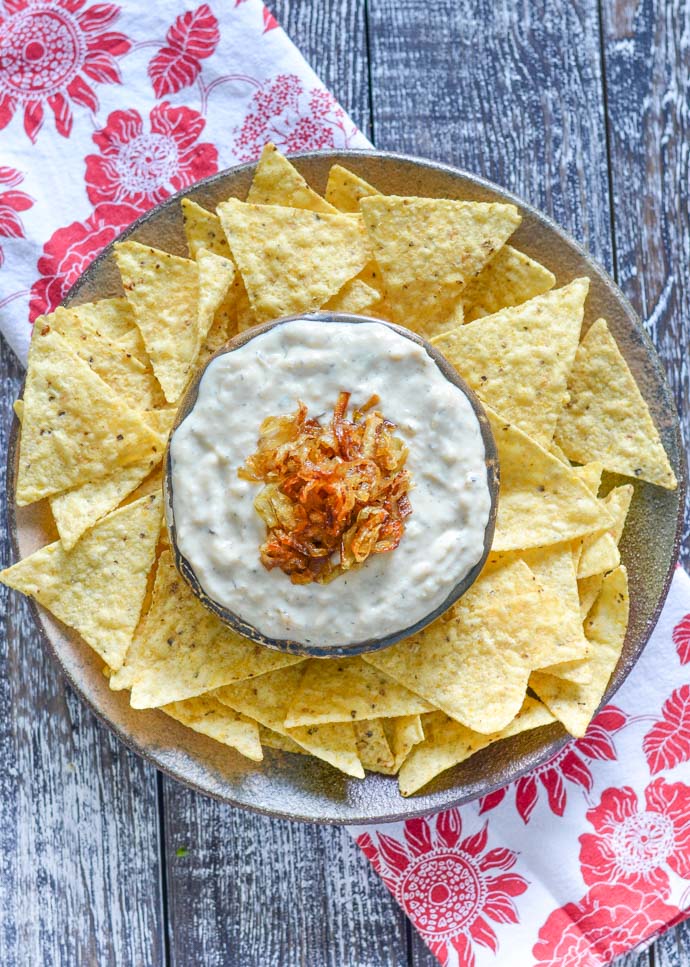 The trick to getting the very best possible flavour is slow cooking the onions. It makes them super soft and sweet with a deep golden colour and I can't stress enough how important it is.  Their golden strings are literally packed with flavour by the time you have finished. The same with the garlic. Roasting it in the oven changes garlic so much. It loses it's pungency and becomes mellow and sweet with a texture almost like soft butter.
Totally off track but if you are ever in need of a really yummy snack, roast a whole head of garlic as per my instructions here, squeeze it gently from it's papery skins, and spread it on crusty toasted bread. Sprinkle with a little sea salt and devour. It's seriously amazing!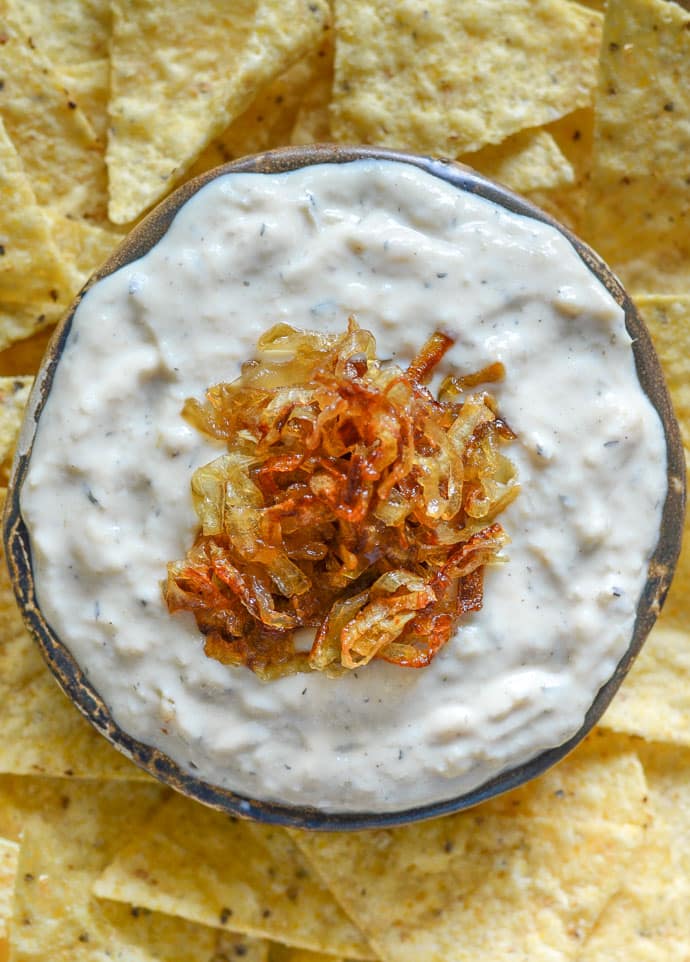 Now back to the Creamy Onion Garlic Dip which, after all, is why we are here. If you give it a try let me know what you think in the comments below and share your pics on Instagram. Use my hashtag #avirtualvegan so I won't miss it.
Ok, so you've got this dip thing right?
Good, because all this talk of dip has made me hungry.  I'm ready for a snack and have a bag of tortilla chips and a half-eaten tub of Creamy Onion Garlic Dip to finish!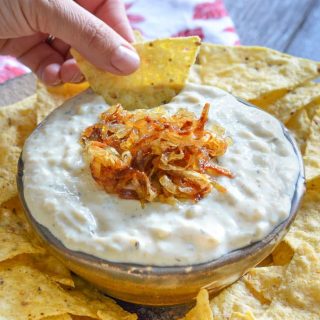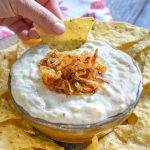 Creamy Onion Garlic Dip
Author:
A deliciously cool, creamy & nut-free vegan Onion Garlic Dip. Full of sweet roasted garlic & caramelized onion flavour & perfect for your next party!
Ingredients
2

teaspoons

olive oil

, make the dip oil-free by sautéing the onion in a few tablespoons of water instead of oil. it will be more difficult to get them really caramelized though so oil is the best option.

1

whole head

garlic

, not individual cloves, the whole thing

300g | 2

heaping cups

onion

, peeled, cut in half then sliced finely

2

teaspoons

sugar

, optional

349g | 12.3

oz

silken tofu

1

tablespoon

nutritional yeast

2

teaspoons

white miso paste

, optional - can be omitted but if you have some it's worth using it

1

tablespoon

white wine vinegar

, or lemon juice

½

teaspoon

salt

, plus a little more to taste if necessary

1

teaspoon

dried thyme

, you can use fresh instead if you have it and feel free to add more if you want a stronger type flavour

60mls | ¼

cup

plant-based milk

, you might not need it all
INSTRUCTIONS
Keep the garlic head all in once piece and slice about ¼ inch straight off the top of the whole garlic head exposing the inside of the cloves inside.

Take a square of tin foil and put the garlic head cut side down in the middle of the foil and wrap it tightly.

Bake in the oven for around 40 minutes. After this time check it. It should be really soft if you give it a squeeze. Give it another 5 minutes or so if it's not. Once completely soft remove from the oven and allow to cool in the foil.

While the garlic is roasting, heat a sauté pan over a medium low heat with the olive oil (or a few tablespoons of water). Once hot add the sliced onion. Cook slowly for around 30 minutes, stirring frequently. If you use water you will need to add a few drops more here and there to stop the onions sticking.

Once the onion is really soft and starting to go golden, add the sugar (optional but recommended for a more caramelized result) and stir well then continue to cook for another 5 minutes or so until a deep golden brown then remove from the heat and set aside.

Add the tofu, nutritional yeast, white miso, vinegar and salt to a blender.

Take the roasted garlic head and gently squeeze the garlic out of the papery skins and into the blender along with half of the onion and a few drops of the milk.

Blend until completely smooth. Check the consistency and add a little more milk if you prefer a slightly thinner dip. I used a full ¼ cup but you might prefer less.

Add the thyme and the rest of the onion and stir to distribute. If you prefer it completely smooth you can blend all the onion up into it. I like having some of the golden strands through mine for texture.

Spoon into a serving dish.

Optional : Garnish with more caramelized onion or some fresh thyme leaves.
NOTES
Will keep for up to 1 week if refrigerated in a sealed container. 
NUTRITION
Serving:
53
g (around ¼ cup)
Calories:
53
kcal
Carbohydrates:
6
g
Protein:
3
g
Fat:
2
g
Sodium:
59
mg
Fiber:
1
g
Sugar:
2.8
g
Vitamin C:
5
mg
Calcium:
40
mg
Iron:
0.7
mg
Nutritional information is provided for convenience & as a courtesy. The data is a computer generated estimate so should be used as a guide only.
Tried this recipe?
Rate it & leave your feedback in the comments section below, or tag @avirtualvegan on Instagram and hashtag it #avirtualvegan