Perfect Vegan Chocolate Chip Cookies! Crispy edges, gooey slightly under-baked insides, and melty puddles of chocolate. I highly recommend a sprinkle of flaky sea salt for a peak cookie-eating experience!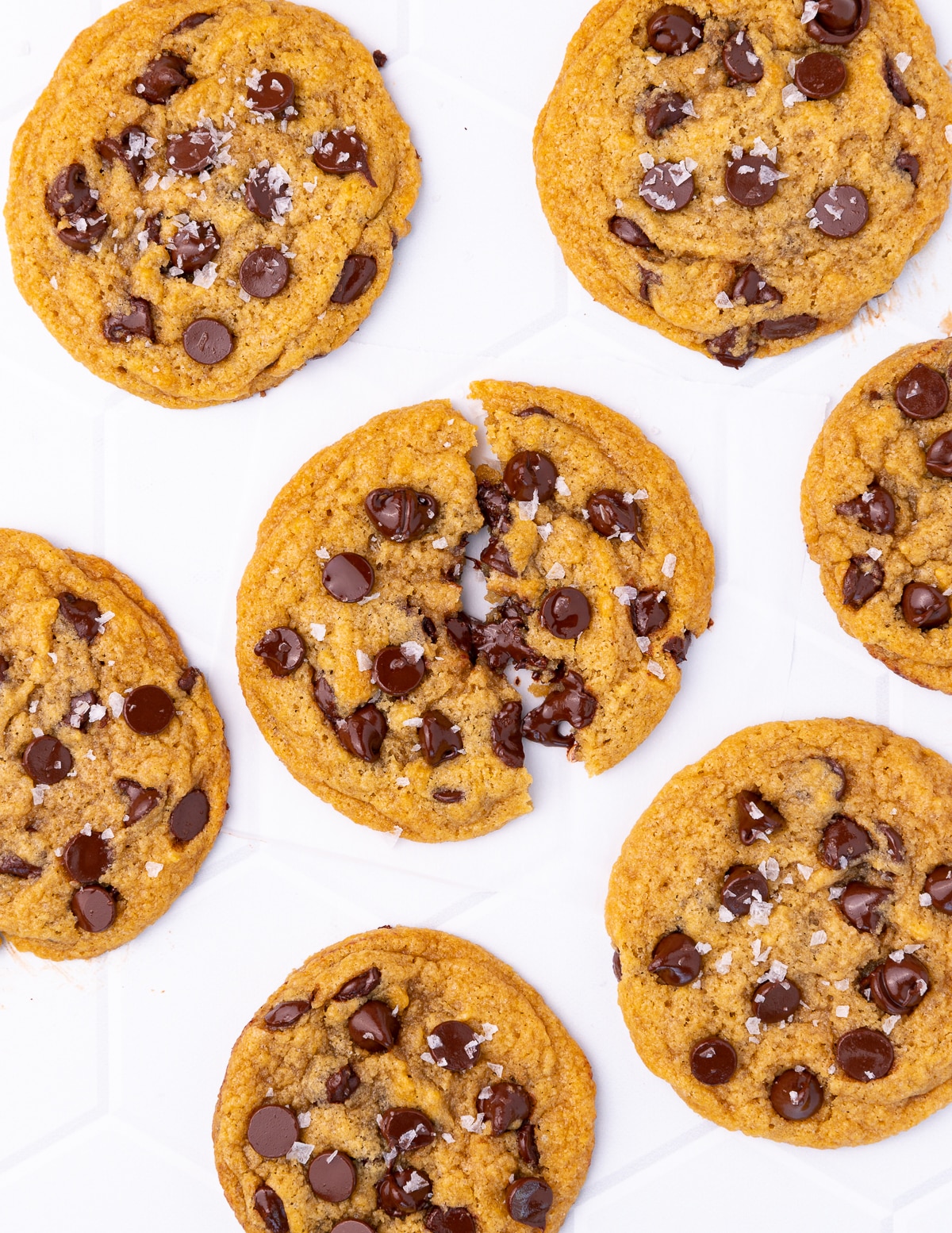 Buttery with all of your favourite cookie textures...Golden, satisfyingly crispy edges, soft slightly underbaked centers, gooey melty puddles of chocolate chips...
Yep. We're talking Vegan Chocolate Chip Cookies and they are are so incredibly perfect warm from the oven with a cold glass of almond milk!
In this post - Everything you need to make the best vegan chocolate chip cookies:
Jump to:
Ingredients & Substitution Notes
Grab your baking essentials, and let's go!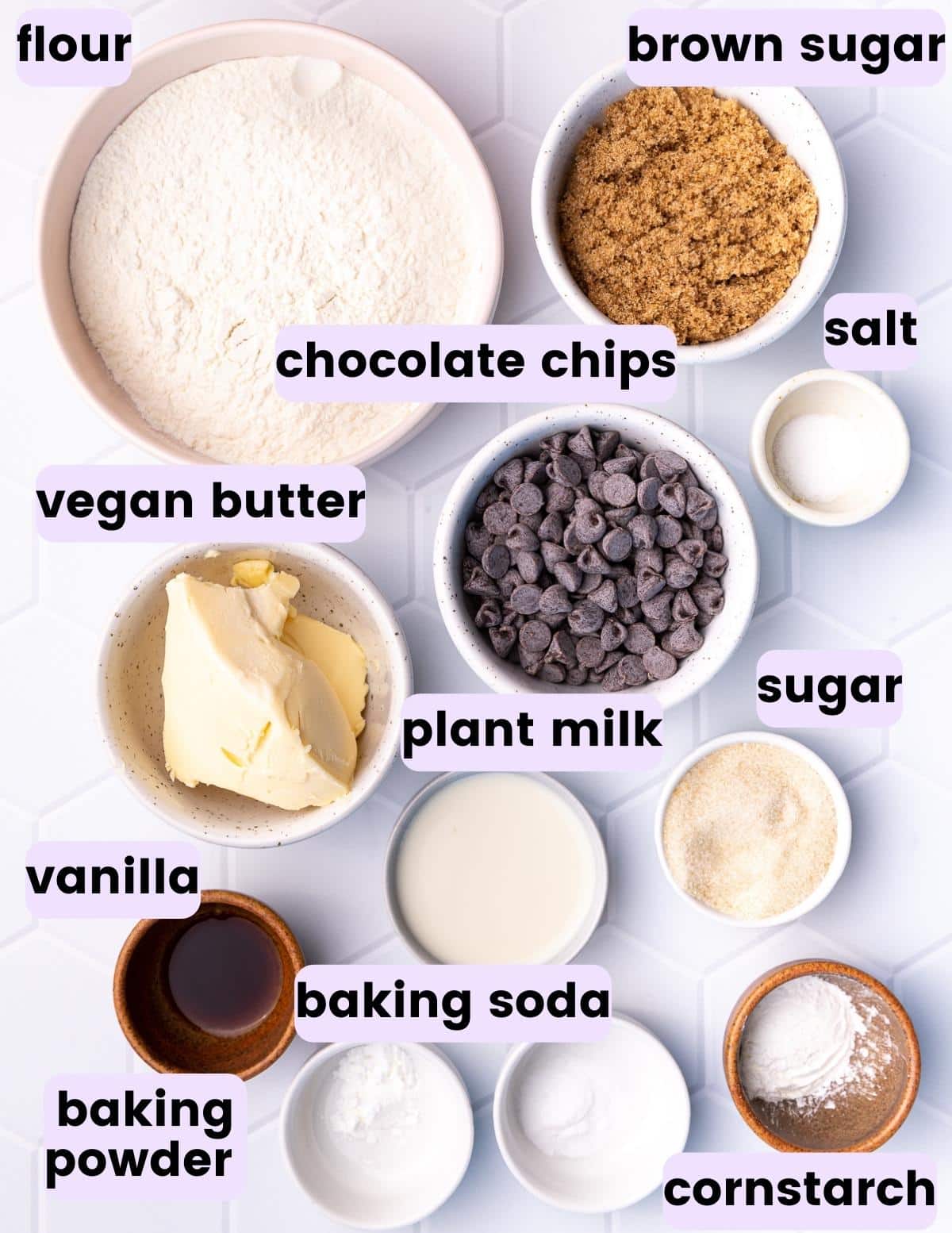 An a few important notes:
Chocolate Chips - Or you can use chunks. Many semi-sweet and dark chocolate chips are naturally vegan, and easy to find in pretty much all grocery stores. I tend to use the Kirkland Signature Semi-Sweet Chips from Costco because they are great value and with lots of recipe testing I go through a lot.
Cornstarch - Key in this recipe. It's our egg replacer, makes the cookies thicker, and gives them a chewier texture.
Vegan butter - I always use Earth Balance (from the tub) for all of my recipe testing.
Sugar - The combo and exact ratio of dark brown and white/cane sugar is important in this recipe for the very best flavour, texture, and spreading. If you change the ratios you will affect how your cookies turn out greatly. See the FAQs if you're wondering about which sugars are vegan.
Milk - Any plant milk will do, such as almond milk, cashew milk, soy milk or oat milk. I do recommend you use an unsweetened one if possible though.
Success Tip - Cookies are really finicky and if you change any of the ingredients, even slightly, you probably won't get the best results. I recommend following this recipe exactly and not making any substitutions.
How To Make Vegan Chocolate Chip Cookies
Make the cookie dough. Beat the vegan butter, both sugars, cornstarch, vanilla, and salt until really soft and fluffy, then add everything else to form a stiff dough.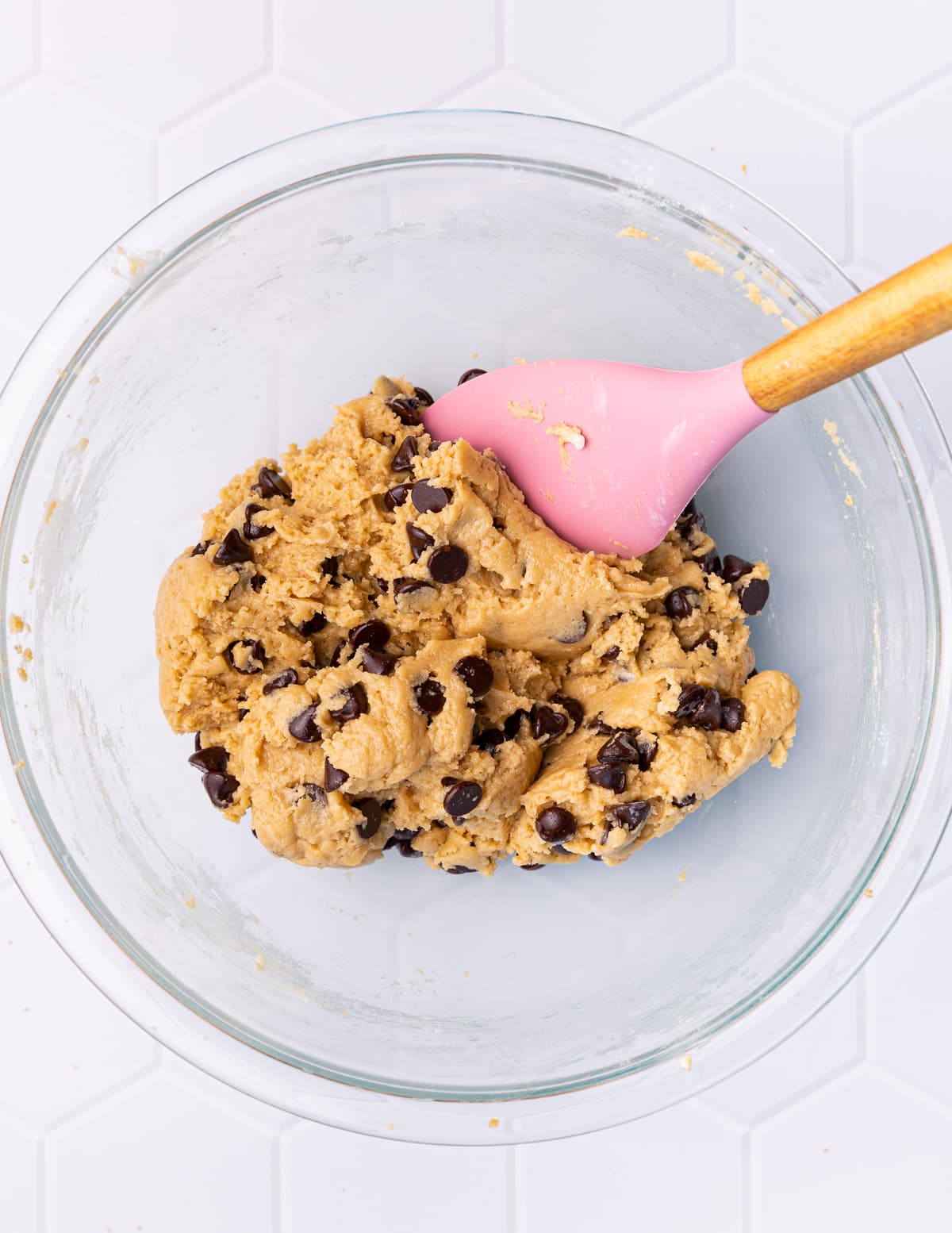 Then the most important part. We need to chill the dough. Give it at least 30 minutes in the fridge, but up to 2 or 3 days is fine as long as the bowl is covered tightly. The cookies get even better with plenty of dough chilling time!
Expert Cookie Tip - If you skip chilling the dough it will dramatically change the final result of the cookies. We're talking looks, texture, and flavour. I highly recommend that you do not skip the chilling period. In fact I recommend extending it if you can. See the FAQs for full details!
When chilled and ready to bake use about 3 tablespoons of cookie dough per cookie, scoop it onto a tray and bake.
Here's a little before and after: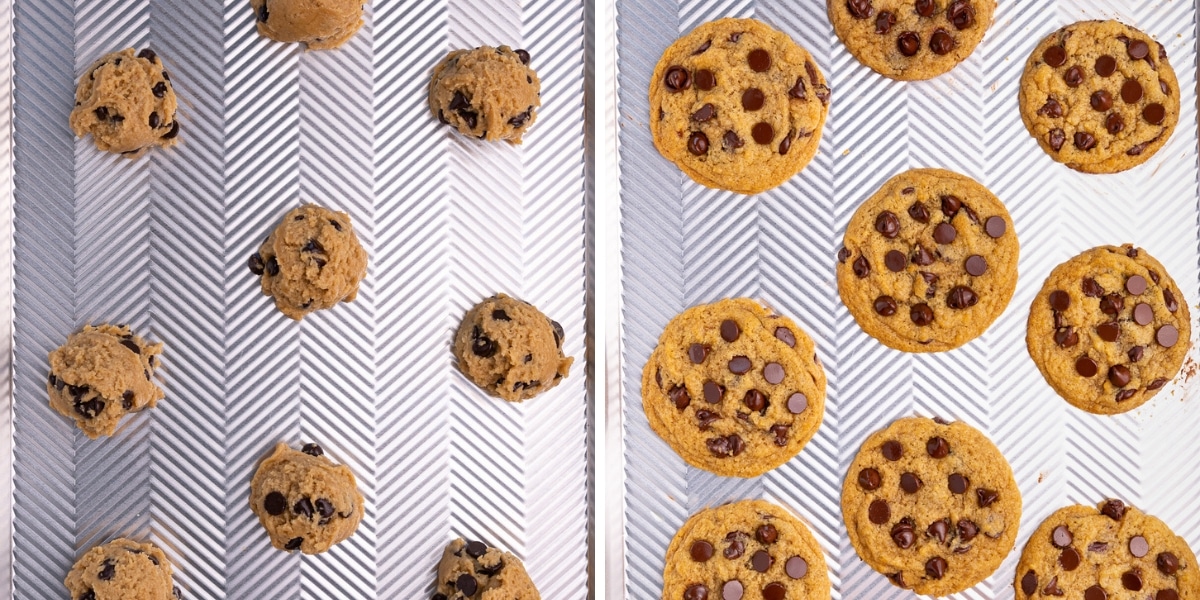 Once removed from the oven give the tray a couple of hard taps on the counter/stovetop. This knocks the air out of the cookies and improves the texture.
Then I recommend a generous sprinkle of flaky sea salt. It adds great texture, and makes the chocolate flavour really pop. Maldon Sea Salt is my fave.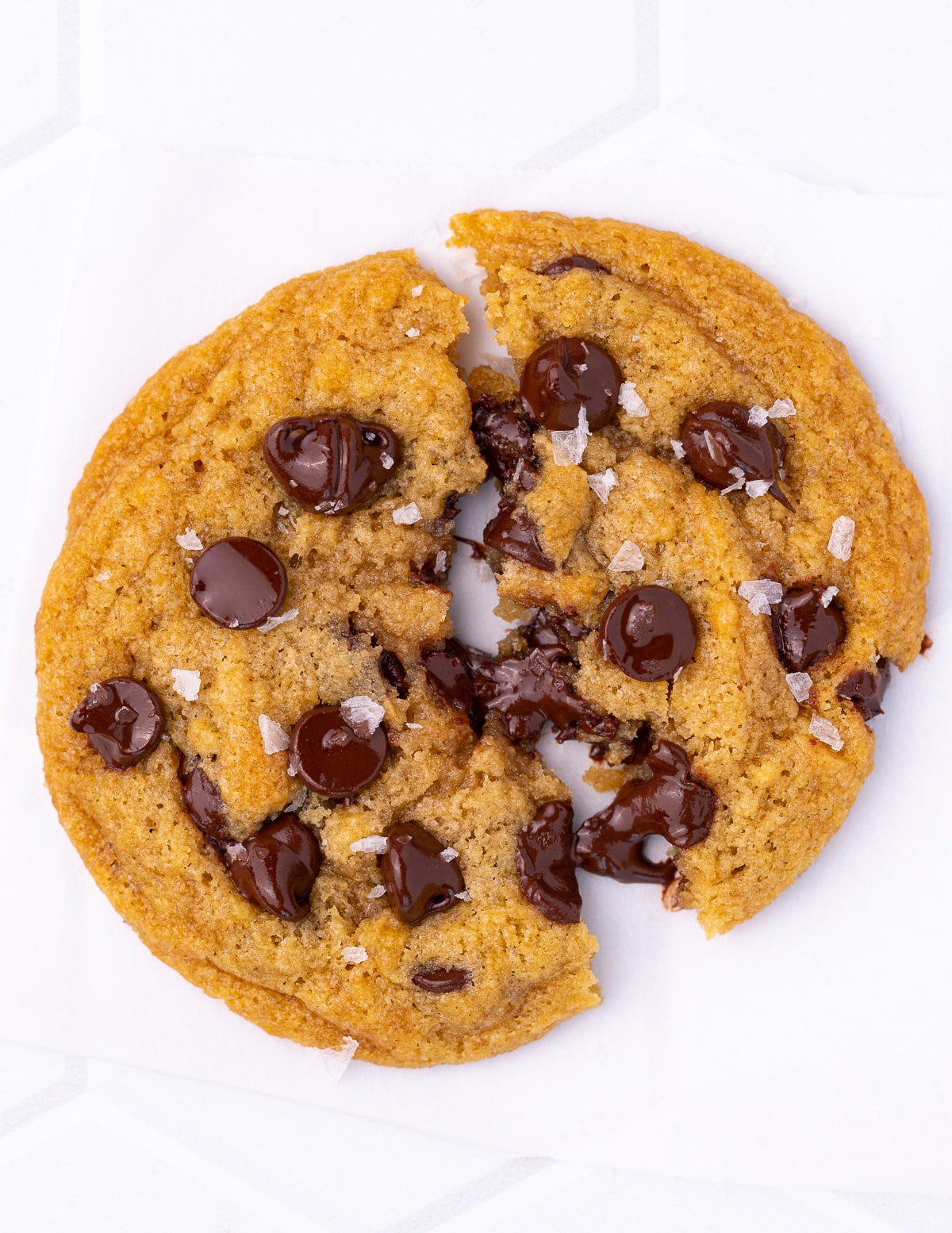 Tips For Storing
Store chocolate chip cookies in an airtight container at room temperature for up to 1 week. See the FAQs for how to freeze the cookie dough and baked cookies.
Recipe FAQs
Why do I need to chill the cookie dough & does it really make a difference?
Most people know that chilling cookie dough stops cookies from spreading too much, but did you know it has many other benefits too?

In fact chilling your cookie dough for 2 to 3 days will result in much better cookies than when chilled for just 30 minutes. It's a bit like why retarding bread dough in the fridge is a really good idea.

You see, while your cookie dough chills out in the fridge the fat is hardening, the flour is hydrating, the sugar is absorbing moisture, the dough is getting a little drier and increasing the percentage of overall sugar, and the proteins and starches in the flour are breaking down.

All of this makes for much better cookies! They will bake and brown more evenly, spread just the perfect amount, get those perfectly crispy edges and soft, chewy centers, and their flavour will be much more rich and complex.

King Arthur has a great Chilling Cookie Dough article with comparison pictures if you want to see a visual of this.

30 minutes is the minimum time to chill your dough but if you are willing to be really committed I recommend leaving it for a full 2 or 3 days. You will notice a huge difference. Try it and thank me later! 😉
Is white/cane sugar vegan?
Here in Canada the 2 biggest sugar producers, Rogers and Red Path, are both vegan and in the UK and Europe pretty much all sugar is vegan. If you are in the US you will need to be more careful and research what brands are vegan in your area. Some common ones that you should be able to find easily and that are vegan include Wholesome Sweeteners, Kirkland Organic Cane Sugar, Trader Joes, Bob's Red Mill, Florida Crystals, Billington's, Michigan Sugar Company, Imperial, Now Foods, and In The Raw. Also, all organic sugar is vegan by default wherever you are in the world.
Can I freeze the cookie dough?
This cookie dough freezes really well. Make it, roll into balls, then lay out on a lined baking tray. Pop the entire tray in the freezer and let the balls harden up, then transfer them to a freezer bag or container where they can hang out for up to 3 months. Bake as you need them. You will need to add on an extra minute or 2 to the bake time.
Can I freeze the baked cookies?
Yes, these cookies freeze really well for up to 6 months. Be sure to separate layers with some parchment paper so they don't stick together. I like to defrost them on a wire rack so air can circulate around them. They don't take long at all.
Why did my cookies spread too much?
It could be one of many reasons or a combination. Most common:
- The baking powder / baking soda is expired or has been open too long.
- The cookie dough was not chilled sufficiently. Read the FAQ above about chilling the dough thoroughly.
- Your oven is running a little hot. Most ovens unless calibrated are not entirely accurate, and if your oven temperature is off, this will affect the spread of your cookies. Make sure you are baking the recipe according to the oven directions (my recipes are all conventional bake), and make sure your oven is calibrated.
- You didn't weigh your ingredients. Measuring with cups isn't accurate, and cookies need accuracy. Time to buy a scale!
- You used a silpat / silicone baking sheet - They are slippery so the cookies spread much more than they would on an unlined tray or on parchment paper.
- You are at high altitude.  If you are baking at 3,500 feet or more above sea level, you may need to make adjustments to the recipe.

Why did my cookies not spread?
You didn't use a scale. Measuring with cups isn't accurate, and cookies need accuracy. When using cups it's really easy to inadvertently use too much flour. Everybody fills them differently and every single cup you fill weighs a different amount. This affects the butter to flour ratio and your cookies won't spread if there's too much flour. Time to buy a scale!
Or, your oven temperature is a little cooler than intended causing the spread of the cookies to be slower.
Can I make this recipe gluten-free?
This recipe has not been tested with gluten-free flour, but Bob's Red Mill 1 to 1 Baking Flour usually works well in recipes like this.
More Vegan Cookie Recipes
If you try this recipe, let me know how you like it by leaving a comment and rating below! And be sure to join my mailing list for more deliciousness!
Recipe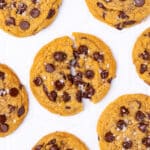 Vegan Chocolate Chip Cookies
Author:
Perfect Vegan Chocolate Chip Cookies! Crispy edges, gooey slightly under-baked insides, and melty puddles of chocolate. I highly recommend a sprinkle of flaky sea salt for a peak cookie-eating experience!
INSTRUCTIONS
Using a stand mixer or handheld electric mixer beat together the butter, sugar, cornstarch, vanilla, and salt until soft and fluffy.

Add the flour, baking soda, baking powder and roughly mix them in until crumbles form.

Add the milk and stir to form a smooth dough then add the chocolate chips. Fold them through.

Towards the end of the chilling process preheat oven to 350°F (175°C) and move a shelf to the middle.

Scoop out 3 tablespoons of dough per cookie, and place on a cookie sheet, leaving plenty of room around each one.

Bake in the middle of the oven for about 14 minutes until just golden around the edges but still somewhat pale on top. They should look like they need a few more minutes in the oven and will still be very soft. They will firm and cook a little more as they cool.

Remove from the oven and immediately bang the tray really hard on the stove top or a thick wooden cooking board twice and if using sprinkle liberally with flaky sea salt. Banging knocks any air out of them which improves the texture.

Leave to cool on the tray for 5 to 10 minutes before transferring to a wire rack.
NUTRITION
Serving:
1
cookie
|
Calories:
179
kcal
|
Carbohydrates:
24
g
|
Protein:
2
g
|
Fat:
8
g
|
Saturated Fat:
5
g
|
Polyunsaturated Fat:
1
g
|
Monounsaturated Fat:
2
g
|
Trans Fat:
0.03
g
|
Sodium:
158
mg
|
Potassium:
112
mg
|
Fiber:
1
g
|
Sugar:
13
g
|
Vitamin A:
256
IU
|
Vitamin C:
0.1
mg
|
Calcium:
52
mg
|
Iron:
1
mg
Did you make this recipe?
Rate it & leave feedback in the comments section below. I love seeing your remakes too. Tag @avirtualvegan on Instagram! 🌟