Silky smooth, rich and creamy homemade vegan custard. It's dairy and egg-free, quick and easy to make and just perfect for pouring all over your favorite desserts!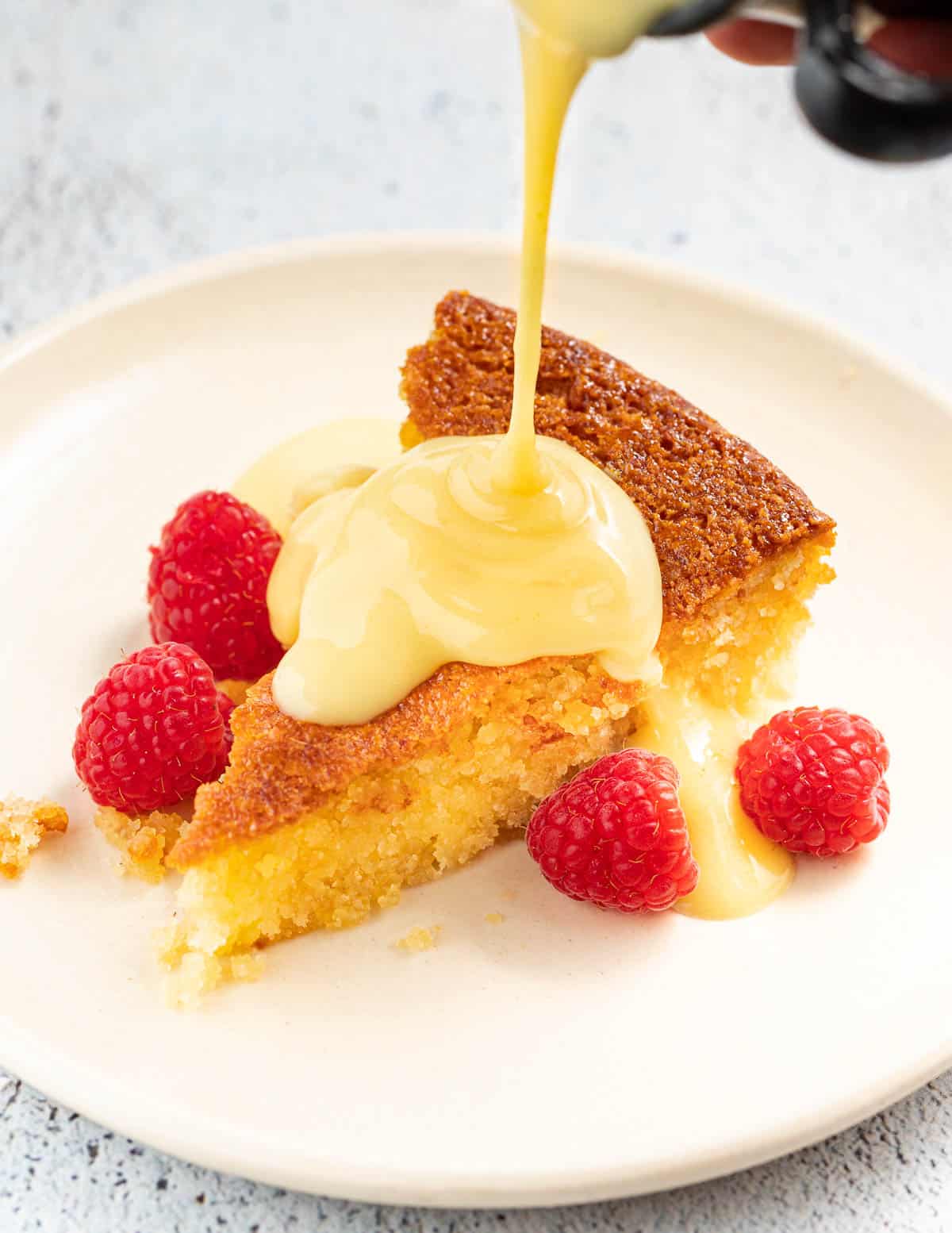 Ok, I'm here to make all of your vegan custard pouring dreams come true! This completely dairy and egg-free custard is legit silky, creamy, rich and luscious. It's almost too good for words and also happens to be naturally gluten-free.
We're talking the British favourite, proper, rich and creamy pouring custard, or what the French would call crème anglaise. Not dissimilar to the famous Bird's or Ambrosia Devon custard.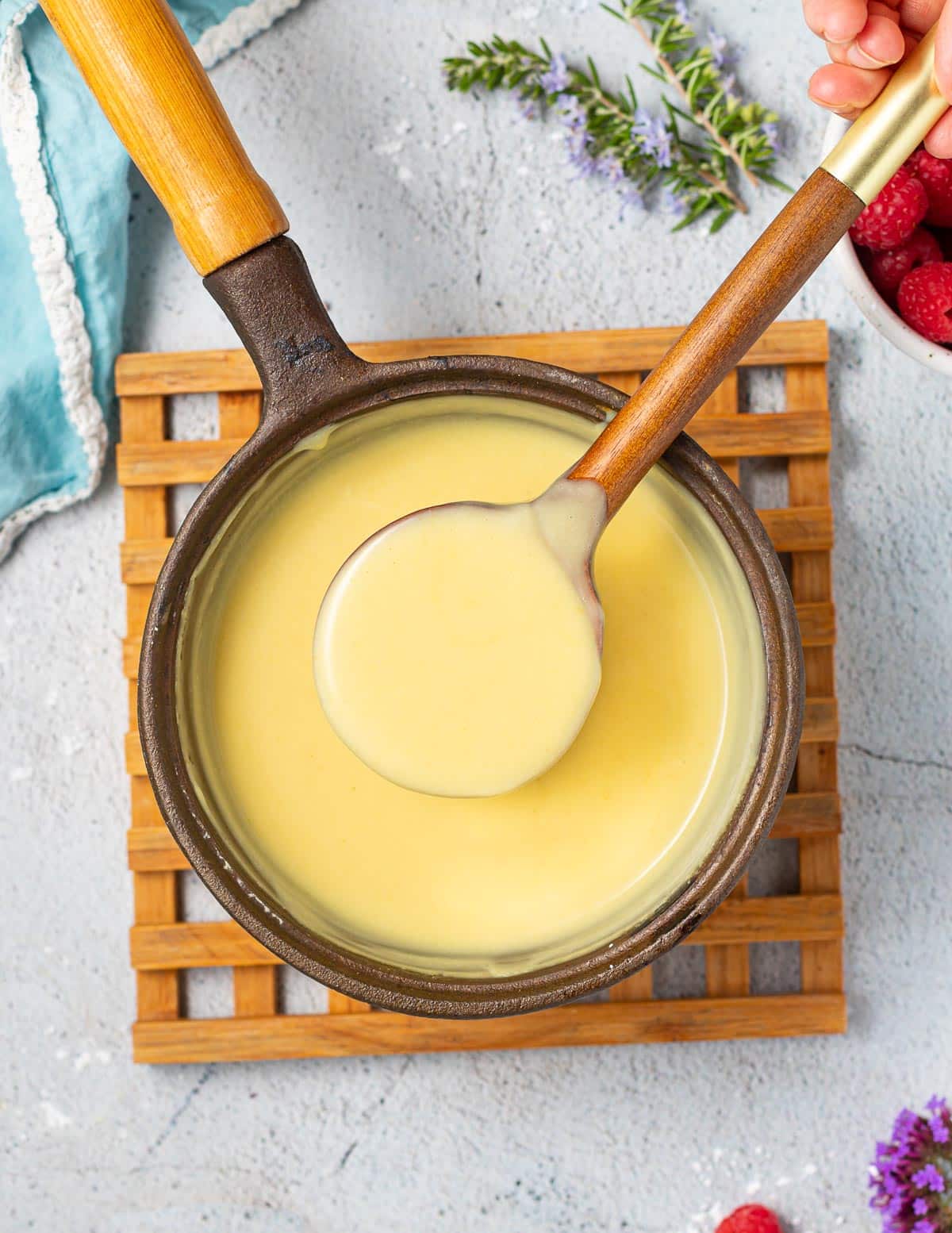 Ingredients
These easy vegan custard is made with pantry staples and is really budget and family-friendly. No eggs are required! Here's exactly what you need at a glance, along with some ingredient notes and substitution ideas: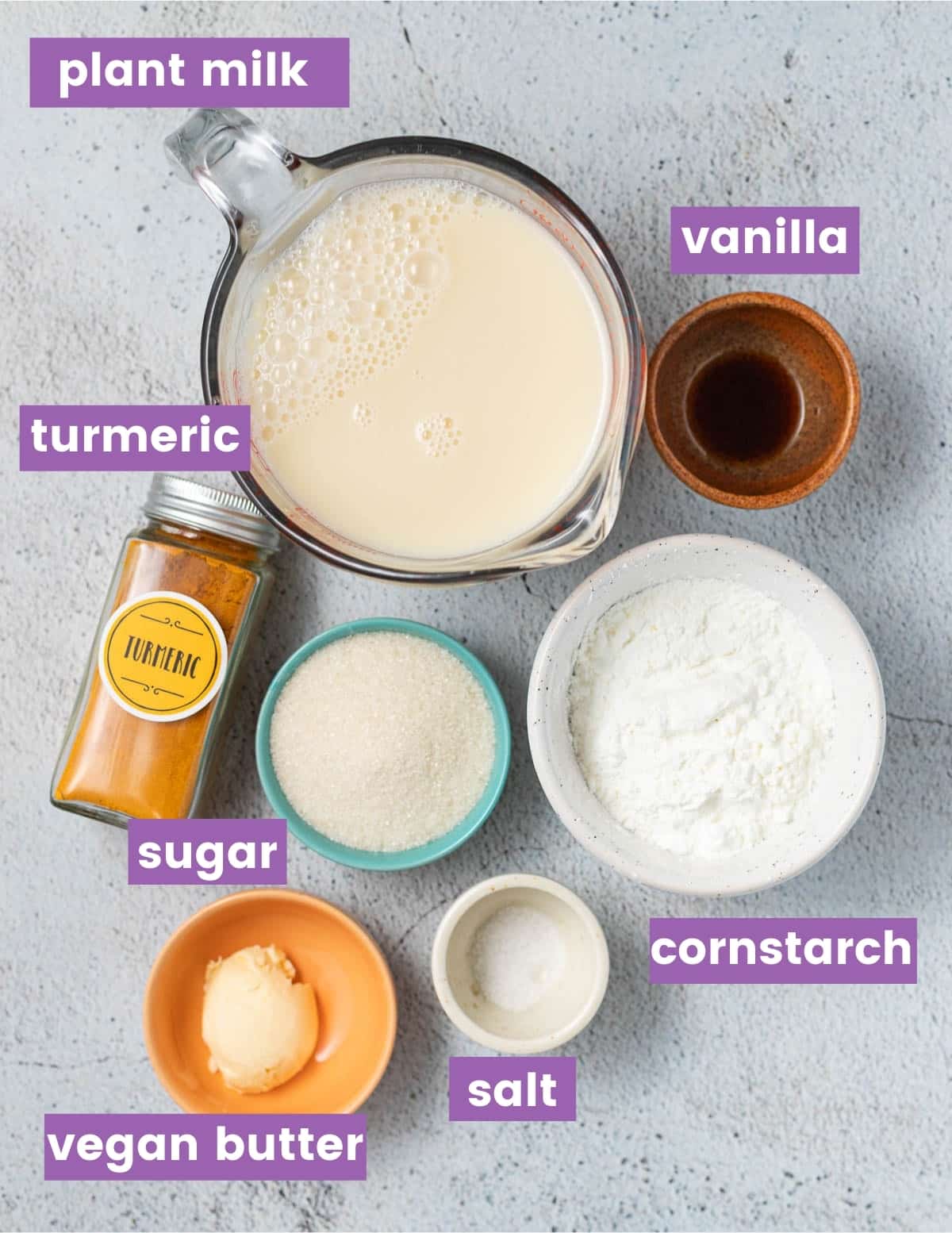 Cornstarch - The thickening agent in this eggless custard recipe. It replaces the thickening action of egg yolks and gives the best results taste and texture-wise by far. It has a bright, clean taste in the custard and replicates the texture of Bird's custard perfectly because that too is made with cornstarch. I don't recommend using flour.
Vanilla - For flavouring the vegan vanilla custard. It's important to use a good quality vanilla extract rather than the cheaper vanilla essence/flavouring because this is such a simple recipe and the vanilla is the main flavour giver. You could use fresh vanilla pods/beans instead.
Non-dairy milk - The milk you use should be unflavoured and unsweetened, although vanilla flavour will be ok if you don't mind a slightly stronger flavoured custard. Steer clear of rice milk as it's too thin but most others such as oat milk, soy milk, almond milk or cashew milk should be fine. Creamy brands will give the best results. Make it even richer by using light or full fat coconut milk from a can.
Sugar - You must use white or light coloured cane sugar. Other varieties will change the taste and colour of the custard. Wondering about vegan sugar brands? See the FAQs!
Vegan butter - Custard is traditionally made with eggs which make it really rich. Some vegan butter replicates this richness and also adds more flavour and colour in this egg-free custard recipe. If you eat oil-free you can omit it but the custard won't be at its best.
Turmeric - Just a pinch of turmeric, simply for its colour because this is an egg-free custard recipe. Just a pinch is enough to mimic the yellow hue that egg yolks would usually give custard. Don't add too much though otherwise your custard will end up with a strange greenish tinge once cooked and taste of turmeric. You can omit the turmeric if you don't mind your custard not being pale yellow in colour.
How To Make Vegan Custard
Vegan custard is super quick and easy to make. Here's how: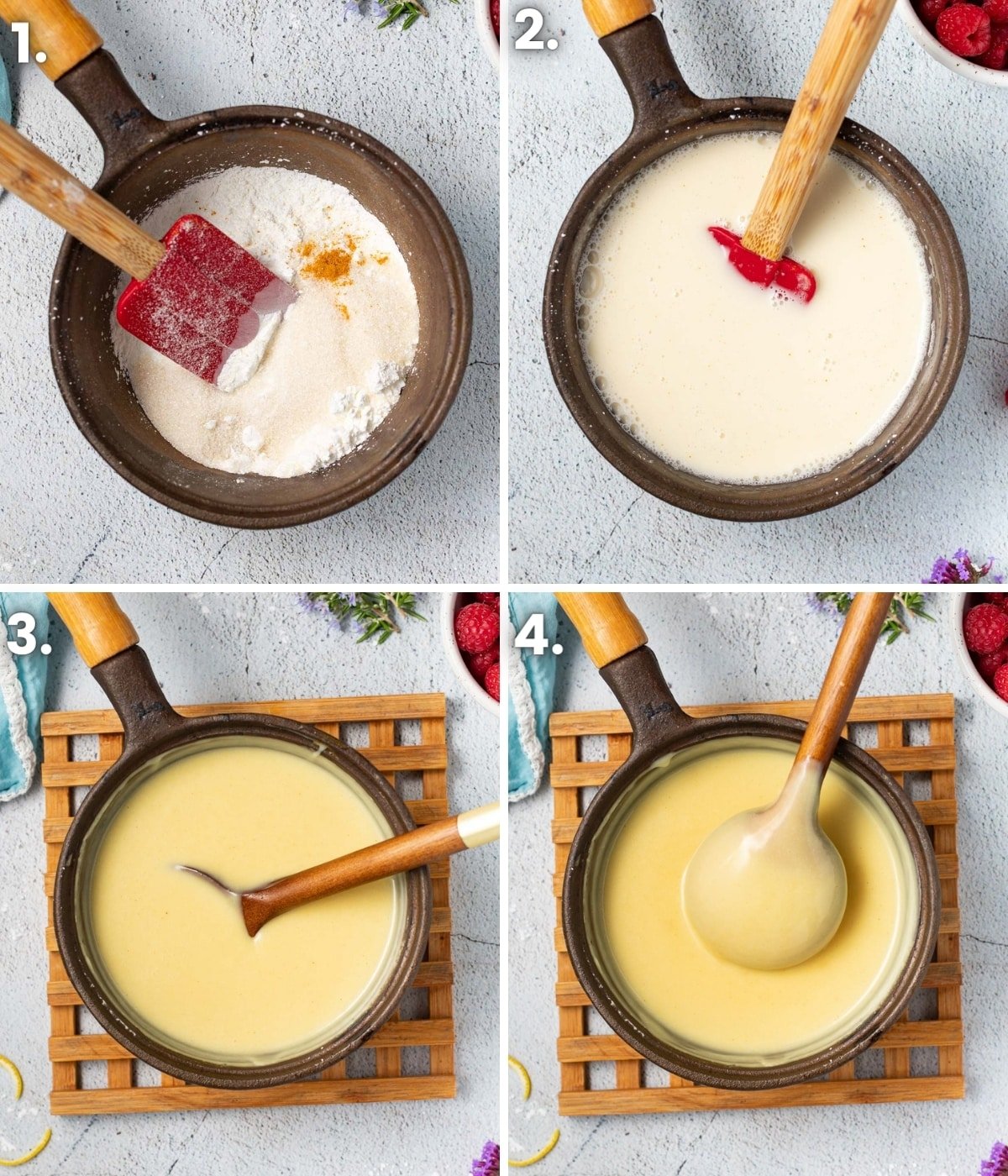 Add the dry ingredients to a small saucepan.
Very slowly add the milk a little bit at a time, whisking as you go to work out any lumps.
Heat gently, stirring constantly but gently. Don't let it boil. Don't worry if it looks very pale. The pale yellow colour develops as it cooks. The custard is ready when it's thick and glossy and easily clings to the back of a spoon, like a very thick sauce or gravy.
The whole process should take about 10 minutes. Once your vegan custard sauce is done you should be able to run your finger (carefully as it's hot) down the middle of the back of the spoon and be left with a clean line.
Custard Success Tips
For the very best results when making this dairy-free custard recipe follow these tips:
White or cane sugar is essential for this recipe. Don't sub it for any other type of sugar or for maple syrup.
Stir with a spoon gently and constantly while making the custard, but don't whisk or beat it fast or hard. Just a slow gentle stir, making sure not to miss any parts at the bottom or sides of the pan to avoid lumps forming.
Cook over medium low heat. Don't turn up the heat too high or let the custard boil.
The custard might look very pale at first but don't be tempted to add more turmeric. The yellow colour develops and deepens as the custard thickens. If you add too much turmeric your custard will turn a weird yellowy-green colour and will taste of turmeric. Not what we're going for here!
The vegan butter and vanilla are added right at the end to preserve their flavour.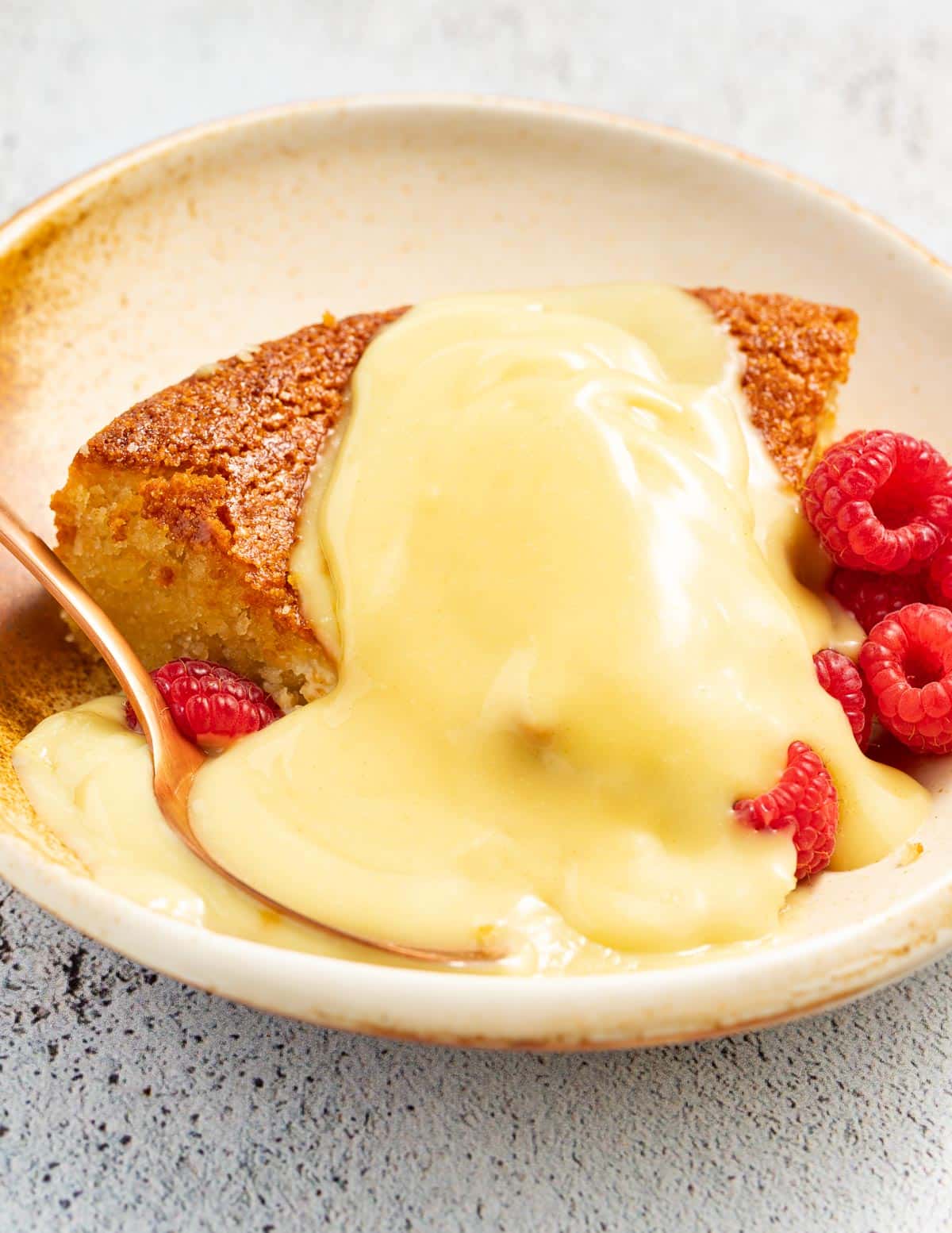 Serving Suggestions
Vegan custard is delicious served hot or cold. Use it for drizzling over all of your favorite vegan desserts like:
Vegan Almond Cake (this the the dessert shown in my picture), Vegan Apple Cake, or Vegan Gingerbread Cake
fruit pies, fruit crumbles or crisps
English desserts like spotted dick, treacle tart, jam roly poly, steamed pudding, and sticky toffee pudding
sliced bananas (a.k.a bananas and custard - a very kid-friendly dessert)
fruit compote, stewed or poached fruit like apples, pears, rhubarb and plums
And as we are fast approaching the holidays, high on my agenda is drenching my Vegan Christmas Pudding and mince pies in it. Maybe even Christmas cake too? Oh yes, I can't wait!
You can also use homemade vegan custard to make desserts like trifle, banana pudding, chess pie, creme brûlée, floating islands or as a base for homemade ice cream.
Custard Flavour Variations
If you want to be traditional, leave this easy vegan custard recipe just as it is, but if you want to switch it up a bit try infusing the custard with:
spices like chai, cardamom, star anise or cinnamon
dark chocolate (melt squares into the custard)to make chocolate custard (a real favourite with the kiddos!)
cocoa powder (add 2 tablespoons with the dry ingredients)
lemon zest
instant coffee
orange blossom or rose water
almond extract or coconut extract (instead of vanilla)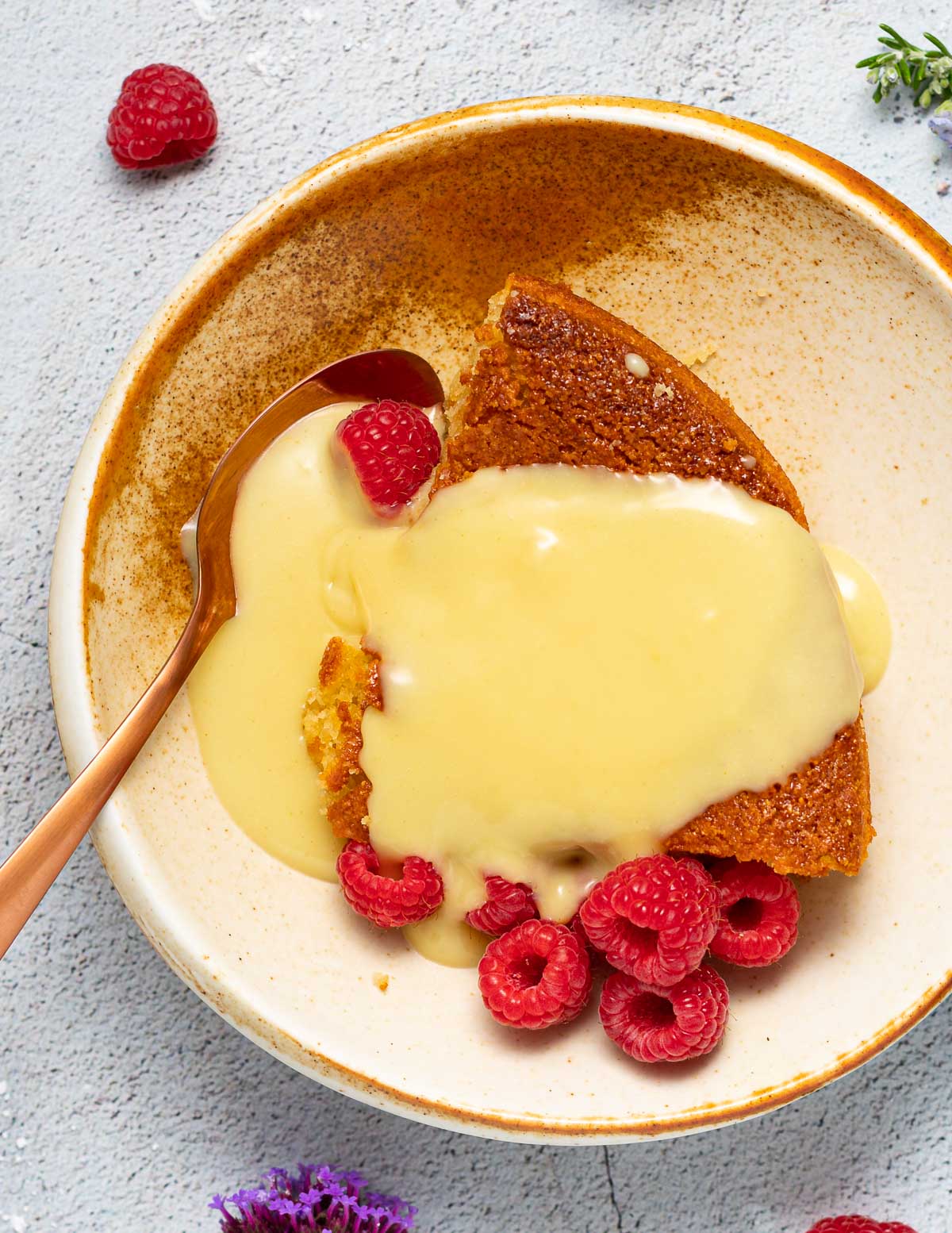 Recipe FAQS
What is custard?
Traditional custard is a mixture of milk or cream, sugar and egg yolks thickened by heating gently. Custard powder and canned ready to eat custard are well loved and convenient alternatives that are very popular and widely used in England. It is a dessert sauce that most Brits (including me) grow up eating and no fruit pie, vegan trifle, crisp or crumble is complete without it.
The term custard itself is pretty generic, ranging from pouring custard like this one, to thicker custards used for piping, filling and setting like crème pâtissière, crème légère, creme diplomat and crème bavaroise. They all have slightly different ingredients, cooking methods and uses.
What is the difference between custard and creme patissiere/pastry cream?
You might see a lot of recipes for pouring custard say that they can also be used as creme patisserie but they are in fact different and cannot be used interchangeably. Custard is pourable and can be served hot or cold with desserts like apple pie or crumble, while creme patisserie is much thicker, pipe-able and used cold as a filling in cakes, tarts and pastries.
How can I save lumpy custard?
If you take your eye off the ball while making your vegan custard and it becomes lumpy, pour it into a blender and blend on a medium low speed until smooth again. Don't blend on high in a high-powered blender or you'll end up cooking it more and making it too thick. If you don't have a blender you can run it through a sieve or use an immersion blender.
Can you freeze vegan custard?
I haven't tried freezing vegan custard. I think it should be ok but can't guarantee. To be safe why not just scale down the recipe to make as much as you need with no leftovers?
Can you eat custard on it own?
Absolutely! Custard is delicious eaten on its own, hot or cold.
Is sugar vegan?
I always get questions about whether sugar is vegan (particularly about white or cane sugar), and yes, many regular grocery store varieties are, and all organic sugars are. Here in Canada the 2 big sugar producers, Rogers and Red Path, are both vegan and in the UK and Europe pretty much all sugar is vegan. If you are in the US you will need to be more careful. Check the brands you have available to you wherever you live, or just buy organic sugar which is vegan by default. Some common US brands that you should be able to find easily and that are vegan include Wholesome Sweeteners, Kirkland Organic Cane Sugar, Trader Joes, Bob's Red Mill, Florida Crystals, Billington's, Michigan Sugar Company, Imperial, Now Foods, and In The Raw.
If you try this recipe, let me know how you like it by leaving a comment and rating below! And be sure to join my mailing list for more deliciousness!
Recipe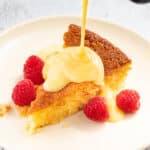 Vegan Custard
Author:
Silky smooth, rich and creamy homemade vegan custard. It's dairy and egg-free, quick and easy to make and just perfect for pouring all over your favorite desserts!
INSTRUCTIONS
Add the cornstarch, sugar, salt and turmeric to a saucepan.

Add a little of the milk very gradually, stirring as you go to work out any lumps until you have a nice smooth paste.

Gradually add the rest of the milk while stirring.

Place the pan over a medium-low heat and stir gently but constantly, making sure you cover the bottom surface of the entire pan with your stirs. Do not stop stirring or lumps will form.

Keep going until you have a smooth, thick custard. It should take about 10 minutes and will be like a thick sauce or gravy in texture. It should easily coat and cling to the back of a spoon and if you run your finger down the back of the spoon a clear, clean line should remain.

As soon as it reaches that stage turn off the heat, then add the vanilla extract and vegan butter. Stir until the butter is melted and incorporated then your custard is ready to serve.
NOTES
Making ahead & Storing Leftovers - Vegan custard can be made ahead, allowed to cool then stored in an airtight container in the fridge for 3 to 4 days. Reheat gently in a pan on the stovetop, or on medium low in the microwave. Stir occasionally as heating. It will feel thicker while cold but will loosen up as it warms. If it does still need thinning a little, simply whisk in a drop of milk to get the right consistency for you.
NUTRITION
Serving:
1
x ⅓ cup (80ml) serving
|
Calories:
119
kcal
|
Carbohydrates:
21
g
|
Protein:
2
g
|
Fat:
3
g
|
Saturated Fat:
1
g
|
Polyunsaturated Fat:
1
g
|
Monounsaturated Fat:
1
g
|
Trans Fat:
1
g
|
Sodium:
143
mg
|
Potassium:
99
mg
|
Fiber:
1
g
|
Sugar:
10
g
|
Vitamin A:
255
IU
|
Vitamin C:
1
mg
|
Calcium:
100
mg
|
Iron:
1
mg
Did you make this recipe?
Rate it & leave feedback in the comments section below. I love seeing your remakes too. Tag @avirtualvegan on Instagram! 🌟