Bubble and Squeak is a simple, versatile recipe that is great for using up leftover cooked vegetables or make it from scratch with just 4 ingredients. It's really easy and super budget-friendly!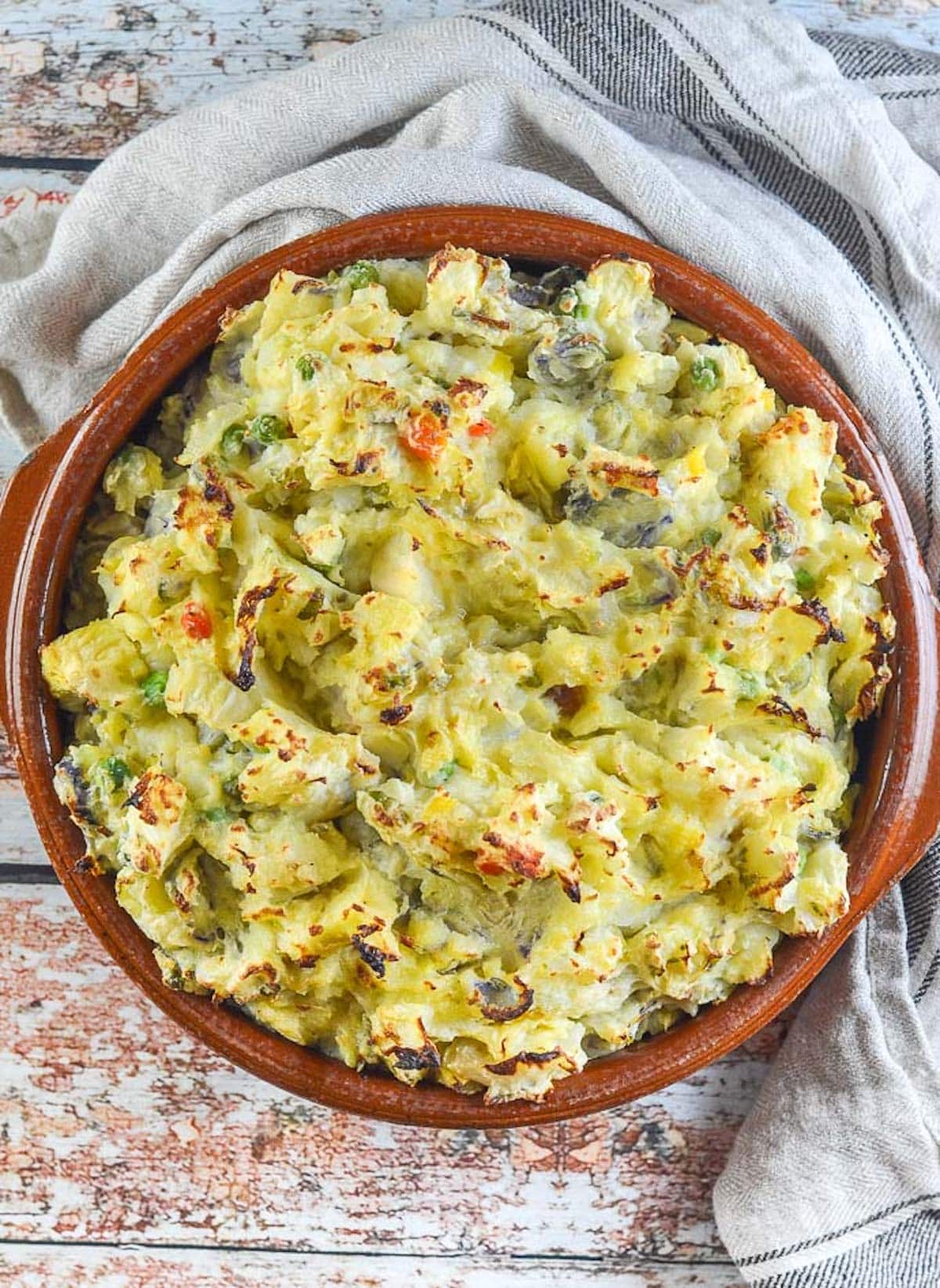 If you've been wondering what to do with leftover boiled cabbage, kale, Brussels sprouts, or any other cooked vegetables, then my very humble but delicious Bubble and Squeak is your friend.
We're talking soft, fluffy mashed potatoes mixed with mostly cooked green leafy vegetables (but any non-leafy ones can go in too), and then baked or fried until golden brown.
It's an incredibly versatile and budget friendly meal, and perfect for using up your leftovers after a roast dinner, or at Christmas or Thanksgiving.
But even though that's the real purpose of this recipe, it's still worth making from scratch from time to time. I do often because I love it so much. In fact whenever I make a meal with cabbage or Brussels sprouts I always cook more than we need so that I can make it the next day.
What is Bubble & Squeak?
Bubble & Squeak is a traditional English recipe thought to date back to the early 1800's and it was designed to use up leftovers, usually from a Sunday roast or Christmas dinner. It's a humble and hearty meal that can be served for breakfast, lunch or dinner.
Originally it was a combination of leftover cooked potatoes and vegetables, mashed up together then fried. It has evolved over the years and is now usually made with mashed potatoes, mixed up with leftover vegetables (mostly green leafy one like cabbage), but can also include leftover cooked potato chunks and any other cooked vegetables you have available. The mixture is then either fried or baked.
If you're a regular around here you will know that I am English, and Bubble and Squeak is a meal that I grew up eating for dinner on most Mondays. It was always made with the leftovers from Sunday's roast dinner. Yep, a Sunday roast is a real English tradition that happens in most households every single week, even in summer.
Wondering why it's called Bubble and Squeak? It is because of the bubbling and squeaking noises the mixture makes in the pan when it's fried in hot oil.
These days I tend to cook my Bubble and Squeak in the oven rather than frying it, so there is no bubbling and squeaking, but we can't let that adorable name go. But in case you want to have the full-on traditional "fried" bubble and squeak experience, I'm including both oven-baking and frying instructions for you here.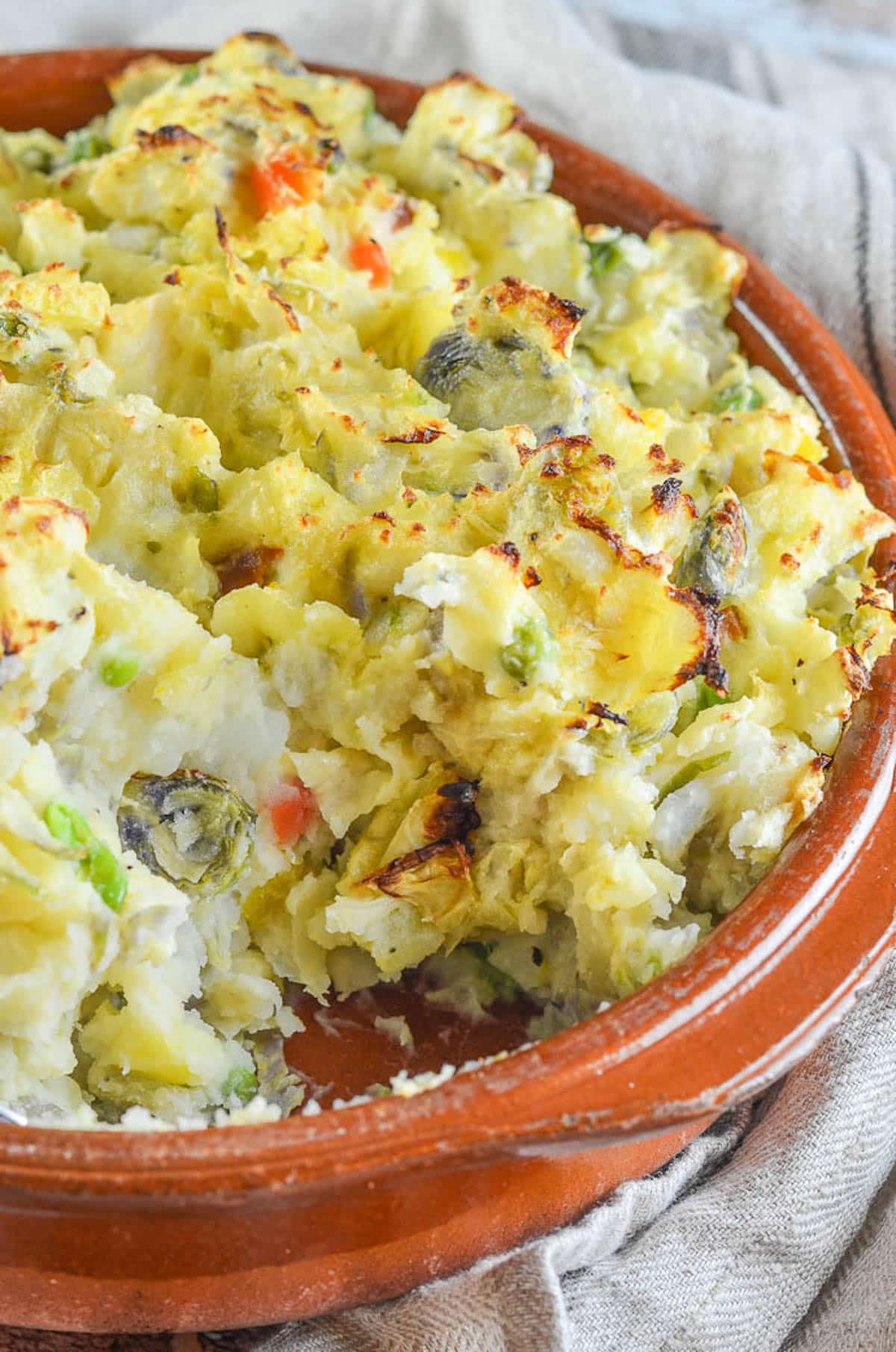 Wait, isn't Bubble and Squeak Irish?
Bubble and Squeak is English, but the Irish have similar dishes called Colcannon and Champ.
Champ involves warming milk with green onions, (or scallions as they are known in Ireland), so that the milk gets infused with the onion flavour. Then it's combined with mashed potatoes and served in a heap with melting butter pooling in the middle. It's incredibly good! Colcannon on the other hand, combines mashed potatoes with green onions and kale.
Interestingly the Scottish have a traditional dish called Rumbledethumps which is also very similar to Bubble and Squeak. Even more so than Colcannon.
Ingredients
To make my Bubble and Squeak recipe you need:
Potatoes - Boiled and mashed. You can even add some leftover mashed potatoes or chunks of cooked roasted or boiled potatoes too if you have them.
Vegetables - Mainly cabbage and Brussels sprouts, but any others (whether leftover or cooked specifically for the job) are ok to throw in too.
Onion - Sautéed up first to add lots of flavour.
Vegan butter - (OPTIONAL) To give the mashed potatoes a great buttery flavour, but it's optional so omit it if you want to.
Oil - (OPTIONAL) Just a little to brush or spray on the top to make it crispy. Again this is optional and it works just fine without it!
Salt & Pepper - Flavour!
Tip - Savoy cabbage is one of my favourite greens for making Bubble and Squeak. That's because it gives good texture and a lot of flavour. It's the one with crinkled, ruffly, very dark green outer leaves that isn't as compact as other cabbages, like the one in the picture below. You can use any other cabbage though, except red that is, unless you want pink mashed potato!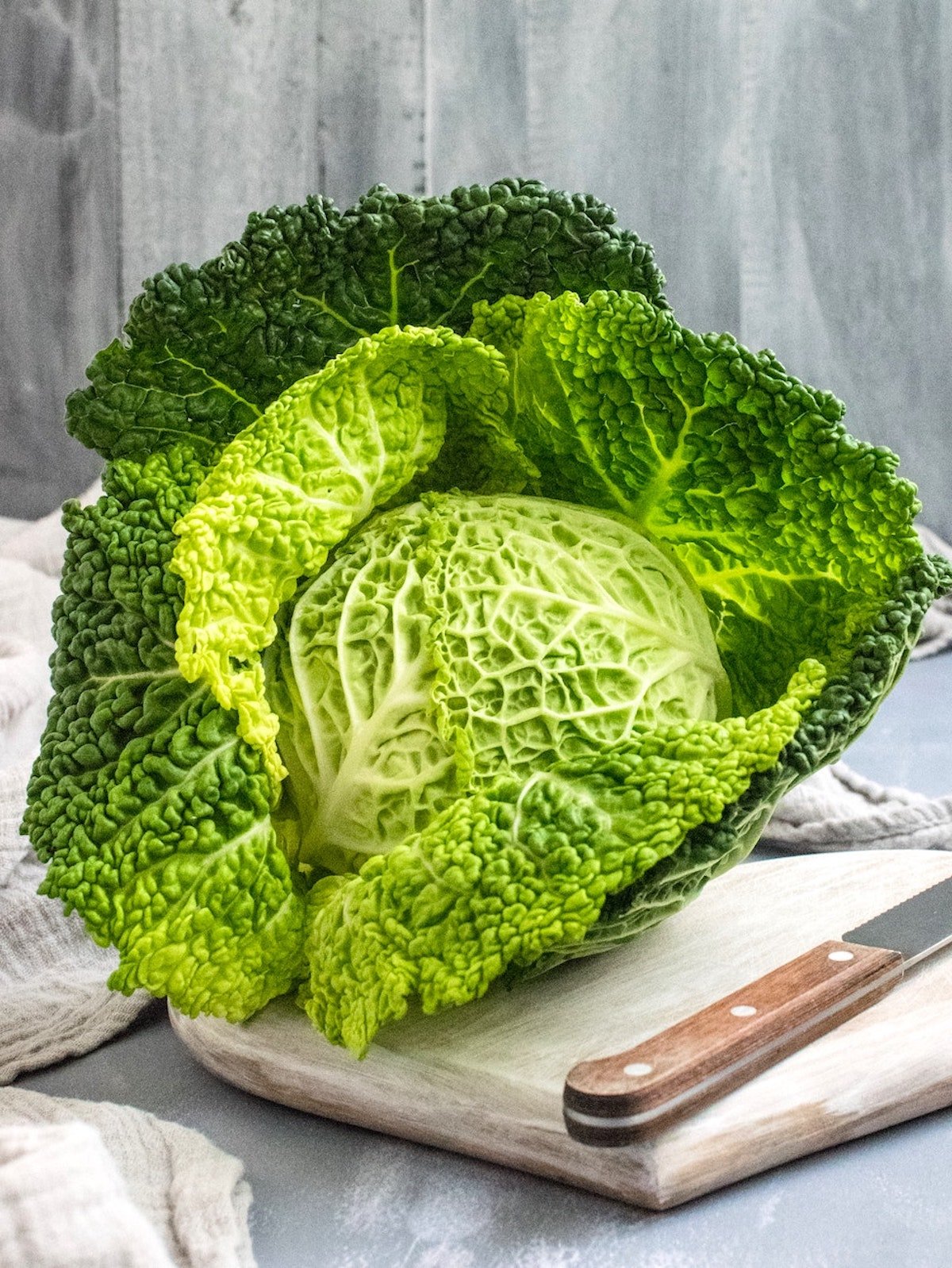 How to make Bubble & Squeak
This Bubble and Squeak recipe is incredibly easy to make and there's no need to worry about looks because rustic is what we are going for. Here's how it's done: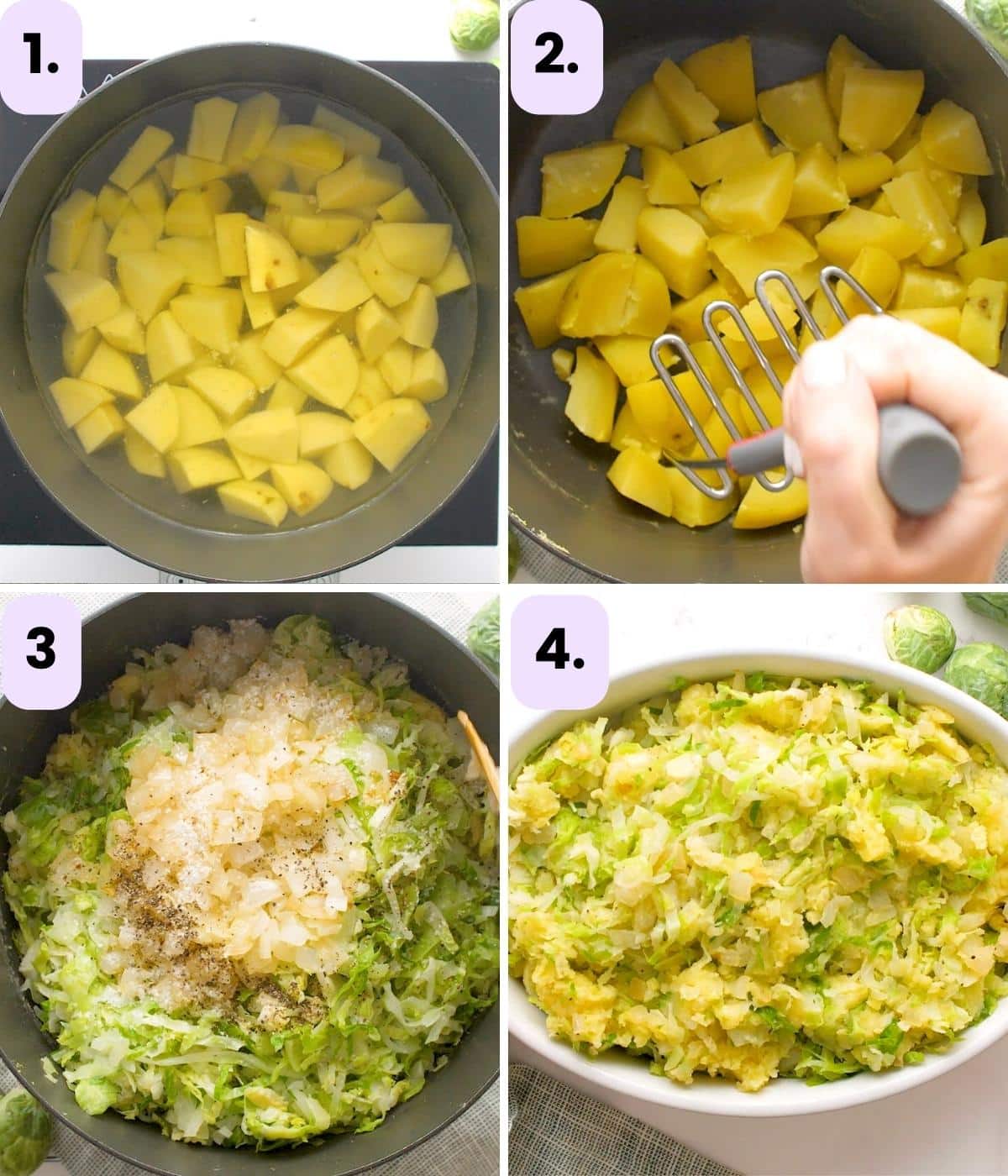 Boil the potatoes until tender.
Mash the potatoes.
Add cooked vegetables and sautéed onions to the mash and mix together well.
Spoon into a dish and bake until the top is golden.
Success tip - Don't over-boil the potatoes. Keep an eye on them and as soon as you can poke them with a knife or fork with minimal resistance, they are ready to drain and mash.
What to serve with Bubble & Squeak
Wondering what Bubble and Squeak goes with? Our favourite way to eat it is with a side of vegan sausages and vegan baked beans (homemade or from a can). And of course a very big squeeze of Original HP Sauce (another English favourite). For me it's a Bubble and Squeak must.
Here are some other ideas for what to serve with it:
Storage, Freezing & Reheating Tips
Make ahead of time - Make the recipe and spoon into the baking dish, then cover well and refrigerate for up to 3 days before baking.
Storing leftovers - Transfer leftovers to an airtight container, or once cool, cover the dish you baked it in with cling-wrap. Store in the refrigerator for up to 3 days.
Variations
Bubble and Squeak is such a versatile recipe and as long as you keep the proportions of mashed potatoes and other ingredients roughly the same (about 50/50 'ish) you can add whatever you like. It is best with the majority of vegetables being green and leafy though.
If you don't have Brussel's sprouts use all cabbage, if you have lots of Brussels sprouts that need using up, use them instead of the cabbage.
Feel free to also add:
cooked carrots, peas or sweetcorn
cooked broccoli florets
cooked chard or kale
diced leftover crispy roasted potatoes, boiled potatoes or steamed potatoes
cooked and diced sweet potato
diced vegan sausages/bacun or other meat alternatives
soft-stemmed fresh herbs
sautéed leeks
raw green onions
vegan cheese
You can bake it, fry it or make patties with it and it is also amazing as a substitute for the regular mashed potatoes on my Lentil Shepherd's Pie.
Recipe FAQs
What is the bubble in Bubble and Squeak?
The bubble in bubble and squeak relates to the noise the mixture makes in the pan. The moisture in the mashed potatoes and cooked vegetables makes them "bubble and squeak" when they come into contact with the hot oil that it was traditionally fried in.
What are the best potatoes to use for Bubble & Squeak?
Use potatoes that are good for mashing. Yukon Gold are the best in my opinion because they are the perfect mix of starchy and waxy. If you're in the UK, Desiree, Maris Piper and King Edward work well. I don't recommend Russet potatoes for mashing. They get too waterlogged and make for a soggy, bland mash.
How do you make Bubble and Squeak stick together?
The mashed Potatoes are the "glue" that holds Bubble and Squeak together so make sure they are mashed really well.
Is Bubble and Squeak healthy?
If you oven-bake rather than fry it, and limit or omit the optional oil and vegan butter, then Bubble and Squeak is a really healthy dish consisting of 100% vegetables.
Can you microwave Bubble and Squeak
You can microwave it to reheat leftovers but I do not recommend you microwave it to cook it initially. it needs the oven baking to get golden and crispy on top.
What is the difference between Bubble and Squeak and Colcannon?
Colcannon is a mixture of mashed potatoes, green onions and usually kale, mashed together and served as it is without cooking it anymore.
Bubble and Squeak however was traditionally made with any form of leftover potato whether it be mashed, boiled, steamed or roasted, and green onions aren't something you would find in it. The green of choice is usually Savoy cabbage not kale, and once it's all mixed up together, unlike Colcannon, it then gets cooked again. In the old days it would have been fried in lard. Now oil or butter is used instead, or the Bubble and Squeak is oven-baked.
If you try this recipe, let me know how you like it by leaving a comment and rating below! And be sure to join my mailing list for more deliciousness!
Recipe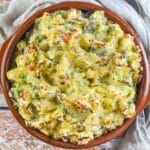 Bubble and Squeak
Author:
Bubble and Squeak is a simple, versatile recipe that is great for using up leftover cooked vegetables, or make it from scratch with just 4 ingredients. It's really easy and super budget friendly!
Ingredients
2¾ lbs (1250

grams)

white potato

, chopped into chunks(about 9-10 medium potatoes)

½ a large (about 550g or 1¼

lb)

cabbage

, shredded (Savoy or any other green one)

20

(approximately)

Brussels sprouts

, shredded

1

tablespoon

oil of choice

(optional) plus more for brushing

1

medium

onion

, chopped finely

2

tablespoons

vegan butter

(optional)

salt & pepper

, to taste

a few tablespoons

unsweetened plant milk

, if required
OR instead of raw cabbage and Brussels Sprouts use:
5 cups (1000 to 1200 grams or 2 to 2 ½ lbs

)

leftover cooked vegetables

, mostly greens but others are ok to add too
INSTRUCTIONS
Preheat oven to 400 degrees F (200 °C).

Place the potatoes in a large pan, cover with water, add a large pinch of salt and bring to the boil. Boil until you can insert a knife or fork into them with minimal resistance. Do not overcook them.

While the potatoes are boiling, place shredded cabbage and shredded Brussels sprouts in a separate pan and cover with water. Bring to a rolling boil, then cook for 3 minutes. After that time drain them and set aside. Skip this step if you are using leftover cooked vegetables. 

Drain the potatoes in a colander and then sit the colander with them in it over the now empty pan you used to boil them. Leave it uncovered so they can steam themselves dry.

Heat a small frying pan over a medium heat with about one tablespoon of oil and sauté the onion until golden brown. Remove from the heat and set aside. Use a few drops of water to sauté with to keep the recipe oil-free.

Mash the potato really well with the optional vegan butter and season generously with salt and pepper. Add a bit of unsweetened plant milk only if the potatoes seem a bit dry but don't add much because with all of the moisture from the cabbage things can easily get soggy.

Add the cooked vegetables and onions to the mashed potatoes. Mix everything together really well. Check seasoning again, adding more if necessary.  
To oven bake
Spoon the mixture into a large oven proof dish then rough up the top with a fork. You can spray the top with oil or brush with melted vegan butter to make it extra crispy or leave it as it is. Bake in the pre-heated oven for 30-40 minutes or until the top is going brown and crusty. You can make it extra crispy by putting it under the broiler for a few minutes just before serving. 
To pan fry
Heat a couple of large frying pans or skillets over a medium heat with a good coating of oil or vegan butter. Swirl the oil or butter around the pan and once it is hot add the Bubble and Squeak mixture. Dollop it in then smooth it out into a big, thick pancake shape. Cook it until it's really golden brown on the bottom. Then you can either be brave and flip it by placing a large plate or cutting board over the top of the pan, carefully inverting it so it comes out, then sliding it back into the pan so the crispy bottom is on the top, or you can just take it off the heat, brush the top with some more oil or vegan butter, then broil it (grill in the UK) until it's golden brown and crusty. The 2nd option is much easier!
To make patties
Prepare the mixture as above but instead of spooning into an ovenproof dish, take handfuls and roll into balls (you want them kind of mid way between golf and tennis ball size). Place on a parchment paper lined baking sheet and press down gently with the palm of your hand to make a patty shape. Smooth them out a little around the sides if they crack.

Brush or spray with oil (optional) then either pan fry over a medium heat with some oil or butter until golden brown on both sides, or place in a preheated oven (400 °F / 200 °C) and bake for 30 minutes or until golden brown.
NOTES
Make ahead of time - Make the recipe and spoon into the baking dish, then cover well and refrigerate for up to 3 days before baking. Storing leftovers - Transfer leftovers to an airtight container, or once cool, cover the dish you baked it in with cling-wrap. Store in the refrigerator for up to 3 days. Nutritional information is calculated WITH the optional oil and butter. 
NUTRITION
Serving:
1
of 6 servings
|
Calories:
93
kcal
|
Carbohydrates:
10
g
|
Protein:
2
g
|
Fat:
5
g
|
Saturated Fat:
1
g
|
Sodium:
48
mg
|
Potassium:
269
mg
|
Fiber:
3
g
|
Sugar:
4
g
|
Vitamin A:
285
IU
|
Vitamin C:
39
mg
|
Calcium:
40
mg
|
Iron:
1
mg
Did you make this recipe?
Rate it & leave feedback in the comments section below. I love seeing your remakes too. Tag @avirtualvegan on Instagram! 🌟
This recipe was originally published on September 22nd 2015. I've updated it with some new content and a video and am now republishing it for you. I hope you enjoy it. Thank you for following A Virtual Vegan!