Oven baked and oil-free Bubble & Squeak. Cook it from scratch with only 4 healthy ingredients, or just make the mashed potatoes & add any leftover veggies that you happen to have instead. Cook it in a casserole or shape it into patties. It's so flexible, super quick & easy!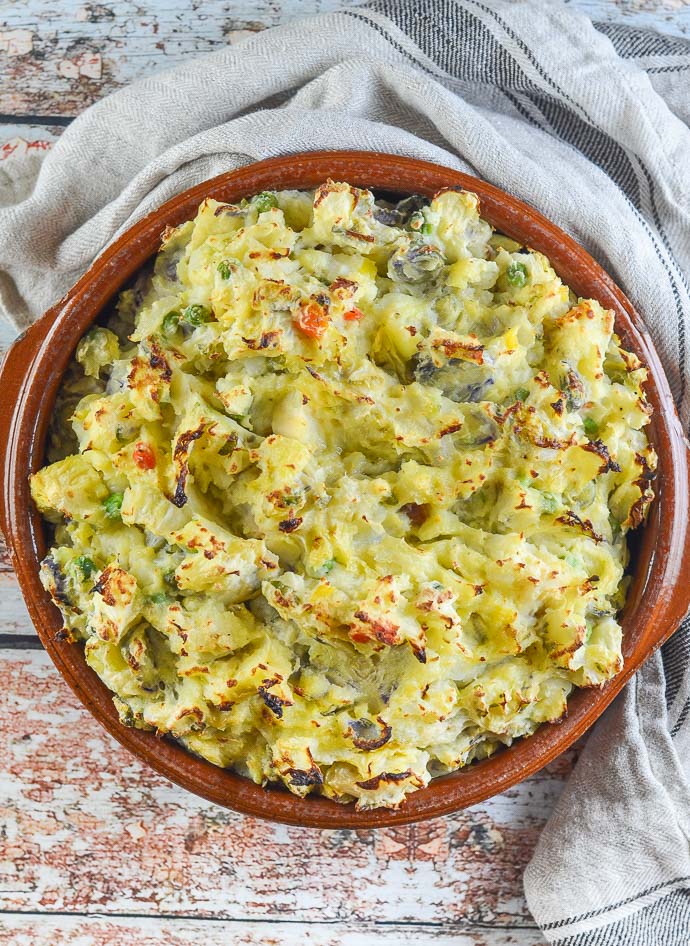 Bubble & Squeak! We're talking soft, fluffy mashed potato mixed with oodles of delicious green veggies. They can be freshly cooked on purpose for this recipe, or random leftover veggies and as long as most of them are green like cabbage, kale, Brussels sprouts etc, you can also get away with throwing in anything else you happen to have too, like leftover carrots, peas and sweetcorn for example.
What is Bubble & Squeak?
Bubble & Squeak is a traditional English dish which was originally made to use up leftovers. The name (which I happen to LOVE!), comes from the bubbling and squeaking noises the mixture would make in the hot oil whilst being fried. Of course, I have healthified my recipe up a bit so there will be no bubbling and squeaking but what your ears will miss, your arteries will thank you for!
I was born in England and grew up eating Bubble & Squeak. My Mum would always cook extra vegetables with our Sunday roast so that she could make it the next day. She used to mash the potato with butter and milk, and then fry the Bubble & Squeak then we would eat it with a fried egg and sausages. Not healthy in the slightest.
When I make it now, we tend to eat it with my Vegan Baked Beans. If I'm feeling extravagant we might have a veggie sausage with it, and I cannot eat it without my guilty pleasure.....Wait for it....Tomato Ketchup. There are only three things that I eat ketchup with. My Baked Vegan Mac and Cheese, fries and Bubble & Squeak. It might sound really strange but don't knock it 'til you've tried it!
Another great way to serve it is with sautéed mushrooms and gravy.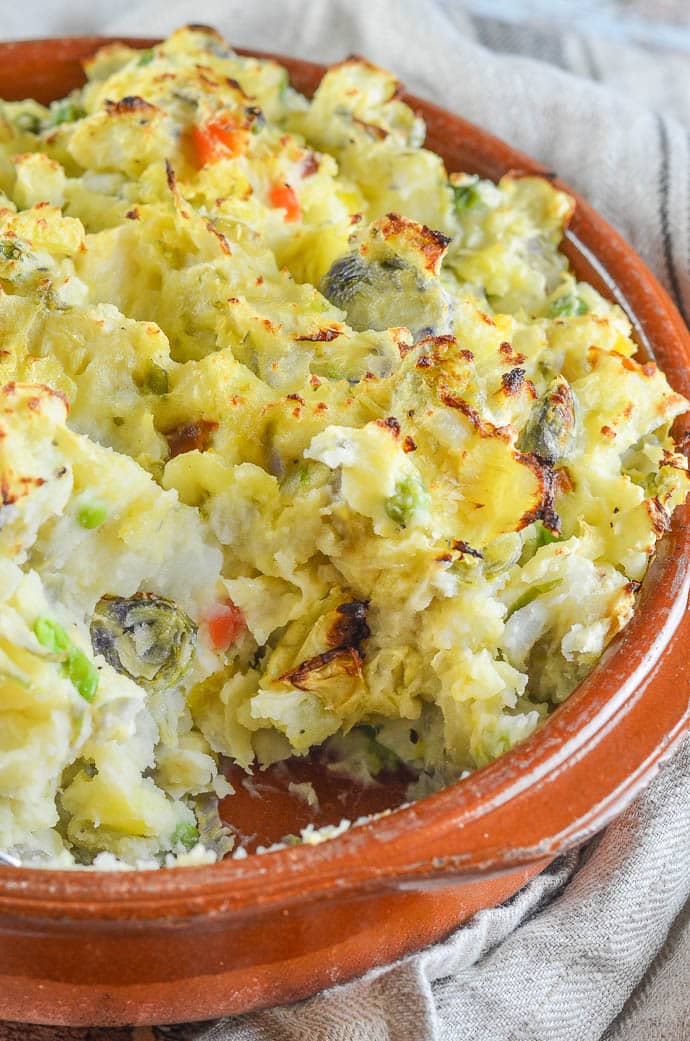 How to make Bubble & Squeak
It's so easy. All you have to do is:
Peel, boil and mash the potatoes.
Add the veggies and stir them all in really well
Spoon the mixture into a casserole and rough up the top with a fork
OR shape the mixture into little patties
And bake until golden. It's also nice, if you've baked it in a casserole, to pop it under the broiler for a few minutes just to get the little spiky bits of potato really golden!
I love to make this recipe using my Kitchen Aid Stand Mixer (<<< affiliate link)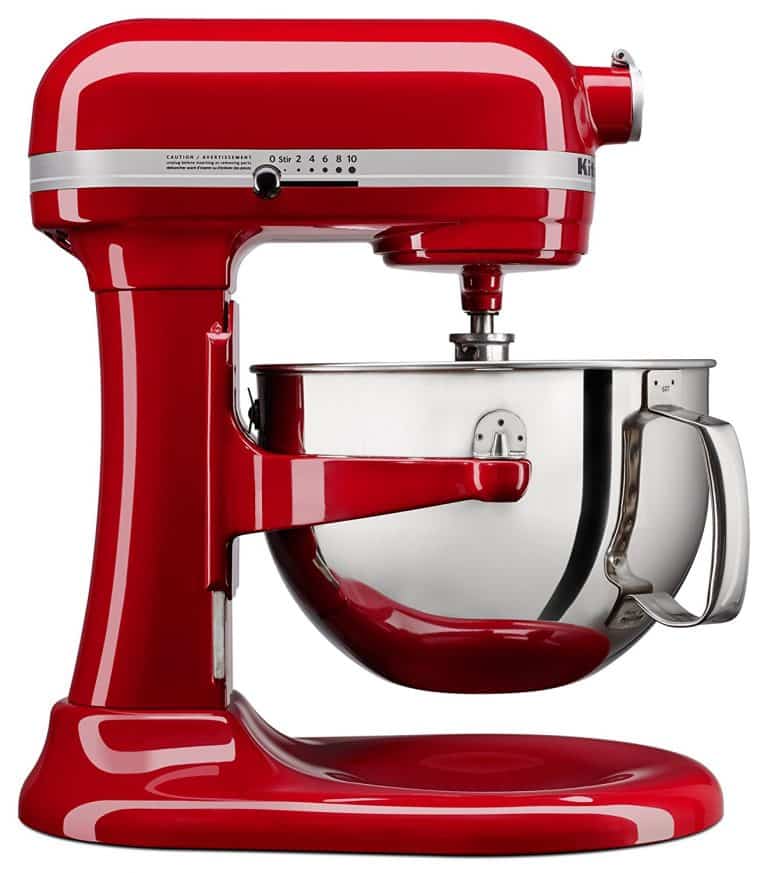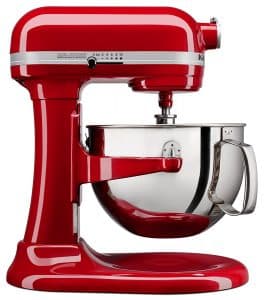 I boil the potatoes, drain them, then throw them in the mixer and mix with the flat beater. It means I don't have to do any mashing and it makes them so smooth! Then I just throw the veggies right in there and let it mix them all in before transferring to a casserole.
A great way to get kids to eat vegetables!
This is a great recipe for children (or adults) who dislike vegetables. My son 'hates' Brussels sprouts but aways wolfs this Bubble & Squeak down without question. If you do have someone who is particularly fussy though, I would recommend taking extra care when shredding the vegetables. I love my veggies quite chunky, but if you want them to be less obvious, cut them into really tiny pieces so they aren't as noticeable.
This is why I am loving this Bubble & Squeak:
It reminds me of my childhood!
It's a great way to use leftovers
It's really healthy
It's cheap and very filling
It's low in calories and fat
For more English style vegan recipes, check out these great options:
And if you love this recipe, please do check out my cookbook, and subscribe to my email list for a fabulous FREE eCookbook featuring my top 10 recipes. Being on the list means you will be first to see my new recipes and you'll be kept in the loop on all things new and exciting too!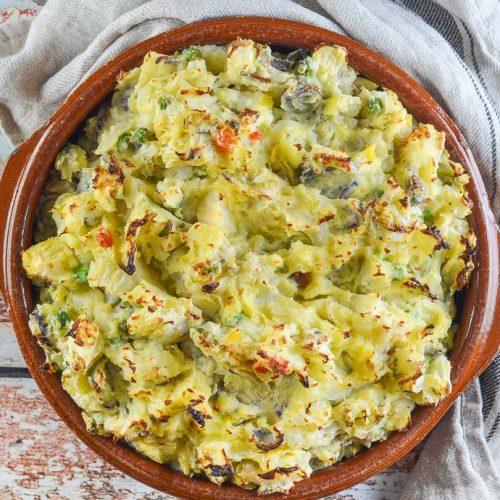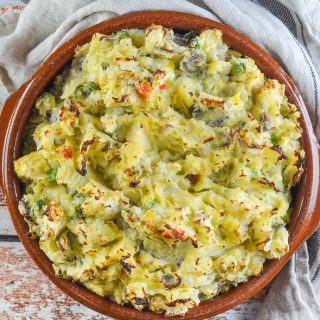 Bubble & Squeak
Oven baked and oil-free Bubble & Squeak. Cook it from scratch with only 4 healthy ingredients, or just make the mashed potatoes & add any leftover veggies that you happen to have instead. Cook it in a casserole or shape it into patties. It's so flexible, super quick & easy!
Ingredients
1250g | around 5 cups

white potato chopped into chunks

(about 9-10 medium potatoes)

500-550g | around 5 cups or ½ large

green cabbage

, shredded

15

(approximately)

Brussels sprouts

, shredded

1

medium onion

, chopped

Salt & Pepper

, to taste

Oil for brushing/spraying

(optional)
OR instead of raw cabbage and Brussels Sprouts use:
around 1000-1200 grams / 3-4

cups

leftover cooked vegetables

, mostly greens but some other kind thrown in are ok too
INSTRUCTIONS
Preheat oven to 400 degrees F

Place the potatoes in a large pan, cover with water, add a large pinch of salt and bring to the boil. Boil until tender. Do not overcook (about 12 - 15 minutes). Drain then return to the pan with the lid off so that they can dry and cool down.

Place shredded cabbage and Brussels sprouts in a separate pan and cover with water. Bring to a boil and simmer for about 3 minutes then drain and set aside. There is no need to do this if you are using leftover cooked vegetables.

Heat a small fry pan and sauté the onion until golden brown then remove from the heat and set aside. I tend to dry fry mine or use a few tablespoons of water but feel free to add a little oil if you prefer.

Mash the potato until really smooth and creamy, then add the vegetables and onions. Mix everything together really well and season to taste. Be generous with the salt and pepper.

Spoon the mixture into a large casserole then rough up the top with a fork. You can spray the top with oil to make it extra crispy if you like but I tend not to bother. Bake in the pre-heated oven for 30-40 minutes or until the top is going brown and crusty. You can make it extra crispy by putting it under the broiler for a few minutes just before serving.
IF MAKING PATTIES
Prepare a

large baking tray

. If it is non-stick it will be fine as it is. If not cover with a

Silpat

or baking parchment.

Take handfuls of the mixture and roll into balls (you want them kind of mid way between golf and tennis ball size). Place on your baking sheet and press down gently with the palm of your hand to make a patty shape. Smooth them out a little around the sides if they crack a bit.

Brush or spray with oil (optional) then place in the preheated oven and bake for 30 minutes until golden brown.
NOTES
Leftover Bubble & Squeak Patties can be covered and stored in the fridge for 3 - 4 days. Reheat in the oven on 400°F until hot. 
________________________________________________________
DID YOU MAKE THIS RECIPE?
If you did, be a ☆ and let me know what you think by rating it and commenting below. Tag me on Instagram too. I am @avirtualvegan and my hashtag is #avirtualvegan 
________________________________________________________
NUTRITION
Serving:
358
grams (⅙ of entire recipe or 2 patties)
Calories:
209
kcal
Carbohydrates:
47
g
Protein:
7
g
Fat:
0.4
g
Sodium:
40
mg
Fiber:
8
g
Sugar:
6
g
Vitamin A:
450
IU
Vitamin C:
155.9
mg
Calcium:
80
mg
Iron:
2.7
mg
Tried this recipe?
Rate it & leave your feedback in the comments section below, or tag @avirtualvegan on Instagram and hashtag it #avirtualvegan
LOOKING FOR MORE RECIPES?
Be sure to check out my recipe index where you can browse and filter recipes by meal type, category and dietary preference.
This recipe was originally published on September 22nd 2015 but was updated on February 16th 2018 with new text and photographs. This is one of the original photographs: