Get my tips for making great vegan salads and get inspired by my go-to vegan salad recipes!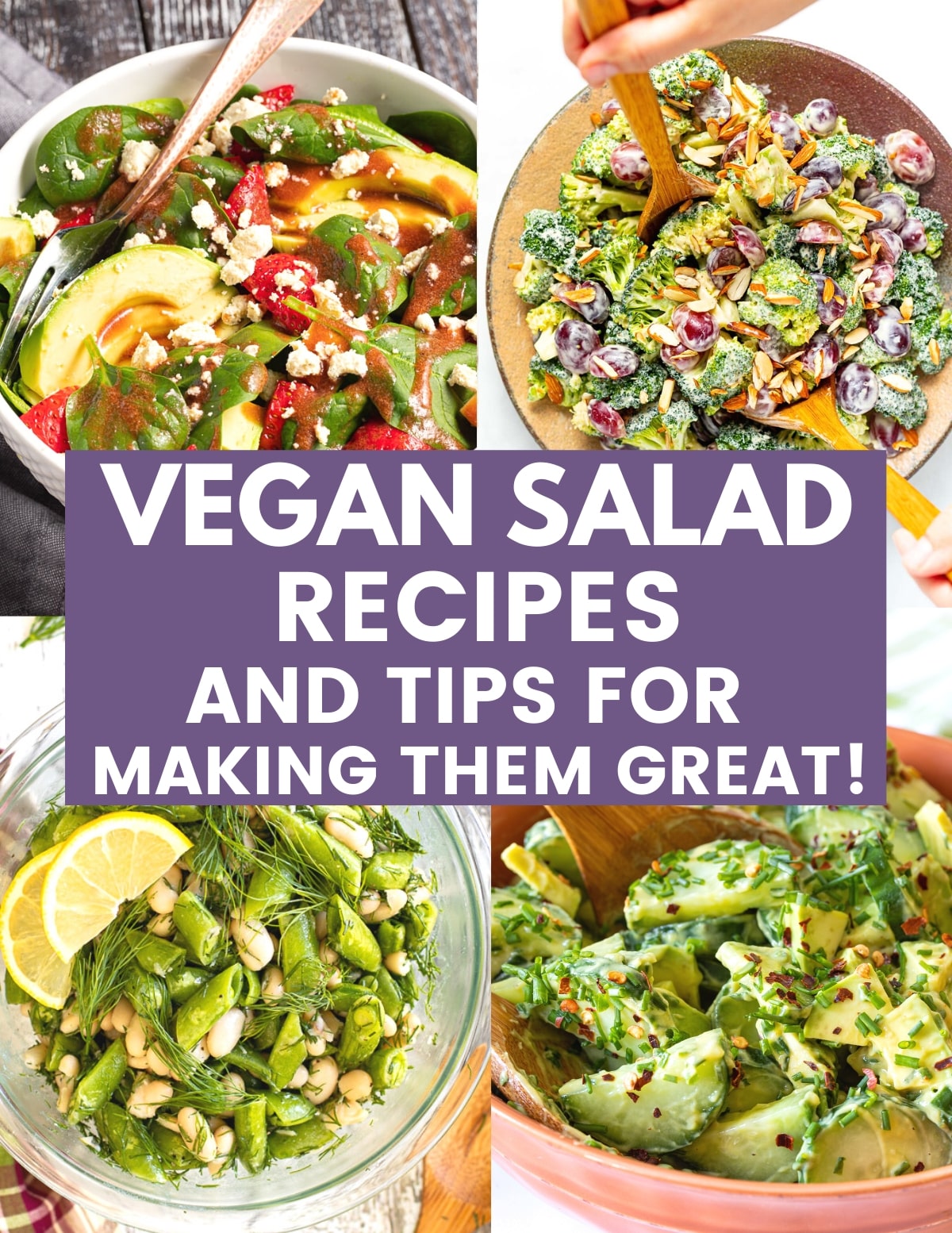 Great big, fresh, colourful vegan salads are the perfect way to celebrate delicious seasonal produce and you've got to love how easy they make throwing a meal together. Put everything in a big bowl, toss with dressing and yep, that's it. You're done.
But do you struggle to make satisfying vegan salads or wonder what to put in them? Do you want to know how to make a really great salad? And do you struggle with keeping your salad and leftovers fresh?
Let me help. Here I'll give you some tips for how to make a really great salad, including how to make your salad more interesting, tips for storing your leafy greens and prepared salads, and I'll also share some of my favourite vegan salad recipes.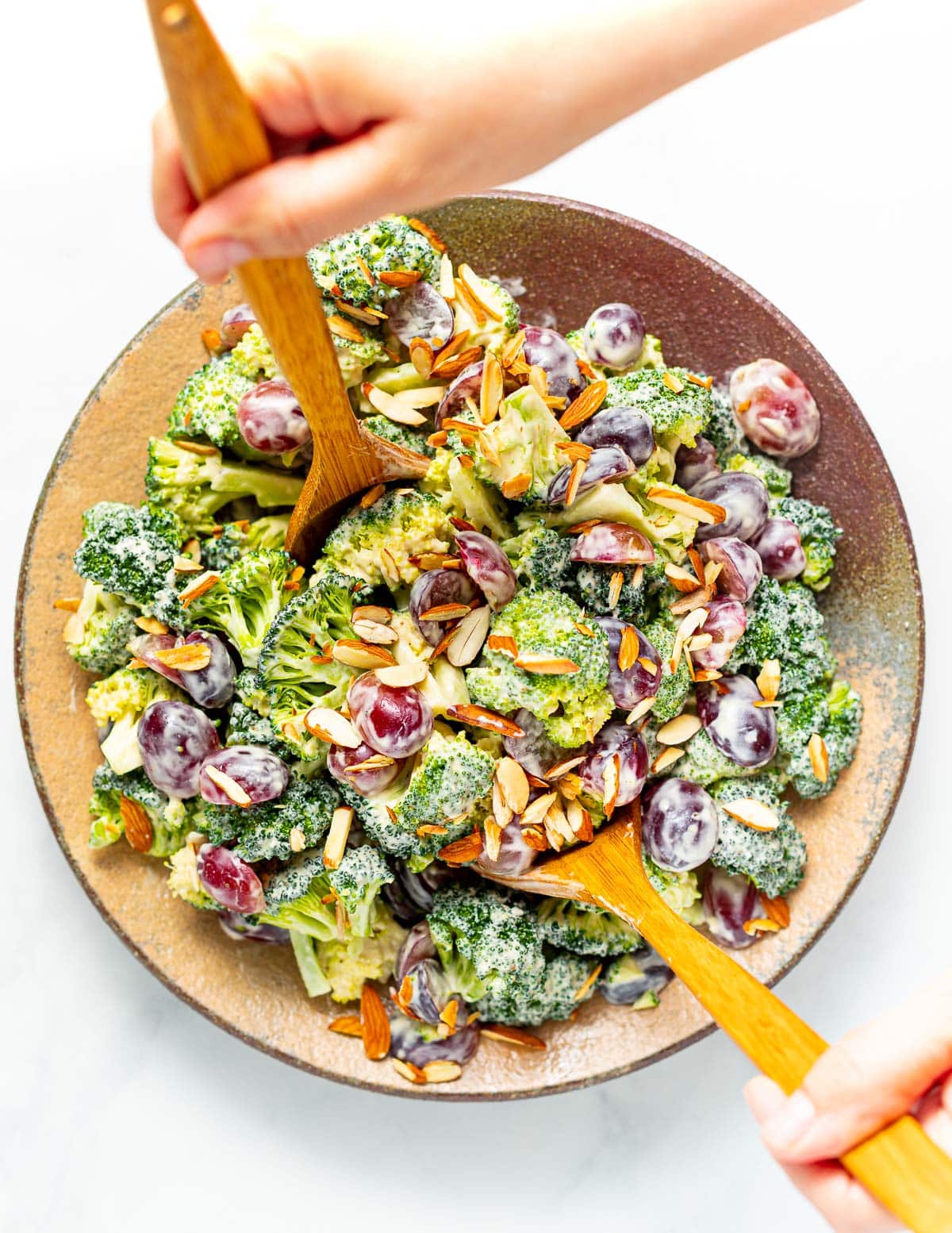 How can I make my salads more interesting?
Season well - Even greens benefit from some salt and pepper. Every component of your salad should taste good so season everything, including your salad leaves, the dressing, mix-ins like roasted veg or toasted nuts etc. Toss it, taste it, and add more seasoning if it needs it.
Don't just use lettuce - Shredded Brussels sprouts, kale, collard greens, endives, chicory, chard, arugula, radicchio, cabbage, bok choy, broccoli, spiralized or shredded kohl rabi, celeriac (celery root), carrots or sweet potato are all great in salads.
Add roasted vegetables - Sweet, caramelized roasted vegetables like sweet potato, carrots, beetroot, broccoli, cauliflower, squash, rutabaga etc add another dimension to your salads, improving the texture and the flavour.
Add grilled vegetables - Sweet potato, zucchini, eggplant etc all grill really well. Cut them into large slices, brush with a little oil and leave them on the grill until you get the fancy black lines!
Add pickled vegetables - Any you like. They are crunchy and tangy and add so much interest.
Use fresh herbs - Just a handful mixed with your other greens adds bursts of flavour throughout. Parsley, cilantro, dill, chives, mint, tarragon and basil are great to use. My herby green sauce is also greta on salads.
Add healthy fats and protein - They add flavour and interest and make salads more satisfying. Tofu (like my baked tofu or crispy tofu), crumbled vegan feta cheese, toasted nuts or seeds, thinly sliced vegan beef or vegan turkey roast, avocado, chickpeas, beans, pan seared tempeh and hummus are all great additions.
Add cooked grains - Great for making salads more filling and they add interest too.
Dried fruit - Raisins, sultanas, cranberries, apricots and dates are all great in salads and add a lovely chewy texture as well as bursts of sweetness.
Fresh fruit - Sound weird but works so well! Strawberries, blueberries, grapes, chopped apple, pear, citrus, all work really well in salads.
Add texture - A good blend of soft (like avocado, cooked potatoes, strawberries, or soft vegan cream cheese), chewy (like dried fruit or roasted tofu), crunchy (like nuts & seeds or vegan croutons) makes a salad a lot more interesting.
Balance - Make sure the flavours balance well. There should be a mixture of sweet, salty, acidic and also maybe bitter and spicy ingredients.
Use a great dressing - Most store bought one's aren't the best and the dressing is key to bringing everything together and great flavour. My Oil-Free Strawberry Vinaigrette and Avocado Dressing are both really tasty.
Storing salad
Storing leafy greens - The best way to keep lettuce and other leafy greens fresh is to wash and dry them thoroughly then store them in an airtight container with a layer of kitchen paper across the bottom of the container and across the top. The paper absorbs any moisture/condensation and by changing it as it becomes damp you keep your salad leaves nice and dry.
I recently invested in a salad spinner after just using a colander before and the difference it makes is amazing. The amount of water it removes that would otherwise be sitting on the leaves the whole time is impressive. This not only makes the salad leaves last longer, it also makes your salad taste better because the dressing isn't being diluted by that excess water.
Storing prepared salad - The best way to keep prepared salad fresh is to only dress the portion you need right away and to store leftover salad and salad dressing separately. That way the salad isn't sitting in moisture and won't get soggy. Keep the salad in an airtight container in the fridge with a layer of kitchen paper on the top and on the bottom to absorb condensation. Change the paper as needed to keep it dry. Keep the dressing in a small jar in the fridge. Only mix the two when you are about to eat them and try to only dress what you're physically going to eat and no more.
How to use a salad spinner
Do you have a salad spinner lurking in the cupboard that you've never used? Wondering what the proper way to use it is? Here's how:
Step 1 - Fill the outer bowl of the salad spinner with cold water. Enough to completely submerge the salad you're going to be washing.
Step 2 - Place the salad leaves in the spinner basket and gently lower it into the cold water. Use a hand to gently agitate the leaves and rinse off any dirt.
Step 3 - Lift the basket out and pour the water away. I use mine to water my plants.
Step 4 - Put the basket back in, put the top on the spinner and spin it really well. Pour out any water and repeat until the leaves look nice and dry. That's it. You're done.
Vegan Salads you need to make
And now you've got some great salad making tips up your sleeve, here are some vegan salad recipes to inspire you!
---
---
---
---
---
---
---
---
---
---
---
---
---
---
---
---
If you have a favourite salad recipe that you'd like to share drop a link to it in the comments.
Happy salad making everyone!
---