Delicious Vegan Black Bean Burgers with hints of lime & a slight chili kick. Satisfying, healthy, flavour packed & not mushy!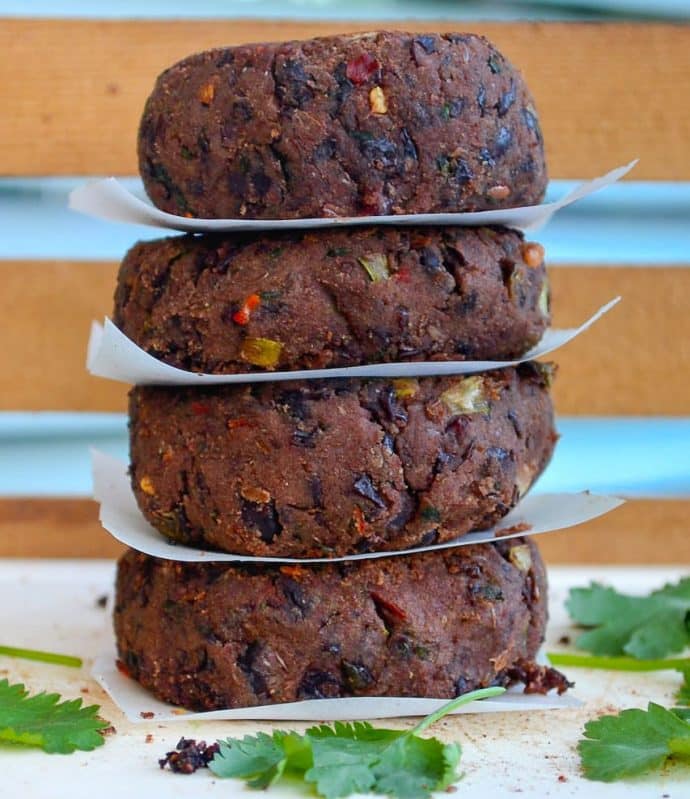 Store bought vegan burgers are almost always a disappointment so I usually cut out the middle man and make my own.  These Vegan Black Bean Burgers are one of my favourites. They have become a reader favourite too and this recipe does consistently well, all year round.
I think this is largely because they are packed full of flavour, they don't fall apart and they aren't mushy ????
Don't you just hate mushy veggie burgers? ????They are sure a pet hate for me. I hate biting into a burger and have it squirt out the other side of the bun!
I say these Vegan Black Bean Burgers are one of my favourites because these White Bean Artichoke Burgers are just as good and get made by me just as often, especially for grilling in the summer: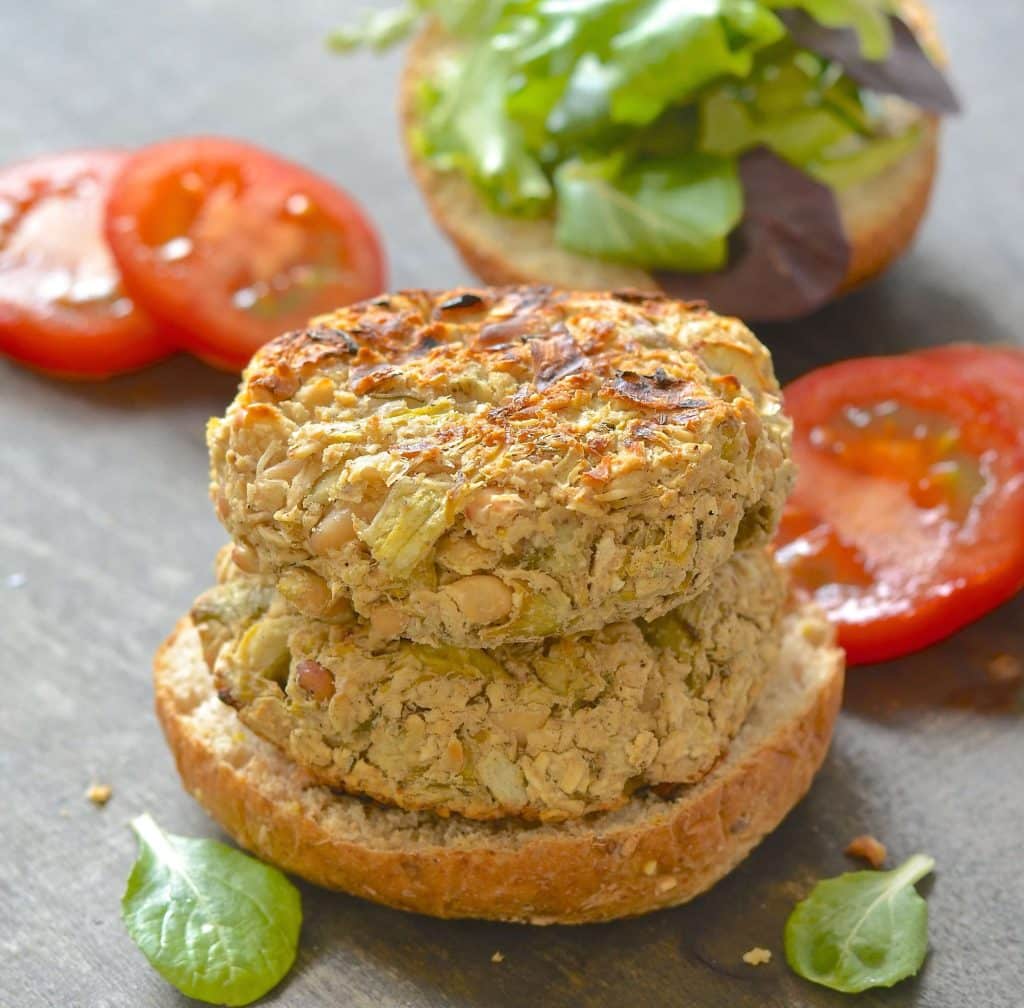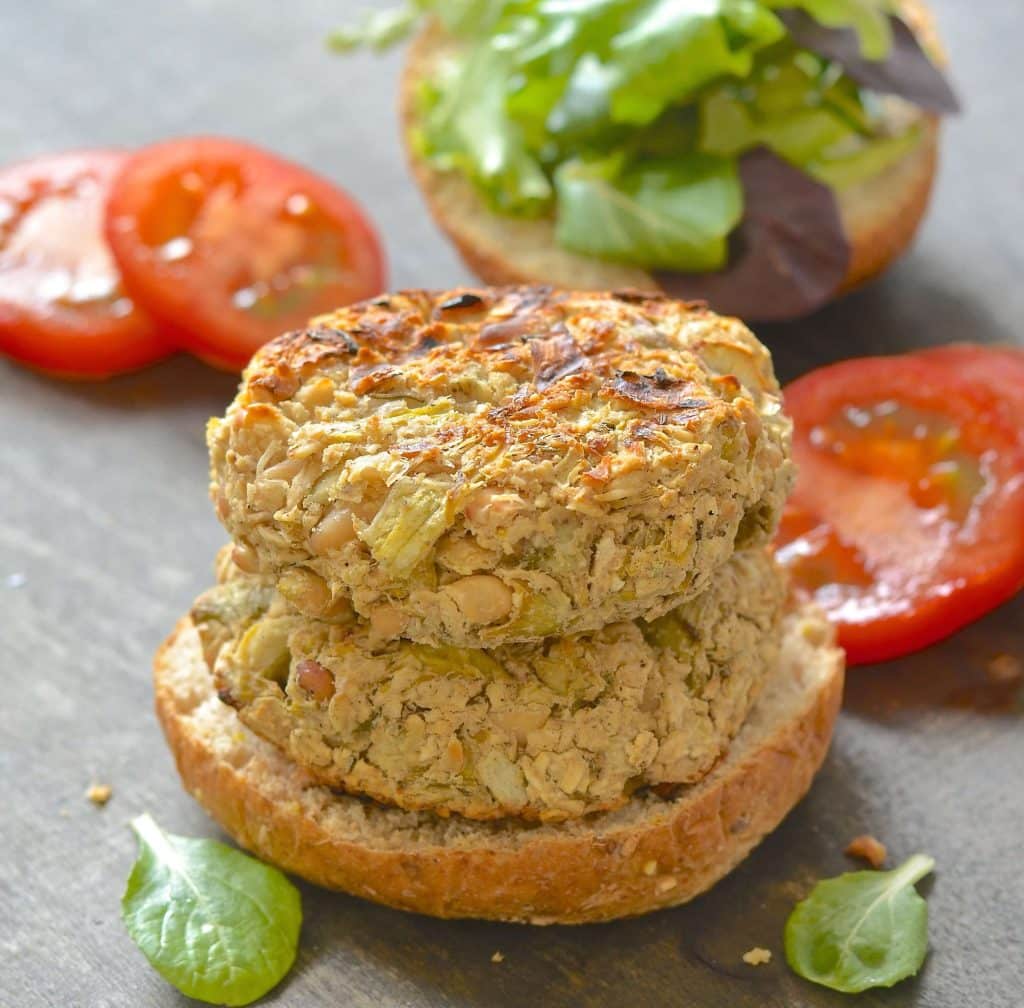 HOW TO USE BLACK BEANS
I always have black beans on hand at home. They are a really versatile ingredient and I think my favourite kind of bean. I think out of all the beans they have the most flavour and they are incredibly versatile.
They are great for making chili, spicy black beans, salads, chocolate brownies and of course burgers.
If you have an Instant Pot or other electric pressure cooker,  be sure to try my Seasoned Pressure Cooker Black Beans: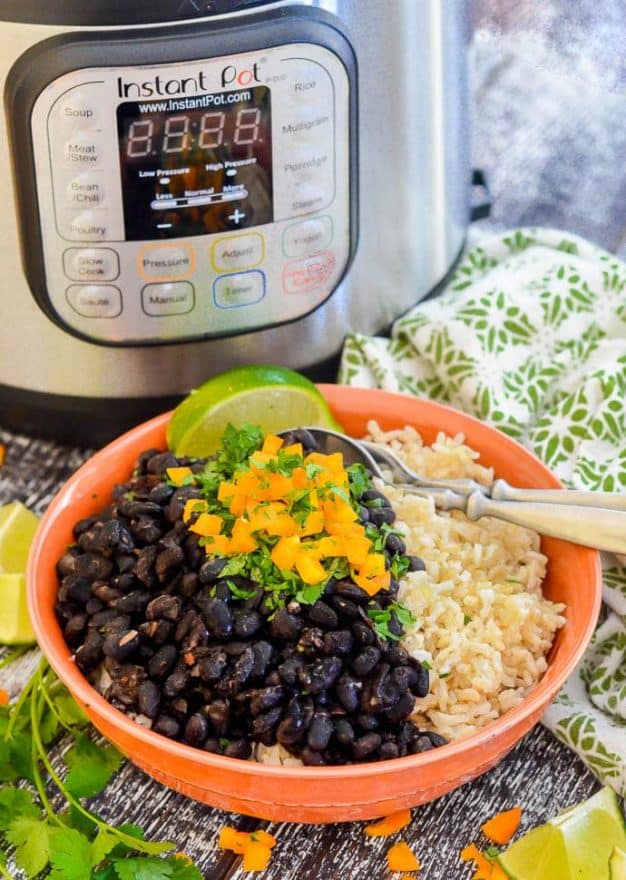 I buy my black beans in dried form and cook them in my Instant Pot, but tinned black beans are also great to use in this recipe.
Having an Instant Pot has been a serious game changer for me. You can go from dried beans to cooked, tender beans in under 1 hour. No soaking needed. Plus they are so much cheaper to buy.
Before, I always used to buy canned beans because I was never organized enough to cook dried beans prior to making a recipe.  Now though, because they are ready so quickly, it doesn't really matter if I leave it until the last minute.
It also makes batch cooking them so easy. I tend to make a big, giant pot full, then freeze in glass containers like these:
HOW TO MAKE VEGAN BLACK BEAN BURGERS
---
FOR INGREDIENTS & FULL INSTRUCTIONS PLEASE SEE THE RECIPE CARD AT THE END OF THIS POST
---
These Vegan Black Bean Burgers are incredibly easy to make and you don't need any special equipment. Just a potato masher and your hands.
It couldn't be more simple and I think just about everyone owns a potato masher!
STEP 1
Mash up those beans but keep them a bit chunky for texture
STEP 2
Add the other ingredients and mix well
STEP 3
Refrigerate to firm
STEP 4
Shape into patties
STEP 5
Pan fry or bake
Done! I just love how simple they are.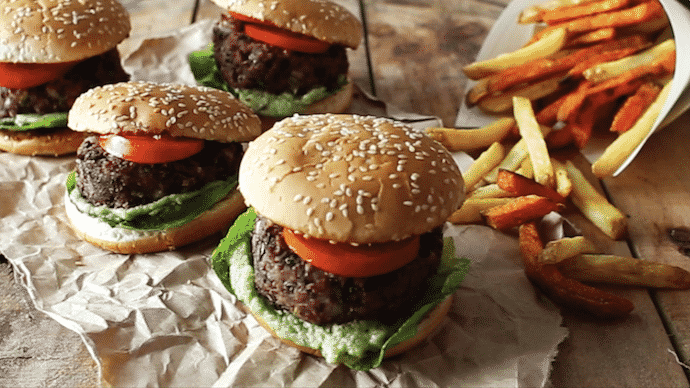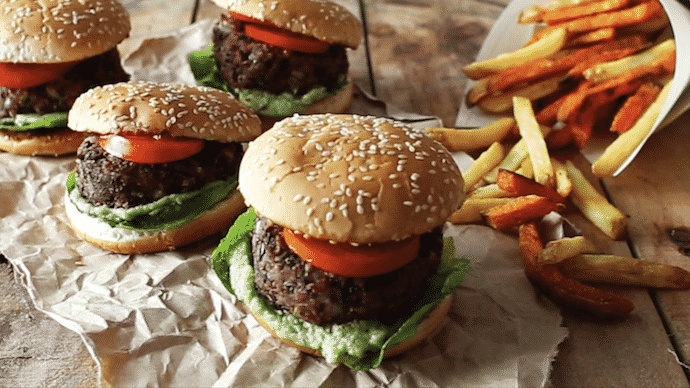 HOW TO SERVE BLACK BEAN BURGERS
Black Bean Burgers work with so many flavours. I love to serve mine:
in a bun with all the fixings like guac, salsa, hot sauce...????
in a warm pita with hummus, arugula and green onions (or any other salad)
with a big green salad
with fries (sweet potato fries...yes please! )
or whatever side takes your fancy
They are so versatile!
The freshness of my Minted Watermelon Salad  or my Tomato Chickpea Salad with Cilantro & Lime works really well with them, as does my Creamy Avocado Lime Dressing drizzled ALL over.
Leftovers are also good cold. I often put them in packed lunch boxes or just grab them from the fridge for a protein packed snack.
HOW TO STORE BLACK BEAN BURGERS
These Vegan Black Bean Burgers with Lime keep well in the fridge for 4- 5 days and they also freeze very well for up to 3 months. They are just perfect for batch cooking ready for quick and easy meals in the future.
When freezing put a piece of baking parchment between each one to avoid sticking then place in either a sealed container or a freezer bag.
To reheat, bake them in the oven on 370°F for about 15-20 minutes. You can even bake them straight from the freezer for about 20-25 minutes or until piping hot all the way through. doing that makes for such an easy meal at a later date and we all need quick and easy meals in our lives from time to time when life gets a little crazy.
I AM LOVING THESE VEGAN BLACK BEAN BURGERS BECAUSE THEY ARE:
moist but not mushy and don't fall apart
spicy
full of flavour
citrusy
really easy to make with no special equipment
budget friendly
healthy
easily freezable for batch cooking and quick meals at a later date
quick to make
full of protein
I see Vegan Black Bean Burgers in your future, don't you?
Are you ready?
Let's do this!
Step By Step Photos Above
Most of my recipes come with helpful step by step photos, success tips & a video so you can make them perfectly first time!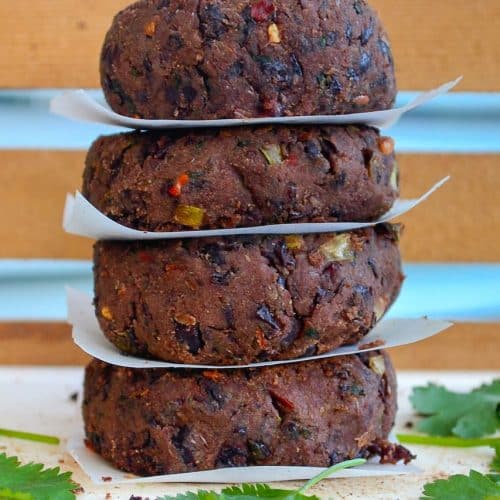 Zesty Black Bean Burgers
Delicious Vegan Black Bean Burgers with hints of lime & a slight chili kick. Satisfying, healthy, flavour packed & not mushy!

Ingredients
2 cups / 340

g

black beans

, drained and rinsed

4

green onions

, chopped

1

lime

,zest and juice

1/4

teaspoon

chili flakes

(optional)

1

teaspoon

ground cumin

1

teaspoon

garlic powder

1/4 cup / 4

tablespoons

ground flax seed

or bread crumbs would also work

1

handful cilantro

½

teaspoon

salt

, plus more to taste

¼

teaspoon

pepper

, plus more to taste

2

tablespoons

oil

(optional) It's your choice what kind, I use olive. If you don't use any use a good non-stick pan to cook them in
INSTRUCTIONS
Add beans to a large bowl and mash roughly with a potato masher (but not too much).

Add all of the other ingredients and mix well (I find clean hands are the best tool for this), making sure everything is well combined. Taste the mixture to check seasoning and add more if necessary.

Refrigerate for about 15 minutes. This helps it firm up a little and makes it easier to shape the burgers.

The mixture will feel very sticky but should come together well. Shape into 4 balls, pressing them together really really firmly then using the palm of your hand press down on the top of each one to make it a burger shape. If they crack a bit just press them gently back together. If you struggle to shape them because you feel the mixture is too sticky then add a few more tablespoons of flax or some bread crumbs and leave for a few minutes to let it absorb some moisture before attempting to shape again.
To pan fry
Heat the oil in a

fry pan

over a medium heat.

Once hot add the burgers making sure there is plenty of space around each one to enable you to flip them later. If you can't fit them all in, have your oven on low (300 degrees F) and once the first ones are done keep them warm in there until the rest are ready.

Fry them for about 5 minutes each side or until a nice golden crust forms.
To oven bake
Put the burgers on a lined tray and bake them in the oven on 375°F until heated through and a bit crusty on the outside (about 30 minutes).
NOTES
nutritional info calculated without the optional oil
NUTRITION
Serving:
1
burger
Calories:
183
kcal
Carbohydrates:
28
g
Protein:
10
g
Fat:
4
g
Sodium:
633
mg
Fiber:
13
g
Sugar:
1
g
Vitamin A:
800
IU
Vitamin C:
9.1
mg
Calcium:
100
mg
Iron:
3.1
mg
Tried this recipe?
Rate it & leave your feedback in the comments section below, or tag @avirtualvegan on Instagram and hashtag it #avirtualvegan
LOOKING FOR MORE RECIPES?
Be sure to check out my recipe index where you can browse and filter recipes by meal type, category and dietary preference.