A simple, super tasty Strawberry Spinach Salad made with iron rich spinach, juicy strawberries, creamy avocado & crunchy nuts, then finished off with a fresh, oil-free, strawberry vinaigrette.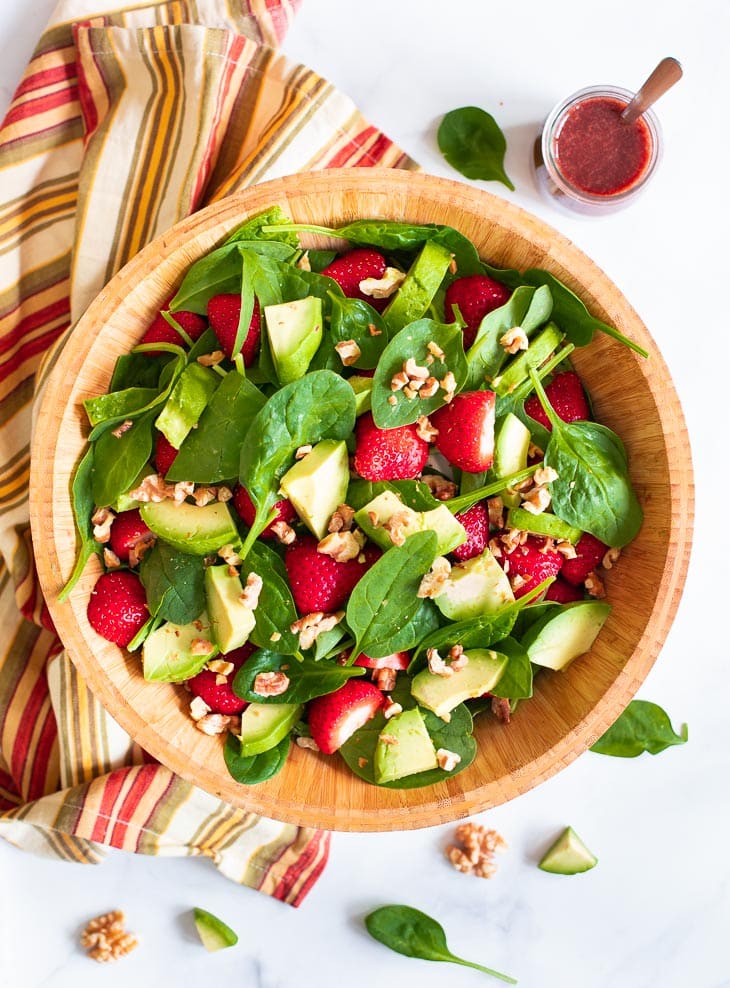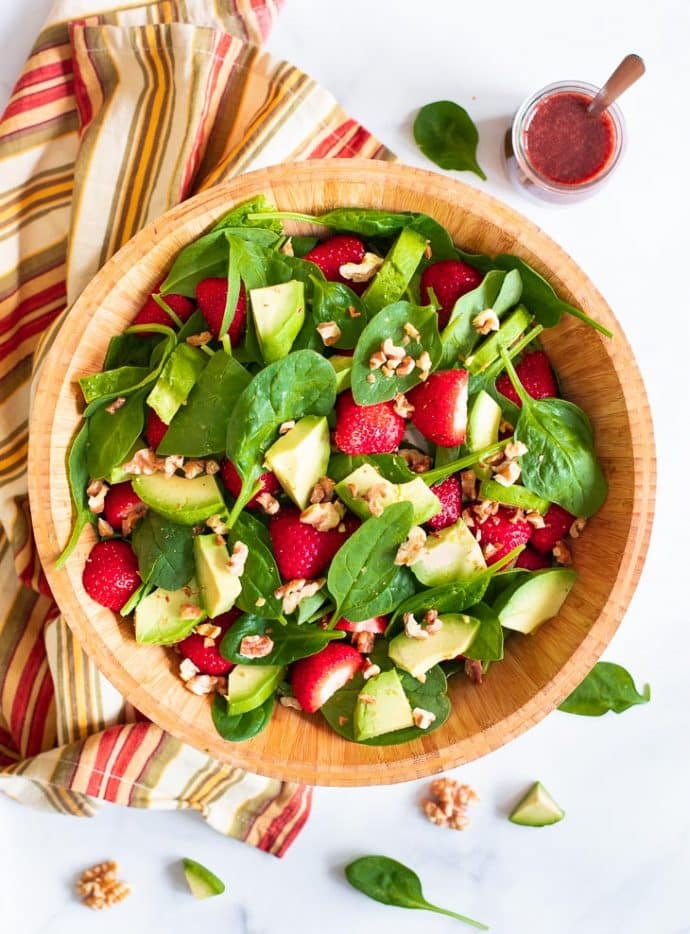 Dear summer salad…after cookbook recipe creating during a heatwave, when it feels like it's a bazillion degrees with the oven on all day…you have been our savior.
You are low effort, healthy, fresh, cool, light and most importantly you don't need any cooking. Hallelujah! ????
A few weeks ago I published my Oil-Free Strawberry Vinaigrette, and I got so many messages asking me how to make the salad that it was pictured with, so here it is guys!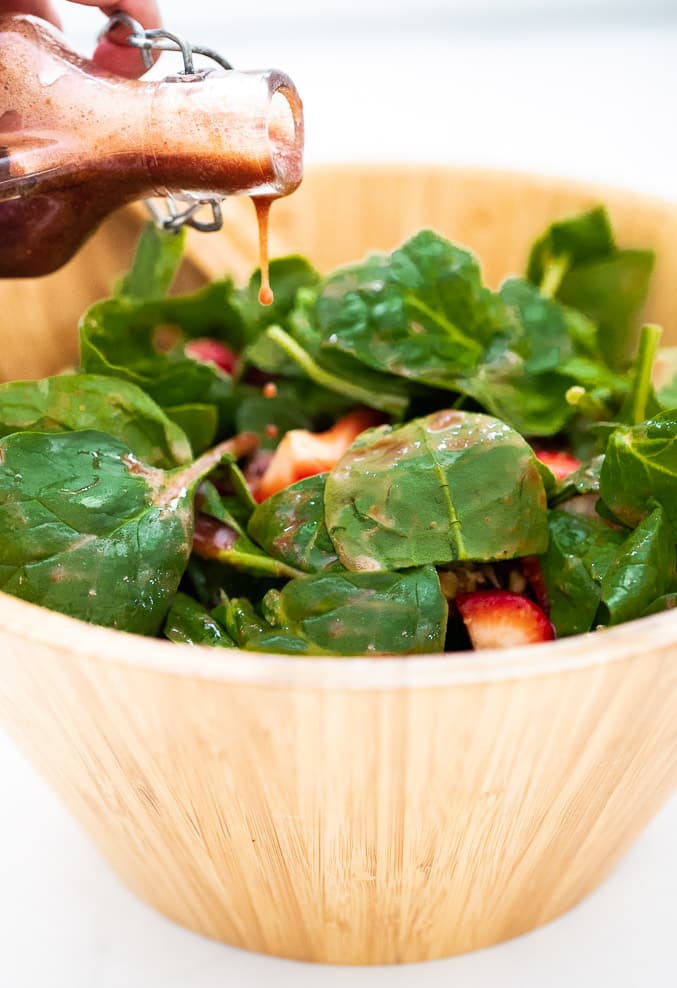 I also got many messages saying that I had gone a step too far by putting strawberries in a salad dressing/salad and that it is a terrible combination ????
So, let me put the record straight….
If it doesn't taste good then it's not appearing on this website and if it's here, it's because it's super yum. Life's too short to be eating things that don't taste good!
As for strawberries in salad, I kind of get the opposition but please don't knock it until you've tried it.
When we first moved to Canada we were really weirded out when we saw them on salads in restaurants. I had never seen a strawberry in a salad in England. I'm sure it happens somewhere, but they had never crossed my path.
We also found having fruit put on the side of plates of savoury food really strange. Different strokes for different folks and all that.
But, I am an open minded foodie and willing to try just about anything (long as it's vegan), so one day, not long ago, I threw some strawberries into our salad ????
I know how to live dangerously!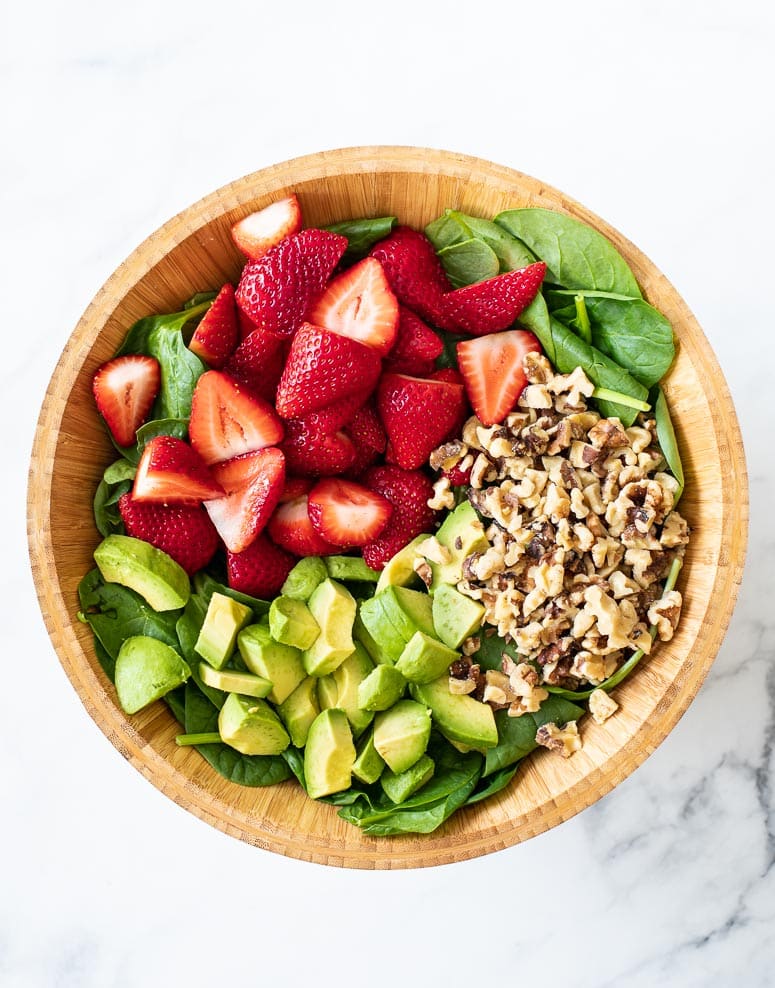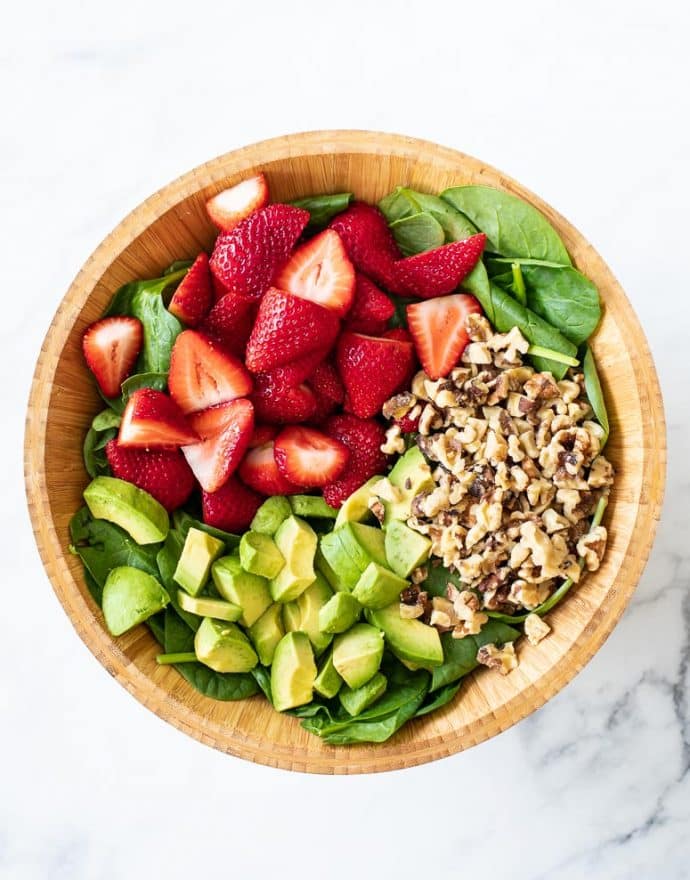 I figured if it was a popular restaurant choice then there must be something I was missing. And lo and behold…We really enjoyed it and my Strawberry Spinach Salad with Oil-Free Strawberry Vinaigrette was created.
The strawberries bring a sweet-tart note to the salad and provide a lovely texture contrast. Plus they are super juicy and add incredible flavour, working so well with the iron rich spinach leaves and toasted nuts.
HOW TO MAKE STRAWBERRY SPINACH SALAD
---
SEE MY VIDEO FOR A VISUAL GUIDE. FOR INGREDIENTS & FULL INSTRUCTIONS PLEASE SEE THE RECIPE CARD AT THE END OF THIS POST
---
Strawberry Spinach Salad is super easy to make. All you need are spinach leaves, strawberries, avocado, chopped walnuts or pecans and some of my equally easy Oil-Free Strawberry Vinaigrette.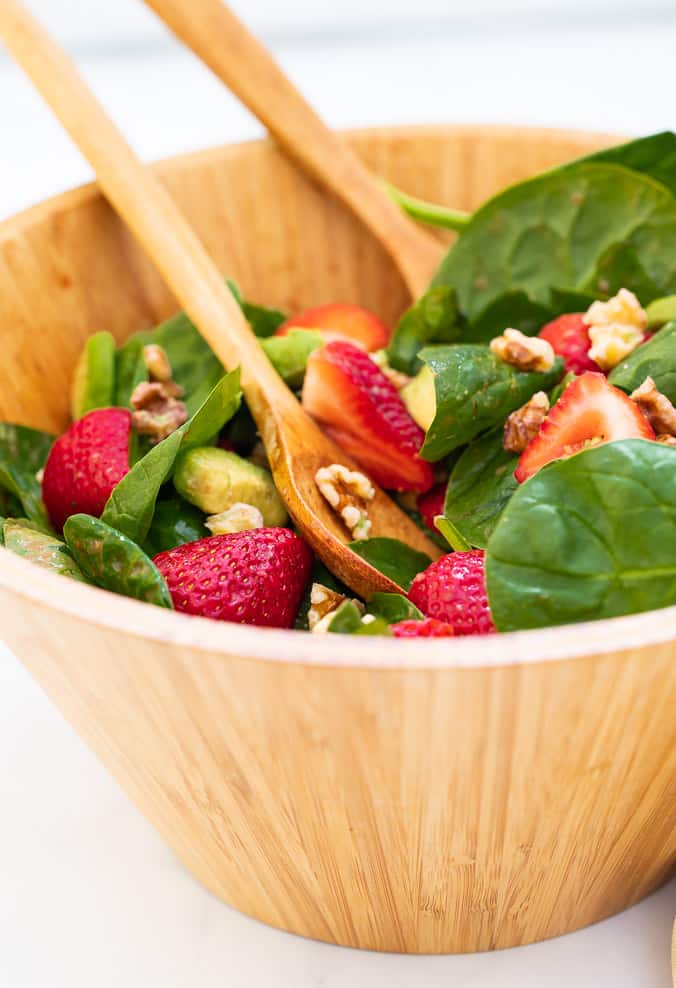 Here's how it's done:
STEP 1
Make the vinaigrette by adding the ingredients to a blender and blending until smooth.
STEP 2
Gently toast the nuts and allow them to cool (or buy ready toasted nuts!)
STEP 3
Add the spinach, avocado, strawberries and nuts to a large salad bowl.
STEP 4
Drizzle over some Strawberry Vinaigrette and toss.
Done!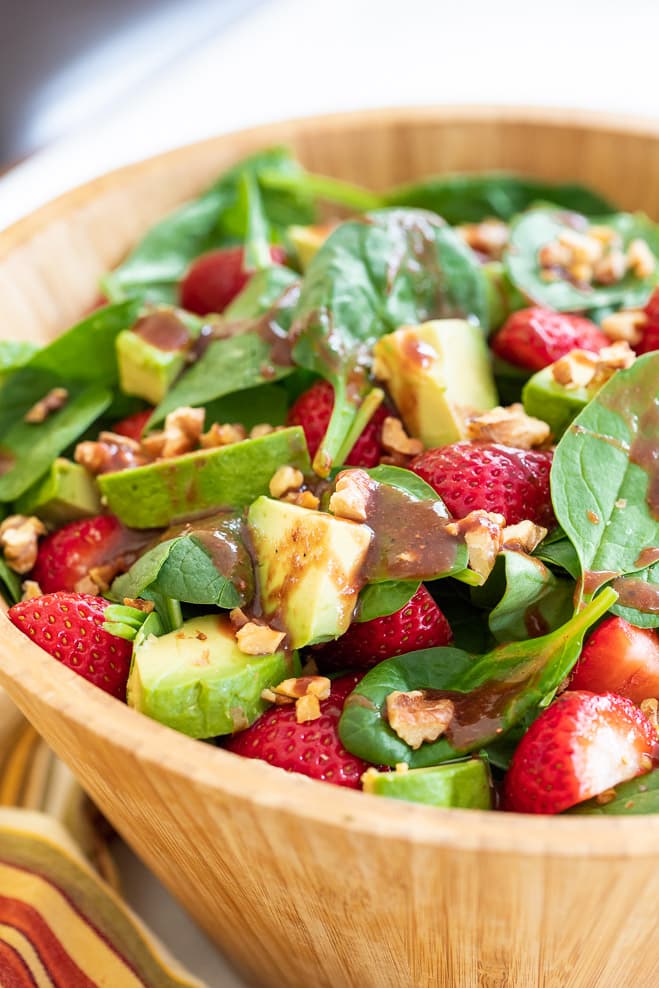 This Strawberry Spinach Salad is:
easy
super healthy and vitamin rich
full of healthy fats
fresh and tasty
fast
colourful
I can't wait for you to try it!
For more summery salad recipes, check out these great options:
And if you love this recipe, please do checkout my cookbook, and subscribe to my email list for a fabulous FREE eCookbook featuring my top 10 recipes. Being on the list means you will be first to see my new recipes and you'll be kept in the loop on all things new and exciting too!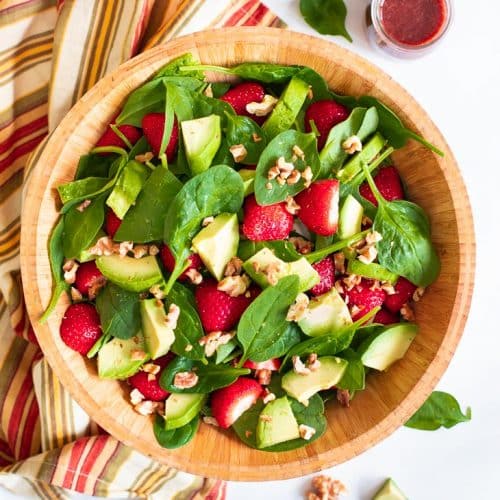 Strawberry Spinach Salad
A simple, super tasty Strawberry Spinach Salad made with iron rich spinach, juicy strawberries, creamy avocado & crunchy nuts, then finished off with a fresh, oil-free, strawberry vinaigrette.
Rate this Recipe!
Print
Pin
Ingredients
60 g / ½

cup

walnut or pecan pieces

, or pumpkin seeds for nut free

227 g / 8

oz

baby spinach leaves

1lb / 454 g / 16

oz

fresh strawberries

1

ripe avocado
Instructions
If your nuts/seeds aren't already toasted or roasted, warm a small skillet over a medium heat, add the nuts and toss them around in the pan for about 3 minutes until they smell nice and toasty. Remove from the heat, tip them into a small bowl and allow to cool.

Add the spinach leaves to a large bowl.

Wash the strawberries then hull them and either half or quarter them. Put them in the bowl with the spinach.

Cut the avocado in half, remove the pit and skin and chop into chunky pieces. Add to the bowl with the spinach and strawberries.
Notes
The dressing will keep for up to a week in the fridge but the salad is best eaten immediately.
Estimated nutrition per serving:
Serving:
217
g (or ¼ of the entire salad
|
Calories:
187
kcal
|
Carbohydrates:
15
g
|
Protein:
5
g
|
Fat:
14
g
|
Saturated Fat:
1.5
g
|
Sodium:
48
mg
|
Fiber:
6
g
|
Sugar:
6
g
|
Vitamin A:
5400
IU
|
Vitamin C:
118
mg
|
Calcium:
90
mg
|
Iron:
2.5
mg
Tried this recipe?
Rate it & leave your feedback in the comments section below, or tag @avirtualvegan on Instagram and hashtag it #avirtualvegan