This simple, protein-packed Kidney Bean Salad with Lemon & Parsley is filled with texture & bright, fresh, zesty flavours. Perfect for a healthy, light lunch or tasty side!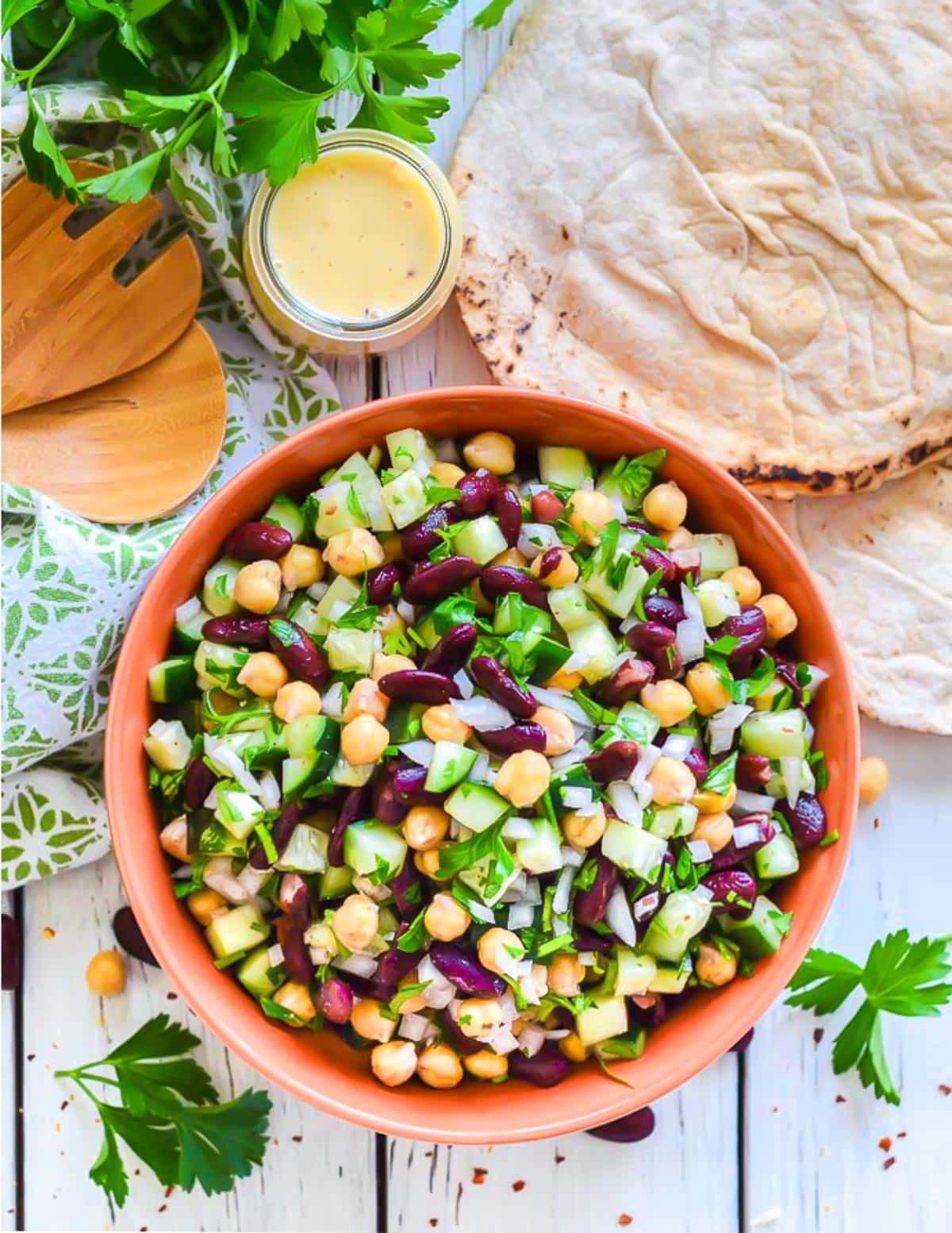 This very easy to make, zippy and fresh, protein-packed Kidney Bean Salad is loaded with kidney beans, chickpeas, cucumber, sweet onion and parsley.
It's all brought together with an appropriately lemony, garlicky dressing and it's here for all of your summer-forward vegan salad feasting needs.
This is why I am loving this Kidney Bean Salad:
It's super healthy & quick to make
Beans = protein and we have a double bean situation going on with kidney beans and chickpeas
It's really pretty with the combination of colours
With all of that chopped cucumber and lemony flavour it's really refreshing
It keeps well in the fridge for a couple of days so is great for packing up in lunch boxes and picnics
Jump to:
What ingredients do I need?
(For detailed measurements and instructions, see the printable recipe card).
To make this kidney bean salad you'll be needing kidney beans, chickpeas, crunchy cucumber and fresh parsley. They are the main players. Then comes the lemon heavy dressing with a touch of garlic to give it some pop. It's simple and basic but that's a good thing with salads, right!?
How to prepare kidney beans
First up, you might be wondering how you go about preparing kidney beans for a salad? In my case, because I'm not organized and never plan meals ahead, I usually open a can or two, drain and rinse. That's as complicated as it gets. But if you want to, you can cook your own kidney beans from dried. I've included details on how a little below.
How to make this salad
It's so easy. Here's how it's done:
Step 1 - Drain and rinse the kidney beans and the chickpeas and add to a large bowl.
Step 2 - Chop a cucumber and add it to the bowl.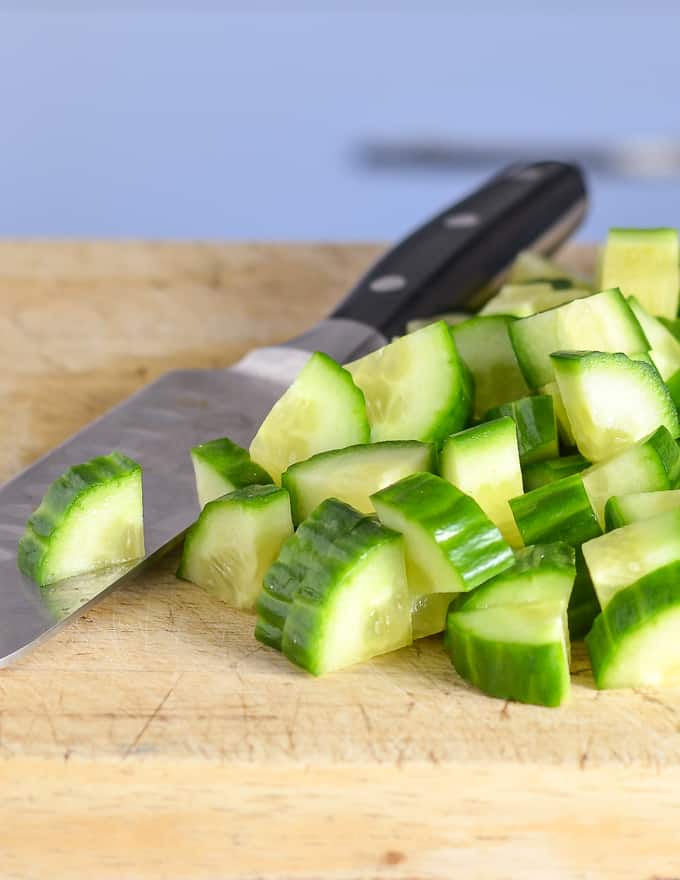 Step 4 - Chop the parsley and add it to the bowl.
Step 5 - Put the dressing ingredients in a jar and give them a good shake before pouring over the salad.
Done. Told you it was easy!
Success tips
If you're cooking the kidney beans and chickpeas yourself from dried, be sure not to overcook them. The salad won't look as nice, or have the same texture with disintegrating beans.
Use red kidney beans not white. They are slightly firmer and look better in this salad.
Don't be tempted to use dried parsley. It must be fresh.
After making the salad let it all sit for 15 to 20 minutes before serving so the flavours have time to blend together.
Serving suggestions
This red kidney bean salad is bright, refreshing and just perfect served with my Quick & Easy Homemade Pita Bread for an easy light lunch or side or with my Vegan Crab Cakes, Baked Tofu or Kidney Bean Burgers for dinner. It's also really great with grilled food like my White Bean Artichoke Burgers and Grilled Baby Potatoes, so make a big bowl next time you host or go to a BBQ.
With all of those beans it's already pretty substantial, but if you want to make it even more so, try stirring some cooked and cooled quinoa, couscous or rice through it. A sprinkle of my vegan feta cheese over the top would be really delicious too.
How long will a bean salad last and how to store
Store leftover salad in an airtight container. It will last for 2 to 3 days in the fridge. You can make it last a little longer by making it without the parsley. Just add it in right before you plan to serve.
Because it keeps so well it's a great salad for pot lucks, picnics and packed lunches.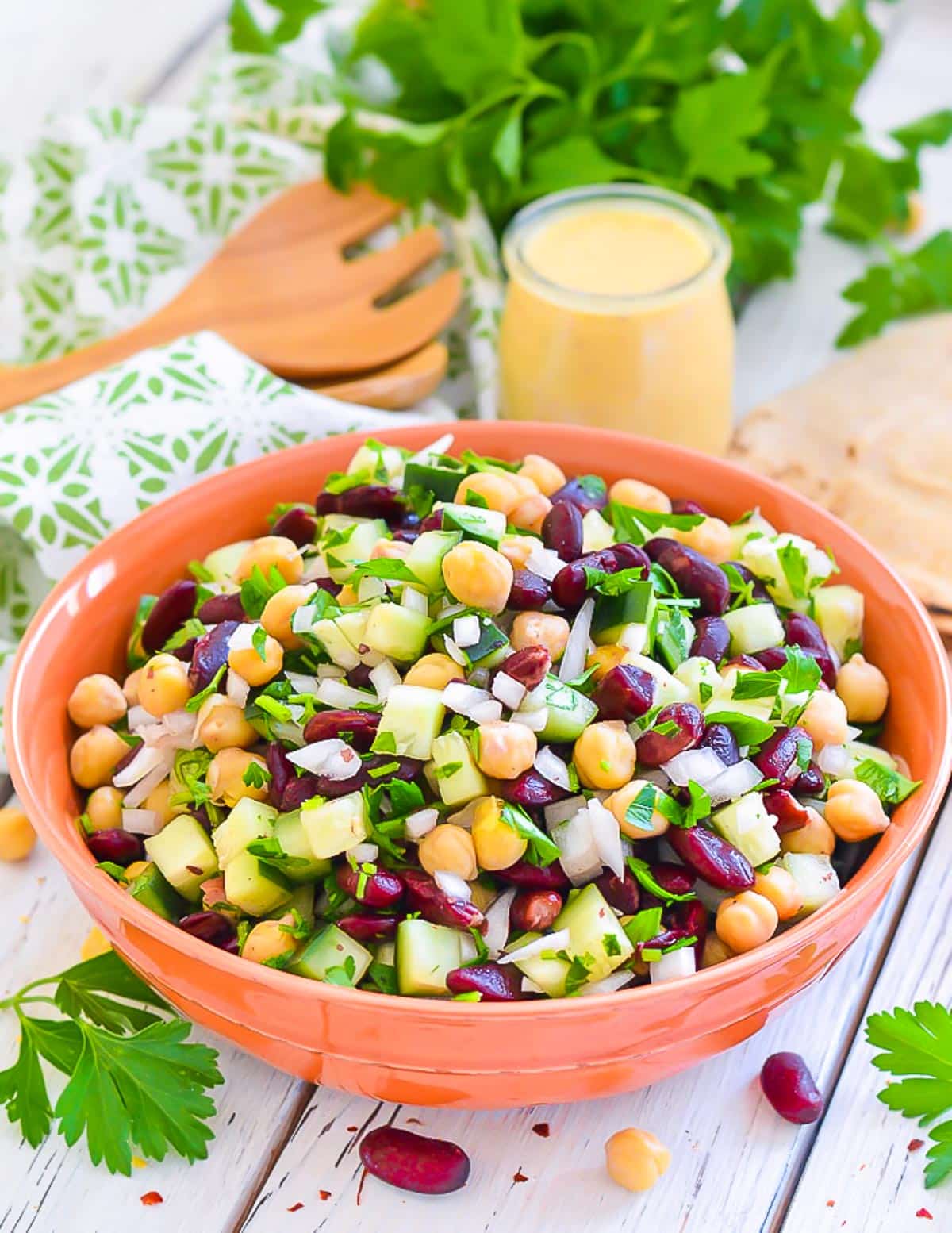 Variations
Make this salad your own by:
Adding a generous salty sprinkle of my vegan feta cheese over the top right before serving. The salty, creaminess works really well with the cool crisp, lemony flavours.
Switching up the herbs. Cilantro works well
Use a store bought dressing to make it even quicker and easier to make
Switch the kidney beans for black beans
Add some corn
Add a pinch of chili flakes to the dressing
A quick kidney bean 101
How do you cook canned kidney beans?
You don't need to cook canned kidney beans because they are already pre-cooked.
Can you eat kidney beans straight from the can?
Yes, kidney beans are safe to eat straight from the can. The liquid in the can though is a mixture of water, salt, and the starch released from the beans so it's best to rinse them first especially when you're adding them to something like a salad. Just pour them into a sieve and run water through them for a minute or so.
Is kidney bean salad good for you?
Beans of all kinds are an important part of a healthy diet. US dietary guidelines recommend adults eat 3 cups of of legumes, including beans per week. Beans are very low in fat, dense in macro and micronutrients and they provide us with complex carbohydrates, dietary fibre and plant-based protein. For more info on their nutritional composition and health benefits see this evidence-based article from North Dakota State University.
How to cook dried kidney beans
On the stovetop - Soak dried kidney beans in plenty of water overnight. If you forget to soak them don't worry. Put them in a pan, cover them with plenty of water and bring to a rolling boil. Then turn the heat off, leaving them covered, and let them soak for about an hour before draining.
Once soaked, drain the beans, place them in a large pan and cover with plenty of freshwater. Bring to a boil and be sure to boil them solidly for 10 minutes. Then turn down the heat a bit and allow them to simmer until tender which is usually for around 50 minutes. This varies greatly between different batches of beans though. The best way to know they are done is to fish one out, let it cool and taste it. Cooked beans should have a tender, creamy texture throughout.
In an Instant Pot - If you want to cook your kidney beans in an Instant Pot you don't need to soak them. Simply place them in the pot, cover with plenty of water (3 parts water to 1 part beans), set the Instant Pot to manual pressure high and cook for 40 minutes. Leave the pressure to release for about 10 minutes then manually release what's left. Be careful because it might splutter a bit. I always cover the vent with a dish towel just in case.
Hungry for more?
If you're enjoying this recipe for kidney bean salad and want some more summery salad recipes, check out these great options:
And if you love this recipe, please do checkout my cookbook, and subscribe to my email list for a fabulous FREE eCookbook featuring my top 10 recipes. Being on the list means you will be first to see my new recipes and you'll be kept in the loop on all things new and exciting too!
📖 Recipe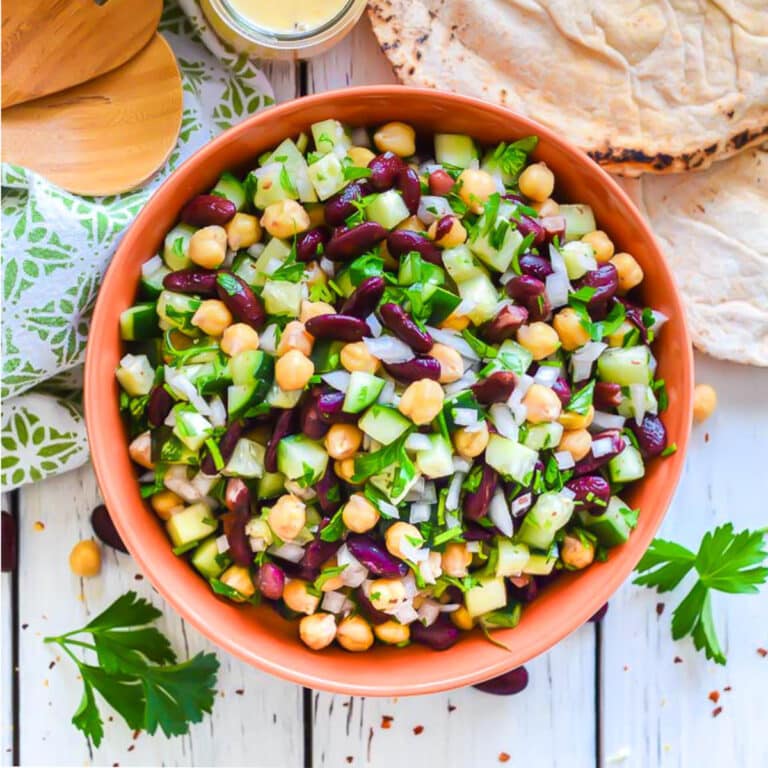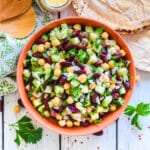 Kidney Bean Salad
Author:
This simple, protein packed Kidney Bean Salad with Lemon & Parsley is filled with texture & bright, fresh, zesty flavours. Perfect for a healthy, light lunch or tasty side!
Ingredients
For the salad
1½ cups or a 15oz

can

kidney beans

, drained and rinsed, (a 398 ml can in Canada)

1½ cups / or a 15oz

can

chickpeas

, drained and rinsed, (a 398 ml can in Canada)

1

medium

cucumber

, cut into small pieces

½

medium

sweet white or red onion

, or one small regular onion - finely chopped

1

cup

finely chopped flat leaf parsley

, a few big handfuls prior to chopping
For the dressing
5

tablespoons

fresh lemon juice

, usually around 1 large juicy lemon or 1½ medium ones

3

tablespoons

olive oil

, optional (omit to make oil-free)

2

cloves

garlic

, minced very finely

1 - 2

teaspoons

sugar

, or a little drop of maple syrup or agave - taste as you go so you get the balance between tangy and sweet perfect for you

salt

, to taste

freshly cracked black pepper

, to taste

water

, if omitting the oil
INSTRUCTIONS
For the salad
Put the drained and rinsed beans in a large salad bowl. Add the chopped cucumber, onion and parsley. 
For the dressing
There are 2 ways to make the dressing. You can simply whisk all of the dressing ingredients together, or put them in a jar and give them a good shake. Note that if you omit the oil you will need to add a touch of water instead.

If you want a creamier dressing and don't mind a much sharper lemon flavour then you can use the whole lemon rather than just the juice. Cut the peel from it with a sharp knife. I cut each end off first then you can stand it on a board and easily cut down and around. Cut it in half and remove any seeds you can see, then add the whole lemon with the other dressing ingredients to a blender and blitz until smooth. Add enough water to thin it to the consistency you like. You might want to add a touch more sugar or maple syrup too.You will end up with more dressing than you need by making it this way but you can store leftovers in the fridge for 4 to 5 days.
NOTES
Store leftover salad in an airtight container. It will last for 2 to 3 days in the fridge. 
NUTRITION
Serving:
1
of 6 servings
Calories:
203
kcal
Carbohydrates:
25
g
Protein:
8
g
Fat:
8
g
Saturated Fat:
1
g
Sodium:
11
mg
Potassium:
425
mg
Fiber:
7
g
Sugar:
4
g
Vitamin A:
878
IU
Vitamin C:
21
mg
Calcium:
55
mg
Iron:
3
mg
Nutritional information is provided for convenience & as a courtesy. The data is a computer generated estimate so should be used as a guide only.
Tried this recipe?
Rate it & leave your feedback in the comments section below, or tag @avirtualvegan on Instagram and hashtag it #avirtualvegan
Originally published January 19th 2019. Updated and republished on May 25th 2020.