Crispy Tofu with a perfectly seasoned crunchy cornmeal coating. It's oven baked and made with no oil!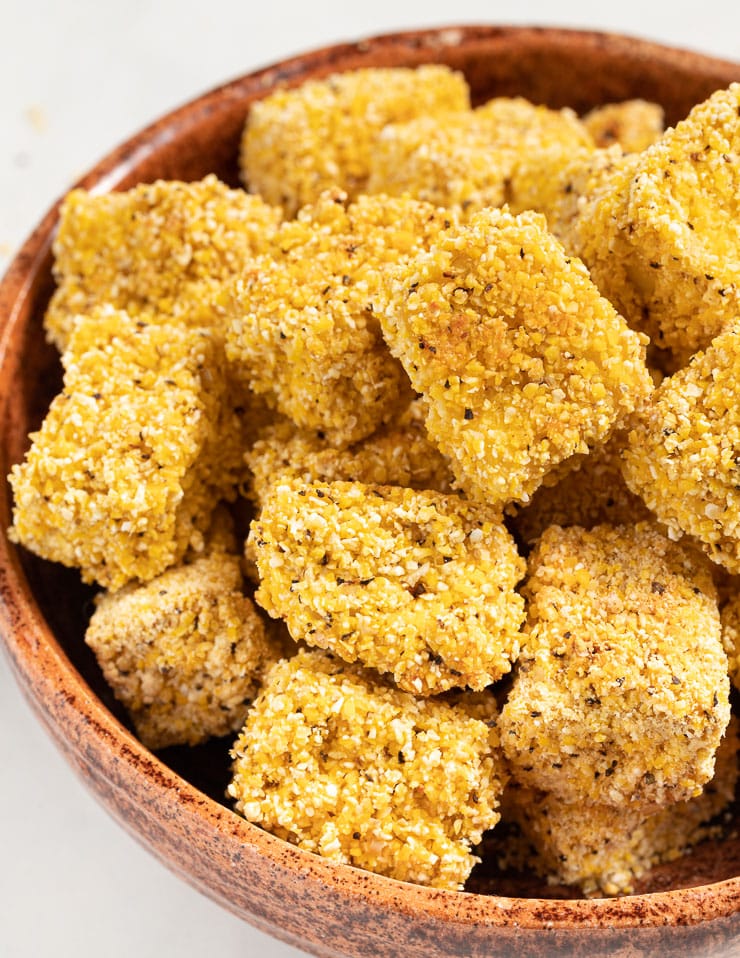 This my friends is ultra-crunchy crispy tofu and I am officially obsessed.
I am #teamtofu all the way, in case you haven't already realized with my ever growing number of vegan tofu recipes.
The tofu is dredged in seasoned cornmeal. That's what gives it it's signature crispy-crunchy texture and delicious flavor. And because of cornmeals natural crunchiness when baked, we can get away with using absolutely no oil and oven baking the tofu rather than frying it.
Yes. You heard me right. Baked tofu. No oil. Super yum.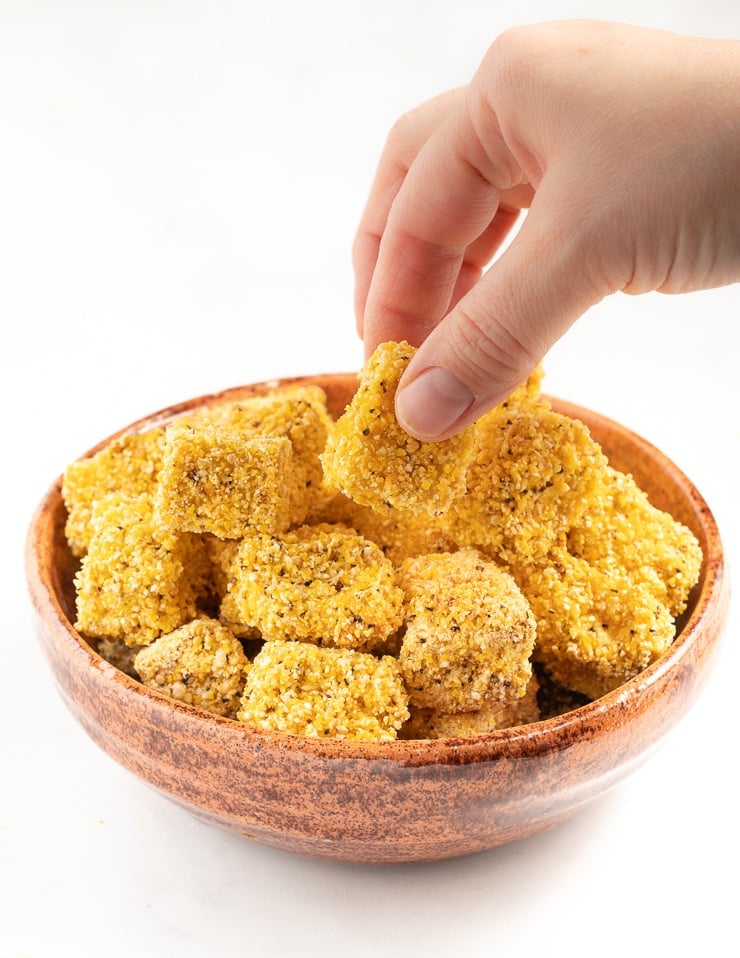 There aren't many meals that don't benefit from the addition of crispy tofu deliciousness and with this versatile recipe up your sleeve you can make it quickly and easily.
Crispy baked tofu ingredients
Ok so here are the very basic ingredients that we are working with today:
Tofu - it must be extra firm or super firm tofu. No other will do.
Aquafaba - The liquid from a can of chickpeas. Sounds crazy? I know. But it works. Trust me.
Cornmeal - Not really super fine corn flour. It should be a medium'ish grind so we get the lovely texture without it tasting "floury". I like Bob's Red Mill Medium Grind Cornmeal. It should look something like this: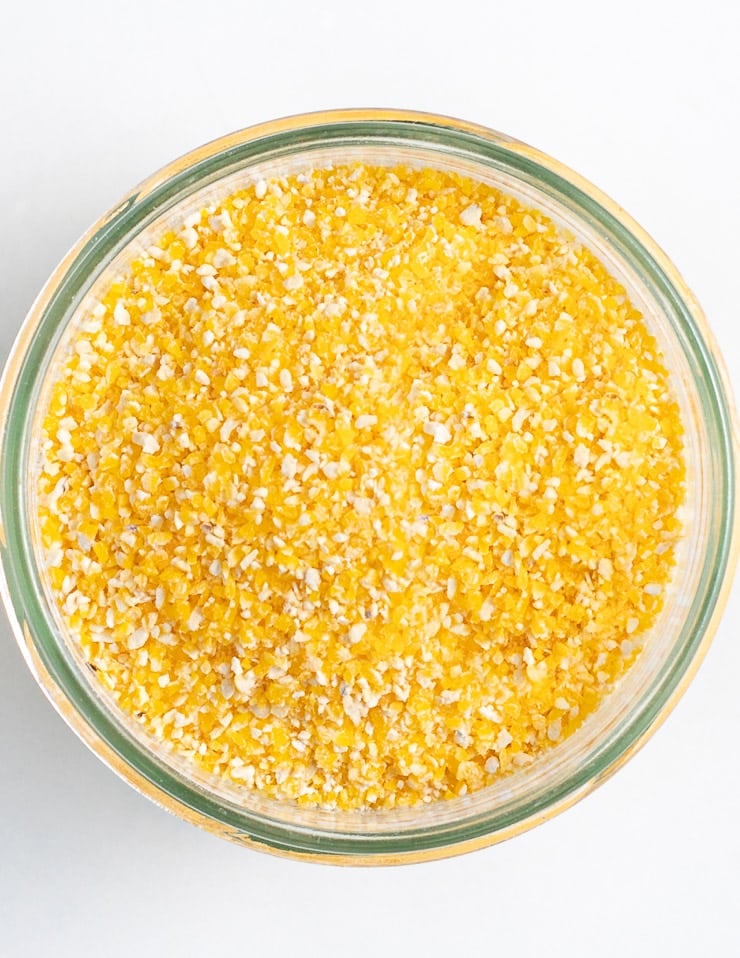 Salt and Black Pepper - A generous amount added to the cornmeal to season it. A coarsely ground black pepper is best.
How to make crispy tofu
(For detailed measurements and instructions, see the printable recipe card).
We are taking our very basic block of tofu and elevating it to uber-crunchy crispy status.
Here's how:
Step 1: Press the tofu. Aim for at least 30 minutes of pressing if you can but even if you forget, something is better than nothing. Even 10 minutes makes a difference. Either use a tofu press, or wrap the block of tofu in a clean dish towel and place something heavy on top. A pile of cookbooks does a good job ;O)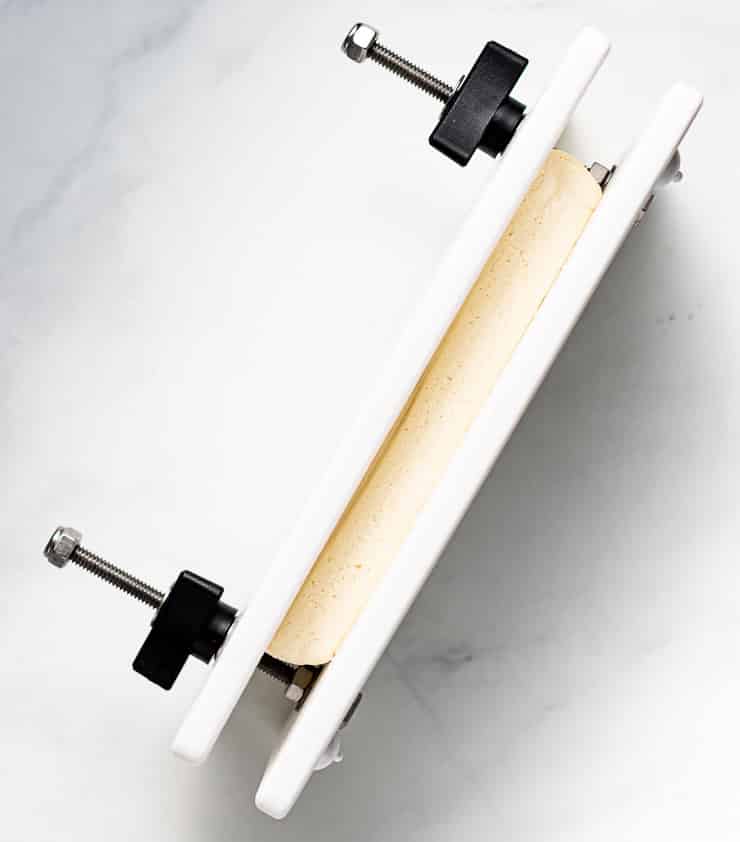 Step 2: Cut the pressed tofu into cubes. I like mine about ¾ inch in diameter.
Step 3: Mix the cornmeal with the salt and pepper.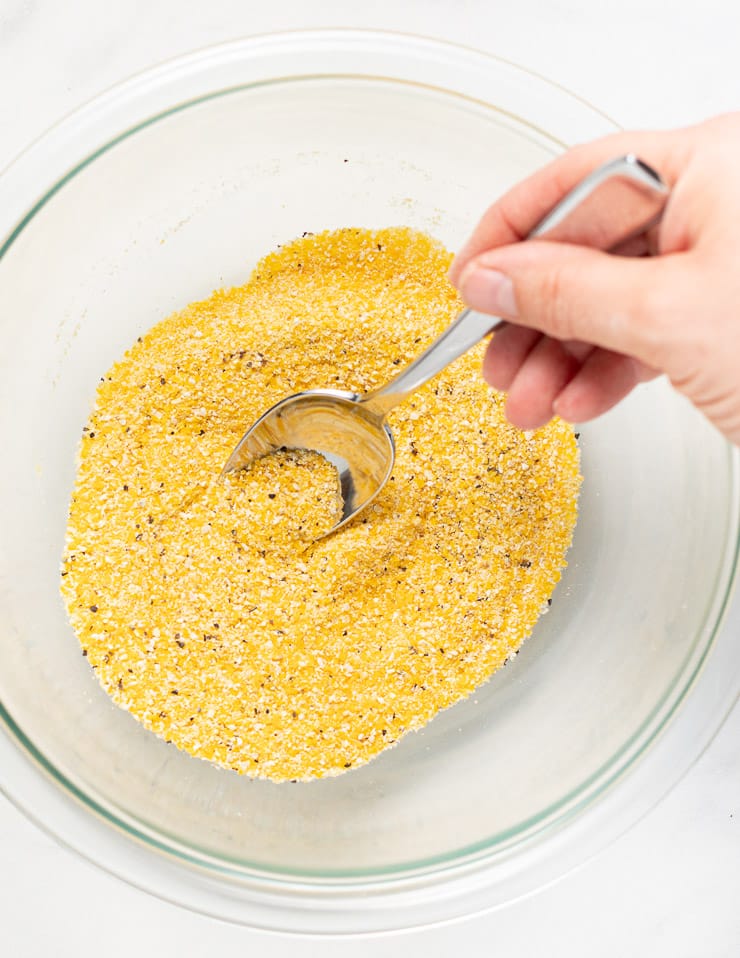 Step 4: Put the aquafaba in a small bowl. Throw in a handful of tofu cubes. Make sure they are fully covered all over then fish them out with your fingers and transfer them to the cornmeal bowl. It's easier to use one hand while doing this so the other stays clean.
Step 5: Toss them around in the cornmeal until they are coated all over then transfer them to a lined baking tray.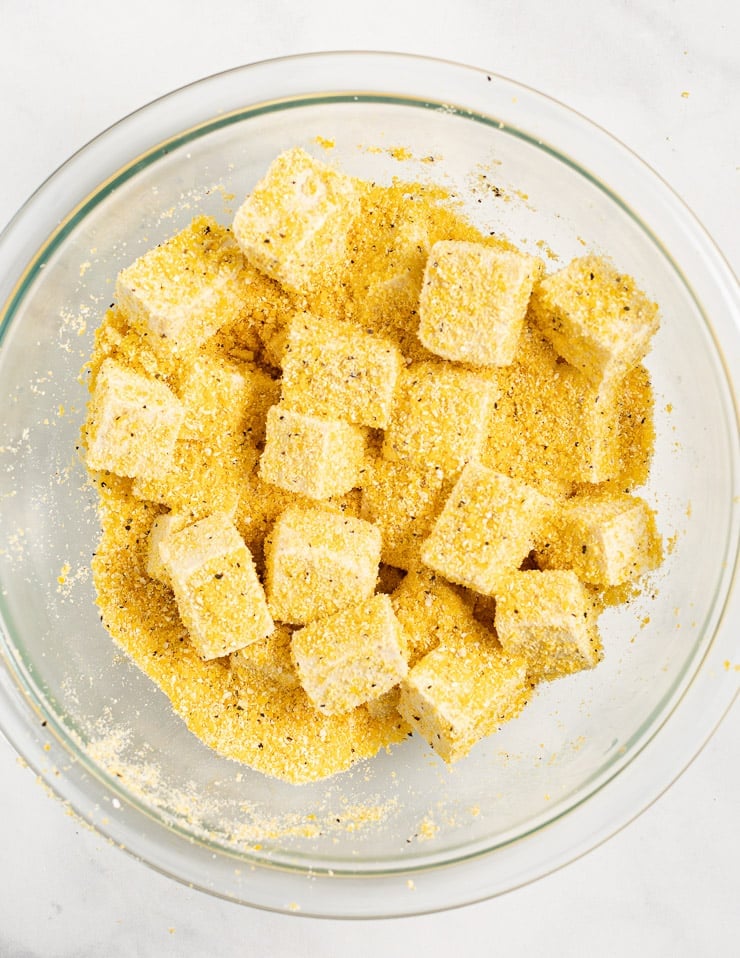 Step 6: Repeat the process until they are all coated and on the tray, making sure to spread them out nicely, then bake.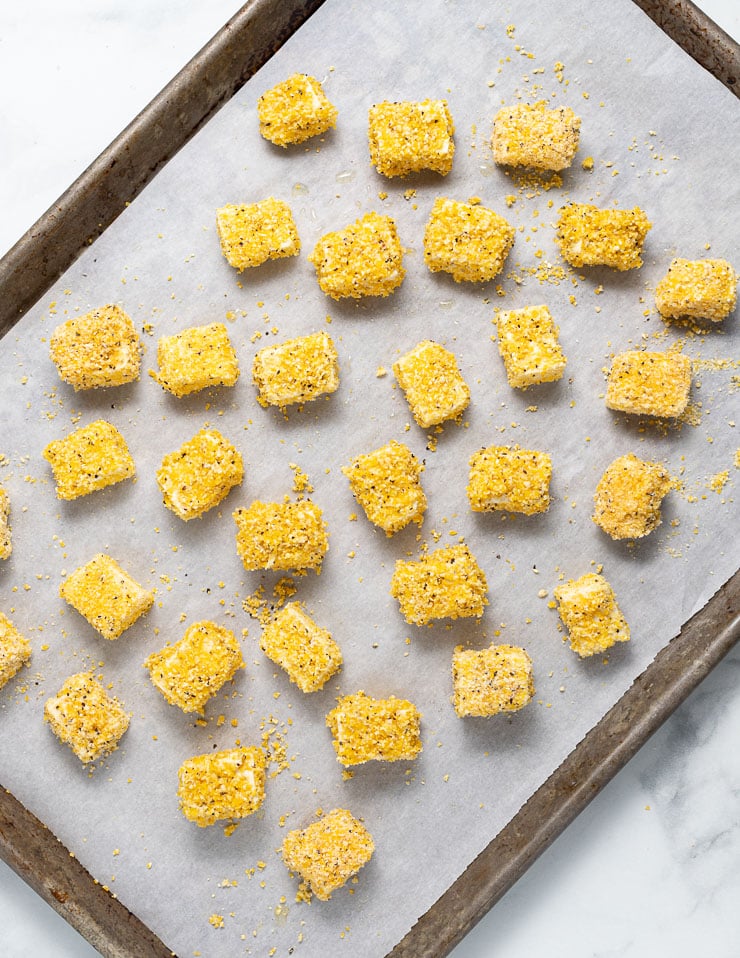 You can also cook the tofu in an air fryer if you have one. See the recipe notes for details.
Success Tips
Be sure to line your baking tray with a silicone baking mat or parchment paper.
Be generous with the salt and pepper. It's so important for flavour and remember that the tofu inside is unseasoned so we can get away with using more than we might usually in the coating.
Be sure to use black pepper. Coarsely ground is best. Do not use white pepper.
Use aquafaba straight from the can of chickpeas. Although I am an advocate for saving and freezing aquafaba for use later, in this recipe previously frozen aquafaba does not work so well because it becomes a little more watery and less gloopy.
Don't be afraid to bake the tofu for a bit longer if you want it extra crispy!
How to serve
This crispy tofu is perfect for topping rice bowls, noodle bowls like my Peanut Noodles, soups like my Udon Noodle Soup or for tossing with sauces like my Healthy Sweet and Sour Sauce. It's also great dipped in my Peanut Sauce.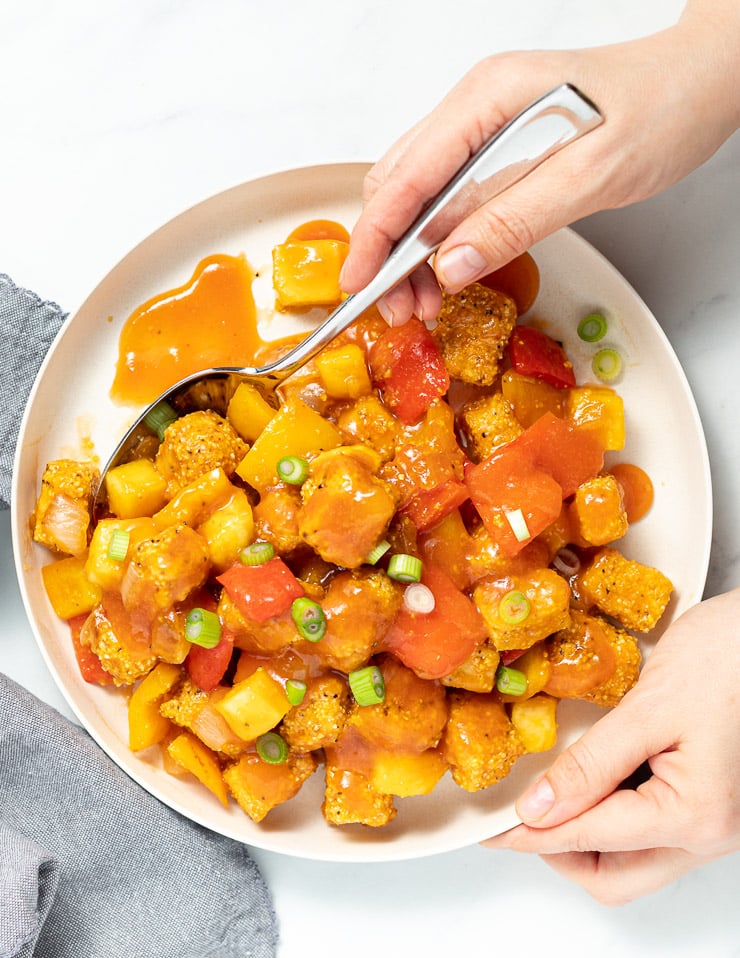 It's also great with my Garlic Pineapple Sauce, my Easy Teriyaki Sauce and for adding to salads, stir-fries, burritos and tacos.
Try it with a dip as an appetizer or snack too. Kids love it with tomato ketchup!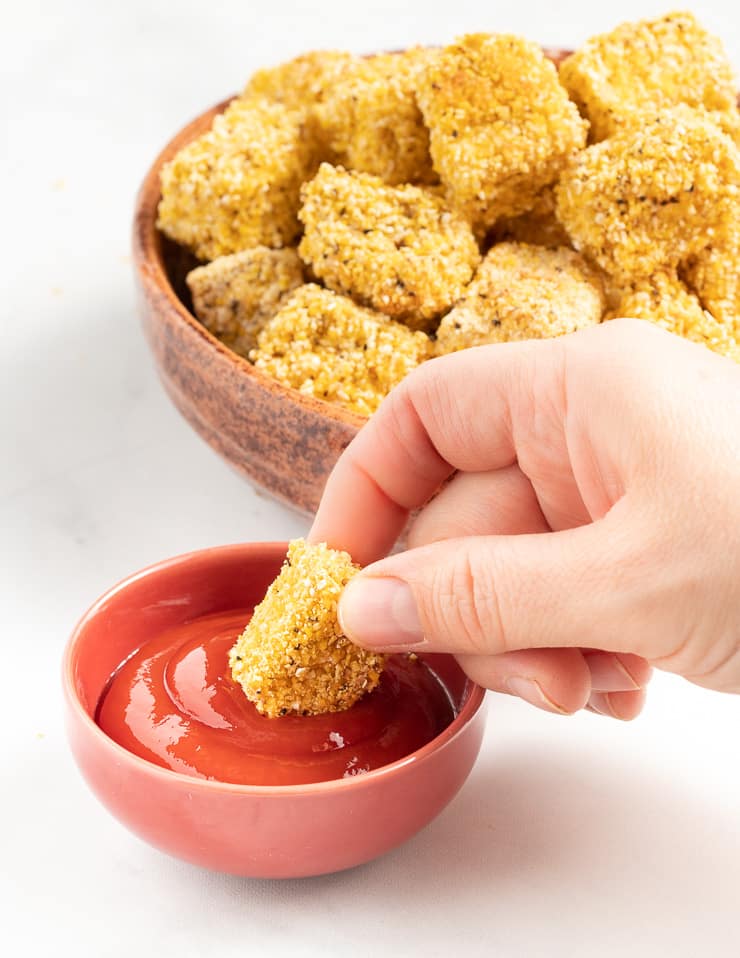 Variations
This basic crispy tofu recipe is easily customizable with your favorite seasonings. Try mixing different herbs, spices and seasonings into the cornmeal coating. Some that I think would be good are:
Smoked paprika
Chili powder
Garlic powder
Onion powder
Cumin
Chinese Five Spice
Paprika
Curry powder
Dried thyme
Dried oregano
Feel free to experiment with your favorites though!
Why crispy tofu is so versatile
This healthy baked crispy tofu is incredibly versatile. It works with all kinds of recipes and flavours and will keep in the fridge for up to 4 days.
You can reheat it in an oven or air fryer which makes it great for meal prep. It's also delicious when cold so is pretty great for snacking on and adding to lunch boxes.
To make it work better with other meals, try skipping the cubes and cut the block of tofu into 2 large rectangular or square steaks instead before coating with the seasoned cornmeal and baking. You might need to add on a few extra minutes cook time though. Done this way you could use it as a sandwich filling/burger.
You could even try cutting the cubes smaller and using them as a taco stuffer!
How to get your tofu extra crispy
Use the right tofu - For crispy tofu you need to use extra firm or super firm tofu. Jump to "Why is my tofu soggy" for more info.
Press it - For ultimate tofu crispiness, I always recommend pressing tofu before you make a recipe. A tofu press is a fairly inexpensive life changer if you eat a lot of tofu.
If you only eat tofu occasionally though it's probably not worth splashing out. A clean dish towel or some kitchen paper and a heavy object like a cast iron skillet with some cans sitting inside it, or a pile of cookbooks does very well instead.
By pressing the tofu you are removing the water from it. The less moisture there is in the tofu the crispier the possibilities are. We all know that water/moisture makes things soggy.
You should aim to have the tofu pressing for at least 30 minutes but anything is better than nothing, so even if you only remember 10 minutes before, get it pressing.
Don't marinate it - Although I absolutely love marinating my tofu for lots of flavour, when you are trying to make it really crispy this isn't a good idea because by doing that you are replacing all of the moisture that you just pressed out. Once something is moisture-logged it's very hard to get it crispy.
The answer is to keep it plain and then if you want to add a blast of flavour, serve the crispy tofu with a delicious sauce. In all honesty though, when I say plain, this recipe isn't really, because the cornmeal and the generous amount of salt and black pepper make it taste really good!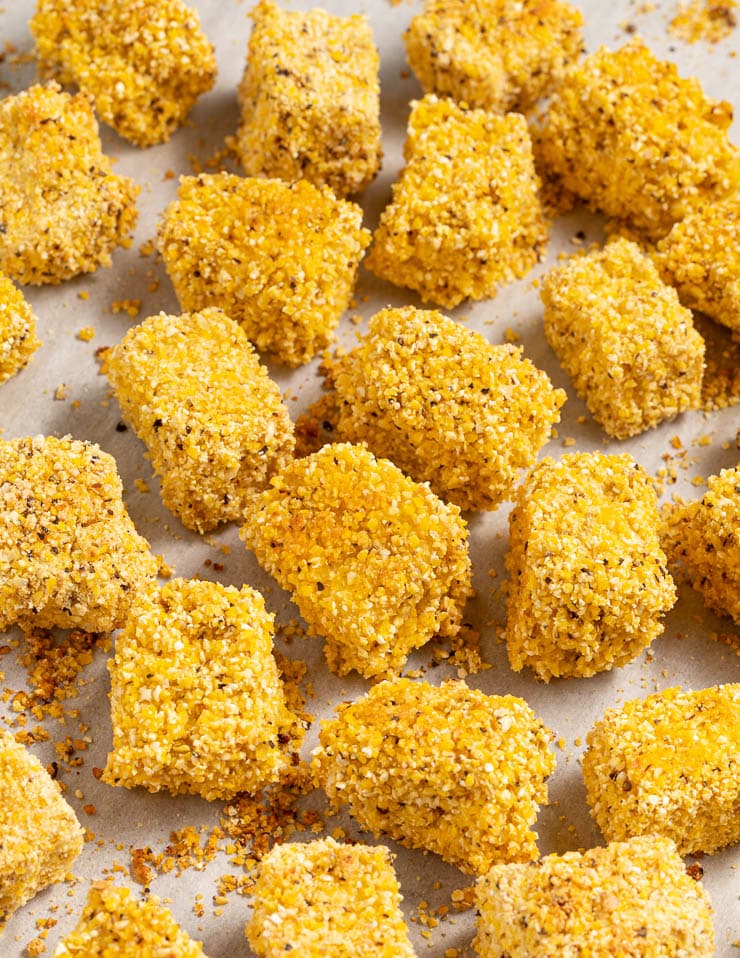 Air fry it - Another way to get your tofu ultra-crispy is to invest in an Air Fryer. Air fryer tofu is a revelation. Even if you don't take much care in preparing it it still comes out crispy.
This crispy tofu recipe works brilliantly when baked in the oven but I am including instructions for making the air fryer tofu version too because it's also super good. If you've got an air fryer, see the recipe down below for full details!
Oil - Cooking with oil makes food crispy. I think that's something we can all agree on. Coat tofu in oil and fry it or oven bake it and it will become nice and crispy. But a lot of people are looking to lower their fat intake or are whole food plant based and don't use added oil. That's where my next trick for how to get your tofu extra crispy comes in ...
Aquafaba - Yes that miracle ingredient is making an appearance again. I used it in my Healthy No Oil Crispy Roasted Potatoes and I am using it in this crispy tofu recipe too. Aquafaba makes a great substitute for eggs in baking and it also makes a great substitute for oil. In this recipe it serves two purposes. It crisps the tofu up and it sticks the coating to the cubes of tofu too.
Coat it - The most common thing to coat tofu in before cooking to make it crispy is corn starch. It works really well. In this recipe though we are using cornmeal because it adds a really interesting crunchy texture which I love.
Why is my tofu soggy?
If your tofu is soggy, chances are you are using the wrong kind. It is really important that you buy the correct tofu for the recipe you are making. Always check what is specified in the recipe before you get going.
Tofu comes in many different varieties. These include, soft, firm, extra-firm and super-firm, as well as soft silken, firm silken and extra-firm silken. The softer the tofu the higher the water content it has.
If the package mentions "silken" anywhere on it then it is not suitable for a recipe like this crispy tofu. Silken tofu has a custard like texture and is good for making puddings, custards like in my Vegan French Toast Casserole and sauces like my Easy Vegan Cheese Sauce. It's also good in recipes where you want chunks that are soft and creamy as a contrasting texture like in silken tofu salad or miso soup.
Extra firm tofu or super firm is the best kind of tofu for making crispy tofu because it has a low water content and a very firm texture. The low water content helps to keep the coating on the tofu crispy and the firm texture means it can cope with being pressed, chopped, coated, baked and tossed around, as well as having a nice chewy bite when you come to eat it after cooking.
Hungry For More?
If you are looking for more healthy baked tofu recipes then you might like my:
Recipe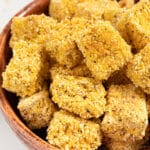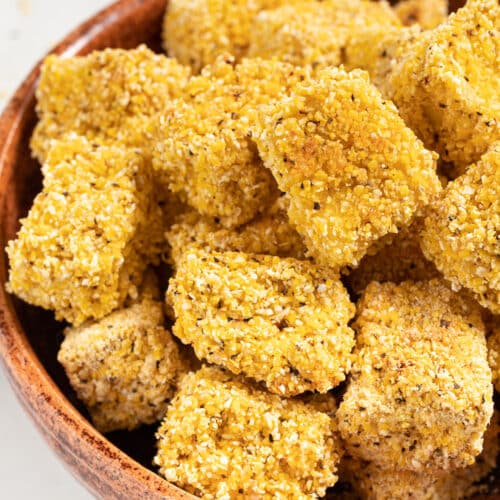 Crispy Tofu
Author:
Crispy Tofu with a perfectly seasoned crunchy cornmeal coating. It's oven baked and made with no oil!
Ingredients
1

block

extra firm or super firm tofu

*

¾ cup / 129

g

medium grind cornmeal

, not super fine

1

teaspoon

fine salt

1

teaspoon

freshly ground black pepper

½ cup / 120

mls

aquafaba

** (liquid from a can of chickpeas)
INSTRUCTIONS
Press the tofu. Use either a tofu press, or wrap it in a clean dish towel and place something heavy on top of it. A cast iron skillet with some cans inside or a stack of cookbooks works well ;O) Try to press it for 30 minutes, but if you are short on time just 10 minutes will do.

While the tofu is pressing, preheat oven to 400°F (200°C) and line a large baking tray with a silicone mat or baking parchment.

Cut the pressed tofu into cubes. I like them about ¾ inch diameter.

Put the cornmeal in a medium bowl, add the salt and pepper and stir well to combine.

Pour the aquafaba into a medium bowl.

Using one hand (to keep the other clean), place a handful of tofu cubes in the aquafaba. Make sure they are covered with it on all sides, then lift them out, give them a little shake over the bowl and transfer to the seasoned cornmeal bowl. Toss them around to coat well then gently pick them out and put them on the prepared baking tray. Don't do more than a handful at a time because you don't want them to soak too long in the aquafaba and the cornmeal coats better if there aren't too many being tossed around at a time.

Repeat until they are all coated then make sure the cubes are spread out well on the tray. There should be a bit of space around each one so they can crisp up.

Place the tray in the oven and bake for 15 minutes. Remove. Turn all the cubes over and bake for another 15 minutes. At this stage they should be done, but feel free to add on a few more minutes to get them even crispier.
NOTES
*Blocks of tofu vary in size somewhat. Mine was 400g / 14oz. A slightly smaller or larger block will be fine.  
**This amount is approximate. Just use whatever you get out of a 15 oz can of chickpeas. 
Do not use previously frozen aquafaba. It becomes a bit more watery and doesn't stick the coating as well as freshly drained aquafaba. 
TO COOK IN AN AIR FRYER
Prepare as directed. If your air fryer has a preheat function use it. If not don't worry. Place the tofu cubes in the air fryer and cook on 370°F for 20 minutes, making sure to shake after 10 minutes.
STORAGE
The cooked tofu will keep in an airtight container in the fridge for up to 4 days. 
REHEATING
To reheat the crispy tofu in an oven, preheat to 350F, arrange the cubes on a lined baking sheet and bake for about 12 minutes until heated through.
To reheat the crispy tofu in an air fryer, place in the basket and cook on 370°F for 8 to 10 minutes, shaking halfway.  
SAUCE IDEAS
Healthy Sweet and Sour Sauce / Garlic Pineapple Sauce / Easy Teriyaki Sauce / Green Sauce. 
NUTRITION
Calories:
133
kcal
|
Carbohydrates:
17
g
|
Protein:
9
g
|
Fat:
3
g
|
Saturated Fat:
1
g
|
Sodium:
645
mg
|
Potassium:
217
mg
|
Fiber:
2
g
|
Sugar:
1
g
|
Calcium:
31
mg
|
Iron:
2
mg
Did you make this recipe?
Rate it & leave feedback in the comments section below. I love seeing your remakes too. Tag @avirtualvegan on Instagram! 🌟