A fresh & juicy Butternut Squash Salad with sweet, roasted butternut squash pieces, peppery arugula, crunchy toasted hazelnuts, a grain of your choosing and a super delicious apple cinnamon dressing to bring it all together. It makes a lovely lunch, light dinner or side.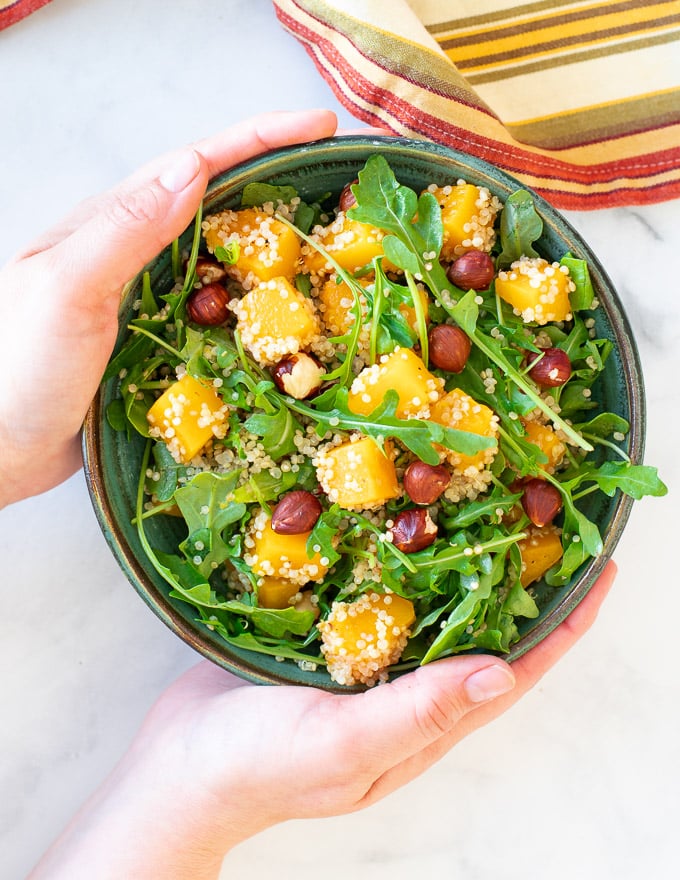 After a five month eating extravaganza while I created the recipes for my upcoming cookbook, I think it's time to get back to normal. I'm left craving healthy things. Not all the time though. I still can't resist a treat, so there is also much rifling through the freezer for the many leftovers that I stashed there throughout the process.
Today though, in an effort to be virtuous (but still super tasty of course), I bring you a fall inspired Butternut Squash Salad.
There's not too much going on. We don't want to get complicated here. We're talking simple, straightforward and healthy. Just what I need on all counts.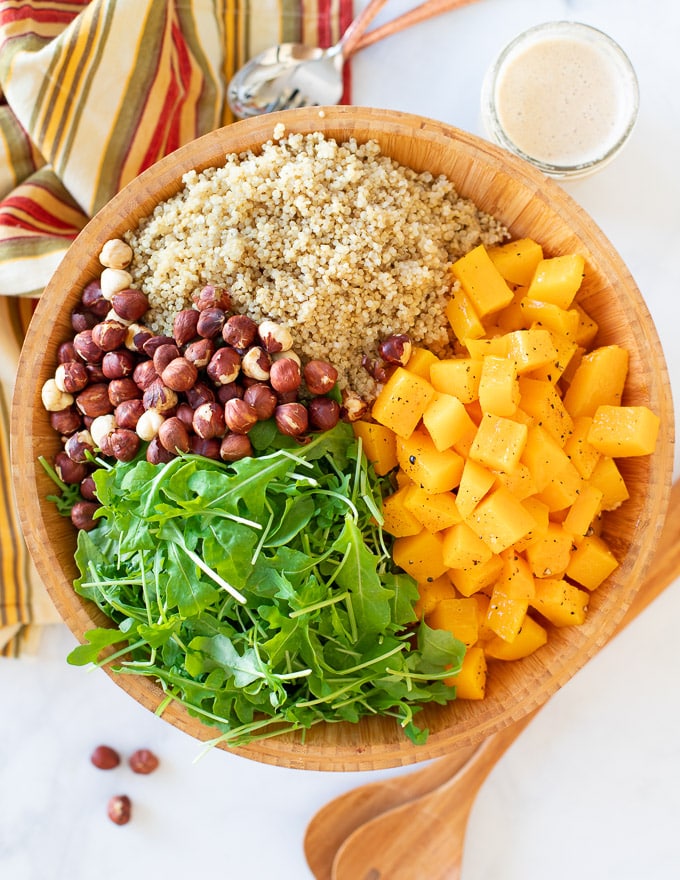 This Butternut Squash Salad centers around soft, roasted butternut squash, grains of choice (there's more about those below), peppery arugula and crunchy toasted hazelnuts. Then there comes a delicious and tangy apple cinnamon dressing.
It unmistakably screams "fall" and is absolutely loaded with flavour and interesting textures.
WHAT GRAINS CAN YOU USE IN THIS OR ANY OTHER SALAD?
The good thing about this salad, and most others that include a grain, is that they are super flexible. Most grains will work. It's up to you to go with what you have in your pantry and what you are going for in terms of texture.
I used quinoa because I have the biggest bag you've ever seen and we are moving house in a few weeks. I am on a mission to use up everything that's open before we go.
Other grains that would work really well are:
freekah
bulgar wheat
sorghum
wheat berries
farro
millet
barley
buckwheat
rice
I find my Instant Pot is invaluable when it comes to cooking grains. You can just set it and forget. There are no worries about anything boiling over or drying up and if you forget about it, like I almost always do despite the beep to tell me it's ready, whatever is in it is still fine for ages after.
It's worth saying that I have never worked with Instant Pot. They aren't sponsoring this or any other of my previous posts. I just seriously love the appliance so much and I only ever recommend things that I really like and use myself.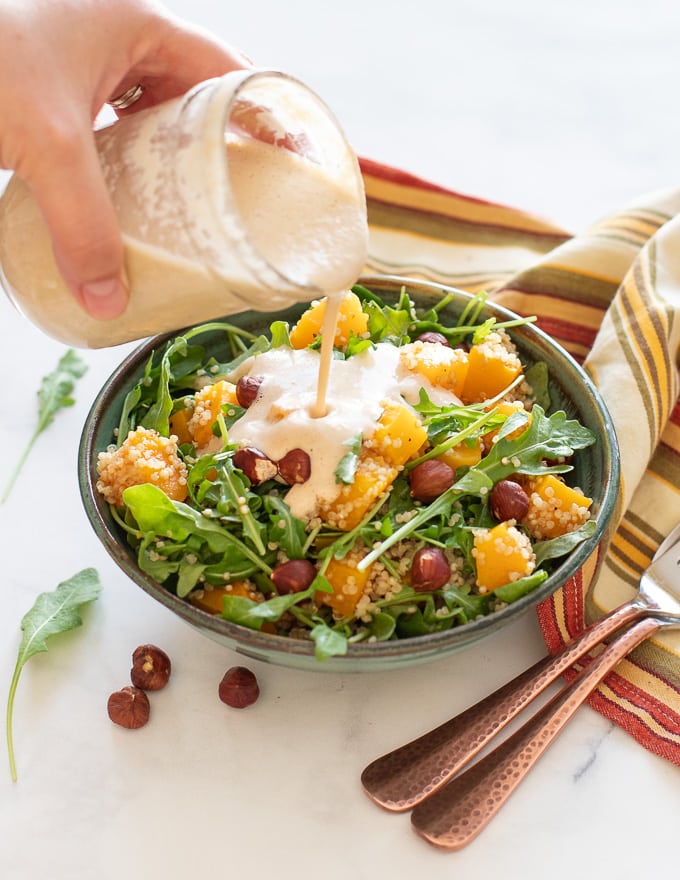 HOW DO YOU MAKE BUTTERNUT SQUASH SALAD
---
FOR INGREDIENTS & FULL INSTRUCTIONS PLEASE SEE THE RECIPE CARD AT THE END OF THIS POST
---
The making of this salad is really simple and uncomplicated. You can even cook the butternut squash and grains in advance and store them in the fridge until you want to throw it all together.
Here's how it's done:
STEP 1
Cook then cool your grain of choice.
STEP 2
Peel, deseed and chop the butternut squash into small chunks. Toss with (optional) oil and seasoning then roast.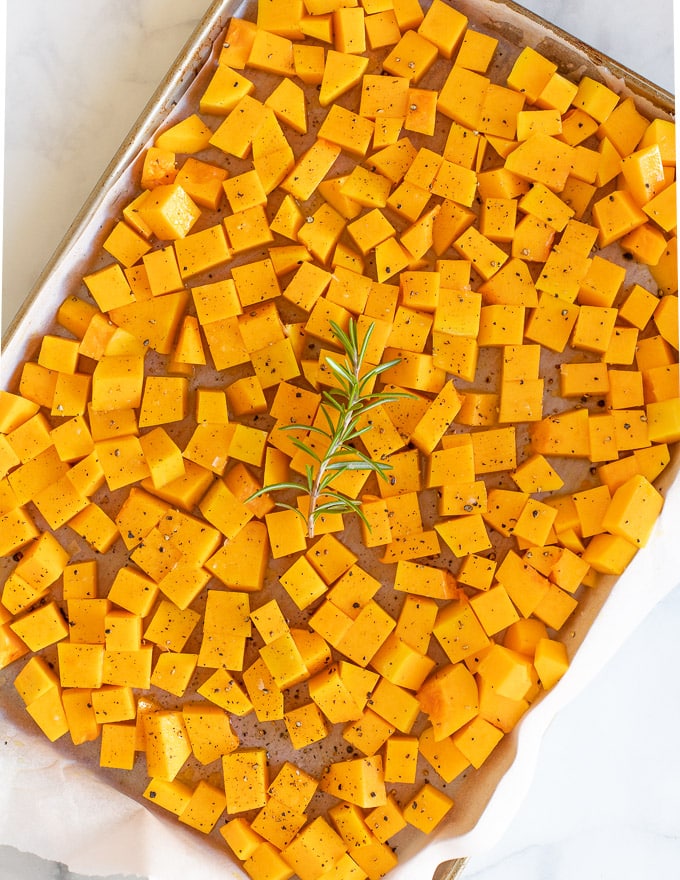 STEP 3
Mix up the dressing and keep in a sealed container until needed.
Step 4
Combine the cooled grains, roasted butternut squash and arugula in a large bowl and drizzle over the dressing.
STEP 5
Toast some hazelnuts in a pan for a few minutes then tumble them all over the top of the salad.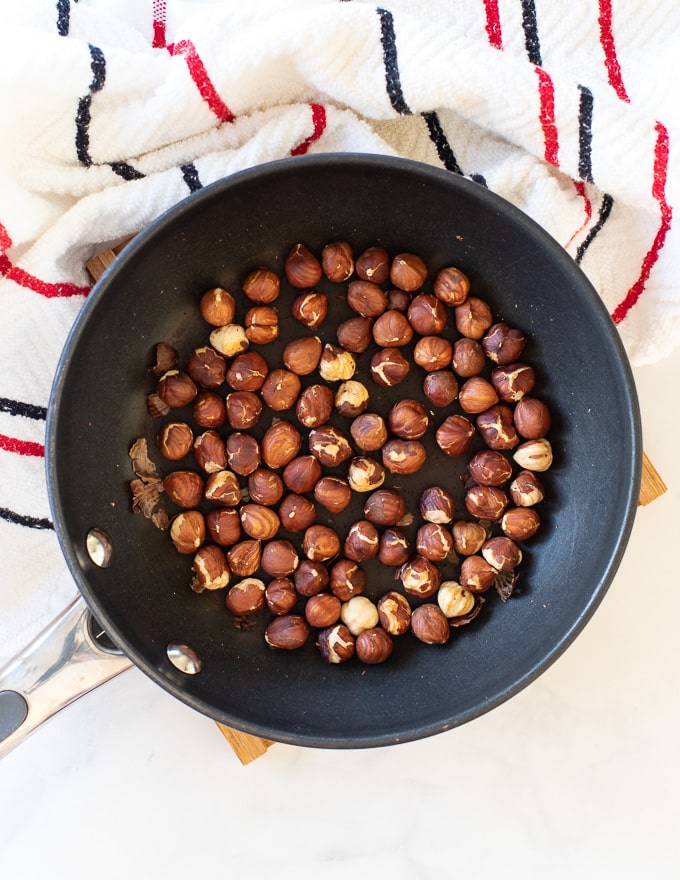 Then comes the best part ... Eat it all up!
It's great for lunches and will hold up for a few hours once dressed. It also makes a lovely light dinner or a side. With those lovely fall flavours it would be perfect as a side on your Thanksgiving table too.
OPTIONAL ADD-INS
There are some optional add-ins that work well in this salad.
Truth be told, it was actually meant to have red apple chunks in it, but I made it for the photographs and totally forgot to add them! I even had the apple chopped on the board.
People always talk about "baby brain". I think we should have a "book brain" too. Ever since I finished mine, my brain is like a sieve. I like to think it's because it took so much thinking and effort that all of my brain energy is totally spent. I am hoping that any day now my brain cells will all come flooding back to life. Fingers crossed!
So optional add-ins for this Fall Harvest Butternut Squash Salad could include:
apple chunks, preferably red apple because then the colours will look particularly pretty!
Sliced pear
pomegranate arils
pecan nuts
almonds
pumpkin seeds
chickpeas
beans
dried fruit
chestnuts
chopped dates
crispy tofu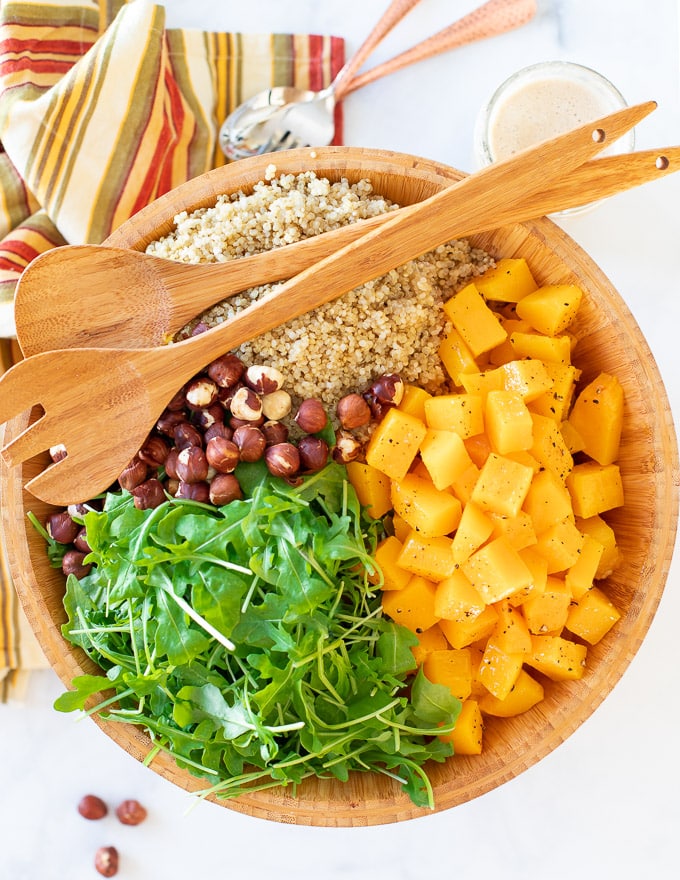 This Fall Harvest Butternut Squash Salad is:
Super tasty
Healthy
Full of flavour and texture
Filling
Portable
Vitamin rich and protein packed! (although the protein will vary depending on what grain you use. Quinoa is particularly protein rich).
---
DID YOU MAKE THIS RECIPE?
If you did, be a ☆ and let me know what you think by rating it and commenting below. Tag me on Instagram too. I am @avirtualvegan and my hashtag is #avirtualvegan
Fall Harvest Butternut Squash Salad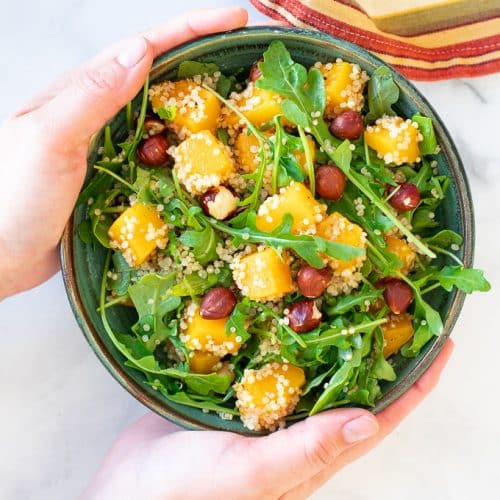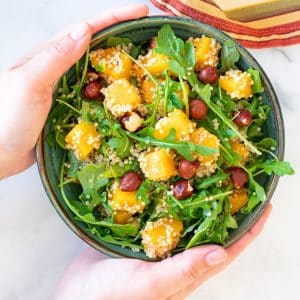 A fresh & juicy Butternut Squash Salad with sweet, roasted butternut squash pieces, peppery arugula, crunchy toasted hazelnuts, a grain of your choosing and a super delicious apple cinnamon dressing to bring it all together. It makes a lovely lunch, light dinner or side.
Ingredients
1

medium

butternut squash

2

tablespoons

olive oil

, optional

½

teaspoon

each of salt and pepper

2 - 3

sprigs

fresh rosemary

, optional

about 3 cups /

555 g

cooked quinoa

, or any other cooked grain of choice

2-3 oz / 57 - 85

g

arugula

¾ cup / 115

g

hazelnuts
Apple Cinnamon Dressing
1

medium

apple

or ½ heaping cup unsweetened applesauce

4

tablespoons

tahini

, or cashew butter

2

tablespoons

maple syrup

2

tablepsoons

apple cider vinegar

, or white wine vinegar

1

small clove

garlic

¼ - ½

teaspoon

ground cinnamon

⅛

teaspoon

salt

up to 4

tablespoons

water

, you might not need it all
INSTRUCTIONS
Preheat oven to 400°F (200 °C). While you are waiting peel, deseed and chop the butternut squash into small cubes about ½ inch across.

Line a large baking tray with parchment paper or a Silpat. Tip on the chopped butternut squash and drizzle over the olive oil if using. Top with a few sprigs of fresh rosemary, a good sprinkle of salt and pepper, then bake for 20 minutes. It should be tender if you stick a fork in a piece. If not return to the oven for another 5 minutes but it's important not to overcook it as it will get too soft and have no substance in the salad. Once cooked, remove from the oven and allow to cool on the tray or you can add it warm.

A NOTE FOR IF YOU WANT TO OMIT THE OIL - If you are trying to go oil free, if using parchment paper it still might be wise to grease it with a tiny drop of olive oil to stop the squash sticking. With a Silpat you should be fine with no oil though. Just roast as instructed above.

While waiting for the squash to cool, make the dressing. It's easiest to do it in a blender or food processor. Simply peel and remove the core of the apple and add with all of the other ingredients and 1 tablespoon of the water and blend until smooth. Open and check it. You can customize the thickness by adding more or less water. Just add a little more if you like then blend quickly again.

If making by hand you will need to use applesauce rather than a fresh apple. Add the tahini and applesauce to a jar or small bowl and whisk them together well to work any big lumps out. Mince the garlic very finely and add that along with the other ingredients and as much water as you need to get the thickness that works for you. Use a fork or a small whisk to mix it together.

Warm a small pan over a medium heat and when hot add the hazelnuts. Roll them around in the pan for several minutes to toast them. They will start smelling toasty and nutty when done. Don't leave them alone as they will burn easily. Remove from the heat and allow to cool when done.

Now it's time to assemble. Add the quinoa to a large bowl, then the arugula and butternut squash. Let any juice form the butternut squash tray trickle in too. Gently toss them together and top with the hazelnuts. Drizzle over the dressing just before serving.
NOTES
All of the quantities in the salad are approximate. Add more or less of each ingredient to suit your tastes.
NUTRITION
Serving:
220
g or ⅛ of the entire recipe
Calories:
296
kcal
Carbohydrates:
33
g
Protein:
7.3
g
Fat:
16
g
Sodium:
40
mg
Fiber:
7
g
Sugar:
8
g
Vitamin A:
8850
IU
Vitamin C:
20.6
mg
Calcium:
120
mg
Iron:
3.1
mg
Nutritional information is provided for convenience & as a courtesy. The data is a computer generated estimate so should be used as a guide only.
Tried this recipe?
Rate it & leave your feedback in the comments section below, or tag @avirtualvegan on Instagram and hashtag it #avirtualvegan