This Quinoa Tabbouleh is a breeze to throw together & combines beautiful, fresh & vibrant flavours. It is just one of many delicious recipes in the book Dining At The Ravens by Jeff & Joan Stanford.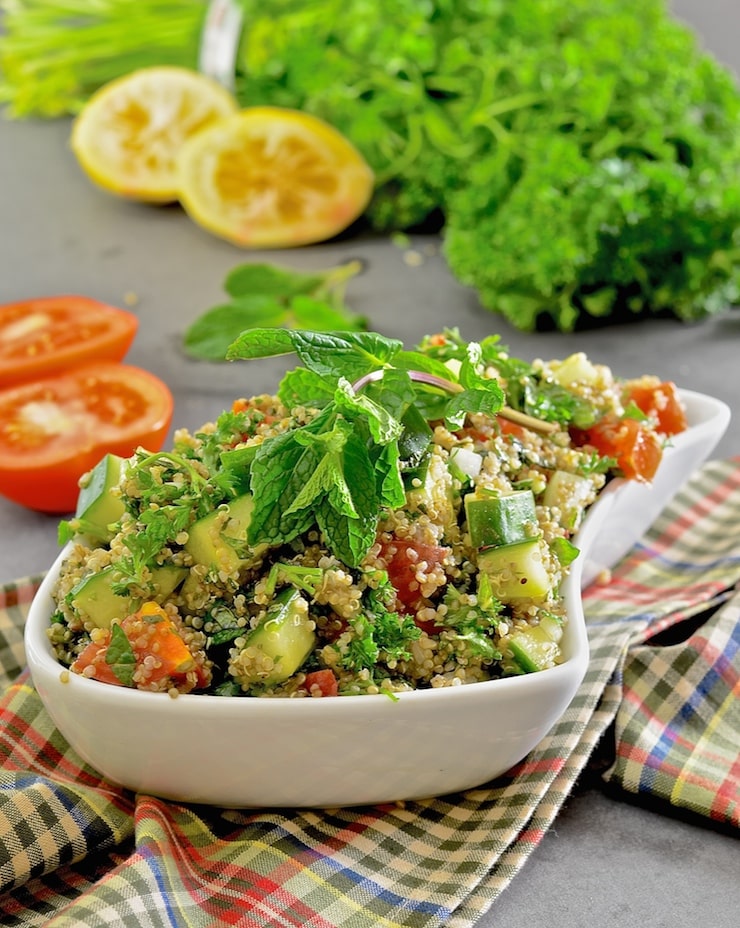 The Stanford Inn by the Sea is the only vegan resort in the United States and is situated in a picturesque and idyllic spot on a sloping meadow, surrounded by forest ridges, overlooking Mendocino Bay. It's restaurant, lovingly called "The Ravens" after the pair of ravens who took up residence on the property in 1995, embodies a mindful, compassionate, and sustainable dining experience in an enchanting and unforgettable setting.
Owners Jeff and Joan Stanford's mission is to provide healthy, organic cuisine that rivals the finest Northern California restaurants. They demonstrate that healthy and satisfying food, produced and cooked with a lighter touch on the environment, can be a wonderful experience. They are on a mission to "seduce" those often suspicious of veganism by continuing to build on their reputation as an outstanding restaurant within a highly rated inn and by showcasing their wonderful menu.
Through their book Dining at the Ravens, Jeff and Joan Stanford bring The Raven's culinary experience into our homes and you get a head start with Quinoa Tabbouleh recipe which I am featuring today. You also have the chance to win your very own copy of the book in my giveaway (details at the end of this post).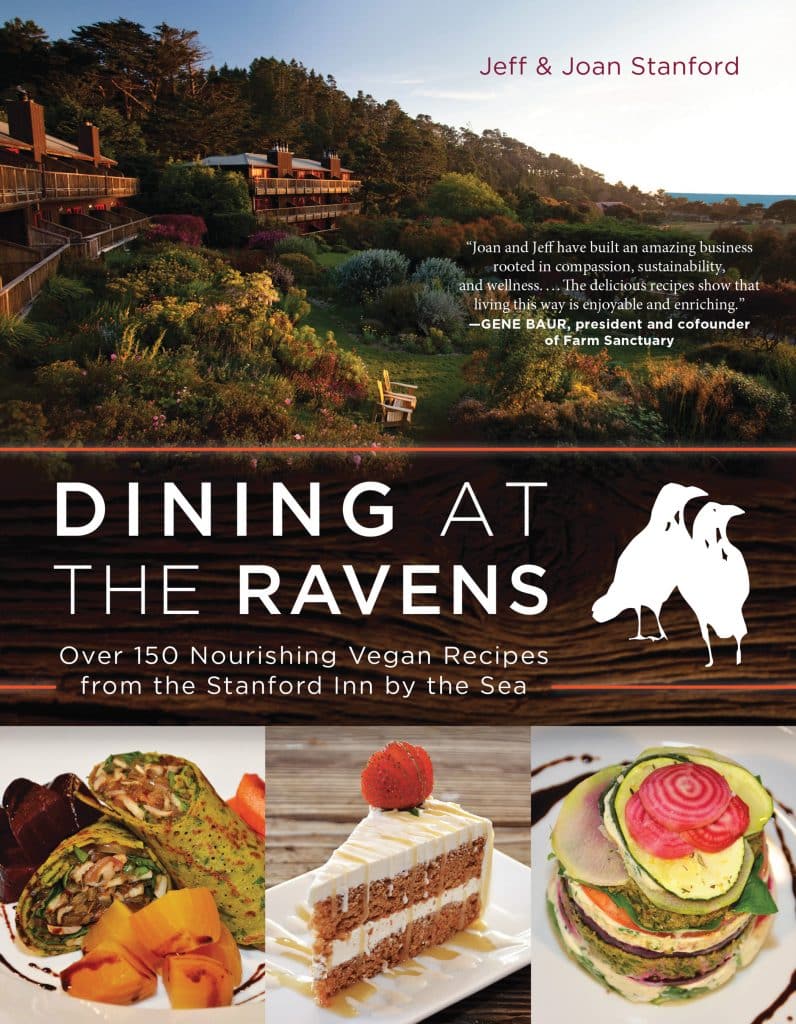 Dining at the Ravens features over 150 amazing vegan recipes as well as a charming history of the inn and restaurant. You will also find plenty of helpful cooking tips and even inspiration for creating your own garden.
The recipes in the book range from those that are simple and easy enough for midweek meals through to those impressive enough for dinner parties. Categories include breakfast items, breads and baked goods, sauces, dips & spreads, appetizers & sides, salads and dressings, soups, entrees, desserts and pantry basics.
All of the recipes in the book feature whole, plant-based foods and the vast majority of them are very healthy. Something I really like about this book is that very few of the recipes call for any processed ingredients. As someone with a huge sweet tooth I was also pleased to find more than a few very indulgent and mouth watering looking treats. The amazing looking Pecan Torte will be making an appearance in my kitchen very soon!
I don't often have much time to cook other people's recipes as I am mostly creating my own, but there are quite a few in this book which have caught my eye and which I will likely be trying in the coming weeks. The Citrus Polenta with Braised Garden Greens and a Creamy Toasted Cashew Sauce follows closely behind the Pecan Torte on my wish list, then there is the Chocolate Ganache Tart (you can find the recipe for this here at Vegonisty), Mushroom Pesto & Sundried Tomato Burger and the Indian-Spiced Kale & Potato Omelet. Honestly though, I would be quite happy to try every single recipe featured in Dining at the Ravens which is a real compliment as I usually find that cookbooks are like music albums. There are always one or two recipes/songs that you don't really like!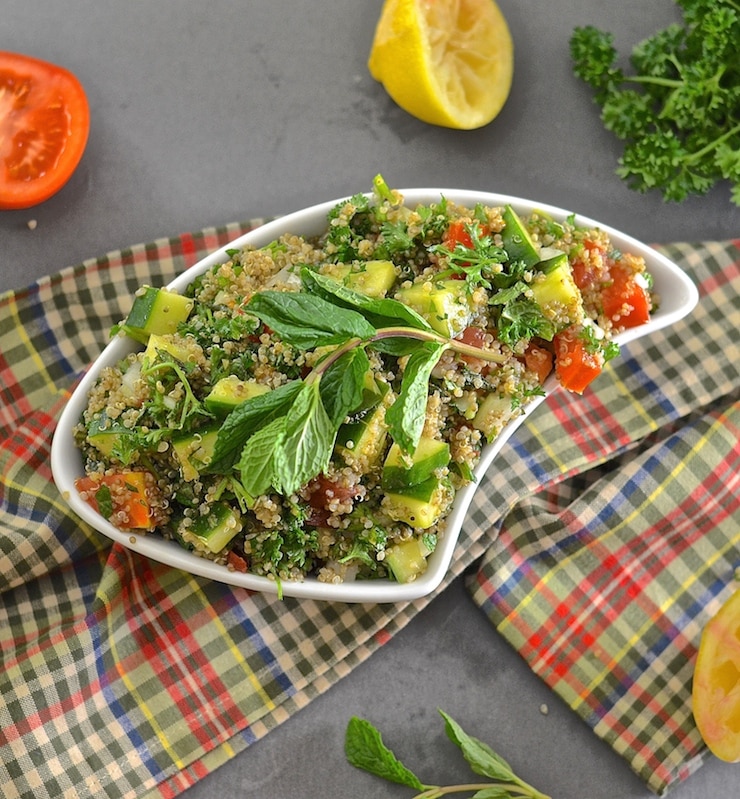 At the weekend I made the Quinoa Tabbouleh. It is an extremely easy to assemble dish and is incredibly healthy. It is great to make on Sunday's ready to have on hand for quick lunches or dinners throughout the week.
Cooking the quinoa is the most time consuming part of this dish. Once that is done and cooled, everything else is a breeze. The finished dish is fresh, vibrant and full of nutrition with amazing flavour from the very abundant fresh herbs, olive oil and lemon.
This Quinoa Tabbouleh stores well covered in the fridge for a couple of days and the flavours continue to develop as it sits. It is also easily transportable in a mason jar or tupperware container so is perfect for packed lunches. I had some for my lunch today and enjoyed it so much that I went back for a second bowl!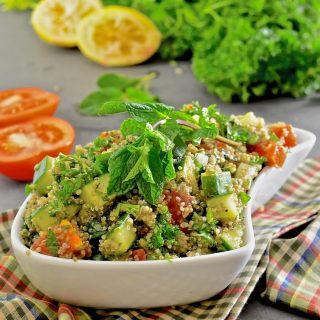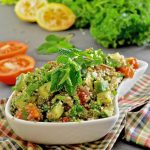 Quinoa Tabbouleh
Author:
This is one of our favorite dishes: it is light, minty, and nutritious. As a great variation, fold the tabbouleh into mixed greens, baby greens, or simply torn butter lettuce. It's also great alongside Cauliflower Ceviche (page 114), hummus, crudité, crostini, and homemade baked tortilla chips as hors d'oeuvres for a reception or a healthy Super Bowl party.
Ingredients
740g | 4

cups

cooked and cooled quinoa

6

tomatoes

, diced small

3

English cucumbers

, diced small

1

large

diced red onion

6

big handfuls

parsley

finely chopped

2

handfuls

finely chopped mint

Juice of 4 lemons

1

tablespoon

golden balsamic vinegar*

Salt and pepper to taste

60mls - 120mls | 1⁄4–1⁄2

cup

olive oil
INSTRUCTIONS
1. Combine quinoa, vegetables, herbs, lemon juice, vinegar, and salt and pepper in a large bowl.

2. Add olive oil in 1⁄4-cup increments, until the quinoa sticks together and tastes creamy.
NOTES
If you don't have golden balsamic vinegar, apple cider vinegar gives good results also.
NUTRITION
Serving:
1
serving
Calories:
293
kcal
Carbohydrates:
41
g
Protein:
8.3
g
Fat:
12
g
Sodium:
31
mg
Fiber:
7.6
g
Sugar:
8
g
Vitamin A:
3050
IU
Vitamin C:
85
mg
Calcium:
100
mg
Iron:
4.1
mg
Nutritional information is provided for convenience & as a courtesy. The data is a computer generated estimate so should be used as a guide only.
Tried this recipe?
Rate it & leave your feedback in the comments section below, or tag @avirtualvegan on Instagram and hashtag it #avirtualvegan
If you like the sound of Dining at the Ravens then be sure to check out the other stops on the blog tour where you can experience more of the recipes. You can see a list of them in the infographic below. If you can't wait to get your hands on a copy of the book you can purchase it here or you can enter my giveaway, courtesy of BenBella Vegan, by following the instructions in the widget at the end of this post.