Super quick & easy to make Vegan Cream Cheese. It's creamy, rich, tangy and delicious. Just perfect for spreading, snacking and dipping!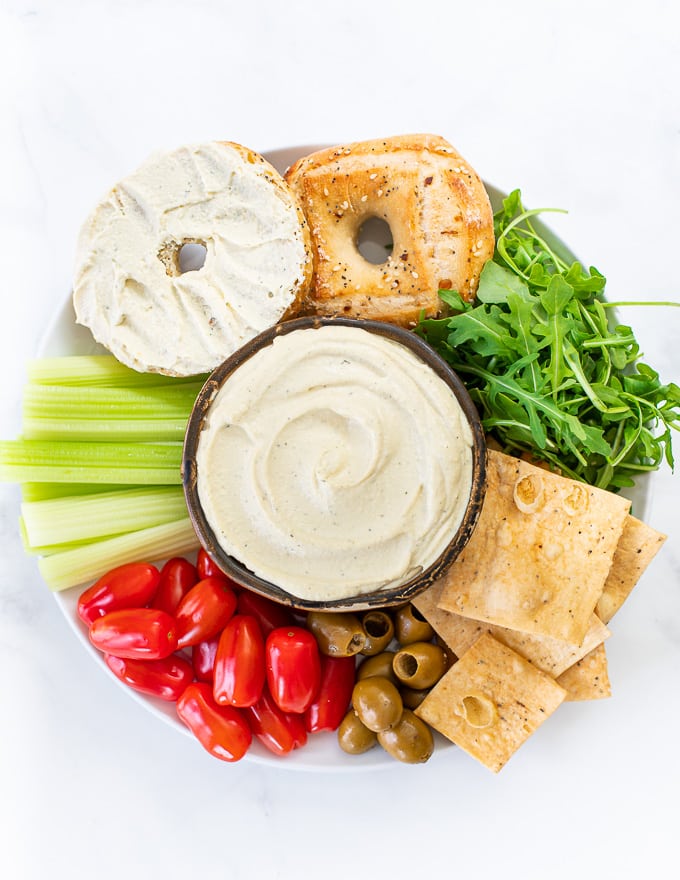 Holy moly. I made the best Vegan Cream Cheese. It's creamy, luscious, tastes amazing and is a major food feature in my life right now.
I have been making it all the time and I am not ashamed to say that I eat it straight out of the food processor. But it's even better when used as cream cheese is supposed to be. Like spread on bagels, bread and crackers and other appropriate things that are not just a silicone spatula.
It's made in minutes in a food processor and uses pretty standard vegan pantry/fridge ingredients.
You could say I'm on a cheese roll ... ha ha. What with this and my very recent Vegan Feta Cheese, which is, incidentally, getting the most amazing feedback. These creative vegan tofu recipes just keep on coming!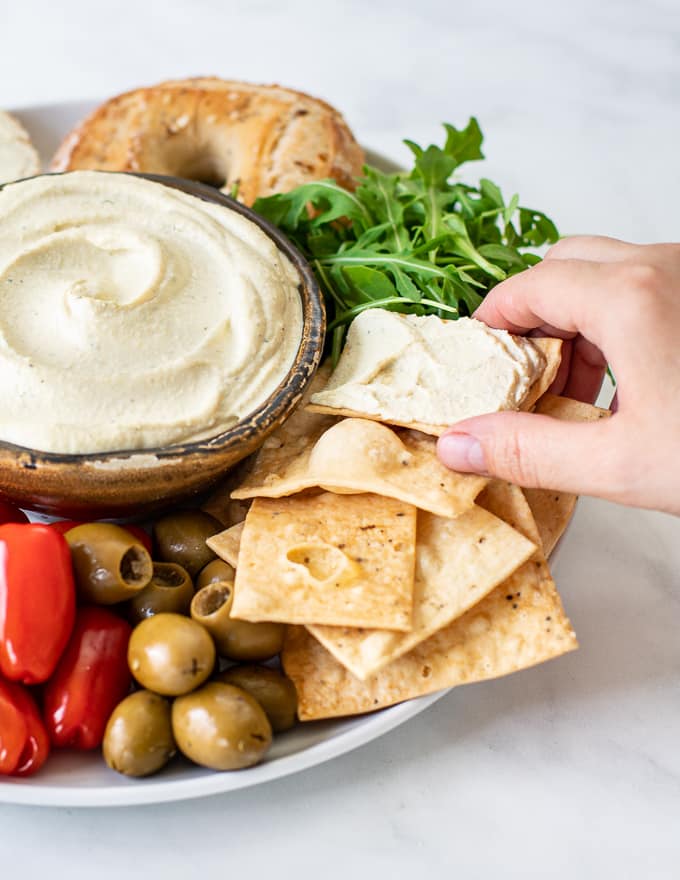 What is vegan cream cheese?
Vegan Cream Cheese is a delicious cream cheese substitute, made from simple ingredients. It can be made in a food processor in just a few minutes and can be used for spreading, dipping and snacking just like regular cream cheese. You can also use it for making things like vegan cheesecake or for baking with, but for sweet recipes I recommend omitting the nutritional yeast and dried dill.
Vegan Cream Cheese has less calories than regular cream cheese and also contains less than half of the saturated fat. It also contains more than double the protein. It is a great option for anyone looking to reduce the amount of saturated fat they consume, while still enjoying a delicious, creamy, indulgent tasting cream cheese spread.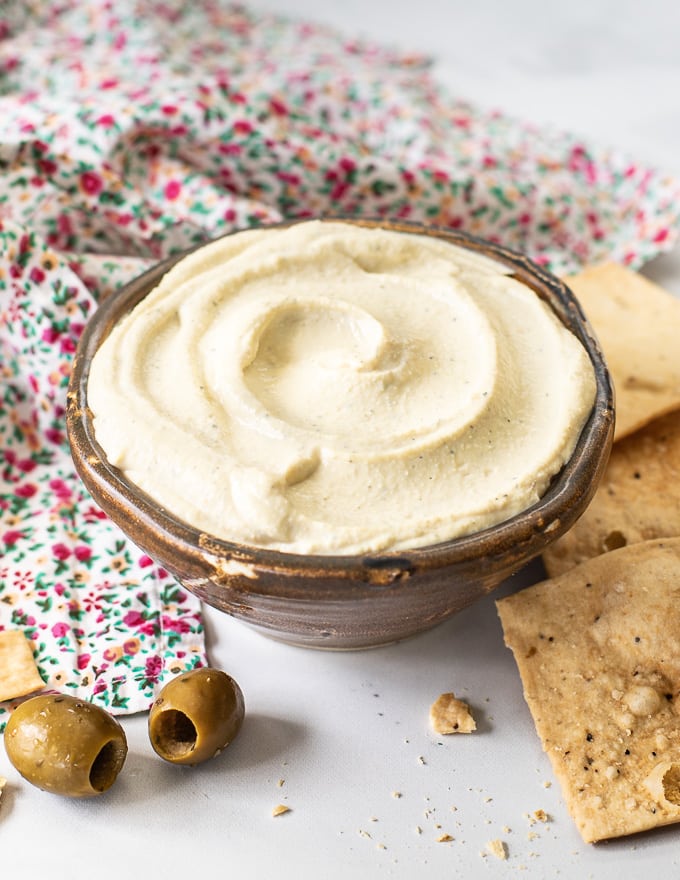 What do you need to make Vegan Cream Cheese?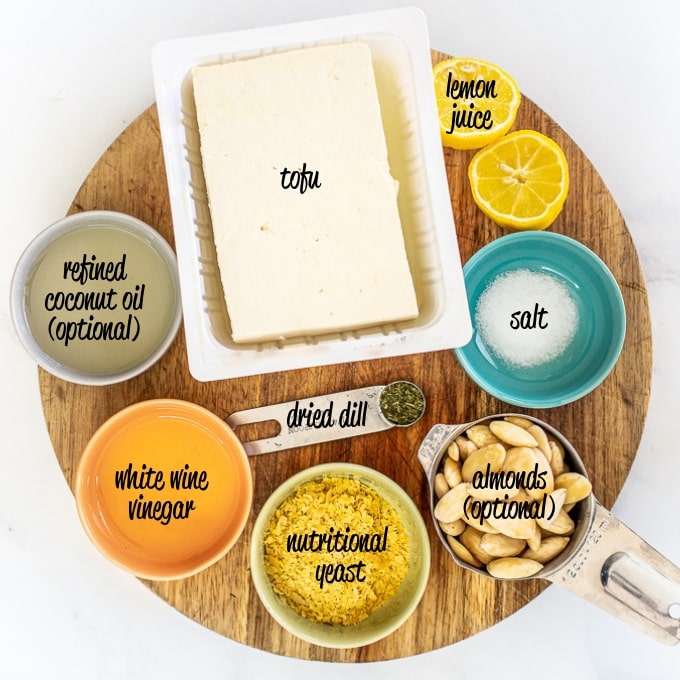 To make my Vegan Cream Cheese you are going to need:
tofu
almonds (and yes, there's a nut-free option - see the recipe notes)
lemon juice
vinegar
nutritional yeast
salt
coconut oil (it's optional so if you're WFPB you are good to go too!)
dried dill (trust me on this one ... it doesn't actually taste of dill when blended but it adds a certain something)
And although for the very best-est creamiest, richest results, almonds and coconut oil are kind of necessary, it can also be made without either so if you can't, or choose not to eat almonds or coconut oil, you can still make it!
I like to use my food processor for making this recipe, as although I like the cream cheese to turn out pretty smooth, I actually like a tiny bit of graininess, but if you prefer it perfectly, velvety smooth, then go for a high powered blender like a Blendtec or Vitamix instead.
How to make Vegan Cream Cheese
---
SEE MY VIDEO FOR A VISUAL GUIDE. FOR INGREDIENTS & FULL INSTRUCTIONS PLEASE SEE THE RECIPE CARD AT THE END OF THIS POST
---
It's easier to make a Vegan Cream Cheese than you might think.
Basically, you're going to blend all of the ingredients up in a food processor. And that's about it. You're done. You made cream cheese. Told you it was easy.
You can eat it right away or let it firm up a little in the fridge first. It depends how desperate you are to eat it!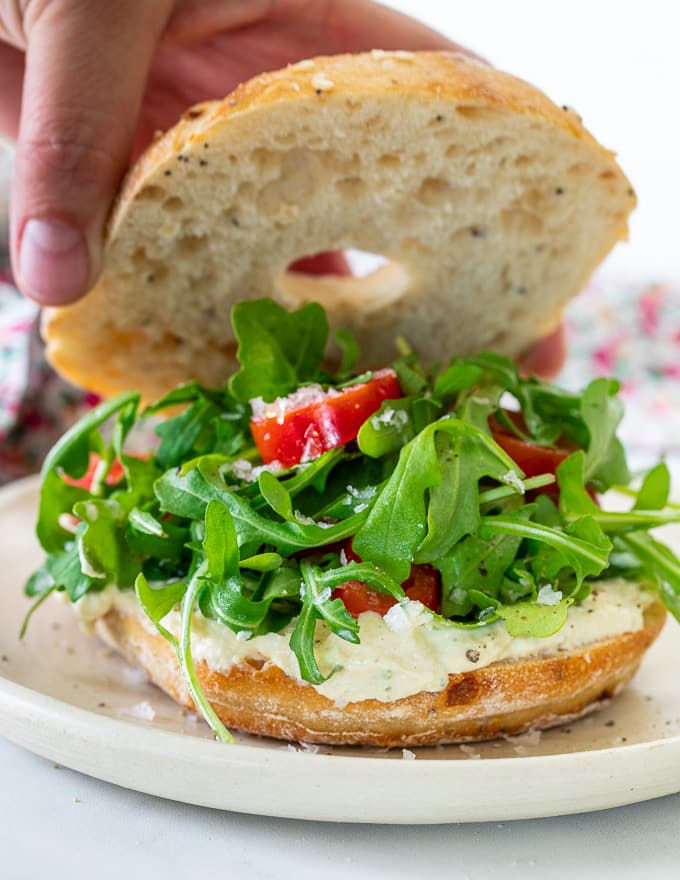 Ways to use my cream cheese substitute are many.
Here are some ideas:
spread on bagels, all alone or with toppings of choice
with crackers. The one's in my photos incidentally are Jenny Marie's Crackers. They are handmade here in Victoria, are all vegan and are super yum!
melted into hot pasta (so good!)
in sandwiches
on my Easy Flatbread Recipe
as a dip for, or spread on things like celery, carrot, cucumber and bell pepper sticks
as an ingredient in dips
in baked goods .... think cream cheese swirl in brownies, muffins, cakes or breads*
dolloped on pizza before or after baking
with waffles or pancakes*
stirred through your tofu scramble just before serving to make it super creamy
jalapeno poppers
*Please note that for using it in sweet recipes, I would recommend omitting the nutritional yeast and the dried dill.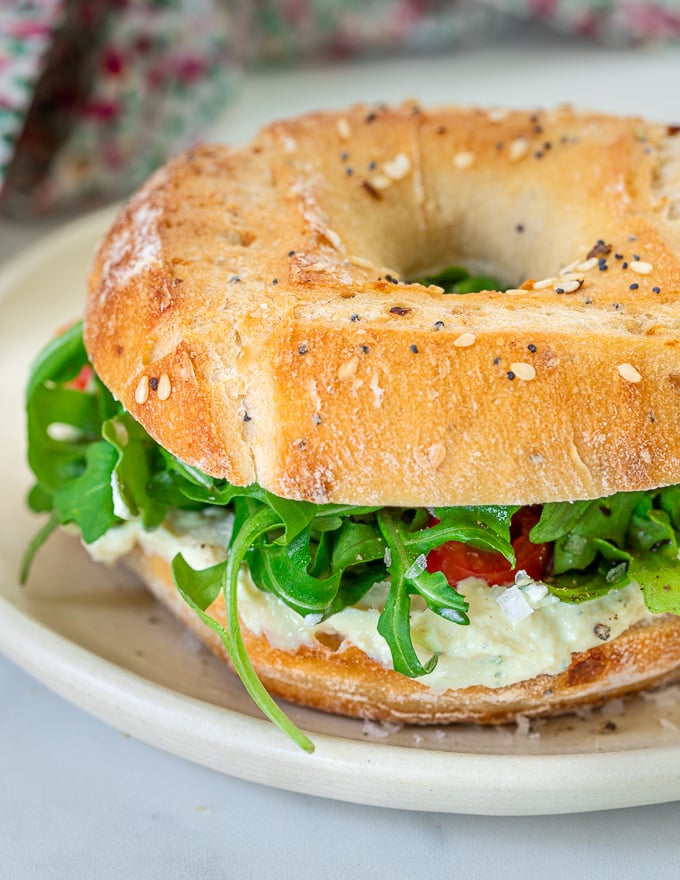 It's so adaptable! You can go crazy wild and flavour it up.
Want some ideas for that too? Try adding:
lemon zest and poppy seeds
dried cranberries, orange zest and walnuts
chopped fresh rosemary or any other fresh herbs
harissa and mint
roasted garlic
black pepper
everything bagel seasoning
drained and chopped pickles
powdered freeze dried fruits like strawberries and blueberries
chopped jalapenos
a little sriracha
fresh chopped chives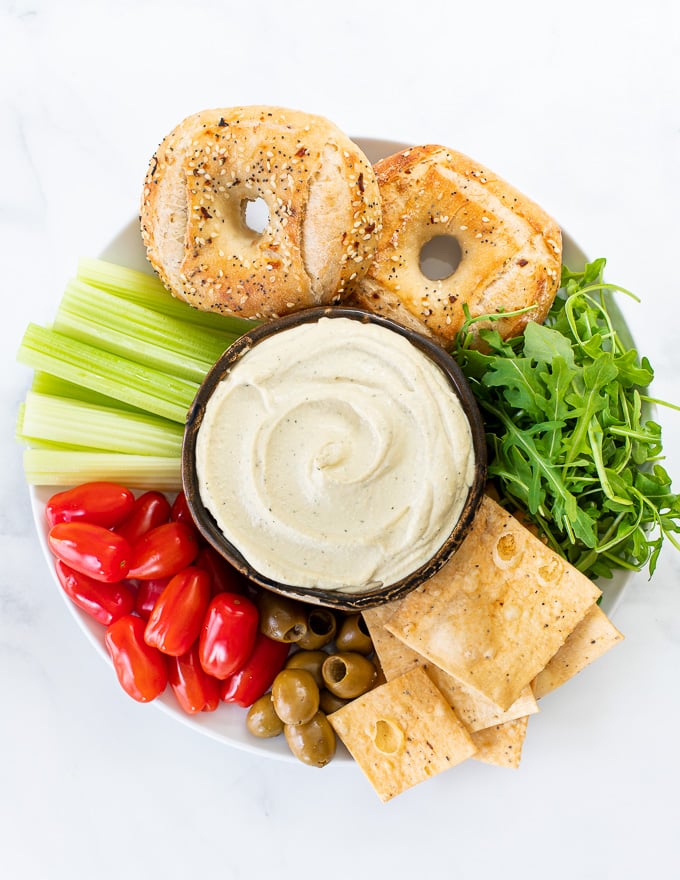 There's more where that came from!
If you love my vegan cream cheese recipe, check out these great vegan dairy alternative recipes too:
And if you love this recipe, please do check out my cookbook, and subscribe to my email list for a fabulous FREE eCookbook featuring my top 10 recipes. Being on the list means you will be first to see my new recipes and you'll be kept in the loop on all things new and exciting too!
Vegan Cream Cheese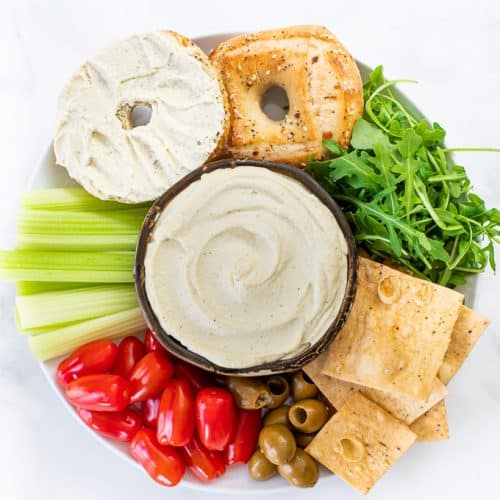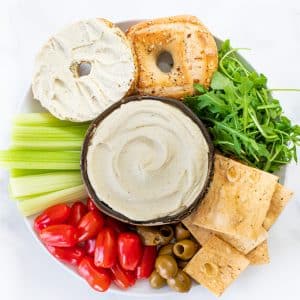 Super quick & easy to make Vegan Cream Cheese. It's creamy, rich, tangy and delicious. Just perfect for spreading, snacking and dipping! 
Ingredients
½ heaping cup / 75

g

raw almonds

, for nut-free option see recipe notes

454 g / 16

oz

medium firm, firm or extra firm tofu

(NOT silken tofu) , I like medium firm for this recipe. Using firm or extra firm will create a slightly firmer cream cheese.

3 tablespoons / 45

ml

fresh lemon juice

3 tablespoons / 45

ml

white wine vinegar

2

tablespoons

nutritional yeast

¼ cup / 60

ml

refined coconut oil (melted but not hot ... measure while liquid)

, for oil-free option see recipe notes

1 - 1½

teaspoons

fine sea salt

½

teaspoon

dried dill

, the finished recipe won't taste of dill (heck, I don't even like dill much!), but it adds a certain something that I can't quite put my finger on. I really recommend you don't skip it!
INSTRUCTIONS
Boil some water in a kettle and cover the raw almonds in the boiling water. Let them soak for 15 minutes. Drain, then remove the brown, papery skins by pinching the rounded end of the almond and squeezing. They should pop out really easily. Discard the skins.

To a food processor add the soaked and skinned almonds, tofu, lemon juice, white wine vinegar, nutritional yeast, coconut oil, 1 teaspoon of the sea salt and the dried dill. Process until completely smooth. It will take 2 to 3 minutes, longer in a less powerful food processor.

Taste, and add the remaining salt to taste then blend again. I always use the full 1½ teaspoons.

Spoon out into a container. It can be eaten right away but is best if refrigerated for at last 1 hour so it firms up a little.
NOTES
For best results please follow the recipe exactly. Every ingredient is really important and even if you change just one of them, you will not get optimum results. However, it is possible to make the recipe nut or coconut oil free if you need to. 
TO MAKE THE RECIPE ALMOND-FREE
The almonds can be replaced with raw cashew nuts (soak them as per the recipe instructions), or if you want to make the recipe completely nut-free, omit the almonds and increase the refined coconut oil to ½ cup (120 mls) measured while melted. The extra coconut oil will firm it up enough so it becomes cream cheese texture once refrigerated. 
TO MAKE THE RECIPE COCONUT OIL FREE
Simply omit the coconut oil and keep everything else as it is. The cream cheese will be a looser, it won't melt  and it won't have quite as rich a mouth feel but it is still spreadable and delicious. 
STORAGE
Keep in a sealed container in the fridge. It will keep for 5 -6 days. I haven't tried freezing it but I would think it would be ok. If you try it let me know! 
NUTRITION
Serving:
2
tablespoons
Calories:
73
kcal
Carbohydrates:
1.7
g
Protein:
4
g
Fat:
6
g
Saturated Fat:
2.7
g
Sodium:
118
mg
Fiber:
1
g
Sugar:
0.2
g
Vitamin C:
0.8
mg
Calcium:
40
mg
Iron:
0.5
mg
Nutritional information is provided for convenience & as a courtesy only. The data is a computer generated estimate so should be used as a guide only.
Tried this recipe?
Rate it & leave your feedback in the comments section below, or tag @avirtualvegan on Instagram and hashtag it #avirtualvegan