This Vegan Broccoli Salad is made with a delicious blend of broccoli, red grapes, toasted slivered almonds and a tangy, creamy dressing. It's perfectly crunchy, creamy, sweet and savoury and great for making ahead!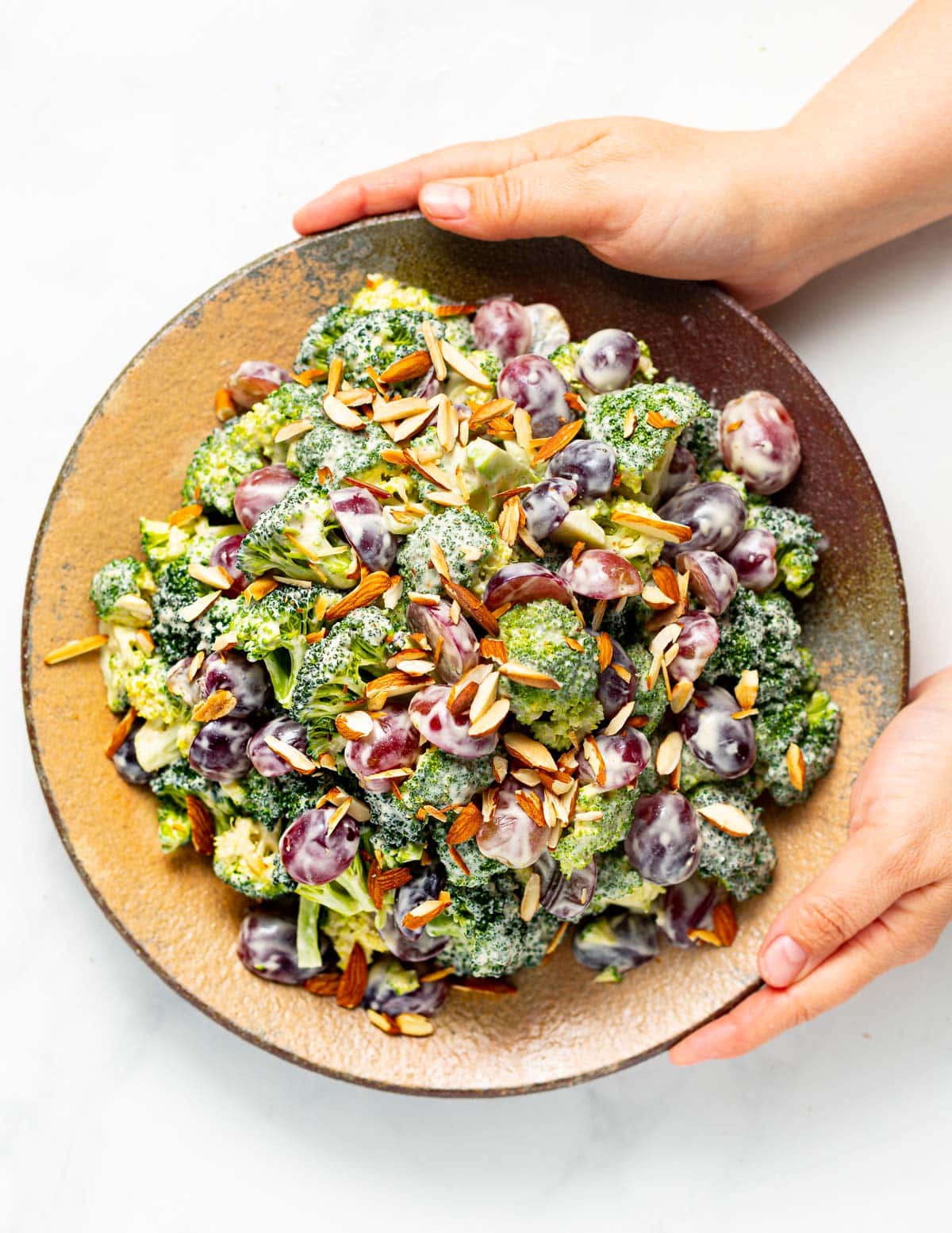 Meet your new favourite summer side. Vegan Broccoli Salad!
An easy, minimal ingredient salad, that's big on flavour and full of crunchy, juicy, creamy texture.
We're talking a delicious combo of broccoli and red grapes all tossed in a creamy, tangy dressing then sprinkled with toasted flaked almonds.
And let me just stop you there before you start thinking I've gone all crazy by putting grapes in a salad. It works. It just works. And really well too. A bit like the the strawberries in my Strawberry Spinach Salad. Trust me.
Jump to: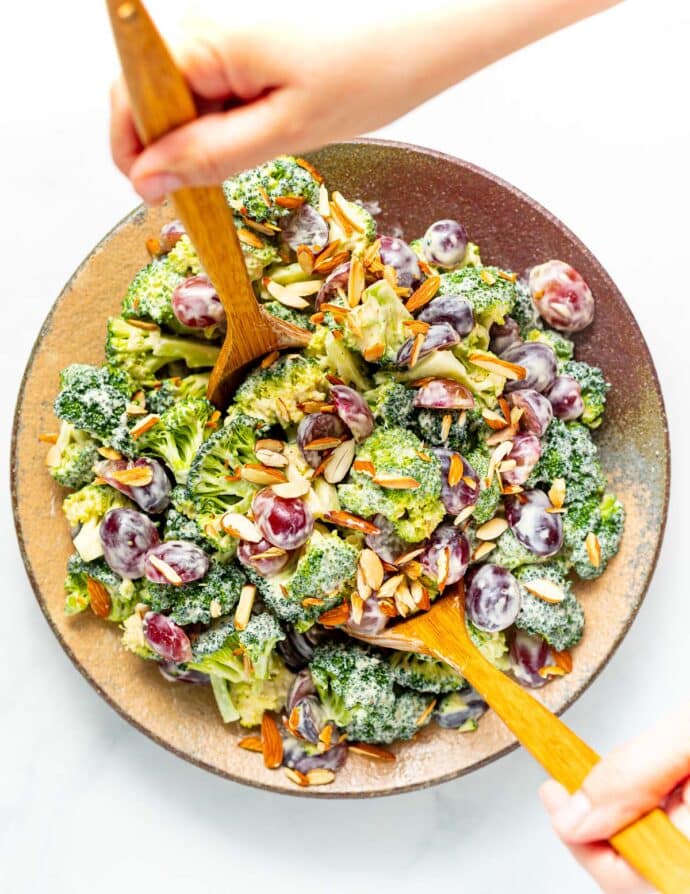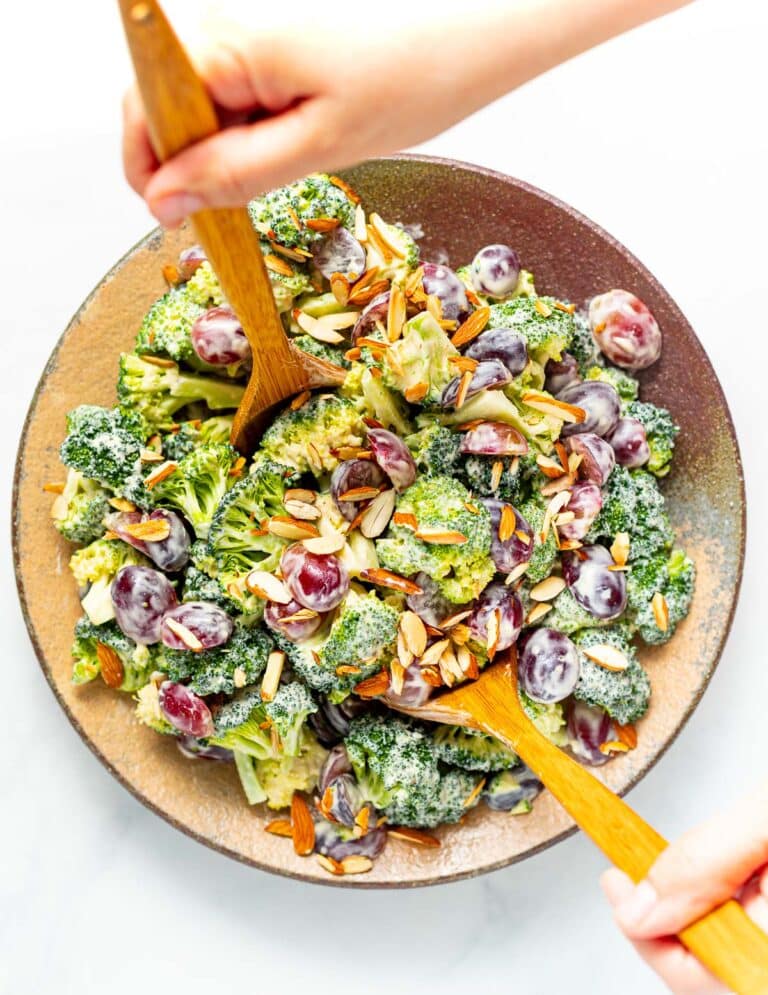 Ingredients
So what have we got going on in this vegan broccoli salad recipe?
It's a pretty basic list that includes:
broccoli
red grapes (red for the colour contrast but green are fine if that's all you've got)
flaked almonds (or your favourite crunchy seeds for a tasty nut-free option)
And what about the broccoli salad dressing? Of course we need a creamy, tangy dressing to bring everything together and it's made in a minute or two. No blender required. Just mix it up quickly and easily in a small bowl.
It's made from vegan mayo plus some seasonings to make it pop. There's also a savoury cashew cream or silken tofu option if vegan mayo isn't for you. Deets are included in the recipe notes.
No special equipment is needed at all for this recipe. This raw vegan broccoli salad is EASY peasy to prepare and mix up. It's a great one for making in advance too!
How to make Vegan Broccoli Salad
(For detailed measurements and instructions, see the printable recipe card).
This is a really simple salad to make. Here's how it's done:
Step 1 - Prepare the broccoli.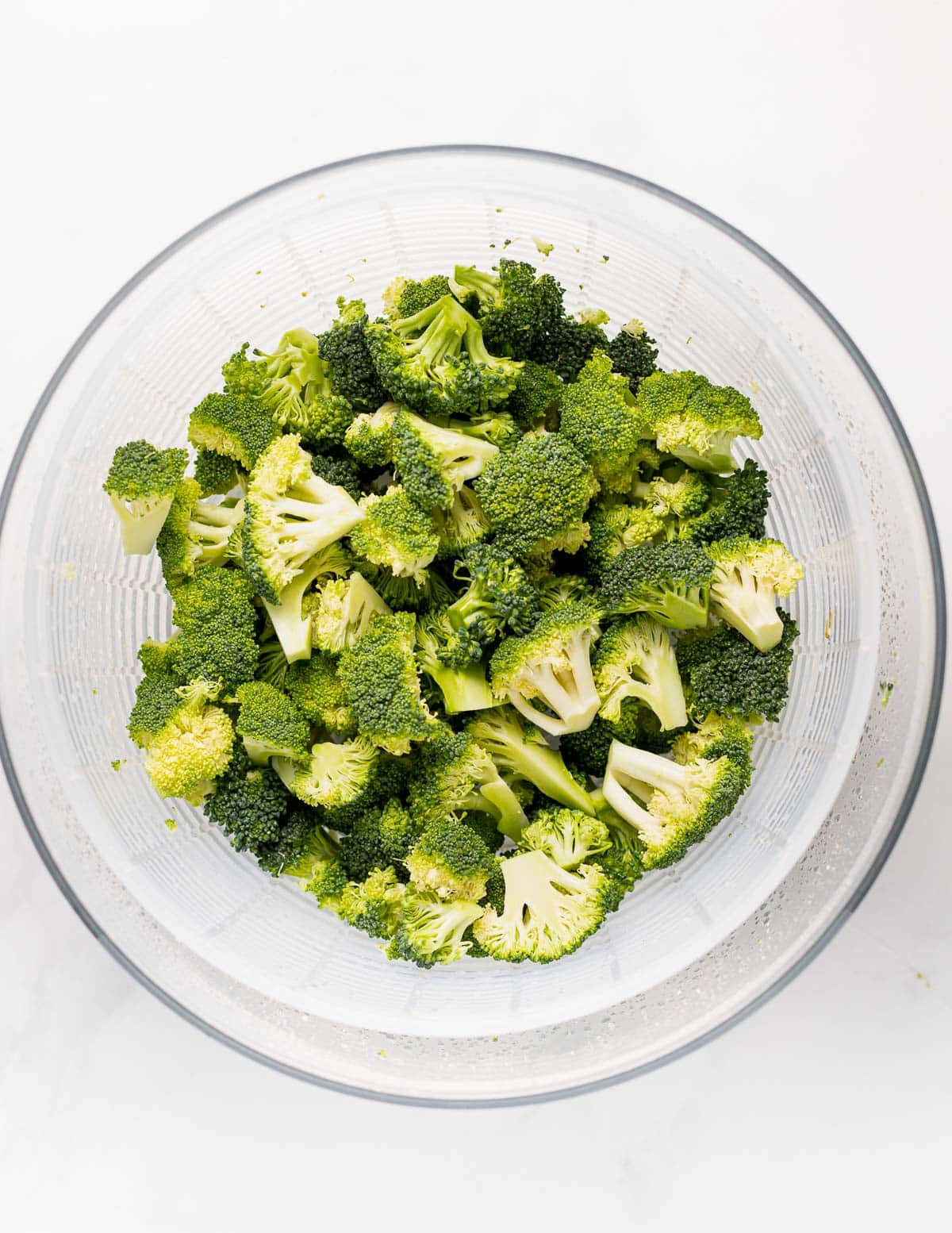 Step 2 - Prepare the grapes.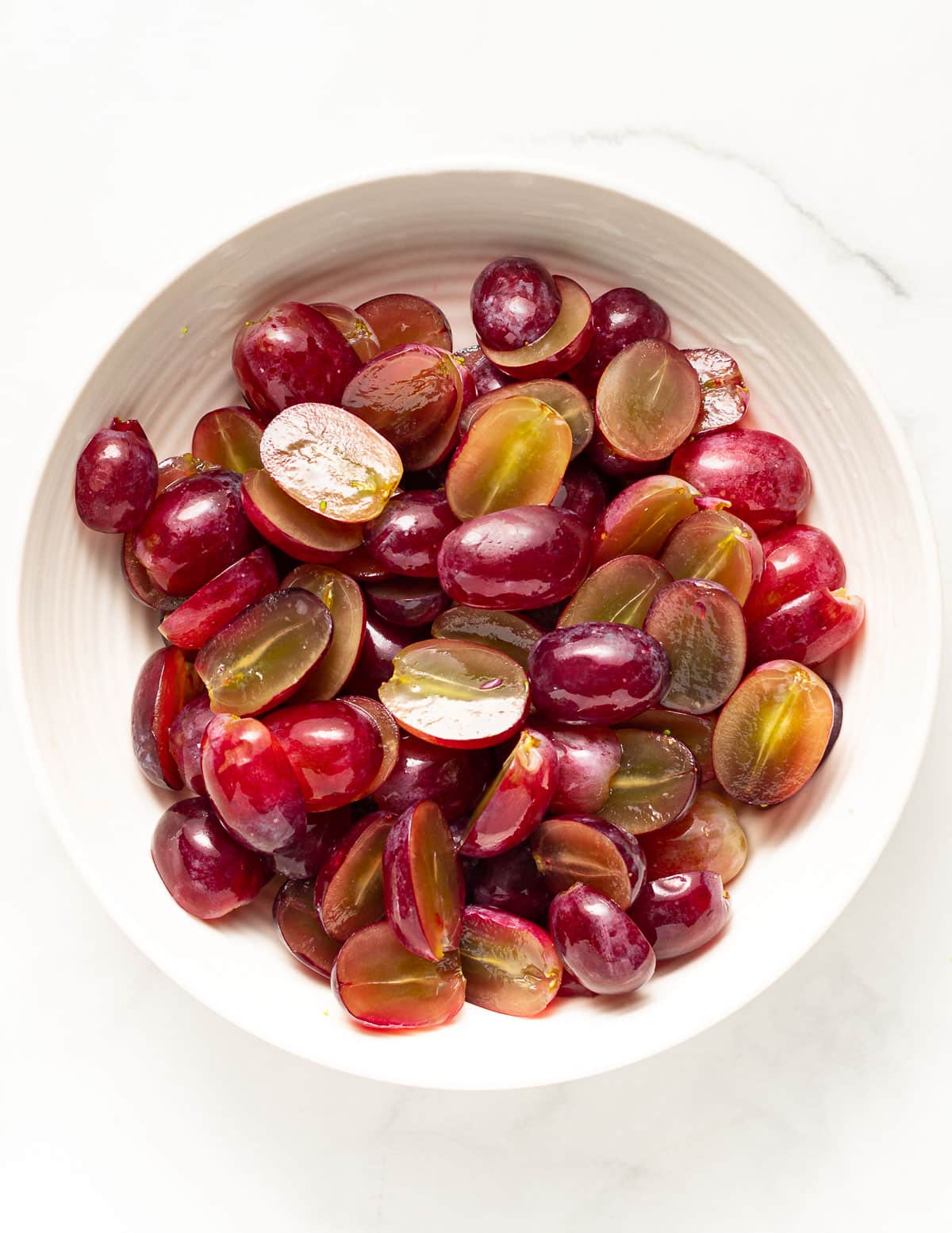 Step 3 - Mix up the salad dressing.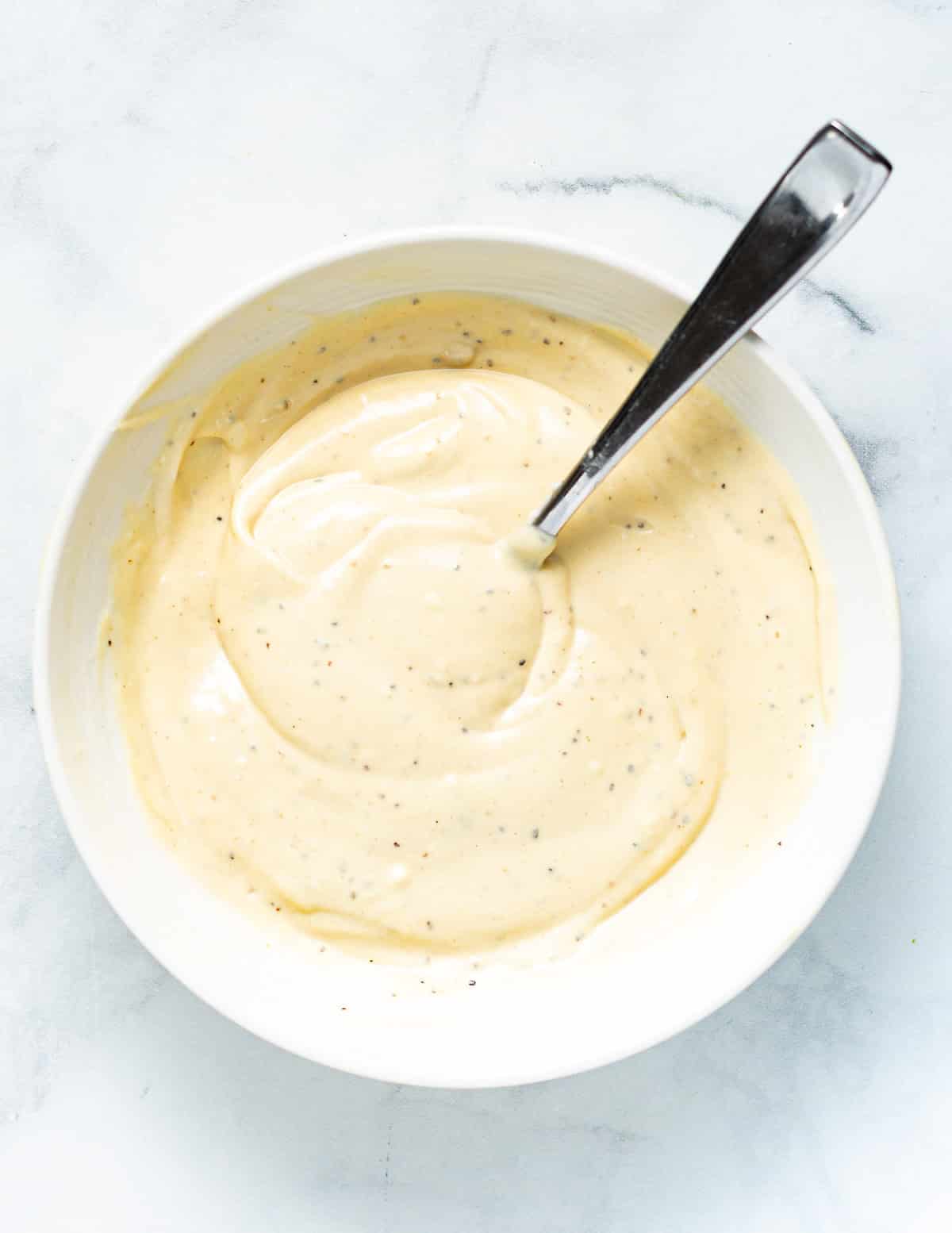 Step 4 - Toast the flaked/slivered almonds or seeds of choice.
Step 5 - Dollop the dressing onto the broccoli and mix to coat.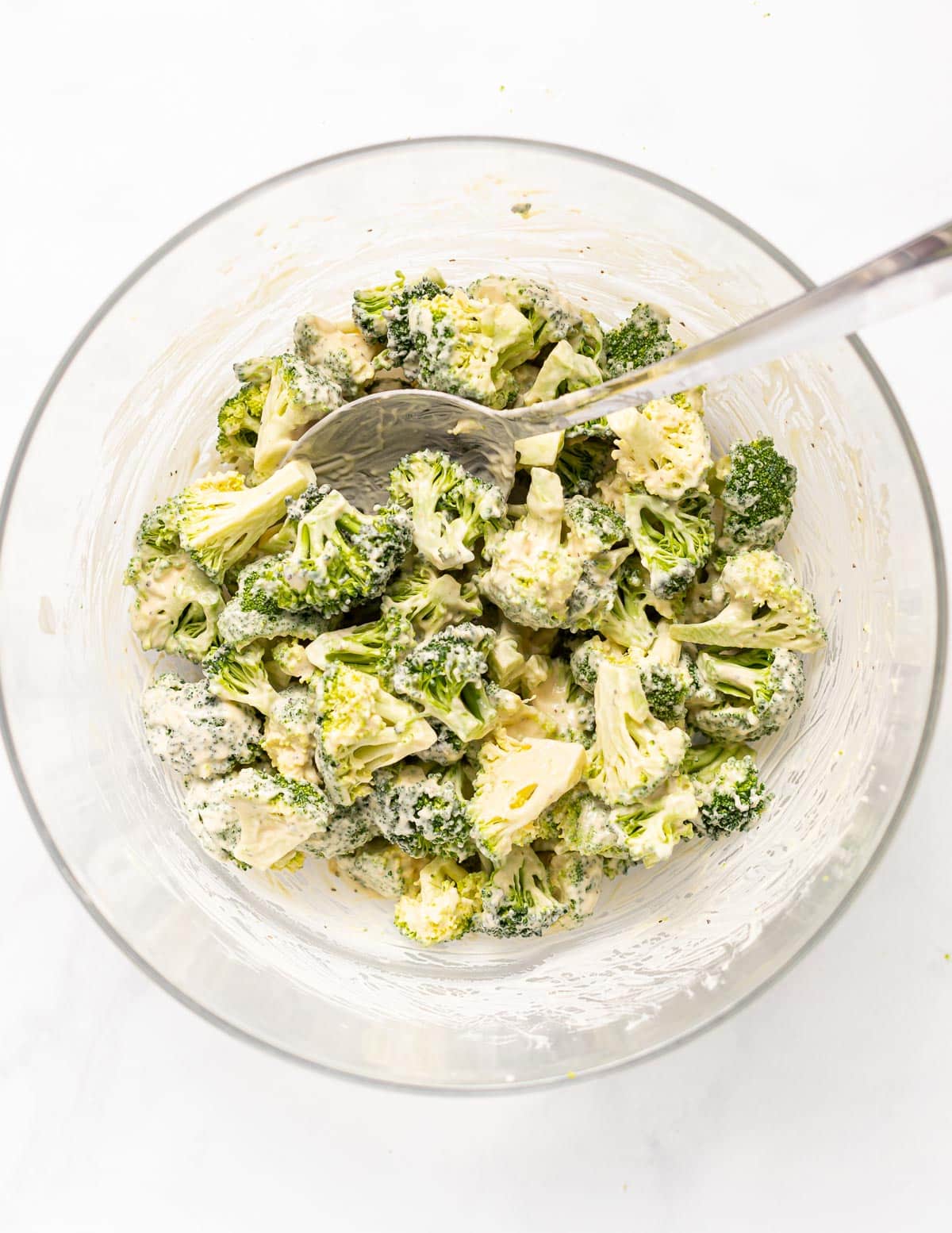 Step 6 - Grapes - in you go.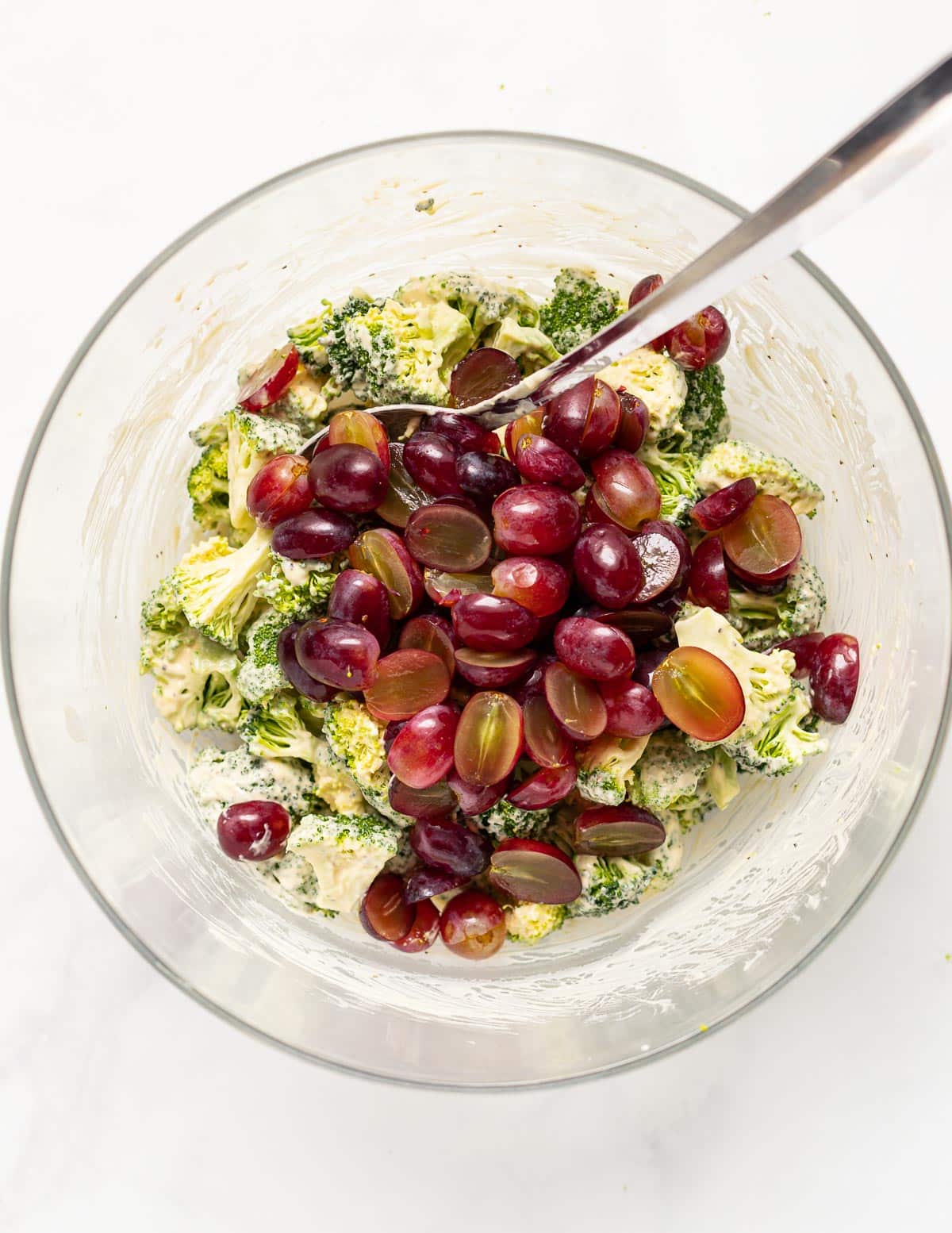 Step 7 - Mix together gently so they don't get squished.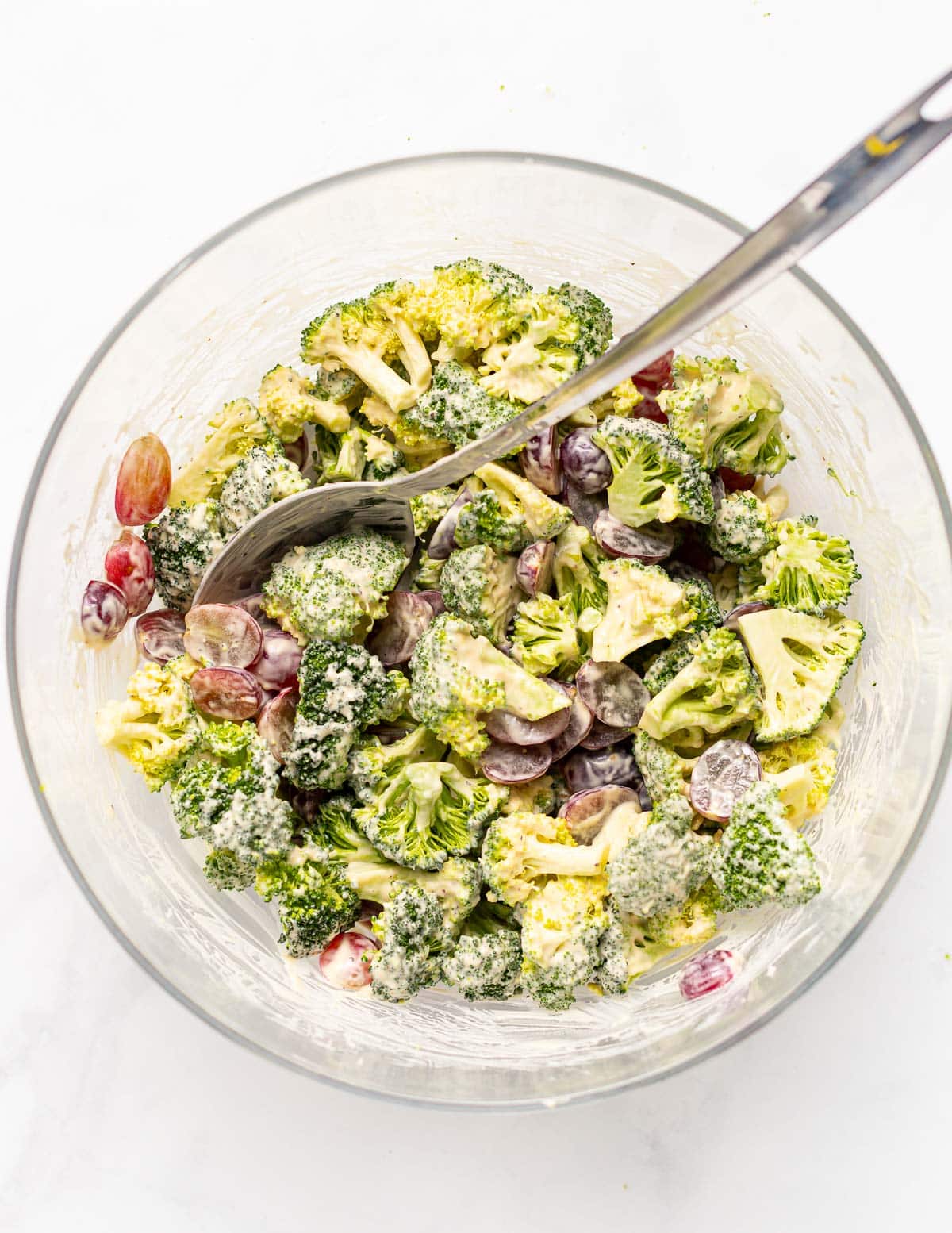 Step 8 - Optional but recommended - Let it all sit for a bit before the finishing touch ....
Step 9 - Sprinkle over the slivered almonds and serve!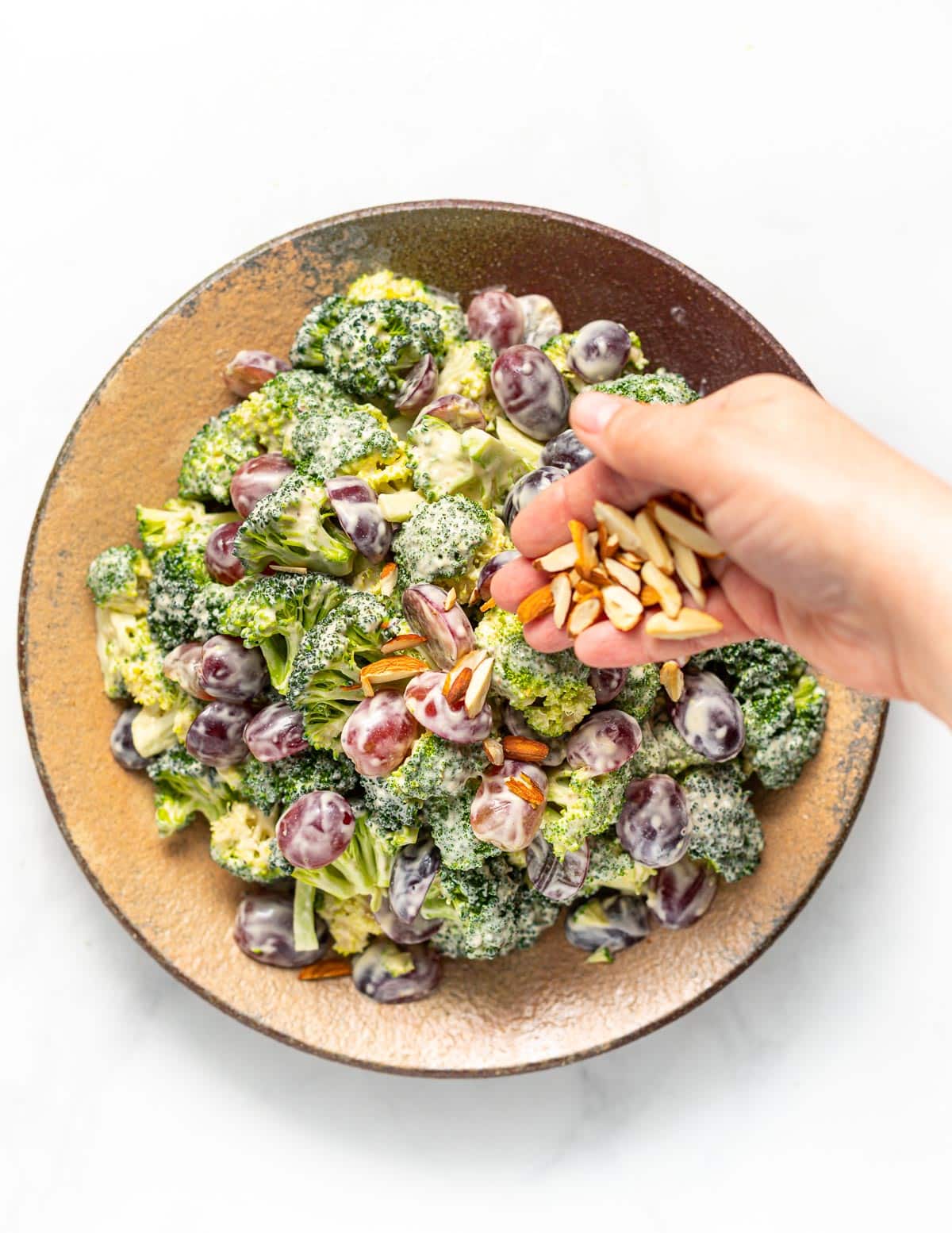 Success Tips
Cut the broccoli florets into small, bite sized pieces. Too big and it becomes difficult to eat.
Red grapes are best because their colour stands out against the deep green broccoli.
Half the grapes otherwise they are really difficult to pick up with fork.
Slightly over-season the creamy dressing. By the time it's mixed through the salad it will be perfect.
If you can, leave everything to sit (except the almonds) for at least 30 minutes before serving to give the flavours time to meld together and so that the broccoli becomes a little more tender while soaking in the dressing.
Add the toasted flaked almonds just before serving to conserve their crunch, colour and flavour.
Mix well before serving.
How to cut broccoli
First pull away any leaves that are present around the base of the broccoli head, then using a chef's knife cut away the florets at their base, starting from the outside and working inwards. For this salad it's best to cut the florets without much stalk as they become more "bite-sized" and easier to eat in the salad.
Don't waste the stalks though. You can cut them up into matchsticks and use them too. Take each stalk and cut off any woody, irregular bits from the outside surface, so you end up with a rectangular shape. Then cut the rectangle into slices, then down through the slices into matchsticks. I don't often get this opportunity because my dogs love broccoli and eat the stalks .... and florets too if I let them! . They love them! That's why there are only florets in the salad in my photos!
Do you steam broccoli for broccoli salad?
There is no need to steam the broccoli for this vegan broccoli salad. Raw broccoli actually tastes really good, and when cut into manageable bite sized pieces, the crunchy, fresh texture works really nicely with the creamy dressing and juicy grapes. Also if you make the salad and let it sit for a while before serving the broccoli has time to tenderize slightly while soaking in the dressing.
If raw broccoli is something you really can't get onboard with though, you could blanch it in boiling water for a very short time (1 minute would be plenty), then rinse in cold water immediately after to stop it cooking any further.
Variations
Perfect as it is but make this creamy broccoli salad your own by adding your favourite mix-ins.
Some ideas:
dried fruits like raisins, cherries, dates or cranberries instead of the grapes or as well as the grapes
diced vegan bacon
vegan feta cheese crumbles
different nuts or seeds
some raw cauliflower in place of some of the broccoli
diced smoked tempeh
add lots of fresh parsley
finely sliced shreds of shallots or red onion
a little curry powder in the dressing instead of the mustard
don't fancy vegan broccoli salad with vegan mayo? Skip the mayo and use cashew cream or silken tofu instead (see the recipe notes for how)
Omit the nuts and use pumpkin seeds/pepitas or hulled sunflower seeds instead. Be sure to toast them as per the instructions for a great "nutty" toasty flavour. You could also omit them completely.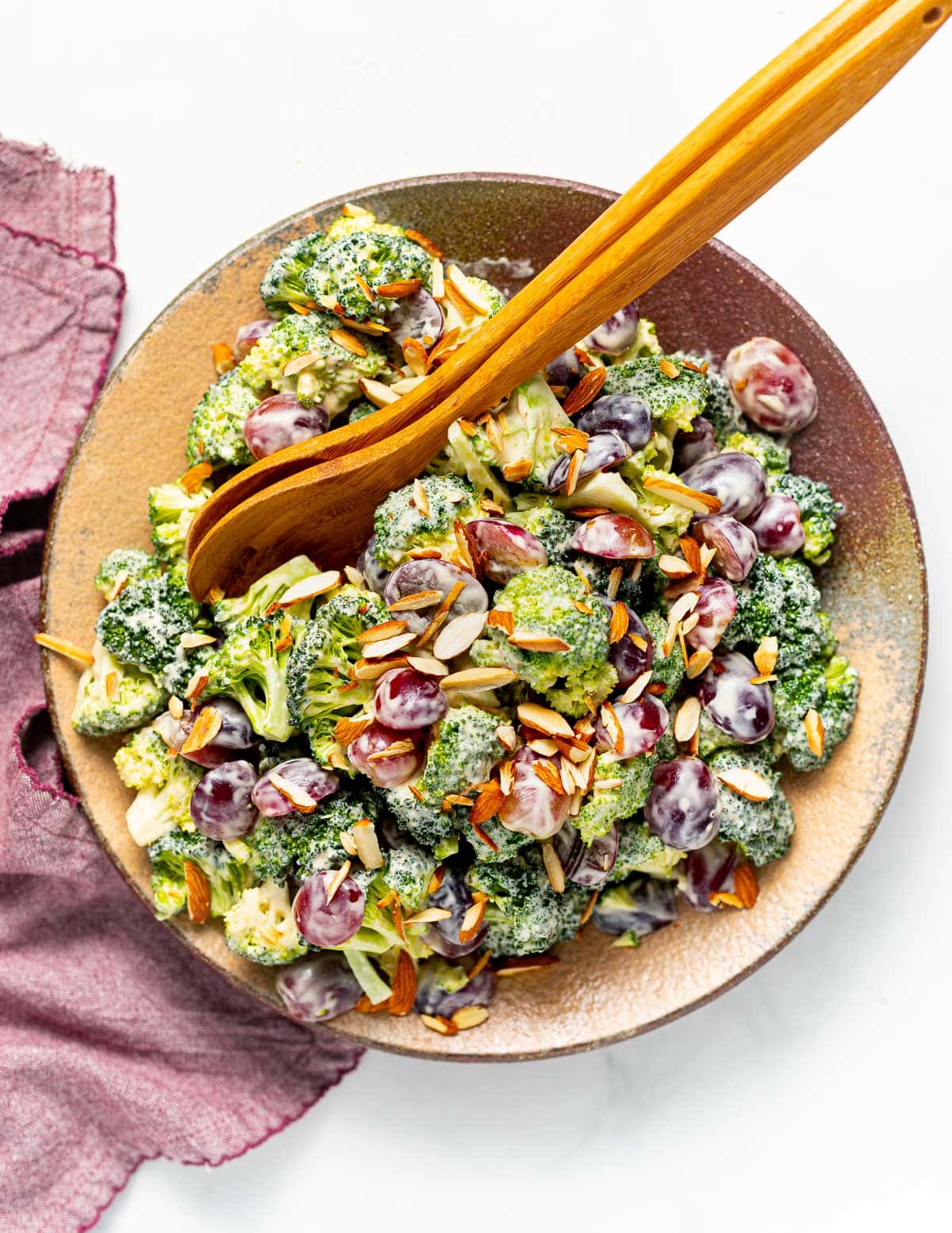 How long is broccoli salad good in the fridge?
Broccoli salad keeps really well for 3 to 4 days. It's great for making ahead of time or as part of meal prep. Just be sure to store it in an airtight container in the fridge, and stir it up well before serving.
Toast the nuts and keep them in a separate airtight container from the salad so they stay crunchy. Add them just before serving.
What do you eat with broccoli salad?
This vegan broccoli salad recipe is great for serving at picnics, potlucks and BBQs because it can be made in advance and stays nice and crunchy unlike leafy salads.
It's nice served on its own for a light lunch or packed lunch, and perfect for serving up as a side alongside sandwiches, vegan quiche or your favourite meals.
When we are grilling I love it with burgers. Beyond burgers if I'm feeling lazy or White Bean Artichoke Burgers or Vegan Black Bean Burgers if I'm not. Some grilled baby potatoes always get made when we grill too.
For regular meals try it with my vegan crab cakes, crispy tofu, leftover cold vegan roast, vegan chick'n, BBQ tofu or vegan omelette.
Wondering what to do if your grapes are a bit old and wrinkly?
If you happen to have some old grapes that are past their best and a bit wrinkly you can roast them then add them to this broccoli salad. The roasting hides the wrinkles, intensifies their flavour and makes them really sticky and delicious.
Simply toss the grapes in a bit of oil, spread them out on a large baking tray and bake on 400°F (204 °C) for about 20 minutes or until sticky and juicy. Remove from the oven and allow to cool on the tray. Then you can add them to the salad (being really careful to stir them in gently).
If you have any roasted grapes leftover I highly recommend eating them warm with some vegan vanilla ice cream!
More Broccoli Recipes
Recipe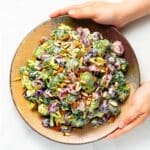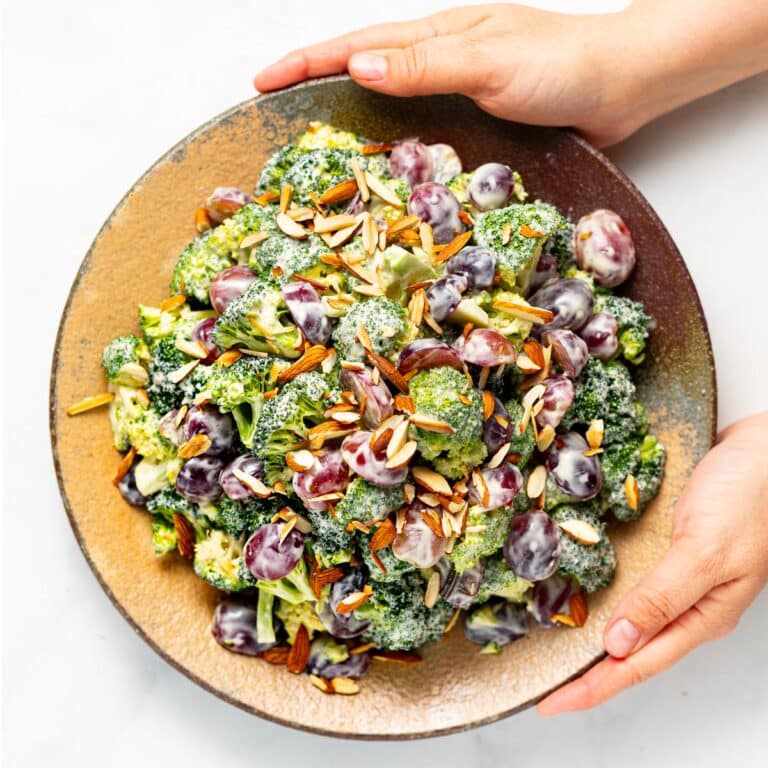 Vegan Broccoli Salad
Author:
This Vegan Broccoli Salad is made with a delicious blend of broccoli, red grapes, toasted slivered almonds and a tangy, creamy dressing. It's perfectly crunchy, creamy, sweet and savoury and great for making ahead!
Ingredients
½ cup / 55

grams

slivered or flaked almonds

, see notes for alternative

2

large heads

broccoli

2 heaping cups / about 340

grams

red grapes
INSTRUCTIONS
Warm a small pan over a medium heat and add the slivered almonds. Keep them moving around the pan for a 2 to 3 minutes until they smell really nutty and toasty and are turning golden. Remove from the heat and allow to cool.

Cut the broccoli into bite sized florets. Cut the stalks into thin matchsticks too if you don't want to waste them. Wash thoroughly and shake dry or use a salad spinner. Put in a large salad bowl.

Wash the grapes, dry them well and cut them all in half.

In a small bowl mix up the dressing ingredients, adding the salt and pepper and maple syrup to taste. It's important to over-season it a little bit because by the time it's mixed through the broccoli it will be just right.

Stir the dressing through the broccoli making sure to coat it all well, then add the grapes and stir them through gently.

Leave to sit for at least 30 minutes if you can for the broccoli to tenderize a little and the flavours to meld together.

Sprinkle over the toasted almonds just before serving.
NOTES
NUT-FREE? If you need to make this recipe nut-free you can omit them or use pumpkin seeds or shelled sunflower seeds instead. 
MAYONNAISE -
I like the Organic Vegenaise from Earth Island (or Follow your Heart as it's known in the US). 
MAYONNAISE SUBSTITUTES - If you don't have or don't want to use mayonnaise you can use:
Silken tofu: You will need to use a blender or food processor to get it nice and smooth and you will need to tweak the other dressing ingredients to make up for the loss of flavour. I suggest adding them as stated then gradually adding more to taste as necessary. 
Cashew Cream: You can also make a cashew cream instead of the mayo or silken tofu. Blend ¾ cup (115 g) of soaked raw cashews with enough water to make a thick creamy mayo-like consistency then add the other ingredients. You will need to adjust them to taste to make up for flavour the mayo would have had. I suggest adding them as stated then gradually adding more to taste as necessary. 
MAPLE SYRUP - Adding this is optional and the amount you need will depend on what brand of vegan mayonnaise you use. This dressing needs a tiny touch of sweet but some mayos are sweeter than others. You might find you don't need any or you might need less or a little more. Add it to taste very gradually at the end. 
SALT & PEPPER - Everyone likes a different amount. I use the full ½ teaspoon of each. It's important to slightly over-season the dressing because by the time it's mixed through all of the unseasoned broccoli its flavour will be diluted. Add it to taste while mixing the dressing, then add a tiny bit more to compensate. 
MAKING AHEAD & STORAGE - This Vegan Broccoli Salad keeps well for 3 to 4 days in the fridge. Keep in an airtight container and stir well before serving. Store the toasted nuts in a separate airtight container and add just before serving to conserve their crunch.  
NUTRITION
Calories:
239
kcal
|
Carbohydrates:
20
g
|
Protein:
5
g
|
Fat:
16
g
|
Saturated Fat:
2
g
|
Sodium:
261
mg
|
Potassium:
501
mg
|
Fiber:
4
g
|
Sugar:
10
g
|
Vitamin A:
738
IU
|
Vitamin C:
104
mg
|
Calcium:
81
mg
|
Iron:
1
mg
Did you make this recipe?
Rate it & leave feedback in the comments section below. I love seeing your remakes too. Tag @avirtualvegan on Instagram! 🌟