Learn all about what tofu is, how to prepare tofu and how to cook tofu and see my collection of vegan tofu recipes that transform it in unexpected & super tasty ways.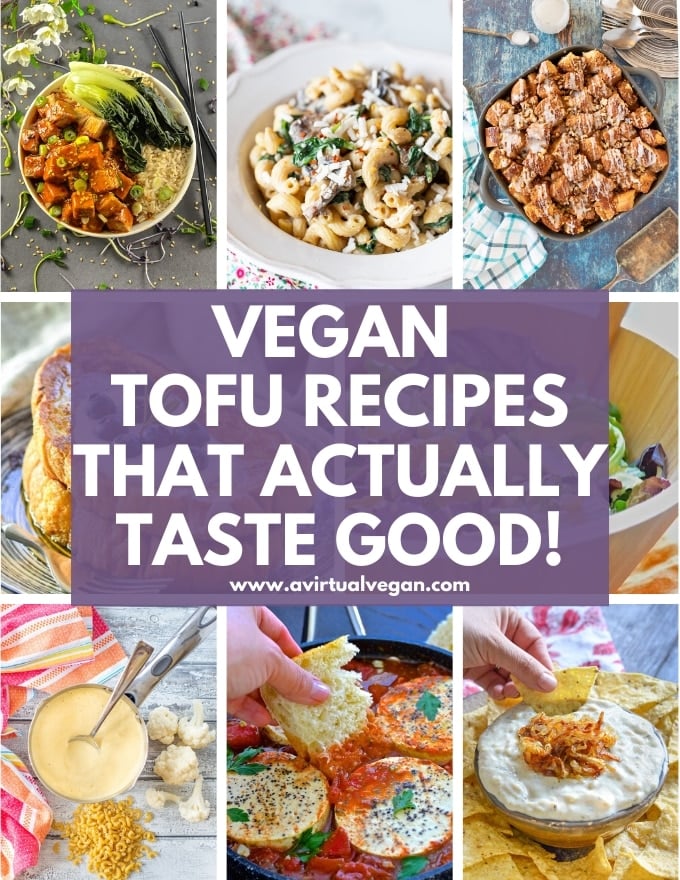 Tofu. It seems people either love it or hate it.
Some people literally have no clue what to do with it so never consider buying it, and some people have been traumatized by a badly cooked recipe at some point in their life and have avoided it at all costs ever since. And then there are the people who are wary of it because of the stories that go around regarding it's affect on our health. If you are one of them, have a read of this article about soy from The Physician's Committee for Responsible Medicine.
I'm not up for debate around soy here by the way. I have no time for the vegan food police that always turn up when soy or oil or sugar is mentioned and I don't want to hear that it's poison or will kill me, or that it will give Mr AVV man boobs ;O)
Isn't it strange that something that has existed for centuries, is so misunderstood?
I find that most of the people I talk to, who believe they don't like tofu, have not actually prepared it properly. Correct preparation and cooking is what makes all the difference, but before we get on to my collection of amazingly delicious vegan tofu recipes, let's learn a little more about what tofu is.
WHAT IS TOFU?
Tofu is made from soybean milk and soy bean milk is made from mature white soybeans, then boiled, curdled, and pressed, in a very similar way to how cheese is made. To make the milk, the soybeans are first soaked, then ground up and warmed with water. They are then strained and become soy milk. That milk is then combined with a coagulant and simmered until the curds and whey separate, then the curds are placed into molds and pressed until the whey drains out and a block of tofu is left. The firmness of the tofu depends on how long it is pressed. If it is pressed longer, more whey is removed, creating firmer tofu.
WHAT DOES TOFU TASTE LIKE?
Tofu has a very neutral, mild flavour and straight out of the package, it's pretty plain and boring. Much like unseasoned, plain chicken would be. The great thing about it though, is that it takes on the flavour of whatever you cook it with.
TIPS FOR PREPARING TOFU
It is really important that you buy the right tofu for the recipe you are making. Always check the type of tofu that is specified in your recipe before you get going. It comes in many different varieties. These include, soft, firm, extra-firm and super-firm, as well as soft silken, firm silken and extra-firm silken.
Most tofu (except soft and silken) benefit from being pressed. You can buy a Tofu Press to do this. If you have never seen a tofu press before, this is an example of two of the most common kinds:
I have the EZ Tofu Press which is the bottom one. I prefer it because you can fit all different sized blocks of tofu in it and you don't need to cut them to fit.
And if you don't own a tofu press, you can still easily press your tofu. you just need to get creative. Open the package, drain out the liquid, wrap the tofu in a clean absorbent cloth or some paper towels and pile some heavy things on the top of it. Cookbooks work well! Leave it for about 30 minutes or longer if you can.
Not only does pressing improve the texture, it also helps with the flavour. If you don't press out the water that's already in it, then the flavours you are using when cooking won't get in.
Once the tofu has been pressed fill it with flavor by marinating it or seasoning it really well. People don't eat meat just as it is. They season it up with herbs and spices. You need to do the same with tofu.
My favourite tip for getting the very best texture from extra firm tofu, is to put the whole unopened package in the freezer as soon as you buy it. Then defrost it when you need it, and press it once it has defrosted. Don't ask me why, but it really improves the texture, and it's something that I do every-time I buy it.
Coat tofu in seasoned cornstarch (cornflour in the UK) then pan fry to make it super-duper crispy.
HOW TO COOK TOFU
Tofu is not just for stir fries. It is a really multi purpose ingredient, as you will see from my collection of Vegan Tofu Recipes below. You can cook tofu by baking it, sautéing it, scrambling it, poaching it, make sauces with it. You can even use it is an egg replacer.
The most common ways to cook tofu are:
Oven baked tofu – (best made with extra firm tofu)Press the tofu, cut it into pieces, place in an oven proof dish, cover with marinade/sauce (allow it to soak in for about 30 minutes if you can), then bake at around 400°F for around 30 minutes until golden brown.
Sautéed tofu – (best made with extra firm tofu) Toss pressed tofu cubes in cornstarch, then sauté over a medium heat with a little oil of choice until golden and crispy. You can also skip the cornstarch and sauté the cubes in a little of whatever sauce you are using until they get sticky and slightly crusty and super yum.
Scrambled tofu – (best made with medium firm tofu although extra firm is ok too) Scrambled tofu is an excellent scrambled eggs replacement. I don't press mine when I scramble it. Just heat a pan over a medium heat, and crumble the block of tofu into it with your fingers. You can add chopped vegetables, herbs and spices and even some Kala Namak to give it an eggy flavour.


---
So now we've talked about all of the different varieties of tofu, how to prepare tofu and how to cook tofu, let's see some recipes that use it.
Here are my Vegan Tofu Recipes That Actually Taste Good and will transform that white block of soy bean curd, in both unexpected, and super tasty ways.
---
VEGAN FRENCH TOAST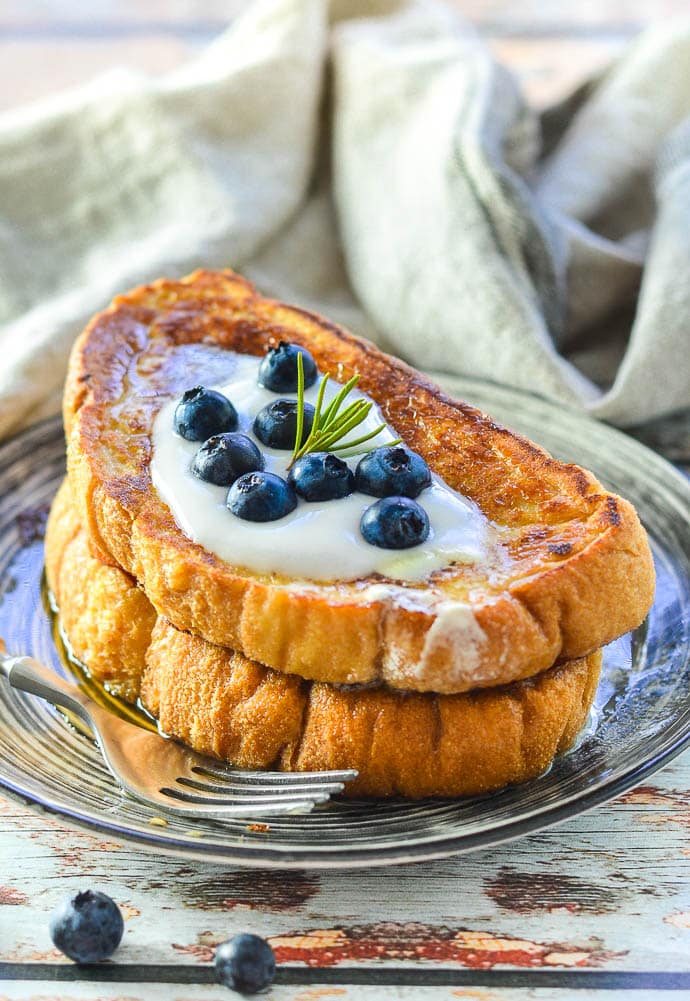 Your brunch dreams are about to come true with THE best Vegan French Toast ever! It's soft, sweet, vanilla scented, golden perfection & all you need to make it are a few simple ingredients & 15 minutes. Here tofu is used in place of eggs to make the "custard" that you soak the bread in before cooking.
---
VEGAN FRENCH TOAST CASSEROLE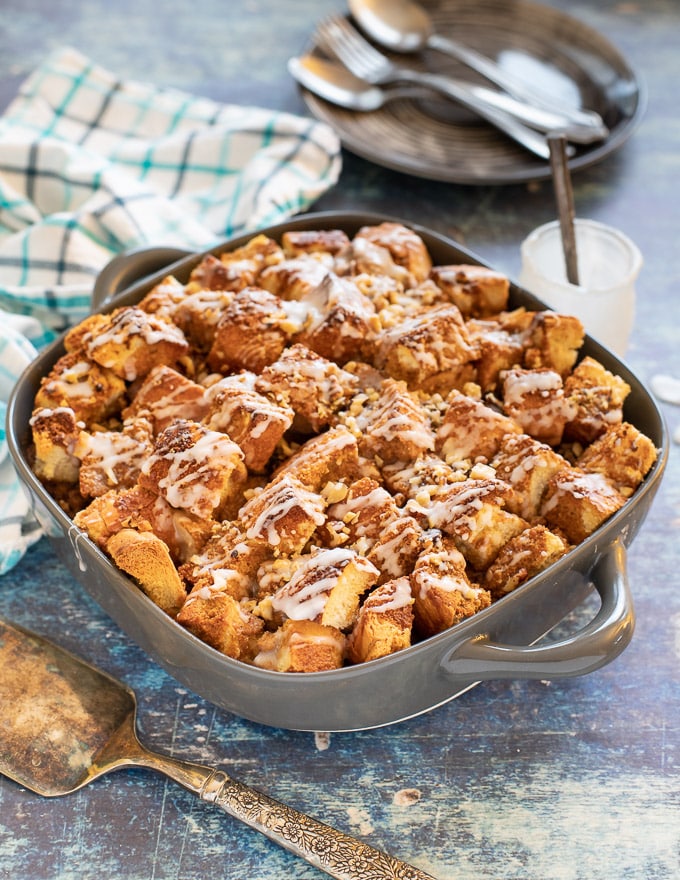 In this Vegan French Toast Casserole, cubes of crusty bread are drowned in cinnamon infused custard that is made with tofu, then baked until crispy & toasty on top, & soft and custardy (but not soggy!) underneath. Then comes the drizzle of frosting which takes it over-the-top. It's perfect for feeding a crowd & can even be prepped the night before if you need to.
---
TOFU IN PURGATORY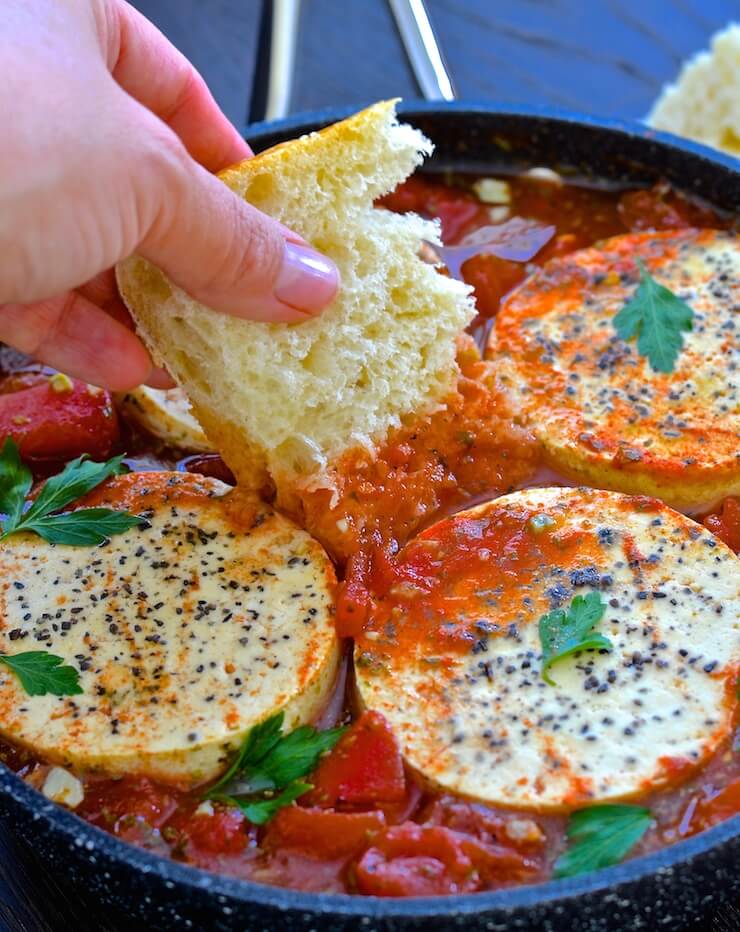 Silky, soft tofu rounds cooked gently in a fiery, garlicky and chunky tomato sauce. Tofu in Purgatory is the perfect brunch dish!
---
VEGAN FETA CHEESE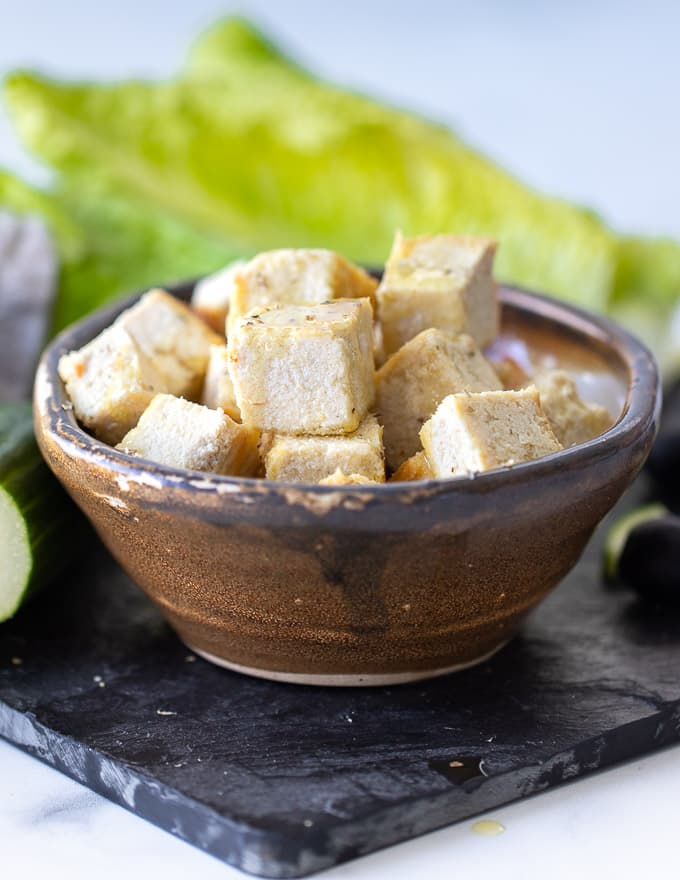 Vegan Feta Cheese that actually tastes like feta cheese and crumbles like real feta cheese and is cheap and easy to make! Oh and if you love feta, check out my amazing Vegan Spanakopita recipe too!
---
VEGAN CREAM CHEESE
Super quick & easy to make Vegan Cream Cheese. It's creamy, rich, tangy and delicious. Just perfect for spreading, snacking and dipping!
---
VEGAN SPINACH ARTICHOKE DIP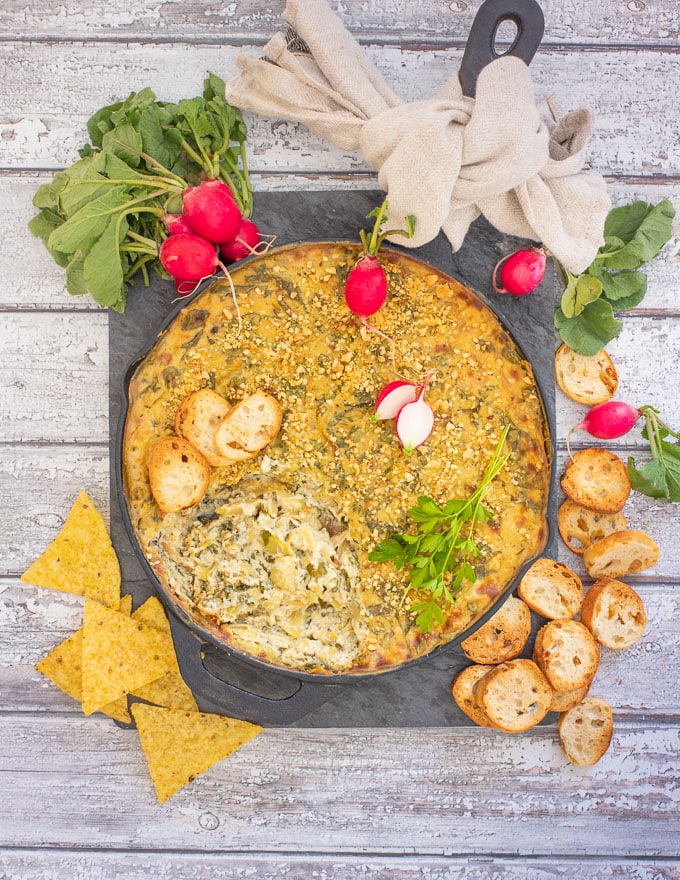 Warm, soft, rich and creamy Vegan Spinach Artichoke Dip. Chock full of spinach and briny, zesty artichokes and full of flavour. Just perfect for serving on game day or at parties, or for indulging in on a treat yo'self kind of night! Amazing served warm but also good at room temperature.
---
CREAMY VEGAN GARLIC ONION DIP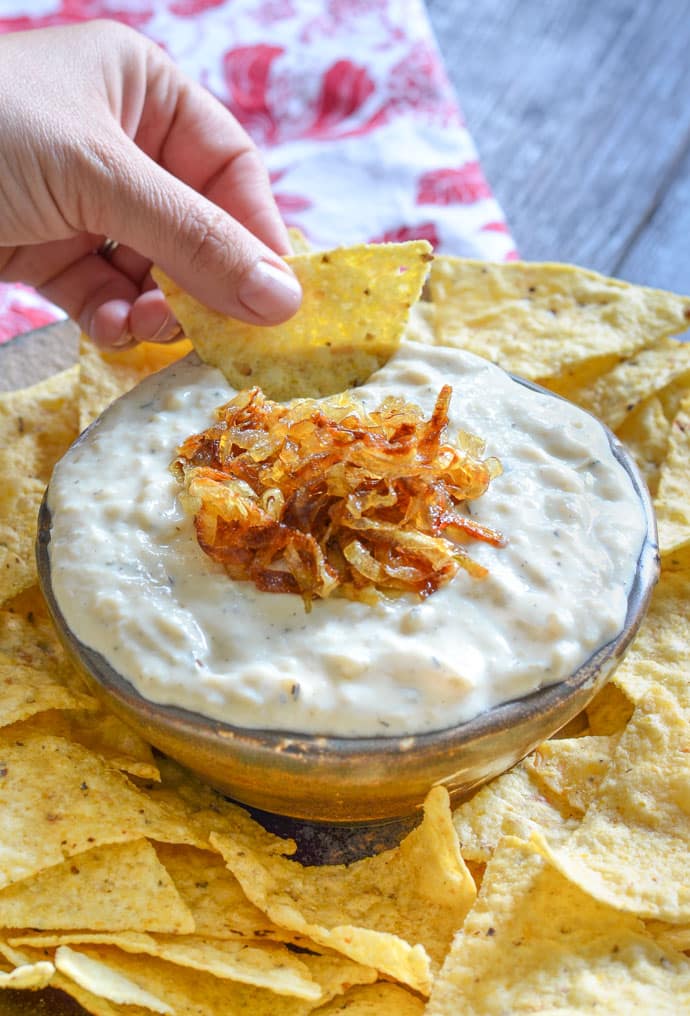 A deliciously cool, creamy (thanks to tofu) & nut-free Vegan Onion Garlic Dip. Full of sweet roasted garlic & caramelized onion flavour & perfect for your next party!
---
VEGAN SCRAMBLED EGGS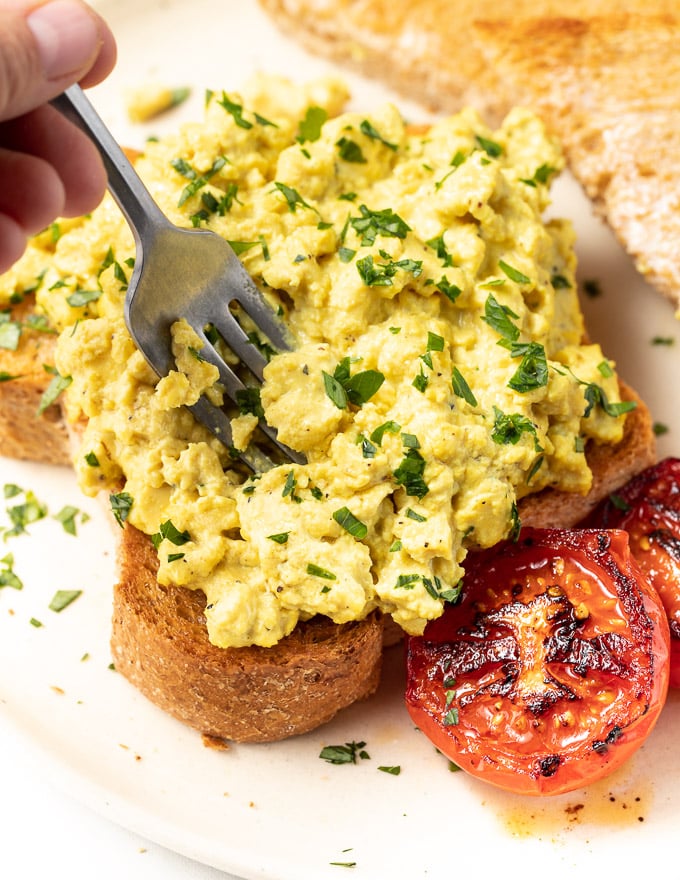 This easy foolproof recipe will get you perfect Vegan Scrambled Eggs every time!. We're talking soft, rich, buttery, on the verge of custardy and just perfect for piling on thick, hot, buttered toast. And as an added bonus, it packs a massive protein punch of 14 g per serving!
---
CREAMY ASPARAGUS LEMON PASTA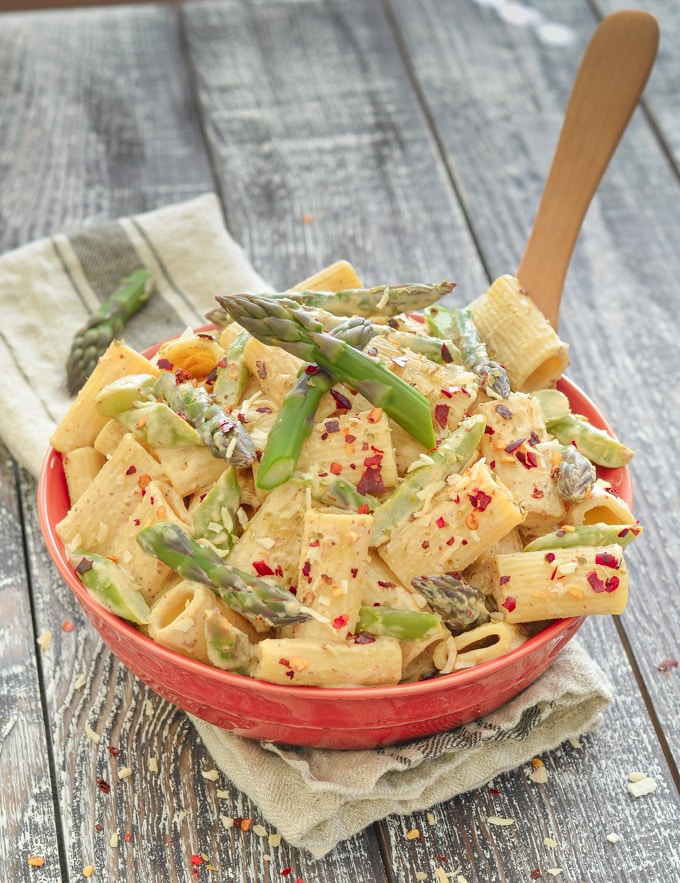 This Creamy Asparagus Lemon Vegan Pasta Salad is fresh & delicious, super easy to make, and perfect for quick mid week meals, make ahead lunches and gatherings! It's also high in protein and low in fat thanks to tofu!
---
EASY COCONUT TOFU
Simplicity at it's best! With just two ingredients & 35 minutes of your time you could be tucking into this delicious Easy Coconut Tofu. Could it get any better? ……. Well yes actually…..Because it's gluten-free, oil-free, low fat and has 10 grams of protein per serving!
---
FIVE SPICE TOFU WITH CHILI GINGER SAUCE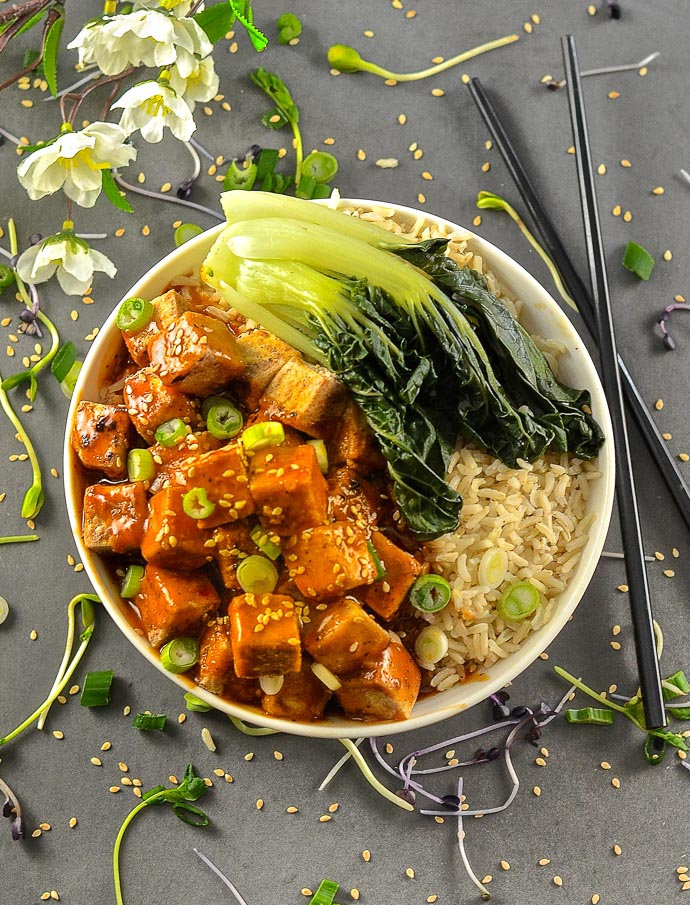 This Five Spice Tofu with Chili Ginger Sauce is so fast and easy to make. It's sweet, sticky & spicy with amazing depth of flavour. A perfect mid-week meal!
---
EASY VEGAN CHEESE SAUCE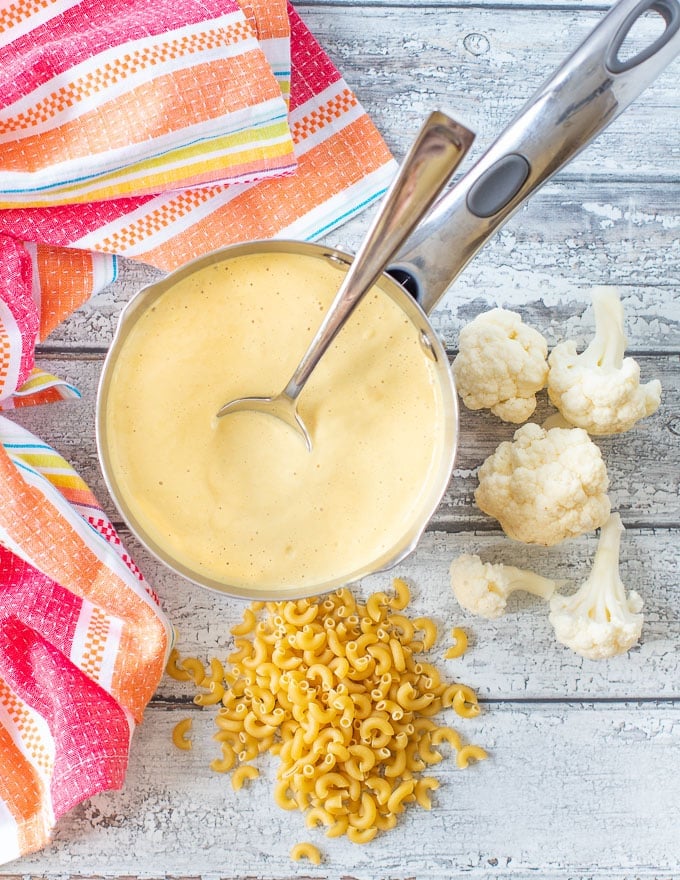 A silky smooth, lusciously creamy, Vegan Cheese Sauce that is nut free, gluten free and really low in fat, thanks to, you guessed it, tofu! Whip this fantastic sauce up in minutes in your blender!
---
VEGAN SPANAKOPITA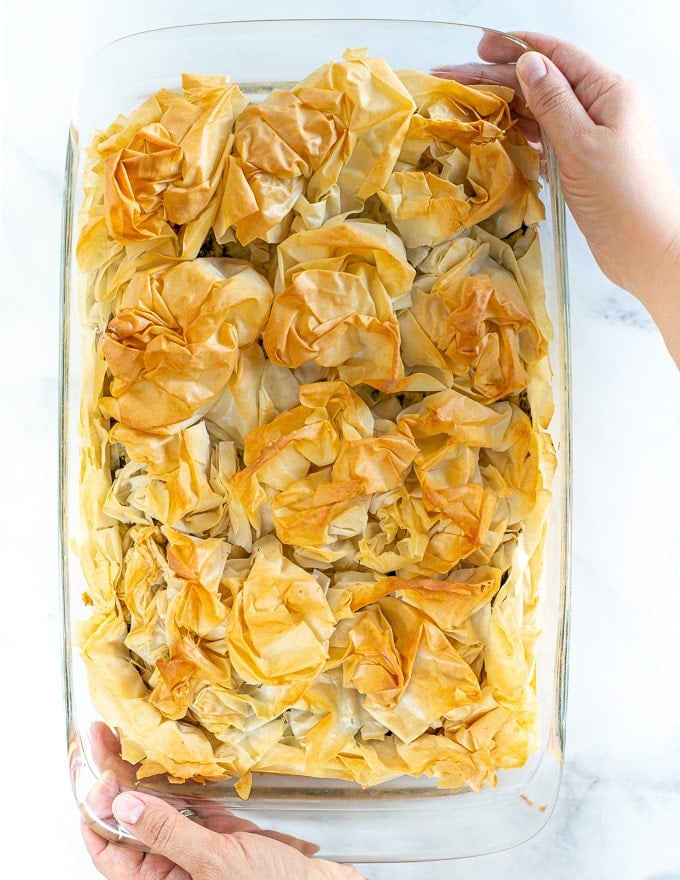 Vegan Spanakopita. My take on the great Greek spinach and feta pie! Featuring shatteringly crisp phyllo pastry, and a soft, salty, feta-cheesy, spinachy filling, all baked up to golden perfection. Comfort food at it's finest.
---
CREAMY VEGAN MUSHROOM PASTA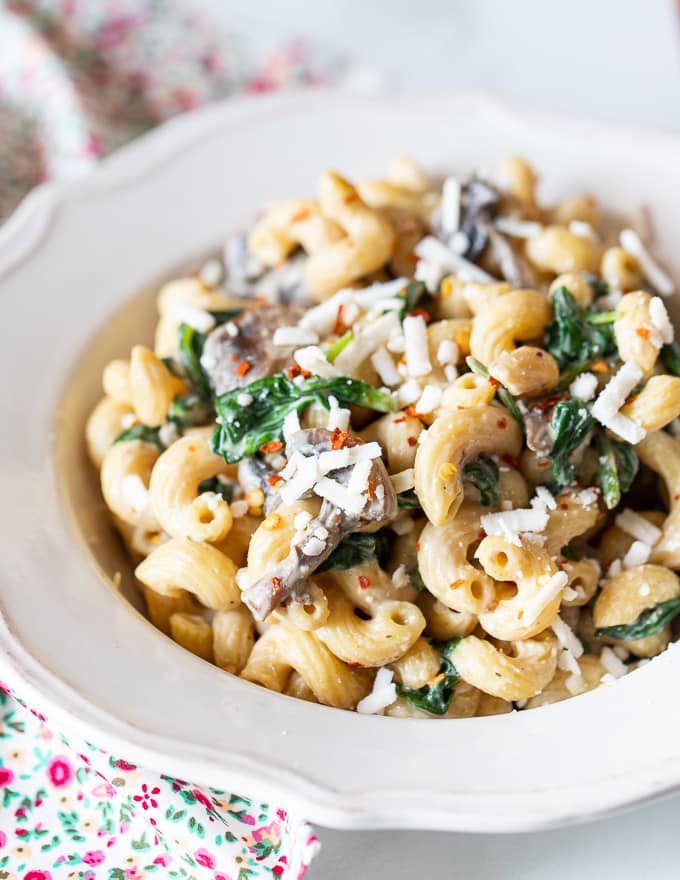 This Creamy Vegan Mushroom Pasta recipe is quick and easy to make. We're talking chewy, dense pasta, loaded up with sautéed mushrooms and spinach, and tossed in a heavenly, but low fat, creamy sauce that is made from silken or soft tofu. This recipe can be ready in a little over the time it takes the pasta to boil!
---
SMOKED TOFU SALAD WITH DRIED APRICOTS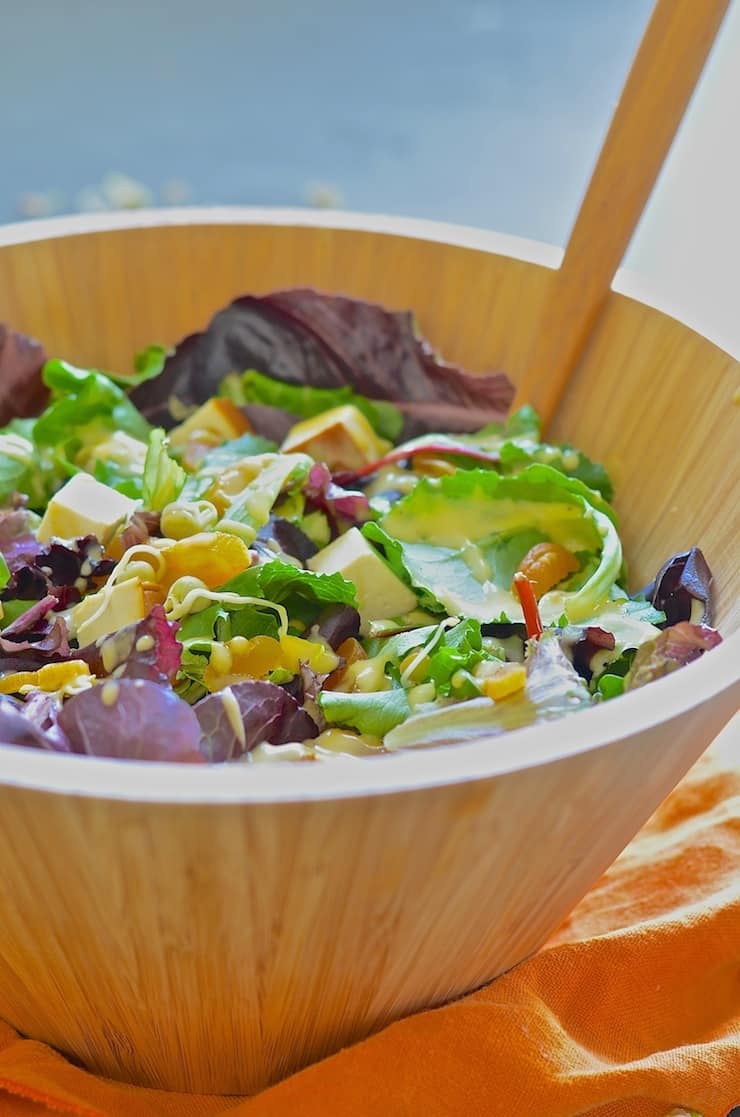 Smoky, smooth smoked tofu, chewy apricot & a colourful salad, tossed with an awesome creamy Asian inspired apricot dressing. Healthy, fresh, vibrant & delicious!
---
STICKY COCONUT LIME PAN-FRIED TOFU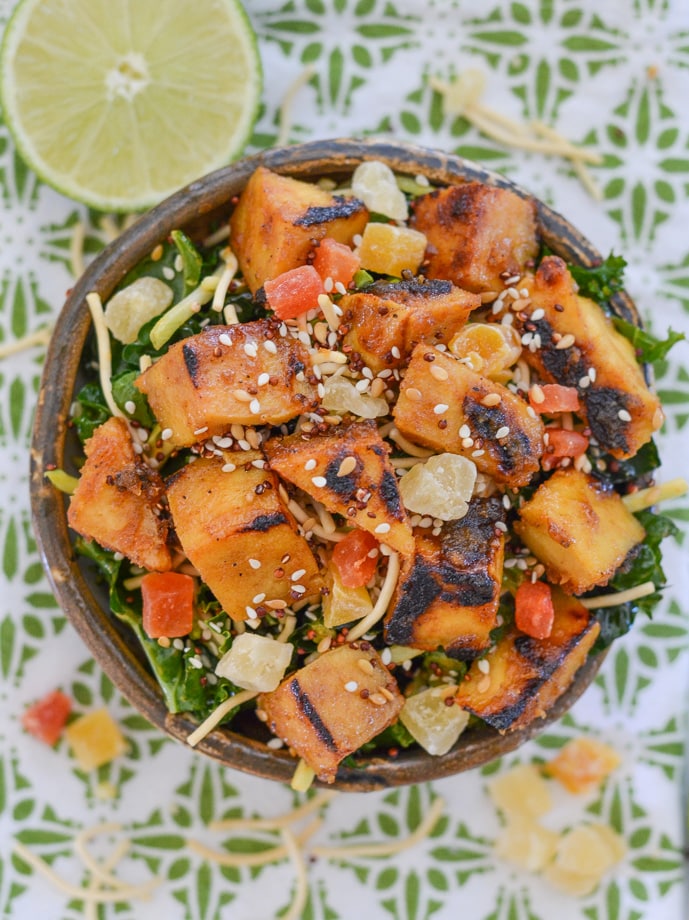 This Sticky Coconut Lime Pan-Fried Tofu is a complete flavour explosion. The tender nuggets are sticky, sweet, slightly tart & so satisfyingly delicious. It's so hard not to eat them straight from the pan…..
---
That's all the delicious vegan tofu recipes I have for now, but I will add to this post as and when I create more. In fact there's a new one on it's way very soon and I am so excited about sharing it!