This easy foolproof recipe will get you perfect Vegan Scrambled Eggs every time! We're talking soft, rich, buttery, on the verge of custardy and just perfect for piling on thick, hot, buttered toast. And as an added bonus, it packs a massive protein punch of 14 g per serving!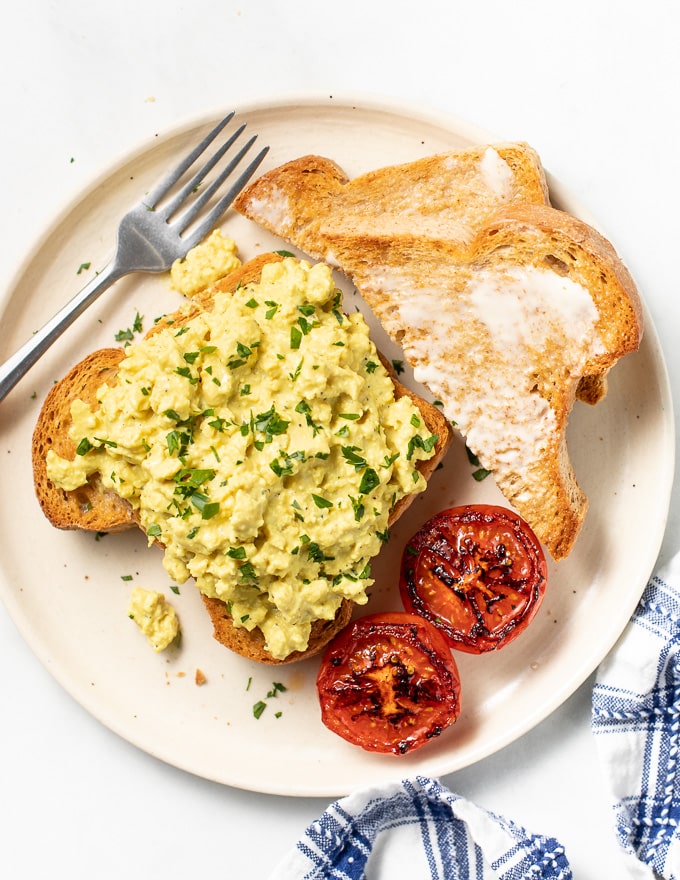 I know what you're thinking: Do I really need a recipe for Vegan Scrambled Eggs? If you just want a plate of regular tofu scramble, then no. But if you want rich, buttery, soft on the verge of custardy, scrambled "eggs" that will change your brunching life, then yes. Yes, you do.
And the good news is that today is your day. This plate of creamy, silky Vegan Scrambled Eggs has your name on it and is ready to top that thick, thick golden toast that's slathered with vegan butter.
Jump to:
It's a vegan version of scrambled eggs that's a bit more special than tofu scramble. Because just crumbling dry tofu into a pan really isn't the same as stirring beautifully soft and creamy scrambled "eggs" in a skillet.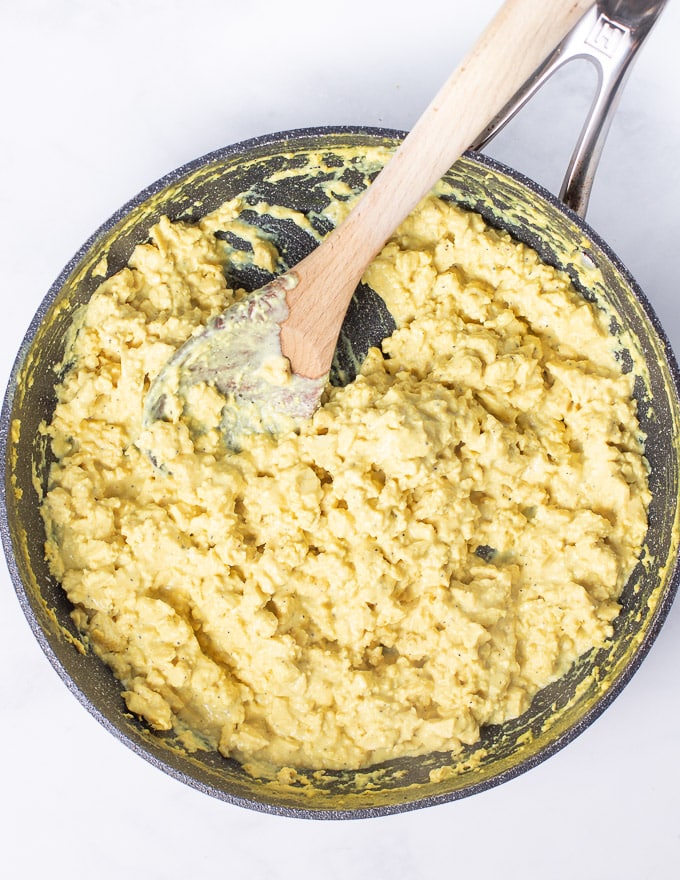 Are eggs vegan?
A vegan diet by definition excludes all animal products, so for this reason eggs can never be vegan. That's why I'm bringing you vegan versions of your favourite dishes like scrambled eggs and vegan quiche!
But now the serious bit, for those of you who might not know and are wondering what's so wrong with consuming eggs. 
The egg industry is a particularly cruel one with female chickens bred to lay way more eggs than nature intended. Naturally, with no manipulation, chickens lay roughly 15 to 20 eggs a year. On egg farms they produce 250 to 300 eggs per year.  This means they spend their entire lives suffering. 
Egg-laying hens are almost always kept in very poor conditions and after 18 months, are classed as "spent" because their little bodies can no longer keep up with the demand of laying an unnaturally high number of eggs. They are sent to slaughter when naturally they could live for around 12 years. 
In hatcheries, hens are needed because they lay the eggs. Males are surplus to requirements which means that as soon as they hatch, they become a waste product. They are either ground up alive in a macerator or gassed to death, usually within 15 minutes of hatching from their egg.
Whether from a battery farm, a free-range farm or an organic farm, all the hens and the chicks face the same fate, and even well-meaning people who keep chickens in good conditions at home often end up purchasing chickens from a hatchery, or chickens that originated from a hatchery, so are still inadvertently funding their barbaric practices.
We all vote with our dollars and by avoiding eggs, we are sending the message that we won't support the egg industry. And to be absolutely honest, we really don't need them. There are many vegan substitutes for eggs and it is possible to make great versions of just about all recipes that traditionally use eggs. For some of my recipes, check out the links at the end of this post.
So that's it with the seriousness. Let's get back to business and make some of this without harming any chickens: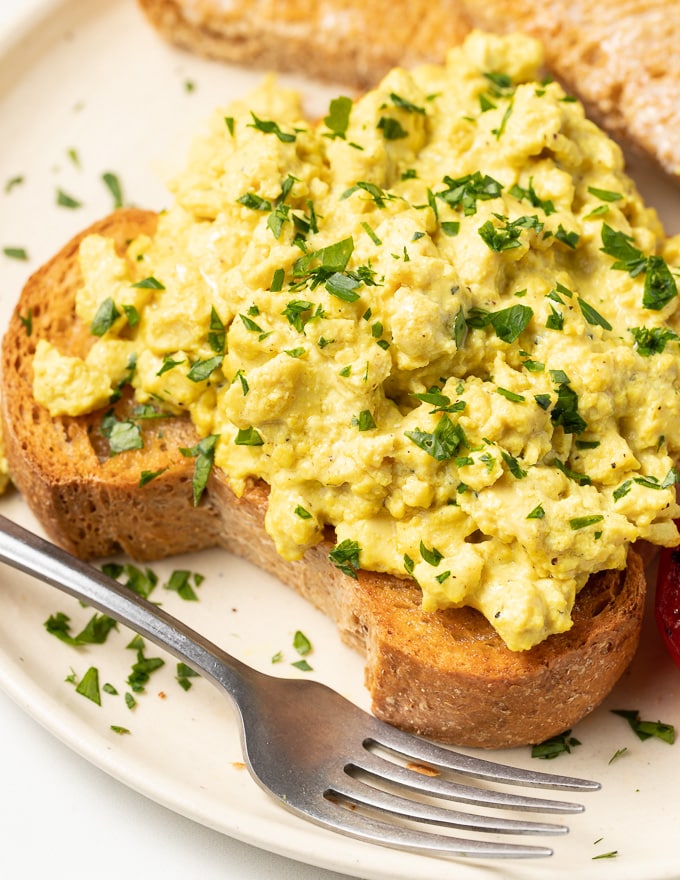 How to make Vegan Scrambled Eggs
For detailed measurements and instructions, see the printable recipe card.
Here's the rundown on what we've got going on in this tofu scramble and why:
Tofu - Medium firm, firm or extra firm for the crumbles and also silken to blend up for the custardy rich part. I know I'll get asked by some people if there is an alternative for the tofu and I am afraid in this case there isn't. Nothing else will be the same in this recipe. If you don't like tofu it's best to find another scramble recipe, or give my vegan omelette a try instead!
Kala Namak (otherwise known as Black salt) - This is what makes your scrambled "egg" next level. Kala Namak has a distinctive sulphurous taste and smell and is what gives this recipe it's eggy flavour. Some grocery stores carry it, and most Indian grocery stores do. You can also pick it up from Amazon quite cheaply here. A little goes a very long way and it keeps for ages. please note, if you haven't bought it before, that it's not black despite it's name. It's actually a pinkish grey colour.
Almond Flour - It adds butteriness and richness. If you are allergic to nuts you can omit it.
Turmeric - For a boost of yellow colour
Mustard, Salt, Pepper, Garlic Powder & Onion Powder - Flavour, flavour, flavour. You don't get any mustard taste in the finished recipe but it works with everything else to add depth to the flavour and cover up any tofu taste.
Cornstarch - to thicken
Plant Milk - To create the moist, "eggy" custard. It must be unsweetened but other than that there are no restrictions. Feel free to use whatever one you usually have at home.
Nutritional Yeast - Purely for umami flavour. It won't make your scrambled eggs taste cheesy because there isn't enough, although feel free to chuck in an extra handful if you are so inclined ;O)
And here's how we do it:
Step 1- Crumble up your firm tofu into small pieces.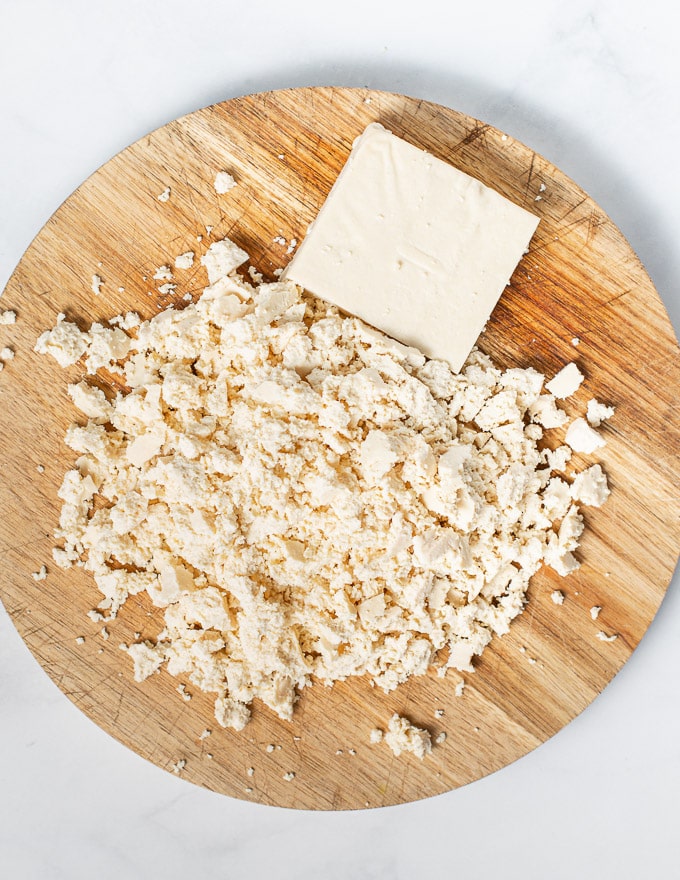 Step 2 - Blend everything else, except the vegan butter, up in a blender until completely smooth and silky.


Step 3 - Warm a pan over a medium-low heat and if you aren't opposed to a bit of vegan butter, add some to the pan, then add the crumbled tofu. Omit the butter and use a non-stick pan to keep the recipe oil-free.


Step 4 - Pour in the blended mixture. It will feel a little too runny, but keep it stirring until it thickens and reduces a bit.


That's it. It's super simple to make and the custardy level is totally customizable just by cooking it for a longer or shorter time. The longer you cook it the drier it will become and remember to get your plates and forks ready because these "eggs" will continue to thicken up as they rest.
How to serve vegan eggs
My favourite way to serve vegan scrambled eggs is on thick, hot buttery toast with a drizzle of tomato ketchup.
On the side try some
grilled tomatoes
sautéed garlicky spinach or kale
vegan sausage
smoky tempeh
vegan bacon
breakfast potatoes
mushroom
avocado
salsa
Or try serving the vegan scrambled eggs:
as part of a full English breakfast
stuffed in breakfast burritos or tacos
in a breakfast sandwiches, may I suggest with some vegan bacon and avocado? <drool>
as part of an awesome bowl type meal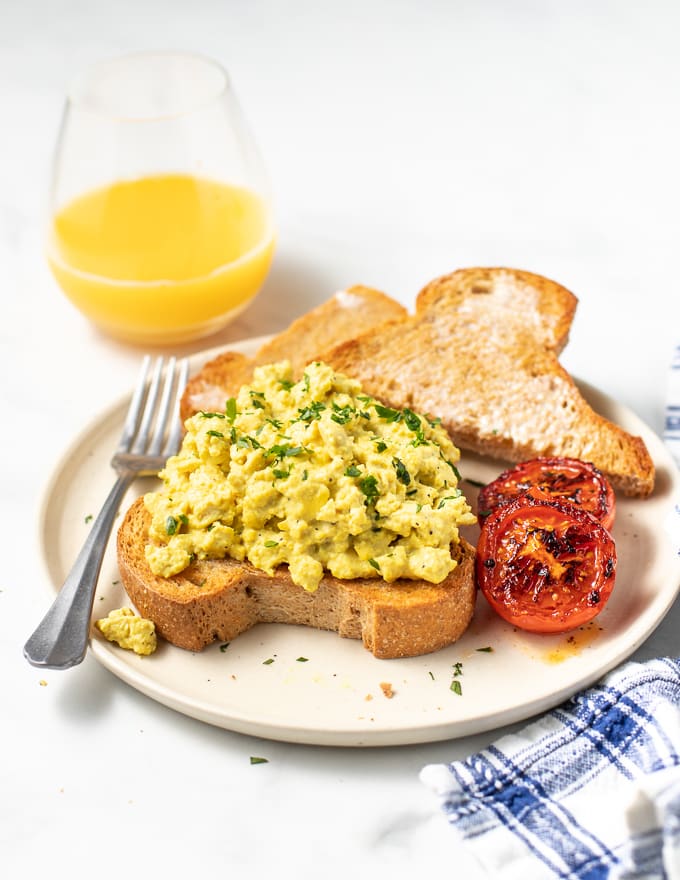 How to store & reheat
Leftovers keep well in a sealed container in the fridge for 3 to 4 days. Reheat either in a microwave or in a pan on the stove top over a low heat. They will dry out a little, so to counteract that add a couple tablespoons of unsweetened plant milk and give it all a good stir up before you begin. If it dries out more as it is warming, add a little more milk as necessary.
Some ways you can adapt this recipe
This tofu scrambled eggs recipe is perfect just as it is, but you can also use it as a base. Add seasonings, vegetables and condiments to them just as you might do to regular scrambled eggs.
Here are some ideas:
Vegan Feta and Za'atar
Add some za'atar to the "eggs" in the pan while cooking, then. Crumble up a couple tablespoons of my vegan feta cheese and add it just before serving. Sprinkle with a little more za'atar as you serve.
Vegan Cheese
Stir a handful or 2 of vegan cheese through the scrambled "eggs' half way through cooking.
Soy sauce and green onions
Add a tablespoon or 2 of soy sauce to the scrambled "eggs" while cooking (omit the salt but not the kala namak (black salt) . Stir 2 a few sliced green onions through the "eggs" right before serving.
Cream Cheese and Chives
Stir a few tablespoons of vegan cream cheese and some finely chopped fresh chives into the scrambled "eggs" halfway through cooking.
Sweet Peppers and Onion
Sauté some sweet or hot peppers with some onion and garlic and stir them through the cooked scrambled "eggs" before serving.
Fresh Herbs
Throw a handful or 2 of fresh chopped herbs of choice in the pan and stir through just before serving. Basil and parsley work particularly well.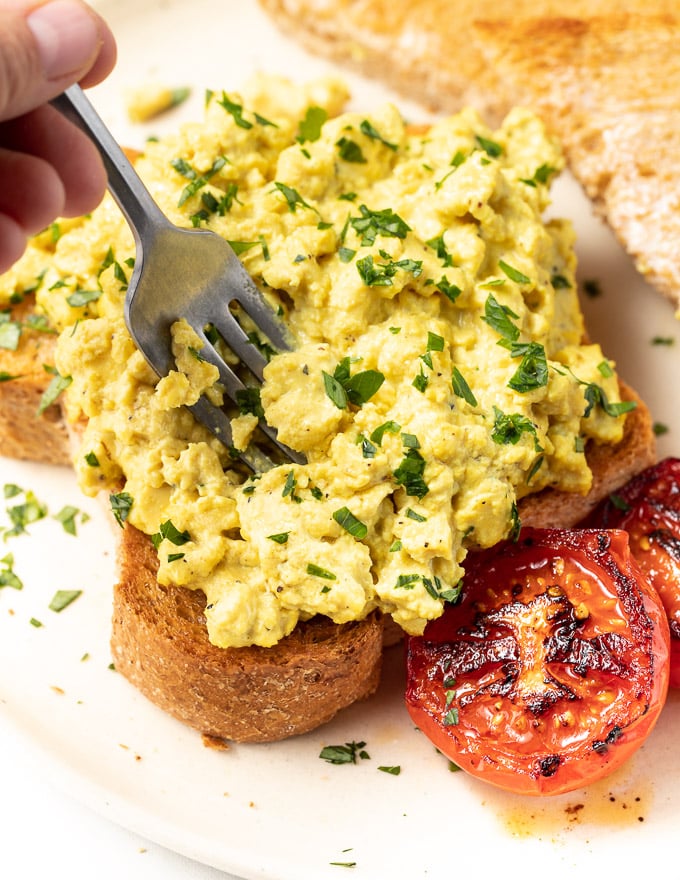 Success Tips
An easy way to crumble your tofu is to put it on a heavy wooden cutting board and "mash" it with a potato masher. It crumbles really easily like that and is much less labour intensive than doing it with your fingers.
The silken tofu mixture must be blended until absolutely silky smooth. You will need a blender for this.
Cook over a medium low heat and no hotter. Too hot and it will get dried out and we want to keep that lovely melty creaminess. Better too low a heat than too high.
I use vegan butter for these eggs. You should too if you want them to be rich and buttery. You could use oil, but the flavour won't be as buttery. Feel free to omit the butter completely if you eat an oil-free diet though. Just be sure to use a non-stick pan.
For the tofu crumbles, choose your tofu according to how firm you would like your "eggs" to be. I like to use medium firm tofu but firm or extra firm is fine but will give you a little less softness.
Cooking for a crowd? You can easily double or triple this recipe.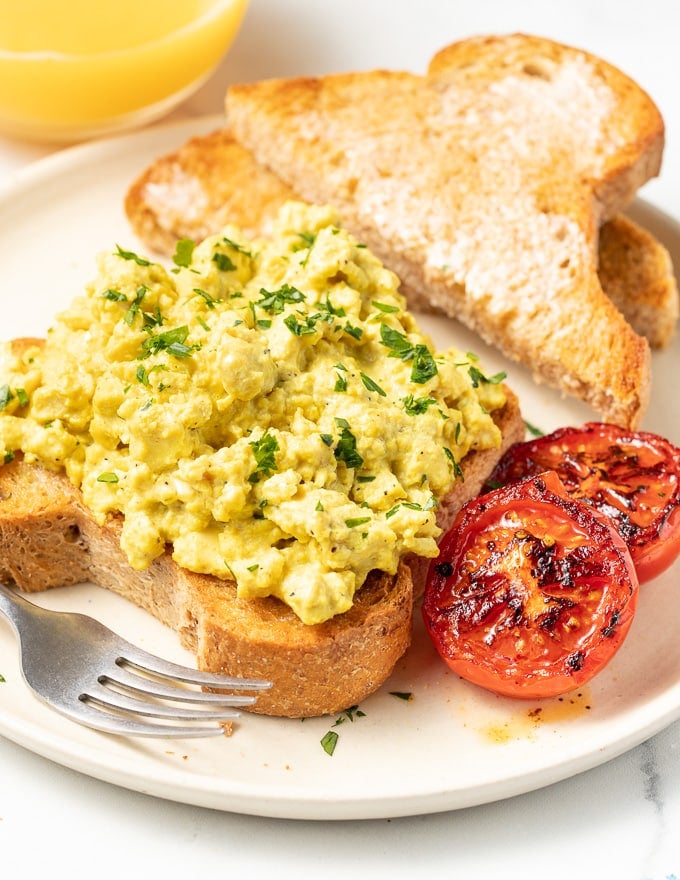 ---
And so to recap, these egg-free scrambled "eggs" are:
simple & hearty
easy to make
kid friendly
more eggy in texture than plain tofu scramble
soft and custardy
very filling
absolutely protein packed (14 g per serving!)
a bit more special than regular tofu scramble
a great way to start the day or end the day!
---
Hungry for more?
As well as this Vegan Scrambled Eggs recipe I have many other vegan recipes that are traditionally egg-based. Check them out and see the power of plants for yourself:
📖 Recipe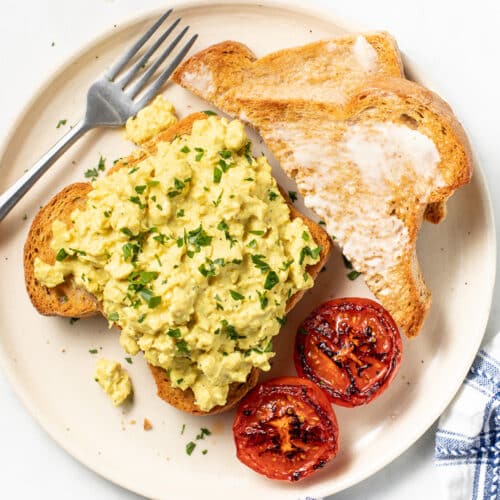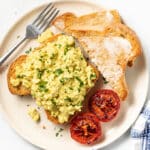 Vegan Scrambled Eggs
Author:
This easy foolproof recipe will get you perfect Vegan Scrambled Eggs every time!. We're talking soft, rich, buttery, on the verge of custardy and just perfect for piling on thick, hot, buttered toast. And as an added bonus, it packs a massive protein punch! 
Ingredients
10.5 oz / 300

g

silken tofu

, or soft tofu

½ cup / 120

mls

unsweetened plant-based milk

, it must be unsweetened

2

tablespoons

nutritional yeast

2

tablespoons

almond flour

slightly heaping ¼

teaspoon

ground turmeric

1

teaspoon

Dijon mustard

2

teaspoons

cornstarch

(corn flour in the UK), arrowroot can be used instead

1

teaspoon

Kala Namak (Indian Black Salt)

, plus more to taste. Can be omitted but you won't have the eggy taste

½

teaspoon

fine salt

, plus more to taste

½

teaspoon

black pepper

, plus more to taste

½

teaspoon

onion powder

½

teaspoon

garlic powder

2

tablespoons

vegan butter

* see notes for alternative and oil-free option

12 oz / 350

g

medium firm, firm or extra firm tofu

**
INSTRUCTIONS
Add the silken tofu, milk, nutritional yeast, almond flour, turmeric, mustard, cornstarch, Kala Namak, salt, pepper, onion powder and garlic powder to a blender and blend until completely smooth.

Crumble the other block of tofu. Either use your fingers or put it on a wooden board and "mash" it with a potato masher. It works surprisingly well!

Warm a large sauté pan over a medium low heat and add the vegan butter. Let it melt then add the crumbled tofu. Allow it to cook in the butter for a minute or two and then pour in the blended tofu mixture. Stir it all up and keep stirring it every few minutes until the texture is as you like it. It's best when it is silky and very slightly runny. That takes about 5 minutes. The longer you cook it the drier it will get. It will continue to cook a little once you turn off the heat so bear that in mind.

Once ready, check the seasoning and "eggyness" and adjust salt, pepper and kala namak as necessary then serve immediately.
NOTES
*Choose the tofu for crumbling dependant on how much "chew" you want. I prefer medium firm so it's more "eggy" in texture. 
**Vegan butter gives the best flavour but any neutral oil can be used instead. For oil-free simply omit the oil but be sure to use a non-stick pan. Don't add any water like you do when you usually sauté oil-free. Just use the dry pan. 
Cooking for a crowd? You can easily double or triple this recipe.
NUTRITION
Calories:
182
kcal
Carbohydrates:
8
g
Protein:
14
g
Fat:
11
g
Saturated Fat:
2
g
Sodium:
421
mg
Potassium:
381
mg
Fiber:
2
g
Sugar:
2
g
Vitamin A:
329
IU
Calcium:
95
mg
Iron:
2
mg
Nutritional information is provided for convenience & as a courtesy. The data is a computer generated estimate so should be used as a guide only.
Tried this recipe?
Rate it & leave your feedback in the comments section below, or tag @avirtualvegan on Instagram and hashtag it #avirtualvegan