Healthier Sweet and Sour Tofu with crispy, crunchy, chewy baked tofu, sweet, savory, fruity, tangy sauce and chunks of bell pepper, onion and pineapple. Just perfect served over fluffy rice!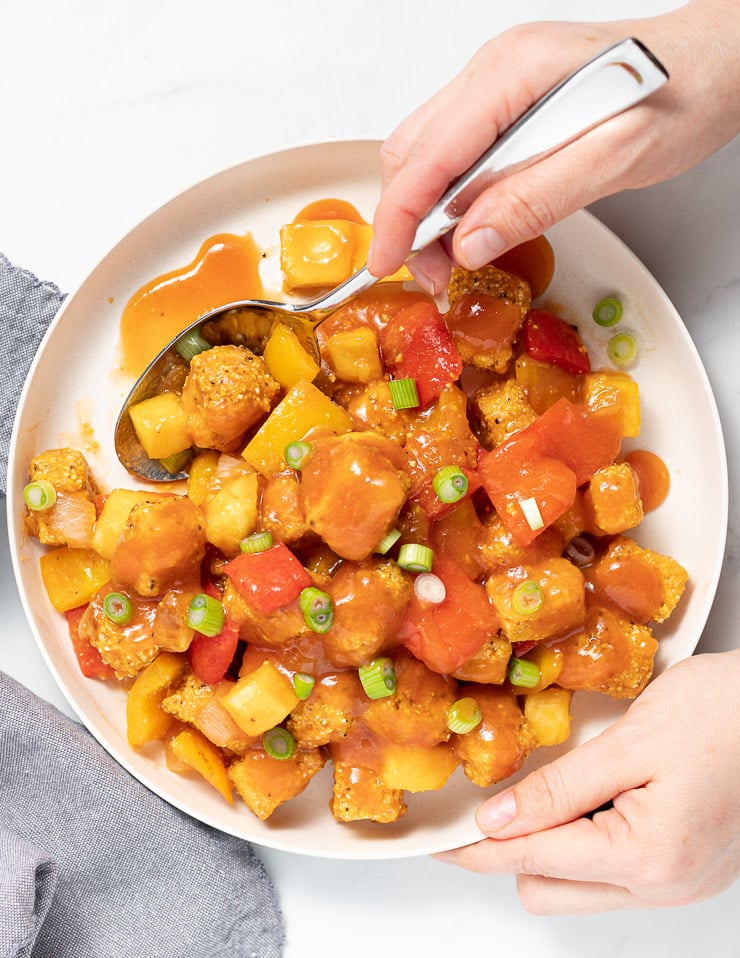 Sweet and Sour Tofu coming atcha! We're talking bite sized pieces of cornmeal coated baked crispy tofu, tossed in a sticky and sweet Healthy Sweet and Sour Sauce, with added onions, bell peppers and pineapple pieces to bring it all together.
It's easy, it's healthy and it's so good!
I'm loving it because it's:
healthy and mostly sweetened with real pineapple rather than a ton of sugar
full of flavor and texture
pretty easy to make
a great source of protein
really low in fat because the tofu is baked not fried
a great vegetarian / vegan alternative to sweet and sour chicken
Jump to:
The tofu, the veggies and that sauce coming together are just the bomb! They are the perfect blend of things I crave all the time.
Crispy, crunchy, chewy tofu, sweet, savory, fruity, tangy sauce and piles of fluffy rice. What's not to love?
Is sweet and sour sauce vegan?
Sweet and sour sauce is usually vegan but there are some exceptions.
From takeouts in particular, red food coloring is often added and that could be made from carmine. Carmine is made from beetles. I know. Gross right? On labels it could be listed as cochineal extract, crimson lake, natural red 4 or E120.
Sweet and sour sauce is also usually pretty loaded with sugar and depending where you are in the world, the sugar used in it might not be vegan.
White sugar is sometimes processed with bone char, particularly in the U.S. There are many brands that make vegan friendly sugar though so it's just a case of checking before you buy. To be absolutely safe and to save having to check, go for the organic option because organic sugar is never processed with bone char.
What is sweet and sour sauce made of?
Sweet & sour sauce ingredients vary depending on the recipe.
In China it was traditionally made with just white vinegar or rice vinegar and sugar. Sometimes a combination of fruits like pineapples, pears and vinegar were used to give a sweet & sour sauce taste.
Over time it has evolved, especially since the creation of tomato ketchup which is now commonly used in most sweet and sour sauce recipes along with vinegar, sugar, cornstarch, water or pineapple juice. Sometime soy sauce too.
My recipe is a little different though as it is fruit-based one. For this healthier sweet and sour sauce you will be needing:
pineapple
rice vinegar
a touch of sugar
tomato ketchup
soy sauce
garlic
arrowroot or cornstarch
How to make Sweet and Sour Tofu
(For detailed measurements and instructions, see the printable recipe card).
There are a couple of steps to making this Sweet and Sour Tofu but they are all super quick and easy.
Step 1: First up we need to get the tofu baking in the oven. It's as simple as dicing it then dredging it in seasoned cornmeal and laying it out on a baking tray. If you have time try to press the tofu first.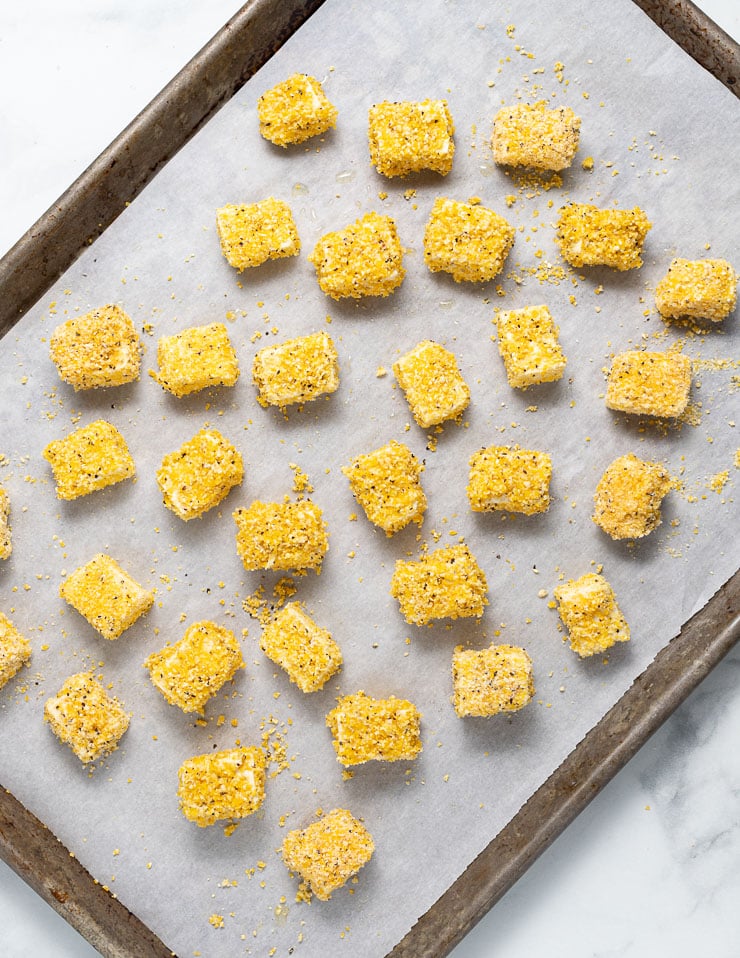 Step 2: Make sure you have the sweet and sour sauce made and ready to go.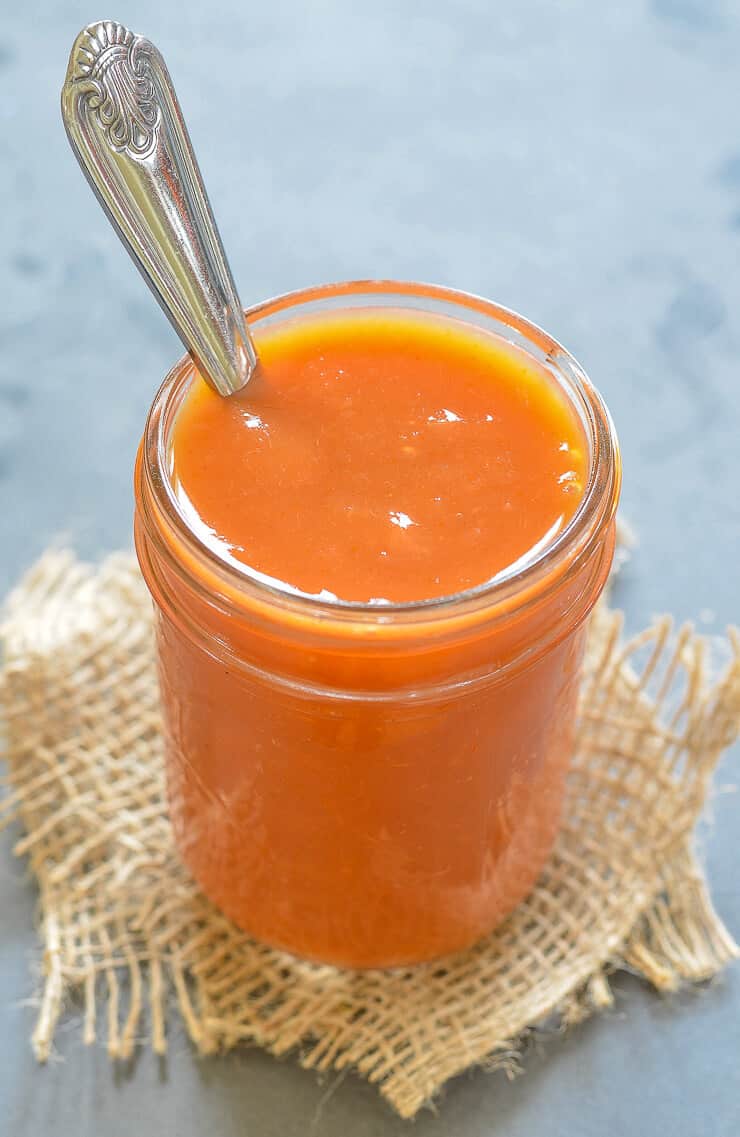 Step 3: Sauté some chunky onions and bell peppers.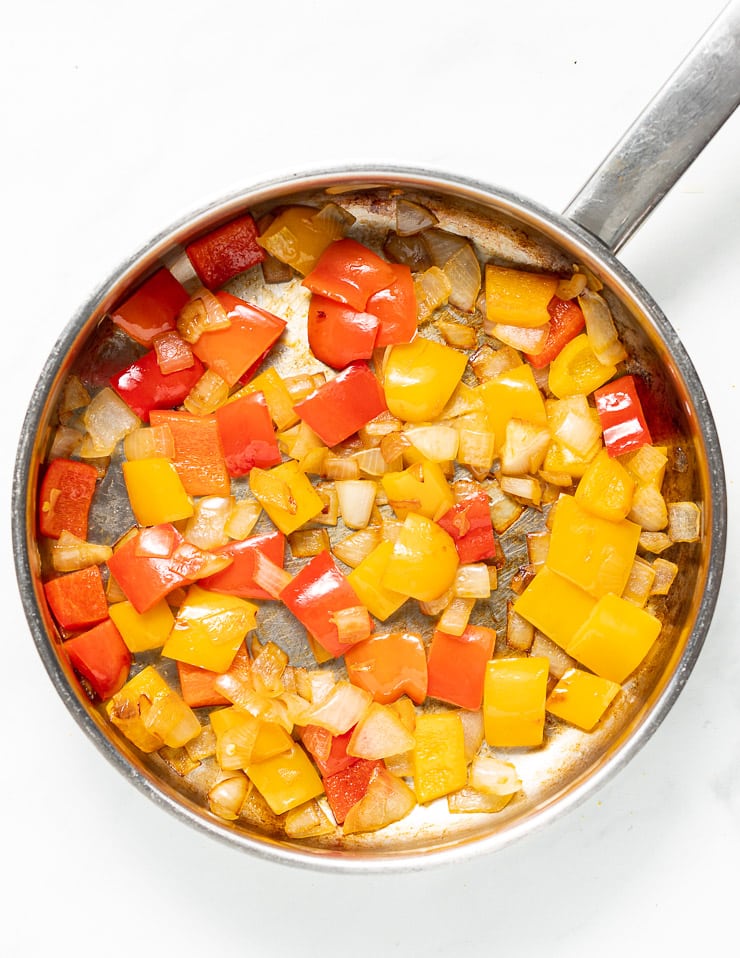 Step 4: Add the pineapple and the sauce to the pan.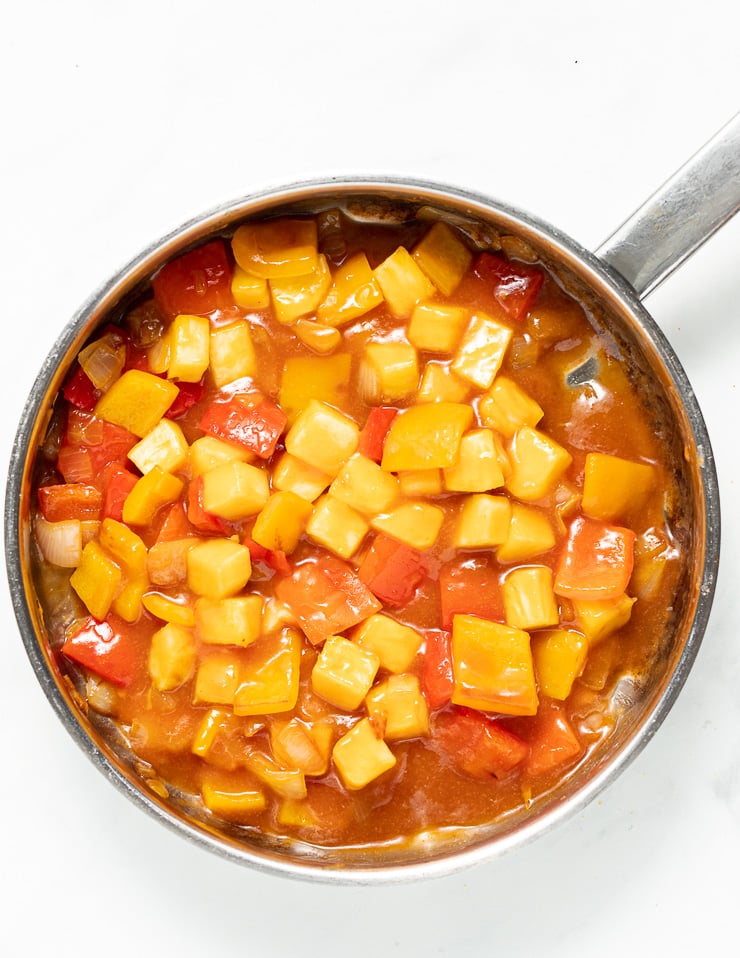 Step 5: Remove the tofu from the oven and either toss it in the saucy vegetables or pile it up on your plates/bowls and spoon the sauce over the top.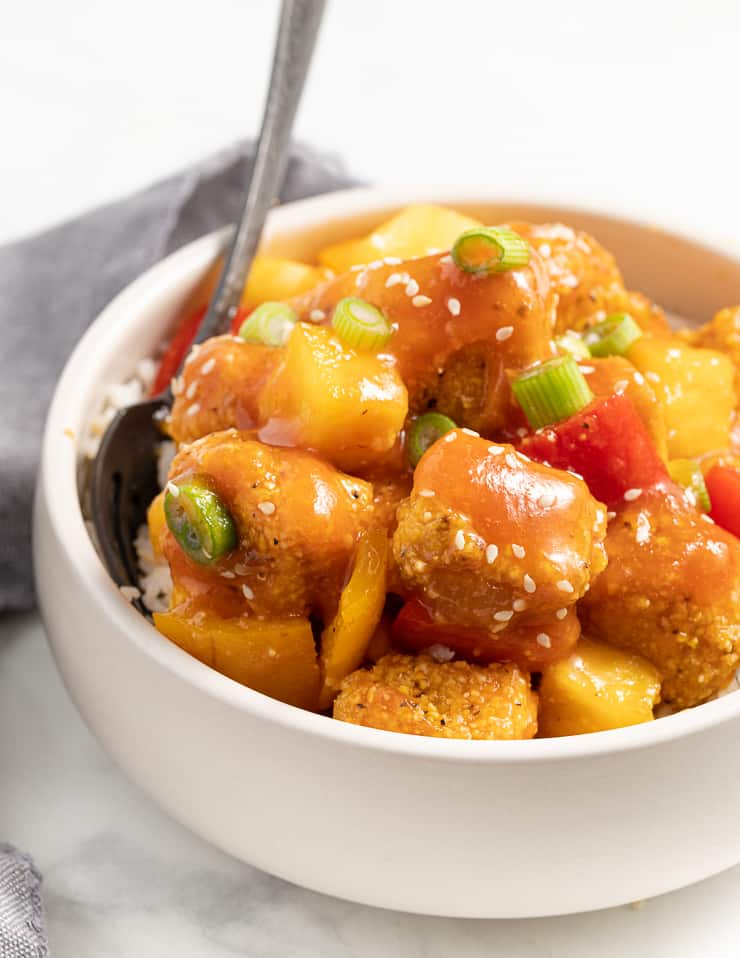 Success Tips
I really like this sweet and sour recipe made with fresh pineapple. It's much tastier than canned or frozen pineapple so if you can use it I highly recommend it.
Don't skip adding the bell peppers and onions. They play an important role in balancing the flavors.
Once you have mixed the tofu with the sauce it is best served immediately so the coating on the tofu keeps it's texture.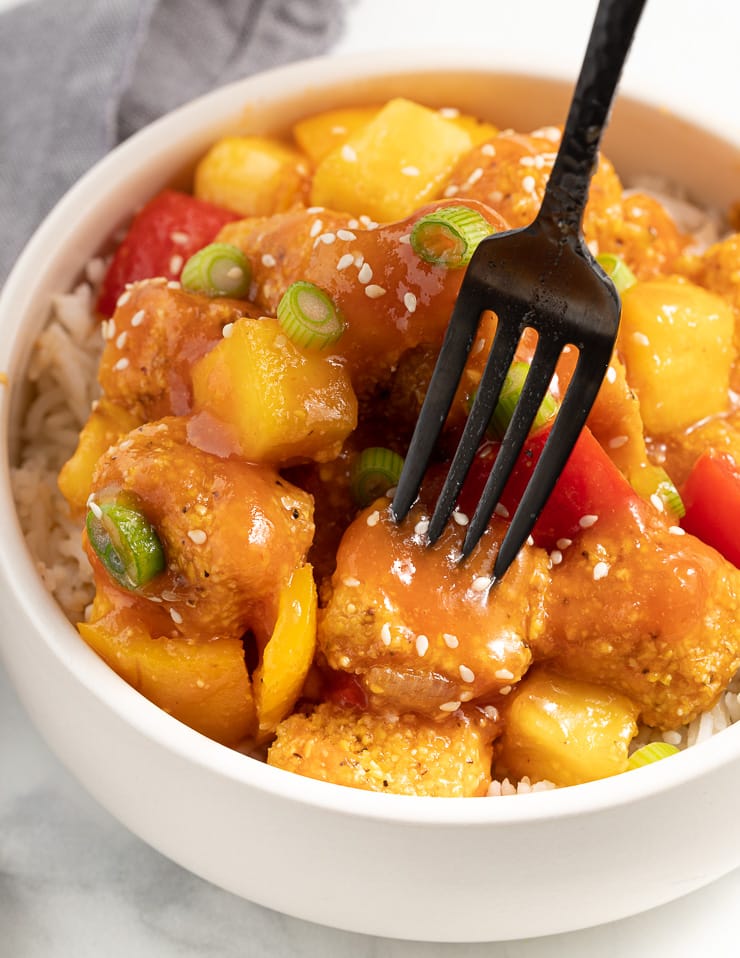 Serving Suggestions
Ideally this sweet and sour tofu recipe would be served over a pile of steaming, fluffy rice, or my mushroom fried rice. Maybe with a side of something vegetable-y. I like it with sautéed Chinese broccoli, bok choy or roasted broccoli. It's also great with noodles or riced cauliflower instead of rice.
Some toasted sesame seeds and green onions work really well scattered over the top.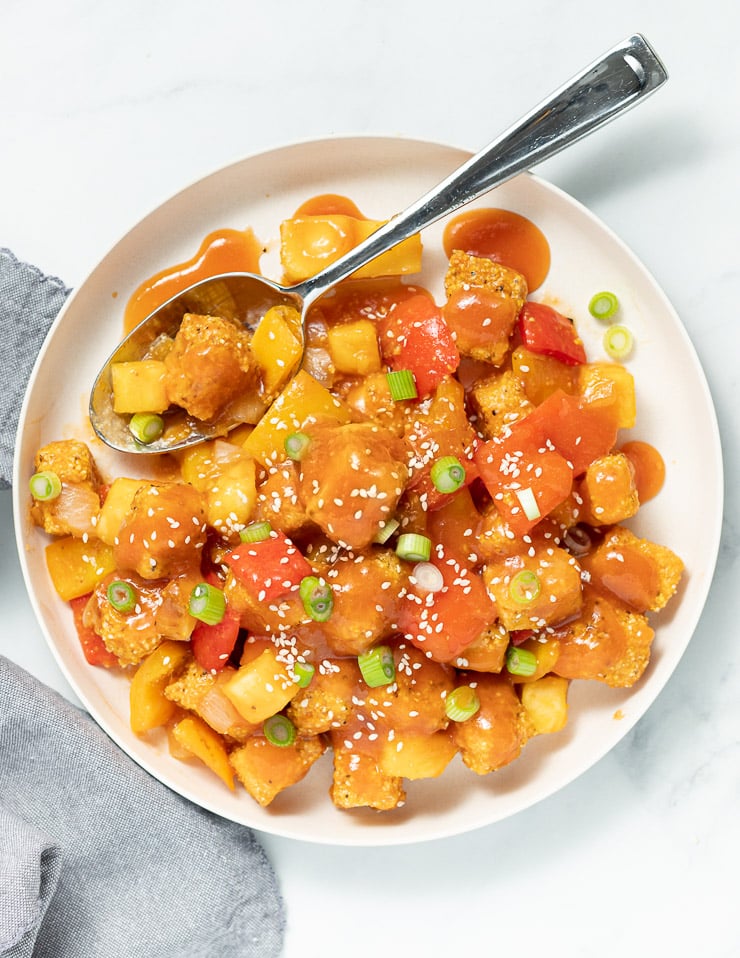 Variations
Feel free to adapt with Sweet and Sour Tofu recipe. Here are some ideas:
Add extra veggies like baby corn, carrots, crunchy water chestnuts, asparagus, mushrooms, edamame beans or broccoli.
Add some chili flakes or hot sauce to the sauce to spice it up and make sweet and spicy tofu!
Use any baked/fried tofu that you like instead of my cornmeal coated crispy tofu.
Use a different sauce altogether, like my Garlic Pineapple Sauce which is super delicious!
Use a store bought sweet and sour sauce if you want to shave off a bit of prep time.
Use tempeh, soy curls or tofu puffs instead of the baked tofu.
Storing Leftovers
The healthy sweet and sour sauce can be made up to 3 or 4 days ahead and stored in an airtight container in the fridge. When ready to use it, just add it to the pan with the sautéed vegetables as per the recipe.
The baked tofu can be prepared and baked up to 2 days ahead and then stored in an airtight container in the fridge once it's fully cooled. Reheat it in the oven prior to adding it to the sauce when you make the recipe. Put it in a preheated 400°F (200 °C) oven for 10 to 15 minutes.
Once the sweet and sour sauce and the tofu have been mixed together, it is best eaten right away, although I have been known to warm leftovers up in the microwave the next day. It's still nice but the tofu gets a big soggy.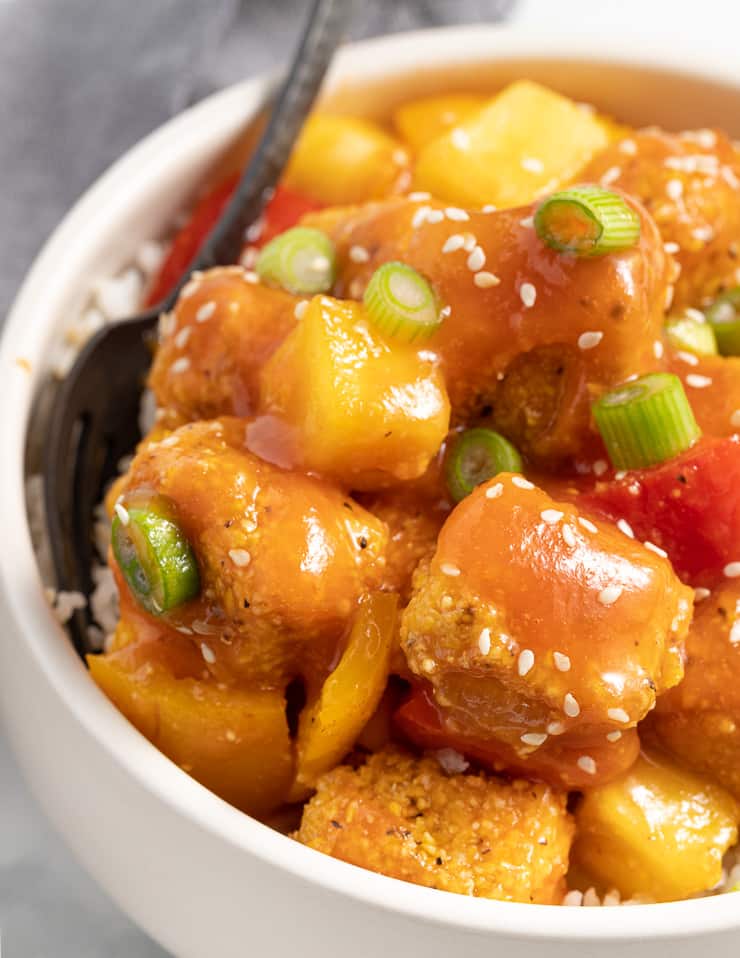 Hungry For More?
If you like this Sweet and Sour Tofu recipe you might also enjoy my:
Recipe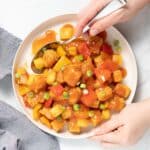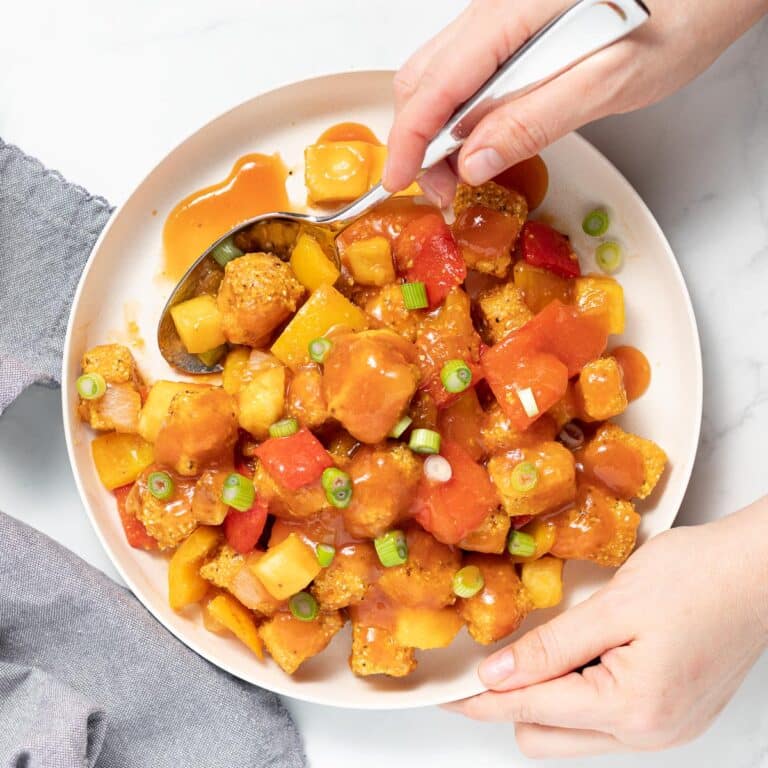 Sweet and Sour Tofu
Author:
Healthier Sweet and Sour Tofu with crispy, crunchy, chewy baked tofu, sweet, savory, fruity, tangy sauce and chunks of bell pepper and pineapple. Just perfect served over fluffy rice!
Ingredients
For the Crispy Tofu
1

block

extra firm or super firm tofu

*

¾ cup / 129

g

medium grind cornmeal

, not super fine

1

teaspoon

fine salt

1

teaspoon

freshly ground black pepper

½ cup / 120

mls

aquafaba 

, (liquid from a can of chickpeas) **
For the Healthy Sweet and Sour Sauce *** (see recipe notes)
2

teaspoons

arrowroot or cornstarch

260 g / about ¼ of a

large

pineapple

, chopped up into blender manageable chunks ****

3 tablespoons / 45

mls

rice vinegar

3

tablespoons

sugar

, I used organic cane sugar but brown sugar or coconut sugar works well too

⅓ cup / 85

mls

tomato ketchup

1

tablespoon

Tamari or soy sauce

1

small

clove of garlic

3 tablespoons / 45

mls

water
To bring it all together
1

tablespoon

neutral oil of choice

, or use water to keep the recipe oil-free

1

medium

onion

, cut into large dice

2

bell peppers

, cut into bite sized pieces

1 heaping cup / 170 g / about ¼

large

pineapple

****cut into bite sized pieces
INSTRUCTIONS
For the Crispy Tofu
Start by making the Crispy Tofu. Press the tofu. Use either a tofu press, or wrap it in a clean dish towel and place something heavy on top of it. A cast iron skillet with some cans inside or a stack of cookbooks works well ;O) Try to press it for 30 minutes, but if you are short on time just 10 minutes will do. While the tofu is pressing, preheat oven to 400°F (200°C) and line a large baking tray with a silicone mat or baking parchment.

Cut the pressed tofu into cubes. I like them about ¾ inch diameter then put the cornmeal in a medium bowl, add the salt and pepper and stir well to combine. Pour the aquafaba into another medium bowl.

Using one hand (to keep the other clean), place a handful of tofu cubes in the aquafaba. Make sure they are covered with it on all sides, then lift them out, give them a little shake over the bowl and transfer to the seasoned cornmeal bowl. Toss them around to coat well then gently pick them out and put them on the prepared baking tray. Don't do more than a handful at a time because you don't want them to soak too long in the aquafaba and the cornmeal coats better if there aren't too many being tossed around at a time. Repeat until they are all coated then make sure the cubes are spread out well on the tray. There should be a bit of space around each one so they can crisp up.

Place the tray in the oven and bake for 15 minutes. Remove. Turn all the cubes over and bake for another 15 minutes. At this stage they should be done, but feel free to add on a few more minutes to get them even crispier. While it's baking make the sweet and sour sauce.
For the Healthy Sweet and Sour Sauce (see recipe notes) ***
Put all ingredients into a blender and blend until completely smooth. It will be really foamy and an insipid kind of color but the foam disappears once it's been heated and the colour brightens up. Pour it from the blender into a pan ( a larger one than it looks like you will need because it does tend to foam up) and warm over a medium heat, stirring constantly until it is glossy and thick and darkened in color. It takes around 10 minutes. Don't leave it during this time and if it starts foaming up turn the heat down a little.
To bring it all together
About 15 minutes before the tofu is due to finish, warm a large sauté pan or skillet over a medium heat and add the oil or a few tablespoons of water if you prefer to cook oil-free. Add the onion and cook for about 4 minutes, moving frequently until turning translucent. Then add the bell peppers and cook for another 2 to 3 minutes until just beginning to soften.

Add the chopped pineapple and the sauce to the pan and allow the sauce to heat through. Once it's hot you can either add the baked crispy tofu to the sauce, or serve the tofu then spoon the sauce over the top of it.
NOTES
This recipe has been created using my Crispy Tofu recipe and my Healthy Sweet and Sour Sauce recipe. For even more detailed information about each of those components of this recipe, including success tips and substitution ideas please visit their individual posts. 
*Blocks of tofu vary in size somewhat. Mine was 400g / 14oz. A slightly smaller or larger block will be fine.  
**This amount is approximate. Just use whatever you get out of a 15 oz can of chickpeas. Do not use previously frozen aquafaba. It becomes a bit more watery and doesn't stick the coating as well as freshly drained aquafaba. 
***One batch of Healthy Sweet and Sour Sauce is just enough. It's saucy but in quite a clingy way without much excess. If you like lots of sauce I recommend making a double batch. If you don't use it all it will keep in the fridge for up to 4 days. It also freezes well.
****Fresh pineapple is best for optimum flavor but you can use frozen or canned if that's all you have access to. Bear in mind that you need some to make the Healthy Sweet and Sour Sauce too so you will need a total of about half a large pineapple or about 340 g / 2 heaping cups once diced. 
NUTRITION
Calories:
321
kcal
Carbohydrates:
54
g
Protein:
11
g
Fat:
8
g
Saturated Fat:
2
g
Sodium:
1095
mg
Potassium:
429
mg
Fiber:
5
g
Sugar:
29
g
Vitamin A:
2035
IU
Vitamin C:
130
mg
Calcium:
59
mg
Iron:
3
mg
Tried this recipe?
Rate it & leave your feedback in the comments section below!