Silky, soft tofu rounds cooked gently in a fiery, garlicky and chunky tomato sauce. Tofu in Purgatory is the perfect brunch dish!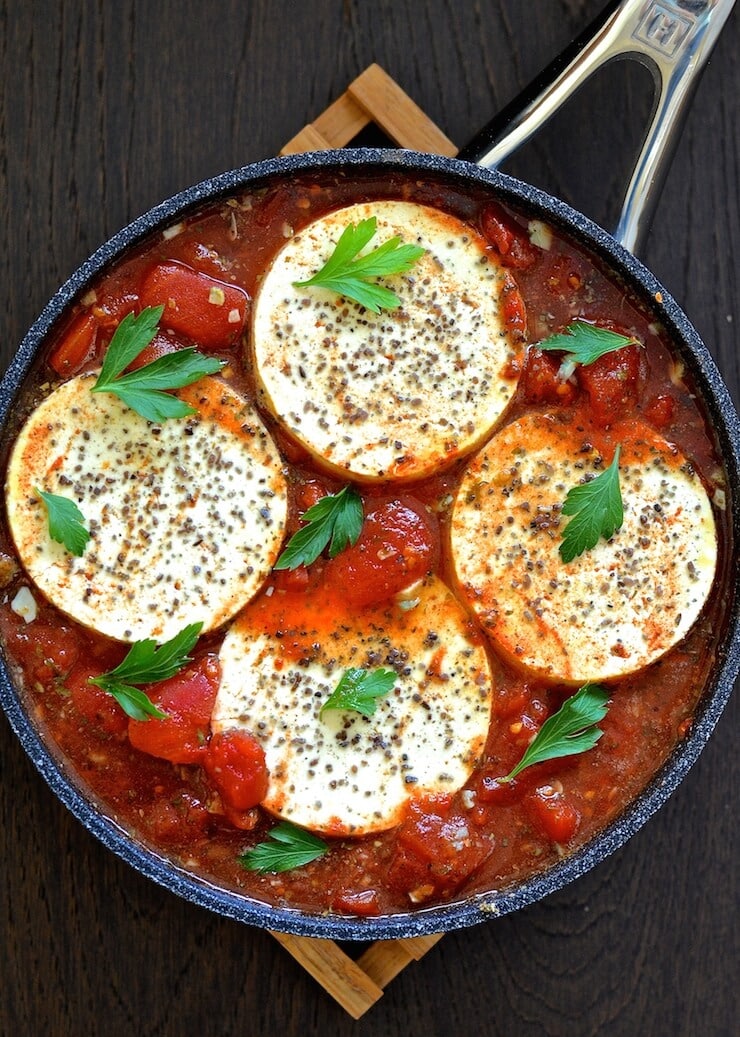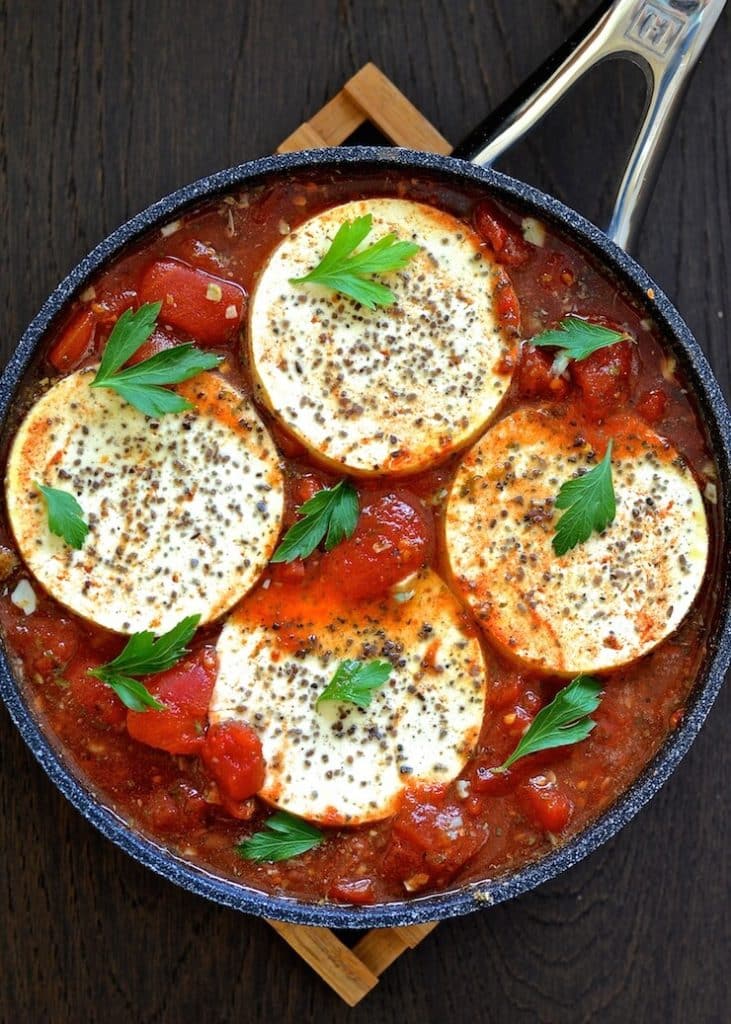 I was flicking through some old Nigella Lawson cookbooks a few weeks ago and was reminded of her Eggs in Purgatory recipe. Before I was vegan I used to make it often for brunch and it was so delicious.
The next day, rather than making the usual vegan pancakes for brunch, I experimented with my own version of eggs in purgatory, and guess what? Vegan Eggs in Purgatory happened. Who needs eggs!? From here on in it shall be known as Tofu in Purgatory!
JAM PACKED WITH FLAVOUR
Tofu in Purgatory is one of my many vegan tofu recipes. It's really simple and quick to make and is absolutely jam packed with flavour. To start, you make a fiery and very garlicky tomato sauce, then poach the tofu rounds in it until cooked through.
Just before serving, sprinkle some Kala Namak, (sometimes known as Indian Black Salt) over the tofu for an eggy flavour. Of course this is optional but recommended. I had never used it before until now and I was so impressed with the eggy smell and flavour. It's spot on!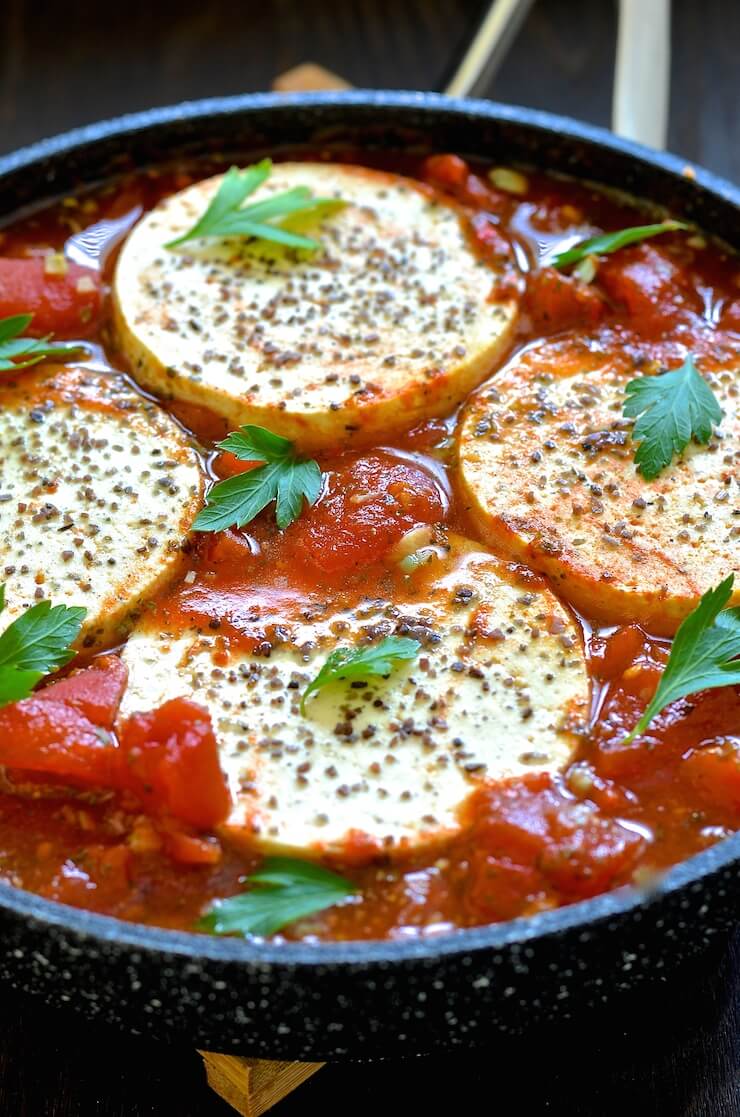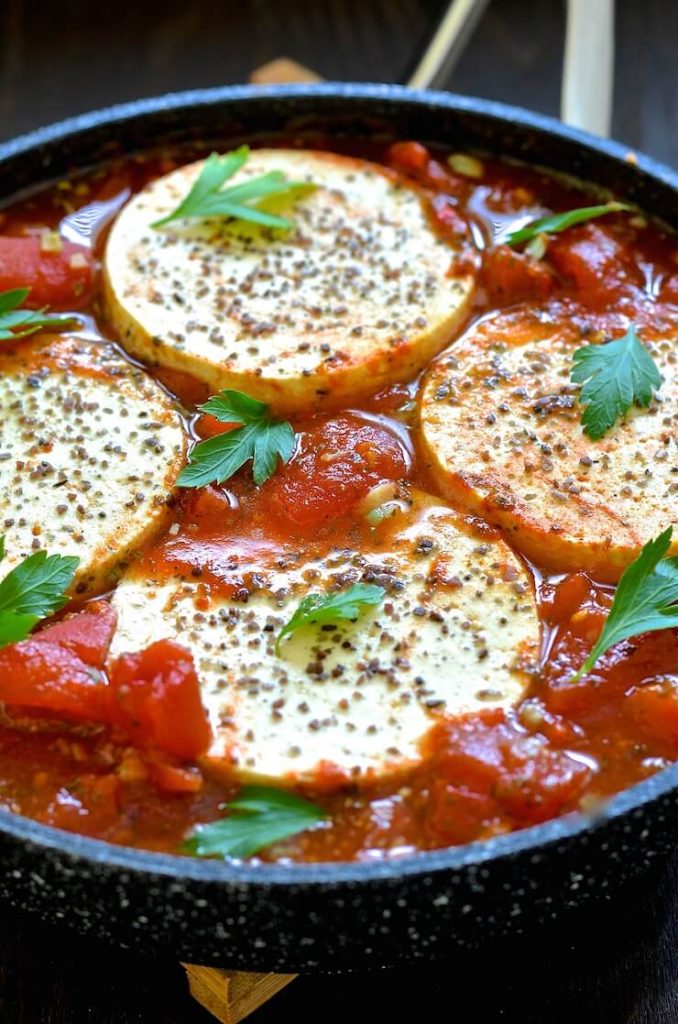 WHAT IS PURGATORY & WHAT HAS IT GOT TO DO WITH MY BRUNCH?
Eggs in Purgatory originates from North Africa but is also a common brunch dish in the Middle East. Purgatory according to Wikipedia, is:
the intermediate state after physical death in which those destined for heaven "undergo purification, so as to achieve the holiness necessary to enter the joy of heaven".
I am not religious at all but I guess the meaning behind the name of the recipe is that the eggs, or in this case the tofu, represent "souls" and the fiery tomato sauce surrounding them represents their suspension between Heaven and Hell. Is that a bit deep for brunch!?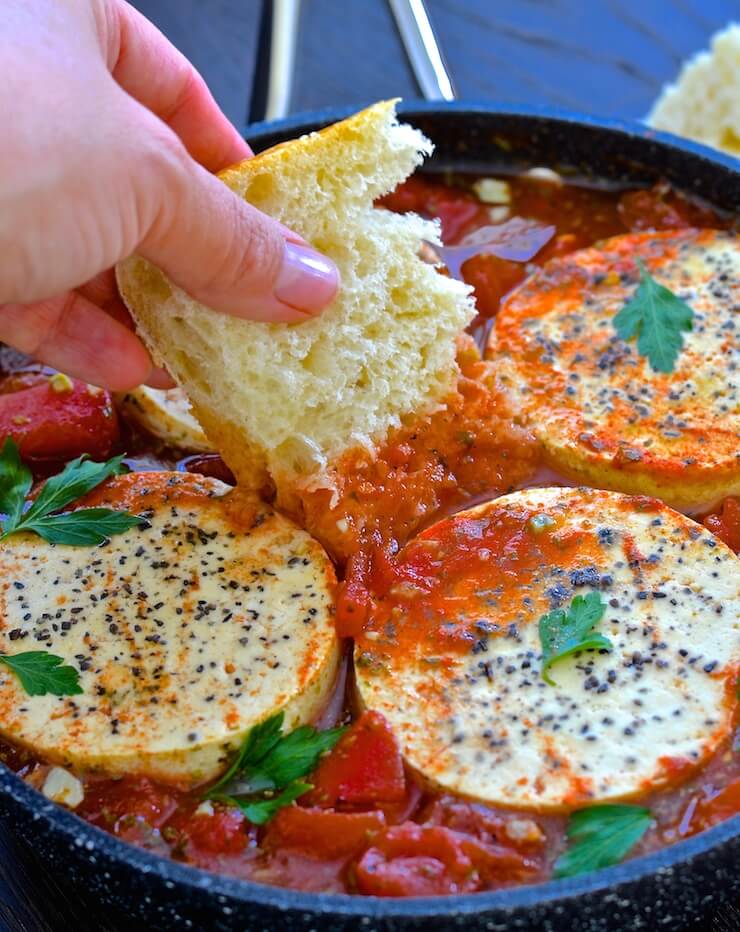 HOW TO SERVE TOFU IN PURGATORY
Tofu in Purgatory is a great brunch dish but you could eat it for lunch or dinner too. It is perfect with some hot buttered toast (check out my super easy vegan butter recipe), fresh crusty bread or baguette. For dinner it is lovely with a crisp salad and some bread to mop up the fiery juice.
I hope you enjoy my Tofu in Purgatory!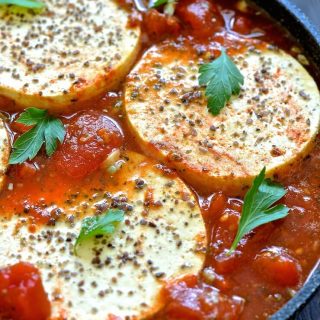 Tofu in Purgatory (Shakshuka)
Silky, soft tofu rounds cooked gently in a fiery, garlicky and chunky tomato sauce. Tofu in Purgatory is the perfect brunch dish!
Print
Pin
Makes:
2
: Serves 2 hungry people
Ingredients
1

tablespoon

olive oil

(optional)

4

large cloves of garlic

1 796

ml

can diced tomatoes

Salt & pepper to taste

I used 1 teaspoon salt & ½ teaspoon pepper

2

teaspoons

dried herbs

see recipe note

1/2

teaspoon

dried chili flakes

use less if you prefer less heat

1

teaspoon

sugar

optional but helps to bring out the tomato flavour

1

block of unpressed medium tofu cut into rounds (around 350g although this doesn't have to be exact)

see recipe note

Indian Black Salt (Kala Namak)

optional
Instructions
Warm the olive oil in a

skillet

and cook the garlic over medium heat until just starting to turn a little brown. (use a drop of water instead of the oil to keep the recipe oil-free).

Add the tomatoes, salt, pepper, chili flakes, herbs and optional sugar.

Simmer over a medium heat for 5 minutes then add the tofu rounds.

Turn down the heat to medium-low and simmer for 15 minutes until the sauce is thickening up a little and the tofu is soft and heated through.

Sprinkle the tofu with a little Indian Black Salt just before serving if you would like an eggy flavour.

Serve with toast, crusty bread or baguette to mop up the juice!
Notes
Mixed herbs are good. I used Herbs De Provence but Italian Seasoning, oregano or rosemary would all be fine - Just use what you have.  Medium tofu is great for this recipe as once poached in the sauce it has a texture similar to poached egg white. I used a large block, cut it into ½ inch thick slices, then used a cookie cutter to cut the rounds. You don't have to make them round if you don't want to. It will taste the same no matter what the shape! Just keep the thickness to around ½ inch. Save your tofu off cuts to add to another meal. I used mine in a tofu scramble the next day. They keep in the freezer well if you won't be needing them for a while.
Nutrition
Serving:
1
serving
|
Calories:
284
kcal
|
Carbohydrates:
26.6
g
|
Protein:
20.3
g
|
Fat:
9.4
g
|
Sodium:
983.6
mg
|
Fiber:
9.2
g
|
Vitamin A:
29
%
|
Vitamin C:
86
%
|
Calcium:
37
%
|
Iron:
28
%