Sticky, saucy, sweet and savoury pan-fried Maple Garlic Tofu. Easy to make in about 20 minutes, packed with flavour, and so good served with rice and veggies for a quick dinner!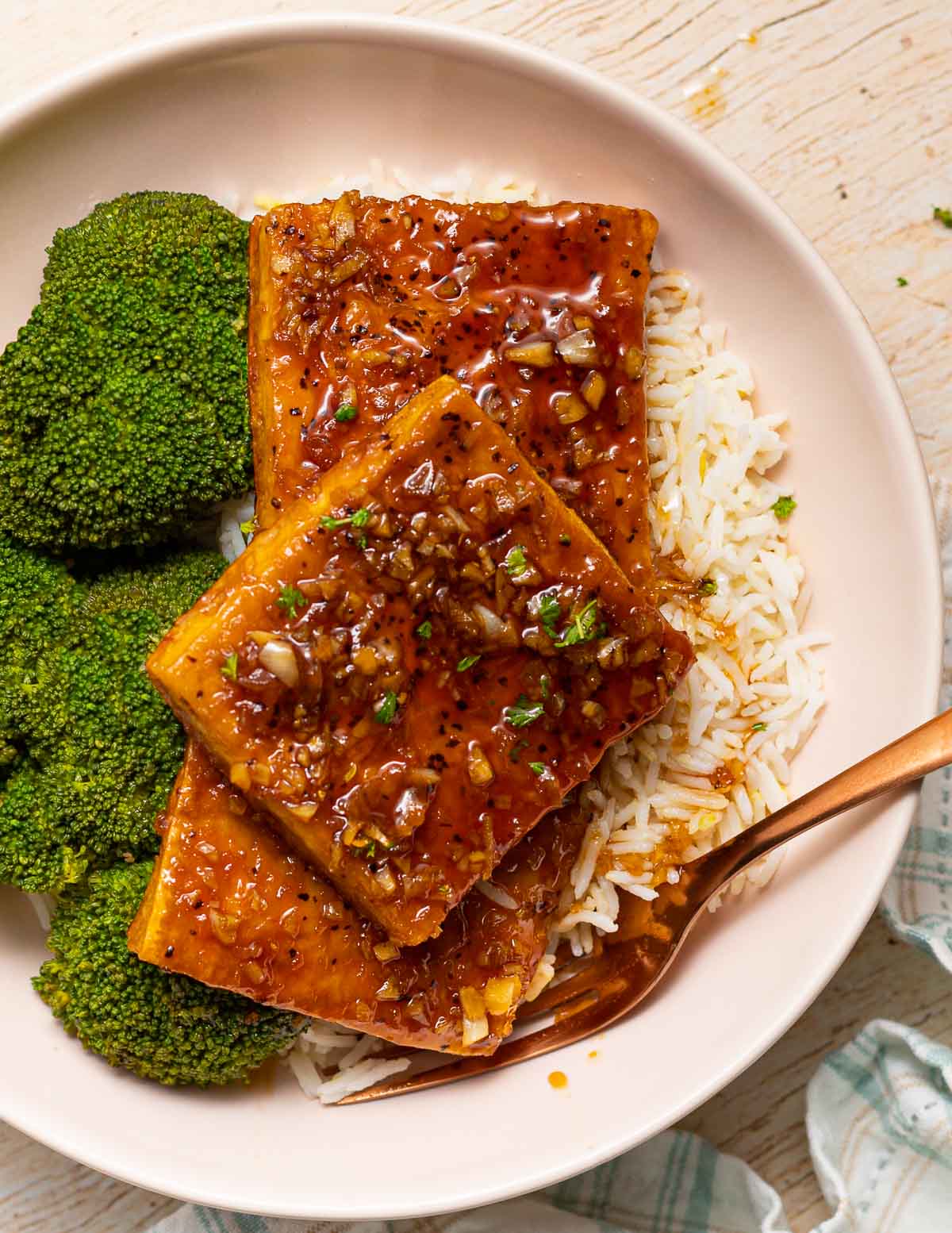 Sticky Maple Garlic Tofu! This is one for the sweet and savoury fans amongst you. We're talking tofu dredged in seasoned flour, pan-fried into nice little buttery, chewy, crispy squares, then simmered in a quick, sticky-sweet, buttery, garlicky maple sauce.
It's sweet. It's savoury. It's caramelized. It's very garlicky. And it's up there on the same level as my Baked Tofu when it comes to fave tofu recipes I cannot get enough of. Because I mean...It's fried tofu in sauce. What's not to love?
In this post - Everything you need to make Garlic Maple Tofu:
Jump to:
Ingredients
Here is what you'll be needing to make this quick garlicky tofu recipe:
And a couple of ingredient notes:
Tofu - This should be extra firm so it's nice and sturdy. I don't recommend pressing it for this recipe because we want it to stay perfectly intact, and we need some moisture for the seasonings to stick to.
Flour - If you eat gluten-free use cornstarch instead. Don't use arrowroot powder.
Vegan butter - Make sure it's a good tasting one as it's a major ingredient in the sauce. You can use olive oil instead if you prefer. Sorry oil-free folks. There is no oil-free alternative for this recipe.
Vinegar - I used apple cider vinegar but you could use rice vinegar instead.
Soy sauce - Coconut aminos or low-sodium soy sauce will work too if you're watching your sodium.
How To Make Garlic Maple Tofu
Let's make tofu magic happen! First up, cut the tofu into squares, season, and dredge it in flour.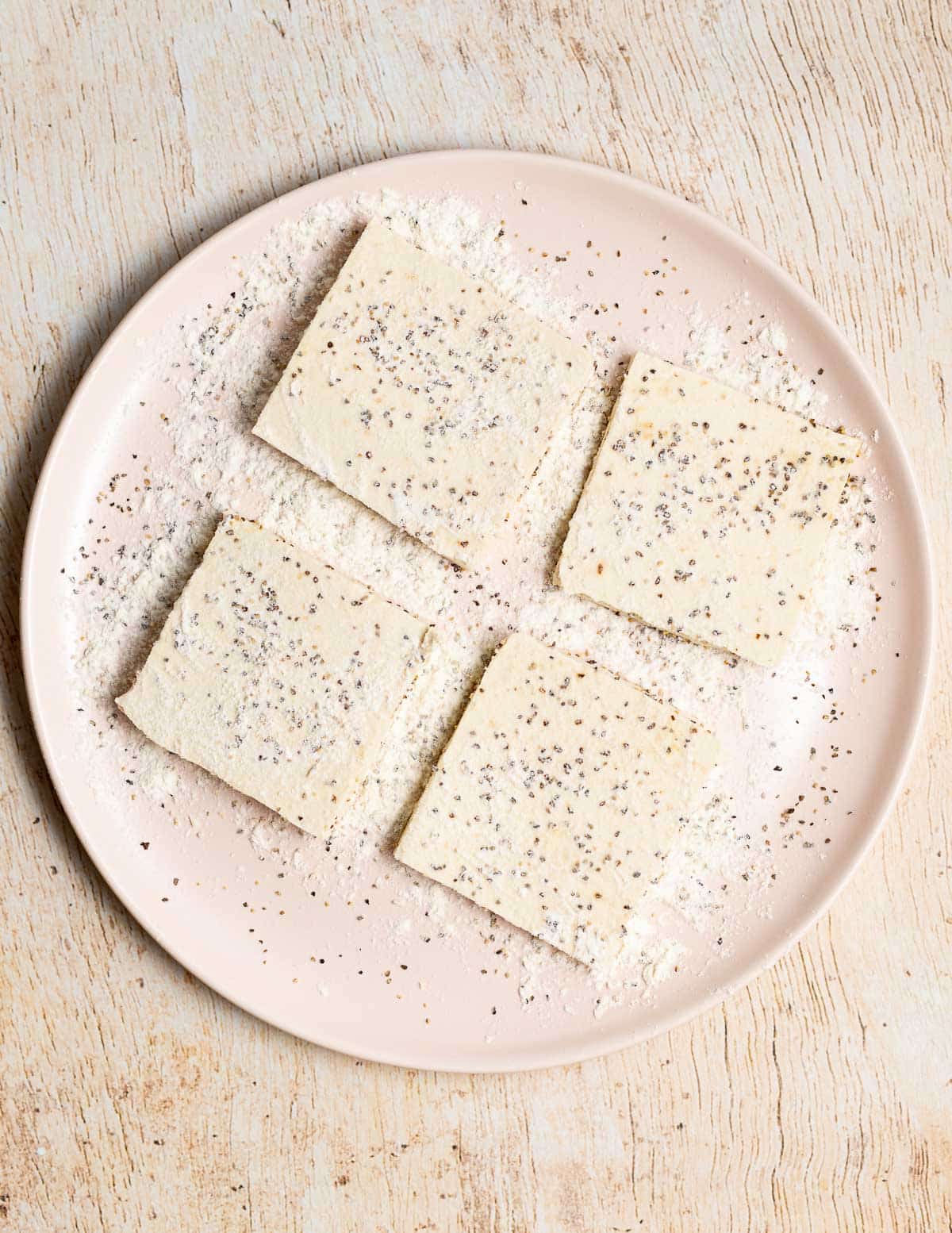 Fry it in vegan butter until golden.
To the crispy tofu, add the garlic, then very shortly after the sauce-makers (maple syrup, apple cider vinegar and soy sauce). Let it all caramelize, (while basting regularly) and serve when sticky, very golden, and delicious!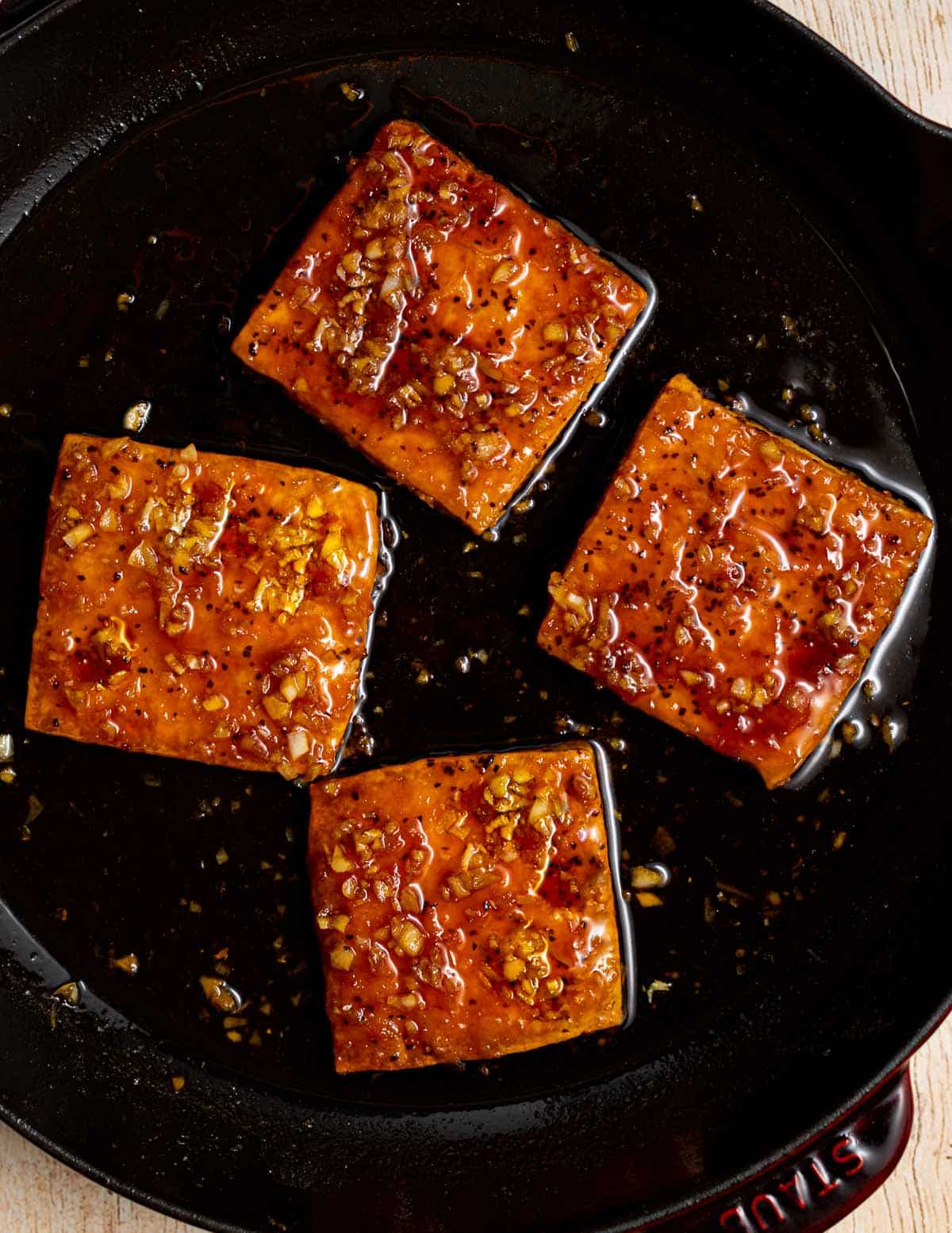 Serving Suggestions
Maple Garlic Tofu is just perfect with noodles, or served over a pile of hot, steaming coconut basmati rice (or coconut lime rice), with a green vegetable side. Broccoli (steamed, roasted, or air-fried) and green beans work very well. A scattering of sesame seeds, green onions, or chili flakes wouldn't go amiss.
It's also great with a simple stir-fry, Lemon Orzo Salad, crisp green salad, Peanut Noodles, or in a deliciously messy sandwich-type situation!
Recipe FAQs
Why is my tofu sticking to the pan?
To start it's important to use a good quality non-stick pan or a very well-seasoned cast iron pan. Tofu will stick if the pan isn't preheated well (make sure it's very hot), and if there isn't enough oil/vegan butter. This shouldn't be a problem with this recipe because quite a lot of butter is used. If you used less than the recipe calls for though that could be a contributing factor. Also once the tofu squares are in the pan, don't touch them for a few minutes. It's important to wait until a golden crust is formed. Then they will release much easier when it's time to flip.
More Tofu Recipes
If you try this recipe, let me know how you like it by leaving a comment and rating below! And be sure to join my mailing list for more deliciousness!
Recipe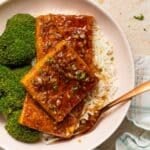 Sticky Maple Garlic Tofu
Author:
Sticky, saucy, sweet and savoury pan-fried Maple Garlic Tofu. Easy to make in about 20 minutes, packed with flavour, and so good served with rice and veggies for a quick dinner!
INSTRUCTIONS
Open the tofu. If it's packed in water drain it and shake off any excess liquid but don't completely dry it or press it. Cut the block of tofu into 4 evenly sized pieces. First, cut it in half horizontally then cut each of those rectangles into 2 to create 4 squares. This process is shown clearly in my video.

Lay the tofu pieces on a plate in a single layer. Season with a generous sprinkle of salt and pepper, then sprinkle flour generously over the surface, giving it a gentle rub in with your hand, then flip and do the same on the other side.

Melt the butter in a large nonstick skillet over medium-high heat.

Once very hot, place the tofu in the skillet and let it cook for 3 to 4 minutes until golden. Turn and cook the other side for a few more minutes until golden.

Turn the heat down to medium-low then add the chopped garlic around the tofu and let it cook for about a minute stirring a few times so it cooks evenly. Don't let it get brown or it will become bitter.

To the pan add the vinegar, soy sauce, and maple syrup. Stir or shake the pan to combine then bring the sauce to a simmer. Tip the pan to one side, scoop up some sauce with a spoon, and baste the tofu with it regularly. Cook for about 5 minutes until the sauce is slightly thickened, turning the tofu over about halfway so it browns evenly.

Remove from the stove and serve immediately.
NUTRITION
Serving:
1
piece of tofu
|
Calories:
207
kcal
|
Carbohydrates:
23
g
|
Protein:
9
g
|
Fat:
9
g
|
Saturated Fat:
2
g
|
Polyunsaturated Fat:
3
g
|
Monounsaturated Fat:
3
g
|
Trans Fat:
0.04
g
|
Sodium:
385
mg
|
Potassium:
237
mg
|
Fiber:
0.4
g
|
Sugar:
13
g
|
Vitamin A:
401
IU
|
Vitamin C:
1
mg
|
Calcium:
61
mg
|
Iron:
2
mg
Did you make this recipe?
Rate it & leave feedback in the comments section below. I love seeing your remakes too. Tag @avirtualvegan on Instagram! 🌟