This Asian style Sticky Chili Ginger Tofu is so fast and easy to make. It's sweet, sticky & spicy with amazing depth of flavour. A perfect mid-week meal!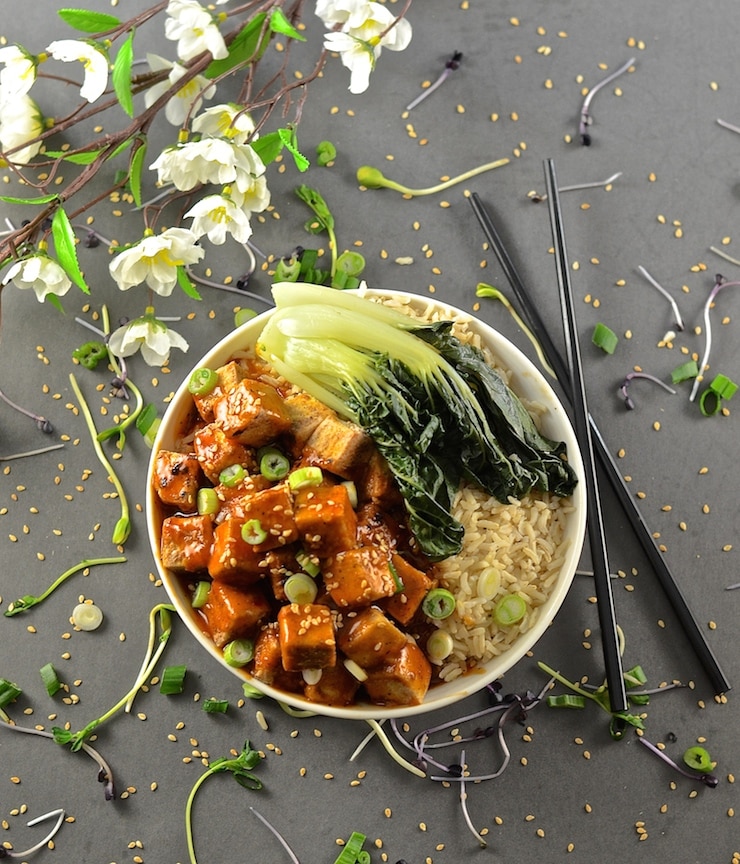 I love food that is packed with BIG  flavours and this Sticky Chili Ginger Tofu is so full of bold flavour that it can't possibly disappoint. It is also incredibly quick and easy to make. In fact, it can be cooked in the time it takes a pan of rice to cook.
Tofu seems to have a bit of a bad rep but cooked well, it is incredibly delicious. It is also very high in protein and calcium and very low in fat. In my recipe notes at the end I explain all about freezing and pressing tofu to get a better texture. You don't have to freeze or press it before making this recipe but you will get a crispier result and a better texture if you do. Once pressed, all you need to do is dredge it in gently spiced flour, fry until deliciously crispy (with or without oil) then smother it in the lip smackingly delicious sauce.
This tofu is seriously the bomb! If you know any tofu sceptics then this might well be the dish to win them around.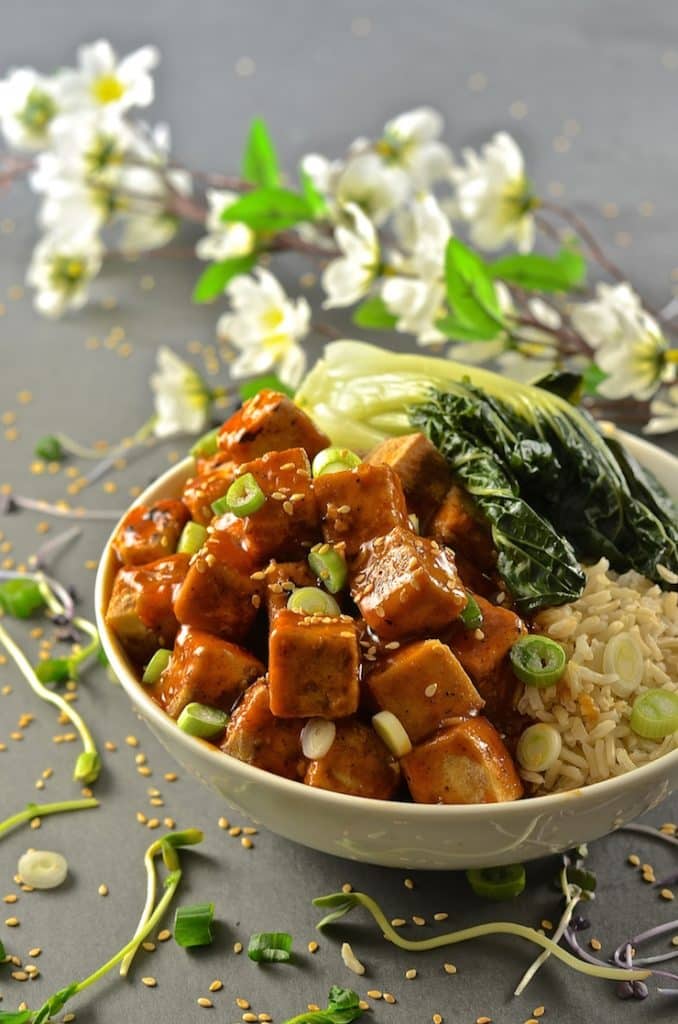 The sauce itself only takes about ten minutes to make but can also be made in advance and stored in the fridge. It keeps well for up to one week and just needs to be gently reheated before serving. It also freezes well. I often make double and freeze half as I like to have some emergency fast food in the freezer for those times when I'm too exhausted to cook.
Serve this Sticky Chili Ginger Tofu with generous amounts of fluffy rice, noodles or quinoa. A sprinkling of sesame seeds and chopped green onions finish it off very nicely.
Please leave me your feedback in the comments below and share your pictures with me on Instagram. I am @avirtualvegan. I can't wait to hear what you think!
Melanie McDonald
Yields 3-4
Sticky Chili Ginger Tofu
This Asian style Sticky Chili Ginger Tofu is so fast and easy to make. It's sweet, sticky & spicy with amazing depth of flavour. A perfect mid-week meal!
5 minPrep Time
20 minCook Time
25 minTotal Time
Ingredients
For the sauce

2 large cloves garlic either grated or chopped very, very finely
1 tablespoon grated fresh ginger (see recipe note)
2 tablespoons arrowroot or cornstarch (arrowroot gives a better look to the sauce)
1/4 cup rice wine vinegar (you can sub this for apple cider vinegar )
1 tablespoon sesame oil (omit to make recipe oil free)
1/2 cup natural tomato ketchup
2 tablespoons Tamari (you can sub this for soy sauce or coconut aminos )
1/4 teaspoon chili flakes
1/2 teaspoon salt
1/2 teaspoon ground pepper
1/2 teaspoon Chinese five spice
1/4 cup maple syrup
1 cup water

For the tofu

1 large block firm tofu that has been pressed and cubed (see recipe note)
2 tablespoons all purpose flour (you can sub this for gluten-free flour if necessary)
1 teaspoon Chinese five spice
2 tablespoons olive oil (optional)
Instructions
For the sauce

Add the arrowroot/cornstarch to a pan and slowly add the vinegar, stirring as you go to make sure there are no lumps.
Now add all of the other sauce ingredients and stir well.
Place over a medium/low heat and and keep stirring until it becomes thick and silky. Don't stop stirring as it will get lumpy. It will take about 10 minutes. Once thick turn down to the lowest setting possible and keep warm.

For the tofu

Cut the pressed tofu into bite sized cubes.
Mix the chinese five spice into the flour then pour over the tofu and toss to make sure every cube is coated well.
Heat a fry pan over a medium to high heat. If you want to use oil add it to the pan.It is optional. Using oil will make the tofu crispier. It's still good without though.If you choose not to use oil then be sure to use a non stick pan.
Once the pan/oil is very hot add the tofu. Cook on each side until golden brown and crispy. It will take 5 - 10 minutes to cook on all sides.
Remove from the heat and set aside. If you used oil put it on some paper towel to soak off any excess.
To serve you can toss the tofu through the sauce or you can serve it separately and have everyone drizzle their own tofu at the table.
Recipe Notes
I keep my fresh ginger in the freezer. When you need some you can take it out and grate it (while frozen) then return what's left to the freezer. I don't bother peeling it and just grate through the skin. It keeps well for months and months.
Press the tofu in a tofu press or by wrapping it in a clean dish towel and placing something very heavy on it, like a pile of books or heavy wooden cutting board, or a plate with some tin cans on it. Leave for at least 30 mins but the longer you leave it the drier it will get and the crispier the cooked tofu will be. I always freeze my tofu when I buy it as when it has been frozen and defrosted it has a much nicer texture. I'm not sure why but trust me it does. It doesn't have to have been frozen for this recipe but if you have the time to do it then do.
6.8
https://avirtualvegan.com/sticky-chili-ginger-tofu/
Melanie McDonald | A Virtual Vegan
This recipe has been linked Healthy Vegan Fridays at rockmyvegnsocksoff.com