This Creamy Vegan Mushroom Pasta recipe is quick and easy to make. We're talking chewy, dense pasta, loaded up with sautéed mushrooms and spinach, and tossed in a heavenly, but low fat, creamy sauce. It can be ready in a little over the time it takes the pasta to boil!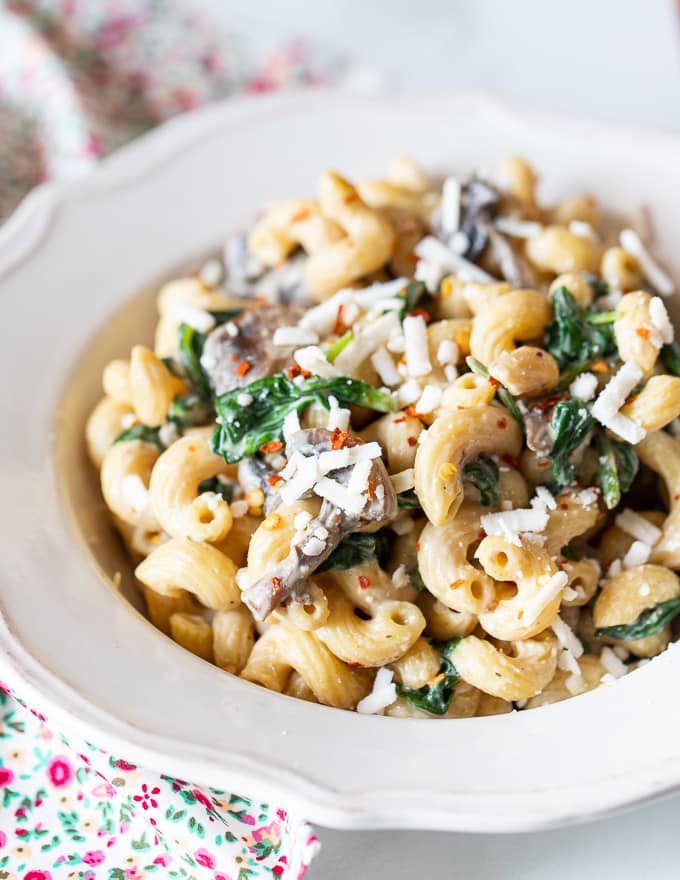 This is so good! Creamy Vegan Mushroom Pasta, only without the cream, and with all the flavour.
We're talking deliciously dense pasta, coated in a creamy, slightly cheesy, velvety, creamy sauce. Then, we're adding super yum sautéed mushrooms and spinach for good measure.
Pasta + Mushrooms + Spinach + Creamy Sauce = Perfection.
Am I right? Comfort food right there in all it's stick to your ribs glory.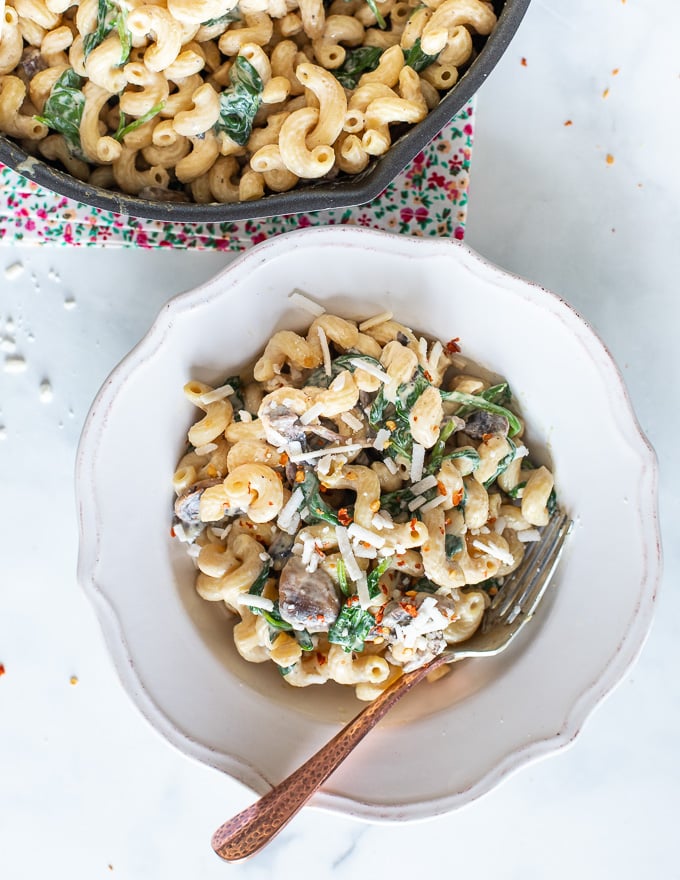 But guess what? It's actually really low in fat so feel free to pile your bowl high.
Most vegan creamy sauces (like my cashew cheese sauce and vegan carbonara sauce) tend to be made with cashew nuts, and although they are super delicious, they end up quite high in fat and calories.
This sauce is different though! Like my Vegan Asparagus Pasta it's made with tofu. Yes, it's one of my many vegan tofu recipes! In fact, this recipe is an adaptation of my very popular Easy Vegan Cheese Sauce recipe which is also made with tofu.
Tofu in a creamy sauce might sound weird but stick with me because it does a really great job of adding a really silky tone to the sauce that cashew nuts, soaked or not, don't.

Ingredients
This Vegan Mushroom Pasta is really easy to make and takes no time at all. The only equipment you will need is a blender.
You will also need a skillet or frying pan to sauté the mushrooms and spinach and to toss everything together in.
For the super easy sauce that takes a minute or two to prepare in your blender, you need: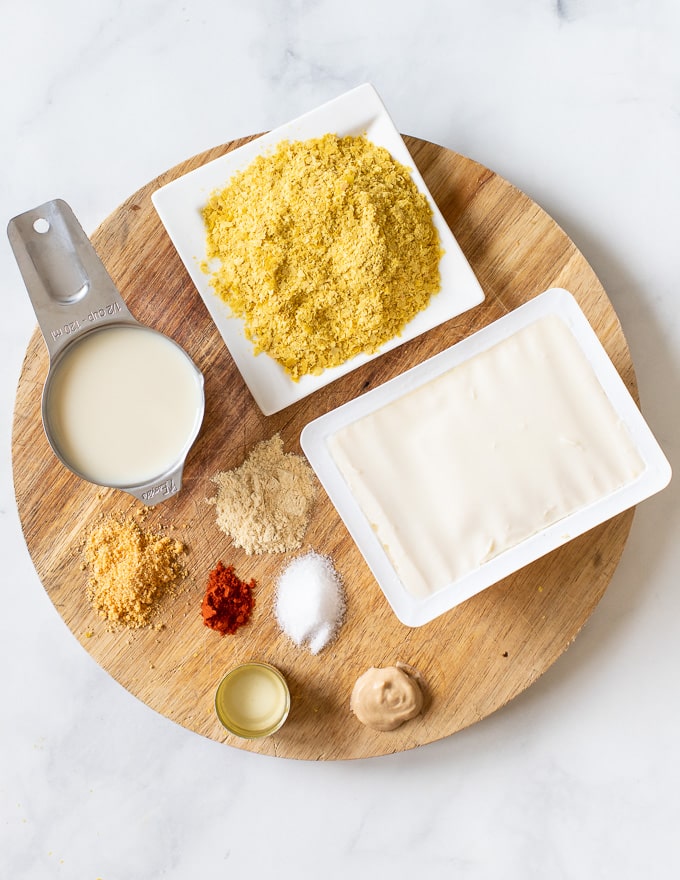 tofu
nutritional yeast
onion powder
garlic powder
smoked paprika or chipotle powder
Dijon mustard
white wine vinegar
salt
soy milk (or other unsweeteend milk of choice)
Then the other necessary bits and bobs are: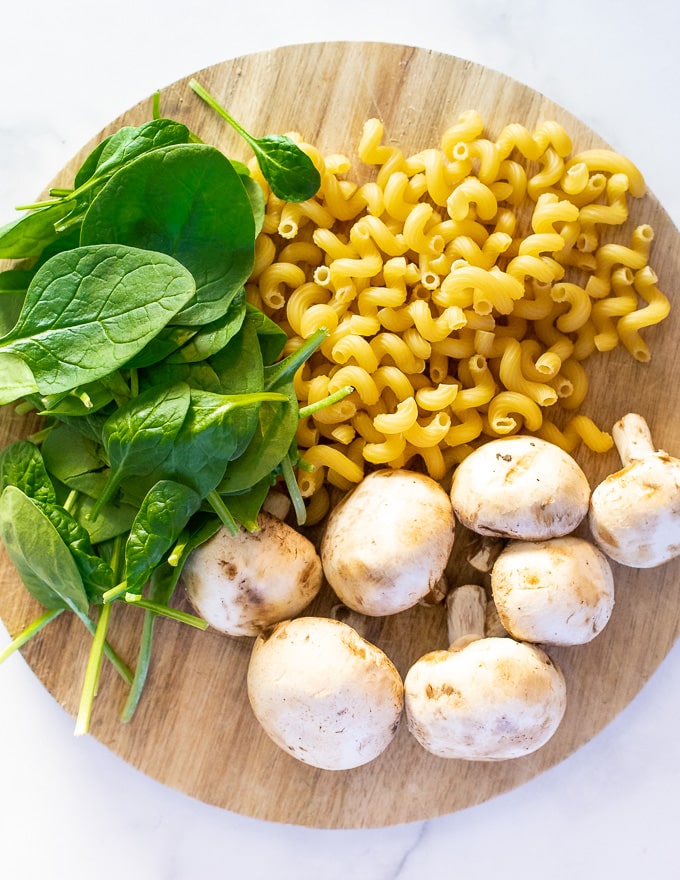 pasta (whatever your jam is. Anything goes. macaroni, spaghetti, fettuccine, penne, rigatoni .... literally any of them).
mushrooms
spinach
A note on nutritional yeast
Please be sure to use a good tasting nutritional yeast for this recipe. All nutritional yeasts are not created equally. Some brands taste a lot better than others.
My personal favourite is Hoosier Farms and an added bonus is it's super cheap too. It comes in a massive tub that lasts ages. I get mine from Amazon.
How to make vegan mushroom pasta
Step 1 - Bring a large pan of water to the boil and cook the pasta. While it's boiling blend up the sauce ingredients.
Step 2 - Sauté the mushrooms and the spinach.
Step 3 - Add the cooked pasta and the sauce to the mushrooms and spinach.
Step 4 - Stir it all together.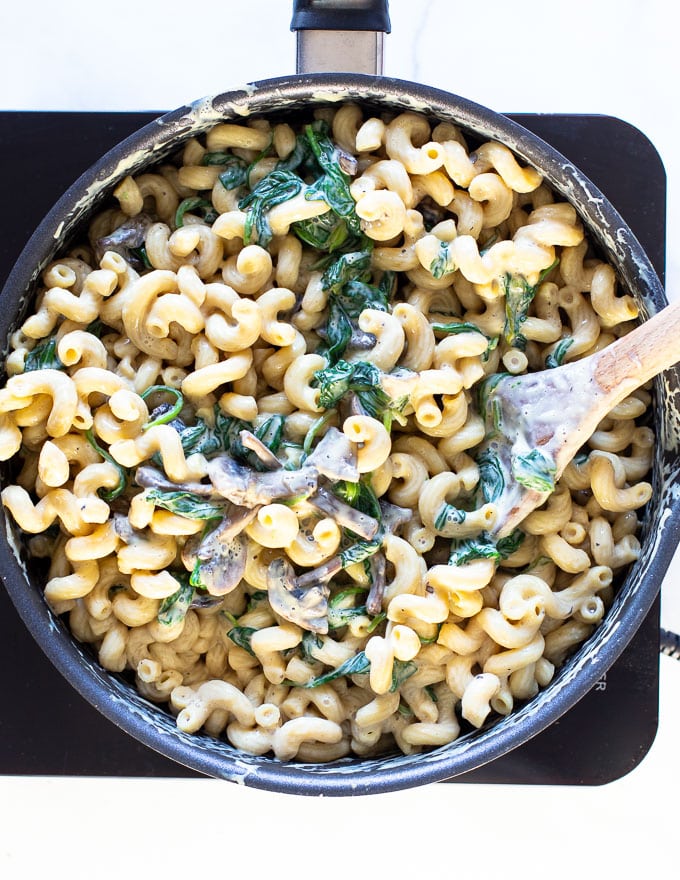 That's it. The whole recipe can be ready in little more than the time it takes the pasta to boil. How good is that?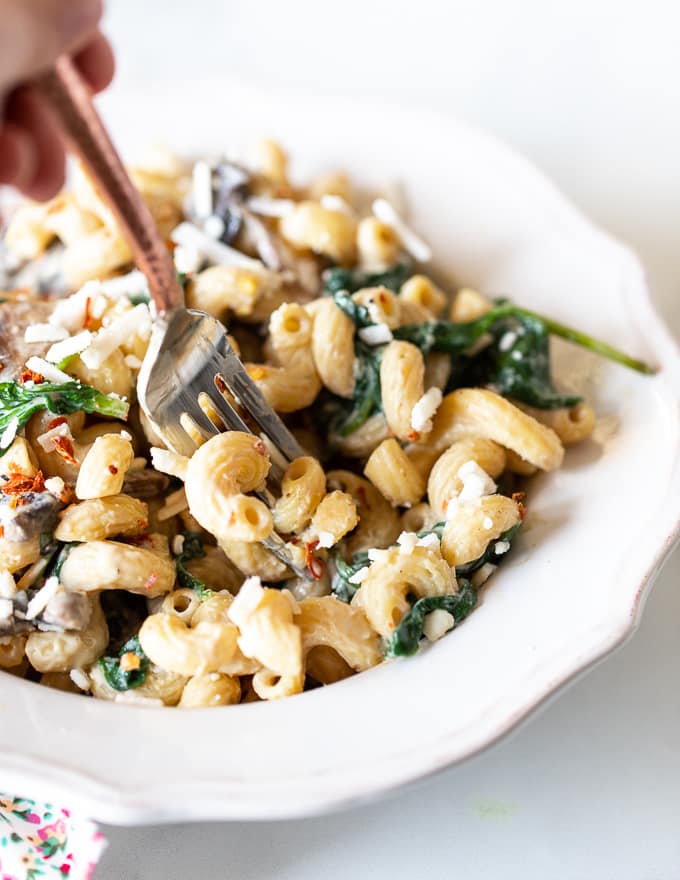 Picture this.
You. A big bowl of Creamy Vegan Mushroom Pasta. Spinach tucked in there too because VEG. (And because it tastes super nice with the creamy sauce). Vegan parmesan sprinkled ALL over. Feet up. Relax. Stuff your face.
In that order. Thank me later.
If you try this recipe, let me know how you like it by leaving a comment and rating below! And be sure to join my mailing list for more deliciousness!
Recipe Video
Recipe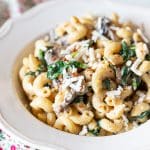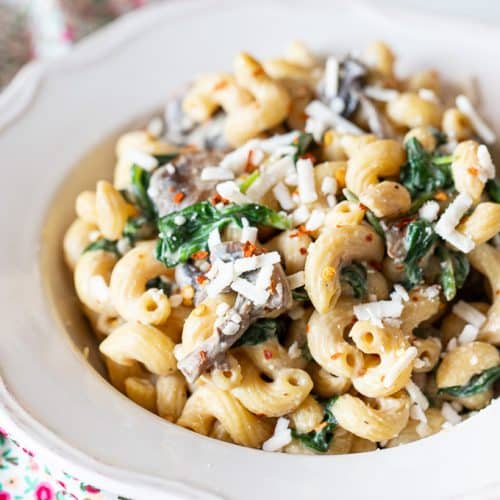 Creamy Vegan Mushroom Pasta
Author:
This Creamy Vegan Mushroom Pasta recipe is quick and easy to make, loaded up with sautéed mushrooms and spinach, and tossed in a heavenly, but low fat, creamy sauce. It can be ready in a little over the time it takes the pasta to boil!
Ingredients
500 g / 1

lb

spaghetti or pasta of choice

1 tablespoon / 15

mls

olive oil

, OPTIONAL - use water to sauté to make the recipe oil-free

300 g / 10

oz

mushrooms (white, cremini or portobello)

, wiped clean and sliced

200 g / 7

oz

fresh baby spinach

salt and freshly ground black pepper to taste
For the sauce
340 g / 12 oz

oz

silken or soft tofu

(not firm or extra firm)

½ cup / 35

g

nutritional yeast

make sure it's a good tasting one

1½

teaspoon

onion powder

½

teaspoon

garlic powder

¼

teaspoon

smoked paprika

or chipotle powder

2

teaspoons

Dijon mustard

1

tablespoon

white wine vinegar

1

teaspoon

salt

½ cup /

120 mls

unsweetened milk of choice

soy milk gives the best result tastewise
INSTRUCTIONS
Fill a large pan with water and bring it to a boil on the stove top.

While it is heating, wash the spinach and wipe the mushrooms clean then slice them ready for cooking. Get a large skillet or frying pan ready with a tablespoon of oil in it on the stove top.

Blend up the sauce ingredients.

Add the pasta to the boiling water.

Warm the frying pan over a medium heat and sauté the mushrooms for about 7 minutes until golden on each side. Add the spinach and allow it to wilt. You will struggle to fit it all in the pan but squish it down and it will melt down to more manageable levels very quickly. Season them with a pinch of salt and pepper. Turn the heat down to medium low.

Drain the pasta, reserving about ⅓ cup of the starchy water. Just keep it to one side for now. Add the pasta to the pan with the mushrooms and spinach, then pour over the sauce. Stir everything together really well. Check the seasoning and add more salt and pepper if necessary. Allow it to warm through over the heat, adding a little of the reserved starchy water if you want to thin the sauce a little. You shouldn't need much, if any at all.
NOTES
If you want more mushroom flavour in the sauce, sauté some extra mushrooms and blend them up with the sauce in the blender. If it gets a little thick, just add a touch more milk. 
NUTRITION
Serving:
1
of 5 servings
Calories:
473
kcal
Carbohydrates:
83
g
Protein:
25
g
Fat:
4.5
g
Sodium:
595
mg
Fiber:
7
g
Sugar:
5
g
Vitamin A:
3850
IU
Vitamin C:
17.3
mg
Calcium:
120
mg
Iron:
5.9
mg
Tried this recipe?
Rate it & leave your feedback in the comments section below!