Make Veganuary easy with this collection of 31 super tasty vegan dinner recipes. One for every single day of the month!

CLICK HERE TO JUMP STRAIGHT TO THE RECIPES
WHAT IS VEGANUARY?
Veganuary is a yearly campaign which supports people through a month of eating vegan food in January, and based on it's growth over the past few years, it is expecting 300,000 people to sign up in 2020!
Here are the figures from the past few years: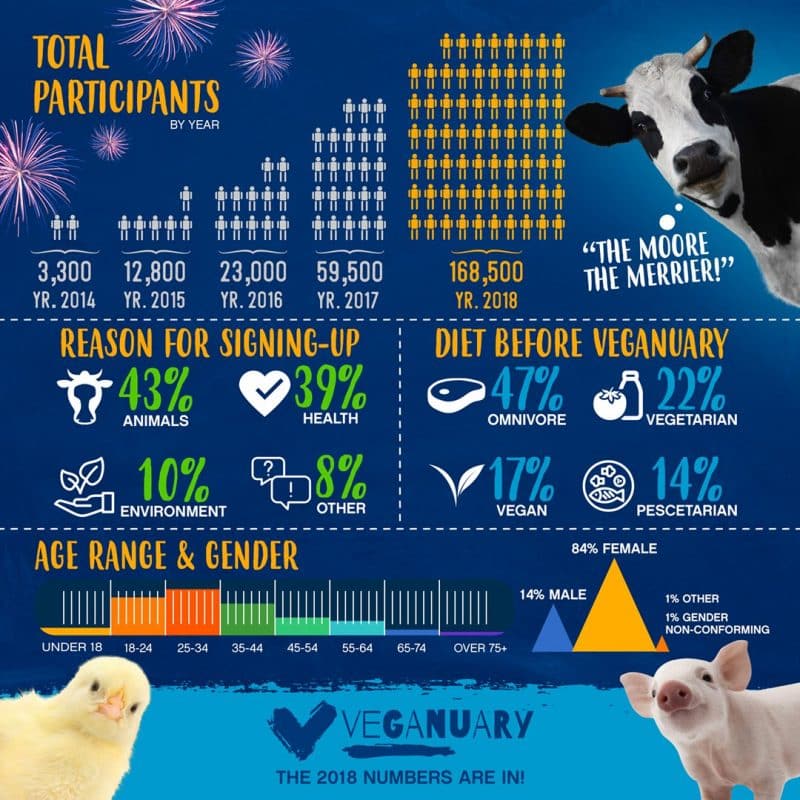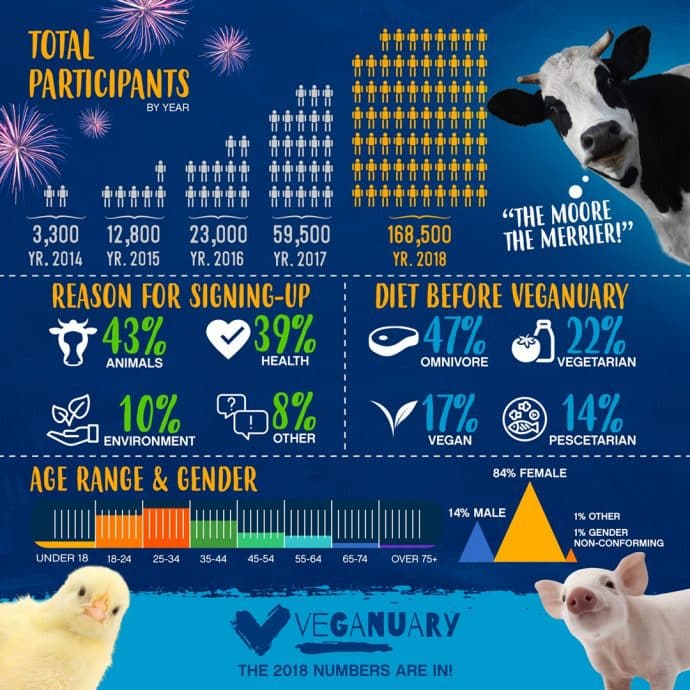 If you have found your way here, then chances are you might be one of those people. Congratulations and thank you for taking the pledge! By doing this you are helping to reduce the suffering of billions of animals, you are helping our planet, and you will discover new and exciting foods and recipes. You will probably find that you will feel better as a result of it too.
If you haven't taken the Veganuary pledge yet but are curious to see what being vegan is all about, you can find a vegan starter kit on Veganuary's website here, and plenty of super delicious recipes to get you started below, plus more in my recipe index here.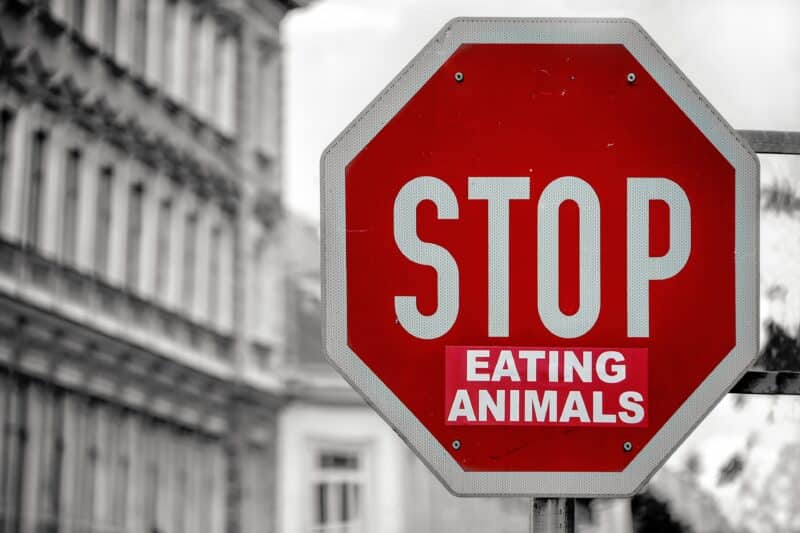 THE BENEFITS OF A VEGAN DIET
A plant-based diet can be an incredibly healthy way to live. It has been shown to reduce your risk of contracting heart disease, stroke, diabetes, and even some types of cancer. Many people also feel better in themselves too with higher energy levels and improved mood.
A plant-based diet is more sustainable.
One third of all the world's grain is fed to farm animals. That grain could instead be used to feed billions of people.
Cattle grazing is to blame for a lot of deforestation. Almost 80% of Amazon rainforests are currently used for grazing cattle. By limiting the meat and dairy we eat, we could help reduce deforestation.
By reducing our meat and dairy intake we could cut greenhouse gas emissions by up to 50%.
Eating less meat could see the world's water consumption reduce drastically. It takes approximately 2000 gallons of water to produce one pound of beef. It is thought that by eating plant-based food for one year, an individual can save up to 150,000 gallons of water.
A plant-based diet could stop our oceans from being decimated. Scientists estimate that fish populations could completely collapse by 2050 if our current rate of fishing continues.
Lastly, plant-based food is amazing! It's fresh, vibrant and delicious. Arm yourself with a bunch of great recipes and you won't look back!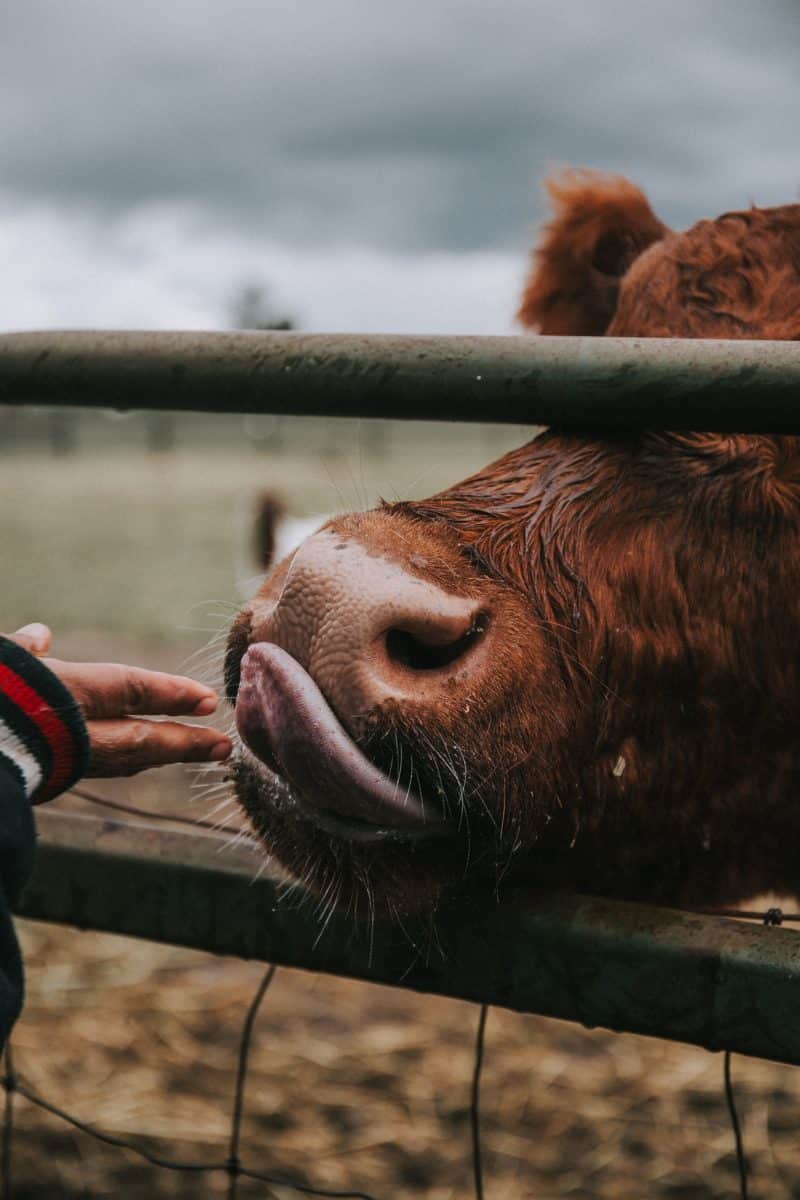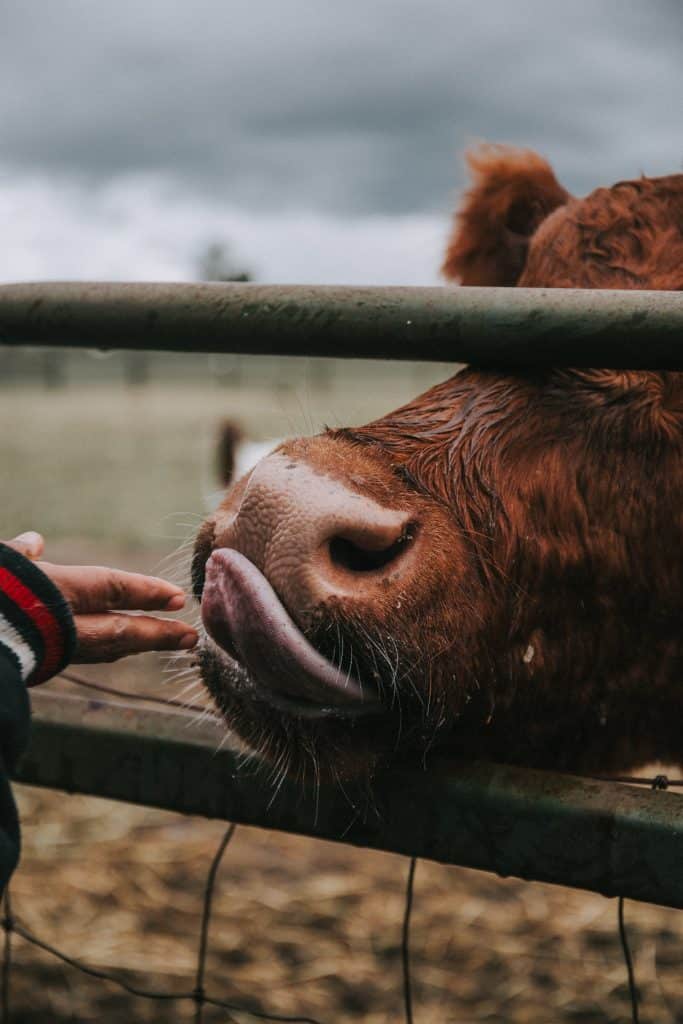 MAKE VEGANUARY EASY!
To help get you through the month, I have rounded up 31 Vegan Dinners For Veganuary. That's one for every single day of the month! Print them out, make a shopping list, buy what you need and you are good to go!
You will also find lots of other great recipes if you explore my website. I have all of your staples covered like Vegan Butter, Vegan Feta Cheese, and Oat Milk, plus lots of breakfasts, more dinners, snacks and baked goods.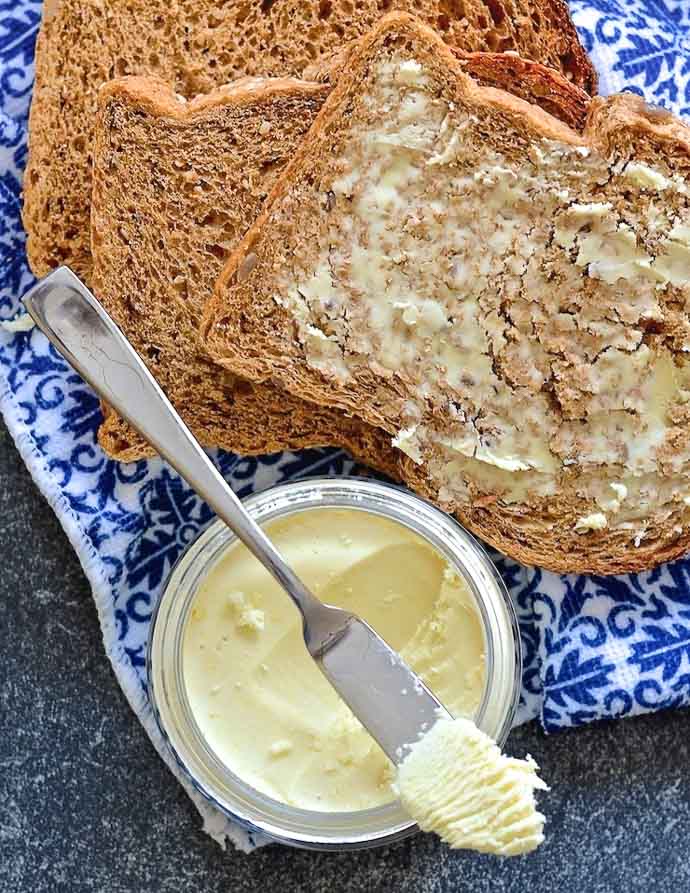 If you need even more recipe ideas, my cookbook Vegan Comfort Cooking is available in bookstores, and be sure to sign up for my newsletter too. That way you will get all of my brand new recipes sent straight to your inbox as soon as they are published.
And now on to the exciting part. The vegan dinner recipes for your month of Veganuary!
VEGAN DINNER RECIPES FOR VEGANUARY
---
VEGAN BROCCOLI RICE & SAUSAGE CASSEROLE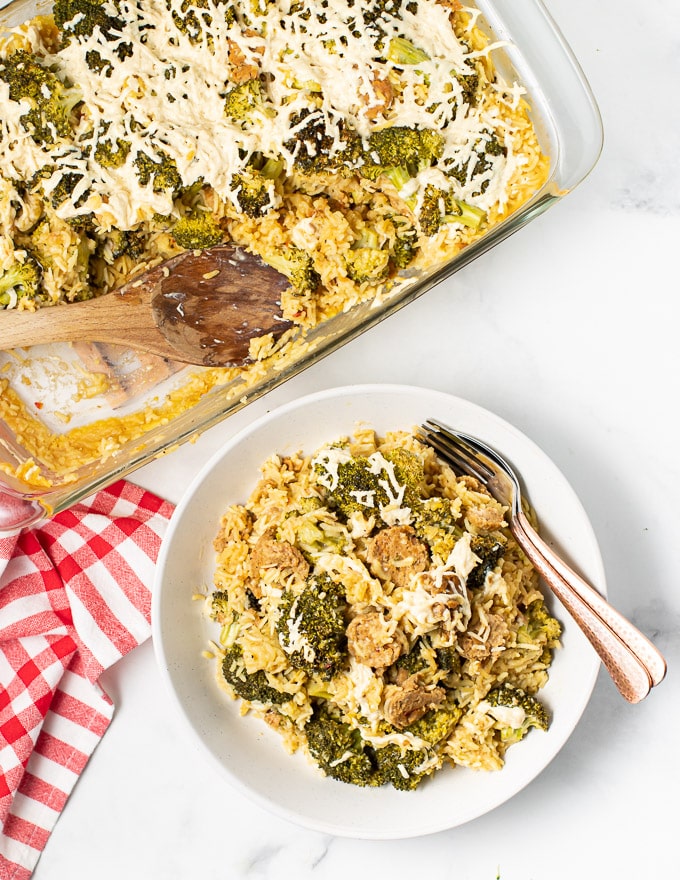 This is an incredibly easy to make dinner with barely any prep. Everything goes into a dish raw and gets baked. It's fast becoming one of my most popular recipes because it's so tasty and loved by kids!
---
15 MINUTE PEANUT NOODLES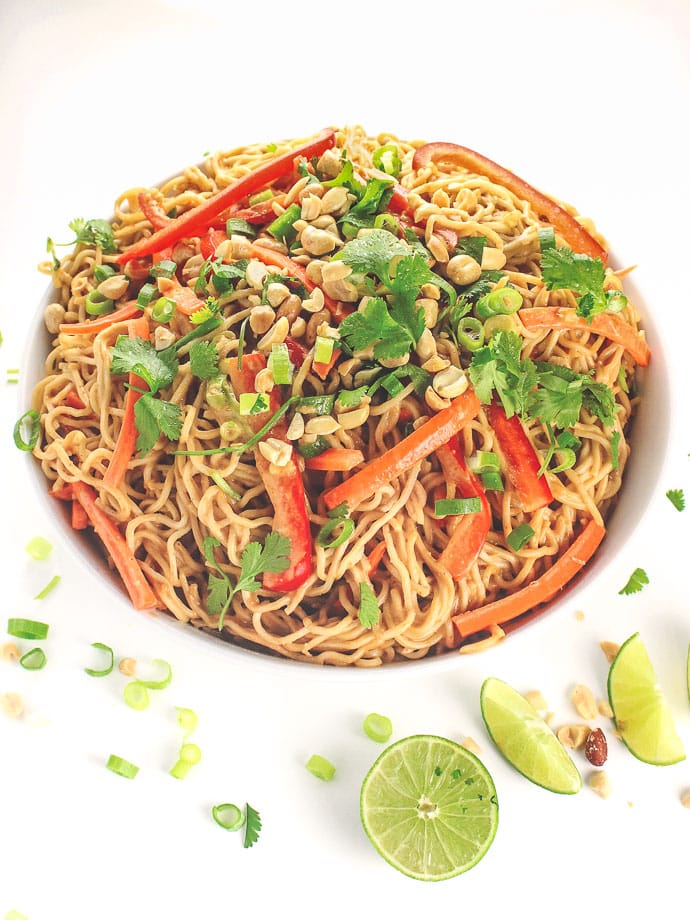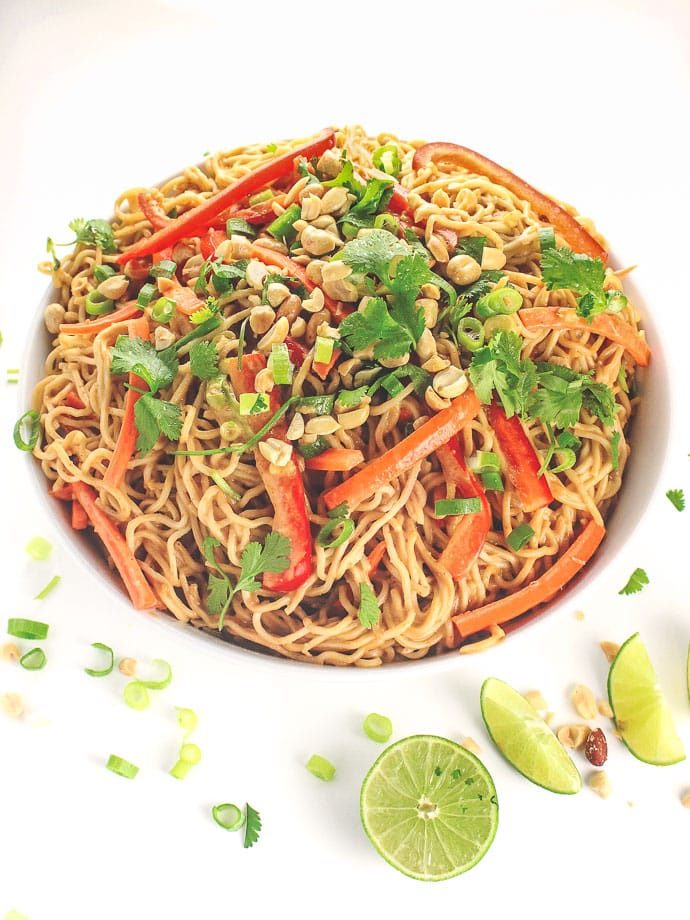 Such a quick and easy dinner and incredibly tasty! It's great cold too so make plenty then you can have leftovers for lunch.
---
CREAMY RED LENTIL DAHL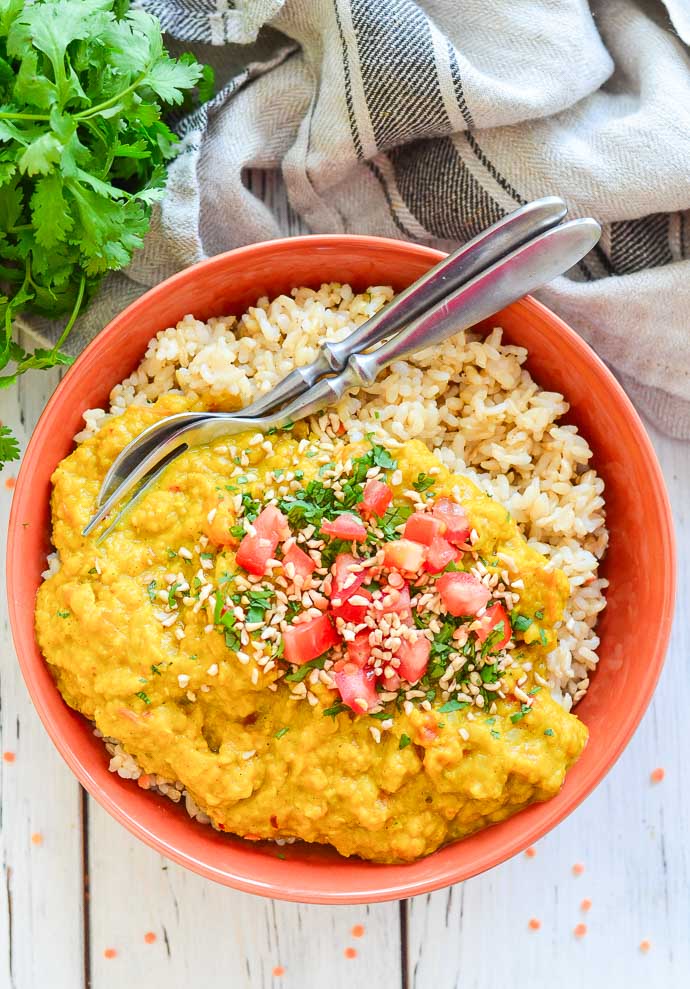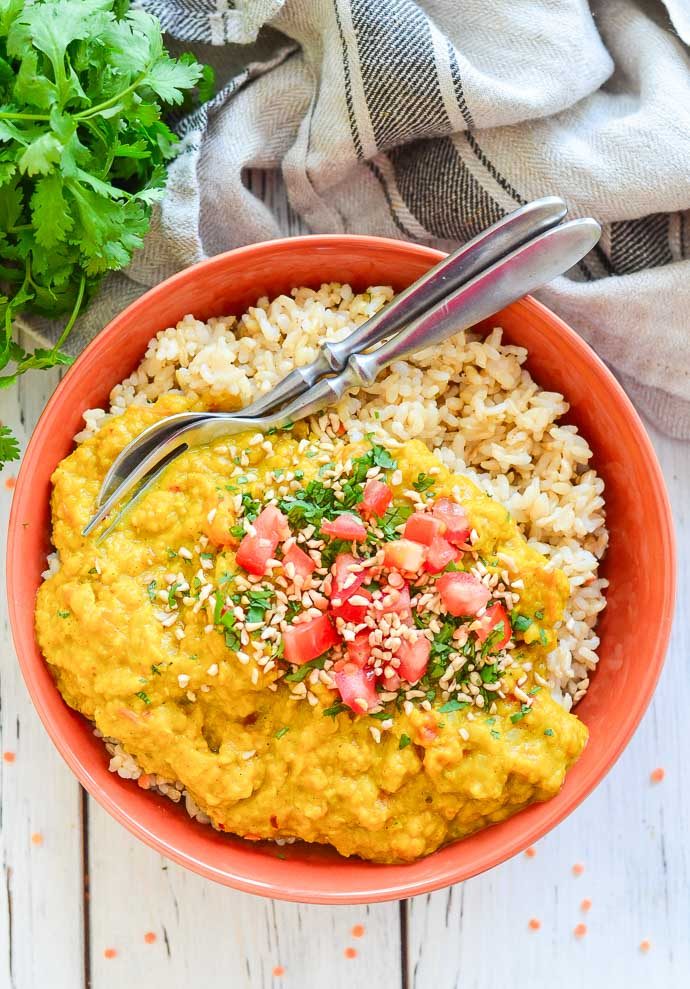 The easiest cold weather comfort food. It's super creamy thanks to the melty red lentils & rich coconut milk. Perfect served over rice or with a naan bread for an easy meal!
---
CHERRY TOMATO SAUCE WITH PASTA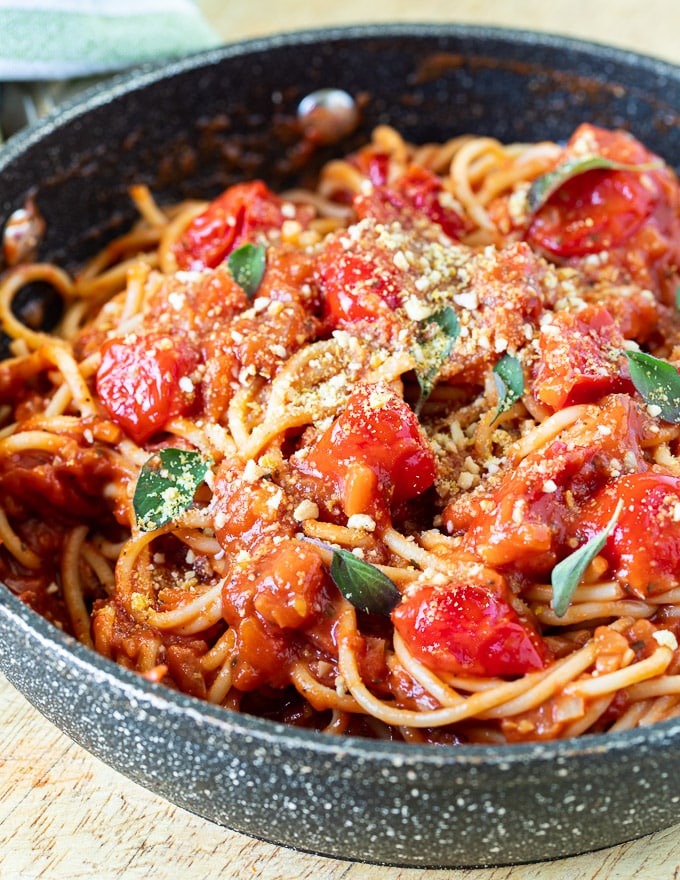 A rustic, creamy, thick and full of flavour Cherry Tomato Sauce, that's perfect for serving over pasta. It's made with only 6 ingredients and is easy enough for midweek, yet worthy of company too.
---
EASY VEGAN MUSHROOM PIES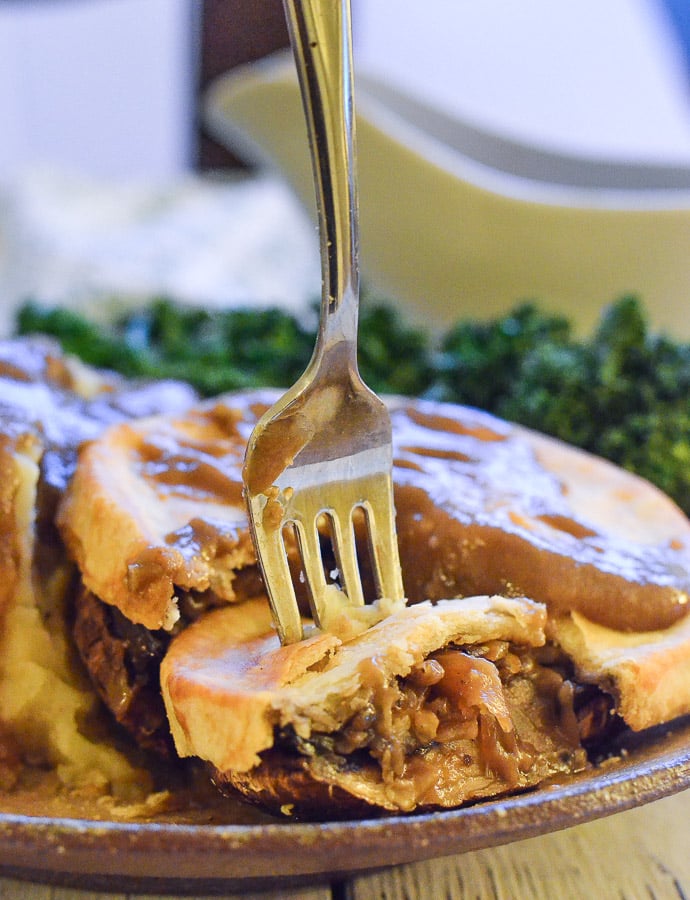 The easiest pie EVER! It's basically a juicy portobello mushroom, stuffed with sweet caramelized onions and a sprinkling of thyme, all topped with buttery, crisp, very easy to make, pastry.
---
EASY BUTTERNUT SQUASH CURRY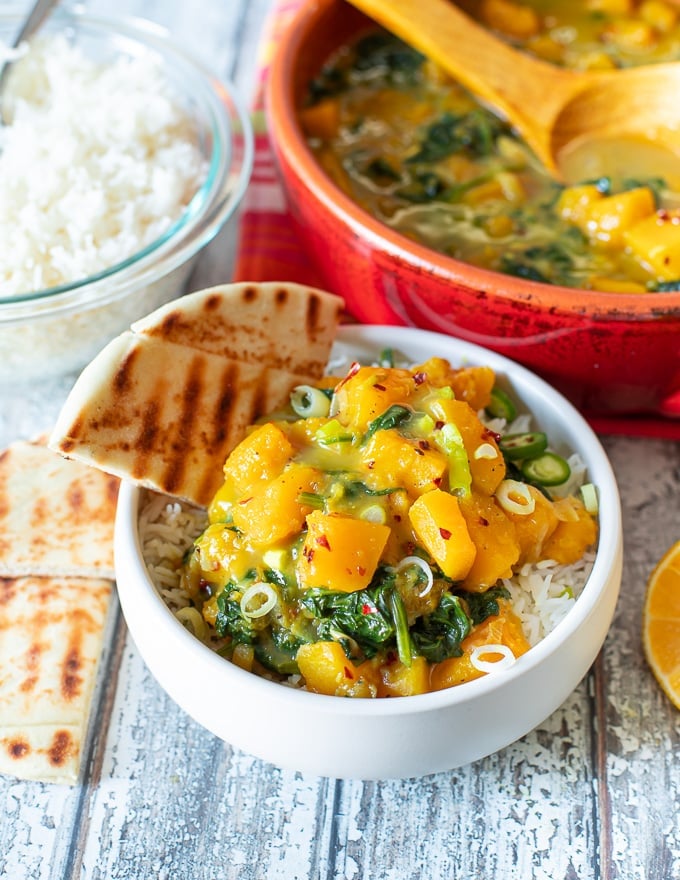 Creamy, sweet Butternut Squash Curry served over piles of steaming rice. Quick, healthy, easy, totally delicious and ready in only 30 minutes!
---
DAIRY FREE MAC AND CHEESE WITH BROCCOLI & BLACK PEPPER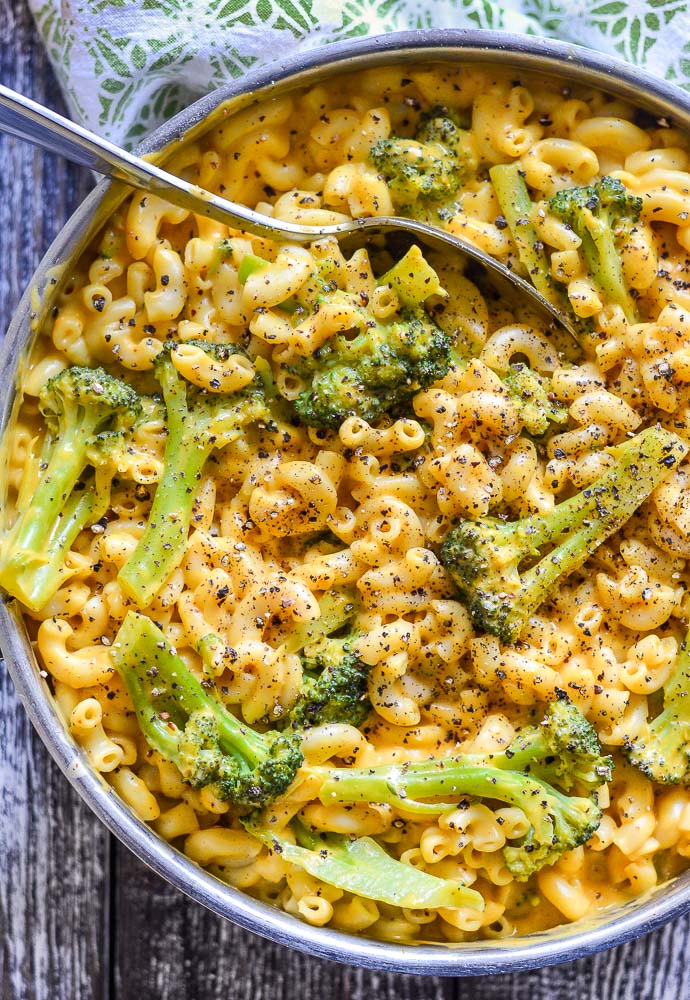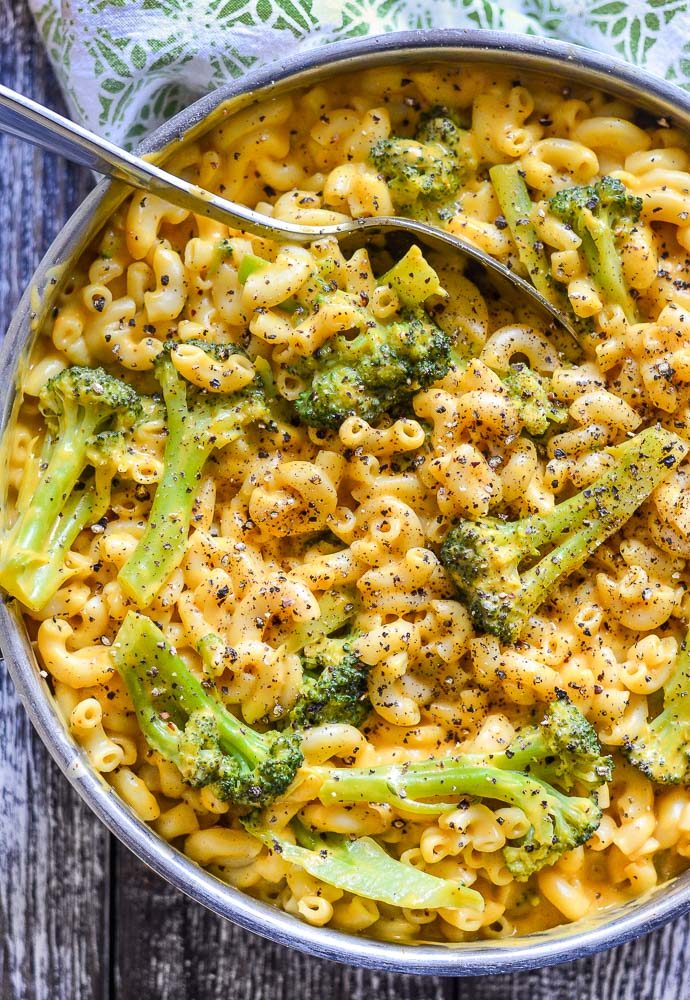 The veggie filled 'cheese' sauce is silky & glossy with a lovely hit of black pepper. Stirred through tender macaroni & chopped broccoli it makes the perfect family meal & can be on the table in a little over 30 minutes!
---
VEGAN INSTANT POT PORTOBELLO POT ROAST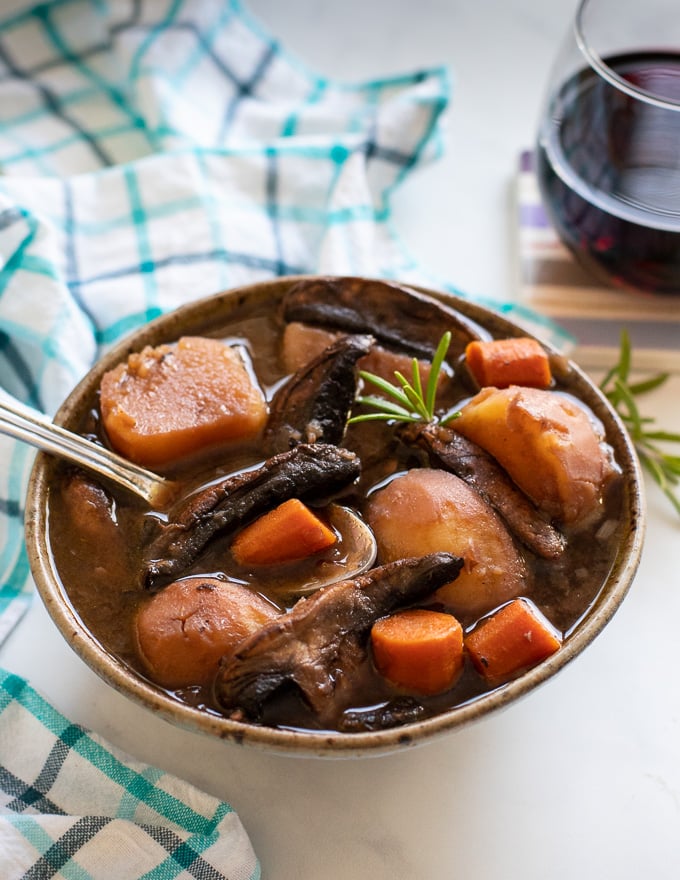 The ultimate one pot family meal. We're talking meaty portobello mushrooms, meltingly tender vegetables and a thick, really rich and flavourful gravy. If you don't have an Instant Pot, don't worry because stove top instructions are included too.
---
VEGAN MEATLOAF WITH GRAVY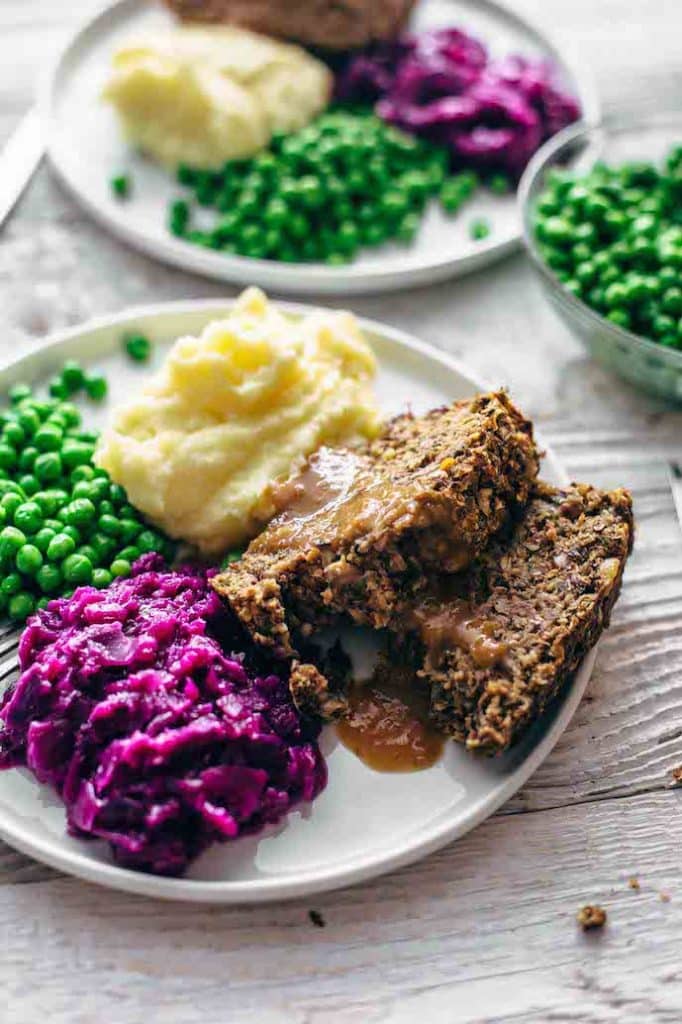 With deep & savoury flavour, this meatloaf is so good served sliced & smothered in rich, thick gravy!
---
Vegan Potato Soup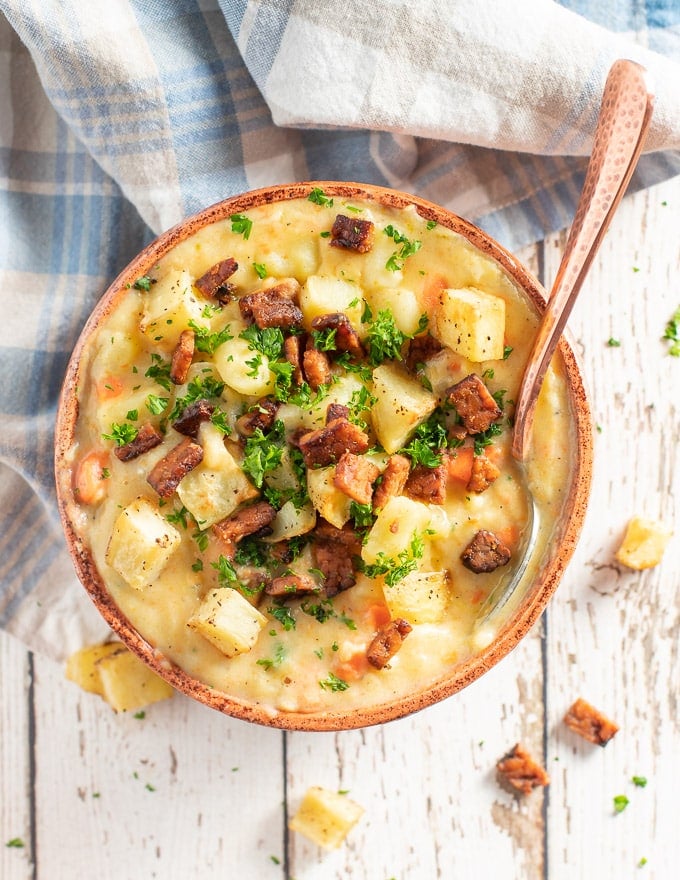 Thick, hearty and creamy Vegan Potato Soup. It's really simple to make and very budget friendly.
---
Creamy Vegan Gnocchi with Garlic & Kale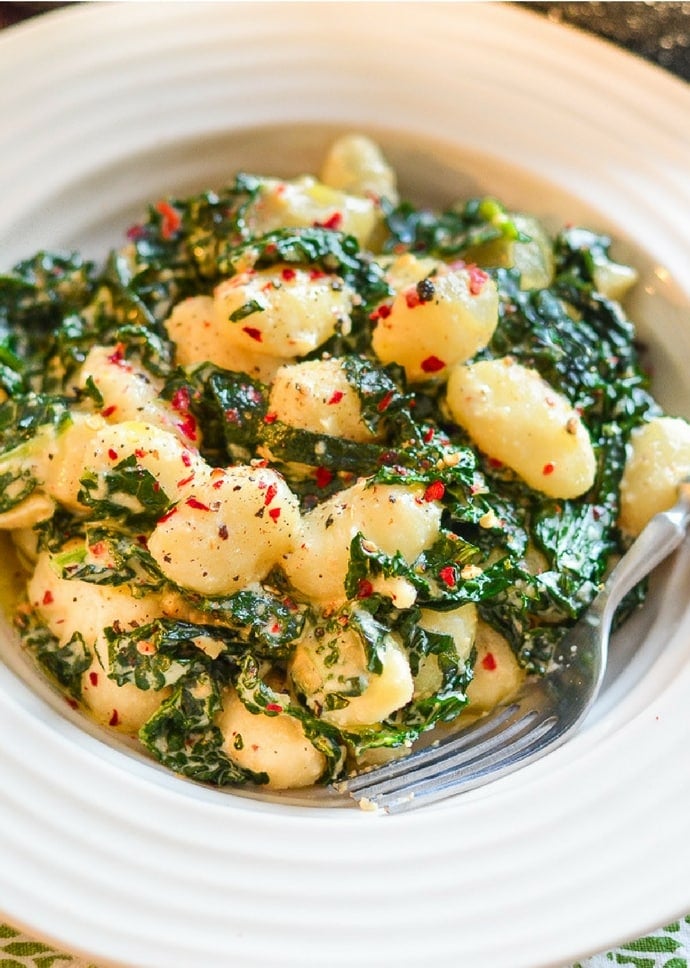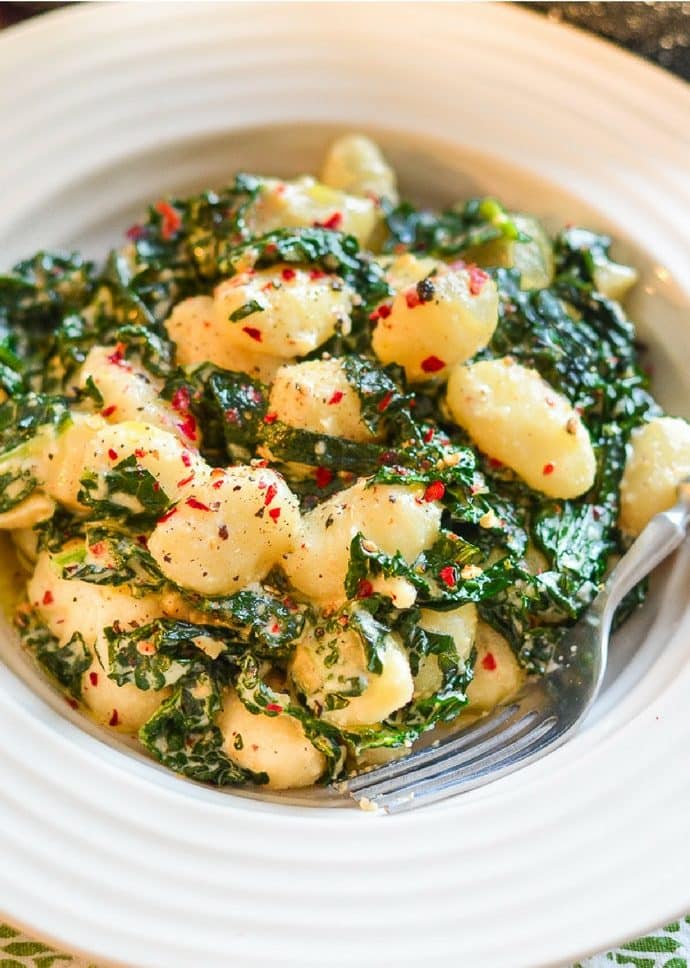 This Creamy Vegan Gnocchi with Garlic & Kale is dinner party worthy but incredibly easy to make, taking less than 15 minutes from start to finish and that includes prep time too!
---
BUBBLE & SQUEAK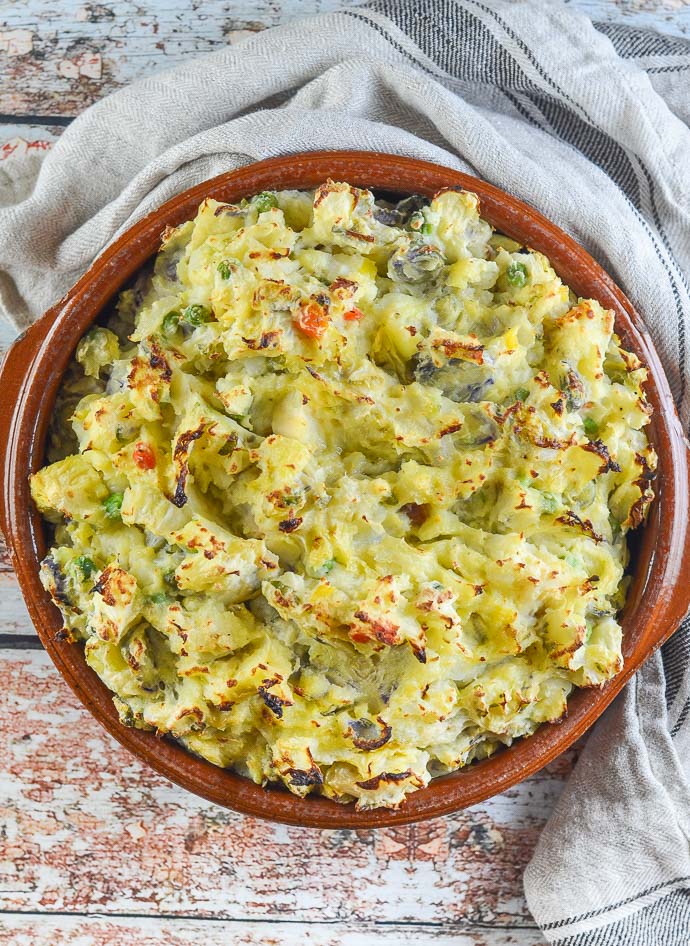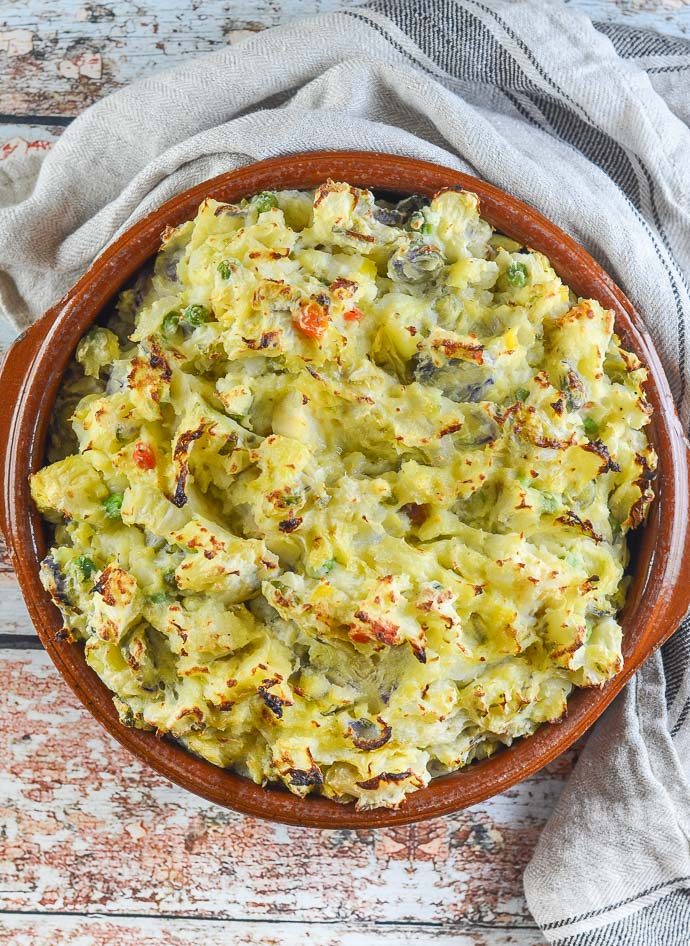 Mashed potatoes and veggies mixed up together and baked. I love to serve it with baked beans and veggie sausages!
---
CURRIED CHICKPEA BURGERS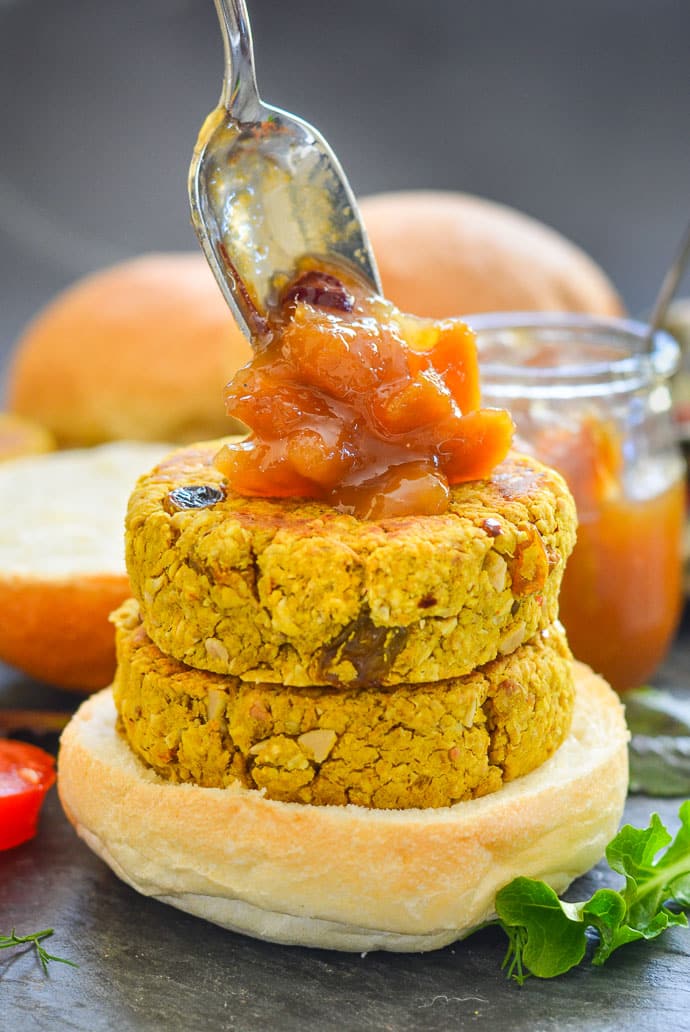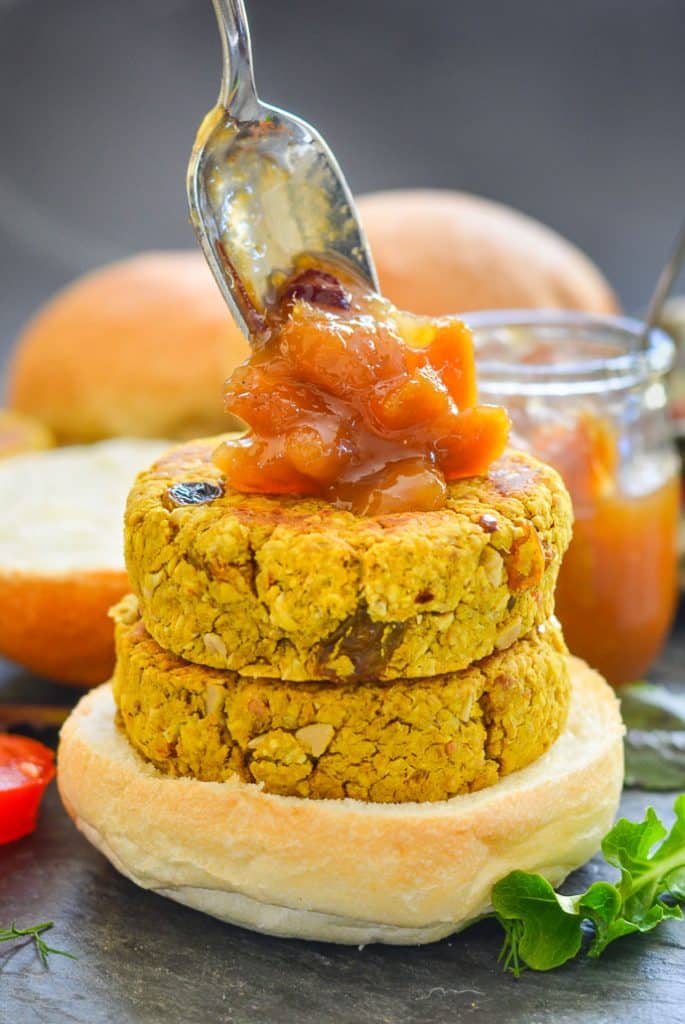 Full of curry flavour with bursts of sweetness from plump golden raisins and texture from chopped cashew nuts & chewy oats. Serve them in buns with a generous dollop of mango chutney!
---
OVEN BAKED GARLIC MUSHROOM RICE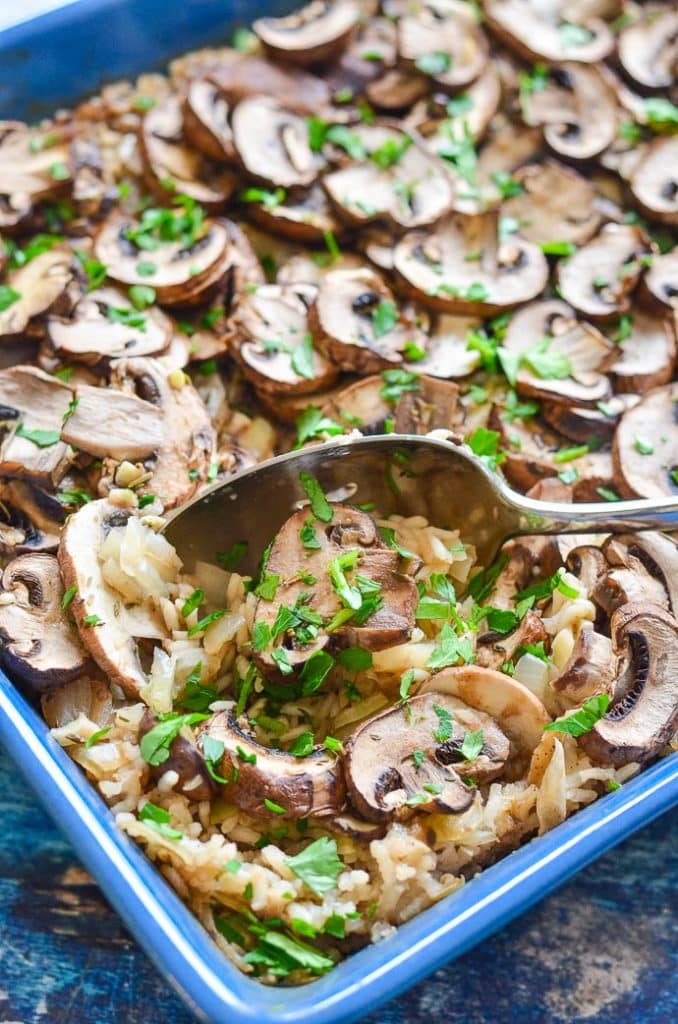 One-pot, Oven Baked Garlic Mushroom Rice. A simple, comforting, no frills kind of meal that you are going to be wanting to make again and again!
---
SKINNY FETTUCINE ALFREDO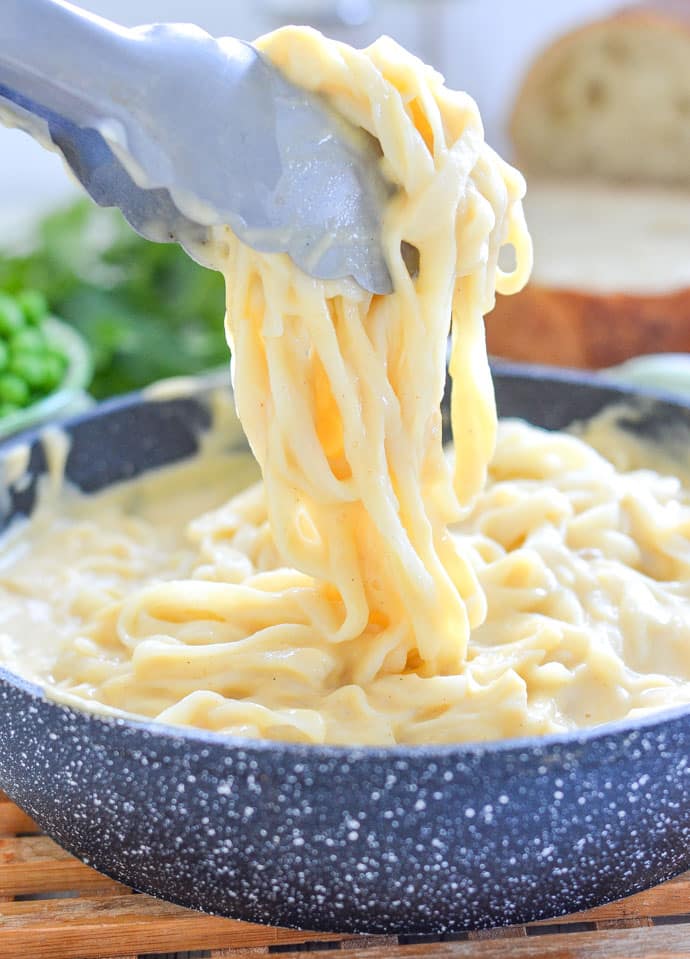 This quick & easy Skinny Fettuccine Cauliflower Alfredo is rich, creamy & delicious. It also happens to be really low in calories & virtually fat free!
---
THAI STYLE VEGAN CRAB CAKES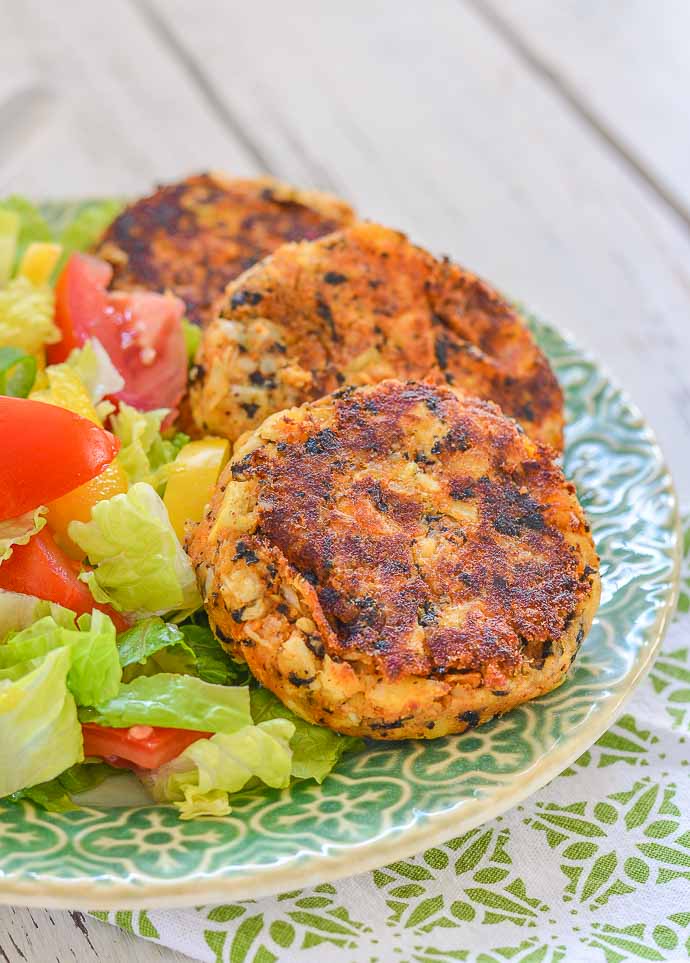 Tender, moist, packed with flavour & subtly 'fishy', they are so like the real deal! And they are really easy to make.
---
BAKED VEGAN MAC AND CHEESE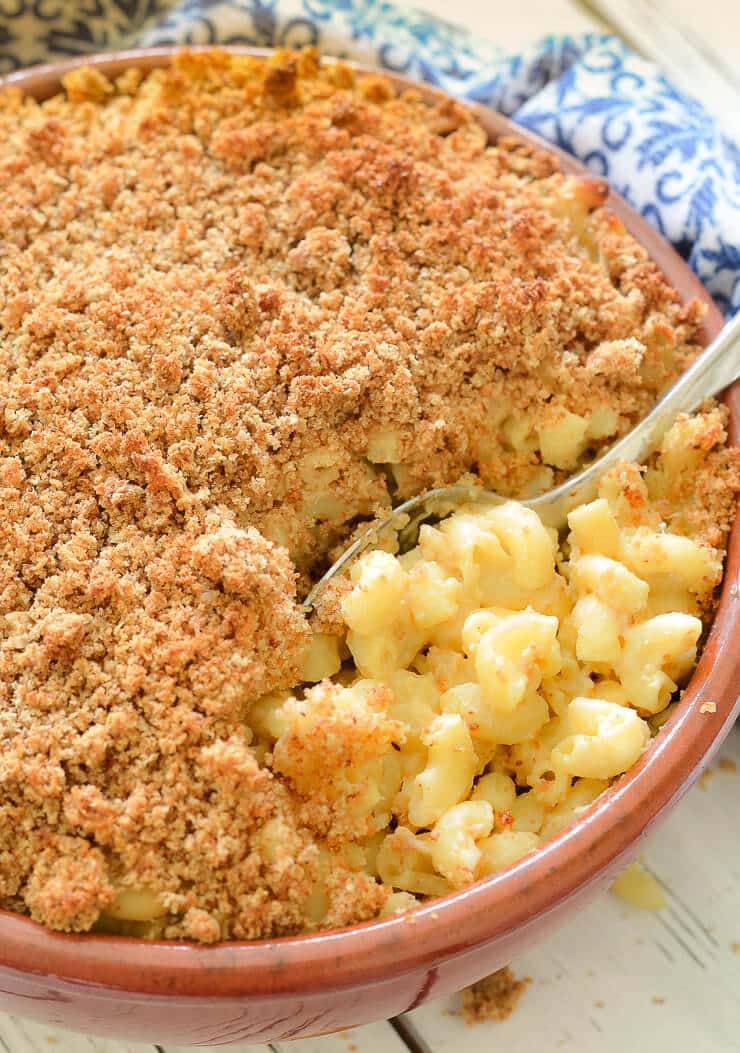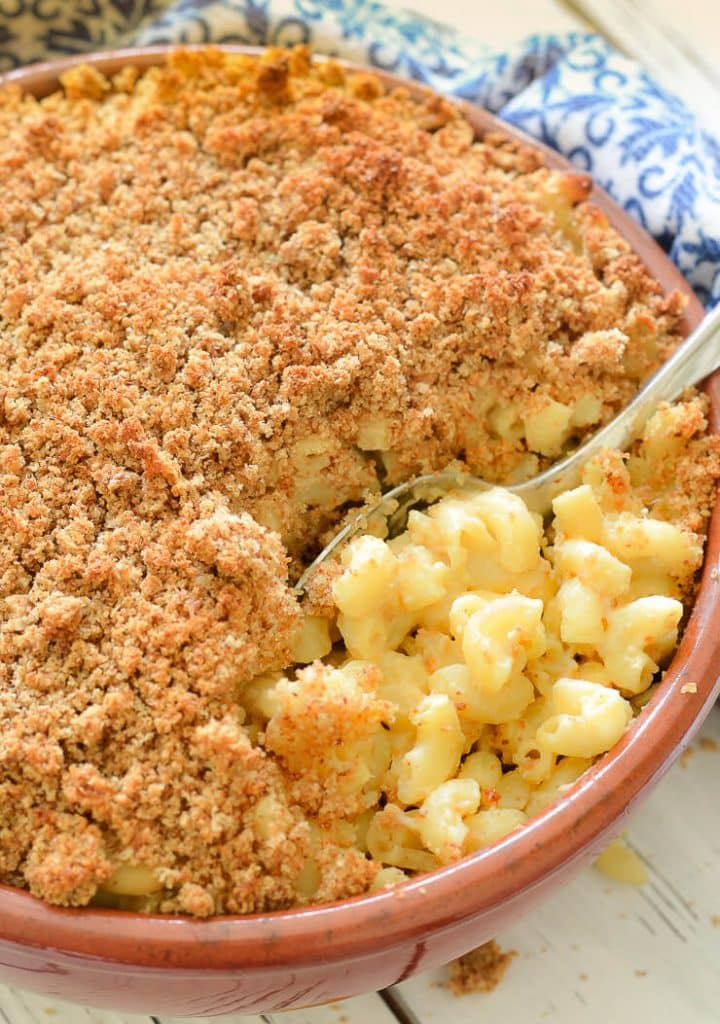 The ultimate Baked Vegan Mac and Cheese. Cheesy, saucy macaroni topped with an irresistible buttery & golden crispy crumb topping. No dairy, no nuts & easily made gluten-free.
---
EASY GREEN BEAN POTATO CURRY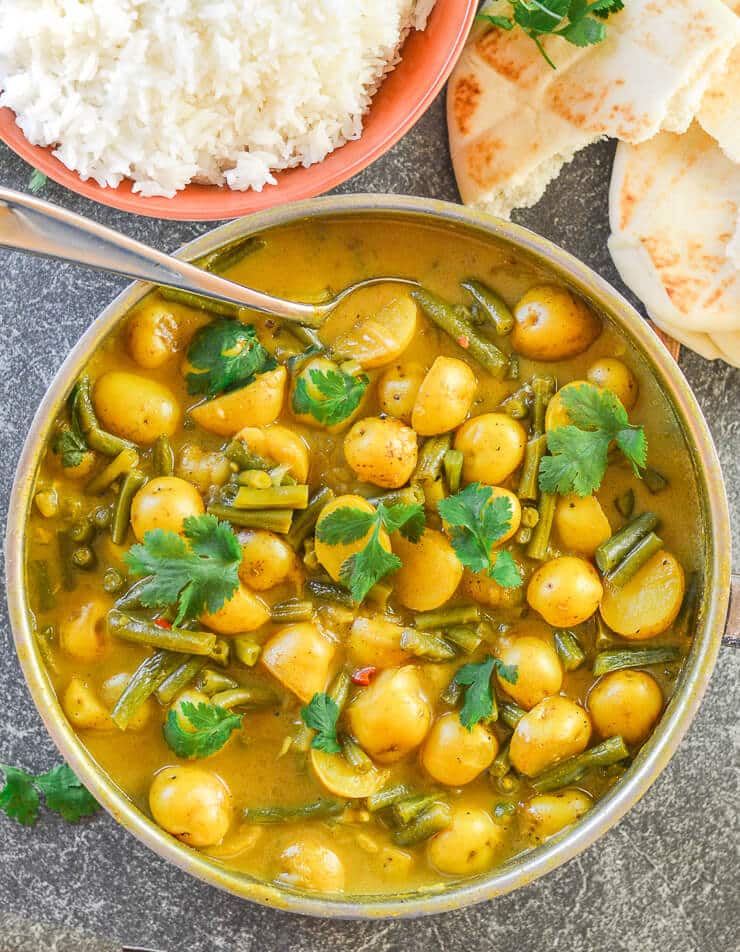 A really super simple Green Bean & Potato Curry that is budget friendly, only has 8 ingredients & needs no fancy-schmancy spices.
---
ITALIAN RICE AND PEAS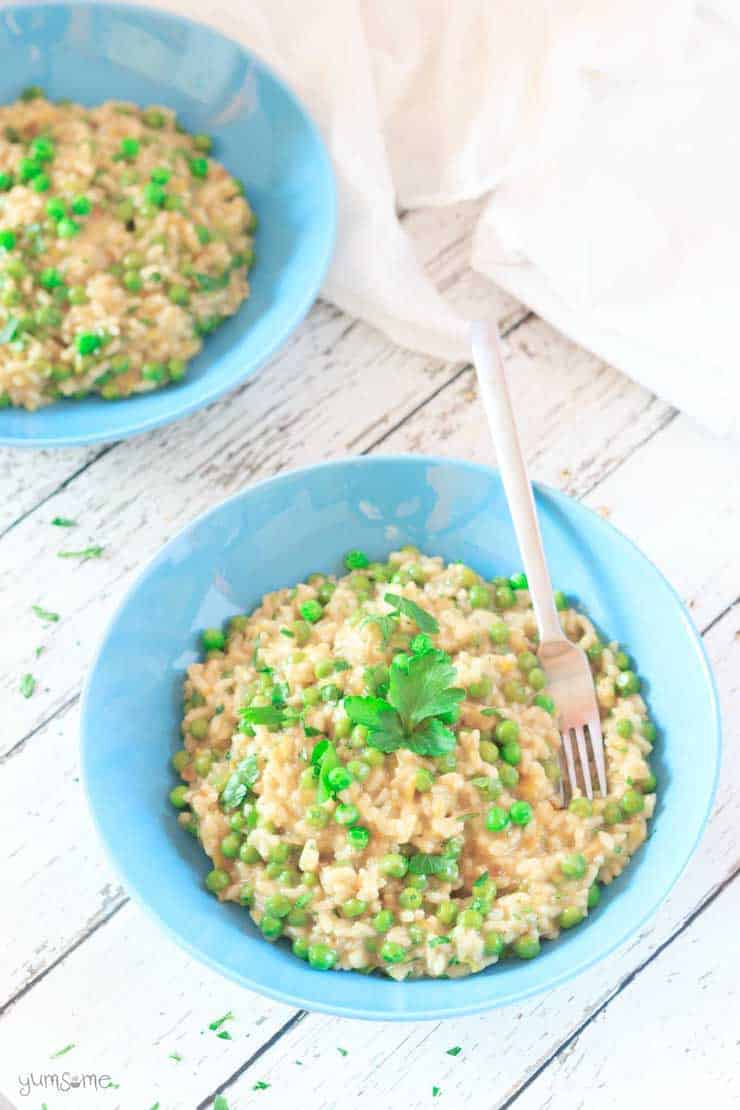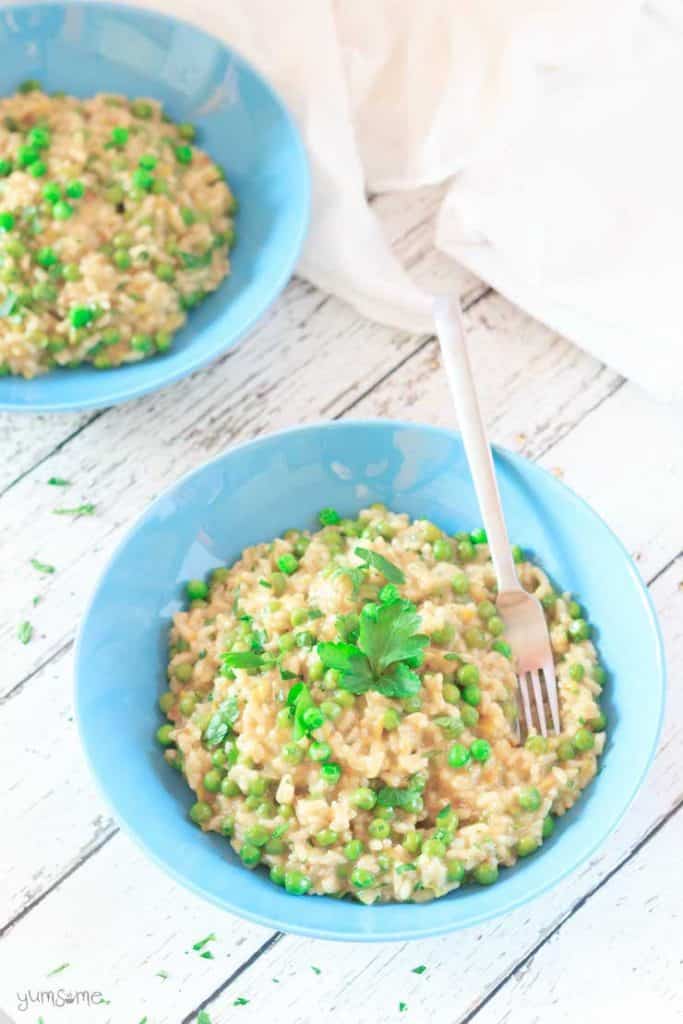 Like risotto but much easier!
---
TOMATO PASTA BAKE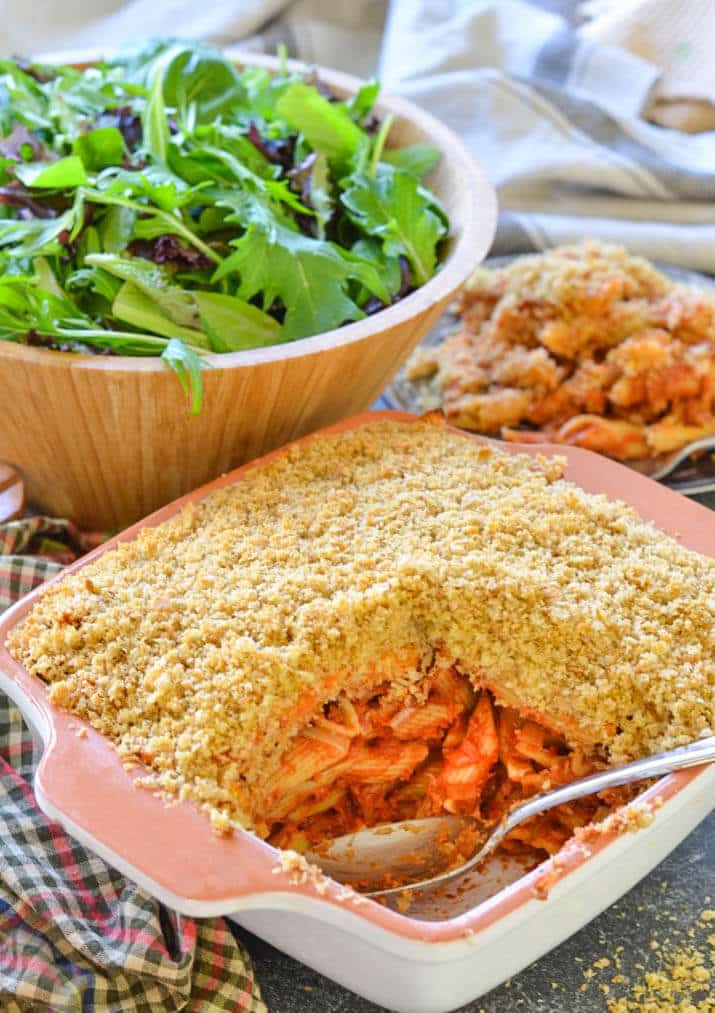 This Tomato Pasta Bake with Garlicky Crumb Topping is a budget friendly, hearty & delicious meal that the whole family will love!
---
CLASSIC POWER BOWL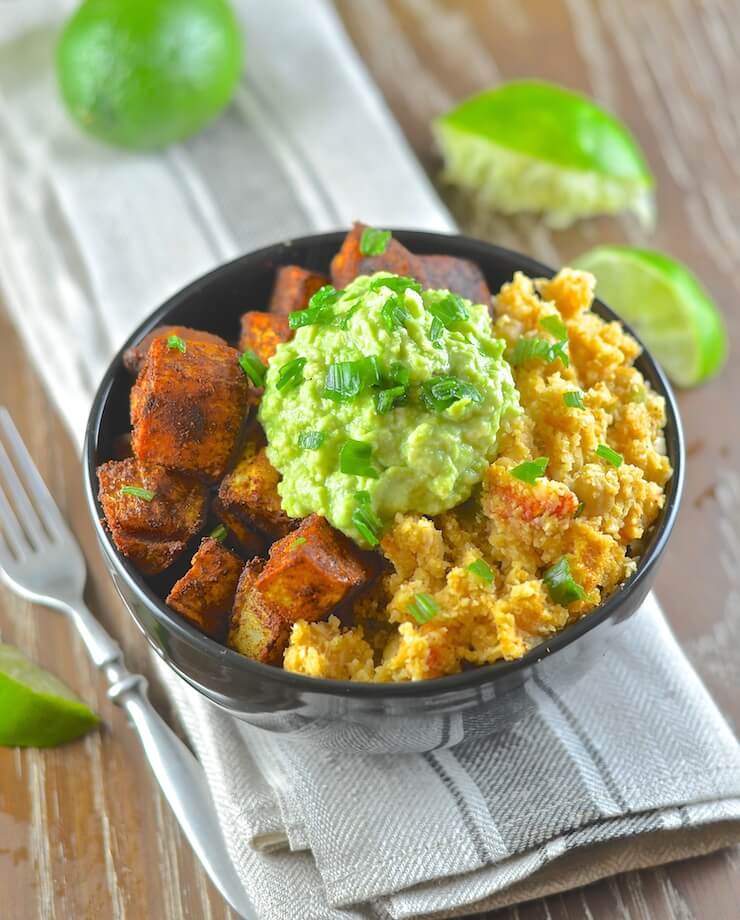 A gorgeous combo of spicy cauliflower rice, warming & crisp sweet potatoes & creamy, garlicky avocado mash.
---
LOADED TACO FRIES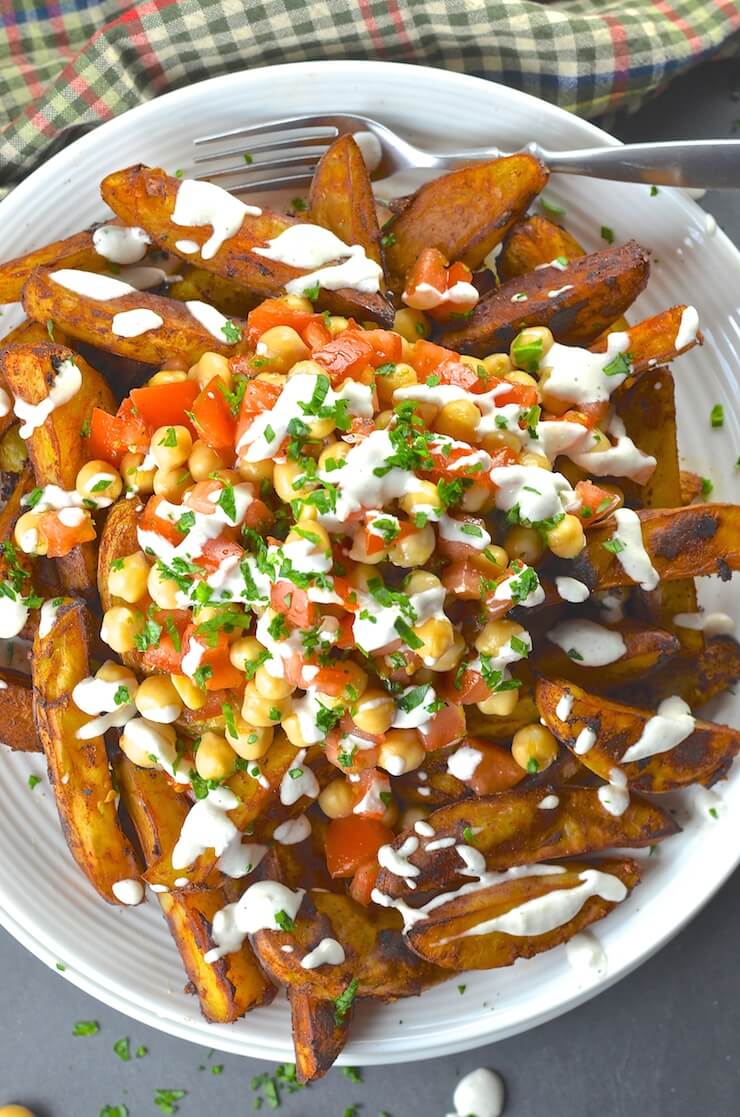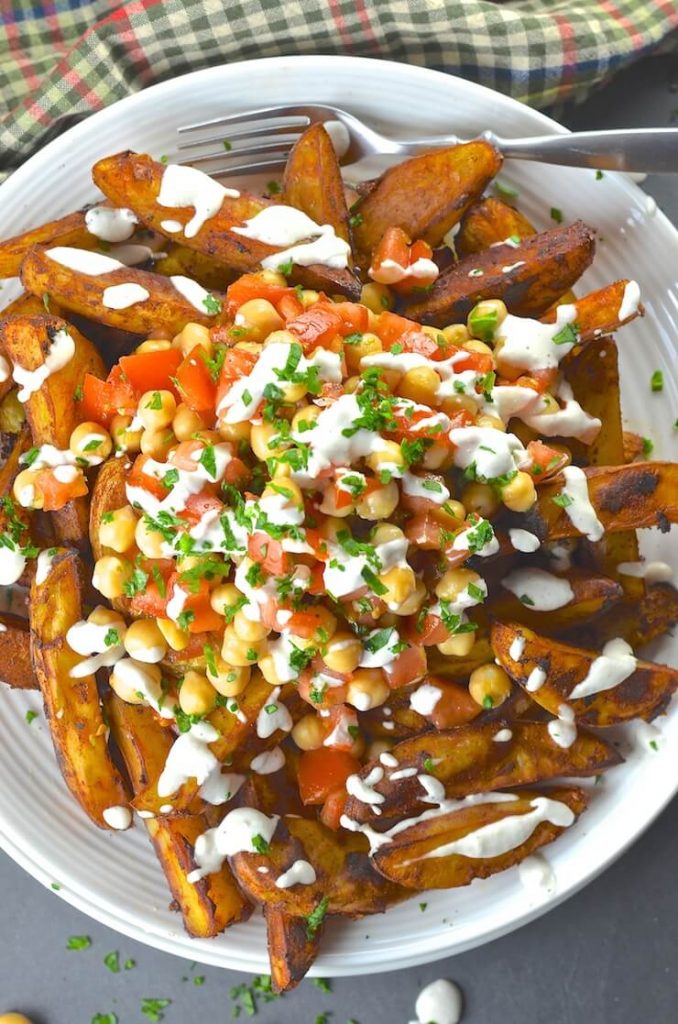 One of our fave Saturday night dinners!
---
ENCHILADA LENTIL TACOS WITH LIME SLAW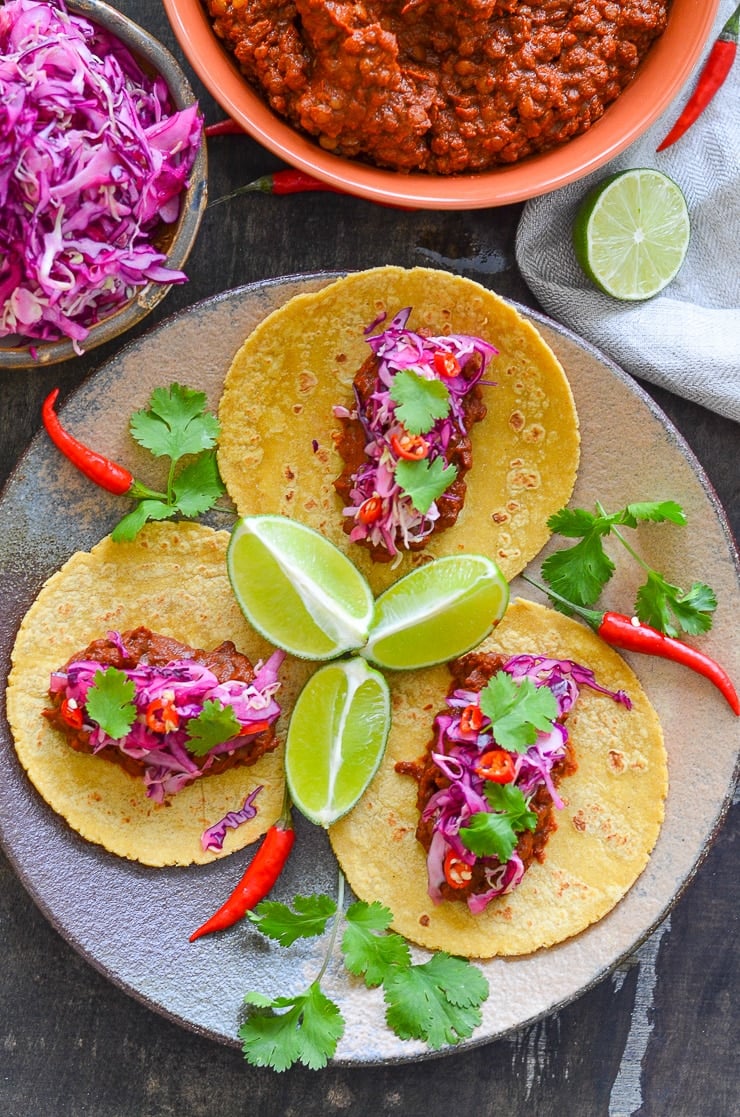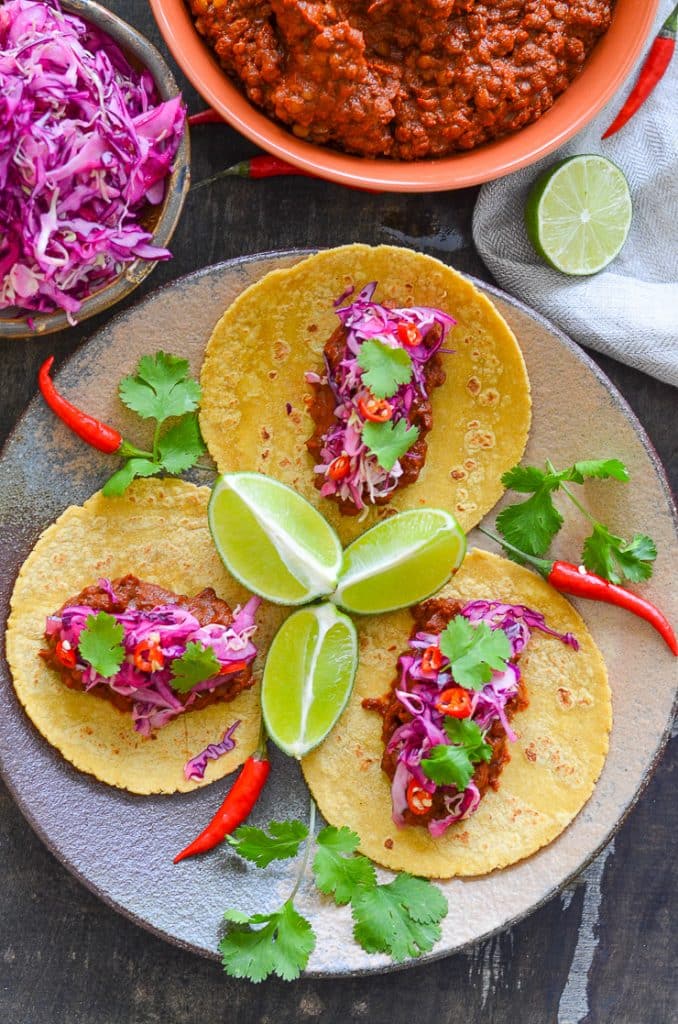 Lentils cooked in a spicy enchilada sauce on the stove or in the slow cooker, then tucked inside tacos & topped with zesty lime slaw.
---
VEGAN CORN CHOWDER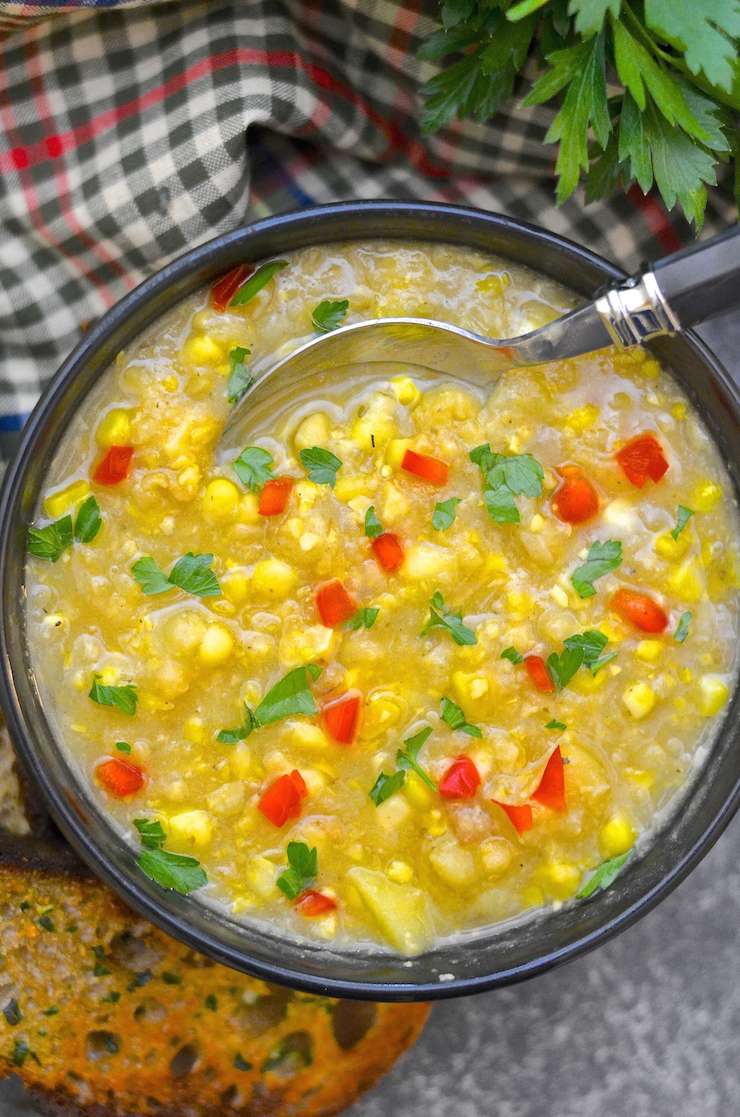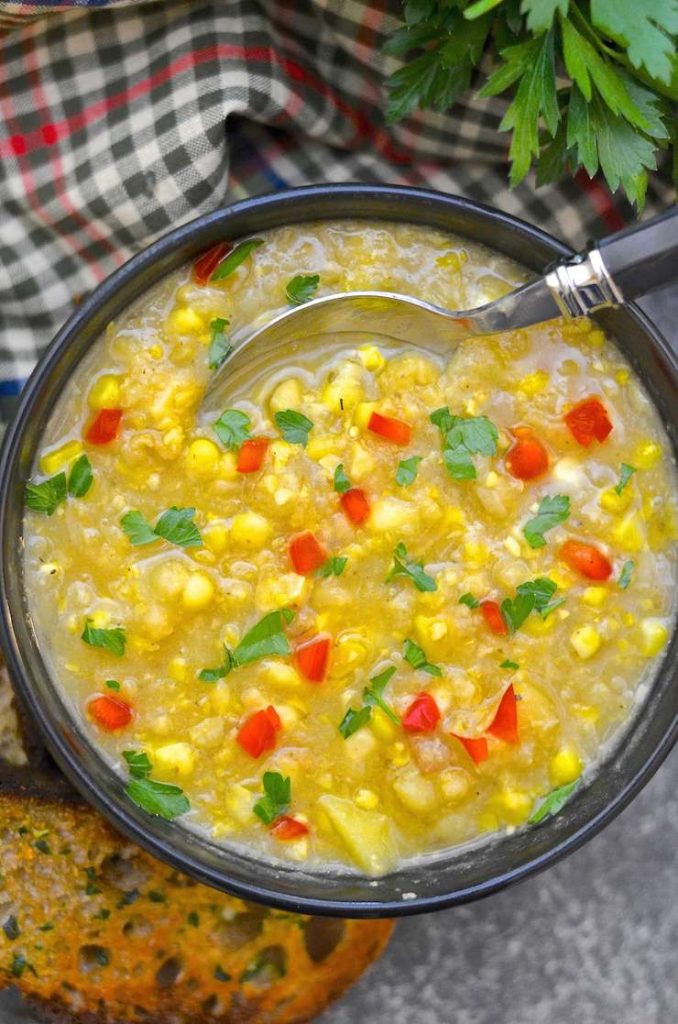 Comforting and creamy Vegan Corn Chowder that is ready from start to finish in under 30 minutes & has only 5 ingredients (plus water & seasoning)!
---
ONE POT SPICY VEGETABLE RICE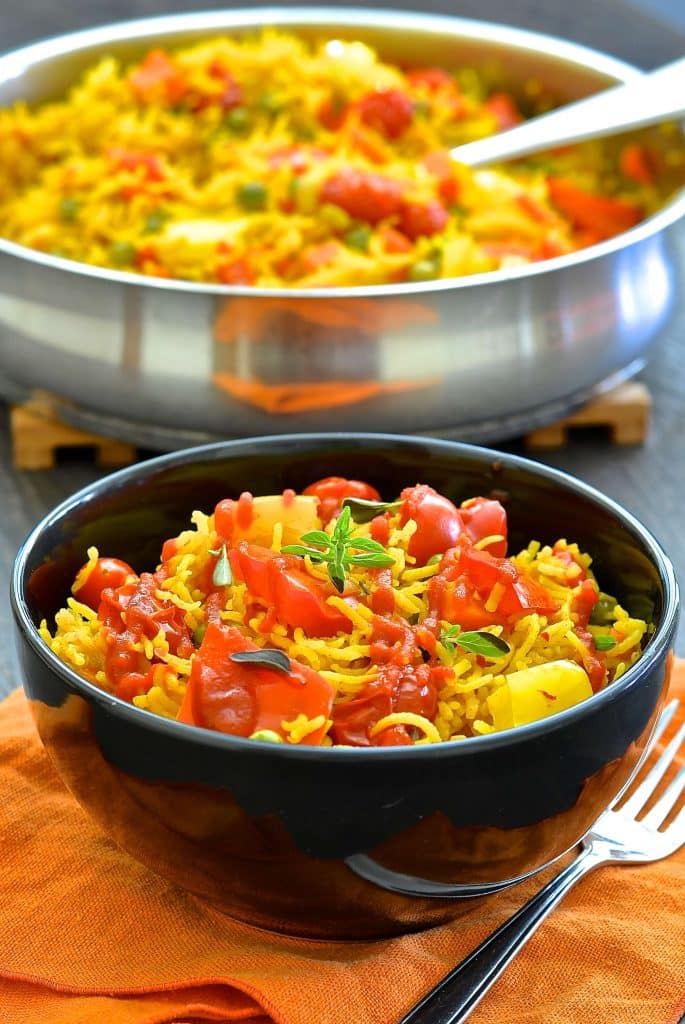 Flavourful rice, studded with sweet vegetables and all ready in one pot in less than 30 minutes!
---
WHITE BEAN ARTICHOKE BURGERS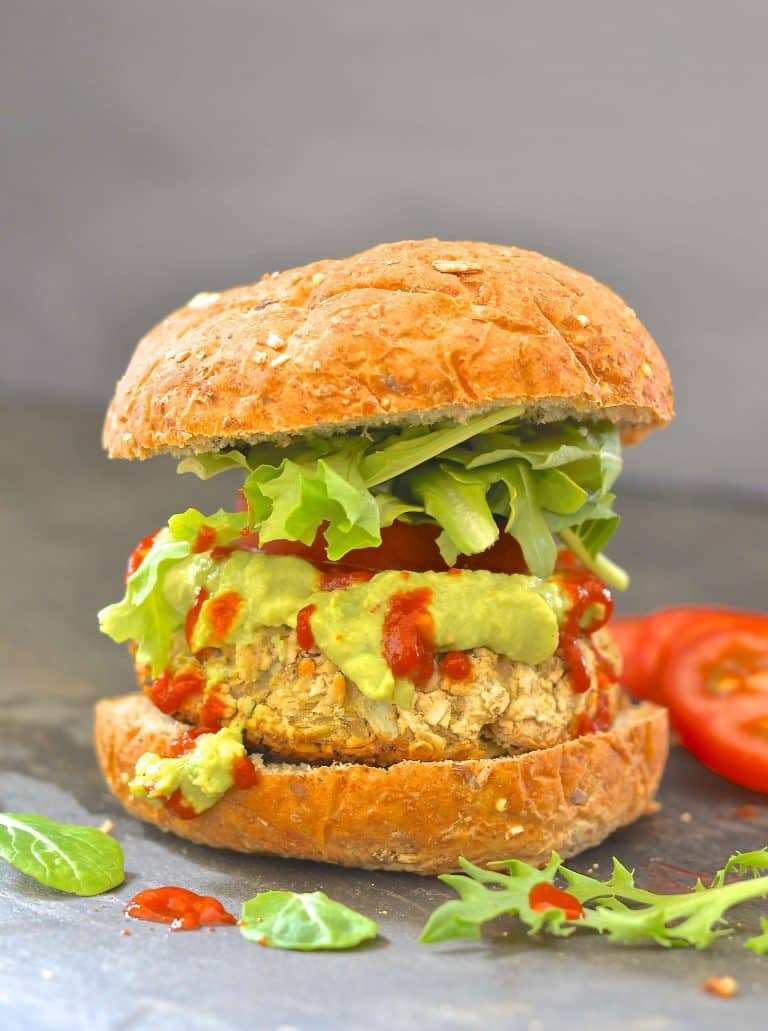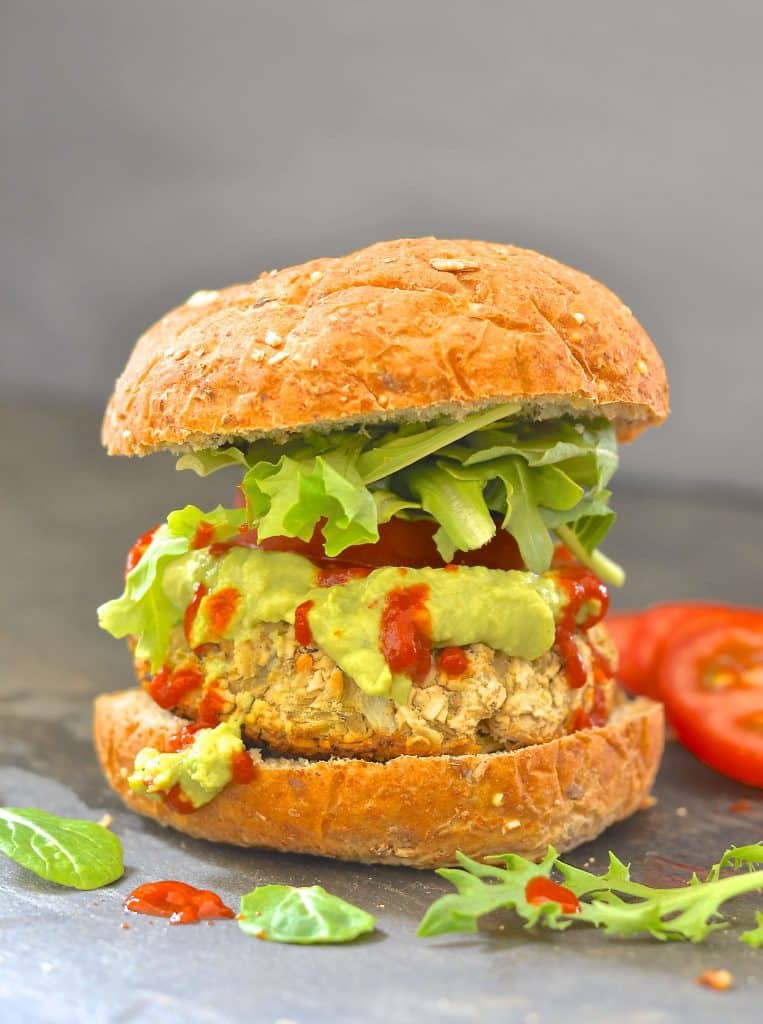 Easy & incredibly tasty White Bean Artichoke Burgers with hints of lemon & rosemary. Perfect served with lots of gloriously green guacamole & a dribble of hot sauce!
---
LENTIL SHEPHERD'S PIE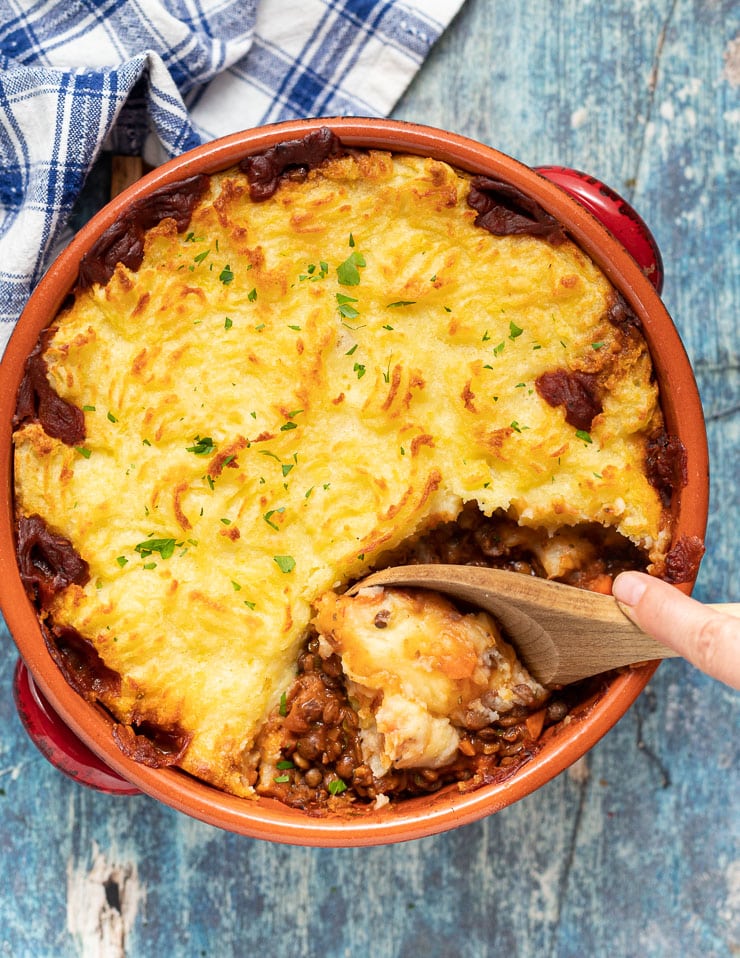 Rich, flavourful, saucy lentils topped with fluffy, creamy mashed potatoes & baked until deliciously golden brown & crispy.
---
KEEMA LENTILS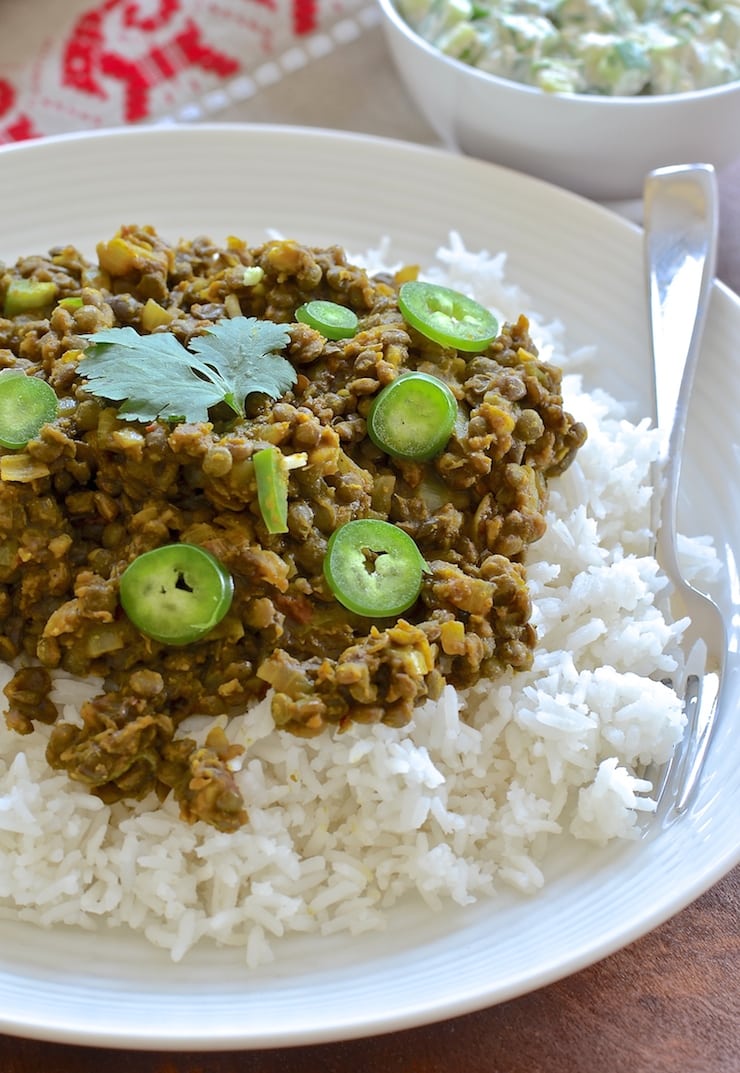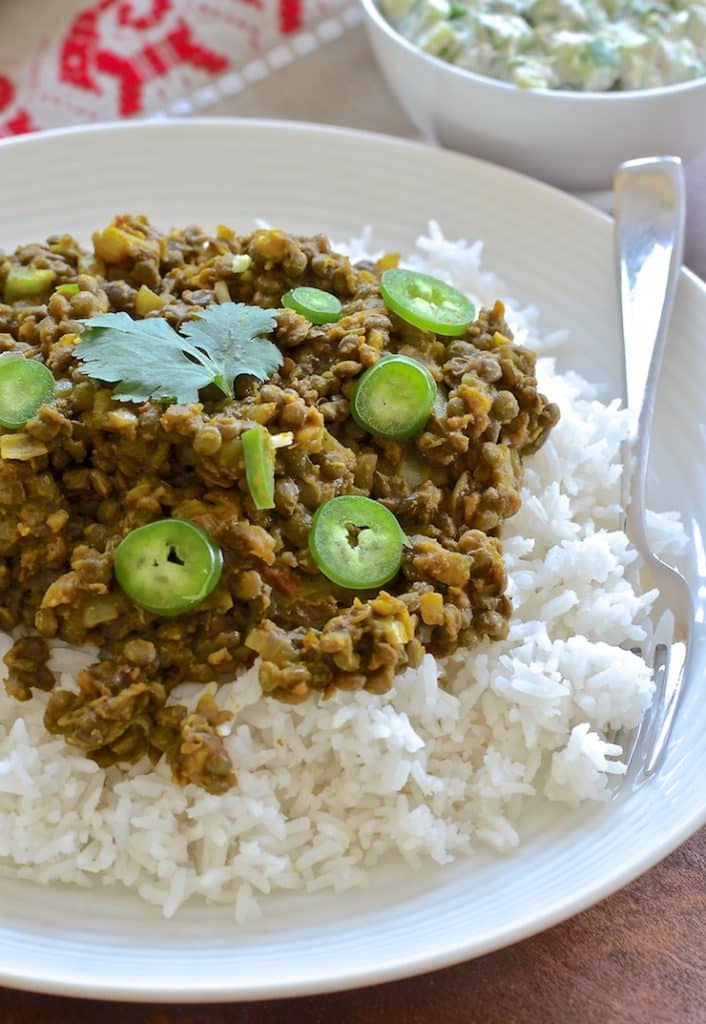 These spicy & flavourful Indian style Keema Lentils are ridiculously easy to make. Cook in a pan for a speedy dinner or use a slow cooker.
---
FIVE SPICE TOFU WITH CHILI GINGER SAUCE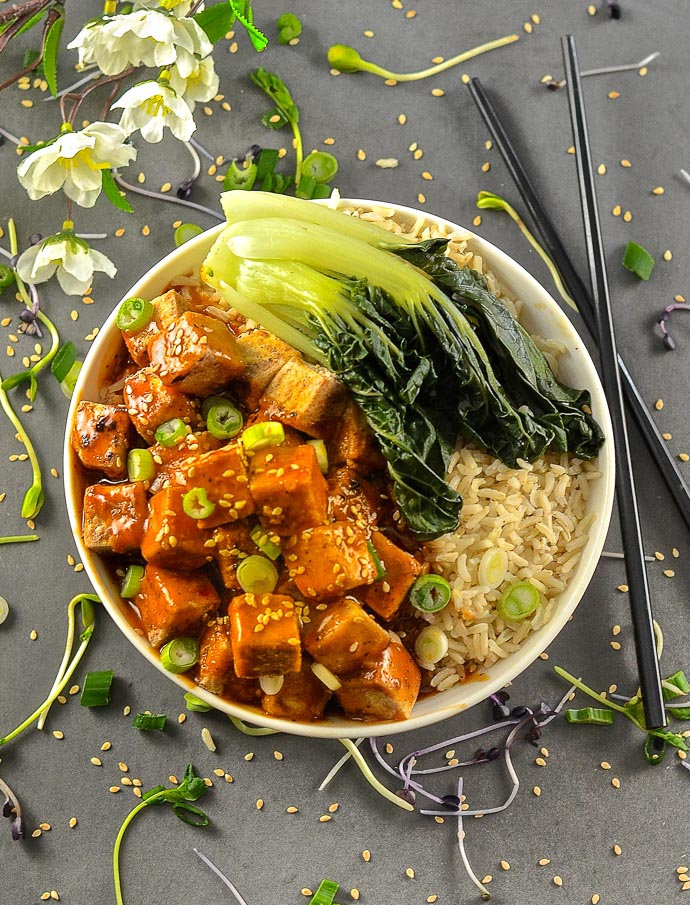 Sweet, sticky & spicy with amazing depth of flavour and ready in under 30 minutes!
---
VEGAN CARBONARA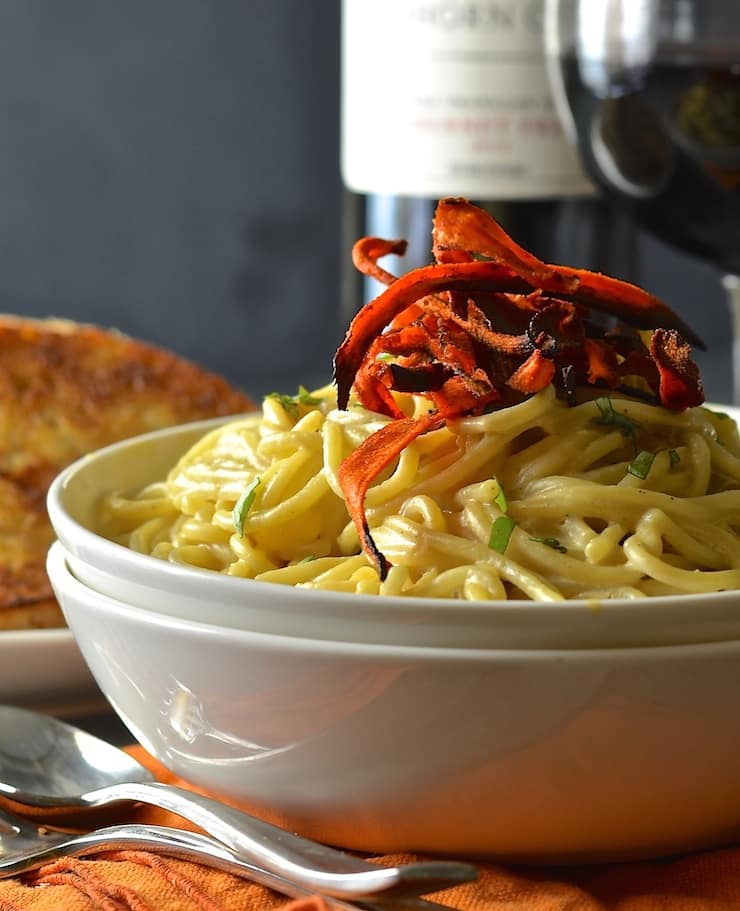 A classic Italian dish made vegan! This Vegan Carbonara is so simple & yet so decadent, it's magic. Add a scattering of smoky carrot rashers & you get a fantastic pop of colour & texture too!
---
CREAMY LEEK AND POTATO SOUP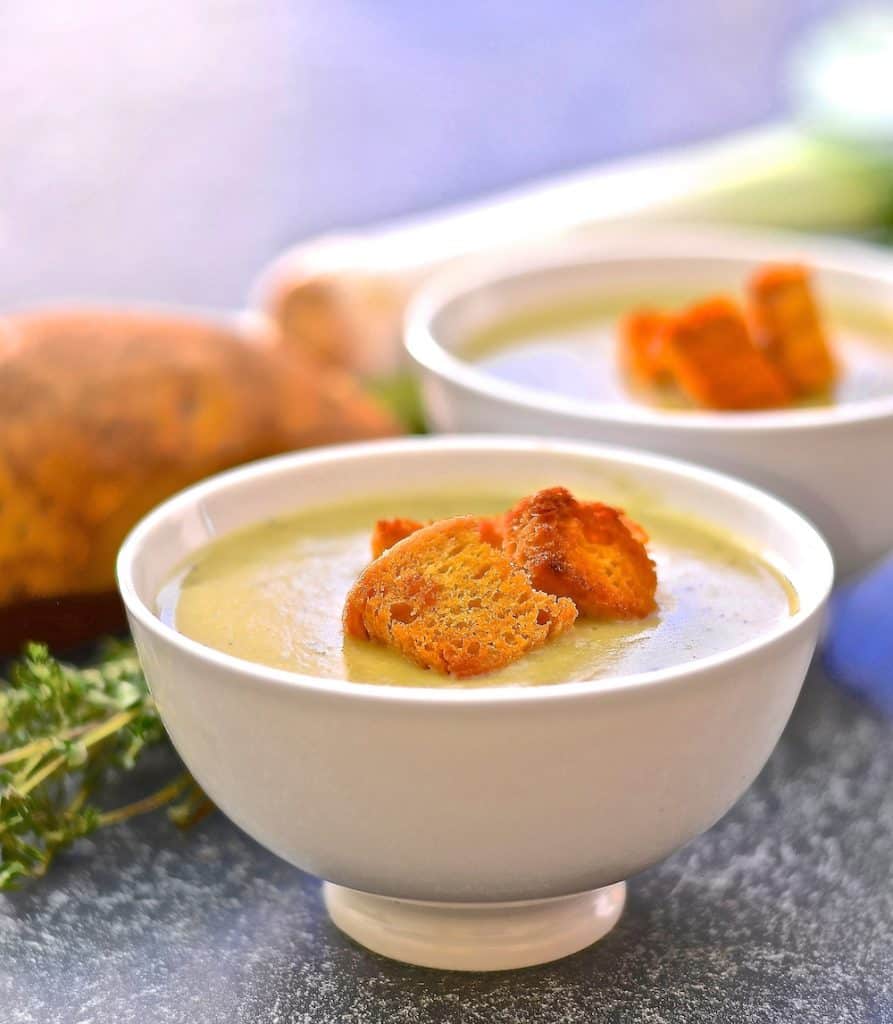 A super quick & easy Vegan Potato Leek Soup with only 5 ingredients (plus water & seasoning). It's creamy, comforting & healthy & makes the perfect light lunch or a more substantial dinner with lots of crusty bread.
---
So there you have it. A meal for every single day of Veganuary. What better way to kick off the new year than with some compassion and super tasty vegan eating?
I wish you the best of luck and the animals and the planet thank you!